Are you worried whether your child is getting as much playtime as you did when you were younger? Are you wondering if the way your child plays is normal for its age?
If you're contemplating cutting back on your child's free playtime indoors or outside because of your concerns about safety or because of scheduling purposes, think again. As an adult, it might not look like it's a top priority that your child is finding time for playtime.
But it's actually an important time of the day for them — it helps them develop and learn.
And if you're worried because your child seems to play near other kids but not necessarily with them, don't fret. That's a total normal stage of development.
Keep reading to learn why play is important, how it can benefit your child, the different types of play your child needs, and more information that will help you ensure your child gets all the play time they need.
---
Playtime For Kids Infographic
---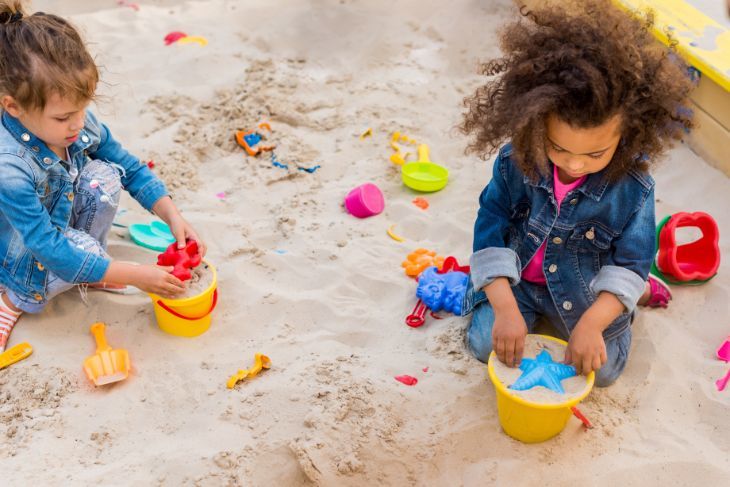 Kids' lives are overscheduled now more than ever before and all those activities are taking a bite out of their free playtime. Even for young kids, parents schedule structured activities, like sports and lessons meant to give their child an early leg up when it comes to the competition they'll face later as they reach school age.
And once kids reach school, they'll have even less free time. Kids are expected to learn more and at a faster rate than even before. Additional requirements from schools to increase their aptitude test scores can sometimes result in less recess time so they can shoehorn in more instructional time.
In some school districts, students have to travel more than an hour each way every day just to ride the bus to school (source). That takes away two hours students can use for playtime five days a week.
Extracurriculars, like sports and various clubs, are more competitive than ever before and require extra practice if those students want to achieve at high levels. After-school programs have been implemented at many schools to help latch-key children and those who are struggling with their homework.
Some research has even shown that children are spending as little as 4 hours a week playing outdoors as a result of technology and an increased school workload burden (source).
Solo play time is important to help a child explore their imagination, but playtime with other kids is equally important too. And when a child plays with other kids, they get a number of benefits and learn valuable skills they wouldn't learn without that unstructured time, like socialization and conflict resolution.
---
Playtime can make for a well-rounded kid. Here are the top 10 benefits of penciling in enough play for your child.
---
Like everything else in life, play comes in different stages. How your child plays will change, depending upon their age.
1.

Unoccupied Play

This type of play is what children do from the ages of birth to three months. It may not look like play to the outside observer. It may look like movements that serve no purpose, but those movements are considered a type of play and they will help your child with their later types of play (source).

This kind of play can be as simple as kicking their legs or studying their feet.
2.

Solitary Play

Solitary play happens from birth to two years old — it is really popular with toddlers. As the name implies, solitary play is something a child does by itself. It's a great method of play for shy kids and it's perfect for their still undeveloped communication ability.

This type of play is crucial because it helps your child learn how to entertain itself, which is an important skill to learn. You don't want to have a child that needs to be constantly entertained by things or other people — you want them to be able to do that for themselves.
3.

Spectator/Onlooker Behavior

This kind of play begins around the age of 2, although it can be done long after that too. In this type of play, a child watches other children play without participating. It's a way of observing what happens and for them to learn by watching the others.

Sometimes the kids might ask questions and they'll definitely be interested in what's happening, but they won't take any initiative to join the fun. Parents can sometimes feel a little uncomfortable when they see this, thinking there is something wrong with their child, but it's a completely normal phase of development.

Children who aren't social enough yet to join in with the fun with other kids can benefit from onlooker play. It can give them the confidence to take their play to the next level with other kids involved.
4.

Parallel Play

Parallel play typically begins somewhere around the age of two years and can last much longer. It's when two or more children are in the same room playing in close proximity, but not necessarily with each other. Rather, it's more of an imitation — while they are playing separately they do notice each other and might even mirror the other's actions.

It gives children a good way to learn about manners, taking turns, and being a good playmate. And it shows that a child is starting to want to hang out with other children.
5.

Associate Play

From three to four years old, associate play is another key type of play children will experience. In some ways, this type of play is similar to parallel play because children will also be playing separately.

What's different is that while they are playing separately they are involved with each other too, working toward a common goal. They'll be working on their own tasks while they talk and socialize with one another. It's one of the ways that children first learn how to form and keep friendships.
6.

Cooperative Play

Cooperative play is what kids who are generally four or more years old will engage in. This is kind of a mash-up of all the stages. It's where everything they've learned from all the other stages of play come together.

This is when they start to share toys and come up with rules for their organized play. You'll see your child start to make real friends and they'll have favorite playmates as well in preschool and kindergarten.
---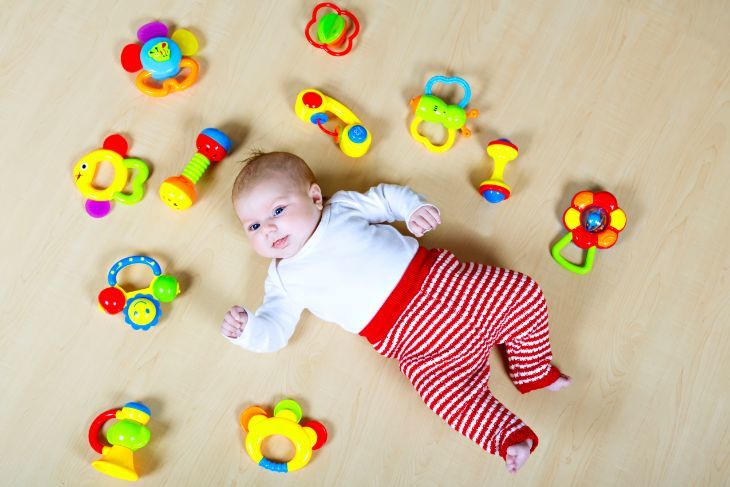 Toys are a mixed bag of nuts when it comes to children. Some can provide the stimulation they need, while others are disruptive developmentally. So how can a well-meaning parent know the difference between a helpful toy and one that might be detrimental?
In an effort to give their child every advantage by picking the most expensive and flashy toys on the market, like ones that light up or talk to children, parents might be making the wrong choice.
Some research shows that when toys do the talking and the singing, babies are quieter (source). Instead of working on their language development, babies tend not to chatter as much when they are using electronic toys instead of old school ones.
What parents need to keep in mind is that play and entertainment are two different things when it comes to toys. Entertaining toys are meant to be amusing and keep a child occupied by distraction — they'll have things like lights, voices, or music that will turn children into an observer.
But play toys are meant to engage a child's mind and curiosity, which is why they are a better choice. They don't come with rules that limit a child's imagination.
Baby Toy Guides
Toys for Boys
Toys for Girls
If you want to learn more about the different categories of play, the benefits of them, and tips for implementing each kind of play, read on.
---
With this type of play, children utilize their five senses to learn about the world and whatever they are doing at the moment. Sensory play is instinctive for children, even babies. When you see a baby putting their fingers in their mouth or picking up something to look at it and feel the texture, that's sensory play.
This type of play involves any activity that involves sight, hearing, touch, smell, or taste.
There are a lot of benefits for children who explore sensory play, including:
It encourages investigation and exploration, allowing children to come up with their own conclusions about the world around them.
It builds nerve connections within their brain.
It builds up language skills.
It is a way for them to learn how to problem solve.
It's fun for your child.
Tips for Sensory Play
When your child is exploring sensory play there are some things you need to know.
Watch your child: Since part of sensory play involves a child exploring with their mouth, you need to watch them carefully to ensure there are no choking hazards. You should make sure to supervise sensory play.
Make a sensory bin: For preschoolers, you can create sensory bins to keep them engaged. This can be done with a plastic box, a bag of dry rice, and some play toys like scoops.
Take it outside: If your child's sensory play involves water or things like finger paint, you might want to contain the mess by taking the activities outside. Otherwise, you'll find yourself watching your child play while calculating in your mind how long the clean up will take you.
Make sure to pick objects that are safe for your child: If your youngster is still putting things in their mouth, you should be leery of letting them play with inedible objects (source).
Wear old clothes: Since sensory play can get a bit messy, you should put your child in clothes you don't care about, and you should wear clothes you don't care about either. That way, if you get dragged into the playtime, you won't be ruining either of your clothes.
Sensory Play Ideas
Here are some ideas to get you started with your child's sensory play.
---
Kids of all ages love to pretend at school, at home, and pretty much anywhere else they go. Pretend play has two main components.
Fantasy play.
Sociodramatic play.
With fantasy play, your child won't stay in character and they'll keep updating you about what kind of pretense they're keeping up. It often begins around age 2 and seems to reach its peak when a child is in preschool.
With sociodramatic play, a child is fully invested in the role it is playing. If your daughter, for instance, is pretending she's a princess, she's going to give it her all. For this type, your child will often base their storylines from things they've seen on their favorite tv shows or fairy tales.
---
Constructive play is when kids try to use materials and toys around them to build and create things. This kind of play really seems to kick in around the age of 2 as your child's attention span becomes longer. They have enough concentration to play with one type of toy longer than they ever have.
---
Physical play is an important aspect of your kid's childhood and development. Physical play is what your child does as they get up and move around while playing a game, learning a new skill, or exploring.
Physical play can begin at any age. Even babies can do a mild form of physical play — tummy time, which helps strengthen their muscles. After that, babies, toddlers, preschoolers, and school-age children all can participate in and benefit from physical play.
---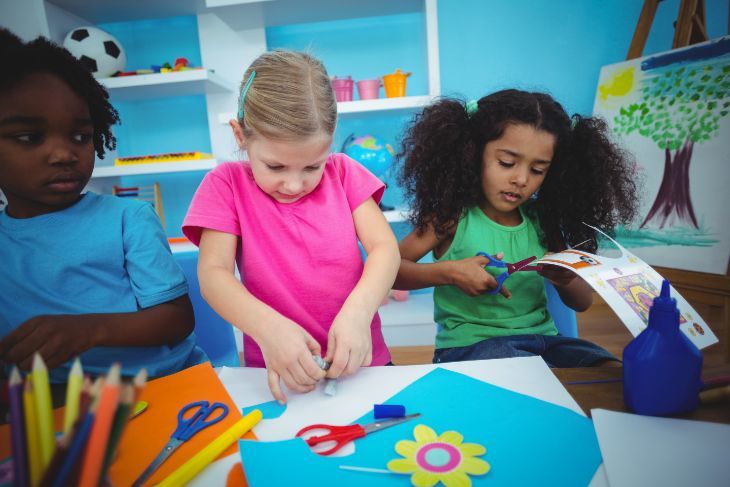 With creative play, your child does anything that sparks their imagination. This kind of play should be fun. This kind of play is a favorite of toddlers and preschool-aged children.
---
Now that you know why playtime is important for your child and the benefits they can reap from it, you'll be more motivated to make sure they are getting all the time they need. Remember to give your child a variety of options when it comes to play and provide more challenges as they are ready for them.
Are you a seasoned parent who has been through all these stages of play with your child? What were some of your child's favorite activities?
If you know a new mama who can benefit from this article, please share it with her! As moms, we need to look out for each other and build each other up.