Play kitchens do much more than simply entertain your child for hours. They also help your child develop many foundational tools. The best toy kitchen sets encourage fine motor skills, inspire creative role-play, develop social skills, and help children learn kitchen safety — all while adding to your home aesthetic.
But how do you know which toy kitchens are worth the time and money that goes into them? We're here to help you answer this question. We've spoken to parents, day care providers, and preschool educators about which play kitchens most appeal to children and encourage their development. We've devised this list of 9 options that fit the bill.
These toy kitchens are durable, educational, affordable, and entertaining, and they look great in any home. We'll discuss the pros and cons of each option so you can find the perfect kitchen playset for the little cooks, pastry chefs, caterers, and parent imitators in your life.
Image
Model
Product Comparison Table
Features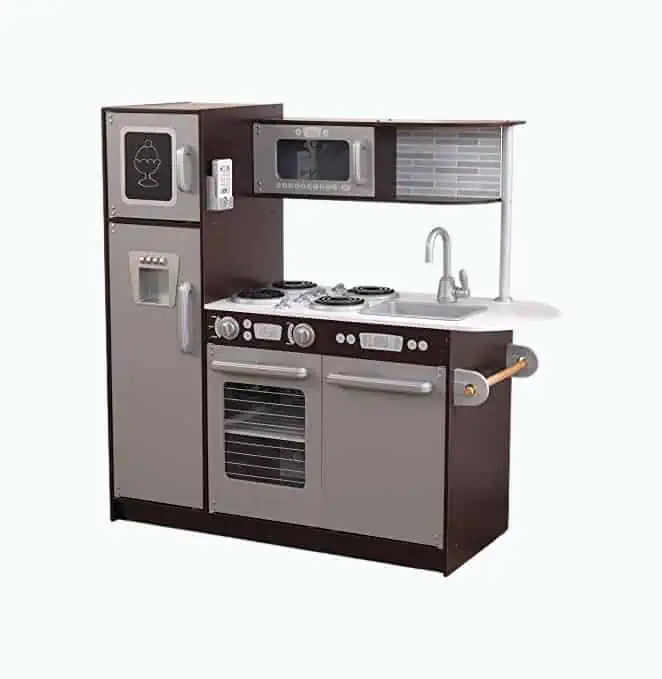 Best Modern Design
KidKraft Uptown
Sturdy construction
Realistic look with shelves
Modern design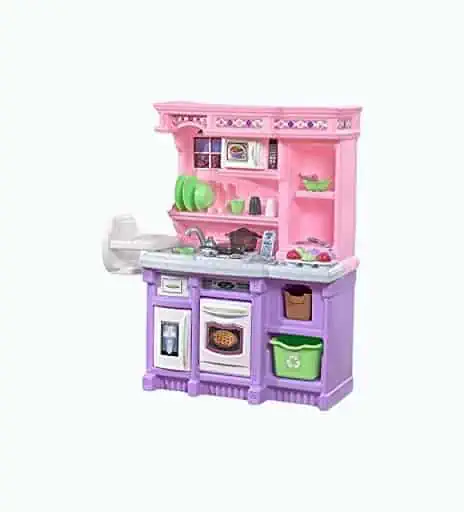 Best Kitchen for Baking
Step2 Sweet Bakers
Interactive cooking sounds
Attachable high chair
More compact than others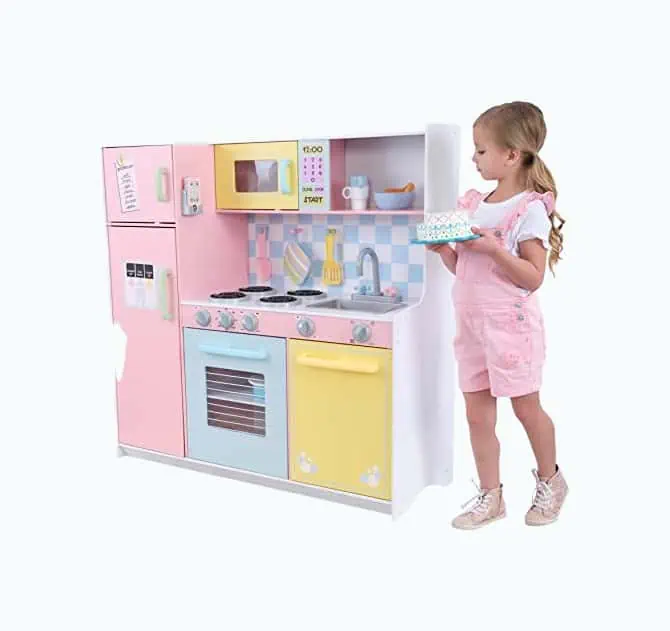 Best Girly Kitchen
KidKraft Kitchen
Cute, girly pastel colors
Built to last
Shelving for special items
Best High-End Kitchen
Melissa & Doug Chef
Detailed assembly instructions
High-quality wooden construction
Movable knobs
Best Outdoor Kitchen
Step2 Grand Walk-in Kitchen
Durable
Made in the United States
Hardwood foam flooring
Pet-Friendly Cottage
Step2 Fun with Friends
Includes 45 accessories
With pet area
Interactive stovetop with lights & sounds
Best Two-In-One
Little Tikes Cook
Includes 26 accessories
Two configurations
Realistic appliances
Best Vintage Kitchen
KidKraft Vintage
Ideal kitchen set for any fashionista
Storage areas for organization
Removable sink for easy clean-up
Best Portable Kitchen
Fisher-Price Learning Kitchen
Multi-purpose and interactive
Portable and educational
Plenty of accessories
---
---
The Best Toy Kitchen Sets of 2023
Here are 9 affordable, durable, educational, and fun toy kitchen sets to consider.
KidKraft Uptown Espresso Kitchen
Best Modern Design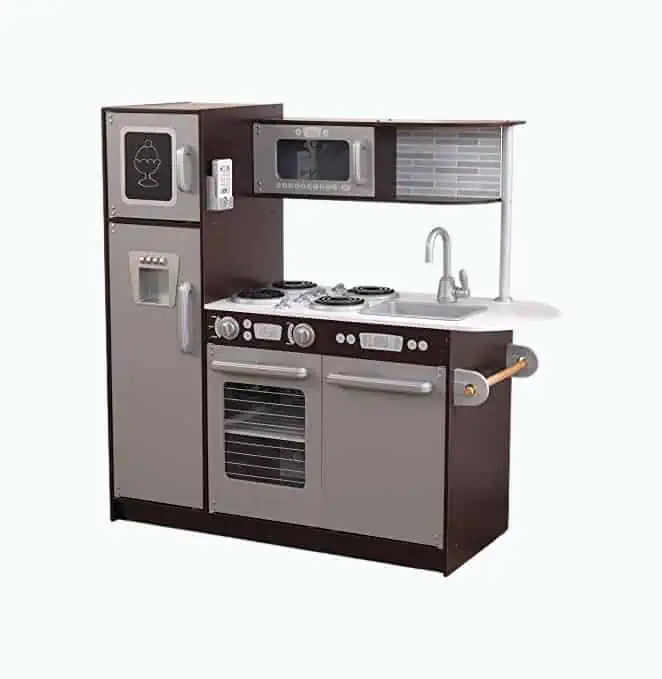 This popular kitchen is all about details. It's suitable for kids 3 years and older, and the slick, modern design should fit most playroom styles.
It has loads of realistic features, including clicking and turning knobs, an ice maker, a chalkboard, and a towel holder. Your kid could spend a great deal of time opening and closing the functioning doors on the fridge, oven, dishwasher, and microwave. They'll be busy cooking, cleaning, and storing away any leftovers.
They can even talk on the phone with their bestie or place a grocery order from mom's kitchen if they run out of something. Made primarily of sturdy wood with some plastic features, you'll be able to hand it down from one sibling to another. The set is 41 inches high and 43 inches wide, with a counter height of 22 inches.
Pros
Sturdy construction.
Realistic look with shelves to keep the kitchen tidy.
Transparent windows on microwave and oven.
Modern design.
Plastic removable sink for easy cleaning.
Cons
Assembling the product takes a long time.
It has no lights or sounds.
No accessories are included.
Our Ratings
---
Step2 Little Bakers Kitchen Playset
Best Toy Kitchen for Baking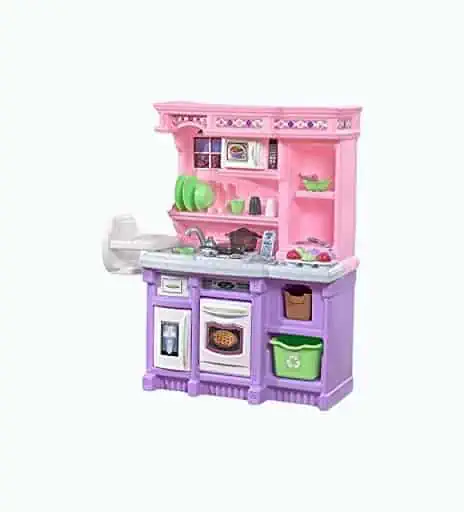 For those with a sweet tooth, this plastic kitchen comes with a cupcake set, utensils, and other equipment. With a countertop that sits 20 inches high, it's appropriate for little chefs from 2 years of age and up.
For an authentic cooking experience, the stove and burners include turning and clicking knobs, and the pots and pans produce sizzling and boiling sounds. The attached high chair will allow your little one to cook while keeping an eye on their baby doll.
The recycle bin will teach your child the right habits from the start. It also features a mobile phone, an ice maker, an oven, and a microwave. All in all, 30 accessories are included, so you don't have to purchase extra play food.
Pros
The interactive cooking sounds are exciting.
Attachable high chair for double mommy duties.
More compact than others: 14 inches by 28 inches by 41.5 inches.
Minimal assembly is required.
Cons
Assembly holes are not pre-drilled, so a drill may be required.
May be too small for children above preschool age.
Our Ratings
---
KidKraft Large Kitchen
Best Girly Girl Kitchen Set
This kitchen set comes in beautiful pastel colors. Even the faucet knobs, which usually look a bit drab, are blue and pink. It's made for kids 3 years or older, and its features won't disappoint.
Why not teach your child how to use the pot holder to avoid getting burned or stir the food using the spoon and spatula? These included accessories make playtime realistic and engaging.
The pink phone is an excellent addition and might even be used without the kitchen set. All doors open, providing storage for other accessories, while those on the oven and microwave have a window.
This allows your kids to check on their precious items being cooked. The knobs turn and click just like the ones in mom's kitchen. The countertop height is 23 inches.
Pros
Cute and girly pastel colors.
Built to last with sturdy wood and PVC.
Shelving for special items.
Basic accessories to get your kid started.
Cons
It weighs over 80 pounds, making it hard to move once assembled.
Pots and pans must be purchased separately.
Our Ratings
---
Melissa & Doug Chef's Kitchen
Best High-End Kitchen
This high-end kitchen from Melissa & Doug has all the details needed to make it realistic. Kids 3 years and older will have two color schemes to choose from.
The microwave plate rotates, and your little chef can reuse the grocery list as long as they use a pencil. Simply make a check next to the items they need, then erase it to use again next time.
For summer days, the ice dispenser will provide two pretend ice cubes. Like in real life, place your cup under the hole, and the machine delivers the ice cubes. When the meal is over, your child can remove the burner grates and clean them.
Ample storage will help your child stay organized; no problems keeping the kitchen tidy and ready for the next playtime. The assembled size is approximately 40 inches wide and 36 inches high.
Pros
Clear and detailed assembly instructions.
Includes an ice dispenser.
Sturdy, high-quality wooden construction.
Reusable grocery list.
Movable knobs make a realistic clicking sound.
Cons
Accessories must be purchased separately.
Our Ratings
---
Step2 Grand Walk-in Kitchen & Grill
Best Outdoor Toy Kitchen
Beware, you might envy your kid's cooking space if they have this grand walk-in kitchen. It's suitable for children ages 24 months and up and should delight your kid well into their early school years.
This Home Step2 Grand Walk-In Kitchen and Grill set contains a refrigerator, cabinets, microwave, three-sided counter space, and working light-up and sound-making stove burner.
This makes for the best all-weather outdoor play kitchen. We especially love the charm of the griller and the windows for ordering, which encourage social skills and role-play options.
Pros
Complete play cottage with grill.
Durable and made in the United States.
Use outdoors or indoors.
Realistic electronic appliances with sounds.
"Hardwood" foam flooring adds to the appearance.
Cons
The floor doesn't include drainage holes, so it needs to be cleaned often if used outdoors.
Assembly takes some effort and time (about 90 minutes).
Our Ratings
---
Step2 Fun with Friends Kitchen
Best Pet-Friendly Cottage Kitchen
This set is recommended for children ages 2 and up and looks like the typical cozy kitchen found in cottages or chalets. A pretend wooden board contains hooks to hang utensils and a frame to place a family picture.
The stove is covered with a stone arch, giving the kitchen an authentic and unique look. The water and food bowls for your favorite furry friend are located under the farmhouse sink.
We like the recycle bin, which introduces children to the concept of less waste, and the kettle might be the perfect accessory to make a pretend hot chocolate or tea. With a variety of other accessories included, your kid will be cooking with their friends or siblings for hours on end.
Pros
Includes 45 accessories.
Interactive stovetop with lights and sounds.
Includes a unique pet area with mock food and water bowls.
Durable construction.
Cons
No pre-drilled holes for assembly.
Our Ratings
---
Little Tikes Cook N Grow Kitchen
Best Two-in-One Design
This kitchen set comes with two different setups, suitable for toddlers who are 18 months old and up. The first configuration places the cooking surface closer to the floor, allowing the youngest to play, with the fridge and oven to each side.
As your kid grows, you can attach the fridge and the oven together and pull the cooking surface over them. This kitchen set includes 26 accessories, such as kitchen tools, food items, pots and pans, dishes, and cups.
The backsplash design is modern, cute, and sure to be appreciated by mom as your tot can prep you a cup of coffee while you stop by for a chat.
Pros
A coffee pot and other accessories are included.
Two setups for growing with your child.
Realistic appliances with electronic sounds.
An educational pot with a shape-sorting lid is included.
Cons
Younger children might need some help opening and closing the unhinged doors.
Our Ratings
---
KidKraft Vintage Kitchen
Best Vintage Kitchen With Style
As we know, storage space in a kitchen is an absolute must. This vintage kitchen comes with two decently-sized cabinets for that very reason. There's also shelf space to help with that. The white color will match your decor in any room.
This cute set is conceived for children 3 years and up and showcases "stainless steel" finishing on the handles and knobs, which make sounds when turned. A sliding oven drawer and see-through microwave add to the experience, while the phone enhances role-play to imitate mom while cooking.
From the pretend ice dispenser to the little buttons on the microwave, this one's all about the details.
Pros
Ideal kitchen set for any fashionista.
Storage areas for organization.
Removable sink for easy clean-up.
Cons
Time-consuming to assemble.
Aside from the phone, there are no accessories.
Our Ratings
---
Fisher-Price Learning Kitchen
Best Portable Toy Kitchen
Learning need not be boring with this interactive center playset from Fisher-Price. This toy is meant for children from 6 months to 36 months. It encourages role-play, strengthens dexterity, and helps develop hand-eye coordination. The sounds and songs teach colors, shapes, letters, and languages — both English and Spanish.
It folds up small, making it the perfect playset to take to grandma's house, and it doesn't take up as much storage space as most other toy kitchens. It's perfect for babies and young toddlers who still enjoy sitting to play.
Pros
Folds small for travel or storage.
A multi-purpose kitchen playset with songs and phrases.
Plenty of accessories included.
Multiple play settings.
Cons
It's hard for non-crawlers to access all the features at once, as the fridge is on one side and the stove on the other.
Not great for kids who are past the sit-and-play stage.
Falls over easily.
Our Ratings
How to Choose a Toy Kitchen
Here are some features to keep in mind when shopping for a toy kitchen set.
---
Thank You For Your Feedback!
Thank You For Your Feedback!