Have you ever met a toddler who doesn't love blocks?
But not every toddler loves every type of block.
We've hunted for blocks of all kinds to help you find the perfect set for your unique child. We've found the best blocks for toddlers, including wooden blocks, magnetic blocks, jumbo blocks, foam blocks, and many others.
In this article, we'll review each of our favorite toddler blocks and explain what makes them stand out. We'll include the pros and the cons so you can make an informed decision and find the perfect set for your toddler.
Image
Model
Product Comparison Table
Features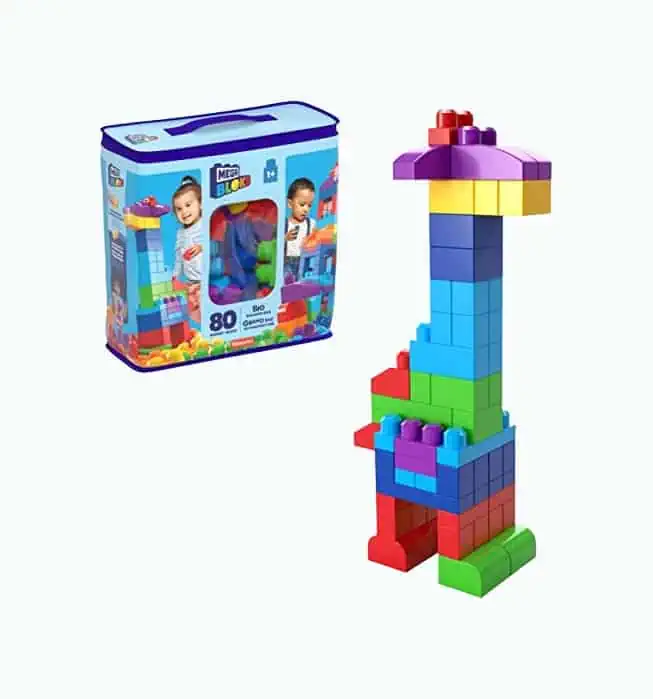 Best Jumbo Blocks
Mega Bloks
80 blocks with stickers
Compatible with all Mega Bloks sets
Encourages hands-on exploration
Best Wooden Blocks
Melissa & Doug Wooden
Classic, creative, and educational activity
Includes 100 blocks
Exceptional quality and value
Best Stacking Blocks
Melissa & Doug Nesting
Multiple colors and sizes
Durable cardboard construction
Fun and educational toy
Best for Young Babies
Infantino Squeeze and Stack
Soft and squeezable
BPA-free
Includes reusable grab-and-go tote
Best Foam Blocks
ECR4Kids Softzone
Easy to clean
12 large blocks included
Constructed for durability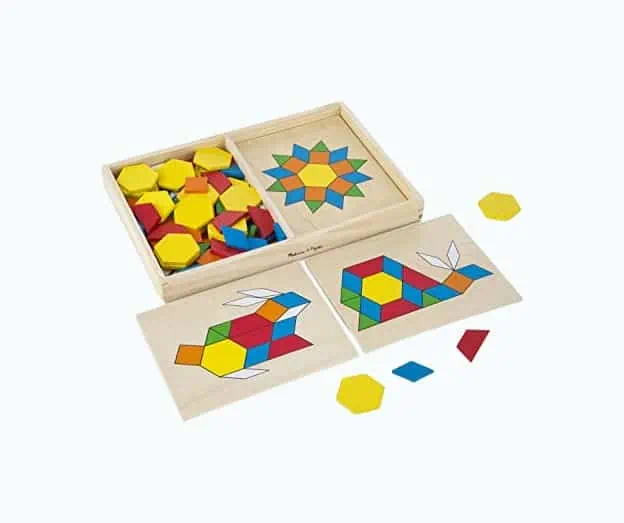 Best Pattern Blocks
Melissa & Doug Pattern
Includes 120 shapes and 5 boards
Great for problem-solving
Improves hand-eye coordination
Best Alphabet Blocks
Melissa & Doug Classic ABC
Will last for years
Includes 30 blocks and rolling cart
Perfect size for little hands
Best STEM Construction
DreambuilderToy STEM Blocks
100% non-toxic plastic
Smooth tile edges
Helps fine motor development
Best Magnetic Blocks
Intock Magnetic Blocks
Easy to store
Made of high-quality, non toxic plastic
Durable
Best Translucent Blocks
Agirlgle Rainbow Blocks
Colorful stained glass effect
Variety of shapes and sizes
24-piece set
Review Methodology: At Mom Loves Best, our thorough analysis and assessment of the best blocks for toddlers is based on hands-on experience, professional evaluations, and data-driven research. We evaluate products from a user's perspective, comparing and ranking them based on criteria that matter most to parents, like safety, durability, and educational value. Our findings provide quantitative measurements of each product's performance, identifying key decision-making factors and design choices that set them apart from competitors. Our reviews offer first-hand evidence and insights, ensuring that you can trust our recommendations for your toddler's playtime and development.
---
---
The Best Blocks for Toddlers of 2023
Here are our favorite blocks for babies and toddlers.
Mega Bloks Toddler Building Blocks
Best Jumbo Building Blocks
Mega Bloks are the Holy Grail of toddler blocks. Toddlers, caregivers, and educators have loved these blocks for generations.
Parents rave over this product — and rightfully so. The blocks are not only colorful, but they are easy for little hands to use.
Mega Bloks are large, interlocking blocks that kids can use to create any structure they imagine.
A major perk of these blocks is that once you snap them together, they aren't stuck forever. Little hands can undo them and put them back together. As a parent, you won't constantly be asked to undo blocks The Incredible Hulk couldn't even manage to separate.
The toys have oversized prongs for stacking. Since the product was designed with toddlers in mind, most toddlers can master the features.
Pros
Includes 80 pieces, which are plenty of blocks to keep toddlers entertained.
Compatible with all Mega Bloks sets.
Portable bag included for easy on-the-go travel.
Encourages hands-on exploration.
Optional stickers for letters or numbers.
Cons
Some pieces don't snap well together, which can be frustrating for toddlers.
Block set does not include a base.
Our Ratings
Community Feedback
These jumbo legos have been a staple in our household since my daughter was a baby. Not only did they help teach her colors, but both my kids have enjoyed building various structures with them over the years. The vibrant colors and durable bag make storage and clean-up a breeze. Additionally, I've found these blocks to be versatile for educational purposes, using them to teach segmenting and blending with a simple sharpie.
---
Melissa & Doug Wooden Building Blocks
Best Wooden Blocks
Wooden blocks never go out of style. These blocks are still around because they have a lot to offer.
Wooden blocks are light enough for your little one to move around but durable enough to be knocked down when built into the highest tower for demolition.
They don't rely on prongs to snap into place, so your toddler has more control over their building structures, which enhances creativity.
Pros
Comes in four colors and nine shapes.
Classic creative and educational activity.
Includes 100 blocks.
Exceptional quality and value.
Cons
Doesn't include storage container.
Some of the pieces are on the smaller side and could potentially be a choking hazard.
Our Ratings
Community Feedback
I've enjoyed watching my son play with these brightly colored blocks, as they provide ample opportunities for him to develop motor skills through stacking and building. Although the blocks are slightly smaller than I initially expected, they still offer great value and endless entertainment for my child. He's even learned to identify colors as we build together, making these blocks an excellent tool for both fun and education. It's worth noting that a storage bin is a must-have for keeping the blocks organized and easily accessible.
---
Melissa & Doug Alphabet Nesting and Stacking Blocks
Best Stacking Blocks
These blocks are a must-have for toddlers. I can say firsthand that my son has spent hours upon hours playing with this set. He loves them so much that I purchased a backup just in case one set breaks.
The blocks can be used in two different ways, stacking or nesting. Toddlers will love the freedom to interchange between the two.
The sides of the blocks are filled with letters, colors, shapes, and animals, adding educational value. As the blocks nest and stack in alphabetical order, you can use them to teach your little ones their letters.
Repetition is key with toys like these, and little ones will get a thrill out of stacking these and tearing them down.
Pros
Multiple colors and sizes.
Durable cardboard construction.
Educational.
Great for hand-eye coordination and problem-solving.
Cons
As they are made of cardboard, they may be damaged by rough play or if they get wet.
The stickers peel easily, so curious kids may rip the outer layer off.
Our Ratings
Community Feedback
Great for young kids, this tower is both fun and educational, providing hours of entertainment as they play with the colorful blocks. The blocks are made of a hard cardboard material, which makes them lightweight and safe, but may not be as durable for rough play. While my child enjoyed stacking and knocking them over, I noticed some inconsistencies in the print quality and sturdiness, but these did not detract from the overall enjoyment.
---
Infantino Squeeze and Stack Block Set
Best Blocks for Young Babies
Little hands and minds need to be kept busy, but finding age-appropriate blocks for babies and younger toddlers can be challenging.
These blocks are a great option because they are super colorful and squishy and can be squeezed or chewed on with no problems.
Your little one can start exploring these blocks at a young age and eventually use them for learning their numbers and letters.
If you are looking for the best blocks to grow with your toddler, these will be a great choice. They can start out as cool teethers and transition into fun stacking blocks.
A cool perk of these blocks is that they are also safe toys for bathtime. Blocks always seem to be more fun once they enter that bathwater.
Pros
For babies 6 months and older.
Soft and squeezable.
Fun colors, numbers, and animal shapes.
Includes reusable grab-and-go tote.
Cons
Rubber blocks may have a strong smell upon arrival.
The blocks can be awkward to stack.
Blocks only include numbers to eight.
Our Ratings
Community Feedback
As a parent, I found these blocks to be a delightful addition to my baby's playtime. The colorful and soft design is perfect for little hands, although they may be slightly large for younger infants. My child enjoys exploring the various textures and images on each block, and they even hold up well to teething and drooling. While I wish there was more variety in the color selection, these blocks still provide hours of fun and educational play for my baby.
---
ECR4Kids Softzone Toddler Blocks
Best Foam Blocks
Toddlers love these foam blocks because they are large but lightweight. The size makes little ones feel empowered because they can finally move large objects, and they are fun and easy to stack. And they are just the right size for a toddler to sit on as they play.
They are not as challenging as some other block sets as they only come in one size and shape, but this makes for simpler play for babies and younger toddlers. And you can use the vibrant blocks to teach colors and matching for some educational value.
The foam blocks are covered with reinforced leather to combat slobber and bites, and their size prevents choking, making these a baby-safe option.
Pros
Twelve large blocks included.
Foam inside makes them soft for playing.
Constructed for durability.
Cons
With heavy usage, the blocks may split at the seams.
Fairly expensive set.
Our Ratings
Community Feedback
My experience with these foam blocks has been fantastic for both my son and my grandchildren. These blocks helped improve my son's fine motor skills, allowing him to stack them higher and eventually master other toys. They're soft, colorful, and a good size, making them suitable for my crawling grandson to safely play with and enjoy. My autistic grandson also loves these blocks, and they were an excellent choice for him.
---
Melissa & Doug Pattern Blocks
Best Pattern Blocks
Toddlers are mesmerized by colors and shapes. This set of blocks will not only touch on colors and shapes, but it will encourage your child to put them in a specific order.
The included wooden boards have pictures that replicate the order in which your little one should place the blocks. It is virtually a block puzzle.
You probably never thought your toddler would already be completing puzzles with more than 10 pieces, but you will be surprised by how fast little ones can pick up on these boards.
Those who don't like to follow directions or prefer to use their own creativity can use the blocks to make any creation they wish.
This block set is great for quiet play at home or away. If you are looking for a fun and beneficial way to entertain your toddler, these block puzzles make a great solution.
Pros
Includes 120 shapes and five boards.
Great for problem solving.
Improves hand-eye coordination.
Includes storage box.
Cons
Some pieces may be too small for younger children.
The set doesn't have a proper lid, making them hard to store.
Our Ratings
Community Feedback
These wooden puzzles have been a hit with my daughter, providing her with a quiet time activity that she can enjoy independently. She loves creating her own shapes with the pieces, and it keeps her engaged and challenged. However, the polished wood can be a bit slippery for little fingers, but adding velcro dots made the experience more enjoyable and less frustrating. The only downside is that the color from the pieces may scratch off into the box, but it doesn't affect their functionality.
---
Melissa & Doug Classic ABC Blocks
Best Alphabet Blocks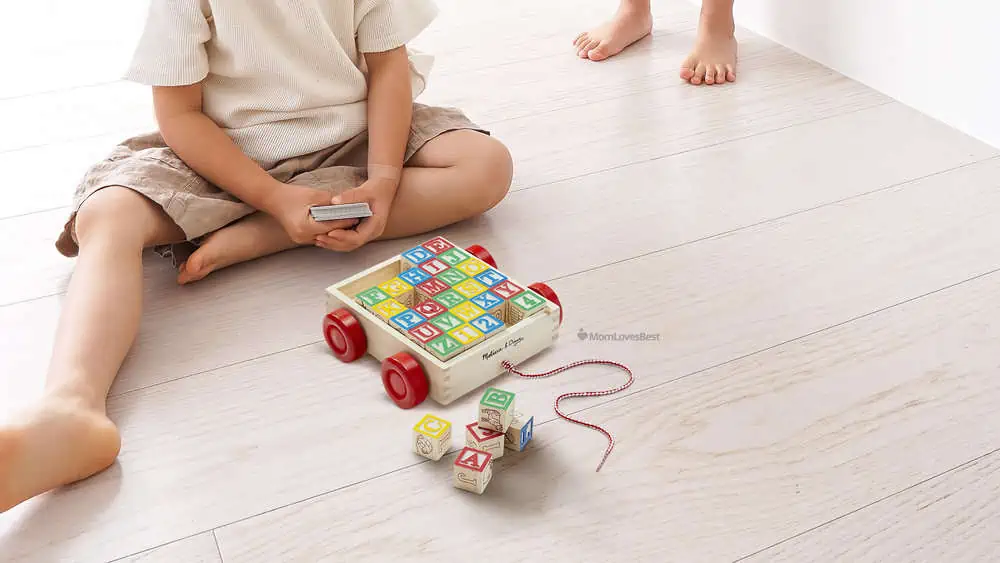 When you envision ABC blocks, these are probably what you have in mind. The primary color wooden blocks that aren't too big or too small are an excellent toy for toddlers, which is why they've been loved for generations.
Your little one will love how easy it is to pick up and move these blocks. No matter which way they decide to situate them, the colorful letters are printed on all sides.
These blocks are great because they can grow with your child. You can implement them before your toddler really understands letters, and you can keep them around once your child can start spelling.
The durability of these wooden blocks ensures they will last from toddlerhood to kindergarten if your child still shows interest.
Pros
Classic set that will last for years to come.
Includes 30 blocks and a rolling cart.
Includes numbers and letters.
Perfect size for little hands.
Cons
The blocks are smaller than they appear online.
The smaller size can make them challenging for toddlers to stack.
The blocks don't display a logical arrangement of letters and pictures (E.g., The X block displays a cat).
Our Ratings
Community Feedback
In my experience, this toy has been a wonderful addition to our home, providing both entertainment and educational value for my 17-month-old. The toy encourages the development of motor skills, sound recognition, and familiarity with letters and shapes. While the size of the blocks may be slightly smaller than similar toys from the past, they still boast a charming design and come in a convenient pull cart for storage. One downside is that the wood can be prone to splitting or breaking, and the paint may come off easily when bitten by younger children. Despite this, the toy has been a delightful gift for my toddler, and we've been able to create many cherished memories together.
---
DreambuilderToy Magnetic STEM Blocks
Best STEM Construction Blocks
Toddlers absorb their surroundings like a sponge, and educational toys can help them do that.
These blocks are complex, but they help promote science, technology, engineering, and math. But to your child, it is just a fun way to stay entertained.
The vibrant colors and intriguing designs are captivating and will keep your child mesmerized. There are so many options for putting these blocks together that your little one will learn how to take control and make decisions.
Why settle for mediocre blocks when you can buy STEM blocks that promote higher levels of learning?
Pros
100% non-toxic plastic.
Smooth tile edges to ensure no sharp points.
Helps fine motor development.
Encourages shape and color recognition.
Cons
The magnets can be a severe health risk for young children if they come out of the blocks.
Does not come with a storage box.
Younger children find them harder to connect.
Our Ratings
Community Feedback
As a user of this magnetic tile set, I found the overall quality to be a mixed bag. The magnetic tiles themselves are decent, allowing me to build a house and ferris wheel without them falling apart easily. However, the car and ferris wheel components were somewhat flimsy and prone to falling apart when interacting with them. The set also includes unique pieces like roofs, windows, and archways, which added a nice touch to the creations, but the overall quality of the tiles could be improved. Despite its flaws, this set can be a good starter option for kids to explore their creativity before investing in a more expensive set.
---
Intock Magnetic Blocks
Best Magnetic Blocks
Magnetic building blocks can provide hours of fun because each piece offers a unique challenge.
Your toddler will have the opportunity to try to problem-solve with the magnetic blocks because each block has a specific way you must turn it to connect to another block.
If your child is up for a greater challenge than traditional blocks offer, these are a great choice.
Pros
Made of high-quality, non-toxic plastic.
Durable design should last for years.
Comes with a handy storage box.
Cons
The pieces are small and contain magnets that could be a hazard if a block breaks, so adult supervision is required.
The sets aren't always compatible with each other if you purchase multiple sets.
Our Ratings
Community Feedback
I'm impressed by the strong magnetic pull and durability of these blocks, making them easy for kids to build with compared to traditional Legos. My children are absolutely obsessed with them, and the colorful cubes provide endless creative possibilities. However, I did notice some inconsistency in the quality of certain pieces, particularly the black and orange ones, which can be frustrating when trying to create symmetrical structures.
---
Agirlgle Wooden and Translucent Blocks
Best Translucent Building Blocks
Your child's playtime experience will be enhanced with this unique "stained glass" wooden block set.
Toddlers love that they can build an object and still be able to see through it. And these blocks are great for use both indoors and outdoors.
The assortment of colors, shapes, and sizes allows your child a stimulating environment conducive to learning when engaging with these blocks, and they are designed with toddlers in mind.
Use this set as a fun way to introduce shapes and critical thinking skills as early as possible.
Pros
Blocks include an assortment of many colors.
The variety of shapes makes for all kinds of building creativity.
Includes 24 pieces.
Cons
The plastic inserts can become scratched or damaged.
The wooden edges can be a little sharp or rough and may require some sanding.
Our Ratings
Community Feedback
After purchasing these wooden blocks, I found that they provided a captivating and engaging experience for children of various ages. The colored plexi inserts create stunning visual effects when light shines through them, though they are a bit loose fitting in the blocks. The blocks themselves are well-constructed, durable, and smooth to the touch, ensuring safe play for little ones. However, the color choices could have been more vibrant, and the product name could potentially be misleading as it may seem targeted only towards girls.
Why Are Blocks An Effective Toy?
Toddlers need a stimulating environment to keep them entertained. They need toys they can use in a variety of ways — and blocks provide so many opportunities for open-ended play (1).
Toddlers want toys they can figure out on their own as they grow more independent. Their accomplishments make them proud.
When stacking their blocks, toddlers have visual confirmation of their progress. They get to explore different options and let their creativity take the lead. There is no right or wrong way to play with blocks, so every child can succeed.
The Different Types of Blocks
The market for toy blocks is a big one. They come in a wide variety of different materials:
Cloth.
Wood.
Cardboard.
Plastic.
Foam.
Toddlers can accomplish many objectives when using blocks. They can use them for the following purposes:
The best part about blocks is that they allow your child's imagination to shine. They can create anything they want and use them in ways that you or I may have never thought about.
How to Choose the Best Blocks
---
The Bottom Line
The best blocks we've found for toddlers are Mega Bloks. These blocks were intricately designed with toddlers in mind, and every aspect of the product proves that.
The blocks are not only bright and colorful, but they are also easy to stack and undo because of their large size. They are also safe from choking hazards because the pieces are not small enough to enter the mouth.
The opportunities are endless for your little one with these blocks because the set is compatible with all other Mega Bloks sets. This is a toy your littles will go back to over and over again.
Thank You For Your Feedback!
Thank You For Your Feedback!