Are you on the hunt for the perfect puzzle to entertain your child and help their development? If so, we're here to help you in your quest.
We've searched for the best puzzles for toddlers and kids and have narrowed our list of dozens down to these 13 unique and fun products. We selected creative, challenging, skill-building puzzles made with top-quality materials. These puzzles come highly recommended by thousands of parents and kids.
We've included puzzles that appeal to toddlers, preschoolers, pre-teens, and teens. We'll highlight wooden puzzles, mega-piece jigsaws, 3D creations, and more. You may even find a few you'll enjoy working on alongside your kids.
Image
Model
Product Comparison Table
Features
Best for Intergalactic Fun
Melissa & Doug Solar
48 extra-thick cardboard pieces
Easy-to-clean surface
100% happiness guarantee
Best for Little Ladies
Ravensburger Horse Dream
Bestselling puzzle brand worldwide
Anti-glare surface
Completely unique shape per piece
Spelling Bee for Preschoolers
The Learning Journey
Thick, durable cardboard construction
Teaches early reading skills
Self-correcting puzzles
Great for Young Toddlers
Gybber&Mumu Colorful
Approved ASTM & CPSIA test
1 board and 9 wood toy
Safe and colorful
Best for Prehistoric Exploration
Melissa & Doug Dinosaur
60-piece puzzle
Durable
Made in the USA
Clever Design for ABC Fun
BeginAgain Animal Parade
Features fun animal pieces
Eco-friendly materials
Highly educational
3D Puzzle for Future Sailor
CubicFun 3D Puzzle
142 puzzle pieces
Value for money
Easy but entertaining assembly
Safari Fun for Adventurers
Melissa & Doug Safari
Exceptional quality and value
24 extra-thick pieces
2 feet x 3 feet when complete
Best for Space Enthusiasts
iPlay, iLearn Solar
Bright illustrations
High-quality components
Extra-large size
Skill Building for Toddlers
Joyin Toy Educational
Non-toxic
No choking hazard
Perfectly sized for toddlers' hands
Review Methodology: At Mom Loves Best, we understand the importance of finding the best puzzles for toddlers and kids to enhance their cognitive development and creativity. Our in-depth analysis and hands-on experience with various puzzles allow us to provide you with an unbiased assessment of each product. Our team of professionals evaluates and ranks puzzles based on criteria such as age-appropriateness, educational value, and durability. We measure and compare the performance, design, and user experience of each product, shedding light on key decision-making factors. By examining quantitative data, research findings, and first-hand evidence, we can confidently recommend the top puzzles that set themselves apart from competitors and cater to the unique needs of your child. Trust Mom Loves Best to guide you in making the best choice for your little one's growth and enjoyment.
---
---
The Best Puzzles for Toddlers and Kids of 2023
Here are our favorite puzzles for toddlers and kids.
Melissa & Doug Solar System Puzzle
Best Puzzle for Intergalactic Fun
This extra-large floor puzzle could be just the tool for your child to get to know the solar system. The set features 48 thick pieces that are easy for children aged 3 and up to handle. The pieces also have a glossy finish that makes them easy to clean.
The artwork is incredible, and to make it even more educational, the names of the planets are listed on the puzzle as well, so spelling practice is an option too.
Community Feedback
I'm impressed with the quality and vibrant colors of this puzzle. My son and his friends enjoy playing with it, and it's large enough for multiple kids to play together. The pieces are thick and durable, making it perfect for young children. The only downside is the slightly bulky packaging, but overall, it's a fantastic product for keeping kids entertained and engaged.
---
Ravensburger Horse Dream Puzzle
Magical Puzzle for Little Ladies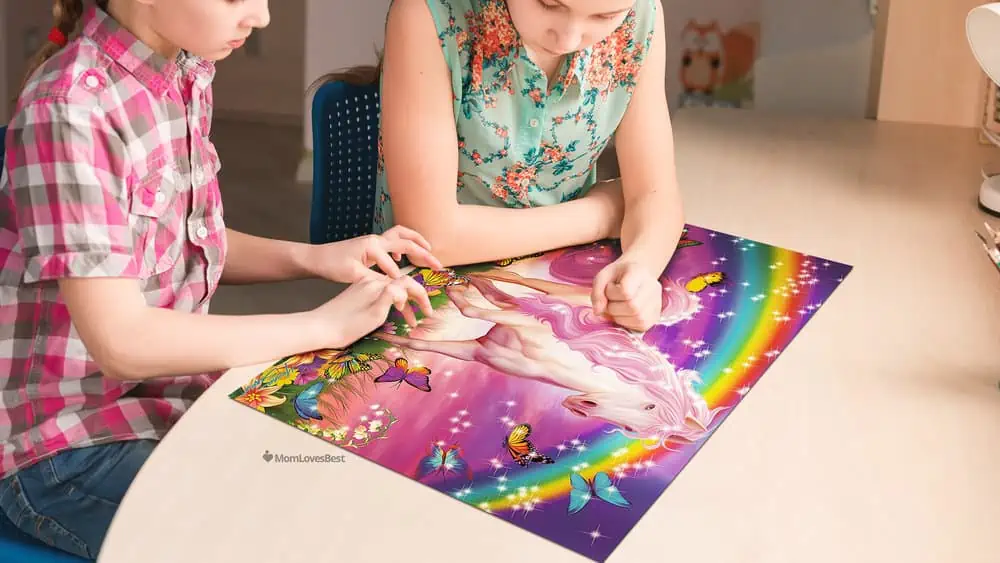 Let your child's imagination run free as they assemble this colorful puzzle. The puzzle will show a magical unicorn, rainbow, and butterflies when finished.
The puzzle measures 14 inches by 19 inches. To make it even more girly, the puzzle pieces are decked out in glitter. It features 100 pieces — an excellent size for children ages 6 and up.
Community Feedback
When I first introduced my daughter to this puzzle, she was immediately captivated by its vibrant colors and intricate design. The pieces are well-crafted, with a sturdy feel and interlocking mechanism that ensures a satisfying fit. Both my daughter and my niece have spent countless hours piecing this puzzle together, making it a cherished activity in our household. It's evident that this puzzle has provided endless entertainment and joy to the young ones in our family, and I believe it will continue to do so for years to come.
---
The Learning Journey Spelling Puzzle
Spelling Bee for Preschoolers
Learning to spell can be quite a challenge for some kids. Luckily, there are ways to make it accessible and less daunting.
With these self-correcting puzzles, your child has to match the pieces to form the correct words and pictures. It could be a great learning tool for children aged 4 and up.
The 20-piece set features only three-letter or four-letter words. There are also other sets available that feature uppercase and lowercase letters and even rhymes.
Community Feedback
If you're looking for an engaging and educational tool for young children or even clients with dementia, these durable cardboard puzzles are a fantastic choice. As a hands-on activity, it has helped my kindergartener with letter recognition and word-building while feeling like a game. Despite some words being too advanced for my class, such as "cow," I was able to curate a selection of 12-15 cards suitable for their learning level.
---
Gybber&Mumu Colorful Shape Puzzle
Great Choice for Young Toddlers
Young toddlers love bright colors and fun shapes. So this puzzle makes an excellent choice. It features large wooden shapes that your tot has to figure out how to place on the board.
The manufacturer created this puzzle with all the safety concerns in mind for children ages 12 months and up. The pieces are large, smooth, and painted with water-based paints, so it's safe if your child chews on them.
Community Feedback
My experience with this wooden puzzle game has been quite enjoyable, as it offers a challenge with its multiple shapes and fits perfectly in our Montessori play area. My little one and I have spent quality time working on the puzzle together, and it seems to be a favorite among other children as well. The pieces are big and easy to handle, making it an excellent puzzle for toddlers. Although it was smaller than expected, it has still proven to be an effective hands-on learning tool, even helping my 15-month-old begin to say some of the shape names.
---
Melissa & Doug Dinosaur Puzzle
Best for Prehistoric Exploration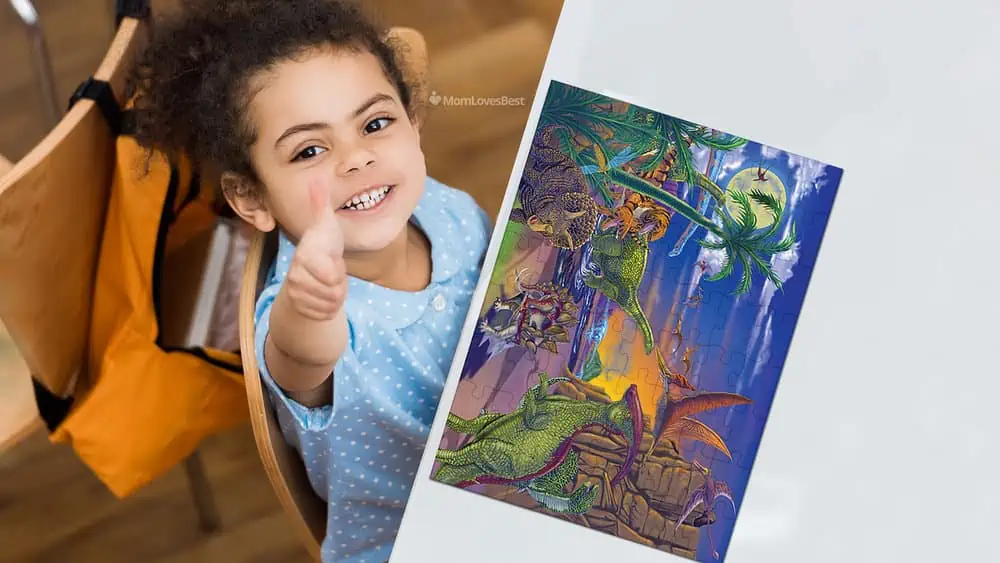 This 60-piece puzzle is excellent for dinosaur-loving children aged 5 to 7. It features some of the most popular dinosaurs, with a volcano ready to erupt in the background.
The puzzle is made of durable cardboard. It's an excellent way for children to use their problem-solving skills as they sort the pieces and put them together.
Community Feedback
In my experience, this puzzle has a few pros and cons that may influence your decision to purchase. On one hand, the quality of the cardboard is impressive, making it durable enough for younger children with developing fine motor skills. However, the picture design and color choice may not be as visually appealing as other brands like Ravensburger, which boasts better image quality and a more attractive mix of colors. Despite these minor drawbacks, this puzzle still offers a fun and challenging activity for children who love dinosaurs, but may not be suitable for younger kids who may find the smaller pieces difficult to handle.
---
BeginAgain Animal Parade Puzzle
Clever Design for ABC Fun
This alphabet animal parade was designed with clever kids in mind. It features a variety of animals that hook together in an impressive display. While mom or dad could help a toddler with this one, it may be more suitable for preschoolers due to the challenging configuration.
Each animal piece is made from eco-friendly rubberwood and displays a letter. On one side, you'll see the letter in uppercase; the other side shows the lowercase. A wooden storage case is included.
Community Feedback
This alphabet puzzle is a fantastic educational and entertaining tool for young kids. With its durable, Melissa and Doug-like construction and large, colorful pieces, it's perfect for little hands to work with. My three-year-old is obsessed with it, and even adults have a fun time trying to figure out the animal names. While it may be a bit challenging for younger children, it offers a great opportunity for growth and learning, and can even be used for games like hiding the pieces and searching for them in alphabetical order.
---
CubicFun 3D Vessel Puzzle
3D Puzzle for Brave Kids
This puzzle is a great fit for older kids ages 10 and up. These 3D puzzles are a unique challenge, and we think this is the perfect bonding project for kids to work on with their parents.
The medieval steamboat vessel is made up of over 142 EPS foam board pieces. It features a steamboat that will remind you of the Mississippi River.
One of the best parts about this puzzle is that once it's assembled, your child will feel a great sense of achievement, boosting their confidence. In addition, they'll have a steamboat to play with long past the assembly date.
Community Feedback
My experience with this 3D puzzle has been nothing short of enjoyable, especially when working on it with my kids. Designed for older children, around 10 years and up, these medieval steamboat puzzles offer a unique challenge that brings us together for some quality bonding time. Comprised of over 142 EPS foam board pieces, the intricate steamboat design is reminiscent of those found on the Mississippi River. What I love most is that once completed, my child feels a tremendous sense of accomplishment and confidence, plus they get a cool steamboat toy to play with and enjoy long after assembly.
---
Melissa & Doug Safari Jumbo Puzzle
Safari Fun for Adventurers
This safari-themed jigsaw puzzle features 24 pieces and stretches 2 feet by 3 feet when assembled. It presents child-friendly African artwork depicting savanna animals, such as an elephant and a giraffe.
The pieces are extra large and thick, suitable for children from 3 years. They're also easy to keep clean due to the glossy finish.
Community Feedback
From personal experience, this puzzle is perfect for young kids, especially 3-year-olds. It's not only easy to put together, but the bright, colorful animals keep them engaged and entertained. The quality and sturdiness of the puzzle pieces have held up even after countless uses, making it worth every penny.
---
iPlay, iLearn Wooden Solar System
Best Puzzle for Space Enthusiasts
Outer space is a mystery waiting to be explored. Your child may already be interested in stars, planets, and aliens. This unusual wooden floor puzzle appeals to kids interested in the universe outside their reach and is great for children aged 3 and up.
It features 48 large pieces that fit together to form a circle. The pieces are made out of natural, non-toxic wood. The edges are also smooth to prevent any unwanted splinters.
Community Feedback
I've recently introduced a wooden circular puzzle to my child, and it has exceeded my expectations in terms of quality and engagement. The smooth wooden pieces provide a tactile experience, and the puzzle proves to be an educational tool for learning about the solar system. Despite its smaller size at 17 inches, this puzzle has proven to be a perfect challenge for my five-year-old, as the pieces' similar shapes require a keen eye for the correct image match. The included poster serves as an excellent reference and conversation starter, allowing us to dive deeper into the subject matter.
---
Joyin Toy Educational Sorting Puzzles
Skill Building for Toddlers
In this package, your toddler will receive four 3D wooden puzzles. Each one features a unique challenge with shapes and colors. These unique designs develop hand-eye coordination, counting, sorting, and stacking skills.
The wooden pieces are large, colorful, and free of toxins — making them safe for children 18 months and older.
Community Feedback
I'm thrilled with these wooden puzzles, as they've been a hit with my kids, ranging from age 2 to 9. The quality of the wood and paint is impressive, even surviving multiple trips to the bathtub. I appreciate the variety of difficulty levels, as it keeps my children engaged and learning. The elasticated pegs are a nice touch, ensuring no injuries if stepped on. These puzzles have quickly become a favorite "brain break" activity for my kids, and I couldn't be happier with the purchase.
---
White Mountain Candy Wrappers Jigsaw
Best Jigsaw for Advanced Puzzlers
Children aged 12 and up might like a more challenging puzzle. Something like this 1000-piece jigsaw could really test their limits and resolve.
It's large, colorful, and decked out in brightly-colored candy wrappers. And you might just find your favorite candy among them. Parents will also get a walk down memory lane, with some old-school candy brands included.
Community Feedback
When I first tried out these White Mountain puzzles, I was drawn to the interesting themes like baseball and candy. The pieces are decently sized and durable, making them easy to work with. However, I did encounter a missing edge piece in one of the puzzles, which was a bit disappointing. On the other hand, White Mountain offered to replace it with another puzzle.
---
The Learning Journey USA Map
Geography for Beginners
If you're looking to teach your little one early geography skills, this puzzle could help. It features 40 large pieces representing the 50 U.S. states. Each state includes a landmark or fun fact, and the pieces are slightly raised for easy placing and lifting.
This puzzle is recommended for ages 3 and up, but given the content, we think older children would also greatly benefit from this one.
Community Feedback
If you're looking for a fun and educational activity for young kids, this puzzle is a great choice. I found that the larger size and combined pieces for smaller states made it easier for my little one to handle and assemble. The colorful design and state-specific illustrations sparked my grandchild's interest in learning about the United States. However, I did notice that the artwork could benefit from a more diverse representation of people. Just be cautious with liquid spills, as the puzzle is made of pressed cardboard and may not withstand damage from liquids.
---
Ravensburger 3D World Globe Puzzle
Top Pick for Globetrotters
This amazing globe puzzle was designed for children ages 7 to 12 years. The 180 high-quality, peel-resistant pieces click into place when correctly assembled.
Once your child has completed the 3D puzzle, which is almost 8 inches in diameter, they can put it on the included display stand.
Community Feedback
My family and I had a fantastic time assembling this solar system puzzle, which now serves as a captivating decoration in our children's bedroom. While the puzzle can be challenging and may require some patience, the finished product is worth the effort and makes for a great learning tool for kids. The globe puzzle is smaller than expected and made of durable plastic, though the tiny text can be difficult to read. Nevertheless, my children have enjoyed taking the puzzle apart and reassembling it multiple times, proving its sturdiness and entertainment value.
Finding the Perfect Puzzle
With such a vast puzzle selection, it can be difficult to know where to start. And it can be challenging for some parents to find the right puzzle for their child's age. We'll help break down the process so you can find the best match for your kids.
---
Thank You For Your Feedback!
Thank You For Your Feedback!