There's nothing like ending a long, exhausting day with a meltdown: a bad bath can ruin your night. If you're finding that you dread your little one's bathtime, it's probably time for some new bath toys to make baths fun again.
We've searched high and low to find the best baby bath toys on the market. We've included toys for the littlest babies and ones that toddlers and even older kids will enjoy.
Our favorite bath toys teach numbers, colors, letters, fine motor skills, music appreciation, and hand-eye coordination.
Use these great toys to make bathtime a bonding experience instead of a harrowing one.
Image
Model
Product Comparison Table
Features
Best Overall
Little Tikes Bath Letters
Safety tested
Innovative & educational
Encourages active & imaginative play
Best for Babies
Yookidoo Bath Mobile
Multi-sensory experience
Battery operated
High-contrast colors
Best for Toddlers
Baby Loovi Bathtub Numbers
Non-toxic
Educational
Economical and convenient
Best Bath Book
BabyBibi Floating Books
Asthma friendly & BPA free
Set of four bath books
Helps develop child's fine motor skills
Best Rubber Duck
Munchkin Baby's First Bath
With hot water indicator
Useful and fun
Durable and easy to clean
Best Musical Bath Toy
Munchkin Bath Beats
Easy to operate
Four-piece set
Quality warranty
Best Sensory Bath Toy
Yookidoo Spin N Sort Spout
Various water activities
Promotes sensory development
Designed for tiny hands
Best for Fine Motor Skills
Crayola Bathtub Crayons
60 fragrance-free bathtub tints
Completely washable
Free of toxins
Best Whale Toy
Whale Bath Toy
Affordable
Safe and easy to clean
Highly adjustable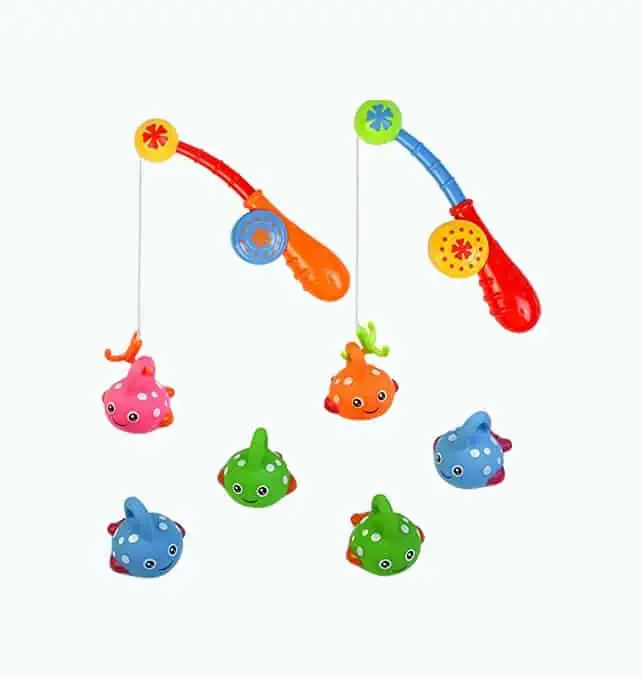 Best Fishing Toy
Fajiabao Fishing Game
ASTM approved
Durable silicone
Smooth & sealed construction
Review Methodology: At Mom Loves Best, we understand the importance of finding the best baby bath toys for your little one. Our hands-on evaluation and analysis of various products are based on criteria such as safety, quality, and entertainment value. Our team of experienced professionals conducts thorough research, comparing data and performance to establish benchmarks, ensuring that our reviews are backed by solid evidence. We assess the design choices and their effect on users, sharing our first-hand experiences and quantitative measurements to help you make informed decisions. We identify key factors such as age-appropriateness, durability, and ease of cleaning while ranking the top bath toys in the market. Trust Mom Loves Best to guide you in choosing the perfect baby bath toy that sets it apart from its competitors.
---
---
The Best Bath Toys of 2023
Here are our favorite bath toys for babies and toddlers.
Little Tikes Bath Letters and Numbers
Best Overall Bath Toy
Foam bath letters are a classic bath toy for a reason. They provide a great opportunity to introduce colors, sounds, and other early reading skills. These letters are safety tested, float, and stick easily to the tub or bathroom walls.
This letter set includes numbers 0–9 as well. The large foam letters are perfect for little fingers to trace and identify. This is a bath toy that's more than just fun. It's a great educational tool that you can sneak in under the radar.
Community Feedback
In my experience, these foam letters have been a versatile and entertaining tool for my children. While they are not perfect in shape, which can be challenging for my little ones learning letters and numbers, they have proven to be durable and soft enough for teething. My kids enjoy playing with them during bath time and they stick well to the shower walls, making learning and fun go hand in hand. I appreciate their thickness and that they have remained in good condition, even after months of use. However, it would be a nice addition if they came with a drawstring bag for storage and organization.
---
Yookidoo Baby Bath Mobile
Best Bath Toy for Babies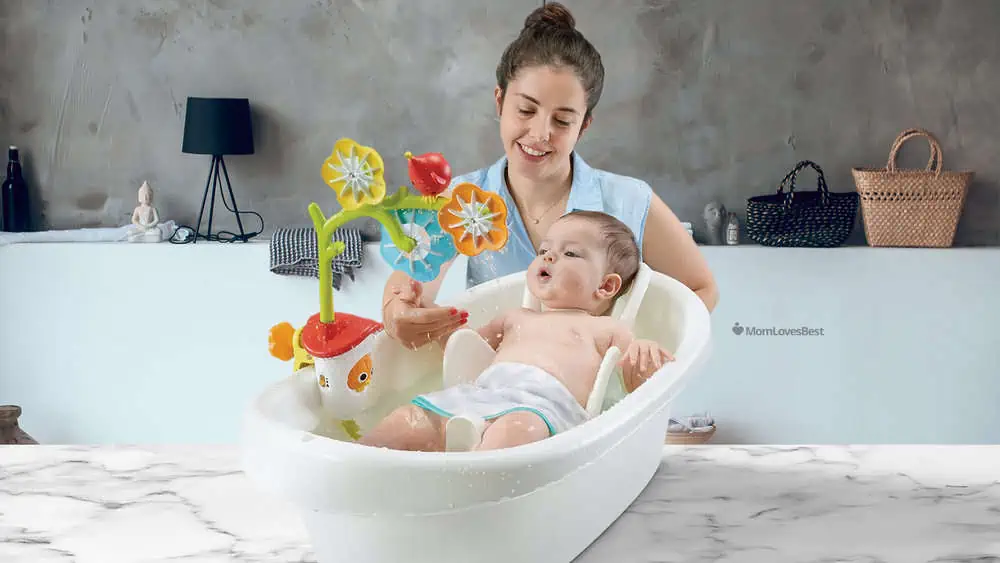 Babies, toddlers, and even older children can't get enough of the Yookidoo baby bath mobile. This sensory toy provides gentle mental stimulation and distraction during bathtime. And I love that the water feature helps desensitize my baby to water spray in a fun way.
When switched on, the flowers spin, splashing water drops, and the bird spits a steady stream of water.
The mobile fits a wide variety of tub shapes and styles. Clamp it to the side of an infant tub, or use the three strong suction cups to adhere it to a full-sized bathtub. It grows with your baby into toddlerhood, and you can store it out of the way.
It's easy to keep clean — wipe it down and dry it after using. It's entertaining for your baby during bathtime. A bonus is that you don't need to collect lots of small parts to put away afterward.
Community Feedback
My experience with this bath toy has been a mix of excitement and disappointment. On one hand, my kids absolutely adore it and can't get enough of the spinning flowers and water jets, making bath time a fun and engaging experience. On the other hand, the toy has some design flaws such as one of the flowers not spinning as it should and water splashing everywhere. Additionally, the toy's durability has been a concern, as it stopped working after just three months of use. Despite these drawbacks, the adjustable jet strength and clamp make it adaptable to different tub sizes, and it does provide entertainment for my little ones during bath time.
---
Baby Loovi Foam Bath Toys Numbers and Animals
Best Bath Toy for Toddlers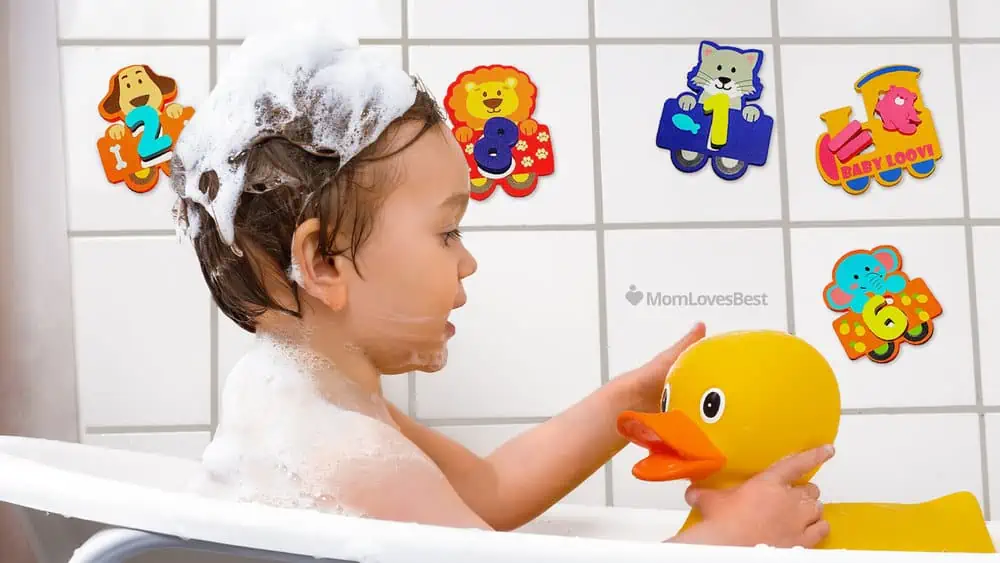 These foam toys are our top choice for toddlers. They help toddlers develop a variety of skills. Toddlers can work on their fine motor skills as they catch the floating toys and practice sticking them to the walls and side of the tub.
You can use bathtime to help your child learn animal names while practicing their numbers and colors. It's a great spin on a classic bath toy. They won't even realize they're learning.
Community Feedback
Got these foam bath toys for my toddler and they've been a hit! The bright colors and adorable animal prints make bath time more interactive and enjoyable. They stick well to the tub, making it easy for my little one to work on motor skills and number recognition. The mesh storage bag is a great bonus, although it lacks a suction cup for easy hanging. The only downside is that some pieces, like the giraffe, may break quickly due to their delicate design.
---
BabyBibi Floating Baby Bath Books
Best Bath Book
Kids love books, and you can never provide them with too many. Bathtime is as good a time as any to encourage reading.
Our favorite bath book set is this collection of books from BabyBibi. We like the learning opportunities they provide for children.
This set of four books includes a book that teaches numbers and shapes, one about fruit, one about ocean life, and a book about letters and colors.
If your child has already mastered those skills, the eye-catching colors and designs and the squishy, waterproof pages will still entertain them.
Community Feedback
My toddler absolutely adores these colorful little bath books, making bath time both fun and educational. They're quite small but durable, perfect for her tiny hands to hold and play with. The large print and vibrant pages have helped teach her counting, ABCs, and even recognizing fruits and sea animals. However, we have to be mindful of her chewing on them, as it's unclear if they are BPA-free or not, but overall, these books have become an invaluable learning tool during bath time.
---
Munchkin Baby's First Bath Toy Set
Best Combo
The set includes three favorite bathtime toys: a rubber ducky, a scuba swimming bath toy, and a little boat train. It makes a great baby shower gift for new parents.
We especially love that the rubber duck doubles as a safety precaution — it's a thermometer in disguise. If the water is too hot for your baby, the word "HOT" appears in white on a blue panel under the duck.
You have enough worries to contend with during bathtime. Thanks to this little toy, the water temperature doesn't have to be one of them.
The little scooba diver is always a favorite for little ones as they make him dive and try to sink the boats.
Community Feedback
Excellent product for ensuring my baby's bath time is safe and enjoyable. As someone who tends to perceive water temperature differently, this duck made a noticeable difference in my confidence when preparing my child's bath. The hot/cold indicator on the bottom is easy to read and helps me know that the water is just right. Not only does it serve as a useful tool, but it also doubles as a fun toy for my little one to play with during bath time. This duck is a practical and adorable addition to any parent's bathing routine.
---
Munchkin Bath Beats Musical Bath Toy Gift Set
Best Musical Bath Toy
Kids love music. They also love playing in water. A toy that can bring both of those together at bathtime is sure to be a winner.
This music maker set from Munchkin is rust-resistant and has passed rigorous safety testing. It's sure to bring out your child's inner Mozart.
The set includes a "dingray" xylophone, "octodrum" rhythm toy, and two starfish shakers. It not only encourages a love for music, but it also helps your little one build fine motor skills and understand cause and effect as they figure out how to play these instruments.
Community Feedback
Definitely a fun and engaging bath time toy set for little ones, this product has various didactic tools to keep them entertained. My nephew especially loves the octodrum, though the xylophone tends to sink easily, requiring assistance to hold it up. The starfish shakers are a nice touch, but could be a bit louder.
---
Yookidoo Spin N Sort Spout
Best Sensory Bath Toy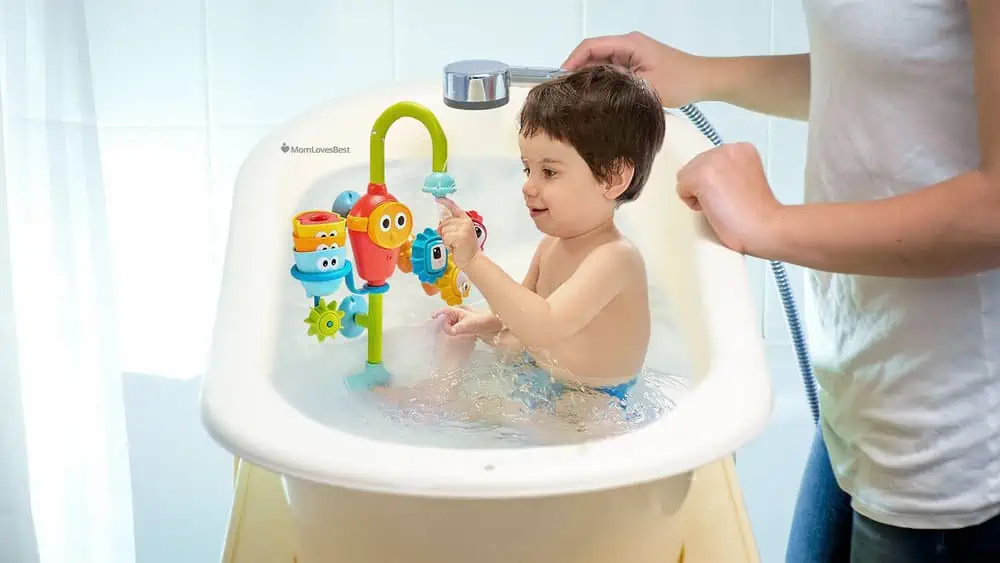 If you are looking for an interactive bath toy that encourages motor skills development, this is a great choice.
The Spin n Sort Spout provides loads of fun at bathtime. It has 10 water activities to keep your little one occupied and challenged as you wash them. Your child can use the bathwater that pours from the spout to create different water effects such as spraying, straining, and floating with the three funny-faced stackable cups.
The bright colors, textured pieces, and big eyes make this set entertaining for everyone. It's recommended for babies from 9 months to 36 months.
This set is affordable and makes a great gift for any active toddler.
Community Feedback
My experience with this bathtub toy has been a delight, especially for my little ones who absolutely love playing with the stream of water during bath time. Not only has it made bath time more enjoyable, but it also helps save water by eliminating the need to leave the faucet running for playtime. The suction cups can be a bit tricky to attach to the tub, but after soaking them in hot water for 30 seconds, they stick well. This toy has even become a favorite part of my child's bedtime routine, brightening up the experience with its fun gears and water play. However, finding the right spot to place it in the tub can be a little awkward due to its size and suction cup design.
---
Crayola Bathtub Crayons
Best Bath Toy for Fine Motor Skills
Nothing will help develop those fine motor skills faster than writing. If you're looking to encourage little ones to work on skills necessary for writing and drawing, bath crayons are a low-pressure way to do it.
These crayons are toxin-free and wipe clean from the walls after bathtime murals are complete. They come in a variety of colors and won't irritate sensitive skin. Even parents find them fun to use as they draw with their little one on the sides of the tub.
This set also includes 60 bath drops that change the color of your little one's bathwater, making bathtime an even more colorful event.
Community Feedback
I've been using these bath drops and crayons for my child's bathtime, and it's been a mixed experience. The bath drops are fantastic - they create vibrant colors in the water and my child adores them. However, I do need to use multiple drops to achieve the desired color intensity. On the other hand, the crayons can be a bit problematic; they're difficult to clean off the tub, especially if left on for too long. I've found that using a magic eraser instead of chemical cleaners works best for removing crayon marks.
---
Whale Spout Cover Bath Toy
Best Mermaid Bath Toy
Have you ever watched your little one hit their head on the faucet or end up with a face full of water? If you have, I don't need to tell you why we love this little whale so much.
It only takes seconds to slip this rubber whale cover over the faucet to cover its hard edges. And its very easy for adults to remove it — but not so easy for little fingers to interfere with.
Babies love looking at the cute BPA-free whale and seeing water pour out from under it as you fill the tub.
Community Feedback
I'm really pleased with this bath time whale spout cover which has helped prevent my little one from bumping their head during baths. The cool grey color is a nice touch, blending well with our bathroom decor, though I wouldn't mind having more neutral colors to choose from. I did notice that it tends to collect mold, so I have to clean it regularly. The material is a fairly hard and resistant rubber, providing adequate protection without compromising on fun as my child enjoys playing with it. The only downside is that it occasionally pushes the shower lever up on its own, but overall, it's a great addition to our bath time routine.
---
Fajiabao Fishing Game
Best Fishing Bath Toy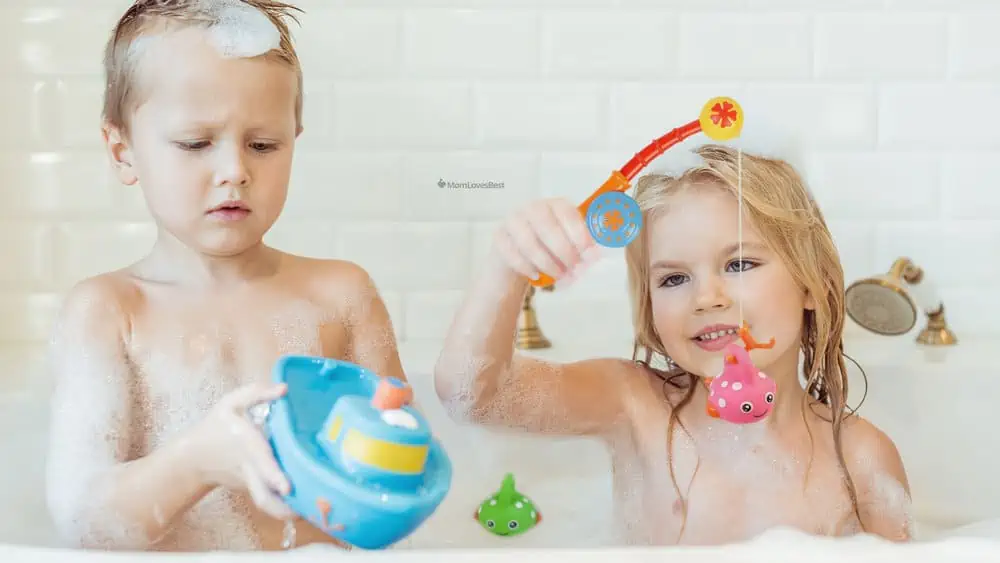 We love that this fishing set comes with two fishing rods. Instead of fighting over who gets to use the fishing rod next, your kids can go fishing together.
This is a great activity to improve hand-eye coordination and practice patience. Your little ones will use the hooks to snag the six happy fish over and over.
The colors in this set are attractive and fun, and its made with soft, durable silicone. This set has passed safety testing, is toxin-free, and is easy to clean.
We recommend this set for toddlers, as it may be too challenging for little hands to work the fishing rod, but younger babies love playing with the fish toys
Community Feedback
These bath toys have been a hit with my grandkids, providing them with endless fun both in the bathtub and at the pool. The colorful, sturdy design is great, and I appreciate the fact that there are no holes in the fish, preventing mold growth. However, hooking the fish onto the fishing rod can be a bit challenging for both children and adults, as the fish tend to be top-heavy and flip over. Despite this minor drawback, the toys have held up well and continue to be a favorite for my little ones.
How to Choose the Best Bath Toy
Your baby's bath can be so much more than a segue into sleep. It's the perfect time for you to bond with your baby.
It's also a moment for your child to continue their essential task of exploring, playing, and learning in a different environment.
You want to look for toys that will encourage this kind of growth and imaginative play. Your child's preferences will determine whether you choose foam letters, fine motor skill toys, or those geared toward creative play (1).
Pay attention to where your toys are manufactured, and make sure they can hold up in hot water. Even if your baby's bathwater is at room temperature, there's no guarantee the toys won't be affected by your hot shower steam.
---
How to Store Bath Toys
The two things that always get me with bath toys are storing them and cleaning them.
Imagine this — you stagger into the bathroom, ready for the fastest shower known to man. The next thing you know, a small toy with a name you can't remember is wedged between your toes. Maybe you don't even have to imagine this scenario — you're just remembering this morning's shower.
I have to confess that this was my morning routine for years before I bucked up and invested in a storage system for my kids' bath toys. It took me a while to find what worked for us, but I can't recommend it enough.
If you're anything like me, you think new bath toys are great, and so do your kids. That is, of course, until you've had the toys for a little while. Then you wonder what kind of germs they might be harboring.
I spent a long time searching for the perfect way to clean bath toys in the hopes I wouldn't need to replace them as often. This recipe for clean toys is simple, effective, and cost-efficient.
---
The Bathtime You've Dreamed Of
If you've been dreading bathtime, you don't have to anymore. The right bath toys and accessories can change how you approach your end-of-day routine — for the better.
There are so many great options here. But our top pick for the best bath toy is the Little Tikes Bath Letters and Numbers. We love the many variations of learning games you can play with them — and your child will think it's all just bathtime fun.
Foam letters are easy to care for and clean. They also store well and encourage tactile and cognitive development. We can't say enough good things about the benefits of introducing letters early and consistently to your children.
Thank You For Your Feedback!
Thank You For Your Feedback!