Are you looking for a baby bathtub that will support your baby and prevent them from slipping out of your grip while you clean them?
We've spent enough time trying to keep our babies' heads above water during baths and knew there must be a better option — and we've found it! In fact, we found 10 terrific tubs for every scenario.
We'll explain the differences between modern tub styles and what you need to look for in a tub. And we'll review the best baby bathtubs and bath seats on the market to keep your baby safe, secure, and happy during bathtime.
Image
Model
Product Comparison Table
Features
Best Budget Option
The First Years
Available in two colors
Versatile
Won't hit your pocket hard
Best for Sink
Summer Infant Deluxe Baby Bather
Soft and supportive
Adjustable recline position
Machine washable fabric
Best for Shower
Boon 3-Stage Bathtub
Fits bigger babies
Easy to clean
Non-toxic plastic
Best for Small Spaces
Shnuggle Baby
Takes up less space
Stable for freestanding
Warm back cushion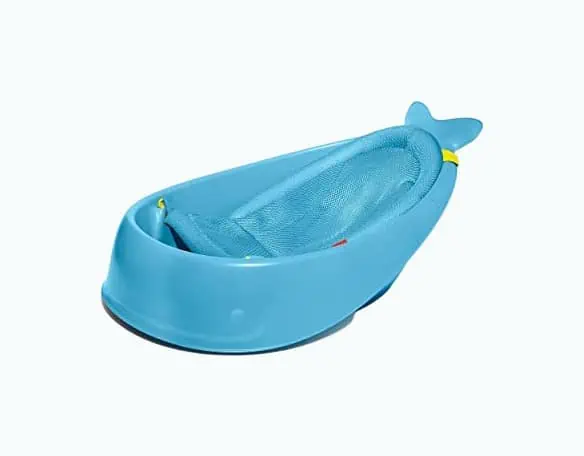 Best Sling Tub
Skip Hop Moby
Cute whale design
Drain hole in the base
Sling can be machine washed
Most Comfortable
Blooming Bath Lotus
Supportive and cozy
Fits many bathroom washbasins
Won't take up much storage space
Best for Newborns
Puj Tub Foldable
Soft and comfortable
Toxin-free
Easy to clean and store
Best Convertible Bathtub
Fisher-Price 4-in-1
Versatile
Extra accessories included
Removable bathtub feet
Best Inflatable Tub
Munchkin White Hot Duck
Fun design
Compact for transportation
Tail doubles as a head cushion
Best Portable Tub
Intime Inflatable Bathtub
Air pump included
Eco-friendly material
One-year warranty
Review Methodology: At Mom Loves Best, we pride ourselves on providing thorough and trustworthy analysis of the best baby bathtubs available on the market. Our team of experts meticulously research, compare, and evaluate various products based on criteria such as safety, design, comfort, and ease of use to ensure that our recommendations are backed by hands-on experience and reliable data. We assess each bathtub's performance, measure its features against industry benchmarks, and rank them based on their overall user satisfaction. By sharing our findings and insights, we aim to help you make informed decisions when it comes to selecting the perfect baby bathtub for your little one. Our comprehensive reviews focus on key decision-making factors and product aspects, such as material, size, weight capacity, and drainage system, while also highlighting what sets the top choices apart from their competitors. Trust Mom Loves Best to guide you through the world of baby bathtubs with confidence.
---
---
The Best Baby Bathtubs of 2023
Here are our favorite baby bathtubs and bath seats.
The First Years Sure Comfort Baby Bathtub
Best Budget Baby Bathtub
It's no surprise this is a popular bathtub. While it is budget-friendly, it still has all the bells and whistles you get with a more expensive tub. It will cover your baby from their first bath right up to toddler age, at about 25 pounds.
It has a mesh sling hammock for newborns that suspends above the tub. This is ideal when all you want to do is sponge bathe and not wet the umbilical cord. The sling holds your baby above the water so they're not fully submerged.
When my first baby was born, I dreaded bathtimes. He was so slippery, and I was scared I would drop him. This tub's mesh liner solved this problem as it held my baby in place so I could wash him without worrying about him wriggling out of my grasp.
After the first few weeks, your little one will be ready to have a splash around. The main tub also has grooves and a foot stop to minimize your baby sliding around in it. It even has a contour that prevents tiny bottoms from slipping and sliding everywhere.
We like the tall sides that keep the baby secure and the water in the tub. A padded back gives your little one some cushioning for comfort and further helps prevent slippage.
Once your baby can sit up and play, you can use the foot stop as a seat by turning your little one the other way around. Float the rubber duckies, and let your baby have fun.
Other notable features of this tub are a drainage plug and a small cubbyhole by the foot stop that holds things like soap, washcloths, or small toys. The tub will also fit into most kitchen sinks, so you can stand to bathe your baby.
Pros
Available in two colors.
Versatile from birth to toddlerhood.
Won't hit your pocket hard.
Cons
The drainage plug can have some seepage.
Quite large, so storage could be an issue.
Our Ratings
Community Feedback
I recently purchased this bathtub for my growing baby, and it has made bath time so much more enjoyable for both of us. My baby can now splash around and be fully submerged in the water, which wasn't possible with our previous AngelCare tub. While it may require some extra support for my baby's head, the tub is designed to grow with him, making it a worthwhile investment. One minor issue is that the water doesn't drain well when the tub is sitting flat, but placing something underneath it solves the problem. This lightweight, easy-to-use tub is perfect for families with limited bathroom space or for travel.
---
Summer Infant Deluxe Baby Bather
Best Baby Bathtub for the Sink
I remember my mom telling me the sink was the best place for bathtime when I was young. It saved her bending over and saved me from getting water everywhere. Her only complaint was the sink was cold and hard, and she would have to support me all the time.
She would have loved this bathtub from Summer Infant. With colorful bubble-patterned fabric, it is supportive for your baby's head, and the surface is soft on their skin.
This tub should fit any kitchen or bathroom sink, and I love that it has plenty of padding to cushion your baby. You can also use this in an adult-size bathtub, which makes it easy if you like to bathe with your baby.
Caring for this tub is a breeze. You can pop it in the washing machine and dry it in a dryer on the lowest heat setting. It even has a sturdy hook for hanging it to dry.
Pros
Soft and supportive for baby.
Three recline positions available.
Machine washable fabric.
Cons
Fits babies up to 24 inches only.
Our Ratings
Community Feedback
Best of both worlds with this bath chair - it's convenient for space-saving and easy to clean, yet it has a few areas for improvement. This chair requires an anti-slip mat to prevent sliding, and folding it closed takes both hands. However, it's a great value for the price, with quick-drying, mold-resistant fabric, and a comfortable recline for a relaxing baby bath experience.
---
Boon Soak 3-Stage Bathtub
Best Baby Tub for the Shower
Not all homes have a traditional bathtub. This can pose a problem when you want to bathe a little one but don't want to use the sink or when they get too big for the sink.
That's where this product comes in. It's a rigid one-piece bathtub, ideal for placing in a shower. Using the base of your shower for a bathtub might have its challenges, as the shower size can restrict your movement. That's why the contours built into this tub are ideal.
When you adjust them one way, the contours create a seat that will secure a slippery, wriggly newborn in place. Switch them the other way to make more room for your baby as they grow.
On the downside, the plastic surface may not be as comfortable for newborns as a sling-style tub.
Once your little one can sit unaided, you can switch them so they sit at the other side of the bathtub so the side provides a backrest. This bathtub is larger than most and will easily cater to your toddler until they are a couple of years old.
The drain plug acts as a color-coded temperature indicator, letting you know if the water will be safe and comfortable for your little one's skin.
Pros
Large enough to last from newborn to toddler.
Easy-to-clean, non-toxic plastic.
Adjustable bump.
Cons
May not be comfortable for smaller babies.
Our Ratings
Community Feedback
I recently purchased this baby bathtub for my little one and have found it to be perfect for our needs. The rotating seat allows for easy adjustments as my baby grows, and the tub fills with just the right amount of water to keep my baby comfortable during bath time. The all-plastic design makes it simple to clean, even after those inevitable messy baths. My baby feels secure and relaxed in this tub, allowing me to wash them with both hands free.
---
Beaba by Shnuggle Baby Bathtub
Best Baby Tub for Small Spaces
A large tub for your baby may not be an option when space is at a premium. The Shnuggle tub is lightweight, compact, and simple.
One big advantage to this tub is that your baby sits deeper in the water, making for a more womb-like experience. With more of their body submerged, your baby won't feel as cold and may relax and enjoy their bath more. And it only uses half a gallon of water!
It's like giving your baby a bath in a bucket, but with a few added extras. The feet on the bottom grip the base of a sink or bathtub, saving you from needing octopus arms to hold your baby while trying to keep the tub still.
A hump in the middle of the bath forms a seat for your baby's bottom and gives enough support to keep them upright so they don't fall forward. The bottom of the bath has a non-slip surface, and a padded grippy back cushion helps hold your little one in place.
The cushioned back is warm to the touch, stopping your baby from feeling too cold.
The bath measures 24.25 inches at the highest point and is suitable for any sink over 15.15 inches wide. This baby bath doesn't have a drain plug, but it's a snap to pour the water down the sink once you've finished with it.
Pros
Smaller than many other baby bathtubs.
Stable for freestanding on the floor or countertop.
Back cushion is available in three different colors.
Suitable from newborn up to about 12 months.
Cons
Not good for larger babies or toddlers.
It can be hard to wash your baby's bottom as they sit on it in the bath.
The upright positioning makes it a little challenging to bathe newborns.
Our Ratings
Community Feedback
My experience with this baby bathtub has been largely positive, as it offers a high-quality, sturdy, and easy-to-clean material, making mold growth a non-issue. The thoughtful design includes a bump to prevent slipping, a soft foam backing for head comfort, and a spacious interior for the baby to grow into. However, it may not be suitable for very small newborns who cannot hold their heads up, as it can be difficult to wash their bottoms and folds while they are in a sitting position. Additionally, the tub is not collapsible and may be inconvenient to store for those with limited space.
---
Skip Hop Moby Baby Bathtub Smart Sling
Best Sling Tub
Sling-style tubs are excellent for newborns. They cradle your slippery baby safely, taking some of the worries out of bathing your precious new arrival.
They look the same as many baby bathtubs but have a specially designed hammock to hold your baby during their bath. The cushioned mesh sling in this offering from Skip Hop clips on to four points of the tub.
Once your baby is about three or four months old, you can detach two of the hooks to convert the sling into a seat. This means more fun for your baby, but maybe more mess for you, as this tub won't fit in most sinks.
When babies progress to sitting on their own, you can remove the sling altogether. The textured base of the tub will help prevent them from slipping and sliding. The bathtub is suitable for babies and toddlers weighing up to 25 pounds.
The cute whale design with its star-shaped drain is fun for babies. Fold out the hook after your baby's bath to hang it to dry on your showerhead, towel rack, or shower curtain rod.
Pros
Cute design in the shape of a whale.
Drain hole in the base.
The sling can be machine washed and tumble dried on a gentle cycle.
Cons
The sides are only 11 inches high, which could mean water spillage.
Won't fit in most sinks.
Little toes can get caught in unused sling hooks.
Our Ratings
Community Feedback
I've been using this baby bathtub for a while now, and it's been an excellent addition to our bath time routine. The adjustable net is a fantastic feature, allowing the tub to grow with our little one and providing a comfortable and safe bathing experience. One downside is that the bottom can be slippery when wet, so it's essential to keep an eye on your baby when they're standing.
---
Blooming Bath Lotus Baby Bath
Most Comfortable
Looking for comfort for your baby and versatility for sink bathing? The Lotus tub has them both. It looks really cute and might have you reaching for the camera and producing an Anne Geddes-style shot.
It has four petals that overlap to form a comfortable, contoured base for your baby. This feature also means it's suitable for almost any sink size, expanding or reducing to fit. We wish this cozy, cushioned bath insert came in adult sizes!
A flat center holds your baby's bottom perfectly, preventing them from slipping around when they are wet and soapy. And fussy babies love being cocooned by the moveable petals.
Moms find it easy to use too. The soft outer fabric is filled with foam, making it supportive and cozy. Once you are done, just wring it out and hang it up to dry, or pop it in the dryer.
Pros
Available in three colors: canary yellow, blue, or hot pink.
Fits many bathroom washbasins or kitchen sinks.
Won't take up much storage space.
Cons
Won't last for older children.
Petals may lay flat in a very large sink.
Need to clean and dry thoroughly after every use to prevent mold and mildew.
Our Ratings
Community Feedback
After using this baby bath product, I have mixed feelings. On one hand, it's super soft and feels like thick memory foam, making it very comfortable for my baby, who seemed to enjoy the sink baths. However, when it came to supporting my newborn, it fell short, making it feel like I was still holding her in my arm with a cushion underneath. Cleaning up isn't too much of a hassle - I simply wring out the water, hang it up to dry, or toss it in the washer and dryer.
---
Puj Tub Foldable Baby Bathtub
Best Tub for Newborns
The Puj tub has an innovative design to cradle your precious newborn gently. It cleverly folds into shape using magnets and fits most bathroom or kitchen sinks. This is an excellent tub for keeping a slippery newborn secure while you gently bathe them.
It also saves the pain of bending over a bath, making it a godsend after a C-section.
The soft foam construction is BPA- and PVC-free, and it's also mildew and mold-resistant. This means no nasty toxins to harm your precious baby.
We love that this tub offers a small, safe area to bathe a little one while supporting them. It makes bathtime less stressful when they feel secure and cocooned, and it makes keeping hold of them a little easier.
Although this baby bathtub should fit most sinks, it's best to check your sink's dimensions first. It is recommended for sinks measuring 12 inches to 15 inches, with a depth of 6.5 inches to 9 inches.
Are you worried about ending up with a wet floor? This tub has overflow drains, leaking excess water into the sink.
Suitable from birth to about 6 months or 17 pounds, this is specifically designed for very little ones.
One bonus with this tub is it's also a space saver. It folds flat when not in use, so it won't take up valuable bathroom or kitchen space.
Pros
Soft and comfortable to cradle baby.
Toxin-free.
Easy to clean and store.
Cons
Larger babies will outgrow it quickly.
Magnets might not always hold strongly.
It might not fit all sinks.
Our Ratings
Community Feedback
My experience with this baby bathtub has been fantastic, as it easily holds my active little one in place while I wash her, providing comfort and relaxation. The convenience of standing up during bath time truly saves my back, though it fits better in my bathroom sink than my standard-sized kitchen sink. Despite the size limitation, this bathtub has been a wonderful addition to our daily routine, allowing for enjoyable and secure bath time for both baby and me.
---
Fisher-Price 4-in-1 Baby Bathtub
Best Convertible Bathtub
After the first few days, it's time to get more adventurous and submerge your little one in some water. It's scary, I know, but the padded foam back on this tub cushions your baby's head, and the bottom of the seat insert acts as a stopper for a tiny bottom.
Time passes quickly, and your baby will soon be sitting up. That's when you can progress them to the included supportive baby seat. There is even a water squirter and whale scoop included for them to play with!
Finally, the seat can be removed, allowing plenty of room for your toddler to play and splash around.
This bathtub is suitable for suspending over most kitchen sinks or placing inside the family bathtub, and the water quickly drains through the plug in the bottom. A handy hook lets you hang the tub to air dry.
However, as the tub is larger than most, drying and storage will take up space.
Pros
Versatile from birth to 25 pounds.
Roomy enough to be used as a toddler bath.
Extra accessories included.
Removable "feet" secure the tub when used over a kitchen sink
Cons
Drain plug is located under the seat, making it difficult to empty while the baby is in it.
Foam head pad is thin and can be challenging to clean.
Takes up a lot of storage space.
Our Ratings
Community Feedback
Love how versatile and convenient this baby bath is for growing kids. The adjustable hammock has been fantastic for my 2-month-old, making bath time enjoyable and comfortable. As my little one grows, I know this tub will continue to be useful and adaptable. The mesh sling dries quickly and the tub itself is easy to store.
---
Munchkin White Hot Inflatable Duck Set
Best Inflatable Baby Tub
If you're looking for a perfect travel tub for visits to grandma's house or vacations, this inflatable tub from Munchkin will meet your needs. It folds away neatly for packing in your suitcase and inflates and deflates quickly.
Just make sure you have plenty of air to blow it up, or get yourself a pump to avoid the lightheadedness of all that exhaling.
The inflatable duck has a textured, non-slip surface. This will help stop your little one from testing your powers of grip.
Another useful feature is the temperature indicator, which displays "HOT" in white if the water is above 104 degrees Fahrenheit. It stays blue when the temperature is correct. This saves the need for a separate bath thermometer or guessing about the bathwater temperature.
This tub will also last a long time, as it is suitable for children up to two years old. But it doesn't need to end there. You could use it for water play in the backyard when the weather is good. Some clever people have even filled it with ice and used it as a beverage cooler after the kids have outgrown it — how innovative is that?
There's a drain plug for easy emptying and a suction pad for hanging it to dry. Although you could leave this tub inflated, it takes up a lot of space when not collapsed.
Pros
Fun design your baby will love.
Compact for transportation.
Tail doubles as a head cushion.
Cons
Not suitable for babies younger than six months.
Inflating by mouth can take some time and effort.
Our Ratings
Community Feedback
Got this adorable duck tub for my son, and he absolutely loves it during bath time and even as a regular toy! The size is just right, not too big or small, and the softness adds a nice touch. I used a balloon inflater to make inflating it easier, and it has a handy heat sensor for added safety. My granddaughter also enjoyed playing with it during her first visit, and it could even make a great pool float!
---
Intime Inflatable Baby Bathtub
Best Portable Tub
We know how kids tend to be clingy with their possession. Sometimes, all they want is to have the things they're accustomed to using. You can carry this baby bathtub with you wherever you go.
The spa bath from Intime is made from environmentally friendly polyvinyl chloride material.
Inflating the tub is easy as it comes with an air pump. A graduation mark shows you how much water to add to it. And the drainage plug makes draining the water a breeze.
Intime designed this tub for portability, and it comes with a side pocket where you can temporarily store bath essentials or even your mobile phone to avoid misplacing it.
Pros
Comes with an air pump.
One-year warranty.
Eco-friendly material.
Cons
Difficult to completely dry.
Our Ratings
Community Feedback
My experience with this inflatable tub has been quite positive, as it provides a convenient solution for bathing my child while traveling in our camper. The size is suitable for a range of ages, from infants to toddlers, allowing room for play and exploration. However, I have noticed that it doesn't stay inflated for a long time, requiring some air to be added before each use. Additionally, the included air pump is not of the best quality, but overall, this tub serves its purpose well and is easy to clean.
Types of Baby Bathtubs
When we were babies, baby bathtubs came in one style only. Now you can find baby bathtubs in all sizes, colors, shapes, and styles — all designed to make your baby's bathtime much easier. These are the most common types of bathtubs for your baby.
Plastic Tubs
These standard tubs are generally made from durable hard plastic and are the most basic option. They might have a sloped side, a baby seat, a non-slip bottom, or a cushioned headrest. Some fit over a kitchen or bathroom sink, while others are freestanding or fit inside a regular bathtub.
Slings or Hammocks
Bathing a newborn can be a daunting task. You feel like you need about ten extra pairs of hands to wash your baby while supporting them and keeping them calm. A sling that fits over a standard-style baby bath will help keep your munchkin safely in place. This gives you one free hand while you wash their tiny body.
Convertible Bathtubs
These tubs have different inserts to use as your baby grows and develops. They will either have a sling or another type of support for newborns, such as cushioning or contouring. When your child can sit up, there might be a supportive seat or backrest. You can then remove these inserts, giving your toddler more space to play with bath toys or splash around.
Inflatable Tubs
Inflatable tubs might be less durable than plastic tubs, but they're great for storage and travel. With a bit — well, a lot — of puff, they inflate and provide cushioned sides for your baby to bathe in. They often have non-slip bottoms and a drainage plug.
Fold-away Bathtubs
These are another great space-saving and travel option. They open out and can be placed in a sink and filled with water. Once you finish bathing your little one, empty and dry it, then fold it up again to put away.
Luxury Spa Baby Bathtubs
These baths take clean-up to a whole new level. Some have spa jets, a waterfall feature behind your baby's back, a shower attachment for rinsing, cushioning, and non-slip coatings. These tubs are generally battery operated, heavy, and more expensive than simpler options.
Bucket Style
These are just what they sound like, a plastic bath that resembles the shape of a bucket. They could have a padded inner and non-slip bottom, and they usually have a seat and support to hold your baby upright.
How to Choose the Best Baby Bathtub
Bathtubs vary significantly in size and function. These are some features we watch for when hunting for the best bathtubs.
---
Thank You For Your Feedback!
Thank You For Your Feedback!