A baby bath thermometer can mean the difference between a comfortable, relaxing bath experience for your baby or misery if their bath water is too cold. It can even keep your baby safe by preventing serious burns.
For the best and safest baby bath experience, you need a quality thermometer — one that is easy to use, displays the water temperature quickly, and reads at a glance. We especially love thermometers that double as baby bath toys, making them an easy distraction during bathtime.
Not every bath thermometer meets these criteria.
We've tried and tested  all the best baby bath thermometers to help you get that perfect bath temperature every time, keeping your baby safe, warm, and comfortable. We know how busy the Mom life is — we're living it too. So we've narrowed our selection down to five choices to save you time and effort. All you need to do is pick your favorite.
Image
Model
Product Comparison Table
Features
Best All-in One Solution
Munchkin Inflatable Duck
Easy to use
Fun for kids
Store or transport with ease
Best Classic Bath Ducky
B&H Floating Duck
Displays time along with temperature
Bright and playful
Functions as room thermometer
Best for Playtime
Turtlemeter Thermometer
Fully submersible
3-color illuminations
Safe and reliable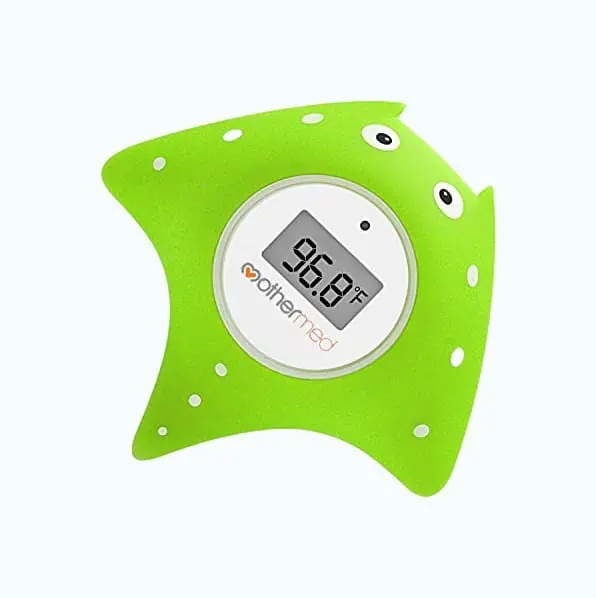 Best for Travel
Mothermed BathTub
Flashing light temperature alarm
12-month battery life
BPA-free playful design
Best Budget
Munchkin Safety Ducky
Bath and room thermometer
Round edges to avoid injuries
Water-tight and mildew-resistant
Review Methodology: At Mom Loves Best, we understand the importance of finding the perfect baby bath thermometer for your little one's safety and comfort. Our team of experts has conducted thorough research, hands-on testing, and comparative analysis to evaluate the best baby bath thermometers on the market. We've assessed their performance, accuracy, design, and ease-of-use, and ranked them based on these key decision-making factors. We've also gathered first-hand experiences and data to provide you with reliable information on what sets each product apart from its competitors. In our comprehensive review, you'll find valuable insights on safety features, temperature measurements, water resistance, durability, and battery life, which are crucial factors for a trustworthy and efficient baby bath thermometer. Trust our expertise and evidence-based findings to help you make the best choice for your family.
---
---
The Best Baby Bath Thermometers of 2023
Here are our favorite baby bath thermometers.
Munchkin White Hot Inflatable Duck Tub
Best All-in-One Solution
This dual-purpose thermometer is simple; pop some water in, and you are good to go.
The hot safety disc will turn white if the water is too hot. If you fill the duck tub with a few inches of water, the disc can sense whether the water's too hot for your little one.
We love the safety design of this cute duck. It contains suction cups underneath to secure its base to your tub or hang it up to dry.
The tub even has a small plug that simply lifts to drain the water — no back-breaking work is required to empty it.
As the tub is inflatable, you won't have to worry about injuries. With the anti-slip grooves and minimal water capacity, there's not much to criticize regarding safety.
My kids loved this thermometer as babies, and they still do! But now they use it to slide down the stairs.
Unfortunately, there are some points worth considering. Some moms find the tub hard to inflate, while others have no difficulty inflating it.
And this device can be challenging to position your bathtub. You need to have an easily accessible tub (and stomach muscles like the Hulk for excessive bending) to use this ducky sucessfully.
Pros
Easy to use, transport, and store.
Fun for the kids.
Great safety.
Multi-purpose use as a beer cooler. (We've tested it, and it works!)
Cons
Not for newborns (recommended for babies over 6 months).
Unless positioned at waist height, be prepared for a lot of bending.
You may require a small air pump to inflate it.
Our Ratings
Community Feedback
I recently purchased this inflatable duck for my child and it has quickly become a favorite during bath time and playtime. The size is perfect, not too big or too small, and it's made from a soft material that's gentle on my child's skin. Inflating it was a bit difficult at first, but using a hairpin to open the valve made it much easier. As an added bonus, this duck comes with a heat sensor and has even been a hit as a pool float and baby shower gift.
---
B&H Floating Duck Thermometer
Best Classic Bath Ducky
This tiny fella is a definite box ticker whether you have minimal bath toy storage or plenty. Your new addition will undoubtedly accumulate a ton of tub toys — luckily, you can store this one with them. It is cute, so it has baby bath appeal and is safe to use as a toy.
It may appear to be just another rubber duck, but it surprisingly has a few functions. The display option includes a choice of temperature readings, either in Fahrenheit or Celsius.
Additionally, an LCD screen will tell you the water temperature and even the time.
For ultimate reassurance for you and your baby, this thermometer will flash and has beeping alarms. Furthermore, you won't need to buy a separate thermometer for the nursery as it's suitable for room use too.
Are you conservation-conscious? Then look no further. This thermometer is made from eco-friendly materials.
As with every baby product, this baby bath thermometer won't be the best option for everyone. Some parents complain that switching between Fahrenheit and Celsius isn't intuitive, and neither are the instructions.
Pros
Displays the time as well as temperature.
Bright and playful.
Additional function as a room thermometer; dry it off and use it in your nursery.
Cons
It can be challenging to switch between Fahrenheit and Celcius.
Enclosed instructions are complicated — new parents may not have the patience to mess with them.
Our Ratings
Community Feedback
I recently purchased this bathtub duck thermometer, and it has been a fantastic addition to my children's bath time routine. Not only do my kids love playing with it, but it also has a helpful red light that warns me if the water is too hot. This cute little duck has various modes, but I mostly use it for checking the water temperature. One downside is that the instructions were a bit complicated, and it took me some time to figure everything out.
---
Turtlemeter Bath Tub Thermometer
Best for Playtime Baby Bath Thermometer
This little beauty looks super sleek and measures the temperature of your baby's bath.
The thermometer displays the temperature quickly and is fully submersible, so it will also provide entertainment for your playful baby.
It complies with all product-safety standards.
Green means go, so you know if the green light is illuminated, your bathwater is ready to use. If the light is red, keep your baby away — the water is too hot. A blue light means you need to add more warm water to keep your little one cozy and warm.
One of the biggest downsides of this thermometer is that it only displays readings in Fahrenheit and cannot be changed to Celcius.
Pros
Safe and reliable measurements.
Three-color illuminations.
Fully submersible.
Cons
Only displays in degrees Fahrenheit.
Our Ratings
Community Feedback
This bath thermometer is visually appealing and practical, providing a quick and easy way to ensure safe water temperatures for my newborn. However, I did experience some issues with the LCD screen fogging up and water seeping into the float, which may impact its longevity. Despite these concerns, the thermometer's color-coded temperature system and floating design make it a useful and entertaining addition to bath time.
---
Mothermed BathTub and Swimming Pool Thermometer
Best for Travel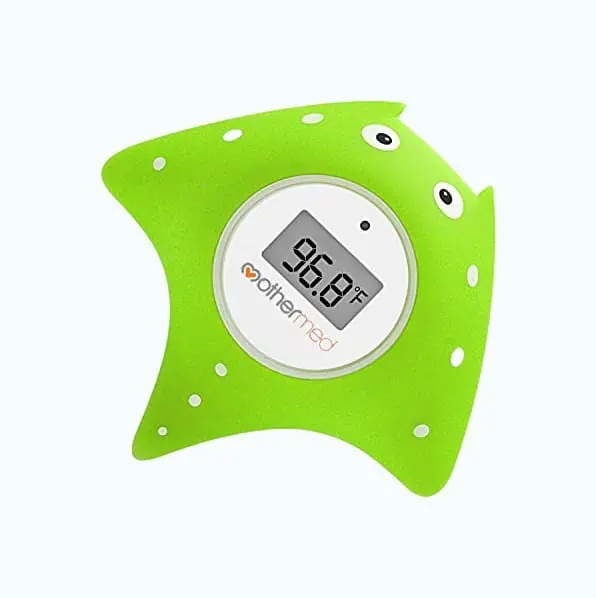 This thermometer is small and speedy, measuring the water temperature every five seconds. That's, like, Michael Phelps fast.
It's slim, lightweight, and it floats. Plus, it's designed with little hands in mind. It mimicks a stingray and has smooth edges and arches, making it easy to grip and good for play.
The compact design makes it ideal if you want to take it on vacation. Drop it into an overnight bag if you get to catch a break with offered childcare. (Thanks, Mom!)
And if you choose to use it for overnight stays, it doubles as a room thermometer.
This thermometer has a long battery life and automatic shut-off after 30 minutes. It has a flashing temperature alarm but remains energy efficient, so you can help save the world one tub at a time, Wonder Mommy!
Its display is simple. Along with the temperature, it reads "cold" or "hot." However, the only degree option is in Fahrenheit.
Another downside of this baby bath thermometer is that the battery cover doesn't always lock or stay closed.
Pros
Flashing alarm light.
Easy to grip and play.
The battery lasts 12 months.
BPA-free plastic.
Playful design.
Dual-use item: thermometer and bath toy.
Outdoor pool use.
Cons
Fahrenheit display only.
A little boring as a toy when compared to some other models.
Battery issues: cover instability, not easy to change.
Our Ratings
Community Feedback
Best of both worlds, the Mothermed Baby Bath Thermometer doubles as a safety measure and a fun toy for bath time. I found it super easy to use; just toss it in the water, and it starts taking the temperature as it floats around. The red light flashing when the water gets too hot is a helpful warning, but it does take a few minutes to reach an accurate reading. One downside is that it can be a bit tricky to turn on, needing a few light taps.
---
Munchkin White Hot Safety Bath Ducky
Best for Budget
This baby bath thermometer won't bust your bank, take up space, or have you guessing which button stops it from beeping. And it won't send you into the dreaded man cave for a screwdriver for a battery change.
Despite the simplicity of this thermometer, it has various uses. Designed as a playful little rubber ducky, it makes a safe and fun toy for bathtime games. It's also watertight and mildew-resistant.
Overall, this fish thermometer does a decent job for the price. But some parents may not trust the design, as it only displays the word "HOT" and not the actual temperature reading.
Pros
Bath and room thermometer.
Playful rubber ducky.
Easy to use.
Round edges to avoid injuries.
Water-tight and mildew-resistant.
Cons
Does not display the temperature of the water.
Our Ratings
Community Feedback
My experience with these bath toys has been nothing short of delightful. Not only are they perfect for keeping kids entertained during bath time, but they also serve as a useful tool for new parents and grandparents to ensure the water isn't too hot. The "hot" symbol on the bottom of the duck changes color, making it both cute and practical. I appreciate that the ducks have no holes, which prevents water from getting inside and causing mildew. The size, design, and colors are just perfect, and they even cater to those with peripheral neuropathy.
What Temperature Is Safe for Baby?
The temperature of your bath water is dependent upon your baby's age and comfort. The optimal water temperature should be around 100 degrees Fahrenheit or 38 degrees Celcius (1).
This temperature gets the water as close to your baby's body temperature as possible. Our little ones can't regulate their temperatures just yet and can lose heat quickly.
Temperature control is vital for your baby's super sensitive skin and keeping them comfortable. Then there's the obvious reason — nobody wants a screaming baby with a scalded butt (2).
Types of Bath Thermometers
Here are some of the different types of baby bath thermometers you'll come across:
Drain cover: Sits over the top of the plughole and changes color to show the water temperature.
Floating: Usually looks like a bath toy and has a digital display and/or color-changing spot.
Spout cover: A futuristic-looking piece of tech that encases the faucet spout and has a digital display.
Submersible: Can be stuck to the sides or base of a baby bathtub with the attached suction cup. Color-changing and digital display versions are available.
Non-slip, heat-sensitive mat: These mats are just like ordinary slip-resistant bath mats, but they have added heat sensitivity, so they can change color with temperature.
Built-in: A color-sensitive pad built into plastic baby baths that changes color with heat.
Energy-efficient: A good choice if you are conscious about buying too many batteries — there are even energy-saving options available that switch off after periods of time.
Cards: A simple liquid crystal display card that can be stuck to the side of the bath.
How to Choose the Best Baby Thermometer
The best baby thermometer for your baby bath depends on your personal preference. Some people want the best of everything; others prefer simplicity. Believe it or not, some parents will choose an aesthetically pleasing thermometer to match their bathroom decor. I'm not judging!
For my firstborn, I had baby thermometers everywhere — in the bathroom, bedroom, and spare bedroom. The second time around, all I wanted was ease and reliability.
Probably 90% of expectant parents haven't given a thought to what type of thermometer they should use. Or, more likely, they haven't had the chance to think about it.
But now that you're thinking about it, we'll give you five qualities to consider.
---
Baby Bath Temperature Tips
Along with using bath thermometers, remember that room temperature is a critical factor at bathtime. Maintaining your baby's body temperature, both in and out of the water, will keep them — and you — calm.
Do:
Check the water temperature using your wrist or elbow. As our hands can withstand higher temperatures, they are not the best to dip in.
Swirl the water around to mix it well, and make sure there are no hot spots.
Consider thermostat control to ensure the water is a maximum of 122 degrees Fahrenheit (50 degrees Celcius). You'll need a plumber to install any mixing valves, either to your water heater or bathroom hot water pipe.
Set your room temperature to a cozy heat, no hotter than 75 degrees Fahrenheit.
Don't:
Be tempted to use a regular thermometer. They are particularly fragile, and the mercury is dangerous.
Use a body thermometer. They generally aren't waterproof and can be costly to replace.
Use your hand to check the temperature. The skin on your hands is tougher than your baby's skin and may not register heat as accurately.
Have your tub too cold. This is equally as distressing for your little one.
---
The Bottom Line
My top pick as the best baby bath thermometer is the inflatable duck bath by Munchkin. My boys absolutely loved this guy. I mean, who doesn't want to sit in a huge inflatable duck?
It is cute, simple, and space-saving — great for those of you looking for a fun, durable, and easy-to-use thermometer. Its safety features are reassuring. It doesn't use too much water, and it made our bathtimes a breeze.
The Mom life is hard enough; choosing a thermometer doesn't need to be. As long as your little one is kept safe and at the recommended comfortable bath-time temperature, any of these five best baby bath thermometers will make a great choice.
Thank You For Your Feedback!
Thank You For Your Feedback!