We're all looking for the perfect organizing solution for that mess of bath toys all over the tub. But no one wants an organizer that will contribute to mold and mildew growth on bath toys (1).
We also hate it when an organizer doesn't stay where it's supposed to, dumping toys back in the tub after you've spent forever cleaning them all up.
We've spent hours searching for the best baby bath toy storage ideas and have come up with this great list of solutions. Check out our reviews of the best products we found to make bathtime cleanup easier — and even enjoyable — for everyone.
Image
Model
Product Comparison Table
Features
Best In-Tub Organizer
KidCo Bath Toy Organizer
Drains into the tub
Fits most bathtubs
Affordable
Best Large Organizer
The Really Big Tub Cubby
Made from mesh
Allows toys to drip dry
Mold-free design
Best Small Organizer
Boon Frog Pod
Storage for body wash and shampoo
Mounts easily with adhesive strips
Adequate drainage
Best Interactive Organizer
Comfylife Bath Toy Organizer
Cute and functional design
Best value for your money
Various design to choose from
Best Corner Organizer
Skip Hop Moby Bath Toy Organizer
Mesh base for easy drainage
Machine washable
Fully adjustable with suction cups
Review Methodology: At Mom Loves Best, our thorough analysis and hands-on research ensure that we provide you with the most reliable baby bath toy storage ideas. Our dedicated team of professionals evaluates each product based on important factors such as design, functionality, durability, and user experience. We compare and rank products using quantitative measurements and performance data, ensuring that our recommendations are backed by solid evidence. We identify key decision-making factors for choosing the best baby bath toy storage solution and share our findings, highlighting what sets each product apart from its competitors. Our goal is to help you make an informed decision when selecting the perfect bath toy storage option for your family's needs.
---
---
The Best Bath Toy Organizers of 2023
Here are our favorite bathtub organizers.
KidCo Collection Bath Toy Organizer
Best In-Tub Organizer
Are you looking for a caddy that allows bath toys to drain into the tub and is easy to remove once the toys are dry? If so, this could be the one for you.
This caddy is made from hard plastic with two adjustable divider panels and is designed to span across the bathtub. It's great for containing toys and baby bath essentials like soap and shampoo during bathtime while still leaving them accessible to your child.
Community Feedback
In my experience, this bath basket has been a useful addition to my bathroom for storing my granddaughter's bath toys, as well as shampoo and soap. The adjustable size makes it easy to fit on the bathtub, and the drainage holes on the sides and bottom ensure that the toys dry properly after each bath. While it may seem a bit flimsy, I haven't had any issues with it falling apart, and it can be disassembled easily when necessary. The basket is not only practical for storage, but also serves as a divider to prevent my two kids from fighting during bath time. However, it's worth noting that the basket needs to be removed and reinstalled when taking a shower, which can be slightly inconvenient.
---
The Really Big Tub Cubby
Best Large Bath Toy Organizer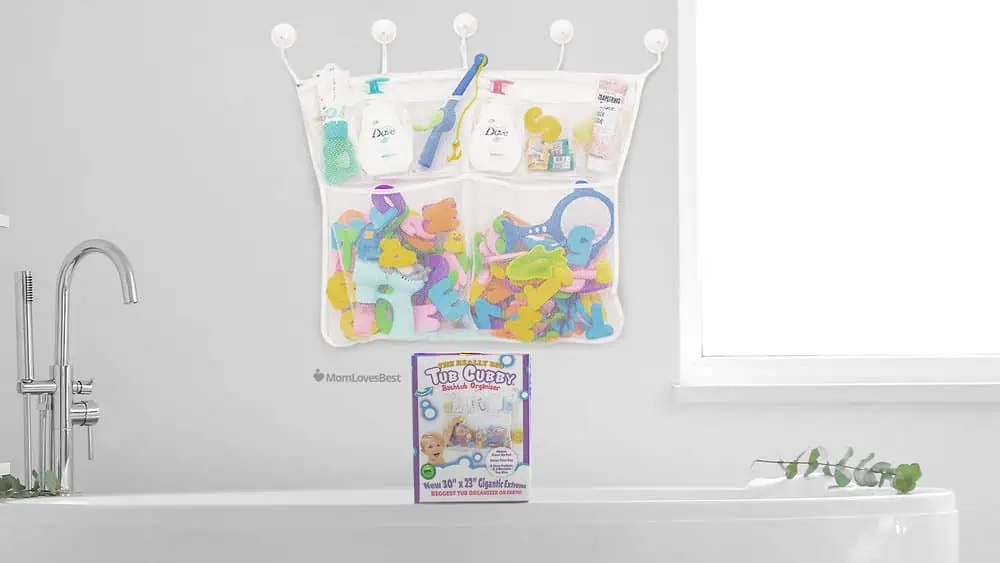 Have more bath toys than you know what to do with? Think there isn't possibly a bath toy organizer that's up to the task?
You might just need this oversized caddy in your life. It's made of mesh that allows the toys to drip dry and is easy to wash. This piece keeps your toys clean, mold-free, and out of the bottom of your tub.
Community Feedback
For those in search of a reliable bath toy storage solution, this product is a fantastic option. I initially purchased it last year to tackle the overwhelming number of bath toys we had, and I'm delighted with the results. The mesh netting is a great feature, as it allows water to drain, keeping the toys dry and preventing mildew. The suction cups are surprisingly strong, as they have held up for months without any issues. With this product, not only can it hold an impressive amount of toys, but it also helps maintain a clutter-free and organized bathroom space.
---
Boon Frog Pod Drain and Storage Bath Toy Scoop
Best Small Bath Toy Organizer
If you like your organizers to be more than just practical, this cute little frog might be what you're looking for. It provides adequate drainage and storage for body wash and shampoo without looking like a toy container.
This storage scoop isn't suited for too many toys. But this is an excellent option if you have just a few toys looking for a home. You can mount it easily with the included adhesive strips. It effectively reduces the risk of mold and mildew growing in your baby's bath toys.
Community Feedback
Love the adorable design of this frog holder, but it has some issues with staying on the wall. The sticky tape provided didn't last long, which meant I had to purchase more to keep it in place. Despite its sturdiness and cuteness, the holder's inability to stick properly is a major drawback. It's a shame because I remember having a similar product years ago that worked exceptionally well, but this one just doesn't meet the same standard.
---
Comfylife Bath Toy Organizer
Best Interactive Organizer
This engaging bath toy holder will encourage your little ones to help you clean up the toys after their bath.
The shark-designed mesh pouch is cute and functional. It comes with educational foam numbers and two separate mesh pouches — the shark pouch and a regular white organizer — providing great value for your money.
The suctioned hooks are strong enough to hold various bath essentials like baby shampoo, soap, and plenty of bath toys. We were impressed with how well they stayed in place even with a heavy load.
However, the suction cups are best suited to standard shower wall materials and won't stick well to some forms of tile.
Community Feedback
I recently purchased this mesh organizer for bath toys and books, and it has made a significant difference in keeping our bathroom tidy. The suction cups are stronger than most, and once I figured out how to properly position the hooks, the organizer held up very well, even when full of toys. However, the bags did begin to tear after about a year and a half of use, but considering the price, I still think it's a decent deal.
---
Skip Hop Moby Bath Toy Organizer
Best Corner Organizer
Have an awkward space you need to make the most of? Or do you hate that the corners over your tub serve no real purpose? This Skip Hop organizer will be a sure fit for you.
This corner unit sports a cute whale face and a mesh base for easy drainage. It's made of neoprene and is machine washable and fully adjustable with suction cups for easy use.
It opens at the top for ready access, increases airflow, and easily fulfills your storage needs.
Community Feedback
My experience with this whale-shaped shower toy holder has been mostly positive. It sticks to the shower wall securely with four suction cups and can hold a decent amount of smaller toys, making it both functional and adorable. However, the mesh holes could be slightly larger for better draining and the whale's tail doesn't stay up. Despite these minor flaws, my child loves using it to store their favorite bath toys, making the cleanup process easier and more enjoyable for both of us.
Bath Toy Storage Ideas
Your bath toy storage system can be as unique as your bathroom. With many products and styles to choose from, you can keep your bathtub tidy in the manner that suits you best. These are some of the most common methods and products for organizing bathtub clutter.
Bath Toy Scooper and Organizer
Picking up toys one by one is never fun. It's no wonder kids hate to do it. So why not find a way to pick up several items at once?
Scoopers work like fishing nets and typically have two parts. Most have some sort of net or sieve to drain the water out while scooping up toys. Once you've collected all the toys, you can suction the organizer to the bathtub wall for storage and to allow the toys to dry.
This Munchkin Scooper is a great example. It's inexpensive and suits any bathroom decor.
Other types are made of more solid materials like plastic and include drain holes like this scoop drain. After picking up everything, attach the scoop to the wall mount, and leave the items to dry. This one also has "feet" that are useful for hanging washcloths and sponges.
You can use these scoop-style organizers as a bathtime game to encourage your little ones to clean up their toys.
Pocket Organizers
These pouch-style organizers attach to the wall with suction cups. They come in different sizes, and some even have several pockets. One of our favorites is the giant Tub Cubby Organizer.
It keeps the toys close to the kids in the tub while the small, upper storage pockets are hard for tiny hands to reach. With this product, you don't have to worry about your kids getting their hands on the shampoo.
Stick it to the wall above the bathtub, and teach your kids to store bath toys in it after bathtime.
Laundry Basket
Although it's made for storing dirty clothes, a laundry basket can also hold your bathtime toys.
The Merdes Waterproof Foldable Laundry Hamper is collapsible, waterproof, and comes in a range of neat designs. The only downside is the toys will need to be dry before storing.
Pro Tip
Cut a few small neat holes in the base of the basket so any remaining water can drain away. Just remember to place the basket in the bathtub until all its contents are dry!
Shower Rod With Baskets
If you're into DIY projects, this idea is right up your alley. Simply attach a shower rod horizontally to the wall. Use wire baskets with hooks to store all the bath toys.
The shower rod should be long enough to hold several baskets. And don't worry, you can use any basket if you don't like the wired ones. Just make sure they're waterproof and have holes for drainage in the bottom.
Another option is plastic containers. Label these to make organizing easier and more fun!
Bath Kneeler With Pockets
Bathing your child in a regular-sized bathtub is great. It allows your kiddie to play around and enjoy bathtime. However, it can be straining on mommy's (or daddy's) knees, elbows, and back.
This knee and elbow pad set might put an end to our tub misery. The set includes four pads — two for knees and two for arms — with four large pockets. You can store soap, shampoo, and other bath supplies on the outside of the tub and essential toys within your little one's reach on the inside.
Attachable Toy Bins
Toy bins are the perfect present for your water-loving toddler. We prefer the ones you can attach to the side of the tub, like this KidsKit Pelican Organizer. It holds all the bath toys in a mesh bag in the pelican's beak and is too cute for words!
The net allows all toys to dry quickly. You can easily attach the pelican to the tub with an adjustable clamp, and you can simply lift the beak to put toys in the pouch. My children love this one!
Over the Tub Basket
If you are one of those lucky parents with a little one who doesn't need a million toys in the tub, this might be for you. This KidCo organizer basket suspends across the width of the tub.
The basket is expandable, so it fits most bathtubs and is readily accessible. Bathing two monsters at once? No problem! Separate them with this basket! You can also store bath toys and other bathtime products there.
It includes dividers, enabling you to separate the contents. At the end of bathtime, pop everything back into the basket, and the water drains away.
Freestanding Bath Toy Storage
A freestanding toy bin is excellent for anyone who lives in a confined space. They're compact, practical, and can hold just enough bath toys to please any toddler.
The best thing about a freestanding bin is you can store it anywhere. Because it has a solid base, you don't have to keep it inside the bathtub. Put it next to the tub or even on a shelf.
The Ubbi Bath Caddy has two parts. A removable base collects excess water lurking inside the toys, and you can use the draining storage bin to scoop toys up after bathtime.
Hanging Organizers
If you already have a shower curtain, you can store bathtime essentials in this area. This organizer is excellent if you're short on space and do not want to stick additional stuff on the wall or in the corners.
The Angla shower caddy organizer is made of net-style material and has six pockets for storage. You can hang this organizer onto your existing shower curtain rod along with the curtain.
A hanging organizer is a fantastic way to use something you already have. Many similar products are available. Some double as a shower curtain, while others only function as storage.
Take Note
One potential downside of hanging organizers is that your kids' toys will be out of their reach. This means they can't get their toys out or put them away on their own.
---
Thank You For Your Feedback!
Thank You For Your Feedback!