Choosing a hamper for your nursery may not be high on your priority list when preparing for a baby. You have to think about your color scheme, find stuffed animals, and decorate the walls.
But when it comes time to think about a laundry hamper, you may find the choice harder to make than you had imagined.
Although many great hampers exist, they can be hard to find when there are many flimsy models that crack or bend or don't hold enough laundry. We've wasted our money on poor-quality baskets more than once!
So we've weeded through all the junk to find the best nursery hampers for your needs. We'll review multipurpose hampers, soft-sided hampers, plastic, rolling, and collapsible hampers and talk about how to make the perfect match for your nursery.
Image
Model
Product Comparison Table
Features
Wipeable fabric
Two large collapsible handles
Unique, stylish design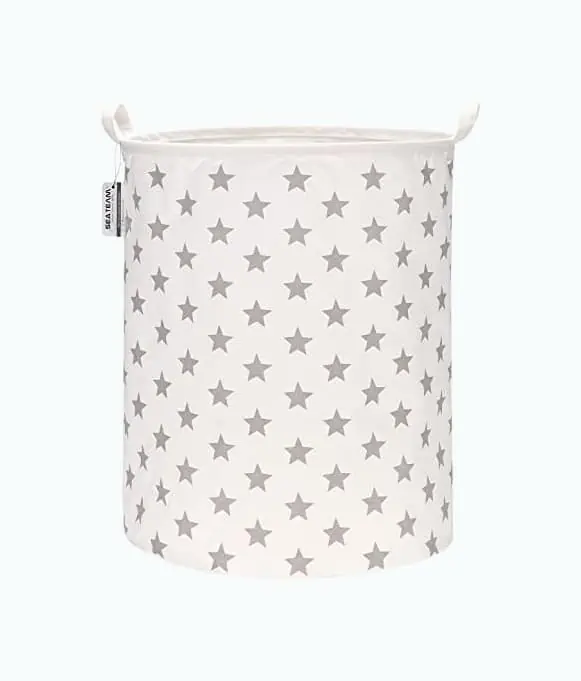 Extremely durable, plain-woven fabric
Attractive and lightweight solution
Waterproof and sturdy
Drawstring closure
Durable handle with stainless rivet
Versatile and lightweight
Best Metal Rolling
Cosmopolitan
Open-weave square base
For heavy loads
360-degree swivel casters
Best Plastic Hamper
Rubbermaid
Durable
Affordable
Easy to clean
Maximum load capacity of 55 pounds
Space-saving collapsible design
Reinforced with steel rim
Best for Toddlers
Store & Score
Makes laundry fun
High-quality material
Easy to assemble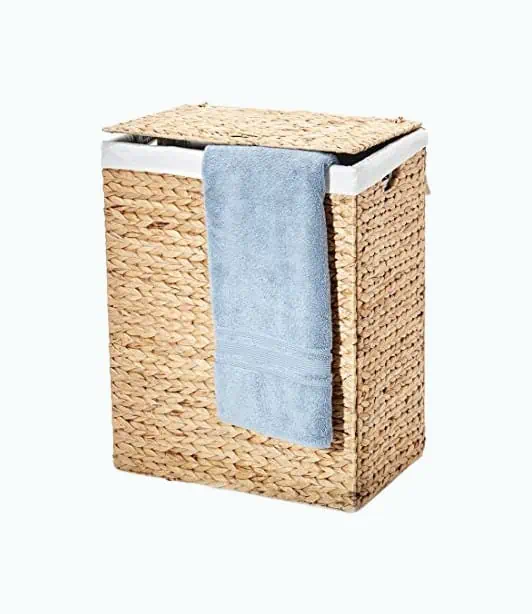 Best Wicker Hamper
Water Hyacinth
Tightly-woven wicker
Lidded hamper top
Removable, machine-washable laundry bag
Best Tall Hamper
Household Essentials
With magnetic lid
Collapsible
Moisture resistant polyester
Best for Multipurpose
Sammart
BPA free
Collapses to save space
Comfortable grip handles
Review Methodology: At Mom Loves Best, we pride ourselves on delivering accurate and trustworthy information to help you find the best nursery hampers for your needs. Our team conducts a thorough analysis and assessment, comparing various products based on criteria such as design, functionality, and durability. We evaluate each hamper from a user's perspective, using hands-on experience and data-driven research to measure performance, rank options, and provide first-hand evidence for our recommendations. Our in-depth reviews focus on key decision-making factors, including size, material, ease of use, and aesthetics, ensuring you make the most informed choice for your nursery. By using our carefully curated information, you can trust that Mom Loves Best will guide you to the perfect nursery hamper for your family.
---
---
The Best Nursery Hampers of 2023
Here are our favorite nursery hampers on the market.
3 Sprouts Laundry Hamper
Best for Infant
A simple nursery is sometimes best. This adorable nursery hamper from 3 Sprouts is small and stylish. It comes in multiple fun designs, any of which will be sure to brighten up your nursery decor.
The animal-themed hamper is made of polyester and polypropylene. It is soft to the touch and easy to clean.
Two large handles collapse to create a circular opening that prevents dust and little hands from getting into the dirty laundry. When it is time to wash the laundry, just lift the handles and carry it away.
Community Feedback
My experience with this hamper has been positive so far, as it's the perfect size for a baby or toddler and offers a cute, gender-neutral goat design. I've been using it for months to store baby clothes and transport them to the laundry room, and it has held up well, though I did add some velcro to maintain the wide opening after repeated use. Additionally, the hamper is both sturdy and spacious, with convenient handles that can be folded down for a different look or for a fun laundry "basketball" game for older kids.
---
Sea Team Waterproof Laundry Hamper
Best Waterproof Nursery Hamper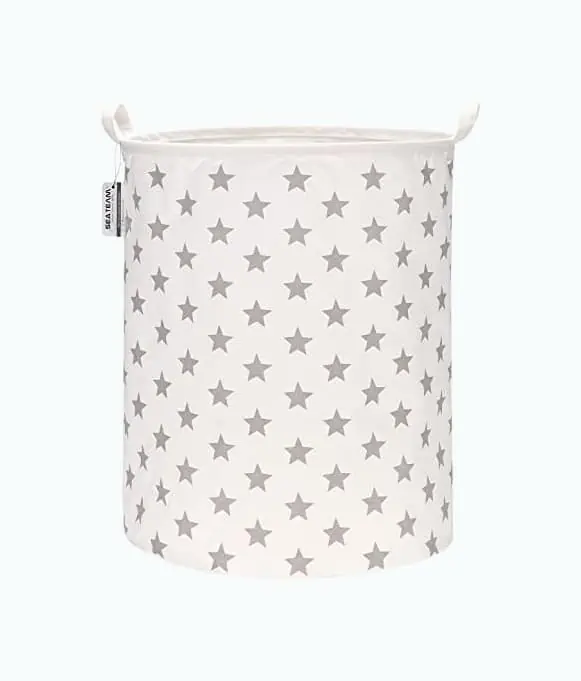 A clean hamper is essential, especially if your child is prone to making big messes. Make life easier by getting a waterproof hamper. You can wipe these hampers down at a moment's notice.
They are made of 100% ramie cotton canvas, with a plastic-coated lining to prevent messes from spreading where they shouldn't. Each hamper can hold an ample amount and has strengthened handles for transport.
One drawback to this hamper is the outside is not waterproof like the lining. If you're worried about the outside of the hamper getting dirty, you may want to find a hamper with a waterproof outer lining.
Community Feedback
After purchasing this large, waterproof basket for my workout room, I found it useful for holding various items like yoga mats, stretch bands, and other workout equipment. While it's not as sturdy or visually appealing as I would have liked, it serves its purpose well and is an affordable option. Despite its somewhat plastic feel, it doesn't tip over easily and has ample space for my workout gear. I've also noticed that it's quite durable, having used it for several months without any significant wear or tear.
---
Dokehom Extra Large Collapsible Nursery Hamper
Best Collapsible Nursery Hamper
This cute nursery hamper is made of extra-thick 100% cotton. It folds down flat for storage when not in use. It features sturdy leather handles and a drawstring top to seal the hamper. We especially like that the linen has a waterproof coating, which means you can wipe it down easily.
The Dokehom hamper is extra large to hold a lot of dirty clothes or bedding. It stands at 22 inches tall and 16 inches wide. The bottom is extra thick, so the hamper will stay up, even when filled with a bulky load, and it comes in multiple fun patterns.
Because this nursery hamper is made of cotton, it may not be able to handle any rough play, but its neutral design probably won't attract a lot of interest.
Community Feedback
These laundry bags are not only stylish and functional but also quite versatile. I've been using one in my guest room for the past 3 months and it complements my room décor perfectly. The inside is made of a plastic-like material, making it easy to wipe clean, and it's sturdier than traditional baskets. My mother even uses one to hold her knitting yarn, keeping everything neat and organized. However, I do wish the material was a bit stronger and the size slightly larger, but overall, I'm happy with my purchase.
---
Cosmopolitan Metal Rolling Laundry Basket
Best Metal Nursery Hamper
If you want a durable nursery hamper, consider one made from metal. Metal is strong and won't bend or collapse easily. We also like that it can provide a clean, modern look for minimalist moms.
This hamper is a durable woven basket with wheels. If you live in a single-level home, it could make transporting your laundry around much easier.
It is also a good option for moms with lots of kids who need a laundry hamper that can withstand a beating. However, the metal may not be safest for an accident-prone child.
Each hamper is 16 inches wide and 24 inches tall. The metal is smooth and coated, so it won't snag or damage your clothes.
Community Feedback
I'm extremely pleased with these laundry baskets on wheels. They are not only visually appealing, but also well-built and sturdy. Unfortunately, there have been some issues with the wheels not rolling smoothly and the baskets being a bit too short for comfortable use. Additionally, the holes in the wire can sometimes allow smaller items like socks to fall through. Despite these minor drawbacks, I find these baskets to be a helpful and stylish addition to my laundry routine.
---
Rubbermaid Laundry Hamper
Best Plastic Nursery Hamper
Plastic has been a staple material for laundry hampers for years. It's durable, affordable, and easy to clean. We really like the Flex' n Carry from Rubbermaid. It is a simple, effective option for busy moms without much space.
One reason we like this hamper is that the plastic is flexible. This helps make the hamper lighter than other plastic laundry hampers. It also has soft, reinforced handles for easy carrying.
It is approximately 16.7 inches high by 24.7 inches wide. This hamper holds a lot and is a good choice for moms with multiple children and lots of laundry.
Community Feedback
My experience with this flexible laundry basket has been mostly positive, especially when it comes to carrying it up and down stairs. The oval shape and flexibility make it much easier to handle compared to my old rigid, rectangular baskets. It can hold a large load of soft clothes, such as a full set of sheets or a large blanket, but the blue handles do feel less sturdy and have the potential to snap off eventually. The flexibility of the plastic is both a strength and a concern for the long-term durability of the basket. While I find the basket to be quite useful, it is overpriced and should cost no more than $20. Also, it is worth noting that the handle pieces may come unsnapped occasionally when carrying a full load, but they can easily be snapped back together.
---
CleverMade Collapsible Tote
Best On-the-Go Nursery Hamper
While we wish we could give all moms the laundry room of their dreams, some moms don't have the luxury of washers and dryers in their homes. Moms also have to plan to do laundry on extended trips or vacations.
A travel nursery hamper can help keep clothes clean and organized. We really like the CleverMade Collapsible Tote because it was designed with transportation in mind. It holds up to two loads of laundry and collapses completely flat.
As on-the-go moms, we love the stability feet that allow this hamper tote to stand up on its own without tipping over.
Community Feedback
I'm thrilled with these collapsible laundry baskets, which have made my laundry routine much easier. The sturdy canvas straps and lightweight design make carrying heavy loads up and down the stairs a breeze, while the compact size helps me navigate narrow spaces without bumping into walls. When not in use, they easily collapse to a thin rectangle for convenient storage. The heavy canvas material is not only durable but also breathable, helping to prevent mildew buildup on my clothes.
---
Store & Score Light-Up Scoreboard Hamper
Best for Toddlers
Introduce your children to chores with a special nursery hamper designed to get them involved in a fun, lighthearted way.
We love this laundry hamper because it lights up with colorful LED bulbs each time a piece of clothing hits the backboard and drops into the mesh basket. Unzip the front to dump the laundry into a bag or basket on laundry day.
Choose from multiple fun sports themes to match your child's preferences, and attach the hamper to the back of their bedroom door with its two metal hooks.
We recommend this hamper for moms with multiple growing children who want to get their kids involved in the laundry duties. We also like that it stays off the ground and away from mischievous explorers.
Community Feedback
This football-themed laundry bag has been a fun and practical addition to my child's room. The side zipper makes it easy to unload socks directly into the laundry basket without having to remove the bag from the door. Although it's perfect for lighter items like socks and shirts, I wouldn't recommend it for heavier laundry like pants or jeans.
---
Water Hyacinth Portable Hamper
Best Wicker Nursery Hamper
Wicker adds a natural style to any nursery and is an environmentally friendly option for eco-conscious moms. This wicker hamper from Seville Classics is made of tightly woven water hyacinth wicker and features a lid and inner bag.
This hamper can hold up to 2.5 bushels (23 gallons) of laundry and stands 24 inches high. Both the wicker basket and linen bag inside have handles for easy carrying. Transport both to the laundry room at once or pop the bag out for a lightweight option.
One of the best parts about this hamper is the collapsible design. Many wicker baskets are hard to move and store when you don't need them. This one collapses to become flat.
Community Feedback
These water hyacinth hampers are both attractive and functional, but be careful when unpacking them to not damage the lids. I got two of the double hampers and found them to be sturdy and spacious enough for a week's worth of laundry. The included laundry bags inside expand to accommodate the load, which is handy. I must admit, the folding design does make them feel a bit flimsy, but they still hold up well for everyday use.
---
Household Essentials Tall Laundry Hamper with Magnetic Lid
Best Tall Nursery Hamper
A tall nursery hamper is ideal for small spaces. It can fit into nooks and crannies, unlike most wide hampers. You will also have an easier time putting laundry in when changing your baby on a changing table.
The Households Essentials Laundry Hamper is 26 inches high, one of the tallest we could find. It stands on its own and has a removable mesh bag on the inside for transporting the two loads of laundry it holds. The lid is magnetic, keeping your dirty laundry safely out of sight.
If you are short on space, a tall nursery hamper is a great way to hold more laundry without taking up a lot of room.
Community Feedback
My experience with this hamper has been largely positive over the past three years. The exterior and bottom have remained durable, although the trim around the handle holes could be improved. I appreciate the ease of setup and the dimensions, which conveniently fit my needs. The hamper has a nice earthy color and is perfect for small spaces, even allowing for some presorting when I bought a second one. The interior waterproof lining and magnetic lid closure are also great features, making this hamper well worth the investment for my household.
---
Sammart Collapsible Laundry Basket
Best Multipurpose Nursery Hamper
As moms, we understand what it means to be BUSY, and sometimes our homes can get overrun with single-use gadgets. That is one of the reasons we like this unique collapsible laundry hamper so much. It's not just a laundry hamper.
This container has a colorful and flexible plastic design, and you can pop it up to its full size whenever you need it. You can use it as a nursery hamper, a storage bin, a cooler, or even a portable bathtub. Moms with lots to do can use this hamper for a variety of purposes, saving space, money, and stress.
This container is 19.3 inches wide by 15 inches tall by 10 inches wide when fully expanded. But when you collapse it, it only takes up 2.8 inches in height. It can hold up to 6.3 gallons of laundry.
Community Feedback
My experience with this collapsible laundry basket has been mostly positive, as it serves as a convenient space-saving solution for my small apartment. The lightweight design allows me to easily hang it on the back of my laundry room door when not in use. However, I have noticed that when I fill it with heavier loads, the basket tends to collapse on itself. It can also be a bit difficult to open and close, especially for someone with less strength. Despite these minor issues, I've found it to be a useful and practical addition to my home.
---
Simple Houseware Heavy Duty Rolling Hamper
Best Wheeling Hamper
Do you need to move lots of laundry? A wheeler hamper may be a good option for you. This heavy-duty rolling laundry cart from Simple Houseware is about as elite as a rolling hamper can get.
The entire thing is made of chrome-finished steel and features four heavy-duty bags that can hold up to 11 gallons of clothes. The wheels roll smoothly and include brakes, so you won't find your little one pushing it where it doesn't belong (like down the stairs!).
You can use this wheeling hamper to get multiple loads from the nursery to the laundry room and back. It is also super useful for sorting all the laundry from other hampers, making it an excellent option for big families.
Community Feedback
After receiving this laundry sorter, I noticed the impressive design and stability, thanks to the heavier materials and brace across the back. The bags are also durable and have large metal handles, making it easy to transport laundry. Using this sorter, I've been able to easily separate my family's clothes, streamlining my laundry routine. However, I was initially expecting a fabric-style bag, but these are made of polyester with a more plastic feel. Despite that, the sorter is perfect for organizing the laundry room and keeping clothes off the floor during sorting.
---
Foldable Cube Storage Containers
Best Shelf Hampers
Do you like to organize your laundry before washing it? Smaller shelf bins can help you sort items. Separate your colors and whites or clothes and linens, or toss onesies, socks, shirts, pants, etc., into their own bin as they get dirty.
Toss tiny items like socks into a lingerie bag before washing to keep them from disappearing into the lost-sock void most washing machines seem to have.
This basic set from Amazon is made of nonwoven polypropylene and sturdy cardboard. Their square design allows them to fit easily into pre-existing shelving units or underneath a changing table. When you don't need them, they collapse flat.
If you are looking for an easy way to sort your laundry, these bins are a good choice. However, if you have lots of laundry or extremely soiled clothes, you may want to use them in conjunction with a larger, waterproof hamper.
Community Feedback
I'm thrilled with how these storage boxes have helped me organize my cluttered bedroom, especially for storing my shoes. Despite not matching my existing boxes, they blend well enough and are sturdy enough to hold my footwear, making the space look neater. Additionally, I repurposed a cube storage bin from my child's room and these boxes fit perfectly, giving the illusion of a fancy, new piece of furniture in my master bedroom.
---
Deihei Extra-Large Collapsible Hamper
Best Soft-Sided Nursery Hamper
We love the simple design and size of this fabric laundry hamper. It's affordable and remains sturdy even after much use. Unlike most soft-sided hampers, this one includes a metal frame to keep it from collapsing or tipping over while in use.
However, you can collapse it when you want to save space.
This hamper holds a whopping 14 gallons of laundry and has two sturdy linen handles for carting clothes around. The neutral color and geometric pattern will look great in any nursery.
How to Choose the Best Nursery Hamper
What should you look for in a good nursery hamper? While every situation is different, we believe moms outfitting their nurseries should consider these three things:
---
Thank You For Your Feedback!
Thank You For Your Feedback!