Are you waiting for baby's arrival but feeling a little anxious wondering if you've got everything ready? Are you preparing the shopping list for new baby clothes but not sure where to start?
Bringing home your newborn is an exciting yet terrifying experience. Undoubtedly, it will be an unforgettable time that you'll cherish forever. But before all this, we have to make sure we've got everything on our shopping list checked off — that includes clothing.
Fortunately for you, we've searched high and low to make this a bit easier. Below is a list of the best baby clothes and brands, plus some tips for homecoming with a newborn.
---
Homecoming Explained
The first few days after bringing your baby home from the hospital may seem like a blur. You're still recovering from the birth, yet feeling excited to get started on this new chapter of life. These days will forever leave a mark, whether for good or bad.
Of course everyone's experience is different. Unfortunately, when bringing baby home from the hospital, you're also bringing home mountains of expectations, which aren't always met.
Some mothers feel an unbreakable bond the first time they see their baby. But don't worry, there's nothing wrong if you don't feel like that; things take time, even bonding with your newborn. As long as you keep cuddling and showing affection, your little one won't notice (1).
It's not uncommon for some mothers to feel overwhelmed, stressed, perhaps even unhappy. But remember, go easy on yourself and give yourself some time to recover, both physically and mentally, from the birth.
That said, the best way to minimize stress is to be prepared. Here are a few tips on what to make ready for baby's arrival:
Stock the fridge/freezer: After you come home, most of your time will be spent feeding, changing, and believe it or not, resting. Ensure you have healthy meals and snacks pre-prepared, to help keep your energy levels up.
Sleep is not important: Do yourself a favor and repeat this sentence multiple times before giving birth. This may help you cope better with the sudden lack of sleep.
Summon up a support team: Being a new mom can be difficult, and even the best of moms will need some support eventually.
Stock up on diapers: Babies feed a lot and thus go through a lot of diapers. Make sure you buy in bulk so you won't run out during the first weeks.
Buy lots of baby clothes: During the first few weeks, you'll likely change your baby's outfit over a thousand times — or it will seem that much. Make sure that you have enough items so that the dirty clothes have time to go in the washer.
Here are a few clothing essentials (2):
---
The Best Baby Clothes of 2020
Now that we know what type of clothing and how much our babies will need, it's time we took a look at some options.
---
---
---
---
---
---
---
---
---
---
---
---
---
---
---
---
---
---
---
---
---
Best Baby Clothing Brands of 2020
Now that we've had a look at some of our favorite clothing items for babies, it's time to take a look at our ultimate favorite brands.
1. Mini Roudini
Oh my, Mini Roudini is one of my favorite brands. They don't cater exclusively to boys, but most of their collections have a boyish vibe. I especially love their jacket collection — it's a bit pricey, but the quality is outstanding.
What I love the most about Mini Roudini is their cause. They offer clothing that's made with 100 percent organic materials, some items are even recycled polyester. Their sustainable concept is enough to get me coming back for more!
---
2. Kids Case
Kids Case is an indie-inspired brand, starting back in the early 2000s. It's a Dutch company, with its headquarters in Amsterdam. But wait until you see their collection of boy's clothing!
Their clothing is modern, laid back, yet still stylish for little boys. They have all the basic tops, plus those that are a little fancier. Kids Case uses 100 percent organic materials that are perfect for growing babies.
They deliver to the U.S., but make sure you convert the prices from Euros to USD.
---
3. Tea Collection
Tea Collection is one of my favorite brands when it comes to baby girls' clothes. Their items fit a large range of different personalities and they've found ways to incorporate every style.
Most of the materials used are stretchy and durable for many washes. I especially adore their collection of rompers! These are some of the cutest, yet comfortable items a baby girl could wear.
---
4. Joules
Joules is a well-known name. Starting out in Britain, they're now one of the favorite brands in the U.S.
Their collection of baby girl clothes is simply amazing, I had to force myself off their page (cuteness overload).
Most of their materials are 100 percent cotton. They have a number of collections and even outfit sets with tops and pants/leggings for your little girl.
Plus, if you can't find something for your little one, you'll surely find something for you (dare I look?).
---
5. Tobias & the Bear
Tobias & the Bear is simply amazing. They first came onto the gender-neutral scene with a collection of unisex leggings. Now they cater to our needs of unisex rompers, tops, and pants.
The collection I love best is the Tobias & the Bear X Miffy. This features everything from rompers, to bibs, t-shirts, and shorts. All come in gender-neutral designs and colors.
---
6. Organic Zoo
If you're on the hunt for gender-neutral clothing, look no further! Organic Zoo has the cutest collection of baby unisex clothes.
They give us all sorts of clothing items, from onesies to tops and bottoms. But it's the bodysuits that caught my attention. These are cuter than cute and work well for both boys and girls.
---
7. Carter's
Carter's is a trustworthy name. You know you'll get good quality at a fair price. Most of the material they use is cotton, sometimes even organic.
They cater for both girls and boys, but with plenty of gender-neutral styles too. They always have good deals, and if you really want to save, keep an eye out for their clearance sales.
---
8. Cat and Jack (Target)
Target certainly got it right with their brand, Cat and Jack. This collection of affordable baby and children's clothes is simply wonderful.
They've got everything for babies, from onesies to two pieces. All the materials are stretchy and durable, suited for growing babies. Not to mention their adorable designs.
---
9. Finn + Emma
Finn + Emma really know how to create fantastic collections of organic baby wear. They offer GOTS certified organic materials. The items are a blend of organic cotton and eco-friendly dyes.
The style is very contemporary, perhaps a little sporty, and perfect for growing children. Their new Sloth collection will surely become a favorite.
---
10. Kate Quinn Organics
Kate Quinn Organics is quite unique. They use a blend of organic cotton and bamboo for their baby clothes collection.
The style is very muted, with modern nature-inspired prints. The colors are gender-neutral, although some styles are more clearly for girls or boys.
You may wonder, "why bamboo?" Well, bamboo is a sustainable plant, capable of growing fast and without the need for chemicals. Mix this with the organic cotton and you've got a soft, durable material for your baby.
---
11. Ice Cream Castles
If the name doesn't grab your attention, the clothes surely will. Ice Cream Castles based their kid's collection on traveling children in an imaginary world, who leave their mark where no one has ever been before.
Their style is a little retro/vintage, with some really cute, yet novel pieces that will without a doubt set your little one apart.
---
12. Nununu World
Nununu World is perhaps one of the priciest brands on our list, but sometimes we've got to splash out.
This brand certainly does provide some trendy collections. Their usual style is very neutral, using lots of gray, black, and white tones with cool prints.
The bodysuits are my all-time favorite. They'll give your little one a rockstar makeover.
---
13. Baby Dior
If Carrie Bradshaw from Sex and the City had a baby, it would be covered in Dior clothes.
Dior's baby collection looks like something that would fit a royal. It's very clean cut, without any extravagant colors or accessories.
But all in all, it's super cute, especially the babysuit collection. Excuse me while I go break my piggy bank in search of my missing money.
---
14. Ralph Lauren
Ralph Lauren is another well-known designer brand, usually catering to adults' needs for polo shirts and other luxurious items.
But their baby collection doesn't fall far from the tree. It's super cute, taking on a traditional, perhaps vintage vibe.
Their newborn neutral collection would be the perfect homecoming outfit for your little one. Why not make a first impression with style?
---
15. Monica + Andy
Monica + Andy is a brand on the rise to fame. Their collections of baby clothes rarely disappoint. But their newborn collection in particular is catching our attention.
All of the materials used are organic. They give you cute designs and colors, perfect for newborns. Plus, they even offer a "hospital cuddle box" of a few newborn essentials, such as hats, swaddling blankets, and onesies.
---
16. Gymboree
Gymboree has a vast collection of newborn clothes. In fact, they dedicated an entire section just for newborns.
Their newborn collection is adorable — everything you want in clothes for your new baby. They set themselves apart from the usual gender-neutral onesies and, instead, add color and ruffles.
---
17. The Preemie Store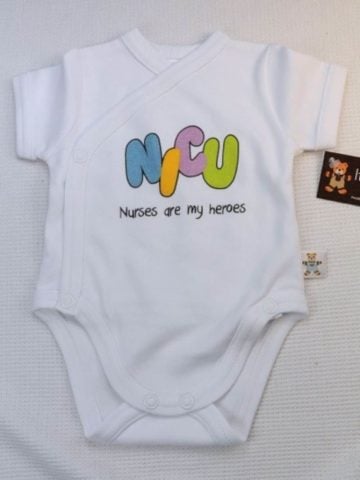 I can't do this list without mentioning The Preemie Store. This brand is a gift from above. They make the tiniest sizes for the smallest of preemies.
The style is perfect for premature babies. Some even sport a funny quote such as "NICU nurses are my heroes." They're not too pricey either, which is a huge plus!
---
18. Magnolia Baby
The online store, Lilly + Liam, has now included a brand called Magnolia Baby.
This brand also caters specifically for smaller sizes and preemies. The collection includes anything from sleeping gowns to bodysuits, all made of Pima cotton.
Some of these even have an open bottom to make diaper changes easier.
---
19. Sarcastic Me
Sarcastic Me is the go-to brand for funny baby clothes. They provide a range of onesies with hilarious quotes and sassy sayings.
Examples are: "Pretty fly for a small fry," "I only cry when ugly people hold me," and "I'm glad to be out, I was running out of womb."
---
20. VulgarBaby
VulgarBaby do funny baby gear slogans but take things a little further. It's the perfect father's day gift to dress your little one up in a onesie saying "I'm cute, Mom's Hot, Dad's Drunk".
They have plenty of categories, ranging from breastfeeding to computer nerd, full of funny quotes.
---
Let's Get Dressed
Bringing baby home from hospital will likely be a moment you'll never forget. But before all the joys of becoming a new mother, there's a lot of preparing to do. One of these is buying baby clothes.
Be sure that you stock up on plenty of tops, bottoms, and seasonal clothing, to keep your little one cozy and comfortable.
This list is full of items that we love, but a stand-out favorite is the Simple Joys Baby Boy Onesies by Carter's Baby. It's perfect for little babies.
What is your go-to baby clothes brand? Please let us know below, and as always, share this list with your friends and family.