An excuse to shop for itty bitty clothes is the best part of having a new baby! There are probably a few other things too, but you can't say it's not fun stocking up on the latest fashions for your tiny human.
However, if you're going to spend money on items that may only last a few weeks, you want to ensure that they'll fit well, be comfortable for your baby, and look super cute.
We've done the dirty work for you, testing and comparing the quality, durability, and adorability of all types of baby clothes to help you save your much-needed time and money. We've assembled our findings into this comprehensive list of the best baby clothes and brands.
This list will help you fill your closet with stylish pieces your baby will be proud to show off to all their adoring fans.
---
Onesies
Onesies are some of the most convenient and easy-to-use baby clothes. They suit almost any occasion, from naptime to nighttime to playtime.
Onesies are also super easy for us moms. If you buy onesies with front snap closures, you can get them on your little one in no time.
They're also perfect for winter, as they let little to no cold air through. Because it's a one-piece item, you don't have to worry about the shirt gliding up, exposing that sweet tummy chub. They also serve our babies well during the summer, as your little one can wear them on their own.
---
---
---
Pants/Leggings
Leggings and pull-on pants are another essential to include on your shopping list. Onesies are convenient for quick and easy use, but leggings and pants allow you to change those outfits up.
Leggings and pants are also excellent for the winter months, where it's good to add a layer of clothing to little legs. Buying some of different textures and thicknesses may help with this. Or you can layer thinner leggings with loose-fitting pants for cold-weather outings.
One thing to look out for is the size. Ensure the item won't sit too tight around your baby's waist. But you also don't want them to slide off with every wiggle.
We recommend stretchy-waist pants that can grow with your baby's expanding tummy. (These are great for people of all ages!)
---
---
---
Shirts
Baby shirts are an essential wardrobe item unless you're planning on dressing your little one in onesies all the time.
They're excellent for putting cute outfits together and make for easy diaper and clothing changes.
When buying baby shirts, look for options with expandable necks or snaps near the opening. Trying to squeeze your baby's head through a tight turtleneck is never a fun experience for your baby — or for you. It might even result in them dreading changing time.
---
---
---
Sleepwear
OK, confession time. When I became a mom, I didn't think much about sleepwear for my baby, at least not until my little one was more than six months old and I had established a routine.
Before that, my baby would generally sleep in the first top/pants/onesie I could find. But I eventually learned that baby sleepwear is essential.
We always look for sleepwear that's easy to put on and take off to make for easy nighttime diaper changes or transitions if your little one falls asleep before you have a chance to dress them.
This will make navigating the changing process easier, even when you aren't 100% awake.
Ensure your baby's sleepwear is breathable and not overly warm, as overheating can increase the risk of SIDS (1).
Our favorite baby sleepwear is simple, lightweight cotton sleepers paired with a sleepsack for colder weather.
---
---
---
Footwear
For pre-walking babies, shoes are unnecessary. Putting your little one in shoes too often can make walking difficult for them when they finally attempt it. Shoes can also negatively influence the natural growth of the feet (2).
For smaller babies, acceptable footwear includes booties, socks, and flexible shoes. Tiny tootsies tend to get cold, and the best way to keep them warm is by covering them up.
Make sure you buy socks in bulk! Tiny socks tend to get lost (or eaten by the washer). But consider the size and whether they have elastic — you don't want them to fit too tight and squish the ankle chub (3).
Booties are usually worn for outings that might be a bit colder or as an accessory to a cute outfit. As with socks, make sure they fit right.
And lastly, flexible (soft-soled) shoes. These come in handy when your little one begins to walk. However, looking for comfort and support rather than cuteness is essential.
---
---
---
Winter Wear
During the colder months, we must keep our babies warm and cozy. You may have already heard of the rule of applying one more layer of clothing to your baby than what you are wearing. But if you're planning to go for brisk walks through snow-clad scenery, your little one might need something heavier.
Thicker winter wear items can include anything from fleece wear to snowsuits, hats, and mittens.
But like anything else, it's vital that you don't smother your little one in extra padded jackets and hats. Breathing and mobility are still important!
You can also avoid excess bulk by using a fleece-lined stroller sack while out and about. Just be sure that you protect your baby from the harsh winter air.
---
---
---
Summer Wear
Summer is the time for T-shirts, shorts, and swimsuits. These are the months when your little one can go out and flash those little ankles and arms.
But it's also a time when we must be extra careful. Make sure that you stock up on loose-fitting clothing. We always look for breathable clothes that can protect babies from sunburns and mosquito bites.
Watch out for overheating. Tiny babies can't yet regulate their body temperatures. Overheating is one of the leading causes of sudden infant death syndrome (SIDS) (4).
Fortunately, there are plenty of options for keeping cool when it comes to summer baby clothing.
---
---
---
Best Brands for Baby Boy Clothes
If you've ever shopped for baby boy clothing, you've probably noticed that there are half as many options as there seem to be for baby girls. This can make it more challenging to put together cute, stylish outfits for your little man.
But we've sought out some great brands that support baby boy fashion, allowing you to dress up your guy in more than just plain T-shirts and sweatpants or dinosaur prints and Spiderman.
Check out these adorable outfits and their creators.
1.

Mini Roudini

Mini Roudini is one of our favorite brands. They don't cater exclusively to boys, but most of their collections have a boyish vibe.

Their designs are unique and fun. They have a sophisticated fashion sense that still boasts a childhood energy. We especially love their jacket collection — it's a bit pricey, but the quality is outstanding.

We especially appreciate Mini Roudini's cause. They make their clothing with 100% organic materials. They even use recycled polyester. Their sustainable concept is enough to keep us coming back for more.
---
2.

Earth Baby Outfitters

We love Earth Baby Outfitters for so many reasons. What's not to love about a brand that creates earth-friendly, sustainable fabrics with GOTS, USDA, and Oeko Tek100 certification? And that's not even the best part.

Earth Baby ensures that nothing they create ends up in landfills. They donate all of their unsold inventory to local nonprofits and overseas orphanages. And these clothes are cuuuute!

We love the muted colors and that every item is soft and cozy. And check out the sweet hipster collection! We also appreciate that this Canadian company designed a loungewear line for women, so we no longer have to be jealous of our babies' comfy threads.
---
Best Brands for Baby Girl Clothes
Baby girls should also have outfits that complement their personalities.
We appreciate brands that offer more than endless pink frills and ballerina outfits. Our littles may prefer gothic black or sailor blue.
When searching for brands for my babies, I always looked for those that favor comfort over cute. Fortunately, more brands have found ways to incorporate both. So without further ado, here are our favorite girls' clothing brands.
3.

Tea Collection

Tea Collection is one of our favorite brands for baby girls' clothes. Their items fit a wide range of personalities, and they've found ways to incorporate every style.

Most of the materials used are stretchy and durable for many washes. We especially adore their collection of rompers! These are some of the cutest yet most comfortable items a baby girl could wear.
---
4.

Joules

Joules is a well-known name in children's clothing. The company started in Britain, but they're now a favorite brand in the U.S.

Their collection of baby girl clothes is simply amazing. The designs go far above the standard girly pieces, and they have items for every member of the family. Their range of colors extends much further than typical pinks and purples and incorporates plenty of blues, greens, and whites.

Most of their materials are 100% cotton. They have many collections and even combination sets with tops and pants or leggings for your little girl.
---
Best Brands for Unisex Baby Clothes
Unisex clothes are perfect for expecting moms who don't want to know the sex of their baby but need to prepare. They're also great for those who prefer not to hold to traditional "gender colors."
You can pass them down from child to child within your family, making them meaningful keepsake items. They also make terrific baby shower gifts.
5.

Tobias & the Bear

Tobias & the Bear is a company that produces high-quality, modern designs that suit all babies. They first came onto the gender-neutral scene with a collection of unisex leggings. Now they cater to our needs with unisex rompers, tops, and pants.

We especially love their Miffy & Friends line, which features everything from rompers to bibs to t-shirts and shorts. All come in gender-neutral designs and colors.
---
6.

Organic Zoo

If you're on the hunt for gender-neutral clothing, look no further! Organic Zoo has the cutest collection of unisex baby clothes.

This company is known for their timeless styles and simple, cozy designs.

Their clothing line includes a variety of items. But it's the bodysuits that caught our attention. These are cuter than cute and work well for both boys and girls.
---
Best Cheap Baby Clothing Brands
Baby clothes can also be pricey, especially when you're shopping for brand-name fashions.
We know how hard it can be to avoid spending all your money on a cute onesie for your little one. But we still have to eat. When you're on a budget, look for cheaper brands that still offer high-quality clothing. Here are some affordable brands we love.
7.

Carter's

Carter's is a trustworthy name. You know you'll get good quality at a fair price. Most of the material they use is cotton, and you can often find items made with organic materials.

They cater to girls and boys but with plenty of gender-neutral styles too. They always have good deals, and if you really want to save money, keep an eye out for their clearance sales.
---
8.

Cat and Jack (Target)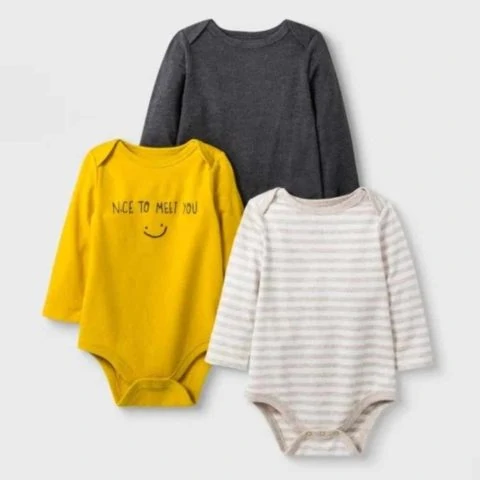 Target certainly got it right with their Cat and Jack brand. This collection of affordable baby and children's clothes stands out above the rest.
Their fashions come in a variety of styles. All the materials are comfortable and durable, suited for growing babies. And who can resist their adorable designs?
---
Best Brands for Organic Baby Clothes
While hunting for baby clothes, you may have stumbled upon some organic items. These are what we should all strive to buy for our little ones since they minimize chemical exposure.
However, some organic brands tend to be a bit pricey. And you're not guaranteed to get a high-quality item just because a tag states it's organic. We still have to ensure the quality is good.
We look for durable organic items that are made to last through more than one baby and fabrics that hold up to multiple messes and washes.
9.

Finn + Emma

Finn + Emma really know how to create fantastic collections of organic baby wear. This New-York-based brand offers clothing made with GOTS-certified organic materials. The items are a blend of organic cotton and eco-friendly dyes.

The style is very contemporary with light graphics and neutral colors, perfect for mixing and matching. We love that they also offer accessories such as hats and bibs that match their clothing line perfectly.

They also sell a gorgeous line of baby gear and toys, including macrame baby swings, wooden baby rockers, crocheted carry cots, handmade plushies, and more.
---
10.

Kate Quinn Organics

Kate Quinn Organics is unique. They use a blend of organic cotton and bamboo for their baby clothes collection.

The style is very muted, with modern nature-inspired prints. The colors are gender-neutral, although some styles are more clearly for girls or boys.

We love that their products are bamboo-based as bamboo is a sustainable plant, capable of growing fast without chemicals. Mix this with organic cotton, and you've got a soft, durable material for your baby.
---
Best Brands for Trendy Baby Clothes
Most brands offer trendy baby clothes. But have you ever looked at those that are genuinely fashion-forward?
Generally, we have to look for big name brands, but we love to support smaller companies. In our experience, you often get better service and better quality items with smaller companies. And they often have more defined values and a more consistent sense of style.
These are some lesser-known brands that produce high-quality, high-fashion baby items we adore.
11.

MiniOlie

MiniOlie creates trendy, play-based clothing for babies and children. This wide range of unique prints and designs ensures you'll find an array of fashionable outfits to suit any baby.

We especially love MiniOlie's extensive collection of baby shoes, with a style to suit every season and occasion. They even have a line of trendy clothing and bags for moms!
---
12.

Nununu World

Nununu World is perhaps one of the priciest brands on our list, but sometimes we've got to splurge.

This brand was created by two women with a vision to break children's fashion stereotypes. Their collections are unique and edgy. They have a minimalistic style, using lots of gray, black, and white tones with original prints.

The onesies are our all-time favorite. They'll give your little one a rockstar makeover.
---
Best Brands for Designer Baby Clothes
For those who prefer to stick with the consistency of well-known, big-name brands, we have a few favorites too.
These companies consistently create quality, trendsetter items that any baby would be proud to snuggle in.
13.

Baby Dior

If Carrie Bradshaw had a baby, they would be covered in Dior clothes.

Dior's baby collection looks like something fit for a royal. Their designs are very clean cut, without extravagant colors or accessories. And they consistently create adorable, comfortable designs that children love to wear.
---
14.

Ralph Lauren

Ralph Lauren is another well-known designer brand, usually catering to adults' needs for polo shirts and other luxurious items.

And their baby collection follows the same preppy trend. Their items are super cute, taking on a traditional, timeless vibe.

Their newborn neutral collection would be the perfect homecoming outfit for your little one. Why not make a first impression with style?
---
Best Brands for Newborn Clothes
You really can't know exactly how big your baby's going to be at delivery. Some might tell you just to buy size 0 to 3 months clothes. However, newborn clothes are usually your best pick.
Newborns will still have the umbilical cord stump, at least for a few weeks. During this time, it's best to use clothes that won't irritate the area, and newborn sizes are designed for that.
Here are two brands we love to support.
15.

Monica + Andy

Monica + Andy is a brand on the rise to fame. Their collections of baby clothes rarely disappoint. But their newborn collection is catching our attention.

All of the materials used are organic. They give you cute designs and colors, perfect for newborns. They even offer a "hospital cuddle box" of a few newborn essentials, such as hats, swaddling blankets, and onesies.
---
16.

Gymboree

Gymboree has a vast collection of newborn clothes. They even dedicated an entire section just for newborns.

Their newborn collection is adorable — everything you want in clothes for your new baby. They set themselves apart from the usual gender-neutral onesies and, instead, add color and ruffles.
---
Best Brands for Preemie Baby Clothes
While we all hope our babies will arrive around their due date, sometimes that's not how things work out. In fact, one in 10 babies in the U.S. are born preterm, according to the CDC (5).
Babies born too early are likely to be really tiny, and then even newborn sizes are too big.
Fortunately, we've found some great brands that cater to these specific sizes.
17.

The Preemie Store

I can't make this list without mentioning The Preemie Store. This brand is a gift from above. They make the tiniest sizes for the smallest preemies.

The style is perfect for premature babies. Some even sport cute quotes such as "NICU nurses are my heroes." They're not too pricey either, which is a huge plus!
---
18.

Magnolia Baby

The online store, Lilly + Liam, has now included a brand called Magnolia Baby.

This brand caters specifically to smaller sizes and preemies. The collection includes anything from sleeping gowns to bodysuits, all made of Pima cotton.

Some of these even have an open bottom to make diaper changes easier.
---
Best Brands for Funny Baby Clothes
Sometimes we all need to enjoy ourselves a bit. And let's be honest, although small babies are cute and we love them, it's good to occasionally add a bit of humor into baby life. This is where funny clothes come in!
Cute slogans can give us a good chuckle. Perhaps try a silly outfit for the annual family get-together or some funny Instagram photos.
There are plenty of brands catering to this particular request. Here are two.
19.

Sarcastic Me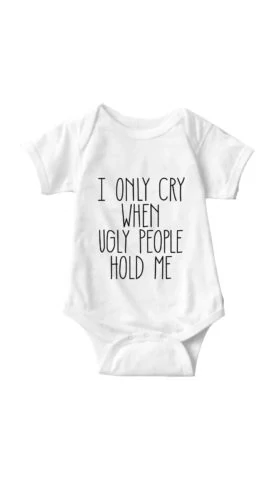 Sarcastic Me is the go-to brand for funny baby clothes. They provide a range of onesies with hilarious quotes and sassy sayings.
Examples are: "Pretty fly for a small fry," "I only cry when ugly people hold me," and "I'm glad to be out, I was running out of womb."
---
20.

VulgarBaby

VulgarBaby is a company that creates funny baby gear slogans, but they take things a little further. It's the perfect father's day gift to dress your little one up in a onesie that says, "I'm cute, Mom's Hot, Dad's Drunk."

They have plenty of categories (including breastfeeding, computer nerd, etc.) full of funny quotes.
---
Review Methodology
At Mom Loves Best, we conduct thorough research, analysis, and hands-on evaluations of baby clothes and brands to bring you the most reliable and trustworthy information. Our team of experienced professionals compares and ranks products based on criteria like quality, comfort, and durability. We assess the performance and design choices of each brand, identify key decision-making factors, and measure their impact on users. By sharing our findings, benchmarks, and first-hand experiences, we help you make an informed decision on the best baby clothes and brands that cater to your needs and preferences. Our article covers essential aspects such as material, sizing, style, safety, and ease of use, ensuring that you can confidently choose the perfect fit for your little one.