Do you find yourself wondering how to dress your baby during the hot summer months? As moms, we know how challenging it can be to keep our babies safe from the sun's harmful rays, cool, hydrated, and protected from bugs.
However, we've found the perfect balance. In this article, we'll share the basics for dressing your baby in the summer and providing an all-around safe environment while still enjoying the outdoors.
With our essential tips, you can still make this a worry-free summer to remember.
Key Takeaways
Dress babies in breathable, lightweight clothes like linen or cotton during summer and use sun protection like hats and sunscreen with SPF 30 or higher.
For beach or pool outings, use swim diapers and consider water shoes for walking babies; always supervise them near water.
Ensure a comfortable sleep by maintaining room temperature between 68-72 degrees Fahrenheit and using lightweight, breathable sleepwear.
Watch for signs of overheating, such as hot skin, heat rash, sweating, weakness, or irritability, and take steps to cool your baby down if needed.
---
By the Water: Beach or Poolside
Taking your baby to the beach can be a fun way to entertain them and introduce them to a new experience. Sharing such moments with them is what makes all the hard work worthwhile.
There are many ways you can get the most from your day out while keeping your baby safe and comfortable.
General Wear for Waterside Activities
Other than the essentials, such as a towel and sun hat, we recommend a few sets of extra clothes. Linen is a popular warm-weather choice for many because of its breathability. Linen is also durable and can withstand all your baby's mess.
Going Swimming
Swimming is a fantastic way to get your baby accustomed to the water. Bathing suits or wetsuits are a must for making the most of a trip to the beach. There are so many swimsuit options online. We really love this Cuddle Club one-piece suit with plenty of color options for boys or girls.
It's also important to bring along some swim diapers. You can purchase them from most supermarkets. These are some swim diaper details to look for:
Stretchy with adjustable sides for a great fit.
The leak guard prevents accidents from spilling out.
Easy disposal for hygiene.
Minimal water absorption to prevent heaviness.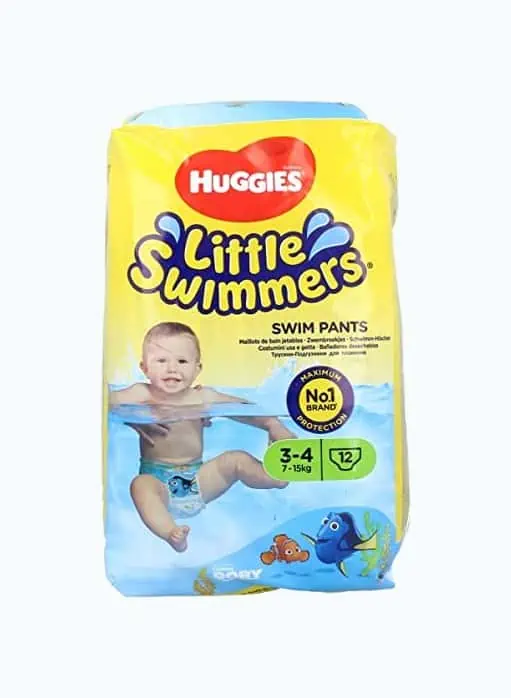 High-quality swim diapers will help your baby stay comfortable as they don't become completely saturated in the water, like regular diapers. They'll also ease the cleanup duties later on. Who doesn't love less mess?
If your baby can walk already, it might also be a good idea to invest in some water shoes. These are a great way to prevent tiny toes from burning in the sand or on concrete. What's more, they can protect your little one from sharp pebbles and stones.
Splashing around in the water is always fun, but don't forget it's paramount to make sure your baby is safe. Use proper flotation devices, armbands, or floaty rings to set your mind at ease.
Important
Even if your baby or child is wearing a flotation device, you should never leave them unsupervised in or near water — not even for a few seconds.
Sun Protection

Your baby's skin is delicate and sensitive, so protecting it from the sun's harsh rays is vital. One great way to do this is to take a small umbrella with you to prop over your child while relaxing on the sand or at the poolside. You should also bring your baby's sun hat along — preferably one with a back flap to cover their little neck.
Sun lotion is an essential item and should ideally be applied every two hours and always after being in the water. However, there are some lotions experts praise and others they urge you to avoid (1). These are some of the best things to look for:
Protection against both UVA and UVB rays.
SPF 30 or higher.
Easy to apply with a secure cap.
"Chemical-free" or "physical" formulas — look for zinc oxide or titanium dioxide.
Water resistance is also handy, but remember to reapply after water activities.
It's important to get the best from the products you spend your hard-earned money on. By doing a little research and taking precautions, you can rest easy.
Out and About
Taking your baby out for a walk is sometimes the only way to get them to sleep. Just because they're not poolside or at the beach doesn't mean they don't need sunscreen, so put on a layer just in case — unless it's nighttime.
Dress your little one in shorts and a cotton T-shirt for breathability.
If your stroller has an attached pouch for your baby's feet, remove this on extra-hot days. Replace it with a thin blanket or sheet to accommodate your baby's comfort while avoiding the risk of overheating.
Most strollers have detachable sun covers you can use.
Consider what shoes your little one should wear if they're already mobile. Shoes are important for everyday use once your baby is walking, but they can often be restricting. Younger babies will likely be happier with bare feet.
A human's feet regulate heat, so allowing them to breathe is essential, especially during the summer months. It's a good idea to purchase a pair of comfortable sandals to keep their feet cool but safe from harm.
Sleeping Attire
If your baby gets a good night's sleep, it will make your life much easier. Keeping your baby comfortable during naptime and bedtime is essential. Here are a few tips to make sure they're at ease when it's time to nod off:
Turn on the air conditioning or an electric fan. Ensure the room is at a comfortable temperature (68-72 degrees Fahrenheit). This will stop your baby from overheating or from getting too cold.
Avoid heavy sleepwear. The usual baby sleeper is a staple in any baby's pajama drawer. However, if it's made from thick material, especially a footed option, it may retain too much heat.
Instead, consider lightweight onesies without feet or a sleeping pouch that allows for more breathability.
Young babies can't properly regulate their body temperatures. They can quickly overheat, causing heat rash, dehydration, heat exhaustion, or heatstroke. To avoid this, double-check that they're not sweaty or too hot in their sleep attire.
Cooler Days
Sadly, the sun doesn't last forever, and the weather can sometimes change in an instant. Be prepared for any situation by packing thin blankets and a light jacket.
It's a good idea to bring the stroller cover with you, just in case an unfortunate downpour occurs. If you live in a climate where summer rains are common, you may want to invest in a weather shield for your stroller to keep your little one dry on walks.
Sometimes it's nice to enjoy a family evening out, even when the weather isn't ideal. Having your gear means you won't have to stay huddled up indoors or cut an outing short.
Your Questions Answered
---
Thank You For Your Feedback!
Thank You For Your Feedback!