Are you looking for quality rain boots to stand up to rough play and lots of jumping in muddy puddles?
We've spent days hunting for the best rain boots for toddlers, kids, and even babies, and we've come up with this list of the top 13 products to suit your wet-weather needs.
Our top rubber boot picks will keep your little one's feet dry and warm and clean up in a snap. We especially looked for boots that our little "I-do-it-myself" independent learners can handle without frustration.
Read on for our reviews and explanation of what to look for in a pair of toddler boots and how to ensure they fit well.
Image
Model
Product Comparison Table
Features
Best Unisex Boots
Lone Cone Rain Boots
Over 100 hours of testing by kids
Designed to last longer
Free of harmful chemicals
Best for Girls
Western Chief Girls
Moisture-absorbent lining
High-traction outsole
Easy on-and-off handles
Best for Boys
Western Chief D.C. Comics
Slip-resistant outsole
Removable cushioned footbed
Soft, polyester/cotton blend lining
Best for Summer
Oakiwear Rubber Boots
Comprehensive 6-month warranty
Odor-fighting material
Outdoor tested
Best for Wide Feet
CasaMiel Toddler Boots
Anti-skid and piercing bottoms
Not easily cracked
Reliable quality
Best Lightweight
Crocs Rain Boot
Easy to clean
Roomy fit
Extremely lightweight
Best Pull-Ons
OAKI Kids Easy-On
Zero-drop heel
Designed to reduce odor
Durable rubber sole
Best for Winter
Bogs Kids' Insulated
7mm waterproof Neo-Tech insulation
Nonmarking, self-cleaning outsole
Durafresh biotechnology
Best Designer Boots
Hunter Original Boot
High-shine finish
Natural rubber construction
Beautiful craftsmanship
Best Budget Pick
Outee Rain Boots
Cost-effective with safety
Nonslip tread
Detachable comfort insole
---
---
The Best Toddler Rain Boots of 2023
Here are 13 great toddler rain boots to consider.
Lone Cone Rain Boots
Best Unisex Boots
Garden explorers want to stay dry while digging for worms. These BPA-free boots are made of flexible rubber with nonslip outsoles to help your child stay on their feet. The cotton lining does not include insulation, but they are 100% waterproof.
The large handles make it easy for children to pull them on. They're also easy to wipe clean and come in a range of great colors and patterns, all designed by artists from Boise, Idaho.
---
Western Chief Girls Rain Boots
Best for Girls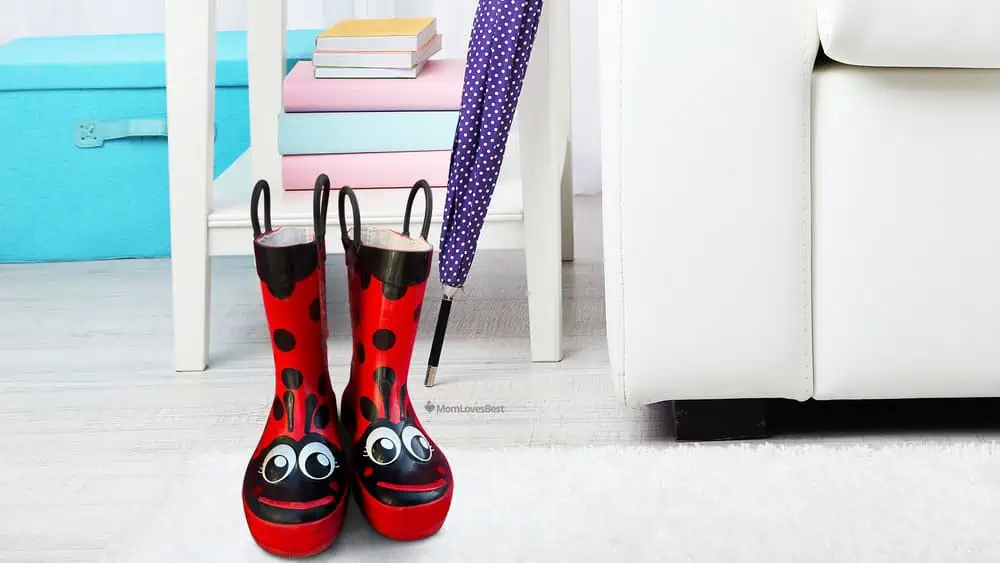 Your little girl will love wearing these stylish puddle jumpers while she waits for the rainbow to appear. They come in a variety of bright colors and whimsical prints. These lightweight boots are made of flexible rubber and are lined to keep feet warm and comfy.
They are suitable for any terrain, with traction on the outsoles, and have two handles for easy usage. The boots include removable insoles, making it easier to dry them out quickly after puddle jumping.
---
Western Chief Kids Rain Boots
Best for Boys
These cheeky rain boots come in multiple fun designs, including various licensed characters and three superhero designs. We especially love the Batman design with its adorable black capes.
The boots are made of natural rubber, so they're soft, flexible, and highly durable.
The inside is also cozy, with a polyester/cotton lining. The EVA insoles are highly shock absorbent, so your boy can run and jump as he pleases. You can also remove the insoles to clean or replace them if needed.
---
Oakiwear Kids Rubber Rain Boots
Best for Summer
Lightweight rain boots are suitable for summer play, and these Oakiwear boots are no exception. The rubber is soft, flexible, and comfortable to move in. The outsoles are flat and have good traction, keeping your tot stable.
After a day out in the mud, you can simply rinse off the boots and hang them to dry. We love the large handles, as they make it easier for determined toddlers to get ready independently.
Check out all the prints! With 50+ design options, you're sure to find something to appeal to even the most selective child, including those with a unique sense of style.
---
CasaMiel Toddler Rain Boots
Best Toddler Rain Boots for Wide Feet
Sometimes, kids' shoes might be the perfect length, but the width is not enough. These classic rain boots are wide enough for your toddler's feet to stay comfortable.
They're made from BPA-free rubber and lined with cotton to allow the feet to breathe, preventing sweat and the nasty foot odors that accompany it. The grooves along the outsoles help stabilize your toddler as they run and jump in water and slush.
The boots come in several bright color options to keep your child visible — even when those dark clouds hide the sun.
---
Crocs Kids' Handle It Rain Boot
Best Lightweight
These Crocs toddler rain boots are lightweight, durable, and available in many colors. They are made from a synthetic material rather than rubber and definitely have that "Crocs" quality.
We found the handles on these boots to be the best out of any we tried. They are thick and wide and won't tear off like some of the thinner options on other children's boots.
The reflective logo on the back heel will help make your child more visible when the weather is overcast or during evening adventures.
---
OAKI Kids Easy-On Handles
Best Pull-Ons
As your child grows, they'll most likely become determined to do everything on their own. The large handles and roomy interior of these quirky rubber boots should be useful when it comes to leaving the house. They're super quick and easy to slip on, which is a win for parents and kids.
Lightweight and with fun designs, these rubber boots are highly breathable and flexible enough to keep your tot comfy. They also have extra insulation to help keep little feet warm on cold days.
---
Bogs Kids' Insulated Rain Boots
Best for Winter
These 100% waterproof rain boots will keep those tiny toes dry and warm during those harsh winters or rainy seasons.
These tall boots make them suitable for snow play. The 7mm Neo-Tech insulation allows them to be wearable down to -30 degrees Fahrenheit! The outsoles are nonslip and self-cleaning, so you don't have to labor over gravel and mud removal. A few knocks and a wipe-down should do it.
Bogs also makes an adorable version of these boots for babies.
---
Hunter Original Kids Gloss Rain Boot
Best Designer Boots
This well-known brand might come to mind when you think of rain boots. These lightly-lined boots are tall classics with a high gloss. They're sure to make your toddler stand out at the playground.
With a 100% natural rubber shaft and sole, they're flexible and easy to run around in. The nonslip bottoms keep your modern tot on their feet.
These boots come in many colors, all with that luxurious shine.
---
Outee Rain Boots
Best Budget-Friendly Boots
Your little one might not need to wear their rain boots very often. So spending a significant amount of money on a pair that your toddler could outgrow is not ideal when money is tight.
However, you want to make sure quality isn't compromised. These budget-friendly, 100% rubber rain boots are highly flexible and soft to wear. The nonslip outsoles are thick, and the boots are lined with cotton for a little extra comfort.
---
Kamik Stomp Rain Boot
Best High-Fit
Expert splashers need high boots to overcome those large puddles. These boots hit right under the knee, offering plenty of protection.
They're made of durable rubber, which will outstand lots of muddy play, and the antislip outsoles help your tot stay upright. There are eight colors and patterns to choose from, all featuring a classic look.
We love that we don't have to worry about staining, as you can easily wipe these boots clean, even after the muddiest playtime.
---
JAN & JUL Natural Rubber Rain Boots
Best Ankle Boots
Some children don't like to wear high boots, but they still want to go out and have fun. These adorable boots sit high enough to protect your tot's feet and ankles but not so high that they restrict movement. This makes them light and easy to wear, which is especially great for little ones still getting the hang of walking.
The boots are made of natural rubber and have a soft cotton lining. The outsoles are rugged to keep your toddler from slipping when playing outdoors.
---
ZOOGS Children's Light Up Rain Boots
Best Light-Up Boots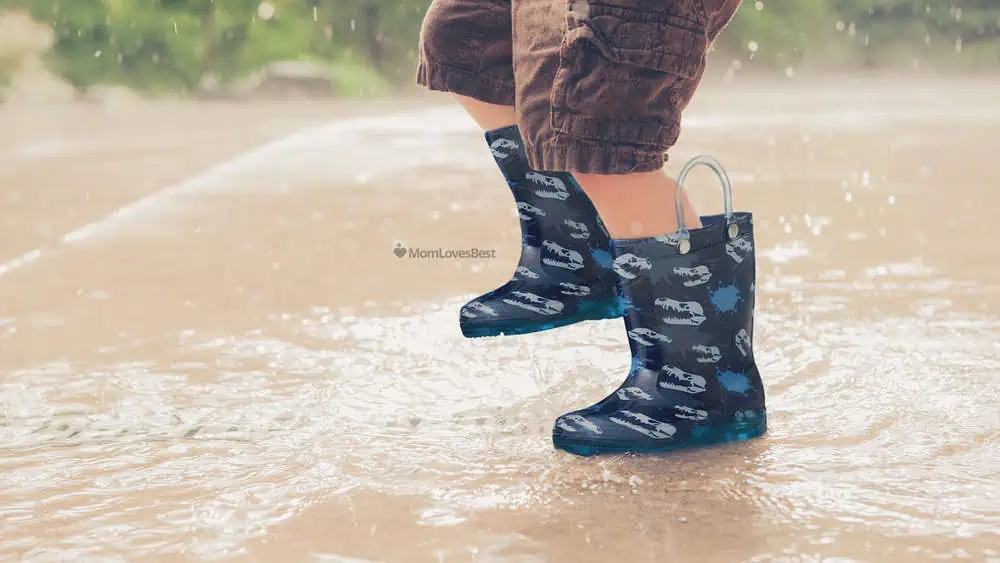 These fun light-up boots are the perfect accessory for your little one to wear to a dinosaur party. They're made of a rubber material and are mid-calf in height. They're incredibly flexible, making them a good fit for active tots. And moms love that they only require a quick wipe down after use.
The outsoles light up with each step, which is super fun for your little one. They also have nonslip bottoms to help your child stay put.
When Will My Child Need Rain Boots?
When your child first begins to walk, boots aren't useful. Your child needs to be relatively stable on their feet, and boots can make this more difficult.
Don't focus so much on age as a guide; some babies will walk as early as nine months, while others are still not quite ready as they near the age of two. As your child grows and becomes an experienced walker, you can consider rain boots — especially if they spend a lot of time outdoors.
How to Choose Rain Boots for Toddlers
Rain boots have to keep your toddler's feet warm and dry; that's a given. Here are a few other things to look for:
Weight: They should be lightweight since your child might tire quickly of running around with heavy boots on.
Flexibility: Stiff boots are no fun, so look for natural rubber or synthetic options. These will also be easier to get on and off.
Traction: You want your tot to stay upright while playing in the mud. Try to find boots with nonslip outsoles.
Avoid anything with PVC (polyvinyl chloride): Recent research suggests it contains dangerous chemicals, such as phthalates and lead. These can evaporate into the air over time, potentially harming your child (1).
How to Size Toddler Rain Boots
Rain boot sizing is not always easy to figure out. Boots typically come in whole sizes. This means that if your toddler is a size seven and a half, you're probably best off going up to a size eight.
Remember that rain boots are not everyday attire, but this depends on your location. In many climates, your child won't use rain boots very often and will outgrow smaller sizes quickly.
The best thing to do is to include your tot in the shopping adventure and let them take the boots for a test walk. They should fit with some wiggle room but not to the point they're falling off, or your child is having difficulty finding stability. Most shoe stores can measure your toddler's feet to recommend the best size.
---
Thank You For Your Feedback!
Thank You For Your Feedback!