Have you bought water shoes in the past, only to have your child complain that they're uncomfortable or refuse to put them on? Have you bought water shoes that have fallen apart after only a couple of uses? We've been there, and we know how frustrating it can be to waste money on a product that doesn't get used.
Water shoes are designed to protect your kid's feet while being a quick-dry option they can easily swim in.
We've had some fun trying out the top brands, comparing their features and prices, and listening to what other moms and kids have to say. We've compiled our findings and created this complete guide of the best water shoes for kids so you can keep your children's feet safe, comfortable, and dry.
Image
Model
Product Comparison Table
Features
Best Unisex Water Shoes
Keen Sandals
Adjustable for a good fit
Odor-controlling technology
Thick, sporty soles
Best for Boys
Stride Rite Sneakers
Won't smell when wet
Comes in different colors
Very versatile
Best for the Beach
Fresko Toes
Sturdy yet still flexible
Offers toe protection
Machine washable
Best Pool Shoes
iPlay Swim Shoes
Easy pull-on
Protective sole
Won't go moldy or smelly
Best for Infants
Suiek Swim Shoes
Waterproof
Comfortable for early walkers
Made from elastic material
Best Water Sneakers
Native Kids Jefferson
Classic sneaker silhouette
Prevents odor and mold
Over 20 bright and fun colors
Best for Girls
Aquakiks Water Shoes
Lightweight
Quick-drying
Adjustable closure
Best All-Terrain
Speedo Surfwalker
Dries quickly
Stronger, more sure grip
Works on any terrain
Best with Velcro
Teva Tidepool Sandal
Thick, protective sole
Quick-dry water-resistant material
Velcro closure
Best for Full Foot Protection
O'Neill Kids Reef Booties
Full foot protection
Water easily drains
Great for watersports
---
---
The Best Kids Water Shoes of 2023
Here are our top-rated water shoes for toddlers and kids:
1. Keen Newport H2 Kids Water Sandals
Best Unisex Water Shoes For Kids
Keens have long been the powerhouse of the water shoe industry, and they have a solid reputation for a reason.
They provide thick protection on both the sole and the toe, but the bottom of the shoe is built more like an athletic shoe or boot for exceptional traction.
Each shoe is adjustable on top with an elastic shoelace and a Velcro closure, and the quick-dry fabric has built-in odor-controlling technology.
What's more, these shoes offer unparalleled anatomical support with a removable footbed, keeping your child comfy — even if they've been running all day.
Finally, they come in every color of the rainbow, meaning you can choose your kiddo's personal fave or choose black or tan as a unisex option that you can use for hand-me-downs later.
Pros
They're adjustable for a good fit.
They have odor-controlling technology.
Thick, sporty soles will last through all your kid's adventures.
Durable design is worth the price.
Cons
They don't come in half sizes.
They are a little pricey.
---
2. Stride Rite Phibian Infant Shoes
Best Boys' Water Shoes
If you have a hard time keeping your active boy confined to either the splash pad or the playground, these shoes will let him run between both without worry.
They have an anti-microbial lining that will prevent the growth of bacteria and keep them from smelling if they get wet.
They're also designed just like a regular shoe, so they have a proper arch and ankle support, but they are constructed out of rubber (along with quick-dry synthetic fabric), so they have the functionality of an athletic shoe combined with the durability of a water shoe.
The rubber sole and closed toe also mean that your kiddo's feet and toes are adequately protected.
Pros
They can be easily hosed off.
They won't smell when wet.
They come in many different colors.
They're very versatile, so you'll get a lot of wear out of them.
Cons
Sand could cause rubbing if it gets in the shoes.
Not well suited for the beach.
---
3. Fresko Kids Water Shoes for Toddlers
Best Beach Shoes
Welcome to the best of all worlds: waterproof upper, skin-tight protection from sand with a skid-proof sole that's thin enough to feel the ground beneath but thick enough to offer protection. All of this is packaged in a water sock with extra toe protection.
The neoprene upper is water-resistant and dries quickly. Its elastic fit with velcro closures makes them easy for both you and your toddler to put on.
These will give your child the protection they need without feeling too bulky, and they're versatile enough to wear in many different environments.
Pros
They're sturdy yet still flexible for maximum fun and adventure.
They fit snugly around the ankle to keep out sand.
They offer toe protection.
They're machine washable.
Cons
The foot is fully covered, which may make it hot to wear.
Some reviewers complained about durability.
---
4. iPlay Kids Water Shoes
Best Pool Shoes For Toddlers
These iPlay water shoes are made of quick-dry neoprene combined with breathable mesh on the uppers, allowing the air to circulate properly around your child's foot — even when wet.
The bottoms are made of a rubber non-skid sole to ensure traction, keep your child's foot protected, and prevent accidents on slippery surfaces.
They come in several different colors, and the elasticity and built-in pull tab make them easy to pull on and off.
Pros
They come in many colors.
There's a handy loop for pulling them on.
They have a protective sole.
They're made of quick-dry material that won't get moldy or smelly.
Cons
They run a little large.
There is no adjustable closure to ensure proper fit.
---
5. Suiek Infant Water Shoes
Best Water Shoes for Infants
These shoes are great for your little one who's just learning to walk. The thinner soles provide protection against hot sand and some of the more uncomfortable ground obstacles without having a thick, bulky sole that can hinder an early walker.
They're constructed of waterproof neoprene, meaning they'll stretch to insert the foot but retract to stay firmly in place.
In the event your little one removes them or tosses them into the water, they'll float, so you won't lose them.
Pros
They're waterproof.
Comfortable for early walkers.
They protect from the hot sand.
These shoes float, making them easy to find in the water.
Cons
No adjustable closures.
The sole is not thick, so it's not suitable for rocky terrain.
These shoes are best for small babies, but they will outgrow them quickly.
---
6. Native Unisex Kids Water Shoes
Best Water Sneakers
Kids and moms will love these adorable water sneakers. With a classic sneaker silhouette, they're made from 100% ethylene vinyl acetate with solid rubber soles and sides. The all-over perforations allow your child's feet to dry quickly while preventing mold and bacteria.
The unique waterproof material molds to your child's feet to offer lightweight protection and security on slippery surfaces. However, you'll want to make sure you get the right shoe size.
If they're too small, the perforations can cause a strange pattern on your child's feet and even blistering. Irritation may also occur if too-small shoes get too hot. Make sure to get a comfy size.
Because they're unisex, these water sneakers work well for children of all ages and are available in toddler, little kid, and big kid sizes. We also love that you can choose from over 20 bright colors. Your kids will be excited to wear them, which will provide you some peace of mind.
Pros
It features a classic sneaker silhouette.
All-over perforations prevent odor and mold while helping feet to dry quickly.
Available in over 20 bright and fun colors.
Cons
It can cause blisters and irritation if you get the wrong size.
---
7. Aquakiks Kids Water Shoes
Best Girls' Water Shoes
These cute water shoes are light enough for the beach yet rugged enough to prevent foot injury.
The rubber sole will keep your child's feet protected, and the fitted uppers will keep the sand out — unlike sandals or other designs. You can make sure they fit properly with the adjustable closure, and the high-quality material is odorless.
Reviewers agree that they dry very quickly, and the traction on the bottom is designed with water play in mind, so your child is safe.
Pros
Lightweight shoes are easy to wear both in and out of the water.
They have good traction.
Quick-drying.
They have an adjustable closure to ensure a snug fit.
Cons
Some reviewers found them too tight around the ankle.
They tend to run a little small.
---
8. Speedo Surfwalker Kids Water Shoes
Best All-Terrain Water Shoes
Wherever your summer adventures take you, these water shoes will protect your little one's feet. Created to work on any terrain, they feature a durable four-way stretch upper and an adjusting strap closure, so they're easy to slip on and off.
The thermoplastic rubber outsole has special grooves to help repel water, so your little one can have a more steady grip. Plus, it not only helps your child stay safe when playing in or around the water, but it also prevents injuries from sharp objects or hot ground.
Though this shoe is made of 100 percent textiles, that doesn't mean it will get soggy. An air mesh insert panel promotes quick drying and maximum comfort. They'll also be safe to wear when completely dry, so you don't have to worry about irritation or blister burns caused by all-rubber shoes.
Pros
Dries quickly, thanks to the inner mesh panel.
Thermoplastic rubber provides a firmer, more steady grip.
Works on all terrains.
Cons
It can be hard to find a good fit.
---
9. Teva Tidepool Kids Shoes
Best Water Shoes for Toddlers with Velcro
This hybrid option from high-quality brand Teva blends the comfort of a sandal with some toe protection. Because let's be honest, kids aren't exactly the most careful people on the planet.
With these, they'll be spared the pain of a stubbed toe while still allowing their feet to breathe.
They're constructed from a synthetic waterproof material that dries quickly and has a velcro closure so you can make them as tight (or as loose) as you need to fit correctly.
To cap it off, they've got a thick rubber sole for maximum traction and safety while walking.
Pros
It has a thick, protective sole.
Constructed from a quick-dry, water-resistant material.
Easy-to-use Velcro closure.
Cons
Closed-toe is soft (not hard plastic or rubber).
Some reviewers found the toe peeked out of one of the cutouts.
These shoes are on the pricier side.
---
10. O'Neill Kids Reactor Reef Booties
Best Water Shoes for Full Foot Protection
The O'Neill Kids Reactor Reef Booties keep your kids' feet fully protected for their adventurous day out.
They have handy side mesh panels so that after a trip into the sea, the water can easily drain out. From then on, it keeps feet dry while you're out of water. Plus, the shoes have a protective toe cap to fully protect little feet. This prevents injuries and bites while your little ones explore the beach, ocean, or just running around the waterpark.
If your kid does watersports, these are a top choice. They are easy to pull on and off, so your child has total independence. They also have excellent grip when navigating slippery rocks, and they protect feet from sea creatures.
The shoes are secure and tight, so they shouldn't fall off. They're comfy as well, so when you ask your child to put them on, you won't have to deal with arguing!
Just keep in mind that the sizing is confusing for many customers. Before purchasing, we recommend reaching out to the manufacturer for their advice.
Pros
Full foot protection.
Water easily drains out, and the shoes keep feet dry.
Great for watersports.
Comfortable and tight.
---
11. PediPed Flex Canyon Kids Aqua Shoes
Best Water Shoes for Toddlers with Wide Feet
These water sandals not only come in wide toddler sizes, but they also come in gender-specific colors, so you can buy cute ones just for your little boy or girl.
They have a neoprene lining that will help stave off the stink that can come with wet shoes, and it also contributes to quick drying.
They were developed with your child's foot health and comfort in mind — in fact, they're approved by the American Podiatric Medical Association for promoting healthy foot development.
Furthermore, the rugged, flexible sole will ensure your child's feet are protected wherever they go.
Pros
They're available in wide sizes.
They have a flexible neoprene lining.
They're designed for healthy foot development.
Cons
They are a little costly.
The shoes sometimes rub on little feet.
These would not work well on the beach with sand.
Do Kids Need Water Shoes?
The primary function of this kind of footwear is to keep feet safe and comfortable while walking on surfaces that have the potential to be sharp, painful, and even dangerous. Water shoes allow children (and adults) to experience everything the outdoors has to offer while preventing injury to the feet.
Areas with water — typically lakes, rivers, and oceans — are filled with potential dangers to a barefoot child:
Sharp rocks.
Slippery rocks.
Jagged shells.
Stinging sea creatures.
Broken glass or other trash.
Hot sand.
Wearing water shoes can provide your child with a barrier between their tender feet and hazards located in or around water.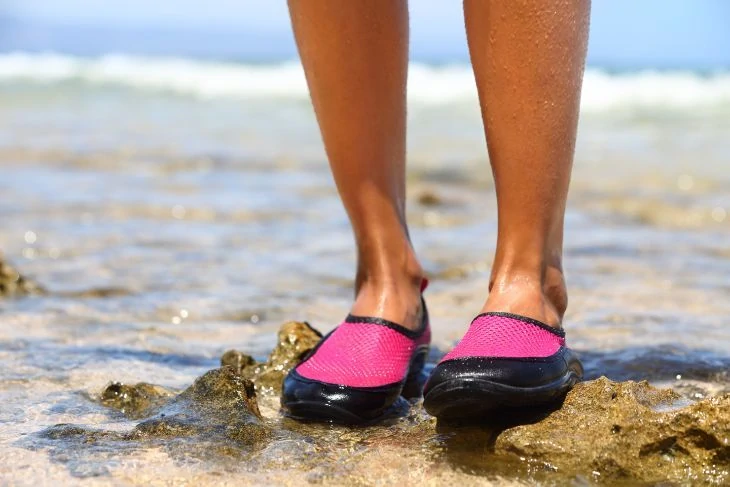 Not only do they contribute to safety, but they also ensure your child's comfort. Even though the seaweed on the lake's bottom poses no real threat, it can feel strange and deter children from even entering the water.
They can also keep your child safe when swimming at the local pool. They're typically manufactured with rubber bottoms that prevent slipping on the pool deck or changing area.
And finally, while water shoes are intended for very specific use (in or around water), many moms have figured out that they're a great all-around shoe for their active children.
Multipurpose
Because water shoes have a protective, slip-resistant sole coupled with a quick-dry body that allows the foot to breathe, they serve many children well as an everyday summer shoe.
Types of Kids Water Shoes
Water-friendly footwear comes in many different designs:
Aqua Socks or Wet Shoes
Basically a skin-tight neoprene foot covering, this option offers slip resistance, warmth, and keeps the sand out, preventing it from rubbing between your child's shoe and their sensitive skin. However, because of the thinness of the sole, these don't offer as much protection from the elements underfoot. On-the-water enthusiasts primarily use this option (think kayakers, canoers, jet-skiers) but might not be the most practical for a little one who needs protection from rough terrain.
Water Shoes
These look like typical shoes but are made of plastic, mesh, or other material that will dry quickly and allow the foot to breathe. They have a thick sole to provide protection, and they usually have a reinforced plastic or rubber toe to keep your little one from hurting themselves on unseen underwater obstacles. It also helps to keep the sand out of the front of the shoe.
Water Sandals
These are constructed much like water shoes but without the reinforced toe. They keep feet cooler during hot summer months but allow more sand to enter the shoe and offer less toe protection. Still, they're made from waterproof and breathable materials, so you know that they'll hold up in the water and keep little feet healthy in the process.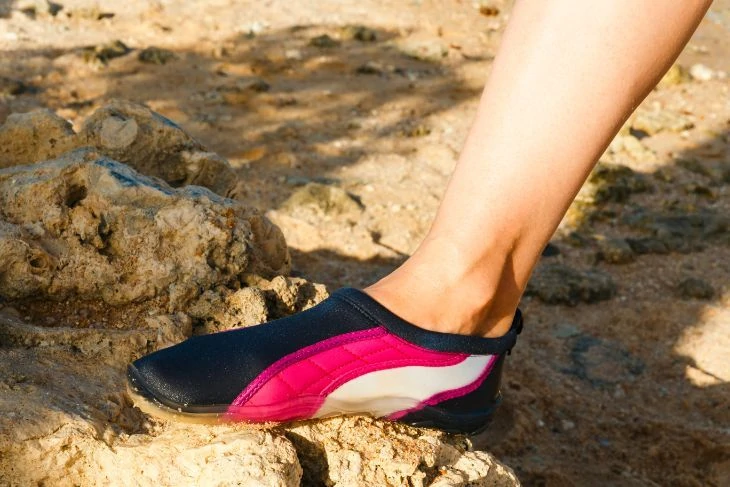 How to Choose Water Shoes for Kids
When buying water shoes for your child, consider the following:
---
The Bottom Line
Our top pick for the best kids' water shoes is the Keens water shoes. Not only are they versatile, but they hold up well and keep our kids' feet safe — both the bottoms and the toes. And with the Velcro and elastic closures, they're easy enough for my kids to put on independently but secure enough that they won't fall off.
Regardless of which water shoe you choose, always make sure that your child's shoes fit well to avoid uneven walking that may lead to trips and spills.
Thank You For Your Feedback!
Thank You For Your Feedback!