Have you bought water shoes in the past, only to have your child complain that they're uncomfortable or refuse to put them on? Have you bought water shoes that have fallen apart after only a couple of uses? We've been there, and we know how frustrating it can be to waste money on a product that doesn't get used.
Water shoes are designed to protect your kid's feet while being a quick-dry option they can easily swim in.
We've had some fun trying out the top brands, comparing their features and prices, and listening to what other moms and kids have to say. We've compiled our findings and created this complete guide of the best water shoes for kids so you can keep your children's feet safe, comfortable, and dry.
---
Do Kids Need Water Shoes?
The primary function of this kind of footwear is to keep feet safe and comfortable while walking on surfaces that have the potential to be sharp, painful, and even dangerous. Water shoes allow children (and adults) to experience everything the outdoors has to offer while preventing injury to the feet.
Areas with water — typically lakes, rivers, and oceans — are filled with potential dangers to a barefoot child:
Sharp rocks.
Slippery rocks.
Jagged shells.
Stinging sea creatures.
Broken glass or other trash.
Hot sand.
Wearing water shoes can provide your child with a barrier between their tender feet and hazards located in or around water.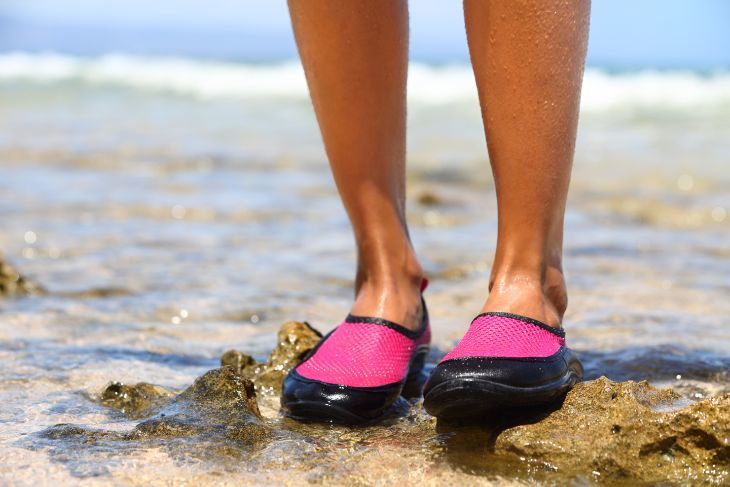 Not only do they contribute to safety, but they also ensure your child's comfort. Even though the seaweed on the lake's bottom poses no real threat, it can feel strange and deter children from even entering the water.
They can also keep your child safe when swimming at the local pool. They're typically manufactured with rubber bottoms that prevent slipping on the pool deck or changing area.
And finally, while water shoes are intended for very specific use (in or around water), many moms have figured out that they're a great all-around shoe for their active children.
Types of Kids Water Shoes
Water-friendly footwear comes in many different designs:
How to Choose Water Shoes for Kids
When buying water shoes for your child, consider the following:
---
The Best Kids Water Shoes of 2022
Here are our top-rated water shoes for toddlers and kids:
---
---
---
---
---
---
---
---
---
---
---
The Bottom Line
Our top pick for the best kids' water shoes is the Keens water shoes. Not only are they versatile, but they hold up well and keep our kids' feet safe — both the bottoms and the toes. And with the Velcro and elastic closures, they're easy enough for my kids to put on independently but secure enough that they won't fall off.
Regardless of which water shoe you choose, always make sure that your child's shoes fit well to avoid uneven walking that may lead to trips and spills.