What's more fun to a child than playing in the water? But at the same time, what's more terrifying to a parent?
We all know that drowning is a very real danger to children, but we also want our kids to enjoy all the fun water activities available to them. The best way to ensure their safety is by having them wear a life jacket.
Choosing one can be tricky, though. They're bulky. They can be uncomfortable. Kids often refuse to wear them. And some do little more than keep your baby's chin above the water.
We've' spoken with the experts and compiled our research to answer your questions about life jacket safety, explaining which styles are best for each situation. We've searched high and low for the best life jackets for kids to make it easy to find one that's effective and affordable and will keep your little one safe.
Image
Model
Product Comparison Table
Features
Best Head Support
Stohlquist Unisex
US Coast Guard Approved Type II PFD
Dual neck support
Snug fit
Best for Learning to Swim
Stearns Puddle Jumper
Less bulky than other models
Sturdy grab strap
Will flip baby onto their back
Best for the Ocean
O'Neill USCG
Straps prevent life jacket slipping off
Facilitates face-up flotation
High-quality design
Best for Boating
Airhead Infant
USCG approved Type II life jacket
Bright colors are more visible in water
Grab strap for a quick rescue
Best for the Pool
Stearns PFD
Comfortable for children
Reflective material
Not bulky
Best for Hot Days
Salus Bijoux Baby Vest
Award-winning Design
Mesh and webbing harness
Additional flotation near the head
Best Vest Life Jacket
Stearns Infant Classic
US Coast Guard-approved
Simple and classic vest design
With leg strap and grab handle
Review Methodology: At Mom Loves Best, we understand the importance of safety when it comes to your child. We evaluate each life jacket for kids from a user's perspective, analyzing features, benefits, and potential disadvantages. We delve into user feedback, performance data, and the relevance of these factors to provide an unbiased review. We identify key decision-making factors such as buoyancy, fit, comfort, safety features, and user-friendliness. We describe design choices and their effects on users. We diligently establish each product's position in the market, providing you with a well-rounded perspective to make the best choice for your child. Our recommendations are backed by careful research and real-world experience from our team of moms and parenting experts.
---
---
The Best Toddler Life Jackets of 2023
Here are seven safe and certified life jackets for babies and toddlers.
Stohlquist Unisex Infant Life Jacket
Best with Head Support
This model doesn't offer just one foam neck support — it has two.
Stohlquist improved on the foam flap design by adding an additional foam pad offering extra support for smaller babies.
It has both an easy-to-use zipper and a clip with an adjustable strap for added security. It also offers a crotch strap to prevent it from slipping over your baby's head.
The design is much less bulky than many others while still offering high-quality, Coast Guard-approved protection.
Pros
It's available in bright yellow.
It has dual neck support to keep your child's face out of the water.
It has both a buckle and strap for a snug fit.
The grab strap is strong and easy to access.
Cons
It's expensive.
The zipper can rub on baby's neck or face.
Our Ratings
Community Feedback
I recently purchased this life vest for my child and found that it comes with a wealth of safety information, making it easy to put on and adjust. The design is well-liked by my child, both in and out of the water, providing comfort while ensuring safety. It effectively flips the wearer onto their back if they are relaxed, offering additional peace of mind. While it works well in pools and calm waters, I have yet to test it during boating activities.
---
Stearns PFD 2000013194 Jacket
Best for the Pool
This snug-fitting device has a buckled enclosure along with a comfortable polyester liner to keep it much more trim than your typical life jacket, making it perfect for splashing in the pool.
The neck flap is designed to keep your child's head above water in the event they fall in. It's best suited for infants weighing less than 30 pounds.
This design is bright green, so visibility will be excellent if you decide to go on a boat. And since it's Type II Coast Guard-approved, it meets the legal standards.
Pros
Brightly colored design is more visible.
Far less bulky than other models.
Sturdy construction.
It will flip your baby onto their back.
Cons
The neck hole is a little small.
May be a bit bulky.
Our Ratings
Community Feedback
My experience with this Type II PFD for my toddler has been fantastic! The bright green color offers great visibility, and the layered foam design ensures comfort while providing the necessary safety features, such as keeping my child's head above water and forcing them to float on their back. The adjustable straps, including the crotch strap with a neoprene rash guard, ensure a secure fit, making it a reliable and safe choice for my child during water activities.
---
O'Neill Infant USCG Vest
Best for the Ocean
If you're taking your little one out into the open ocean, safety is crucial. This life vest will quickly flip your baby onto their back and keep their face out of the water, preventing them from drowning if there's an accident.
And between the bright colors and the attached grab strap, they can be located and pulled from the water quickly.
Reviewers agree that their babies found this comfortable, and the crotch strap keeps them safe and secure. With the dual-fasten zipper and adjustable buckle, you'll be able to customize the size and get the life jacket as snug — and safe — as possible.
Pros
Brightly colored for easy recovery.
Crotch strap keeps the jacket from slipping off.
Designed to facilitate face-up flotation.
It's a high-quality design.
Cons
Not suitable for ocean use.
Can only be used for children up to 30 pounds.
Limited color option.
Our Ratings
Community Feedback
Great life vest for my little one's first time in the pool! This life vest fit comfortably and allowed her to have fun splashing around. I was impressed with the design, as it provided the right amount of flotation without being too bulky. One minor issue we experienced was that it rode up a bit when she sat, pushing against her chin, but it was still safe and didn't bother her while we were moving around in the water. The crotch strap and collar loop were essential features for keeping the vest in place and making it easy to lift her out of the water.
---
Airhead Treasure Life Vest
Best for Boating
This vest from Airhead is rated for infants under 30 pounds and comes with adjustable buckle straps so you can make it snug.
The accessible grab strap means you can haul your child from the water quickly and easily, and the foam collar offers additional head and neck support for your baby — both in and out of the water.
This model comes printed with various cute cartoons and designs.
Pros
USCG-approved Type II life jacket assures you of its quality.
It's brightly colored, so you'll have no trouble spotting your child.
It has a grab strap for a quick rescue.
Cons
Will not fit very tiny babies.
Our Ratings
Community Feedback
I've recently purchased this children's life vest for my 14-month-old son and it exceeded my expectations. The bright colors and smooth fabric made it comfortable for him to wear during his first boat ride, and he didn't fuss at all. Although it may not be ideal for swimming as it keeps my little one on her back, it serves its purpose well for boating and I'm reassured of her safety.
---
Stearns Puddle Jumper
Best for Learning to Swim
If you've ever had a child refuse to put on their life jacket because it was bulky and uncomfortable, you might want to try this Puddle Jumper.
Even though it looks nothing like a traditional life jacket, it's still US Coast Guard-approved (Type V with type III performance) and is secure because it wraps around the upper arms and torso.
This option will keep your budding swimmer's head well above water while keeping their torso unencumbered.
They'll be able to freely move their arms and legs to practice their swimming stroke but will still be able to feel what it's like to raise their torso to the top of the water on their own.
Pros
Children are happier to wear this comfortable design.
The child can maintain a natural swimming position.
It's not bulky.
Cons
There's no grab strap.
It's not appropriate for babies or toddlers under 30 pounds.
Our Ratings
Community Feedback
I'm impressed by the comfort and safety features of these life jackets, which have been a hit with my 3 and 5-year-old kids. The adjustable straps and flotation portions ensure a secure fit, while allowing a good range of motion and visibility. These cute designs have even helped my daughter become more confident in the water as she learns to swim, making them a worthwhile investment for any family with young children.
---
Salus Bijoux Baby Vest
Best for Hot Days
You want your baby to cool off on hot summer days by getting into the water, but a bulky, plastic life jacket can actually cause them a lot of discomfort when it's very hot. If you want to keep your baby safe but plan on having them in the sand for most of the day, this life jacket will help keep them cool.
It features an adjustable mesh and webbing harness system to improve air circulation and keep heavy plastic fabrics from rubbing against the skin. The mesh back allows your child to lay comfortably on a blanket or even in a baby carrier.
It's designed for babies between 9 and 25 pounds and has a three-piece collar design with additional flotation to help cradle your baby's head.
If you love to hit the beach with your baby for extended periods, this life jacket will help keep them safe and cool.
Pros
Mesh and webbing harness keeps your baby cool on the hottest days.
Additional flotation near the head is extra comfy.
With no back padding, it's less bulky, making it easier to hold your baby.
Cons
It may take parents some getting used to when it comes to getting the mesh harness on correctly.
Our Ratings
Community Feedback
My experience with this infant life jacket has been nothing short of amazing. As someone who spends a lot of time on the water with my family, I struggled to find a comfortable and secure life jacket for my little one until I found this one. Not only does it fit my baby snugly without cutting into her neck, but she can also nurse, relax, and even sleep in it. This life jacket has made our family outings on the boat much safer and more enjoyable, and I couldn't be happier with the purchase.
---
Stearns Infant Classic Series Vest
Best Vest Life Jacket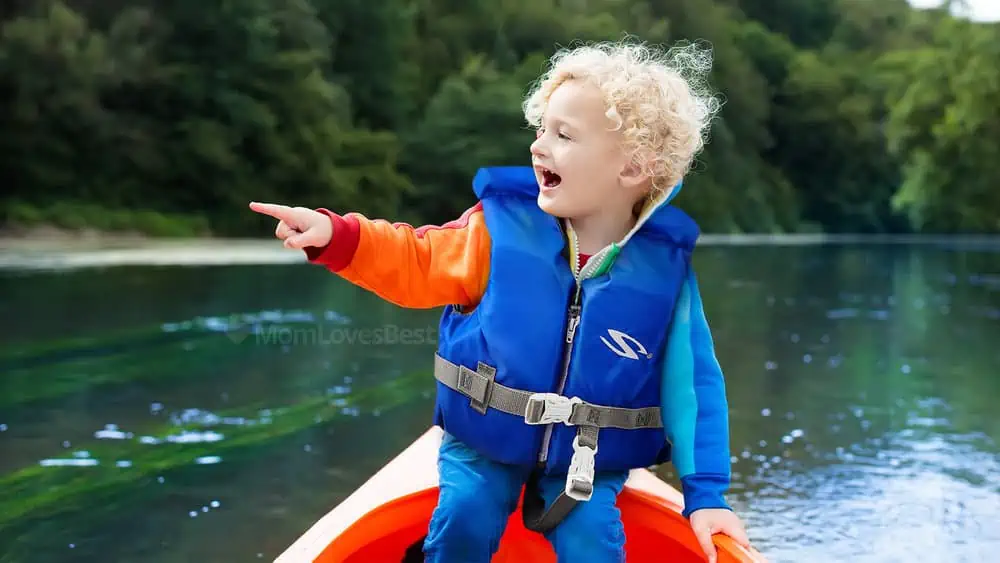 When it comes to life jackets, sometimes simple is best. This model by Stearns has a classic vest design and includes a number of features, making it ideal for infants. If your little swimmer is just starting out, this is an affordable and sure choice.
With a durable nylon shell and PE flotation foam on the inside, this US Coast Guard-approved jacket helps infants under 30 pounds stay afloat. There's even a leg strap and grab handle for extra security. If your little one has a scary moment in the water, you can grab them right out without worrying about anything breaking or slipping.
We also love the head support, which contains flotation foam. This can give your baby confidence and help them feel more comfortable in the water. If you're looking to start swim lessons with your little ones, this is a great choice that will last for years to come.
Pros
US Coast Guard-approved with nylon shell and flotation foam.
Simple and classic vest design is easy to get on and off.
Grab handle lets you pull baby right out of the water in emergencies.
Cons
Sizing can be tricky, so make sure the life jacket isn't too tight or too loose.
Our Ratings
Community Feedback
I'm thrilled with the performance of this life jacket for my little ones. The moment I received it, I tested it on my toddler, who is on the smaller side, and it fit perfectly. The adjustable straps make it easy to achieve a secure fit, and the head support adds an extra layer of safety. Though my son found the back part a bit uncomfortable, and it does tend to ride up to the chin, the overall functionality and peace of mind it provides while in the pool make it worth the purchase. This life jacket allows for easy floating and is more affordable than other brands. Plus, it's Coast Guard approved, so you know you're getting a reliable product.
Do Toddlers Need to Wear a Life Jacket?
Drowning is the number one cause of accidental death in the world. Drowning deaths are most common among children aged 1-4, followed by children ages 5-9.
Combined with adequate adult supervision, wearing a life jacket while in or around the water is your child's best protection against drowning.
Even if your child knows how to swim, wearing a life vest while in a pool or boat is a good idea. If a child experiences fatigue without you noticing, a life jacket can prevent them from slipping beneath the water.
And while boating, if an emergency were to happen and you or your child were to lose consciousness, a good baby float or a life jacket suited to their age and size can keep them safely afloat. It may even flip them face-up, depending on the jacket's design, until help arrives.
In addition to providing life-saving protection to your child, it's also the law.
Finally, life jackets allow your child to experience all the fun and excitement the water has to offer so they can develop water confidence in a safe way.
As your child grows and becomes old enough to learn to swim, you want them to be well-acquainted with water and to love it — not to be afraid of it. Wearing a life jacket in the early years will not only keep your child safe in the water but allow them to expand their horizons.
How Does a Life Jacket Protect My Child?
Life jackets protect their wearers in many ways:
Buoyancy: They're filled with a very buoyant material (usually foam) that displaces a large amount of water in relation to its size and weight, keeping the wearer afloat.
Visibility: Depending on the color you choose, a toddler swim vest can keep your child visible in the event of an emergency. The top colors include red, orange, and yellow. Stay away from blues, grays, and other dull colors.
Head Protection: Some models are designed to flip children on their backs to keep their faces above water. These are ideal for infants or potentially dangerous water sports that could result in the user becoming unconscious and unable to flip over.
Security: Unlike unapproved flotation devices, most children's life jackets come with a crotch strap to ensure they don't slip off if a child falls into the water.
Types of Life Jackets
There are several different types of life jackets. These can be confusing, but here's what you need to know (2):
Type I: These life jackets are intended for offshore ocean use, where the water tends to be rough and unpredictable. They're very effective for flotation but tend to be bulky and uncomfortable. It's difficult to find Type I jackets for children.
Type II: When purchasing a life jacket for your child, this is the type you're most likely to come across. Type IIs are designed for use in calmer water and are used when boating or fishing. They're less buoyant than Type I but also less bulky, making them more comfortable. They're not suitable for rough waters.
Type III: These are less buoyant than Type II life jackets. They're most appropriate for well-supervised water activities where a rescue would be immediate, and they don't flip the wearer onto their back upon falling into the water. These are widely available in children's sizes.
Type IV: These throwable devices (like life rings or life preservers) are tossed into the water to a person in distress. They're not appropriate to rely on for children as they'd need to tread water and swim before being able to access the device.
Type V: These are specialized life vests designed for specific water use such as kayaking, windsurfing, or sailing. Some are designed to inflate upon entering the water. If you're shopping for a life jacket for your child's casual water use, you're not likely to require a Type V.
How to Choose the Best Life Jackets for Kids
When purchasing a life jacket, make sure you look for the following:
---
Is There Anything Else I Should Know?
Life jackets are manufactured to keep your baby safe in the water, but they only work if they fit correctly. "Infant" life vests are rated for babies from 8-30 pounds, which is a huge size range that could make it difficult to find one for the smallest of babies.
While there is no law against taking babies on boats, if you're planning on boating with your infant, you should be aware of the US Coast Guard's recommendations:
Note About Infants & Boats
"The Coast Guard does not recommend taking infants onboard a recreational boat. The PFDs currently available for newborns up to 18 pounds may not provide a proper fit to perform as expected. Unless the parent can test their newborns out in a PFD sized for infants in a swimming pool, they won't know if that device will float their child with their head out of the water. Ensure the PFD you have works for your infant. Otherwise, we recommend the child not be exposed to any risk in a boat on the water."
Babies vary widely in size, but some are well over a year before they reach the 18-pound mark. If you plan on taking your small baby on a boat, make sure you test your life jacket (also known as a personal flotation device) per the Coast Guard recommendations.
FAQs
---
The Bottom Line
While we love the comfort and design of the Puddle Jumper, overall safety wins out, making our top pick for the best baby life jacket the Stohlquist Unisex.
It's US Coast Guard-approved with all the safety features you'd want — neck support, crotch straps, grab strap, and bright color — all wrapped up in a sleek, non-bulky design. And not only is it safe, but it's more comfortable than many of the other options.
There are many flashy and adorable life jackets on the market today, but don't let them distract you from the essential safety features you need. Because in the event of an emergency, that's all that matters.
Thank You For Your Feedback!
Thank You For Your Feedback!