If you're ready to enjoy the pool with your baby, you'll need a good-quality pool float. With a wide variety of options to choose from, you're sure to find one you'll love. But you need to ensure it has as many safety features as possible.
We dove deep into the world of baby floats to learn which models are best. Although many floats on the market didn't meet our criteria of being safe, stable, supportive, and comfortable for little ones, we did find 13 great options.
We'll discuss what we look for in floats and share our reviews of the best baby floats currently on the market.
Let's dive in.
Image
Model
Product Comparison Table
Features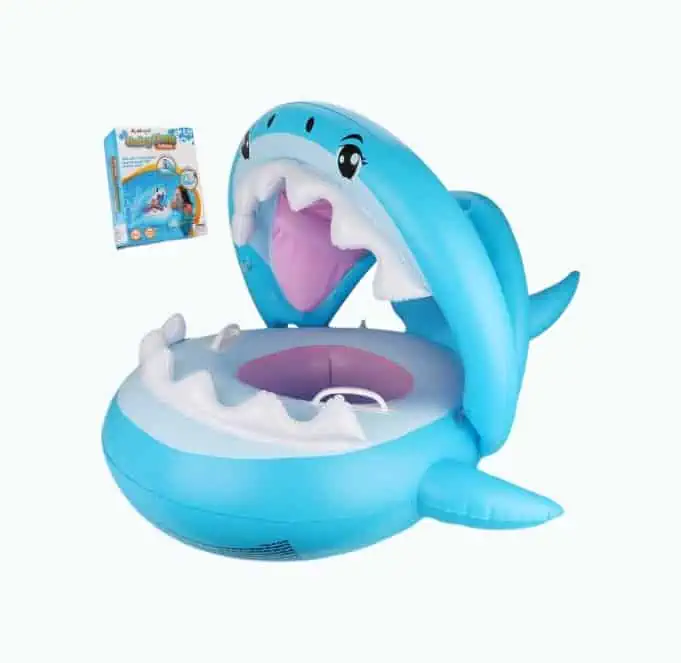 Best for Boys
Baby Shark Pool Float
Removable inflated canopy
High-quality material
Hand grips attached on 2 sides
Best Interactive Baby Float
SwimWays Baby Spring Float
Child safety valves
Dual air chambers
Very portable
Best Budget Float
Intex Stringray Baby Float
Durable handles
Photo realistic printing
Repair patch included
Safest Baby Float Design
Inflatable Float with Canopy
Soft mesh seat
Secure leg holes
Canopy offers UPF 50+ sun protection
Best Sun Protection
Laycol Baby Pool Float
Eco-friendly PVC
Two swim ways
Holds up to 48 pounds
Best for Girls
Baby Pool Float Unicorn
Heavy-duty PVC material
4 independent air bags
Great design
Cuteness Overload
Intex Kiddie Float
Smooth leg holes
2 air chambers
Very durable
Best Shared Float
SwimWays Mommy and Me
Detachable float for parent
UPF 50+ canopy
Removable sun shade
Most Stylish
Iefoah Baby Flamingo Float
Can carry up to 60 pounds
Dual air chambers & separate valve
Soft inflatable cushion
Most Unique
Airplane Baby Float
Breathable swim cloth outside
Non-inflatable pearl foam inside
High buoyancy
---
---
The Best Baby Floats of 2023
Here are our favorite baby floats for you to consider.
Baby Shark Pool Float
Best Baby Float for Boys
This cute baby shark design, complete with a large mouth, teeth, and bells, is great for your baby. The bells are located in the teeth, offering a light, steady sound. You'll love the thick edges that provide a comfortable backrest as your baby is entertained.
It is suitable for babies who are 9 months and older and can hold a maximum weight of 40 pounds. The canopy provides shade for your little one, and you can easily detach it when it's not needed.
This float is made with high-quality PVC materials that ensure it remains airtight and waterproof. Safety valves provide extra air leak protection, while the float's large circumference, fins, and tail stabilize it.
The two handles on either side of the float offer grips your baby can hold onto as they flow with the waves.
This float also comes in a pink option.
---
SwimWays Baby Spring Float
Best Interactive Baby Float
This float is recommended for babies aged 9 to 24 months and is designed to keep your little one comfortable as they get used to the pool. It comes loaded with water toys like the squeaker fish, soft touch star, fish teether, and stacking rings. The cute removable octopus will delight your little one. Having these toys around will help put your baby at ease, and they will soon be kicking and splashing all over.
This float comes with admirable safety features. A patented inner spring for greater stability, dual air chambers, and child safety valves see to it that your baby stays safe.
You'll love the detachable canopy with UPF (ultraviolet protection factor) 50+ sun protection. This float folds easily and comes with a carrying case for convenience. It's perfect for travel.
---
Intex Stringray Baby Float
Best Budget Float
This delightful float will make your baby want to stay in the water all day. It can support a maximum weight of 88 pounds, meaning it is suitable for babies or toddlers. The jingle toy attached to the inflated handlebar will keep your baby entertained as they float around.
The float features two air chambers for extra safety. There's a repair patch included in case the float gets punctured. The rigid bottom helps with stability.
---
FinUWill Inflatable Float with Canopy
Safest Baby Float Design
We love how bright and sunny this fully inflatable baby float is. It includes a wide-coverage removable inflatable canopy for sun protection.
Babies love the attached steering wheel, so they can feel like they're controlling where they travel in the pool. The hand grips add stability for the baby, or you can use them to pull your little one around.
This baby float comes with a travel bag for easy storage, but ensure you dry it out thoroughly before storing. It also includes a handy air pump, so you can save your breath while filling the float and matching canopy.
The float is recommended for babies over 6 months and weighing up to 44 pounds.
---
Laycol Pool Float
Best Sun Protection
This brightly-colored baby float is perfect for older babies and toddlers who enjoy wading in water. It's fitted with a five-fold belt to ensure your baby's safety at the pool while they enjoy the splashes of water.
The broad canopy above helps protect your baby from direct sunlight, and you can adjust it as needed. You can also detach the canopy completely when in an indoor pool, in the evenings, or on a cloudy day.
The float is made from durable eco-friendly PVC materials that are sturdy, ensuring no leaking problems, and it should last for years. This float holds a maximum weight of 48 pounds.
---
Baby Pool Float Unicorn
Best Baby Float for Girls
If your child loves unicorns, they will enjoy spending time in this float, which was made using extra thick and waterproof PVC material. The seat is comfortable to help protect your baby's bottom. The only downside to this float is that it doesn't include a canopy.
It does come with airbags and valves — two on either side — to improve balance and enhance safety. The float also has a safety string attached to it to ensure your child does not stray too far.
The handles on this float are great for moving the unicorn along while you and your toddler swim in shallow waters. This one is for ages 2 to 6 years.
---
Intex Kiddie Float
Cuteness Overload
This blue float has cuteness written all over it. You can use it over and over, thanks to its durability. Recommended for children aged 1 to 2 years, this brilliantly-colored float can hold a maximum of 30 pounds.
The cute shade is designed to keep the sun out. The two air chambers will provide the balance you need to keep your little one stable on the water.
Your child is sure to love the happy face and bright design. And the front panel includes a toy with two brightly colored balls to keep your little one's attention in the pool.
---
SwimWays Mommy and Me Baby Spring Float
Best Shared Baby Float
What better way to hang out with your baby than getting "into" the float with them? This baby float comes with a detachable float ring for parents to chill out and play with their baby.
This baby float is made of durable PVC and is covered with cloth. It also has a detachable canopy and a play space. Your baby should have a great time playing with their toys or splashing away.
It is ideal for babies ages 9 to 24 months. It folds nicely, making it easy to store and carry.
---
Iefoah Baby Flamingo Pool Float
Most Stylish Baby Float
Do you have a pool party coming up? This pretty pink flamingo is the perfect float to show the group who is boss. Made from high-quality and durable vinyl, it can withstand any rough play.
It is designed for babies aged 8 to 24 months and has an inner ring you can inflate. Plus, it offers wide and comfortable seating for longer cruising and a backrest for keeping your baby upright.
---
Heccei Airplane MamboBaby Float
Most Unique Baby Float
This cute baby float provides the ideal swimming posture, allowing your baby to kick and move their feet more freely. When your little one gets tired, a groove on the front portion offers a comfortable resting place for dozing off.
You can position your baby on their belly in the float or on their back if they're ready for a rest. However, the back position is only for babies under 6 months of age.
When your baby gets a little older and more independent, you can remove the sun shade and back piece, and your child can wear it like an extended sort of life jacket. It will keep them safe as they climb in and out of the water and prevent them from tipping over in the pool.
The float's interior is made of latex foam, while the exterior is covered with swim cloth to avoid irritation. Your baby will be clipped into place using a double safety clasp, crotch strap, and zipper. There is no flipping over or slipping through with this device.
It's made of durable BPA-free materials. You can use it in a bathtub or pool, and it's ideal for babies ages 4 to 24 months.
---
MamboBaby Never Flip Over Infant Pool Float
Safety at Poolside
This adorable and vibrantly colored float is a great way to allow your little one to enjoy the pool without compromising safety. You can use it in a public pool or your family pool to help your baby become confident in the water.
It is ideal for babies and toddlers from 3 months to 2 years old. You can have your babies' favorite toys in the middle to make that trip to the pool even more fun.
It is fully equipped with a removable tail and canopy, and the pearl-foam outline can accommodate larger babies. Additionally, the float is made of patented pearl foam to enhance buoyancy.
---
Poolmaster Mommy and Us Twin Float
Best Pool Float for Twins
Having two babies can make it near impossible to play in the pool unless you have another adult to help. However, this unique pool float offers moms of twins the ability to take them both in the pool at the same time.
The float includes a secure seat for each baby and a center console for drinks, snacks, toys, or other baby needs. You can also add a little water to the console to allow your babies to splash each other.
A third section on the float wraps around the parent to keep your babies near while allowing your hands to be free to attend to their needs. The float comes with a few cute water toys and is best suited for older babies from 8 months to 24 months or 40 pounds each.
The only downside to this float is that it doesn't include a canopy, so you'll need to ensure your babies have adequate sun protection with sunscreen, full-coverage UPF swimwear, and hats.
---
Free Swimming Waist Ring Inflatable Pool Floats
Best Free Swimmming Design
This good-looking float is an excellent gift for your baby. It helps your little one adjust to the feeling of swimming on their belly. It is made from PVC, so you can expect it to last a long time.
Ideal for babies ages 5 months to 18 months, it can hold a maximum of 38 pounds. It's easy to use and has great buoyancy, which further adds to your baby's safety.
This float comes in three sizes ranging from small to extra-large to accommodate all ages.
How to Choose a Float for Baby
There are several things to keep in mind when shopping for the best baby float.
---
Are Neck Floaties Any Good?
For some time now, we have seen pictures of babies in cute neck floaties all over social media, but cute is probably about all they are. Medical experts claim neck floaties offer no real benefit to your child but can have grave consequences (2).
You're better off avoiding neck floats altogether.
---
Safety First
Choosing a baby float requires careful consideration to ensure it does the job it's meant to do. However, baby floats are no substitute for close supervision. Never leave your baby attended — you are your baby's protector, not the float.
Thank You For Your Feedback!
Thank You For Your Feedback!