If you're desperate to keep your busy, curious child safe on outings, you may be considering a child leash — despite all the controversy they seem to conjure.
Our goal is to help you make an informed decision as you consider if using a child leash is right for you. We've studied the research and listened to parents, caregivers, and various child experts. We'll share our findings in this comprehensive guide to help you view the issue from all angles.
We've thoroughly compared all the best child leash styles and brands and will offer our reviews of their benefits and drawbacks so you can make the best decision for your situation.
Image
Model
Product Comparison Table
Features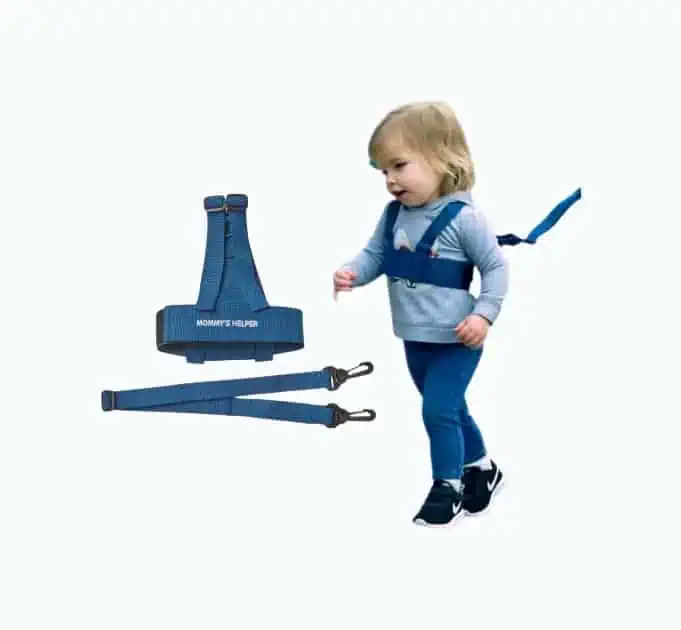 Best Harness Leash
Mommy's Helper Harness
Supports child's torso
Has swivel attachment
Super affordable
Best Backpack Leash
Skip Hop Harness Backpack
Fun, bright design options
Waterproof material
Cushioned straps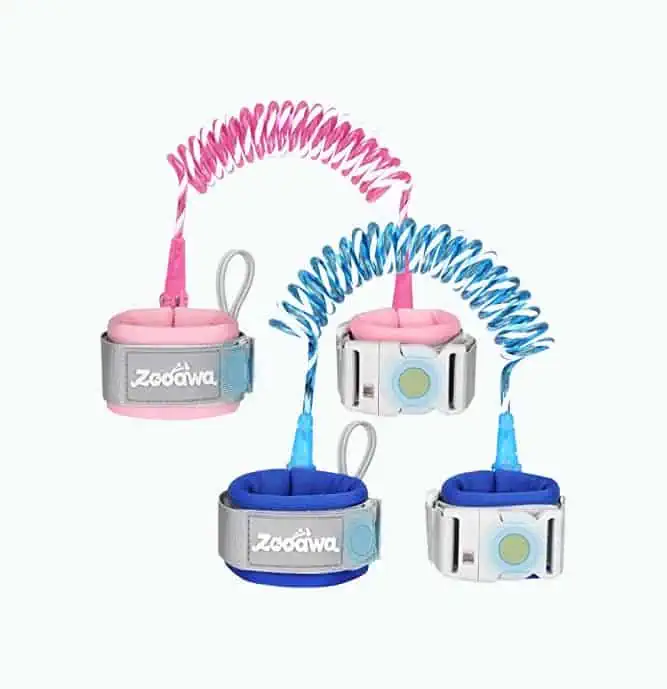 Best Wrist Link Strap
Zooawa Anti-Lost Wrist Link
Super-long cord
Two-layer Velcro security
Materials for sensitive skin
Super Comfortable
Toddler Harness with Leash
Focuses on mom and child's comfort
360-degree attachment
Leash extends up to 8.2 feet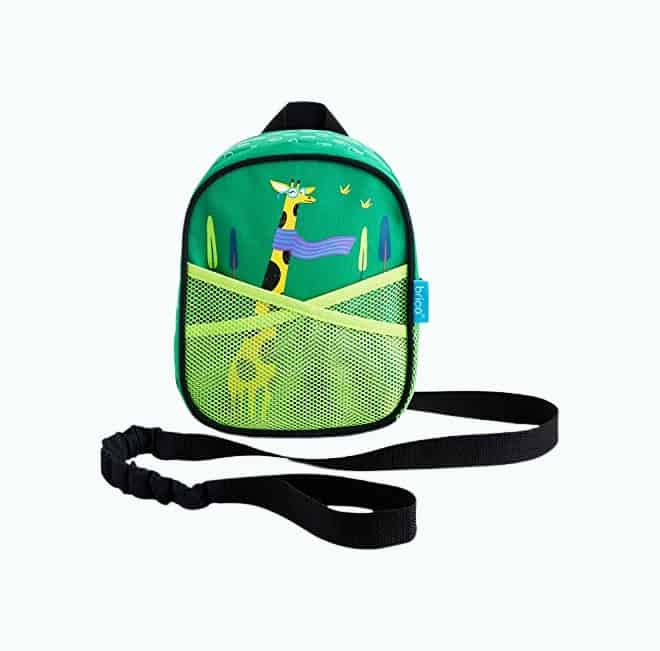 Shock-Absorbing Design
By My Side Backpack
Shock-absorbing tether
Reflective panels
Lots of room for storage
Best for iPads
Agsdon Backpack Leash
Large capacity
Fun animal design
Front and side pockets
Adorable Design
Animal 2-in-1 Backpack
Adorable, friendly design
Adjustable safety strap
Harness and backpack combined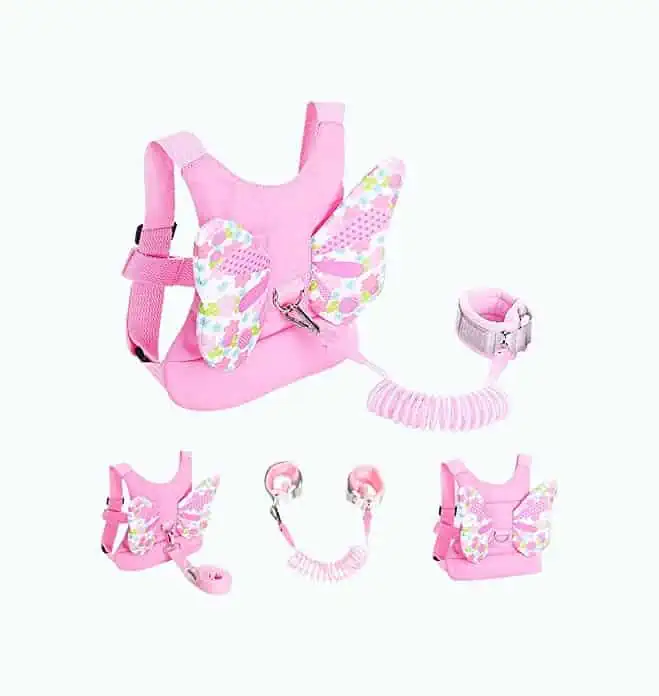 Fun & Simple
Angel Wings Harness
Fun design
Reliable design
Long leash allows movement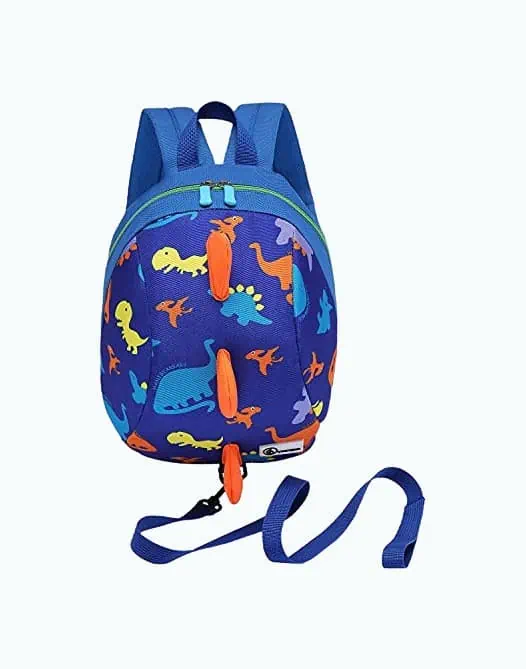 Best Budget Pick
DB Dinosaur Toddler
Very affordable
One-year warranty
Three designs to choose from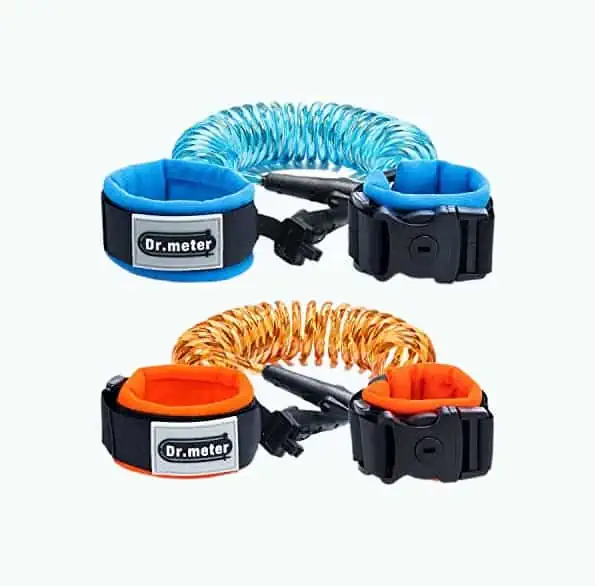 Great at Night
Dr. Meter Wrist Link
Reflective safety tape
Childproof locking system
360-degrees rotating connections
Review Methodology: At Mom Loves Best, we take pride in providing you with an in-depth analysis and assessment of the top child leashes available on the market. Our hands-on experience, thorough research, and expert evaluation of each product ensure that our findings are trustworthy and reliable. We compare the design, comfort, safety features, and durability of each leash. Our team uses benchmarks and performance criteria, such as leash length, material, and ease of use, to rank and measure the products. Additionally, we consider the different needs and preferences of parents and children to identify key decision-making factors. Our goal is to help you make an informed choice by sharing evidence-based results and reviews that highlight the best child leashes for you and your little ones.
---
---
One of the best ways to ensure you use a child leash safely is to find a high-quality product designed especially with children in mind. After all, not all child leashes are created equal. You want to look for quality materials, child-friendly designs, and high ratings from other moms.
We have broken down the different types of child leashes you can choose from and the best products in every category.
Best Child Leash Harnesses of 2023
Child leash harnesses wrap around your child's body. Most are designed to go around your child's shoulders and chest for a secure, comfortable hold. Here are our top four picks for the best child leash harnesses.
Mommy's Helper Kid Keeper Harness
Full Torso Support
Simple is sometimes best. This harness is minimalistic, affordable, and easy to use. It has many features, including adjustable straps and a swivel snap leash attachment. But our favorite feature is the way the harness is designed.
Some child leash harnesses cover and press on the sensitive area of your baby's stomach.
This harness fully supports your child's upper torso and stays in the correct position to ensure your little one's comfort. This makes it a good product for a younger child.
This harness is made of durable nylon with plastic buckles and attachments. The padded shoulder straps are comfortable, and the swivel leash attachment prevents tangling. You can extend the adjustable leash up to 42 inches.
Pros
Supports your child's torso.
Leash has swivel attachment.
Super affordable.
Cons
Pieces are plastic and can snap or break easily.
Our Ratings
Community Feedback
I recently purchased this harness for my grandchild who is quite the little explorer. The harness is comfortable, doesn't put pressure on sensitive areas, and allows my grandchild to roam around without worrying about them getting too far away. However, the stretchy leash could be longer and it would be great if there were options for different leash types and colors.
---
Ptyuhnn Toddler Harness with Leash
Super Comfortable
Are you planning a large vacation to a theme park or resort? Or maybe you and your family like to go on adventures together. If so, this child leash harness may be right for you.
It features adjustable shoulder straps, a special wrist attachment for parents, and breathable cushions on the harness and wrist attachments. We like these features because it keeps both you and your child comfortable — no matter how much fun you're having.
We are especially impressed by the breathable cushions because they wick moisture and reduce friction, allowing you to use the harness for longer periods without worrying about your child's well-being.
The harness is made of durable canvas and cotton with a plastic buckle. The wearable wrist leash is made of uncuttable wire coated in thick, durable plastic.
The wrist attachment goes around the parent's wrist and has a swivel connector that turns in every direction so your baby doesn't get stuck or pulled on. The lining is made of cotton.
Pros
Focuses on parent and child comfort.
360-degree attachment prevents falls.
The leash extends up to 8.2 feet for maximum mobility.
Cons
The front buckle isn't childproof.
It takes time to adjust straps correctly.
Our Ratings
Community Feedback
Great product for keeping my energetic child safe while we're out and about. This adjustable harness fits my 4-year-old autistic son well and has a long reach, giving him the freedom to explore while still being secure. However, the plastic lock and key can be difficult to use and feel like they might break, and the cord does get tangled at times. Despite these minor drawbacks, I've found this harness to be a stress-reliever for both of us. It allows my son to enjoy his outings without me constantly holding his hand, and I have peace of mind knowing he's safe and secure.
---
Angel Wings Harness & Leash
Fun & Simple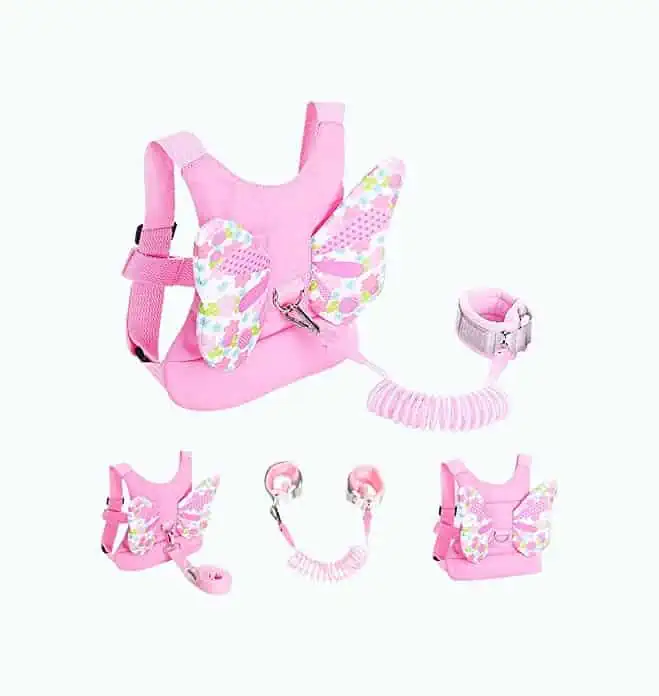 Children will love the fun design of this harness, and moms will love its simplicity. The harness goes over your child's shoulders and around their chest.
It is easier to use a child leash when your little one enjoys what they are wearing. The full back panel of this harness sports a pair of angel wings. You can detach the leash with the special clip if needed.
The harness fastens in the front with an adjustable buckle and strap. If you are looking for a simple child leash that still has a bit of flair, this is a good option.
The Angel Wings Harness & Leash is made of high-quality polyester material and nylon. The back loop and leash clip are both made of metal. The unadjustable leash is 59 inches long.
Pros
Fun design will delight children.
Reliable design.
Long leash allows movement.
Cons
The leash isn't adjustable.
It lacks padding, meaning it might rub on your child's skin.
Our Ratings
Community Feedback
This butterfly harness is not only adorable, but it provides peace of mind when taking my 16-month-old to crowded places where strollers aren't practical. The backpack-style design is preferred over the wrist strap, as it gives me more control and my child enjoys wearing the cute butterfly wings. It's a great help for independent little ones who don't like to hold hands, and the added wrist strap option caters to different preferences.
Best Child Leash Backpacks of 2023
Many parents struggle with child leashes because they feel they are tugging their child along like an animal. Child leash backpacks help alleviate that problem. Children strap on a fun backpack that can hold snacks, drinks, or toys and has a leash that clips to the back for parents to hold on to.
Here are some of our favorite child leash backpacks.
Skip Hop Toddler Leash and Harness Backpack
Easy Peasy Cleaning
We love these adorable cartoon backpacks, and we bet your child will too! The miniature size is perfect for toddlers, and there are multiple cartoon animals and creatures to pick from. The detachable leash on the bottom is discreet, making it easy to use only when necessary.
One feature we appreciate is the waterproof material. Water stays out, but so does a host of other things. You can allow your child to explore, knowing it is ok if the juice cup spills, the popsicle drips, or they splash in puddles.
Even though your child may need to be restricted with a leash backpack, helping them find their freedom within those bounds can make the experience so much more pleasant for everyone involved. The fun of this backpack may be a great distraction for a child struggling to understand why they need to wear it in the first place.
Each mini backpack is 3.2 inches by 7.5 inches by 9 inches. The material is neoprene, a type of soft, synthetic rubber fabric.
The number of compartments varies by style. Most have one main compartment inside the backpack with one zippered pocket in front. Plus, all feature cushioning in the back and on the shoulder straps.
The leash, which is 38.5 inches long, attaches to the bottom of the backpack with a metal clasp.
Pros
Fun, bright design options.
Waterproof material.
Cushioned straps.
Cons
Varied features by style.
Our Ratings
Community Feedback
For our energetic two-year-old, this backpack and leash combo has been a fantastic addition to our outdoor adventures. Not only is it adorable and available in various designs, but it also provides peace of mind knowing our child is safely within reach. The backpack is spacious enough to hold snacks, diapers, and a sippy cup, making it a convenient and practical accessory. Additionally, the front buckle and easy-to-clean material make this product suitable for both parents and kids alike.
---
By My Side Safety Harness Backpack
Shock-Absorbent Design
This backpack is small and compact but has a lot of compartments for your child's toys and snacks. We love this option for moms who are taking their children on longer excursions and need to pack more essentials with them.
Our favorite feature is the shock-absorbing tether cord. If your child should stumble or fall, it absorbs some of the strain and prevents discomfort. This is a good fit for moms with children who do not know when to stop running farther than the leash allows.
Each bag is made of multiple materials, including reflective fabric panels and mesh. The tether attaches to the bottom of the backpack with a swivel clip.
Other features include an adjustable chest clip, a large backpack compartment, a large front mesh pocket, and a mesh side pocket.
Pros
Shock-absorbing tether.
Reflective panels.
Lots of room for storage.
Cons
Lack of padding.
Very small size.
Our Ratings
Community Feedback
Got this Baby Safety Harness Backpack for my little escape artist, and it's been a game changer! My toddler loves wearing it, and I appreciate the added peace of mind knowing he's close by. It's well-made, with multiple pockets for his little treasures and essentials. The leash may take some getting used to, but it's worth it for the extra safety it provides.
---
Travel Bug 2-in-1 Animal Harness Backpack
Adorable Design
Wearing this backpack is like getting a hug from a cuddly animal. It combines the best features of a harness and a backpack. Two strong front clips allow you to keep the backpack on your active child while retaining the helpful storage features of a bag.
The animal design makes it super friendly for your child. We especially love the cuddly, plush style for children who struggle to wear other types of child leashes. With this backpack, the child leash becomes another friend to keep them safe.
Each furry critter harness is 5.9 inches by 4.5 inches by 12.6 inches and is made of cotton materials. It comes in three different styles — a monkey, a dog, or an elephant. The leash attaches to the bottom of the backpack and is 36 inches long.
Pros
Adorable, friendly design.
Harness and backpack combined.
Cons
Minimal storage space.
Hard to adjust the straps.
Our Ratings
Community Feedback
In my experience, this monkey backpack is not only cute and soft but serves as a great tool to keep my little one close by. However, the bulky size of the stuffed monkey can be a bit inconvenient, making it difficult for my toddler to sit in a stroller or chair while wearing it. Additionally, the straps could be longer to accommodate growing children, and the leash could be of better quality, but overall, it fulfills its purpose and is well-received by my child.
---
DB Dinosaur Toddler
Best Budget Pick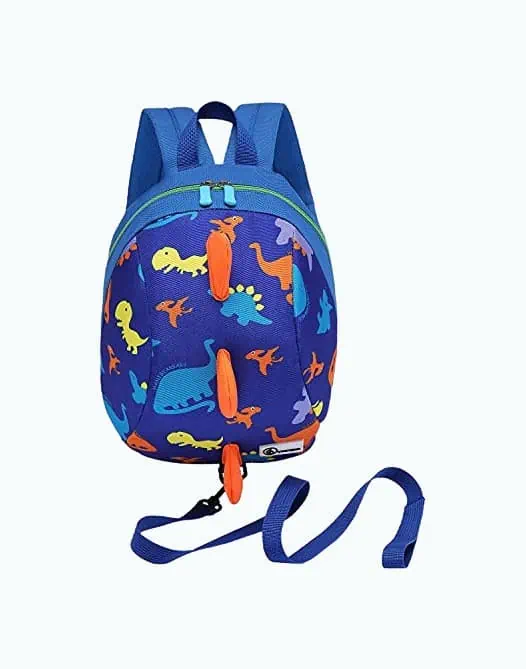 This tiny backpack is ideal for a tiny child! As any mom will tell you, everything changes once your baby is mobile. Many backpacks are designed for older toddlers, but this one is great for younger children.
With four colors to choose from, this affordable backpack will be one your child will want to use later on without the leash.
This bag measures 10.24 inches by 7.09 inches by 4.3 inches and is made of cloth fabric.
Pros
Very affordable.
Center leash clasp.
Cute design.
One-year warranty.
Cons
Might be too small for bigger toddlers.
Our Ratings
Community Feedback
My experience with this tiny backpack has been great for my young child, as it is perfectly sized and comes in four attractive colors. The center leash clasp offers safety, and the cute design makes it enjoyable for my child to wear. However, it might be too small for bigger toddlers, so keep that in mind.
---
Agsdon Toddler Backpack Leash
Best Backpack for iPads
This dragon backpack is a high-quality and budget-friendly backpack that keeps your kids safe. But it's also more discreet since it looks less like a leash. If you want something that adds a bit of fun and style to safety, this is the way to go.
Plus, it is the perfect size for an iPad Air. This is an excellent option if your child likes to keep a tablet nearby to combat boredom.
The backpack also has a side pocket perfect for snacks and a water bottle. So whether your child gets bored, hungry, or thirsty — this is a superb choice.
It also comes in several other styles, including a butterfly, dinosaur, unicorn, or mermaid, so there's bound to be an option to please any child.
Pros
Large capacity, perfect for iPads.
Fun designs.
Front pocket and side pockets for snacks.
Suitable for kids aged 1 to 3.
Cons
The strap attachment is flimsy and may fall off.
The leash is short.
Our Ratings
Community Feedback
After using this adorable harness backpack, I found it to be both stylish and functional for my little one. My son didn't mind wearing it, and it provided an added sense of security during our trip to Disney World. The backpack is a good size for toddlers, but I do wish the leash clip was made of metal instead of plastic for added durability.
Best Wrist Link Straps of 2023
Wrist link straps have come a long way. In the past, attaching a cord between your wrist and your baby's wrist was dangerous and a big no-no. One wrong pull could topple your baby or dislocate their shoulder.
Plus, the rubbing and chaffing could leave a rash on your child's wrist.
Luckily, wrist link straps have been updated to suit the needs of modern moms. Here are our top two picks.
Zoowa Anti-Lost Wrist Link
Long and Secure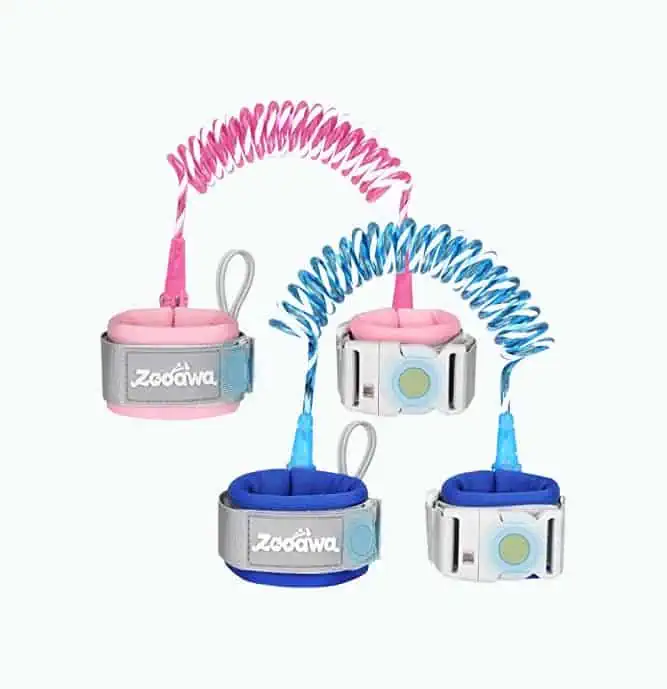 A secure coil keeps your child close while still fostering their independence. The elastic rope is made of stainless steel wrapped with PU.
The adjustable wrist cuffs feature environmentally friendly materials that won't irritate the skin. Inside each cuff is a layer of padding for comfort.
We especially appreciate the two layers of Velcro for added security. It is easy for a child to pull at anything placed on their wrist. If you are worried about your child tugging off the wrist cuff, know that these two layers of Velcro make it hard for little hands to manage an escape.
Each wrist strap comes with two wrist cuffs. You can attach the cord to the cuffs with a rotating piece for flexible movement.
Pros
Two straps in each package.
Two-layer Velcro security.
Materials for sensitive skin.
Cons
Takes extra time to put on and remove.
Our Ratings
Community Feedback
I'm thrilled with these child safety wristbands as they provided me with peace of mind during outings with my little ones. The magnetic lock is a fantastic feature, ensuring that my kids can't accidentally unclip themselves or be unlatched by strangers. While my toddler initially resisted wearing it, practicing at home and making it fun improved their acceptance. These wristbands are not only secure and durable, but also offer my kids a sense of independence while remaining safely tethered. The only minor downside is that it can get a bit sweaty after extended wear, but overall, this product has been an excellent addition to our family outings.
---
Dr. Meter Wrist Link
Great At Night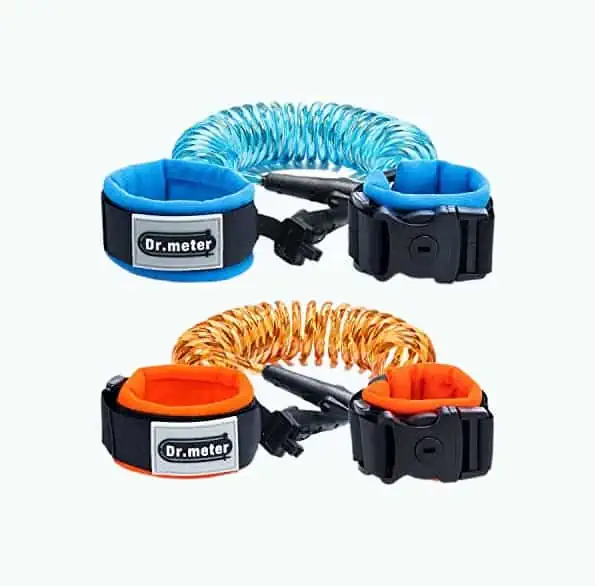 This wrist link strap with reflective tape aims to keep parents and toddlers safe from motor vehicles and other night hazards.
The coil and wristband both feature reflective tape. If you find yourself traveling consistently with your children when it is dark outside, this wrist link strap may be the most useful.
We like the unique lock system on this strap. The adult wristband contains a key, and once the wrist cuff is on your child, they can't take it off without unlocking it. This is a great option for parents of special needs children who struggle to keep their wrist cuffs on.
The cord between the two wrist cuffs is made of stainless steel covered in PU plastic and striped with reflective paint. The cord can extend up to 4.92 feet or 8.2 feet, depending on the leash color.
The cuffs are made of breathable mesh and Velcro and move comfortably on the wrist.
Pros
Reflective safety tape.
Childproof locking system.
360-degrees rotating connections.
Cons
Shorter cord length.
Hard to get on and off.
Our Ratings
Community Feedback
In my experience, these child safety cuffs have been incredibly useful for keeping my active toddler close, especially since I am legally blind. The cuffs are comfortable to wear and my child doesn't seem to mind them, which makes me think they're comfortable for her as well. The locking feature is secure yet simple enough for parents to use, but not too easy for the little one to figure out. While the shorter cuff could be a bit shorter for crowded spaces, these cuffs are perfect for various outings such as parks, airports, and fairs.
What Are Child Leashes?
When you think of a leash, you probably think of dog leashes. One end of the leash attaches to your dog's harness or collar. You hold the other end to make sure your dog does not run away.
Child leashes are not much different. They are designed to comfortably attach to your child as you secure the other end. The goal of child leashes is to keep your child within reach and provide safety.
There are three main types of child leashes:
Child leash harnesses: This style includes a harness your child wears around their body and a leash that attaches to the harness. The harness maintains your child's ability to move freely while preventing the leash from becoming tangled.
Child leash backpacks: This type of leash is attached to a child-sized backpack your toddler can wear. The leash is often removable.
Wrist link straps: Wrist link straps feature wrist cuffs that wrap around your child's wrist and your wrist. They are made especially for keeping your child within arm's reach.
As you continue through this article, we hope to help you figure out which type of child leash is best for your specific circumstances.
Why Are Child Leashes So Controversial?
Child leashes are controversial for several reasons:
Leashes run the safety risk of causing scrapes and falls when harnessed in and may even be at risk for strangulation.
Children's leashes can be seen as a lazy parenting style, preventing children from learning how to listen and obey rules (1).
Using a child leash may humiliate or embarrass children (2).
Mothers may want to consider these factors when using a child leash, but the decision is ultimately a personal one.
What You Need To Know
It is important to note no major pediatric organization, including the American Academy of Pediatrics, has spoken out against child leashes.
Should I Use a Child Leash?
How can you determine if a child leash is right for you and your child to have a safe, enjoyable time outside of the house? Ask yourself these six questions. If you answer yes to one or more of them, a child leash may be right for you.
---
How To Use Child Leashes Safely
If you decide to use a child leash, do all you can to use it according to the manufacturer's guidelines. Doing so will help avoid potential risks and hazards.
We have gathered four safety tips you should consider before strapping your safety leash onto your child:
Do not fasten the leash too tightly: If the leash is not secured correctly, it can rub uncomfortably on your child's skin or constrict blood flow if placed too tightly. Talk with your child about how they feel when their leash is attached.
Do not leave children unattended: Never leave your child unattended when using a leash. This includes attaching your end of the leash to something else and walking away. The leash can easily become a strangulation hazard.
Teach children how to move with the leash: Toddlers can struggle with staying on balance. One of the most common risks for using a child leash is spills or falls. Work with your child on how to behave and act when they are on the leash to avoid falling. Don't pull your child. Try to keep the leash slack. It should only be taut if your child bolts or tries to escape.
Practice using your leash at home: Before using it for the first time during a large outing, make sure you introduce your leash at home. The last thing you want is for you or your child to become stressed if the child leash you have chosen doesn't work the way you thought it did or your child isn't able to wear it comfortably.
---
The Bottom Line
After careful review, our top pick for the best child leash is the Mommy's Helper Kid Keeper. It is easy to use and affordable, and it keeps your child safe and comfortable. It secures your child practically without a lot of extra bells and whistles.
However, each parent should make a personal decision about what works for them and their child. Your needs are different from those of other parents.
You may just need a simple leash for a particularly active day. If you prefer having an option with storage, a backpack may work better.
Take Note
No matter how you feel about leashes, please refrain from judging others. Parents should always support one another as we work to keep our children safe.
Thank You For Your Feedback!
Thank You For Your Feedback!