Are you looking for something to protect your baby's precious little noggin?
Baby helmets aren't as easy to find as they should be — especially considering how guilty we moms feel when our little ones take a tumble and end up with a goose egg.
We'll discuss the controversy around baby helmets and the potential risks associated with them.
And after spending many hours searching for the perfect helmet, we found a wide variety of options — with helmets to suit every situation. Read our reviews of the best baby safety helmets to protect your little one from falls and serious injuries wherever you go.
Image
Model
Product Comparison Table
Features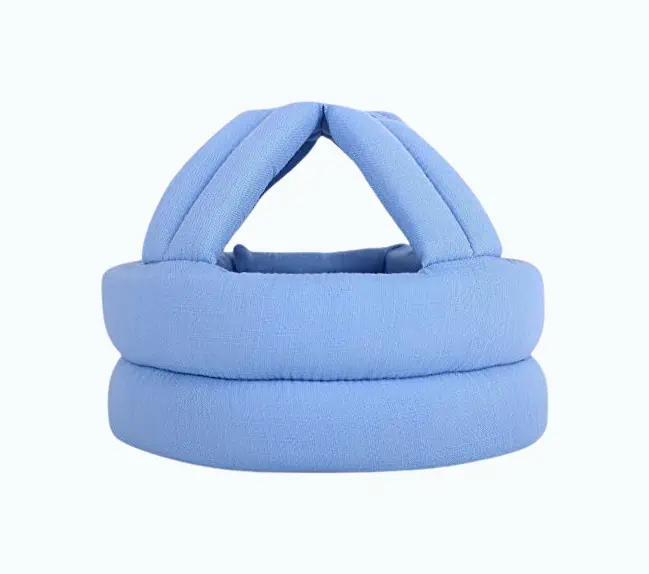 Best for New Walkers
Simplicity Infant
Super soft and lightweight
Adjustable size
Has ventilation
Best for Crawling
Infant No Bumps
Flexible
More comfortable
Affordable
Full Protection
ESupport Head Protector
Impact resistance to absorb blows
Washable and eco-friendly material
Good air permeability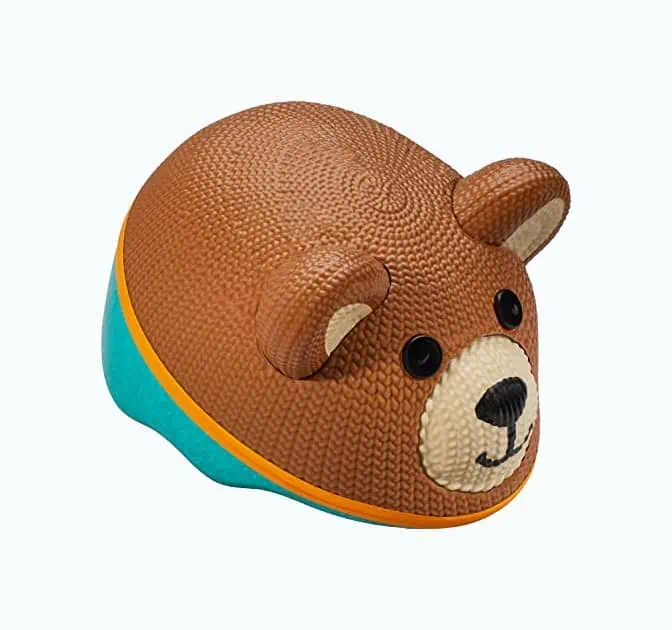 Great for Baby Bikers
Schwinn Infant Teddy Bear
Can be used as bike helmet
Integrated visor for sun protection
CPSC approved
Cute And Comfortable
Thudguard Infant Protective
Ultra adjustable & lightweight
Endorsed by medical experts
Soft elastic adjustable chin strap
Best Lightweight
Beyonder Adjustable Helmet
Comfortable with lightweight materials
Sweat resistant
For longer-term use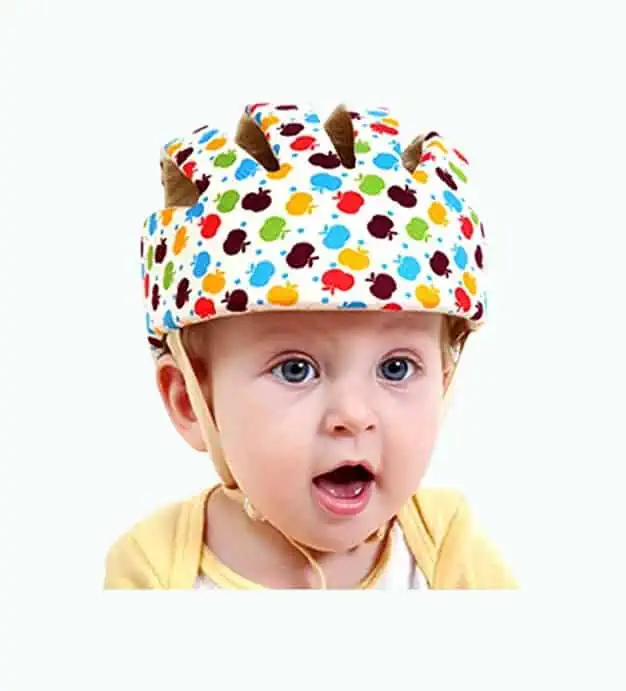 For Outdoor Adventures
Huifen Infant Safety Headguard
Lightweight
Breathable
Several designs to choose from
---
---
The Best Infant Safety Helmets of 2023
Here are our favorite baby safety helmets on the market.
Simplicity Infant Safety Helmet
Best for Newbie Walkers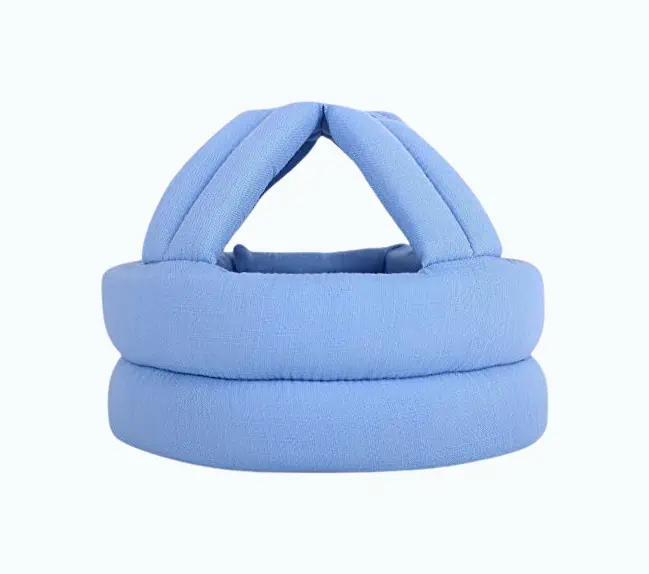 If your child is super active or just learning to crawl or walk, this helmet is a great protector. The super-lightweight material makes it easier for your baby to adjust to crawling because it won't significantly weigh down their head.
It's suitable for indoor and outdoor use, so it can go wherever you go! The shock absorption and impact-resistant materials will have your baby well-protected for those upcoming bumps and bruises.
Pros
Non-toxic.
Super soft materials for comfort.
Adjustable size.
Has ventilation to help combat overheating.
Super lightweight.
Cons
May leave some imprints on the head when used for prolonged period.
It can be easy for some babies to pull off.
Our Ratings
---
Simplicity Baby Infant No Bumps Safety Bonnet
Best for Crawling and Playing
This helmet is a little more flexible than others on the market. It still offers a great deal of protection, but it doesn't cover the head entirely.
A parent who is just looking for a little extra protection will love the flexibility and appreciate the more open design.
It resembles a hat more than a helmet, so it's likely much more comfortable for your baby. This is a great alternative if you're worried they may struggle to get accustomed to a fuller helmet.
It will fit a head circumference of 18 to 23 inches, so it can't quite grow with your baby as long as some other helmets. The benefit is that your baby will hopefully become more stable and less likely to fall, thus needing less coverage anyway.
This won't stop your baby from becoming upset about falls, but it will help protect them from physical harm.
Pros
Flexible.
More comfortable because it's more like a hat.
Affordable.
It comes in over 20 print options.
Cons
Won't grow with your baby as long as some other brands.
The string ties are a bit of a hassle.
Our Ratings
---
ESupport Adjustable Baby Head Protector for Infants
Full Protection for Babies
This helmet is great for babies 8 months or older, and it's adjustable, so it'll grow with your child up until 36 months.
If you're looking for something that provides all-around head coverage, this is a perfect choice. With its strong shock absorption, your baby's head will have solid 360-degree protection.
An adjustable chin strap allows you to control just how snugly you want the helmet to fit.
Pros
Impact resistance to absorb blows to the head.
Made with environment-friendly materials.
Good air permeability helps prevent your baby from overheating.
Practial and easy to wear design.
Machine-washable materials make it easy to clean.
Cons
It takes time for your baby to become adjusted to it.
Too soft to use as a bicycle helmet.
Our Ratings
---
Schwinn Teddy Bear Infant Safety Helmet
Great for Baby Bikers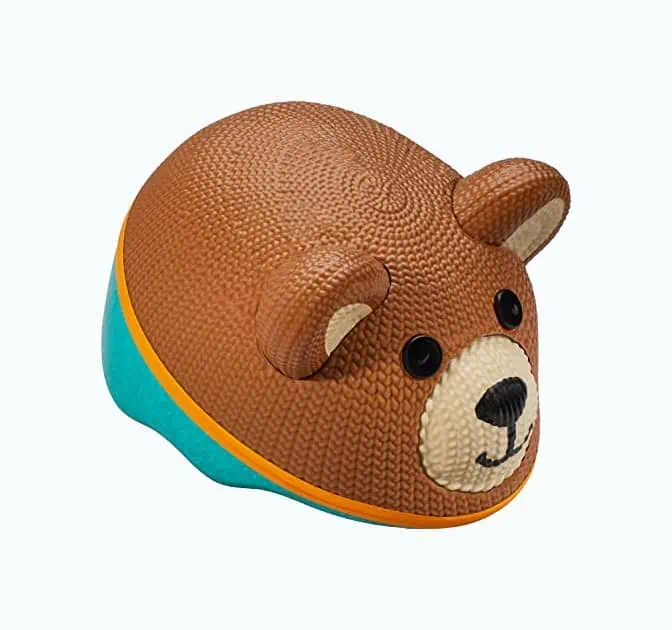 This helmet is perfect for parents who want to protect their babies and keep them looking fashionable on bike rides.
There are several cute designs to choose from, including a teddy bear, dino, unicorn, and fireman hat. Most baby helmets are composed of foam, but this plastic option was made to endure harder impacts and is much more durable.
Strap this on for bike riding or day-to-day activities. It's heavier than other protective helmets, so it's best for older babies.
Some parents prefer this because it looks more like a typical helmet rather than one designed simply for walking or crawling. If you're worried about people judging you, you may feel more confident using this helmet.
You can use the Schwinn helmet until your child is 3 years old. It has 360-degree adjustability, so you can fit it for comfort.
Not only will your little one be well protected, but the fun design may make your little one more likely to want to wear it.
Pros
Extra protection in the back of the head.
Can be used as a bike helmet.
Integrated visor for sun protection.
Ten airflow vents to keep the head cool.
CPSC approved.
Cons
Heavier than simple safety helmets.
Some parents felt it did not have enough ventilation.
Our Ratings
---
Thudguard Protective Infant Safety Helmet
Cute and Comfortable
The Thudguard safety helmet is composed of lightweight foam that doesn't put pressure on developing neck muscles.
Though the material is super lightweight, it can still provide 360-degree coverage, all while incorporating excellent ventilation.
The foam is half an inch thick and has been tested to ensure that it can absorb the impact of bumps and thuds.
You can feel confident in the protection you're giving your baby with this medically endorsed product.
The stretchy circumference band allows the helmet to grow with your child until the age of 3. It's a one-size-fits-all design, so there's no need to worry about finding the appropriate starting size.
If you're a parent looking to protect your baby from potential head injuries, the Thudguard is a fantastic and comfortable choice for your baby.
Pros
Adjustable one-size-fits-all design.
It is endorsed by emergency and medical experts.
Adjustable soft elastic chin strap.
Composed of lightweight materials.
Cons
This is a bit pricier than other helmets on the market.
There's no attachable visor to protect against face damage from falls.
Cannot be used for bike riding.
Our Ratings
---
Beyonder Adjustable Infant Helmet
Like Bubble Wrap for Baby's Head
If you're looking for a soft, comfy, breathable helmet to protect your baby, you may fall in love with this option.
The lightweight and sweat absorbent material keeps your baby comfortable at any temperature.
There's a wide variety of designs for both boys and girls, and the fit is more like a hat than a helmet. It fastens with a string you can tie under your baby's chin.
The helmet circumference adjusts using a velcro strap, so it grows with your baby from a head circumference of 17.1 to 23.6 inches.
This is great for protection against the inevitable bumps and bruises, but it doesn't offer 360-degree protection like other helmets.
If your baby is beginning to crawl or starting to stand up and toddle, or if they're a little on the wild side, you may want to seek a 360-degree option instead.
Pros
Lightweight materials.
Comfortable and not as constricting as other helmets.
Sweat-resistant fabrics.
Can grow with your baby for longer-term use.
Cons
Uses a tied string under the chin to keep it in place — which some children will be able to untie.
Lacks 360-degree protection.
Our Ratings
---
Huifen Baby Protective Harnesses Cap
For Outdoor Adventures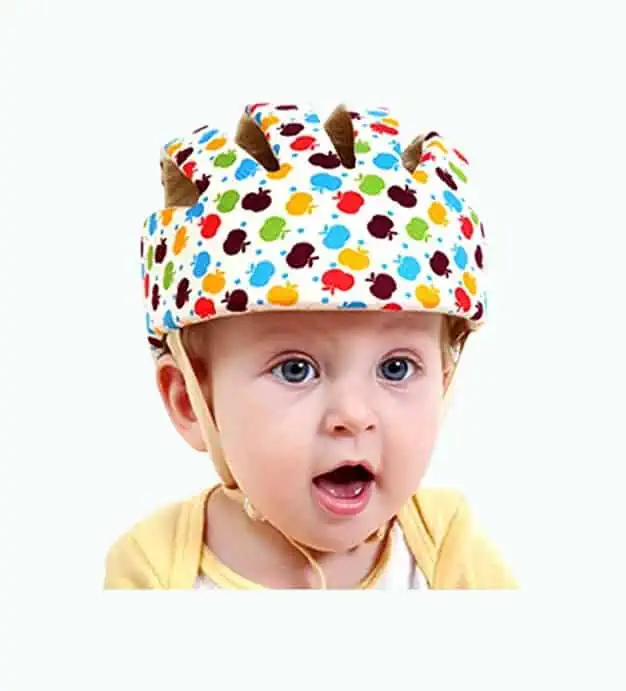 This cute helmet will provide protection and cushioning for your baby's developing head as they learn to crawl and walk.
It's suitable for ages 2 to 60 months of age because it can be adjusted using the Velcro strap. There's also an adjustable chin strap to ensure it stays in place.
If you're looking for a lightweight and sweat-resistant option, this provides you with both.
It offers 360-degree head coverage, but it also has openings that allow your baby's head to receive significant airflow.
This might be a good choice if you plan on spending time with your little one outside because the airflow will prevent overheating, and the cushion will protect the head from outside falls.
Pros
Lightweight.
Has significant airflow.
Can adjust to fit your baby's developing head.
Cons
Clever babies can learn to remove it.
Our Ratings
What Is a Baby Safety Helmet?
This device fits on your baby's head to help protect against injury when learning how to crawl, stand, and eventually walk.
There are different kinds of baby helmets, but most of them are thickly padded and secure under the chin.
Do Crawling Babies Need Helmets?
Some parents choose to use a safety helmet once their baby becomes mobile. It's a great way to avoid all those extra lumps and bruises, but it can also interfere with your child's learning experience.
If they have the occasional accidental bump, it might be best to let them live and learn. We can't hold our baby's hands forever, and they need to learn for themselves. They'll be pulling out of the driveway before we know it!
Some babies seem to be magnets for destruction, though. If your baby falls into that category, then by all means, consider a helmet.
Or maybe a helmet is a good option for use at a relative's house that hasn't been completely babyproofed.
Potential Risks Associated with Helmets
Baby safety helmets were designed to increase your baby's safety, but they can have the opposite effect.
The helmet will do its job in protecting the head, but your baby may not learn anything from their dangerous actions.
Your baby needs to explore their environment freely, and sometimes that means learning what they can and cannot do. Many babies will quickly associate certain actions with pain and stop doing them.
Keep In Mind
If your baby is always wearing a safety helmet, the pain will not be as intense, so they won't create a strong pain connection. Some babies, however, take a very long time to make this connection, so a helmet can be worthwhile.
Although baby helmets are generally pretty lightweight devices, they still add weight to your baby's head. This extra weight can throw off your baby's sense of balance, causing them to take more tumbles than they would without the helmet.
The best thing you can do is try to limit the amount of time your baby wears a helmet in a controlled environment, and maybe use it more when outside or in public areas.
---
Baby Helmet Controversy
It seems as if someone always has an opinion on someone else's parenting. And there's a lot of controversy regarding baby safety helmets.
Many people believe they're unnecessary and can cause children to become more dependent and sheltered.
We expect babies and toddlers to be clumsy and to have many more accidents and falls than at any other time in their lives. Many parents believe this is a time full of discovery that shouldn't be interrupted by the use of helmets.
The majority of the people on this planet didn't wear a baby safety helmet, but that doesn't mean your baby can't.
The Choice Is Yours
At the end of the day, the judgment is yours to make, and you need to decide what's best for your baby.
---
The Bottom Line
Our top pick for the best baby safety helmet is the Simplicity Infant Safety Helmet. We love that it's so lightweight and that it can grow along with your child.
Many parents will approve of the protection and comfort this helmet provides and enjoy that it is safe for indoor and outdoor use.
Babies will take many tumbles as they adjust to the world around them, and using a helmet for added security is a great way to ease any anxiety parents might have.
Thank You For Your Feedback!
Thank You For Your Feedback!