A good baby car mirror can literally be a lifesaver. If your view is clear, you can check on your baby without having to pull over on a busy road, turn around, or cross your fingers and hope your baby is OK while you're driving.
Not all mirrors will give you the best view of your baby, and some can actually make things more difficult as you strain to see whether your baby's eyes are open or closed or if they're choking or simply sleeping.
As mothers, we want our children to be as safe as possible. That's why we've put a lot of time and effort into finding the best baby car mirrors. We found five great options for you to consider. We based our choices on the mirror size and clarity, how easy they are to install, and how well they work with your car seat's position — forward- or rear-facing.
Keep your eyes on the road and your baby safely in view while you travel with one of these helpful car mirrors.
Image
Model
Product Comparison Table
Features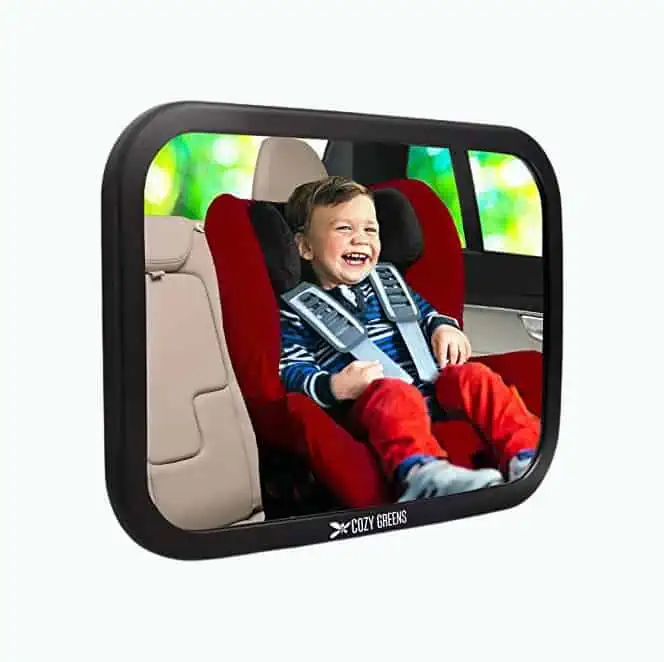 Best Quick Install
Cozy Greens
Clear view
Crash-tested and secure
Easy to install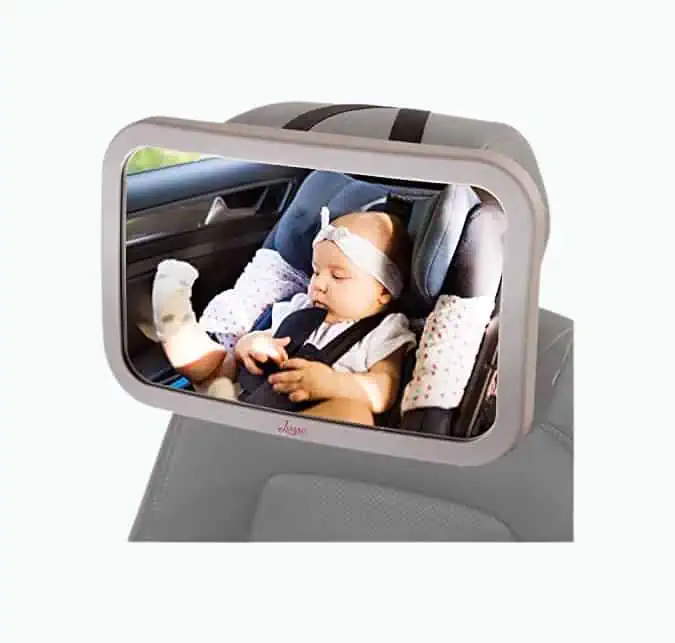 Best for Bumpy Roads
Lusso Gear
Large, full-view mirror
Secure and stable
Great design
Best Full-View
Pikibu 180-Degree
Easy to attach and remove
Clear 180-degree look
High-quality spring connectors
Best High-Tech
Brica Firefly
Great entertainment for babies
Volume control
Crash tested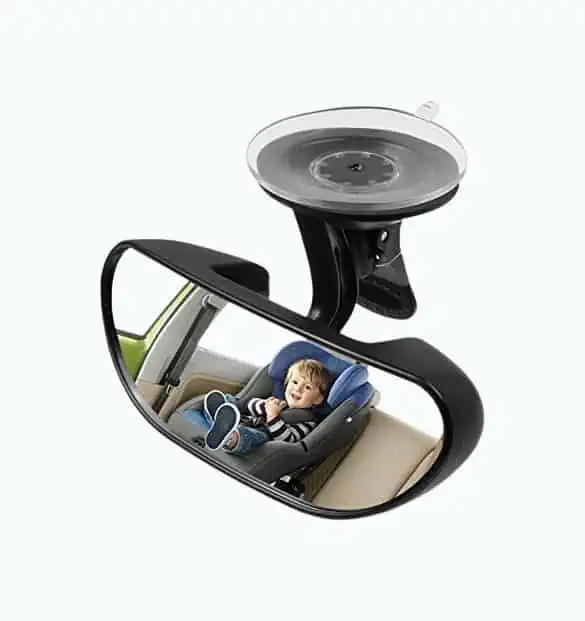 Best for No Headrest
Ideapro Back-Seat Mirror
Strong suction
Gives a good view of back seat
Rotates easily
Review Methodology: At Mom Loves Best, we conduct thorough research and hands-on evaluations to provide you with the most trustworthy analysis of the best baby car mirrors on the market. Our experienced team compares various products based on key decision-making factors such as safety, ease of installation, adjustability, and durability. We gather data from performance tests, user experience, and professional reviews to rank and measure each mirror, giving you a comprehensive assessment of design choices and their effects on users. By sharing our findings and highlighting what sets each product apart from its competitors, we help you make confident, well-informed decisions when choosing the best baby car mirror for your family's needs.
---
---
The Best Baby Car Mirrors of 2023
Here are five great baby car mirrors to consider.
Cozy Greens Baby Car Mirror
Best Quick-Install Baby Car Mirror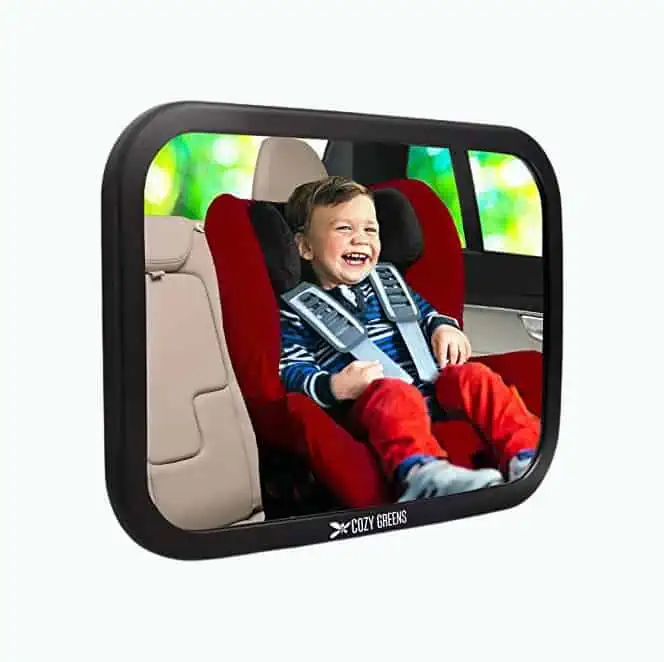 This baby car mirror from Cozy Greens is a great package. It ticks all the boxes of safety, view, and easy installment.
The mirror is extra large and fitted with convex glass, giving you a complete view. Although it's not as large as some other mirrors, if you install it correctly, you'll see everything.
Cozy Greens went the extra mile and got the mirror crash tested in Europe, where the restrictions are tighter than in the U.S. The mirror will sit firmly and safely on the headrest.
The mirror's designers are parents of four children, so they know what it's like to be busy. They created this mirror to be fast and easy to install — it takes most people less than one minute to set it up!
Pros
Clear view.
Crash-tested and secure.
Easy to install.
Cons
Will only attach to adjustable headrests.
Smaller mirror surface.
Our Ratings
Community Feedback
I've tried various baby car mirrors, and the Cozy Greens Baby Car Mirror stands out as the best choice. This mirror is not only sturdy and easily adjustable, but also provides a clear, large view of my baby on the non-adjustable headrest of my Toyota Camry. The diagonal strap design made installation a breeze, and I am confident that it won't fall onto my granddaughter's head. After a summer of babysitting, the mirror has proven to be reliable, easy to adjust, and a true asset during car trips.
---
Lusso Gear Largest and Most Stable Baby Car Mirror
Best Baby Car Mirror for Bumpy Roads
Sometimes baby car mirrors move out of place and require constant re-adjusting, especially if you often drive on bumpy country roads.
Under these circumstances, it's vital to have a stable baby car mirror. This mirror from Lusso Gear is all that and a little more.
Lusso Gear fitted the mirror with a double strap that clings to the back-seat headrest to keep it in place. Even on the bumpiest of roads, the mirror will stay intact.
This mirror is one of the largest on our list, and its curved shape will give you one of the best views of your baby. The mirror is shatterproof, meaning you won't have to worry about flying glass in the event of an accident.
Another major plus is the sleek design. The mirror grey frame has an easy-to-clean matte finish.
However, it does require a bit of adjusting and securing when you first install it. If you skip this step, it shifts out of place too easily and could even fall off.
Pros
Large, full-view mirror.
Secure and stable.
Great design.
Cons
Requires some complicated adjusting when installing.
Our Ratings
Community Feedback
My experience with this backseat mirror has been nothing but positive; it's large enough for me to easily glance at my child while driving, and the installation process was a breeze. The mirror's design is both durable and stylish, making it a perfect addition to my car interior. The adjustable straps and clear reflection provide safety and peace of mind, allowing me to focus on the road ahead while still keeping an eye on my little one.
---
Pikibu 180-Degree View Baby Car Mirror
Best Full-View Baby Car Mirror
We love this Pikibu mirror because there's no suction needed to secure it. Pikibu attaches over your rearview mirror. It does this using high-quality spring connectors — keeping it secure even on bumpy roads.
The Pikibu mirror is wide and curved, giving you a 180-degree look at the back. In one mirror, with one look, you can see all three back seats. Another plus is that it works both ways — your little ones can see you too.
It also gives you a clearer view of all your otherwise blind spots. This will improve your safety on the road.
If you still have children in rear-facing car seats, however, you will need another baby mirror on the headrest facing the baby. Their reflection will then bounce back into this mirror.
Pros
Easy to attach and remove.
Gives a clear view of all the back seats and blind spots.
Your children can see you as well.
Cons
The plastic frame can distort on very hot days, causing the mirror to fall.
You need an additional mirror for rear-facing car seats.
Our Ratings
Community Feedback
I recently purchased this rearview mirror to help me keep an eye on my puppy in the backseat, and I'm thrilled with the results. The mirror is tall and wide, allowing me to see her without any adjustments to my seat. Installation was a breeze, taking me only a minute to complete. The quality and clarity of this mirror have made me feel safer while driving, as it offers an enhanced field of vision. Not only does it serve its purpose for monitoring my dog, but it's also great for those with kids in the backseat, making it a versatile and valuable addition to my car.
---
Brica Firefly Baby-In-Sight Car Mirror
Best High-Tech Baby Car Mirror
If you often go on long drives, or your little one prefers some entertainment, look no further. This Brica baby car mirror from Munchkin is the perfect travel companion.
The mirror features two modes: entertainment and soothing. For each mode, you'll get four different tunes. These are then synced with LED lights that display an entertaining light show.
What we love the most is that mom is in control from the front seat. You'll get a remote, which you can use from the driver's seat to control all the functions.
The mirror is also crash-tested, so it's completely secure and safe to keep near your little one.
The only downside to this mirror is that you cannot attach it to fixed headrests.
Pros
Great entertainment for babies.
Soothing lights.
Easy to use.
Volume control.
Crash tested.
Cons
Not for cars with fixed headrests.
Might get a little too distracting.
Our Ratings
Community Feedback
In my experience, this baby car mirror has been a fantastic addition to our family car rides. The soothing music and lights captured my little one's attention, making road trips and daily drives much more enjoyable. Although the mirror can be a bit tricky to install and has a limited selection of songs, the light-up feature and effective remote control make up for these minor drawbacks. My toddler also loved interacting with the mirror and using the remote, providing her with additional entertainment during car rides.
---
Ideapro Baby Car Back Seat Mirror
Best Baby Car Mirror for No Headrest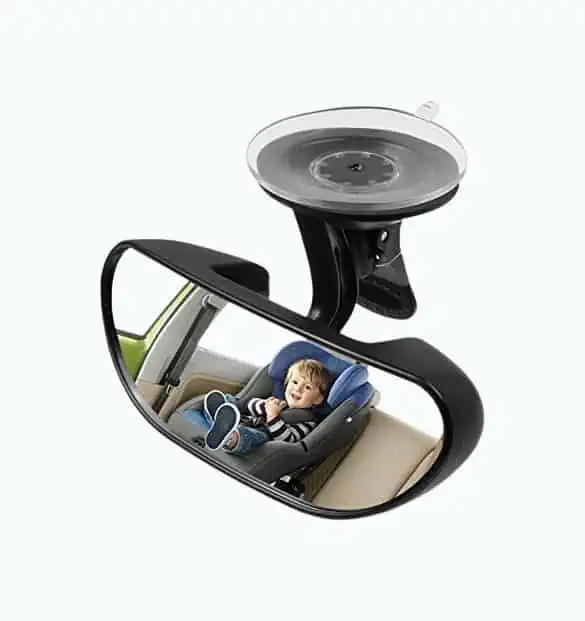 If your toddler is now transitioning to a front-facing car seat, this mirror from Ideapro is for you.
This mirror will be your rearview co-captain, helping you get a quick view of your toddler. It will give you a clear view with a size of 5.9 inches by 3.93 inches.
One feature that we love is the strong suction. Baby car mirrors with suction cups often tend to fall off, no matter what you do. Fortunately, Ideapro made sure that wouldn't happen.
Once the mirror is up, you can rotate it quickly and easily to get a good look at your toddler.
However, it doesn't stick well to surfaces other than glass, and it's not useful if your baby is still in a rear-facing car seat.
Pros
Easy to install.
Gives a good view of the back seat.
Rotates easily.
Cons
Not for all surfaces.
Not suitable for rear-facing seats.
Our Ratings
Community Feedback
My experience with this small mirror has been quite impressive as an Uber driver, allowing me to keep an eye on sneaky passengers in the back seat. The suction cup holds up well when dampened before sticking it to the windshield, and it has lasted up to five months without falling off in various weather conditions. While it's perfect for smaller vehicles and those with fixed headrests, I do wish the mirror was bigger for better visibility, but overall, it does its job effectively.
Why You Need a Baby Car Mirror
There are plenty of reasons why you should invest in a baby car mirror. But let's focus on two for now.
During your little one's first few months, experts recommend placing them rear-facing in your car. This is partly to avoid unnecessary stress caused by flashing lights. Babies, especially little ones, tend to be quickly overstimulated if exposed to too much all at once.
Overstimulation can easily occur while you're driving, due to bright colors, noises, and even passing cars. So the best way to avoid this is to simply let them face the rear, where their only view is the back seat.
But more importantly, it's also to protect your little one in case of a crash.
Rear-facing car seats will distribute the force of the crash across the outside of the seat. This means that there will be less impact on your little one. The American Academy of Pediatrics (AAP) recommends that you keep your child in a rear-facing seat for as long as possible (1).
But we all know the biggest drawback of a rear-facing car seat — we can't see our babies! This is where the mirror steps in.
A baby car mirror is a mirror you attach to the back-seat headrest. This type of mirror is a crucial accessory to buy alongside your baby's rear-facing car seat.
It allows you to quickly look in the rearview mirror as you're driving and get a good glimpse of your little one.
How to Choose a Baby Car Mirror
There are many different baby car mirrors on the market. It's essential that you invest in the best one for you and your baby and install it correctly.
Here are some things to check for:
Crash-proof: This is probably the most important point. Most baby car mirrors are crash-proof, meaning they won't shatter or explode in an accident.
Car headrests: Do the back seats in your car have a headrest? Most baby car mirrors require one to attach them to.
Curved mirror: This is not a necessity, but a curved mirror gives you a better view.
Security: You'll need a mirror that you can secure tightly and safely. If you're driving on a bumpy road or come to a sudden stop, you don't want it to fall off or shift so you can no longer see your little one.
Clear mirror: Mirrors made with low-quality materials will get marked up or scratched easily. You want a clear view of your baby so you can check on them at a glance.
---
Thank You For Your Feedback!
Thank You For Your Feedback!