When looking for a car shade for your baby, you'll discover a wide range of products.
Some features are invaluable for protecting your child from the sun's rays, but others can prove to be unnecessary and inconvenient.
We've experimented with a variety of models and have created this list of the best car shades for babies based on their level of sun protection, ease of use, and affordability. With one of these great picks, you can rest assured your little one will travel contentedly, without the sun's glare in their eyes, and you won't have to worry about its harmful rays on their skin.
Image
Model
Product Comparison Table
Features
Thick and Dark
Kinder Fluff Car Shade
Blocks 97% of UV rays
Covers generous area of window
Very lightweight and compact
Static Cling Technology
Enovoe Car Shades
Equivalent to SPF 30 protection
You get 4 shades
Money back guarantee
Total Coverage
Zotooto Sun Shades
Won't fall off or lose suction
Covers the entire window
Easy to install
Best for Whole Family
ShadeSox Car Sun Shade
PVC-free materials
Flexible mesh
Includes a bonus e-book
Best Magnetic Sun Shade
Munchkin Brica Magnetic Shade
Fits most cars
Magnetic attachment
Can roll up and down with windows
Best Retractable Shade
Brica White Hot Sun Shades
Superior visibility
Features white hot indicator
Dual attachment modes
Roll Up, Roll Down
VaygWay Retractable Sun Shade
Quick-retract button
Ease of installation
Compact and lightweight
Best Static Cling Shade
iZoeL Sun Shade
Static cling window attachment
Includes 2 shades
Holds strong, but comes down easily
Adjustable Protection
TFY Car Window Shade
Securely affixed suction cup
Adjustable pivot design
Blocks both glare and sun's rays
Baby's Own
Unicorn Car Sunshade
Very affordable
Anti-UV protection
Well-affixed suction cups
Review Methodology: At Mom Loves Best, we pride ourselves on providing you with thorough research and hands-on experience when it comes to choosing the best car shades for babies. Our analysis and evaluation process includes comparing products based on key factors such as UV protection, ease of installation, and durability. We gather data and evidence from real-world testing to measure a product's performance and rank them according to user-friendly criteria. Our team of professionals meticulously reviews each car shade, identifying design choices that impact user experience and sets a product apart from its competitors. By focusing on the ten most important aspects of baby car shades, such as size, material, and safety features, we ensure that our recommendations are based on facts and results, helping you make an informed decision for your little one's comfort and protection. Trust Mom Loves Best to guide you through the process of selecting the perfect car shade for your baby.
---
---
The Best Car Sun Shades of 2023
Here are our favorite sun shades currently on the market.
Kinder Fluff Car Sun Shade
Thick and Dark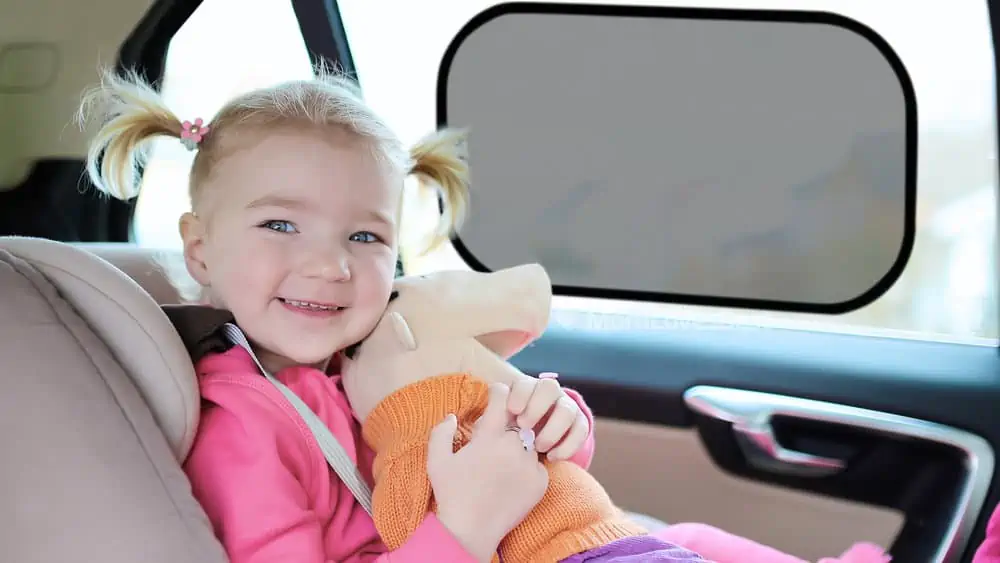 These shades offer you the darkest mesh legally possible to protect your little one's eyes. They're also manufactured to be larger than many other models, so they're suitable for minivans and vehicles with large rear windows.
It uses static cling to attach to the window and comes in a 4-pack along with a carrying case for easy storage and transport. It's easy to install and remove these without damaging your window, and they block 97% of UV rays from your little one's eyes and skin.
Finally, the lightweight construction means your baby can't hurt themselves if they inadvertently get their hands on it.
Pros
It covers a generous area of the window.
Blocks 97% of UV rays.
Very lightweight and compact.
It's a good value since you get 4 shades in two transparencies.
Cons
Unclear if it contains PVC.
It may be too large for smaller vehicles.
Some users did not find it durable over time.
Our Ratings
Community Feedback
I'm quite pleased with these sunshades as they easily stick to the windows and remove without leaving any residue. The sheer option helps keep the sun out, but I do wish it had a pointy side to cover the top corner of my window completely. These shades have been helpful in preventing hyperpigmentation on my skin, and they also work great for keeping my dog cool during long drives. However, be cautious when using the darker shades as they can create blind spots and impede visibility.
---
Enovoe Car Window Shades
Static Cling Technology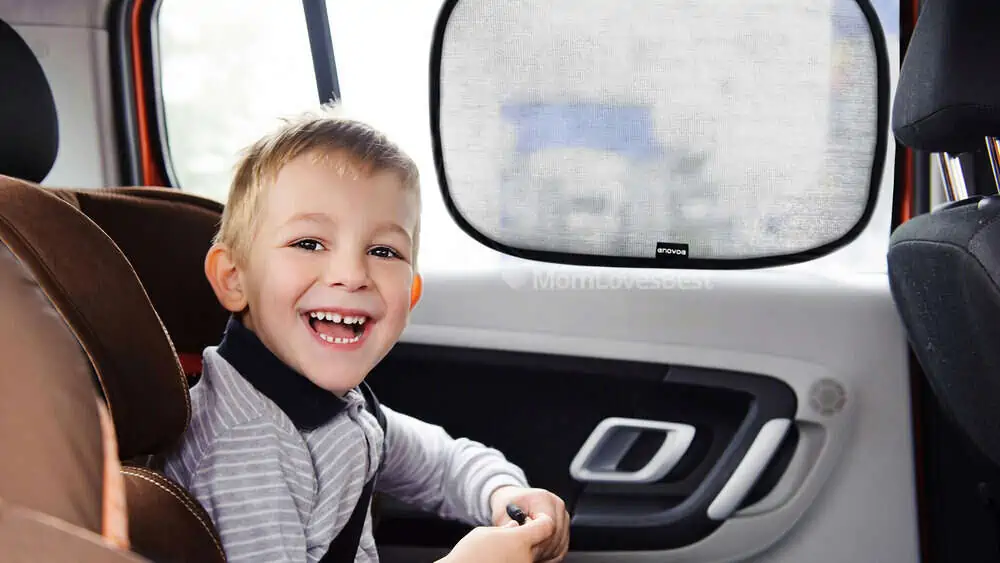 Designed specifically to offer coverage in larger vehicles, these large window shades will fit the windows in your minivan or SUV.
The mesh provides 97% UV protection while still maintaining safety and visibility for the driver. And since you get 4, you can install one on either side of your vehicle.
There are no adhesives that will damage your car's window or custom tint and no suction cups to pose a choking hazard.
And since it comes with a lifetime no-questions-asked money-back guarantee, you can buy this with confidence, knowing that if you're unhappy with your purchase, you can return it without a problem.
Pros
It offers 97% UV protection.
You get 4 shades.
There's a money-back guarantee.
Cons
Children can easily peel them off.
They likely contain PVC, although it's not clearly stated.
Our Ratings
Community Feedback
Definitely a useful addition to my car, these sun shades effectively block the sun and provide much-needed relief for passengers. They are easy to apply to the window, and the cling is strong enough to hold them in place, although they might blow off if the door is open with a breeze. The shades can be repositioned as needed, but they may not cover the entire window in some vehicles. Folding and storing them in the included bag can be a bit challenging, but once mastered, it keeps them organized and compact.
---
Zotooto Car Rear Window Sun Shade
Total Coverage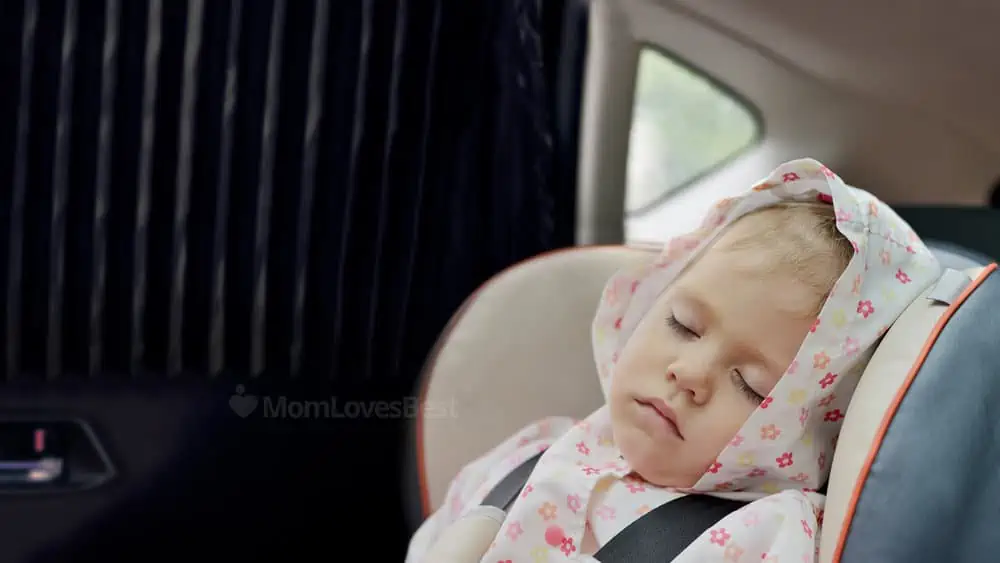 This innovative full-coverage sun shade protects without the need for suction cups or static cling.
It stretches around the window, even allowing it to be rolled up while installed. Through a system of magnets, it can attach to nearly any style of car rear window.
This offers protection from 97% of UV rays, providing the equivalent of SPF 30 coverage. It's lightweight and, since it's firmly affixed to your vehicle, won't pose a projectile risk in the event of a crash.
Pros
It won't fall off or lose suction.
It covers the entire window, so you don't get sunshine peeking through on the sides.
Easy to install.
Highly adjustable.
Cons
Not long enough for SUVs or minivans.
Our Ratings
Community Feedback
Great for adding privacy and sun protection, these rear window curtains exceeded my expectations. The high-quality fabric and easy installation made them perfect for blocking curious eyes while I nap in my car or for keeping my belongings safe in busy areas. Although the bottom part can be a bit tricky when shutting the door, the overall effectiveness and sturdiness of the curtains definitely outweighs this minor inconvenience.
---
ShadeSox Universal Fit Car Side
Best for the Whole Family
Your most precious cargo are in the backseat! No matter how old your children are, you can protect them from sun exposure with this universal car shade. It covers the entire window.
Because it's made of stretchy nylon material, it fits nearly all car models and is easy to install. Just open the door and place it over the entire window and frame. It'll stay in place while providing total protection from the sun.
You can even roll down the windows without having to remove this sun shade. We also like that it comes in a two-pack, so you can cover both backseat windows. These car shades will protect against sunburn, overheating, sun glare, and dangerous UV exposure.
It also comes with a bonus e-book gift with ten creative ideas for keeping children occupied in the backseat while traveling.
Pros
Easy to install on nearly all car models.
The flexible mesh protects against the sun.
Includes a bonus e-book with tips for car rides.
Nylon fabric is PVC free.
Cons
It covers the entire window, so visibility is reduced slightly.
Our Ratings
Community Feedback
I'm quite pleased with these sunshades for my car, as they provide good protection from the sun, especially for my little ones. They're easy to slip on and off the windows and even help keep the car cool during hot days. However, they do create some blind spots while driving, so it's important to rely on mirrors for safety. The material isn't completely animal or kid-proof, but it does a decent job of keeping bugs out. One downside is the potential durability issue, as I've noticed a loose thread on one of the shades, but overall, it's a useful product for the price.
---
Munchkin Brica Magnetic Sun Shade
Best Magnetic Sun Shade
Sun shades can sometimes be a challenge to stick to the window. But this stretchy magnetic shade is easy to fasten and remove. The best part? It stays secure during the car journey because once the door is shut, your child can't tear it off. You can even roll the windows up and down without any issue.
Of course, your car door frame needs to be magnetic for this to work. Test if your door frame is magnetic first by using a household magnet.
This shade blocks harmful UVA and UVB rays, prevents glare, and can even lower your car's temperature a little bit.
Pros
Fits most cars.
Magnetic attachment.
You can still roll windows up and down.
Stays secure.
Cons
It doesn't block a lot of light.
Tricky to custom fit on some cars.
Our Ratings
Community Feedback
My experience with these window shades has been mostly positive, but with a few drawbacks. The magnetic design makes them easy to install and allows for rolling down the window, which is great for ventilation on hot days. However, the coverage isn't perfect for every vehicle, as they didn't fully cover the window in my Expedition. The shades could also be slightly darker to block more light, but they do a decent job of preventing sun glare on my baby's face.
---
Brica White Car Shade
Best Retractable Car Shade
Traditionally, car shades can be tricky to take on and off. Save yourself the trouble with this retractable set. Simply press a button to roll the shade up when you don't need it.
In this pack, you get two car shades. They have a dual attachment mode, so you can choose between the adjustable swivel window clips, the suction cups, or both. The premium mesh fabric provides superior visibility while helping to filter harmful UVA and UVB rays.
One of our favorite features is the white-hot indicator. On the bottom of each screen is a little button that acts as an alert system. It's normally red, but when it turns white, you know your car is too hot and may be a danger to your baby. The shades also have secure latches that go over the window, so it is very secure.
There are a few benefits to having retractable shades. You get increased visibility at night and on cloudy days. Plus, your children can have the option to enjoy the beautiful views when the sun isn't so bright.
Pros
Increase visibility whenever you need it with the push of a button.
White-hot indicator alerts you when the car is too hot.
Dual attachment modes are extra secure.
Cons
Older children may have too much fun pulling the shade up and down.
You have to be careful when rolling windows down.
Our Ratings
Community Feedback
I recently purchased these sunshades for my car to protect my 2-year-old from the harsh sun. The fabric is thin but surprisingly durable, and the button on the top edge makes retracting the shade a breeze. However, the suction cups could be stronger as they occasionally fall off. It's essential to measure your window width before purchasing, as they may not be wide enough for larger vehicles.
---
VaygWay Retractable Shade
Roll Up, Roll Down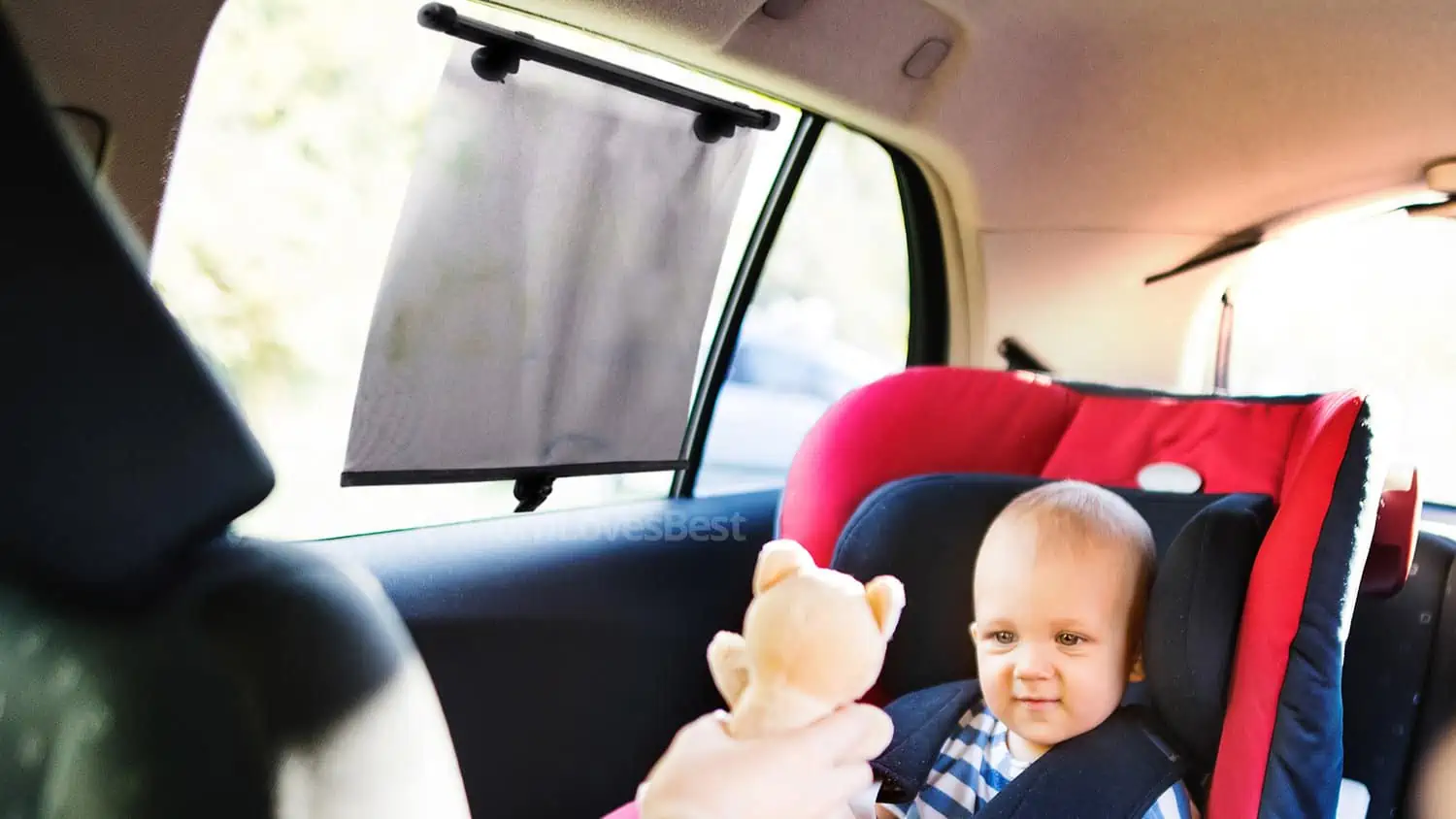 This retractable sun shade can be pulled down when needed and retracted when it's not.
It comes in a two-pack, so you can install one on either side of your rear car windows, and the black mesh color allows for maximum driver visibility with minimal distraction.
Each shade is affixed to the window with three large, detachable suction cups that won't cause damage and can be easily removed or moved to another vehicle. The mesh screen blocks the sun's harmful rays, keeping your baby's eyes and skin as protected as possible.
Pros
It can be retracted at night for better visibility.
You can roll down your window while installed (when retracted).
It blocks UV rays.
Compact and lightweight.
Cons
Suction cups are easily removable.
Easily pulled down by older children.
Our Ratings
Community Feedback
My experience with this solar sun shade has been mixed; while it fits well on the back passenger window of my SUV, the suction cups don't always stay put, requiring occasional readjustment. Additionally, I find the shade could be darker, as my grandchild still complains about the sun in her eyes. On the positive side, the material is decent and the shade does provide some relief from the sun during drives. However, be cautious when checking blind spots, as it can be challenging to see through this sun shade.
---
iZoeL Static Cling Side Window Sun Shade
Best Static Cling Shade
Suction cups can be pulled off, and adhesives may damage the glass of your car windows. Try this unique static cling sun shade instead. It uses the power of static cling to adhere to your window, keeping a long-lasting hold that can also be easily pulled off.
Each shade contains educational designs such as numbers and alphabets. One side is made of static cling material, while the other features a protective mesh that blocks up to 97% of damaging UV rays with a learning design. The entire thing is held together with reinforced flexible steel wire.
When you don't need to use it, simply give a slight tug and twist. The shade will fold down into a compact shape which is easily stored away in the included traveling bag.
This pack comes in two shades. If you're constantly in the carpool lane, these shades protect your children when the sun is shining but can be easily stored away when you don't need them.
Pros
Uses the strength of static cling to attach the shade without trouble.
Comes with two shades.
Educational design.
Cons
Cannot be used with rolled windows.
Our Ratings
Community Feedback
My experience with these window shades has been nothing short of amazing! I've had them in my car for a few years and they still stick perfectly, providing essential sun protection for all three of my children. The adorable unicorn design adds a fun touch, which my kids absolutely love. I appreciated the ease of installation, as all I had to do was press the shades onto my windows and they stayed in place. While the size might be slightly large for some car windows, these shades have definitely been the best in terms of effectiveness and staying in place compared to others I've tried.
---
TFY Car Window Shade
Adjustable Protection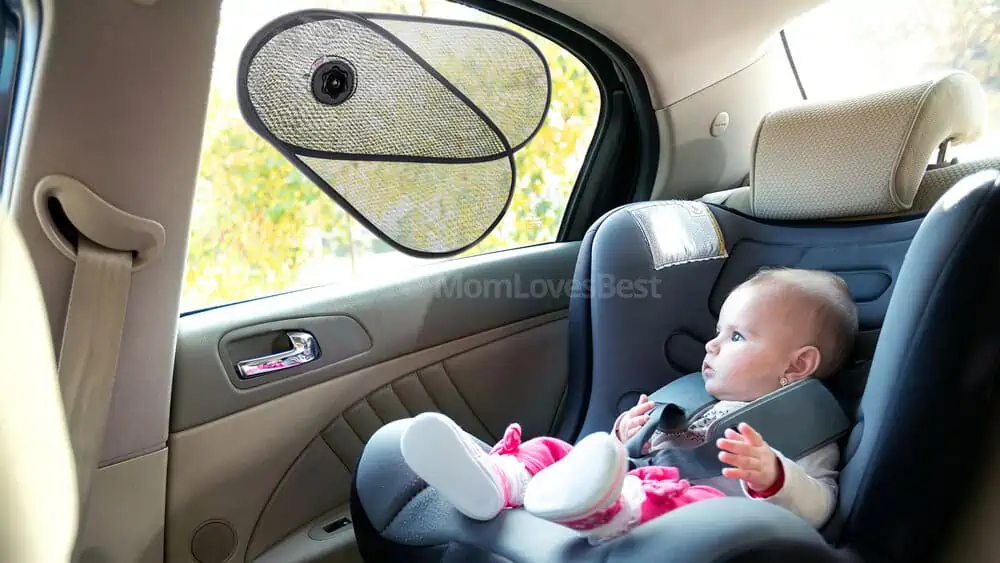 The sun's angle changes as you drive, so it's handy that you can adjust your sun shade when it does. This pivoting style provides high- and medium-level sunblock protection and can be easily adjusted based on the sun's position.
The mesh is effective yet still allows adequate visibility for safety when driving.
It contains one suction cup which is screwed into the screens, so it will not fall off and turn into a choking hazard for your child.
And since it is not a "static-cling" style of shade, it's constructed only of mesh without any PVC.
Pros
The suction cup is securely affixed to the shade.
It's adjustable with the pivot design.
Reduces heat in vehicle.
Cons
It doesn't specify the UV protection level.
Babies cannot adjust the screen as needed.
You cannot roll down the window with it installed.
Our Ratings
Community Feedback
I've been using these shades in my car for a while now, and they've made a noticeable difference in blocking out the sun. While they could be a bit more effective in cutting down the sunshine, they're easy to use and remove without obstructing the driver's view too much. I also found the suction cups to be a bit finicky, but they generally hold well. When using these shades on the rearview mirror, make sure to rotate them out of the way while making lane changes for safety reasons.
---
Unicorn Car Sun Shade
Baby's Own
You don't need a boring black car shade for your baby — these cute and kid-friendly shades include an adorable design.
They have built-in suction cups that, although removable, are not very easy to disassemble, so it minimizes the choking hazard to your child.
This also offers UV protection along with its durable construction, so you can see through them to ensure safety while driving.
And since they're easy to remove, you can transfer them between cars or adjust them based on sun position to keep the light out of your little one's eyes no matter where you are.
Pros
Very affordable.
They fit most car windshield.
The suction cups are well-affixed.
Cons
A bit clunky.
The design may obscure the view and distract the driver.
The exact UV protection is not specified.
Our Ratings
Community Feedback
I've been using this sunshade for a while now and I must say, the design is absolutely beautiful. The size was a bit small for my '06 Ford Explorer but it still manages to block the sun effectively. However, the suction cups weren't very useful and I ended up relying on my interior mirrors to hold the sunshade in place. One downside is that it has a crease down the middle due to the packaging, causing it to fold in on itself while in use. Despite these minor issues, this sunshade has been a functional and stylish addition to my car during these hot and sunny days.
---
EcoNour Windows Sunshade for Baby
Best Dual Layer Shade
These dual-layer shades give you two sides to choose from: mesh or static cling. The thick 80 GSM mesh keeps the sun out of your eyes. The static cling side helps the shade remain strong and firm for a long time. Plus, you can hang these up without adhesive or suction cups.
These durable shades also come in two intensities: transparent and semi-transparent. You can switch them out, depending on how bright the sun is.
They block harmful UV rays so your kids are safer during long car journeys, especially during the summer time.
Finally, when you aren't using these, you can easily fold them up in the included pouch and pop them in the trunk or car seat storage. You can also wash these when they get dirty or dusty.
Pros
Two transparency intensities.
Dual-sided.
Protects from UV rays.
Foldable.
Cons
They don't fit larger windows.
The semi-transparent style is very dark, making it unsafe to drive with these on.
Our Ratings
Community Feedback
As a frequent traveler with kids, I found these dual-layer shades to be incredibly versatile and useful. The two transparency intensities allowed me to adjust the level of sun protection, while the dual-sided design offered both a mesh and static cling option. These shades not only protected my kids from harmful UV rays but were also foldable and easy to store when not in use. However, I did notice that they might not fit larger windows, and the semi-transparent style can be too dark for safe driving.
Why Do I Need a Car Sun Shade?
A sun shade provides much-needed sun protection for your baby. While auto glass effectively blocks UVB rays from the sun, side windows do allow UVA rays to penetrate (1).
UVA exposure is associated with:
Premature aging.
Immunity suppression.
Skin cancer development.
Increased melanoma risk.
Cataracts.
Macular degeneration.
Some types of eye cancers (2).
Skin cancer on the eyelid.
Corneal sunburn.
Pterygium (growth on the cornea).
The best car shades for babies will provide UVA protection, adding an additional layer of protection between your baby and the sun, protecting them from potential eye and skin damage.
A sun shade also contributes to your child's comfort. Because they're sitting in a soft, cushioned car seat, they can often get quite hot. If the sunshine is streaming down on your baby, it can increase their temperature even further. A well-chosen barrier will help block this direct sunlight and keep some of the heat off your baby.
Types of Sun Shades
There are several types on the market.
They come in all different sizes to accommodate different-sized windows, from large minivans to more compact vehicles.
Pop-Out: These have a wire frame that "pops out" to its full size when removed from the packaging. They're typically rectangular in shape and affix to the window with suction cups.
Pull-Down: These attach to your car's window and can be pulled up or down (much like a window shade in your home) depending on whether it's needed.
Static Cling: This type of design sticks to your car's window without using suction cups. It's easily removed when not in use.
Semi-Permanent: This is a simple DIY window tinting. You can cut the film to the size of your windows for a custom fit and stick it to the window. It's a semi-permanent solution, meaning it isn't meant to be removed or reapplied.
How to Choose a Car Shade for Kids
These are the features we consider when evaluating the best car shades for babies:
---
FAQs
Thank You For Your Feedback!
Thank You For Your Feedback!