Beach towels? Check. Sunscreen? Check. Baby beach tent? Wait, what?
As the mother of a young child, there is a lot on your mind when you visit the beach. You can't just stick your toes in the sand — you need to keep your little ones healthy and safe in this exciting, but often dangerous environment.
Part of this task includes ensuring your baby is not overexposed to the sun. Many mothers rely on sunscreen, hats, and umbrellas to block those powerful UV rays, but are they enough?
Some experts say there are better ways to protect your baby's sensitive skin. One useful tool moms often overlook is the best baby beach tent.
We will take a closer look at what baby beach tents are, why they are so beneficial compared to other sun-protection products, and what you should look for in the beach tent you purchase.
Our goal is to help you breathe a sigh of relief and enjoy your day at the beach without stressing over your little one's skin.
Image
Model
Compare the Best
Features
Best for Wind & Safety
Pacific Breeze Easy Setup
Fillable sandbags
Easy setup
Waterproof materials
Best Pop-up Tent
Sunba Pop-up
Opens quickly and easily
UPF 50+ with ventilation
Extended floor panel
Best UV Protection
Bend River Pop Up Baby Beach Tent
One-touch set up
Built-in mini pool
Comes with a screen door
Best for Toddlers
Pacific Play Lil Nursery
Plenty of mesh panels
Easy-to-clean
Fun designs and colors
Best Lightweight Tent
Ultralight Sun Shelter
Ultralight
Prevent bugs & sands from entering
UPF50+ fabric
Best for the Whole Family
OutdoorMaster Pop-up
Won't feel hot inside
Easy to set up
Brightly colored
Best for Twins
Pop-up 4 Person
Spacious and open
Collapses into small carrying bag
High-quality UV protection
Best with a Pool
Monobeach Pool
Easy-to-fill pool
UV protection materials
Weighing under 2 pounds
Best Budget Tent
Wilwolfer Pop-up Sun Shelter
Affordable
Lightweight
Can fit a child and adult
Best No-Fuss Tent
Schylling UV Play Shade
Great sun protection
Simple set up and take down
Carry bag included
---
What Are Baby Beach Tents?
Baby beach tents are small shade tents. They generally have three sides with one large opening in the front. Designed to be portable, beach tents keep your baby out of direct sunlight while giving them room to wriggle around.
There are many different types of baby beach tents available. Some are small, just for your baby. Others are large and designed for the whole family to enjoy. The type of baby beach tent you need will depend on your specific situation and your plans for a fun day in the sun.
Baby Beach Tents vs. Umbrellas
Umbrellas are a popular option for sun protection at the beach. While they can be a great option for adults, there are a few reasons they are not the best choice for protecting your baby.
Here are a few to consider:
Babies need to be completely out of the sun. The coverage you get with an umbrella is too inconsistent when compared to a tent.
Umbrellas may not hold up to adverse weather conditions. A strong wind or rain can blow them right over. Baby tents are designed to be anchored down, no matter the weather.
Baby beach tents are generally made with ultraviolet protection materials to dramatically reduce the radiation that reaches your baby's skin. It is harder to find umbrellas with the same level of protection.
We think the best baby products are those made specifically with babies in mind. Baby beach tents meet that requirement.
How to Choose the Best Baby Beach Tents
If you are on the hunt for a beach tent to bring with you on your summer adventures, you have a lot of options.
We suggest you keep these five features in mind to make sure the beach tent you purchase is of the highest quality:
Some baby tents only provide shade because they are made of cheaper materials. In order to stop harmful radiation from reaching your baby, make sure to look for beach tents that say "ultraviolet protection" (UPF) on the label.
Trying to set up a complicated tent is the last thing you want to be doing at the beach. Look for a beach tent with a pop-up design that will allow you to set up and disassemble your tent easily.
It isn't a good idea to place your little one in a closed-off space that is heated. Even with special UVP materials, beach tents can get hot and stuffy quickly. The beach tent you choose should be ventilated, with mesh panels for air flow.
A good ocean breeze can knock a lot of things over. Avoid your beach tent collapsing while your baby is inside by getting a beach tent with anchor points. Generally, this means the tent comes with pegs you can stick deep in the sand to anchor it down.
The size of tent you choose should be based on your specific needs. However, we suggest looking for a tent that can fit at least one adult and one child. This will allow you to breastfeed in privacy or tend to your child with ease.
A little bit of research can go a long way. Before purchasing a baby beach tent, make sure to read the reviews from other moms and go through all of the product specifications about how the tent is made and how it works.
---
Best Baby Beach Tent Reviews of 2021
These are our picks for the best beach tents for babies.
1. Pacific Breeze Easy Setup Beach Tent
Our favorite tent for especially windy days is the Easy Setup Beach Tent from Pacific Breeze. Don't let the compact size fool you! This tent is sturdy and comes with a number of features designed with safety in mind.
The tent frame is durable fiberglass with polyester and plastic materials outfitting the sides and floor. The frame won't buckle or snap when a strong breeze blows off from the ocean.
With the plastic flooring, not only can you easily wipe off sand when you're done, but you can also place heavy items inside the tent to help anchor it. Not that you would need to, because this baby beach tent has both stakes and sandbags to anchor it down. You can secure the tent by digging the stakes into the ground or filling up the attached sandbags with sand.
These added anchoring features may make this tent a good fit for you and your family if you live in an especially windy area.
You may think all of this sturdiness would lead to a heavier beach tent that is hard to carry around and set up. Luckily, this beach tent has a special hub system for assembly and breakdown. Simply pull on the drawstrings to snap and secure the frame into place.
In total, the entire tent in its carrying bag weighs about four and a half pounds.
PROS:
Fillable sandbags ensure the tent is anchored.
Unique hub system makes setup easy.
UPF50+ with waterproof materials.
CONS:
No front panel means you can't close the tent off, making it hard to change clothes or breastfeed in private.
Additional Specs
| | |
| --- | --- |
| Size After Setup | 87 inches by 47 inches by 49 inches |
| UV Protection | Yes |
| Ventilation | Yes |
| Easy Setup | Yes |
---
2. Sunba Pop-up Baby Beach Tent
We love that this specially-designed beach tent, made with elastic metal material, can pop up in three seconds flat. It may take a little bit of practice, but you can supposedly collapse the tent in three seconds as well.
To open the tent, simply remove it from its case. It should immediately spring open and take shape. A small shake may be needed as you position it.
To collapse the tent, you fold it in half once and then begin folding it again. As you do so, the flexible frame will curl into a ring formation you can easily stack into a circle, which then fits into the circle-shaped carrying bag.
If you are a mama who wants to embrace the "beach bum" lifestyle this summer, this pop-up tent may be a great option for you. Setting up a more complicated tent on a regular basis will get old fast! Plus, you do not want to waste time you could be spending with your family.
This tent has a number of other positive features. It has a UPF of 50+ and is made of a breathable, water-repellent polyester. Mesh windows provide ventilation and the floor mat extends, which will allow older children and adults to stay close to the tent more comfortably.
The entire tent weighs a little over two pounds and can be easily carried to and from your car, making cleanup a less stressful experience.
PROS:
Opens quickly and easily.
UPF 50+ with ventilation.
Extended floor panel for your comfort.
CONS:
It may take some practice to learn how to collapse it properly.
Additional Specs
| | |
| --- | --- |
| Size After Setup | 65 inches by 59 by 43.5 inches |
| UV Protection | Yes |
| Ventilation | Yes |
| Easy Setup | Yes |
---
3. Bend River Pop Up Baby Beach Tent
This baby tent is a top choice for UV protection, since it has UPF 50+ coating — but it also has some other features which makes it stand out from the crowd. Sometimes UV protection isn't enough to keep your baby happy and cool during a trip to the beach.
But this tent goes the extra mile. For starters, it has a mini swimming pool inside, which can keep your baby occupied and cool even on hot days. Of course, keep an eye on your baby while the pool is filled, even though it's only an inch or two deep. If you don't want to use the pool, it's not obtrusive at all. Many parents just cover it with blankets, and their babies are happy all day!
We also love the screen door. It keeps all kinds of bugs and mosquitos out. Besides the screen door, this tent has three windows which provide great ventilation so the tent doesn't get too warm. When you close the screen door, you can still see your little one, but sand and mosquitos will stay away!
PROS:
UPF 50+ for UV protection.
One touch set up.
Built-in mini pool.
Closable screen door.
Additional Specs
| | |
| --- | --- |
| Size After Setup | 35 inches by 35 inches by 39 inches |
| UV Protection | Yes |
| Ventilation | Yes |
| Easy Setup | Yes |
---
4. Pacific Play Lil Nursery Tent
This tent is called Lil Nursery for a reason! With bright and fun colors, the design of this beach tent is perfect for keeping toddlers entertained and contained. Not only will your little one enjoy being inside this tent, but the multiple mesh ventilation panels mean they can enjoy beautiful beach views.
The tent has three mesh panels, two on the side and one roll-up mesh door. To keep your baby safe from the sun, the mesh panels on the side cover the bottom half of the tent. The upper half has UV-treated, waterproof fabric.
If you have toddlers who love to explore and see the world around them, this tent is a great option to keep those happy smiles on their faces. The floor is also made of easy-to-wash polyethylene fabric, so you can clean up messes in a jiffy.
Each lightweight tent can be easily assembled, collapsed, and stored away in the included carrying bag.
PROS:
Plenty of mesh panels for beautiful beach views.
Easy-to-clean floor.
Fun designs and colors.
CONS:
It doesn't include anything to anchor the tent with, so you need to be careful if it's windy outside.
UPF 30 rating, so it may not be a great option for super sunny, bright days.
Additional Specs
| | |
| --- | --- |
| Size After Setup | 36 inches by 36 inches by 36 inches |
| UV Protection | No |
| Ventilation | Yes |
| Easy Setup | No |
---
5. Ultralight Sun Shelter for Babies
Important, essential features do not always mean added weight. This baby beach tent was designed to be ultralight and portable. Moms looking for a quick solution for sun protection may want to consider this beach tent.
The small size is how it stays light. Big enough for your baby and some of their essentials, just set it up next to you. We especially like the pod design, which resembles a bassinet.
If needed, an adult can kneel inside the tent comfortably. With two-way zippers, you can open the tent from the inside and outside.
All of the panels are made of high premium 190T nylon fabric with a UPF50+ rating. The entire tent can be enclosed, but just unzip the large panels to reveal the mesh ventilation panels.
The high-quality net was made specifically to protect your baby from bugs and sand.
Each tent also comes with a storage bag and two plastic nails you can use to anchor the tent down.
PROS:
Ultralight design and size for portability.
High-quality mesh panels to prevent bugs and sands from getting in.
UPF50+ fabric.
CONS:
Small design makes it hard to change diapers or stay close to your baby while they are in the tent.
Baby will grow out of the tent before long, so you'll have to get a new one.
Additional Specs
| | |
| --- | --- |
| Size After Setup | 41.34 inches by 25.59 inches by 19.69 inches |
| UV Protection | Yes |
| Ventilation | Yes |
| Easy Setup | Yes |
---
6. OutdoorMaster Pop-up Beach Tent
Whether your family is hanging out on the beach or lounging in your own backyard for a big outdoor party, you'll need a place to hide from the sun's strong rays.
The OutdoorMaster Pop-up Beach and Shade Tent will give you the protection you're looking for so you don't have to head indoors to catch a break.
The tent is able to easily fit a family of four, with room to spare. It can be set up in one minute. Although you shouldn't need them because it's so easy to set up, the instructions are printed on a tag that's attached to the carrying bag it comes in, making them impossible to lose.
The tent offers 97.5 percent UV protection and it has screens on three different sides so air continues to blow right through. So even when it's hot outside, you'll still get to feel any passing breezes.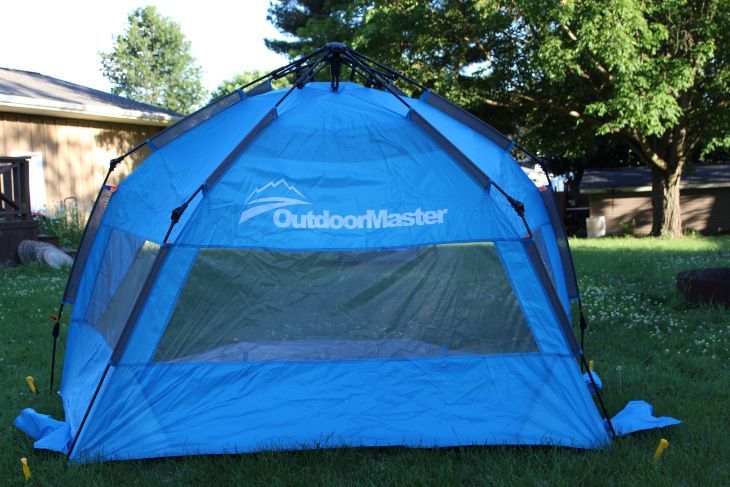 If you want a secure place to change your clothes after a day of frolicking in the waves, you can zip up the tent and give your family total privacy to take off their wet swimsuits and get dressed into dry summer clothes.
It comes with easy-to-insert stakes so the tent won't blow away if the weather starts to get a bit windy. Since it has a rain- and wind-resistant shell, it's also a good option for camping in warmer weather.
It's so lightweight that you'll be able to carry it with you anywhere you go. With this tent, you'll be able to make unforgettable family memories while giving yourself a break from too much sun.
PROS:
It won't feel hot inside this tent because of the screens that let air in.
You can zip it up for privacy or for summer campouts.
Easy to set up and take down.
The stakes for the tent are brightly colored so you don't have to search for them.
CONS:
The material of the tent is a bit thin.
Additional Specs
| | |
| --- | --- |
| Size After Setup | XL |
| UV Protection | Yes |
| Ventilation | No |
| Easy Setup | Yes |
---
7. Pop-up 4 Person Beach Tent
Spacious and open, this roomy beach tent can easily fit you and your twins. You can sit with your babies, change them, or let them wiggle around without any discomfort or worry.
The tent size is 95 x 71 x 39 inches. When expanded, the center height of the tent is 40 inches, which is just under 3 and a half feet. You may not be able to stand all the way up, but you will definitely be able to move around more comfortably than in most baby beach tents.
The carrying weight is five pounds, so you can easily take it with you wherever you go.
If you are a mom with twins, you have to think about getting two of everything and that isn't always easy if you are on a budget. We like this tent because it has plenty of room for your twins now, but can be used well into the future as they grow.
Along with your tent, you get ground stakes and a carrying bag. The materials are waterproof and UPF 50+. The tent has multiple window and door openings, which are all lined with mesh.
PROS:
Plenty of room for you and your twins.
Collapses into a small carrying bag.
Made of high-quality UV protection materials.
CONS:
The large size means you have to keep a closer eye on your twins while they are in the tent.
Even though the tent pops up, it may be harder to collapse down at the end of the day due to the large frame.
Additional Specs
| | |
| --- | --- |
| Size After Setup | 95 inches by 71 inches by 31 inches |
| UV Protection | Yes |
| Ventilation | Yes |
| Easy Setup | Yes |
---
8. Monobeach Pool Baby Tent
How do pools in a beach tent work?
In general, the tent comes in two pieces — the shade and the pool. The shade blocks the sun while the center pool has a pocket of sorts. Dig it down into the sand and fill with water.
The Monobeach Pool Baby Tent is a great example of how awesome these types of tents can be. The shade tent is made of UPF50+ fabric and automatically pops up. The tent also pops open and can be filled with up to approximately one and a half gallons of water.
Included is a carrying bag and four pegs to anchor the shade and pool down. This baby beach tent is recommended for children who are at least 7 months old, but no older than 3 years.
We think moms should have a little extra help at the beach and this pool will keep your little one entertained. Giving your baby a chance to splash around can help keep them happy and give you a little extra time to enjoy the sun.
Safety First
Babies can drown in just two inches of water. Never leave your baby alone in a baby beach tent with a pool.
PROS:
The easy-to-fill pool allows for a lot of fun in the sun.
UV protection materials keep your baby safe.
Collapses into a carrying bag that weighs under 2 pounds.
CONS:
Cleaning the tent may take time, especially if a lot of sand gets into the pool area.
Even the shallowest water can be dangerous for babies left unsupervised.
Additional Specs
| | |
| --- | --- |
| Size After Setup | 47.5 inches by 31.5 inches by 27.5 inches |
| UV Protection | Yes |
| Ventilation | No |
| Easy Setup | Yes |
---
9. Pop-up Sun Shelter
With this Pop-up Sun Shelter from Wilwolfer, you can enjoy a decent-sized baby beach tent with the highest levels of protection. The tent can fit a child and an adult or two children. It's made of 190T silver-coated polyester Oxford fabric with a UV rating of 50+.
A mesh panel in the back allows for ventilation and a storage bag on the side helps you keep all of your beach toys and essentials tucked away. The front door extends so an adult can stay close without dealing with a lot of sand.
We believe all of these features are a must-have for baby beach tents and you get them all in this tent for a good price.
PROS:
Great sun protection for an affordable price.
Lightweight materials allow for easy carrying.
The size allows a single baby to grow into it for years to come.
CONS:
Lightweight material may not be suitable for rugged weather conditions.
It is a little small for adults to move around comfortably.
Additional Specs
| | |
| --- | --- |
| Size After Setup | 65 inches by 59 inches by 43.5 inches |
| UV Protection | Yes |
| Ventilation | No |
| Easy Setup | Yes |
---
10. Schylling UV Play Shade
For a day at the beach or an impromptu picnic in your backyard or park, this play shade tent is a cinch to take along with you. If you've ever scratched your head and hoped for the best while setting up a tent, you can breathe a sigh of relief with this one. It only takes a couple of seconds to pop up with little help from you.
Once it's up, it's roomy enough for more than one kid. You can fit in there with your child, too, although you'll have to stoop to make it happen since it's only 31 inches tall. The include tie-down pegs and sand pockets help keep this lightweight tent from flying away with any high winds.
And when you're done with your outing, you can fold this tent up rather easily and put it in the travel bag for simple carrying. If you've ever unsuccessfully tried to put a tent back into a carry bag, you might wonder how well this one goes back into the bag. But don't worry, you don't need to be a magician to make it happen — it fits fine back into the bag.
This tent does more than give you some shade to sit under. It protects your baby's skin by using SPF 50+ fabric. You'll reduce your child's risk of getting sunburned while on a fun day out.
PROS:
Great sun protection.
Simple to set up and take down.
Comes with a carrying bag.
It has a mesh screen that allows airflow.
CONS:
A parent will fit, but they will have to sit — if they're tall, their head might still hit the top.
Additional Specs
| | |
| --- | --- |
| Size After Setup | 31 inches by 51 inches by 39 inches |
| UV Protection | SPF 50+ |
| Ventilation | Mesh window |
| Easy Setup | Yes |
---
The Dangers of Sunshine
Your baby may be a ball of sunshine, but their skin isn't ready to be exposed to the sun.
It all comes down to melanin. Melanin is the pigment responsible for coloring skin, hair, and eyes. Natural levels of melanin in teens and adults can also provide some sun protection, absorbing harmful UV rays (1).
Caution
Children under six months have extremely low levels of melanin. Their skin is also still too sensitive for sunscreen.
Combined, these factors mean a baby getting too much sun has a high risk of:
Painful sunburns.
Dangerous skin damage.
Lasting eye damage.
Overheating.
Some studies even show the amount of UV exposure in childhood is a major factor in determining the risk level of future skin cancer (2).
Sun Protection for Babies
How can you get out of the house without exposing your baby to harmful sun side effects?
The Skin Cancer Foundation provides a number of useful tips depending on your baby's age:
0-6 months: Never have your baby in direct sunlight. Use lightweight clothing to cover their entire body and wide-brimmed sun hats to cover their faces. Make sure your vehicles and strollers have sun-protectant screens. Do not apply sunscreen.

6-12 months: Continue to use all of the suggestions for younger babies, but you may now start applying baby-safe sunscreen with SPF 15. Apply sunscreen at least 30 minutes before going outdoors and every two hours after that.

1 year and older: Introduce Ultraviolet Protection Factor (UPF) when you go outside. UPF clothing helps by preventing radiation from passing through the fabric. The higher the UPF level, the less radiation that will reach the skin.This is especially helpful as children get older and are harder to keep still. Make sure you keep reapplying sunblock every two hours!
There is never a time when the suggestions on this list will not apply to your child, no matter their age.
Remember
Always use sunscreen, protective clothing, and diligence when going out into the sun for any period of time.
Baby Beach Tent Safety Tips
We know safety will always be your first priority when it comes to your baby. As with any other product you use, it's essential that you understand how to use your baby beach tent correctly.
Here are four safety tips you should consider:
1. Always Anchor It
A large plastic tent with a metal frame collapsing on your child is a sure way to cause some chaos. Always anchor your beach tent down. Use the included stakes and sandbags if provided.
If those items are not included, place heavy, baby-safe items in the corners of the tent to weigh it down. Make sure you monitor how the tent is holding up if the weather gets rainy or windy.
2. Always Practice
Most baby beach tents feature easy-to-open pop-up designs. However, it can take some time to get right. This is especially true of collapsing and cleaning the tent when your day at the beach is done.
When you first get your beach tent, try setting it up at home to see how it works. Make sure all of the parts work correctly and there are not any dangerous attachments that could be a hazard for your baby.
You may also want to wipe down the tent before your first use.
3. Always Ventilate
No matter how cool it may seem outside, you always want to ventilate your tent. Without it, the tent can become very hot and your baby may overheat if you are not careful.
Keep the mesh panels open, unless they allow direct sunlight to reach your baby. If you are going to be in the sun for a long time, monitor, where you place the tent in relation to the sun as its position, will change over time.
4. Always Supervise
Nothing can replace your supervision when it comes to your child's safety. Even if your baby seems secure in the tent, do not leave them unattended.
This is especially true when you are near water sources which can be dangerous for babies and young children.
---
Have You Used a Beach Tent?
Have you used a beach tent before? We want to know about your experience!
Did you find it hard to stake it down in the sand? How did it hold up in the wind? Mothers looking forward to a fun day in the sun need your help.
If you found this article helpful, we hope you will share it with other moms and anyone who wants to know more about the best baby beach tents.