Sure, sunglasses look pretty adorable on babies. But did you know they're more than just an accessory — they're actually a health necessity?
The best baby sunglasses provide comfort from the brightness of the sun, but they also offer protection from harmful ultraviolet rays that can damage your baby's eyes.
But how do you know which ones are best?
We reviewed many medical studies and spoke with the experts to get the lowdown on what you need to protect your baby's eyes. We've got everything you need to know right here, along with our top recommendations for baby sunglasses.
Image
Model
Product Comparison Table
Features
Best for Toddlers
Minishade Sunglasses
Polarized lenses
Loss or breakage replacement guarantee
Made in the USA
Best for Newborns
Kushies Sunglasses
2 custom colors
Durable and comfortable
Meets American Optometric Association standards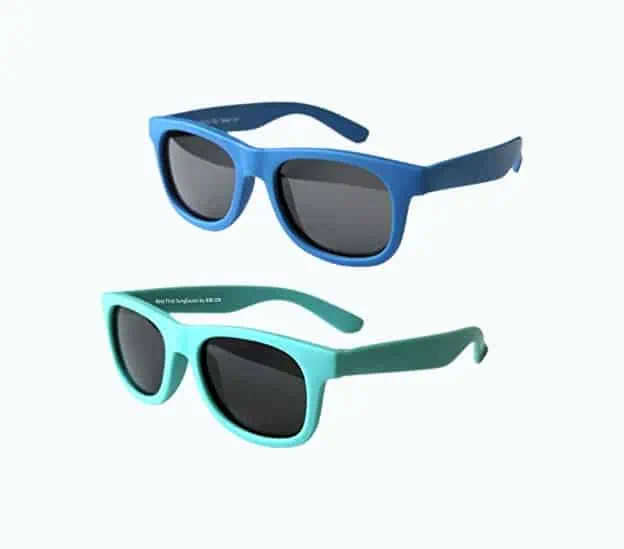 Runner-Up for Toddlers
Bib-On Vintage Sunglasses
Guaranteed to fit
You get two pairs
Blocks 100% of UV rays
Runner-Up for Newborns
Babiators Sunglasses
Shatterproof lenses
1 year guarantee
100% UVA, UVB protection
Best Strap
Tuga Baby Sunglasses
With carrying case and 2 straps
Made of strong polycarbonate
Affordable
Also Great for Newborns
Baby Solo Original
BPA free
Easily adjustable
Flexible
Best Polarized Glasses
Baby Banz Polarized
Comes with breakage guarantee
7 color choices
Free of toxic chemicals
Best for Girls
Baby Banz Adventure
Shatter resistant
Comfort fit
Trendy
Most Stylish
Hipsterkid Sunglasses
Stylish wayfarer frame
Polarized
Includes removable strap
Best for Boys
Cocosand Sunglasses
Polycarbonate lenses
Neoprene elastic strap
Glare-free and shatter resistant
Review Methodology: At Mom Loves Best, we provide a thorough analysis of the best baby sunglasses on the market, using our hands-on experience and expertise to evaluate each product from a user's perspective. Our rigorous assessment includes comparing design choices, measuring performance, and identifying key decision-making factors such as UV protection, comfort, durability, and style. We rank each product based on criteria like safety features and ease of use, and share our findings to help you make an informed decision. Our research and reviews are backed by first-hand evidence, ensuring that our recommendations for the best baby sunglasses meet the highest standards. Trust Mom Loves Best to guide you in choosing the perfect sunglasses for your little one's needs.
---
---
The Best Baby Sunglasses of 2023
Here are the top baby sunglasses currently on the market.
Minishade Flexible Polarized Toddler Sunglasses
Best Polarized Toddler's Sunglasses
These sunglasses are designed by a company that specializes in adult polarized products, so you know the polarization is on point.
While the price is a little high, they come with a guarantee that protects against both breakage AND loss. So if you misplace them within the warranty period, you'll get a new pair.
The polarized lenses reduce glare and block 100 percent of UV rays. They're also impact resistant and don't scratch very easily.
The frames are virtually indestructible and made of a flexible rubberized material.
Pros
Polarized lenses make them more comfortable to wear.
Loss or breakage replacement guarantee.
They block 100 percent of UV rays.
The flexible material won't break easily, which is great for active kids.
Cons
They're only suitable for older babies since there's no strap.
Can be difficult to keep in place.
No wraparound design.
Our Ratings
Community Feedback
My experience with these sunglasses has been fantastic, especially considering they are designed for children. The flexible frames are surprisingly sturdy and durable, providing a comfortable fit for both younger and older kids. I appreciate the ease of registration and the replacement offer, which adds great value to the purchase. The lenses are of high quality, effectively filtering sunlight and offering a good level of darkness.
---
Kushies Kid Size Dupont Rubber Sunglasses
Best Sunglasses for Newborns
This model comes in two sizes, and the newborn size is just right for a snug fit on even the smallest babies. The frames are made of 100 percent Dupont rubber, making them virtually indestructible.
But if your little one does manage to destroy them, it won't be a problem at all to order a new pair since they're so affordable.
The frames are free of harmful chemical toxins like lead, PVC, BPA, and phthalates, and the lenses are made of scratch-resistant and impact-resistant polycarbonate.
The lenses are also gray-based (as opposed to colored) and meet specifications set by the American Optometric Association.
Pros
They fit a wide range of babies and toddlers.
Rubber frames are not only durable but comfortable to wear.
Good quality glasses at an affordable price.
Meet American Optometric Association standards.
Cons
Lenses aren't polarized.
They don't have an adjustable strap.
Only three color choices: yellow, pink, and black.
Our Ratings
Community Feedback
My experience with these sunglasses has been fantastic since I started using them for my son when he was just 2 months old. They are not only durable and well-fitting, but also offer great sun protection for his sensitive eyes. I appreciate that they are made with a sturdy yet flexible material, making them perfect for toddlers who love to play and chew on things. We always receive compliments on how cool he looks wearing them. The only improvement I could suggest would be the addition of a polarized version for even better glare reduction.
---
Bib-On Vintage Best First Sunglasses
Runner-Up for Toddlers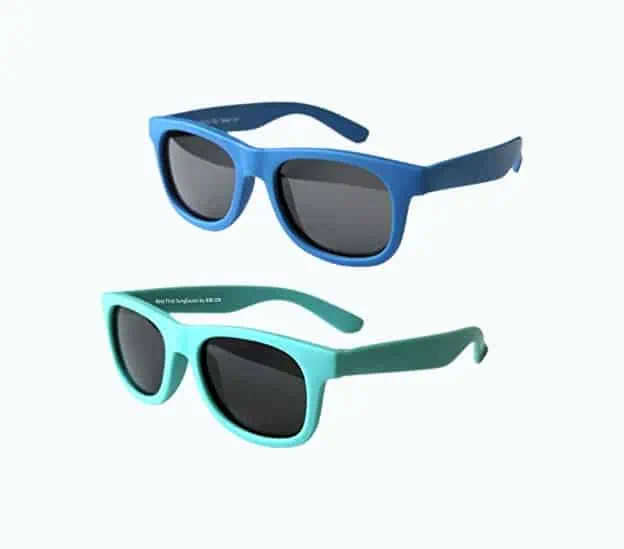 When your baby turns one, they probably don't need a strap for their sunglasses anymore (but it may still be handy for when they're running around a playground!). These cute sunglasses are designed to look like stylish grown-up sunglasses, but you get two pairs, and they come with a carrying case.
They're also made of flexible material to protect against breakage since your little one will be handling their glasses on their own now.
With these sunglasses, your child's eyes will be fully protected from UV rays, and you'll also be contributing to a good cause as proceeds from each sale go toward fighting child hunger.
With Bib-ON's "fitment guarantee," you can buy these glasses with confidence. If they don't fit your child properly, they'll give you a hassle-free refund.
Pros
Guaranteed to fit.
You get two pairs — great if one gets lost or broken.
They block 100 percent of UV rays.
Made of flexible material that clumsy hands won't break as often.
Cons
They're not polarized.
Difficult for younger toddlers to keep on.
Our Ratings
Community Feedback
My experience with these sunglasses has been fantastic, as they are durable and perfectly sized for toddlers, although they might be a bit small for some. I have bought multiple pairs over the years, as they have proven to be great quality despite getting scratched, which is expected with kids' glasses. These sunglasses fit well on my little one, but keep in mind they are not as bendy as other brands, so they might not be suitable for children who tend to bend the earpieces.
---
Babiators Baby, Toddler, and Kids Aviator Sunglasses
Runner-up for Newborns
Your infant's little eyes need to be protected! The original Babiators sunglasses fit their small faces and stand up to the rigors of babyhood.
Each pair is made of a flexible rubber frame with shatterproof lenses. The company even offers a one-year guarantee against breakage. Your baby can grab, twist, drop, and pull at the sunglasses and they won't break.
Babies are known for pulling things off their faces, but we like that these sunglasses were designed to avoid pinching or discomfort at the nose and ears. This should help prevent your child from wanting to pull them off in the first place.
They offer 100 percent UVA and UVB protection from harmful sun rays. They're also BPA-free and phthalate-free, so you can be assured of your baby's safety in every way. The small frames are designed especially for children up to two years of age.
Pros
Flexible rubber frame with shatterproof lenses.
One-year guarantee against breakage.
100 percent UVA, UVB protection.
Our Ratings
Community Feedback
I'm a fan of these Babiator sunglasses for several reasons, but they aren't perfect. Firstly, they're durable and flexible, making them perfect for my little one to play with and even chew on without breaking. However, the lenses aren't polarized as they were described, and they can scratch over time. The sizing can be a bit tricky, with the small size being too tight for my 2-year old, so be cautious when selecting the right fit for your child.
---
Tuga Baby/Toddler UV 400 Sunglasses
Best Working Strap
These Tuga shades will grow with your child. They come with two straps — one sized for babies, another for kids ages 2–5, eliminating the need to buy a new set of glasses as their heads grow.
They also come with a carrying case for safekeeping.
The lenses are made of polycarbonate and are shatter resistant. And we love that they block 100 percent of UV rays, keeping those precious peepers safe.
The frames come in several colors, and each pair is affordable enough that it won't be the end of the world if you break one and need to replace it.
Pros
These come with two different-sized straps.
The carrying case keeps things clean and makes them easy to pack and take anywhere.
Made of strong polycarbonate.
They're affordable.
Cons
Inflexible plastic frames may be easier for kids to snap.
Lenses sit fairly close to baby's face.
Our Ratings
Community Feedback
My experience with these sunglasses has been a mix of positives and negatives. The adjustable strap is a great feature, as it is easy to deal with and stays in place during playtime. However, the sizing of the sunglasses seems to be off, as they were too small for my three-year-old and left pressure marks between her eyes and temples. They did fit better on my younger child, so they may be more suitable for younger kids or those with smaller head sizes. The durability and quality of the sunglasses are good, and they do provide sun protection while giving off a "cool baby" vibe.
---
Baby Solo Original 2.0 Infant Sunglasses
Best Hingeless Baby Sunglasses
These great baby sunglasses from Baby Solo are hingeless — meaning your little one will be spared painful pinches.
An adjustable elastic wrap ensures you'll be able to custom-fit these to even the smallest babies' heads, and the wraparound design prevents sunlight from sneaking in through the sides.
Pros
Blocks 100 percent of UV rays.
Easy to adjust.
Flexible enough to withstand a child's grasp.
No hinges to get broken or pinch fingers.
Cons
Glasses tend to slide around.
Snug fit may restrict airflow and cause lenses to fog.
Our Ratings
Community Feedback
I recently purchased these sunglasses for my infant and have had a mostly positive experience. The adjustable band makes it easy to find the right fit as my child grows, and the included case is a nice bonus for protecting the glasses when not in use. However, I have noticed that they can leave marks on my baby's face if worn too tightly and sometimes require readjusting.
---
Baby Banz Polarized Sunglasses for Kids
Best Polarized Sunglasses
These banded sunglasses will protect the teeniest eyes and provide the comfort of polarization, ensuring that the images your child sees through their lenses match the ones they see without.
The glasses come in two sizes for ages 0–2 years and 2–5 years, so they'll grow with your child, and the wraparound design prevents light from entering the sides of the glasses.
For additional peace of mind, the frames and lenses are free of toxic materials and are made of shatter-resistant polycarbonate.
You can buy these glasses with confidence as Baby Banz offers a one-year replacement guarantee for breakage of the frames or straps.
Pros
They have a breakage guarantee.
They're polarized — which is uncommon in baby brands.
They block 100 percent of UV rays.
They're free of toxic chemicals.
Cons
There only come in blue or pink.
Our Ratings
Community Feedback
After trying several brands of sunglasses for my kids, I found that Julbo works best for infants and Roshambo for toddlers. These sunglasses are durable and comfortable, never causing any irritation or discomfort for my little ones. My kids love wearing them, and they've held up well through all kinds of rough treatment, making them a great investment for protecting their eyes from the sun.
---
Baby Banz Sunglasses Infant Sun Protection
Best Baby Girl Sunglasses
These classic baby shades have a band that wicks moisture away from your little one's head to facilitate their comfort.
The polycarbonate lenses are shatter-resistant to protect your baby's face, and the nose and brow have built-in silicone to help prevent slippage. All materials used in these sunglasses are free of harmful toxins.
And Baby Banz offers a one-year breakage guarantee. If the frames or strap break within the first year, you'll get a replacement pair. And with the huge selection of colors available, you're sure to find one that fits your baby girl's personality.
Pros
Shatter-resistant design won't harm baby even if dropped or damaged.
They have plenty of comfort-fit features.
Many color options to choose from.
They block 100 percent of UV rays.
Cons
They're designed for younger babies and don't fit well on older babies or toddlers.
Strap doesn't leave much room for adjustment.
Our Ratings
Community Feedback
Best baby sunglasses I've purchased so far! These sunglasses fit snugly on my little one thanks to the soft, adjustable headband, providing excellent sun protection without being too tight or leaving marks. They're lightweight and grow with your child, making them a versatile accessory for sunny days, even though a case for storage would have been a nice addition.
---
Hipsterkid Kids Sunglasses
Most Stylish Baby Sunglasses
Do you hate the look of typical baby sunglasses? Consider these super-stylish pairs from Hipsterkid. They look like a miniature version of adult sunglasses, designed in the timeless wayfarer style. You can choose from a variety of stylish colors and patterns.
The frames themselves are flexible with shatter-resistant lenses. They provide 100 percent sun protection, shielding eyes from UVA and UVB rays with lenses that are also polarized.
We really like that they come with an optional strap. Your child can use the strap when they're younger or learning about keeping the glasses on to prevent loss. As they get more confident and learn to love their stylish new sunglasses, remove the straps.
These glasses are perfect for toddlers and older children who are developing a sense of style and want to begin expressing themselves. Help them explore their big bright world without damaging their eyes.
Pros
Stylish wayfarer frame looks like a more flexible version of adult sunglasses.
Polarized and fully block UVA and UVB rays.
Includes a removable strap.
Cons
Even the smallest frames are a bit big for newborns.
Our Ratings
Community Feedback
Best sunglasses for my little one so far! My 15-month-old absolutely loves these sunglasses and they fit my 18-month-old perfectly too. The polarized lenses and lightweight frame make them comfortable for my kids to wear, even during playtime. The only downside is the non-adjustable strap, but I easily fixed that issue with a small rubber band to ensure a secure fit. These sunglasses not only protect my kids' eyes but also make them look super cool, earning compliments from people of all ages.
---
Cocosand Baby Sunglasses with Strap
Best Baby Sunglasses for Boys
These sunglasses were made with your baby's comfort and safety in mind.
The lenses are polycarbonate, and in the event of rough play, can only be pushed out of the glasses, not in toward the eye.
The elastic neoprene strap is easy to adjust to custom fit your baby's head and wicks moisture away. The lenses block UVA and UVB rays and are shatter-proof and glare-free.
These stylish sunglasses come in several color options, so you can choose the best fit for your baby.
Pros
The lenses are polycarbonate.
It comes with a neoprene elastic strap.
They are glare-free and shatter resistant.
Cons
Sizing runs a little small.
Our Ratings
Community Feedback
I recently purchased these sunglasses for my 22-month-old, and she absolutely adores them. The headband around the back keeps them securely in place, and they've proven to be quite durable despite constant use. One minor issue I've encountered is the screws occasionally falling out, but that's likely due to my child playing with them often. Although they are a bit small for some babies, these sunglasses still provide excellent UV protection and look adorable on my little one.
---
Real Shades Polarized Kids Sunglasses
Best Convertible Baby Sunglasses
These glasses give you the best of both worlds — you can use them with the strap if your toddler needs help keeping their glasses in place or without it if your child is old enough to keep them on.
The lenses are gray to keep colors true to life and block 100% of UV rays.
The frames are made of soft rubber material, so they're more durable for a toddler than hard plastic. They come in several vibrant color combinations, so you're practically guaranteed to find one that your little one will love.
Finally, the wraparound design protects your baby's eyes from all directions and prevents light from coming in through the sides.
Pros
Block 100 percent of UV rays.
Can be used with a strap or without.
Several color options are available, including gender-neutral options.
Durable frames are nearly impossible to break.
Cons
They may not stay on well without the strap.
Small, tight fit on babies with larger heads.
Our Ratings
Community Feedback
My experience with these sunglasses has been excellent, as they have provided great protection and comfort for my daughter who has light sensitivity. The durable lenses, adjustable headband, and overall sturdiness make them perfect for sports and outdoor activities. Even my younger children have found them comfortable and stylish, making these sunglasses a fantastic choice for the whole family.
Why Does My Baby Need Sunglasses?
The ultraviolet light in the sunshine can cause eye damage and has been associated with a myriad of other health issues, including the following (1):
Cataracts.
Macular degeneration.
Some types of eye cancers.
Skin cancer on the eyelid.
Corneal sunburn.
Pterygium (growth on the cornea).
Many of these afflictions result from a lifetime of exposure to sunlight, so it's important to reduce a baby's risk as much as possible, right from the start.
Babies' eyes are extra vulnerable to UV light. In an adult eye, pupils constrict in bright light to reduce the light that enters. There are also pigments in the iris that filter UV light. But in babies, these pigments aren't fully developed, so it's important to use UV-filtering sunglasses to prevent damage (2).
When Should Baby Wear Sunglasses?
Anytime you feel that you need sunglasses, your child should be wearing them, too. This is not just in summer — sunny days happen in wintertime too, and even cloudy days can feel "bright."
If you have a very young child and they're in a stroller with a shade or blanket cover, they likely won't need them. Small babies will close their eyes if they're uncomfortable, and the sunshade probably gives sufficient protection.
However, if you're wearing or carrying your baby, pushing them in a stroller without a shade, or if they're playing outside, use sunglasses to protect their eyes.
To get your little one accustomed to sunglasses, put them on when they are in the bright sun. Don't start in the house where it will make everything look too dark. Your baby will get used to wearing them outside, where they provide the most relief.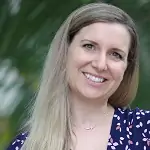 Editor's Note:
Katelyn Holt RN, BSN, BC
How to Choose Sunglasses for Baby
When buying sunglasses for your baby, keep the following features in mind:
---
Thank You For Your Feedback!
Thank You For Your Feedback!