As moms on a budget, we know what it's like to cut corners on baby gear. But if you're shopping for an affordable infant car seat, you don't want to skimp on safety or comfort features, as is sometimes the case with cheaper car seats.
But there's no need to break the bank. We've done our research and have found a variety of inexpensive car seats that will keep your child as safe as any top model and have them riding in comfort and style.
Check out our reviews of the five best affordable car seats for children of all ages, and read our top tips for choosing the perfect fit for your little one.
Image
Model
Product Comparison Table
Features
Best Overall Car Seat
Graco Extend2Fit Convertible
Ten-position headrest
Harness compartment
Durable
Best for Older Kids
Graco Backless TurboBooster
Portable
Attractive fabric designs
Easy to clean
Best Safety Features
Chicco KeyFit Infant 35
Enhanced security features
Stroller compatibility
Multiple colors to choose from
Best for Portability
Evenflo Tribute LX
Top safety measures
Good option for frequent-flyer families
Made in the USA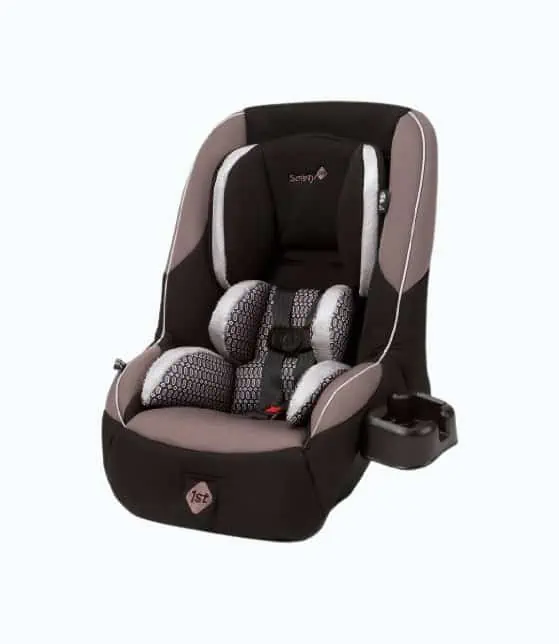 Best for Small Cars
Safety 1st Guide 65
Great solution for fitting multiple seats
Adjustable headrest
Great for small cars
Review Methodology: At Mom Loves Best, we pride ourselves on providing thorough and accurate analysis of the best affordable car seats on the market. Our experienced team conducts hands-on assessments, comparing products based on criteria such as safety, ease of installation, comfort, and durability. We gather data from multiple sources, including professional evaluations and user experiences, to rank and review each car seat. Our research is designed to help you make informed decisions, as we identify key decision-making factors and rate products based on their performance in those areas. We also discuss design choices and their impact on users, offering first-hand evidence and insights into what sets each product apart from its competitors. Trust Mom Loves Best to guide you through the process of finding the perfect car seat for your family's needs and budget.
---
---
The Best Affordable Car Seats of 2023
Here are 5 great car seats that are budget-friendly, durable, comfortable, easy to install, and safe for your little one.
Graco Extend2Fit Convertible Car Seat
Best Overall Affordable Car Seat
A market leader in baby products, Graco has dreamed up this car seat that can be used for several years without requiring a replacement.
As long as your infant weighs at least 4 pounds, they can ride rear-facing in this car seat. Parents who prefer to have their babies ride this way longer for safety reasons will be glad to know this seat's rear weight capacity is 50 pounds.
Once your child graduates to forward-facing, you'll turn the seat and continue using it. The seat features the Simply Safe Adjust system, allowing you to change the headrest and harness height as the child grows. This ensures your child is secure at all times.
Plus, you get 5 inches of extra legroom thanks to its Extend2Fit technology, which comes with a four-position extension panel.
What We Like
Ten-Position Headrest
It's crucial for your baby to breathe properly and stay comfortable while in the car seat. This seat offers you a headrest you can adjust 10 different ways.
As your baby grows, you can adjust it to their changing needs.
Harness Compartment
Getting the buckle out of the way as you get your baby out of the car seat can be frustrating. The harness compartment on this seat does just that. This makes getting the baby in and out a bit easier.
Durability
When it comes to a convertible car seat, you want a model made with durable materials. The steel-reinforced frame and high-quality fabric increase this seat's strength and durability.
Many parents appreciate that it feels more secure for their little ones since they might use it until they graduate to booster seats.
What We Don't Like
Difficulty in Cinching
Ideally, your little one's seat belt should be tight enough that the straps pass the "pinch test" (1). That may prove challenging with this seat as the seat belt can sometimes be difficult to tighten.
Product Specs
| | |
| --- | --- |
| Weight Guidelines | 4 to 65 pounds |
| Height Guidelines | 49 inches |
| Dimensions | 22.1 inches by 19.2 inches by 25.2 inches |
| Car Seat Weight | 24 pounds |
| Material Type | Polyester |
Our Ratings
Community Feedback
My experience with this convertible car seat has been quite positive, as it was easy to install and provided excellent comfort for my child. The compact design fits well in limited backseat spaces, and the ability to rear face up to 50lbs is a standout feature. The padding is soft and silky, and the adjustable straps ensure a secure fit for growing children. Although it lacks a swivel feature, it's a minor inconvenience compared to the overall quality and value of this car seat.
---
Graco Backless TurboBooster Car Seat
Best for Older Kids
Has your child outgrown their forward-facing seat? School-going kids still need to be secure while riding in the car. That's where this backless booster car seat comes in handy.
It raises your child to a proper height that allows them to use the seat belt. The armrests are padded and height-adjustable. This is particularly helpful for longer trips.
Speaking of longer trips, parents will appreciate the hideaway cup holders that allow their child to store drinks or snacks safely. No more stopping by the roadside to rummage through your bag for snacks.
What We Like
Portability
This booster weighs just over 5 pounds, making it easy to take it into the car and remove it when it's not needed. Being lightweight also makes cleaning an uncomplicated experience.
Attractive Fabric Designs
Kids are naturally attracted to designs and patterns that appeal to them. You can choose from four colors, patterned or plain fabrics, including a dino-themed design.
Easy to Clean
You don't have to get stressed if any liquids spill on the cushion. The fabric cushion is easy to remove and clean. You have the option of hand washing or machine washing it.
What We Don't Like
Cushion Fabric Durability
The fabric is questionable as it may start to snag and fray around the edges after a couple of washes. The seat will still be usable, but it may be unsightly.
Thin Padding
The seat's bottom may feel a little thin, which can be uncomfortable for a child to ride on, especially if you're covering long distances.
Product Specs
| | |
| --- | --- |
| Weight Guidelines | 40 to 100 pounds |
| Height Guidelines | 43 to 57 inches |
| Dimensions | 8.6 inches by 16.3 inches by 15.5 inches |
| Car Seat Weight | 5.1 pounds |
| Material Type | Polyester |
Our Ratings
Community Feedback
I recently purchased this booster seat for my kids and I must say, it's lightweight, easy to clean, and my kids absolutely love the foldable cup holders. The seat belt harness fits perfectly on their shoulders thanks to the clever strap design, and it's comfortable for them during car rides. However, it's a bit wide, so it doesn't fit well in the middle seat of the car, but overall, it's a great booster seat that my family enjoys using.
---
Chicco KeyFit Infant 35 Car Seat
Best Safety Features
This Chicco seat is an excellent option for parents who need an inexpensive, quality car seat for their newborn baby. It features full-body inserts that will keep your baby secure on any road. EPS energy-absorbing foam lines the carrier shell for improved impact protection.
It has an adjustable, removable canopy that shields your baby from the sun. The spring-loaded leveling foot and bubble indicators also help you know if you've installed the seat correctly.
The manufacturers focused on comfort as well as safety. This can be seen in the removable head and body support that help keep newborn babies and smaller infants comfortable.
What We Like
Enhanced Security Features
This seat comes with an easy-to-operate force-multiplying LATCH tightener that secures your baby without loosening. The bubble level indicators in this seat accurately let you know whether you have the base angle right.
This ensures the seat doesn't wobble while you're on the road. And it's not just your baby that stays safe — the seat's smooth underside ensures your car seats are undamaged.
Stroller Compatibility
Having a car seat compatible with your stroller makes travel convenient and less of a hassle for your baby.
You don't have to go through the process of removing them from the car seat and placing them in a separate stroller. This seat is compatible with all Chicco strollers.
Multiple Colors to Choose From
Do you have a specific color in your car's interior? With six fabric colors to choose from, you might find one that matches. Parents may also appreciate the seat's attractive design.
What We Don't Like
Failing Sunshade Canopy
The sunshade is a plus, but you may encounter some difficulty keeping it up. This may pose a safety risk for an infant who can't push it aside.
Product Specs
| | |
| --- | --- |
| Weight Guidelines | 4 to 35 pounds |
| Height Guidelines | 32 inches |
| Dimensions | 16.75 inches by 28 inches by 22.5 inches |
| Car Seat Weight | 18.5 pounds |
| Material Type | Polyester |
Our Ratings
Community Feedback
This car seat impressed me with its high safety ratings and compatibility with various strollers. I especially appreciated the large sun shade that provides ample coverage for my little one, and the zip shield that's perfect for napping on the go. However, the size of the seat can make it a bit difficult to remove from smaller cars, so be prepared for a bit of maneuvering.
---
Evenflo Tribute LX Convertible Car Seat
Best for Portability
If you're constantly on the move, the last thing you need is a heavy car seat added to your luggage. The lightweight nature of this seat makes it ideal for families who wish to use the car seat in and out of the car.
Its compact size means it fits well in most vehicles and is certified for use in airplanes. The seat features a removable plush head pillow that provides comfort and head support.
Additionally, you get four shoulder strap positions that accommodate growing children. As this is a convertible seat, you'll get to enjoy the rear-facing and forward-facing options.
What We Like
Top Safety Measures
One of the best things about this seat is its high safety standards. The manufacturers designed its structural integrity at an energy level that's twice the crash test standard set by the U.S. government.
It also meets the safety standards for side impact, flammability of interior materials, and child restraint systems. In short, this seat meets local and international safety standards, which are great for our peace of mind.
Good Option for Frequent-Flyer Families
Families that fly often may appreciate using this car seat as it's certified for use on planes and is easy to move around. Plus, you can purchase it if you're in a different city or country and need a quick traveling solution.
What We Don't Like
Difficulty Leveling
While installing the rear-facing position, you may experience some trouble getting the car seat level. For the seat to recline correctly and stay in position, you may need to place a rolled towel underneath the car seat.
This being a trial-and-error method, you may have to attempt this several times. You may also need to test different rolled towel diameters to achieve the needed angle.
Thin Padding
You may find the padding a little thin, which can be uncomfortable for some children to ride in. Some users have raised concerns over this.
Product Specs
| | |
| --- | --- |
| Weight Guidelines | 5 to 40 pounds |
| Height Guidelines | 19 to 40 inches |
| Dimensions | 18.5 inches by 22 inches by 25.5 inches |
| Car Seat Weight | 9.29 pounds |
| Material Type | Polyester |
Our Ratings
Community Feedback
When I first purchased this car seat, I was drawn to its reasonable price and sleek design. After using it for over six months, I can confidently say that it is not only lightweight and easy to install, but also comfortable for my child. Despite a few minor drawbacks, such as the cup holder design and lack of additional infant padding, I am highly satisfied with the overall performance and safety of this car seat.
---
Safety 1st Guide 65 Convertible Car Seat
Best for Small Cars
Have you ever tried installing a large car seat in a tight space? It can have you trying all sorts of angles and leave you wanting to pull out your hair. This car seat from Safety 1st may come as a relief to parents who own small cars.
It allows you to fit more than one car seat in the back seat of your car. If you have twins or a growing family, you can easily strap the kids in and be on your way.
The seat is LATCH equipped to help secure it to the vehicle. It features side impact protection, five harness heights, three buckle locations, and an adjustable headrest to keep your baby safe. The removable body pillows keep your baby snug, comfortable, and ready for the ride.
Babies who weigh 5 pounds or more can enjoy the rear-facing option. When they're ready to transition to the next stage in their lives, the seat will be converted to forward-facing.
What We Like
Great Solution for Multiple Children
The compact size allows you to fit up to three Safety 1st seats in the back of your car. This is a plus for parents with more than one young child and in need of traveling solutions.
Adjustable Headrest
The headrest is adjustable, allowing you to customize it to suit your child's needs. It also means you can use the seat for longer or use it for children of different ages.
What We Don't Like
Challenging Installation
Installing the rear-facing position can be challenging. Some parents complain about the seat wiggling when the car is in motion. You may need to use rolled-up towels or pool noodles to help stabilize the seat.
Product Specs
| | |
| --- | --- |
| Weight Guidelines | 5 to 65 pounds |
| Height Guidelines | 19 to 52 inches |
| Dimensions | 27.25 inches by 18.5 inches by 20.25 inches |
| Car Seat Weight | 15 pounds |
| Material Type | N/A |
Our Ratings
Community Feedback
Best car seat I've purchased in terms of comfort and ease of use. This car seat has a soft, padded design that my daughter absolutely loves, and adjusting the straps is a breeze. It fits perfectly in my 2019 Jeep Cherokee and can accommodate my 2-year-old toddler who weighs between 25-30 pounds. The only drawbacks are the packaging it arrived in and the slightly forward-facing headrest, which makes my daughter's chin a bit close to her chest in the more upright position.
---
| Product | Award | Weight Guidelines | Height Guidelines | Dimensions | Seat Weight | Material |
| --- | --- | --- | --- | --- | --- | --- |
| Graco Extend2Fit | Best Overall Car Seat | 4 – 65 lbs | 49″ | 22.1″ x 19.2″ x 25.2″ | 24 lbs | Polyester |
| Graco TurboBooster | Best for Older Kids | 40 – 100 lbs | 43″ – 57″ | 8.6″ x 16.3″ x 15.5″ | 5.1 lbs | Polyester |
| Chicco KeyFit | Best Safety Features | 4 – 35 lbs | 32″ | 16.75″ x 28″ x 22.5″ | 18.5 lbs | Polyester |
| Evenflo Tribute LX | Best for Portability | 5 – 40 lbs | 19″ – 40″ | 18.5″ x 22″ x 25.5″ | 9.29 lbs | Polyester |
| Evenflo Tribute LX | Best for Small Cars | 5 – 65 lbs | 19″ – 52″ | 27.25″ x 18.5″ x 20.25″ | 15 lbs | N/A |
Types of Car Seats
Here are some guidelines to help you know which affordable car seat is best for your child (2).
How to Choose an Affordable Car Seat
When shopping for affordable car seats, here are some things to keep in mind (3):
Your car seat must be suitable for your child's age and size, be correctly installed, and fit well in the car.
Avoid second-hand car seats, especially if you don't know their history.
Affordability is vital but shouldn't be the only deciding factor.
Always check the expiration date on the car seat before buying it.
Will you be taking the car seat in and out of the car? If so, then portability needs to be one of the top considerations.
Visit the NHTSA website to confirm the car seat you want to purchase hasn't been recalled.
---
---
Thank You For Your Feedback!
Thank You For Your Feedback!