Looking for a travel car seat for your next big trip? Travel seats are lightweight, compact, and portable. You can even find options approved for use on airplanes. But it can be hard to know what to look for — and what to avoid.
We've spent a great deal of time traveling with our kids and have compared dozens of seats. We've learned what to look for in the best travel car seats. These features may depend on what type of traveling you're doing.
Let's consider key points to remember while shopping and look at our top five choices for travel-friendly car seats.
Image
Model
Product Comparison Table
Features
Best for Air Travel
Evenflo Tribute LX
Weighs less than 10 pounds
Integrated body cushion
Offers rear-facing & front-facing use
Best for Older Children
Cosco Topside Booster
Only weighs 2 pounds
Narrow base
Won't leave marks
Best Budget Buy
Cosco Finale DX
Weighs 11 pounds
Multiple modes of use
Easy to clean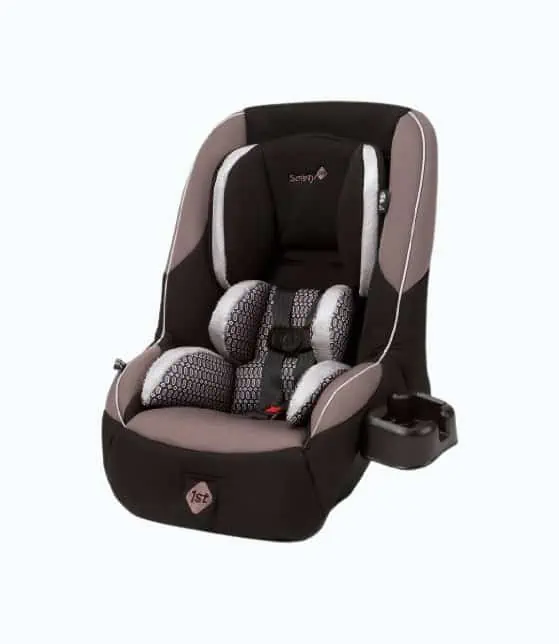 Best for Babies
Safety 1st Guide 65
Comfortable padding
Can be used rear-facing & forward-facing
Overall adjustability
Most Compact
BubbleBum Booster Seat
Extremely lightweight
JPMA innovation award winner
Meets all safety standards
Review Methodology: At Mom Loves Best, we prioritize your family's safety and comfort during travels by providing a thorough analysis of the best travel car seats on the market. Our team of professionals conducts hands-on research, comparing various criteria such as ease of installation, weight, safety features, and portability. We evaluate products from a user's perspective and share quantitative data to measure each product's performance. By examining key decision-making factors and rating products in those areas, we highlight what sets each travel car seat apart from its competitors. Our experience and first-hand evidence ensure you receive reliable, factual information to choose the perfect travel car seat for your family. Trust our assessment and findings to make an informed decision based on our expert review and evaluation.
---
---
The Best Travel Car Seats of 2023
These travel car seats meet our criteria of being lightweight, portable, comfortable, affordable, and, most importantly, safe for your precious cargo.
Evenflo Tribute LX Convertible Car Seat
Best for Air Travel
Need a travel car seat that can handle airport travel? This one from Evenflo is lightweight and narrow. It's approved for use on airplanes and comes in multiple colors.
This car seat features side impact protection and an adjustable harness to keep your child safe, no matter their size or where you are. Also featured is an integrated body cushion to provide additional comfort during use.
Suitable for children between 5 and 40 pounds, it is compact and can be used rear-facing or forward-facing. It's also equipped with the LATCH system for car use.
What We Like
Narrow Base
This car seat offers a base that's just 15 inches wide. When space is at a premium (like on a crowded airplane), you'll appreciate something easy to fit in your assigned seat. We also love that it's easier to get through the narrow plane aisles.
While the base piece is only 15 inches wide, there is a slight flair above the base near the armrests. This area measures about 18.5 inches wide and still leaves you with a very manageable car seat.
Offers Rear-Facing and Front-Facing Use
This is a convertible unit used in both forward- and rear-facing modes, making it a safer car seat for young babies.
Due to space constraints, it may not always be feasible to install a car seat rear-facing on a plane. If possible, though, it's the preferred way for children still in the rear-facing group.
Lightweight and Compact
This car seat weighs less than 10 pounds. This makes it an excellent choice for one-handed carrying and makes navigating airports a little easier. If you decide to strap it to luggage, it's generally not heavy enough to cause anything to tip over.
Besides small plane seats, it's also a great feature for compact cars, which you're more likely to find when traveling abroad. If you're traveling with multiple children, this can help ensure more than one car seat can fit in a rental car.
What We Don't Like
Only Good to 40 Pounds
This seat is only for use with children who weigh less than 40 pounds — i.e., younger infants and toddlers. Larger or older children will need a different option.
Not Great for Daily Use
This is a great car seat for travel. But if you're looking for a car seat to be your daily ride and to use while traveling, you may want to consider a different option.
This seat does offer padding and cushioning, but it's not as significant as in some other models, so it's a little less comfortable than other seats on the market.
Product Specs
| | |
| --- | --- |
| Weight | 9.3 pounds |
| Dimensions | 18.5 inches by 22 inches by 25.5 inches |
| Child Weight Minimum | 5 pounds |
| Child Weight Maximum | 40 pounds |
| Extra Features | LATCH system, integrated body cushion, removable head pillow, detachable cup holder |
Our Ratings
Community Feedback
If you're looking for a budget-friendly yet quality car seat, this one is a solid choice. I've been using it for over six months now and it has proved to be lightweight, easy to install, and comfortable for my child. The strap tension adjustment is simple to use, and the machine-washable seat cover is a lifesaver for those inevitable messes. However, the cup holder is poorly designed and the padding for infants could be improved. Despite these minor drawbacks, this car seat has met all my expectations and kept my child safe.
---
Cosco Topside Backless Booster Seat
Best for Older Children
Are you looking for a basic, low-profile booster seat you can use with your child while traveling? This option from Cosco may fit the bill.
It's designed for children between 40 and 100 pounds and who are 43 to 57 inches tall. It's extremely compact and lightweight, making it a great traveling option. When not in use, you can stack multiple units to conserve space.
This booster seat features extra-plush padding and soft armrests, making it comfortable and allowing for some squishing in tight spaces. It's available in multiple fun colors to suit your child's preference and comes with a one-year limited warranty.
What We Like
Lightweight
When you're planning to travel, you want a traveling car seat that's easy to carry. We love that this booster seat weighs just about 2 pounds. It's easy to add to your luggage or backpack without weighing you down.
If you need to carry it by hand, you can easily do so by holding the armrest. Even better, it's lightweight enough for your child to hold it.
Compact
This booster seat features a low-profile design and doesn't take up much room, so it's easier to pack in your luggage or carry-on. It's even possible to place it in an oversized shoulder bag while you're on the go.
Has a Narrow Base
It's 16 inches at its widest point (where the armrests are located), and the base that sits in the seat is even narrower. This can make it an excellent option for smaller cars and for when there are multiple children in the back seat.
Won't Leave Marks
This has been designed not to leave impression marks — a smart choice for when you're borrowing or renting a car. It also makes it a nice option for daily use in your family vehicle.
What We Don't Like
This Unit is Hand-Wash Only
It's not the easiest to clean. The cover is removable, but the fabric should be hand-washed only. This may be a bigger problem if your booster's used for non-travel-related needs, like in a restaurant.
Not Very Tall
While it's recommended for children who weigh between 40 and 100 pounds, the actual booster is only 3 inches tall.
Its slim styling is great for traveling. However, it may not provide enough height for smaller children. If your child is petite, this booster may not give you an accurate seat belt fit.
Product Specs
| | |
| --- | --- |
| Weight | 2.2 pounds |
| Dimensions | 16 inches by 15 inches by 3 inches |
| Child Weight Minimum | 40 pounds |
| Child Weight Maximum | 100 pounds |
| Extra Features | One-year limited warranty |
Our Ratings
Community Feedback
This booster seat has been a great addition to my 2014 Toyota Sienna LE, fitting three backless booster seats across the second row with ease. My kids enjoy sitting together, and though the buckle for the middle seat can be challenging for my 4-year-old, my 9-year-old helps out. The seat is lightweight, super portable, and my daughter finds it comfortable. While it may not have extra cushioning as advertised, adding a pad under the fabric easily solves the issue, making it a fantastic value overall.
---
Cosco Finale DX Combination Booster Seat
Best Budget Buy
This unit from Cosco is for use only in the forward-facing position. You can use it as a traditional car seat with its five-point harness or as a booster. The car's seat belt will secure your little one in place when used as a booster.
Children using this car seat should be 30 pounds and up. For forward-facing in the car seat mode, your child should weigh 30 to 65 pounds, and in the booster seat function, between 40 to 100 pounds.
It's on the lighter side and more narrow than some models, so you can fit three across in the backseat of most cars. You'll need to ensure it's in "car seat" mode for use on an airplane and that you're utilizing the harness.
What We Like
Lightweight
This car seat is a single piece and weighs just over 11 pounds, so it's easy to tote through airports and can even be carried with one hand. There's reduced padding through the seat to help cut down on bulk and weight.
Multiple Modes of Use
The adjustable, five-point harness has three positioning slots to help ensure the best fit. You can use it until your child is around 65 pounds.
When using this as a booster seat, there are integrated belt holders on both sides of the unit. This allows the seat belt to slide into its appropriate place and stay where it's needed. It also means you can use this booster on either side of the car.
Compact Size
It is designed to fit three across and has a more narrow base, though it does flare out near the middle and top. This may make it a tighter fit or make access to the belts more difficult in small spaces.
However, compared to other car seats on the market, it offers a pretty streamlined style. This can make navigating crowded spaces (and narrow aisles) a little easier.
Easy to Clean
When you're traveling, you want a car seat that's easy to clean — and it doesn't get much easier than this. You can remove the cover and place it in the washing machine, and it's safe to go into the dryer.
When your cover is washed and dried, it slips easily back on the car seat, ready for your next travel adventure.
What We Don't Like
Not for Infants
This is not a good choice for a young child. It doesn't have the necessary safety features for a child under 30 pounds. Without the proper incline, structure, and the ability to rear-face, this simply isn't a car seat for an infant.
Can't Be Used Rear-Facing
It's designed for children who weigh more than 30 pounds, but many children who weigh 30 pounds are still rear-facing. Unfortunately, this unit doesn't allow for rear-facing at all.
So while it may suit your needs for a quick plane ride, you may want something different if you need an everyday seat that you'll also use on an airplane.
Product Specs
| | |
| --- | --- |
| Weight | 11.5 pounds |
| Dimensions | 18.25 inches by 19 inches by 29.75 inches |
| Child Weight Minimum | 30 pounds |
| Child Weight Maximum | 100 pounds |
| Extra Features | Car seat and booster, machine washable and dryable, movable cup holder |
Our Ratings
Community Feedback
Love the versatile design of this car seat, as it grows with my child and easily converts to a booster seat. The seat provides a comfortable and secure fit for my tall, three-year-old, and the cup holder is a convenient addition. Although the padding isn't super thick, my child hasn't complained and the cover is easily removable for washing.
---
Safety 1st Guide 65 Convertible Car Seat
Best for Babies
If you plan on traveling while your child is very young, you'll have specific car seat needs, such as a rear-facing option. You'll also want something comfortable that properly supports your young baby.
This travel car seat from Safety 1st does just that and can be used with children as tiny as 5 pounds. While in rear-facing mode, your baby can use it until they weigh 40 pounds. After that, switch to forward-facing until your child weighs 65 pounds.
The comfortable padding is particularly helpful during long trips. Side-impact protection, an adjustable harness, and a compact design can make it a good choice for everyday use. This unit also features the LATCH system for use in vehicles.
What We Like
Comfortable
There's plenty of padding, and it even has an additional insert for smaller and younger children. You can remove this when it's no longer needed.
Even once the insert has been removed, the integrated cushioning is robust. It's a great place for your infant to rest their head during the journey and catch a nap, so it's comfortable enough for an everyday ride.
Can Be Used Rear- and Forward-Facing
The flexibility to use this car seat both rear-facing and forward-facing extends its use. Forward-facing, it'll last you all the way through 65 pounds. When your child reaches the maximum weight, they may be tall enough to no longer need a booster seat.
Overall Adjustability
This car seat is quite adjustable. Five harness heights and three buckle locations help ensure your infant is comfortable and safe. A front adjustment allows you to loosen or tighten the harness quickly.
In addition to the customizable harness, this seat also features a movable headrest, which you can extend as your child grows taller. You can also attach or remove the cup holder as needed.
What We Don't Like
May Be Heavy for Traveling
There are some great features for traveling — the additional padding and slightly larger size add some serious comfort. But this also adds a few extra pounds to the seat's total weight.
If you choose this car seat, consider a rolling cart for traveling. Alternatively, you could look into a tether system that works with your existing rolling luggage.
The LATCH System Is Difficult to Work With
The LATCH tether's location makes the system difficult to tighten fully. This may result in installation taking longer than anticipated, which can be a frustrating experience. Allow yourself extra time to install to ensure a good, safe fit.
Product Specs
| | |
| --- | --- |
| Weight | 15 pounds |
| Dimensions | 27.25 inches by 18.5 inches by 20.25 inches |
| Child Weight Minimum | 5 pounds |
| Child Weight Maximum | 65 pounds |
| Extra Features | Body pillow insert, LATCH system, removable cup holder, rear-facing and forward-facing. |
Our Ratings
Community Feedback
In my experience, this car seat provided comfort and safety for my child, despite initial concerns about the packaging. The setup process was simple, as I've previously taken apart car seats for cleaning, and the adjustable headrest ensured a snug fit. My 2-year-old, who weighs between 25-30 pounds, fit perfectly in the seat, and it was easy to install in my 2019 Jeep Cherokee. I appreciated the added convenience of a cup holder and the lightweight design, making it easy to carry. However, I did notice some slight issues with the rear-facing position and lack of Velcro attachments for the cushions, but overall, I am satisfied with this car seat's quality and value.
---
BubbleBum Inflatable Travel Booster Seat
Most Compact
Need something extremely portable? This inflatable booster seat can easily fit in a purse or bag. It won't weigh you down, either.
This is a backless booster seat that meets all safety standards. It exceeds US and European safety standards and is safe for use in cars.
Weighing less than a pound, this booster seat can be your child's travel companion. It's made of dual reinforced harness with polyester fiber lining. This is designed for children 4 and up who weigh between 40 and 100 pounds.
What We Like
Fits Virtually Anywhere
This is an excellent option for an on-the-go booster seat. It's incredibly compact, so you can easily stash it in your car as a spare or slip it into a purse.
Extremely Lightweight
This booster seat weighs 0.94 pounds and won't put a damper on your traveling. It's even small and light enough to slip into your child's belongings. This will ensure the booster seat goes wherever your child goes if your traveling group splits up.
Meets All Safety Standards
Having met or exceeded the US and European safety standards, this seat is legal and safe to use in any vehicle. It can also be a great option for when you're taking public transportation, like a taxi or airport shuttle.
What We Don't Like
Hard for Younger Children to Buckle
This one's a little more complicated than some. It's great for tight spaces and traveling, but you'll want to allow more time to fasten everything until you get the hang of it.
Expect that younger children in the recommended age range will need help fastening their belt. You'll also want to double-check their work when they start buckling themselves on their own.
Product Specs
| | |
| --- | --- |
| Weight | 0.94 pounds |
| Dimensions | 11 inches by 4.5 inches by 11 inches |
| Child Weight Minimum | 40 pounds |
| Child Weight Maximum | 100 pounds |
| Extra Features | FMVSS213 & R44/04 certified |
Our Ratings
Community Feedback
When I first tried this booster seat, I was impressed by its lightweight and compact design, making it perfect for travel. Inflating and deflating the seat was quick and easy, and it didn't damage my car's interior. However, I noticed that it sits a bit lower than conventional booster seats and only has lap belt guides, so I would recommend using it with a secondary restraint like the Ride Safer vest system for added safety. While it claims to fit up to 100lbs, it might be a tight fit for older or heavier kids.
---
How to Choose a Travel Car Seat
Here are some further points to consider when shopping for your travel car seat.
Car Seat or Booster Seat?
Maybe you're not sure what kind of travel car seat you need. There are two main types, each with benefits and disadvantages.
Travel Car Seats
Travel car seats are traditional-style car seats suitable for children of all ages. These are generally bulky and may be challenging to maneuver through airports, train stations, and other crowded spaces. They're also likely to be heavy.
However, this style usually features side impact protection through the head and neck area and five-point safety harnesses. If they're certified for use in an airplane, they're also safe to use as an everyday car seat.
Pros
Available for babies of any age.
Comfortable for long trips.
Additional safety features.
Provides familiarity during new experiences.
Cons
Cumbersome to travel with.
Can be expensive.
May need additional equipment for easy travel.
Travel Booster Seats
Travel booster seats are designed for older children. They provide a raised base for your child to sit in to ensure seat belts fit safely and securely. At this time, there are no booster seats approved for use in airplanes (1).
These units require that your child be older and larger and aren't an option for young babies. Frequently just a base, travel booster seats take up much less room than a traditional car seat. You can even find inflatable ones that are easy to pack and carry.
Pros
Convenient for travel.
Lightweight and inflatable options.
Cons
Not appropriate for young children.
Not for use on airplanes.
Questions to Keep in Mind
To help you identify what travel car seat is right for you, you'll want to keep the following in mind:
How old is your child? Your child's age will play a huge role. Very young children need newborn inserts and additional safety features. Older children may be OK using a booster seat instead.
How long will you need it? Do you have a limited window where you're looking to use your travel car seat? If so, shop for what works for you now. However, if you plan on using the same seat for years to come, ensure it'll grow with your child.
How are you traveling? Going by boat, train, plane, or car? Make sure to consult the regulations of the vehicle you're traveling by. If you're traveling to different countries (or even states), you'll want to know those car seat rules as well.
Will it be comfortable for prolonged periods of use? Keeping your child comfortable is key to a successful trip, so always shop with comfort in mind.
---
Thank You For Your Feedback!
Thank You For Your Feedback!