Travel systems are a great investment since most offer a stroller and car seat combo that makes life a lot easier for moms and dads on the go. But when shopping for a quality travel system, we found ourselves quickly overwhelmed by the vast range of differences between systems — and prices.
I even saw some that cost more than my first car!
That's we've taken the time to research, compare, and round up the best travel systems to help you find the right one for your family and your budget. We've rated these based on their ease of use, safety features, accessories, and affordability.
Check out
Image
Model
Product Comparison Table
Features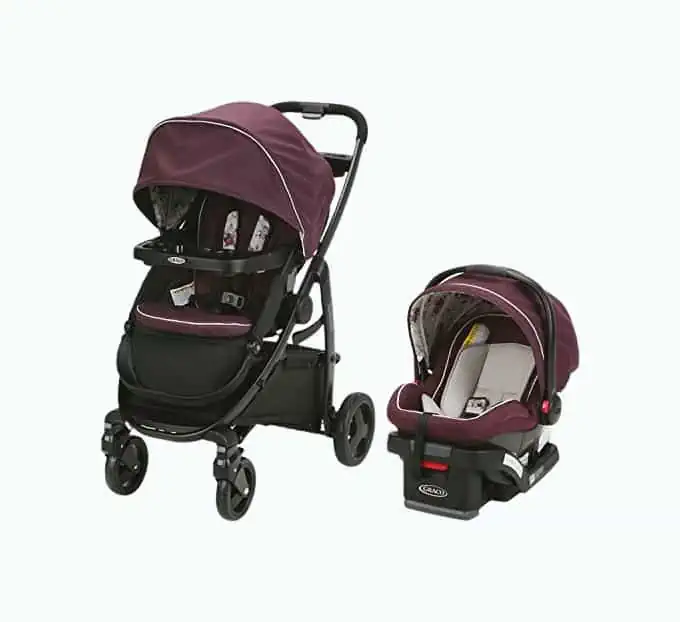 Best Graco System
Graco Modes
Long-lasting
Easy-to-install system
Great customer service
Best Luxury Pick
Peg Perego Booklet
360-degree wheel agility
One-hand fold
Multi-recline seat
Best 3-in-1
UPPAbaby Travel System
Big storage space
Multiple configurations
UPF 50+ canopy
Best for Twins
Baby Trend Sit n' Stand
Easy to maneuver
Quality, durable materials
Large canopy size
Best Lightweight
Safety 1st Riva
Light and sleek
High safety and impact protection
6-in-1 travel system
Best Compact Choice
Doona Infant Car Seat
Versatile and safe
Certified for air travel
One-touch brake
Best for Joggers
Baby Trend Expedition
All-terrain bicycle tires
Adjustable seat back and canopy
Abundant storage space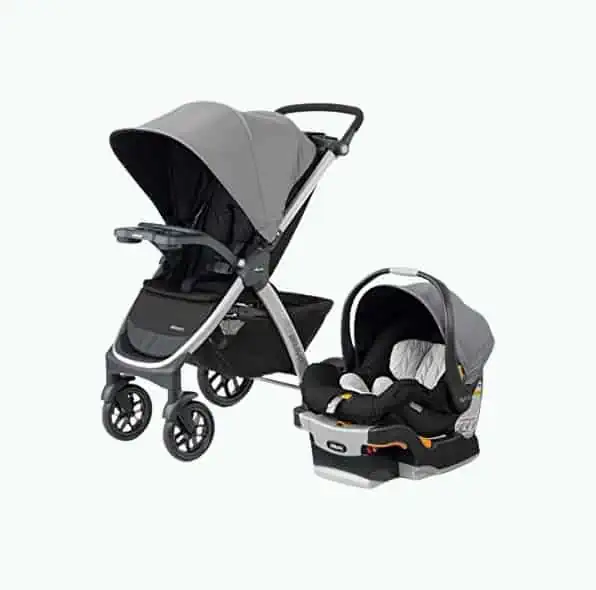 Best Chicco System
Chicco Bravo Trio
Easy and fast to assemble
Excellent safety features
Height adjustable stroller handle
Best Budget Option
Graco NimbleLite
Affordable, light, and compact
Plenty of storage space
Easy-to-install car seat
Review Methodology: At Mom Loves Best, we pride ourselves in providing you with an in-depth analysis and assessment of the best travel systems available in the market. Our hands-on experience, thorough research, and careful evaluation of each product ensures that you can trust our recommendations. We compare and rank travel systems based on key decision-making factors such as safety, ease of use, comfort, and durability. Our team of professionals meticulously examines the design choices, performance, and measurements that set each product apart from its competitors. By sharing our findings, first-hand evidence, and review scores, we aim to help you make an informed decision when choosing the travel system that best suits your needs.
---
---
The Best Travel Systems of [the year]
Here are some of the best travel systems available on the market.
Graco Modes Travel System
Best Graco Travel System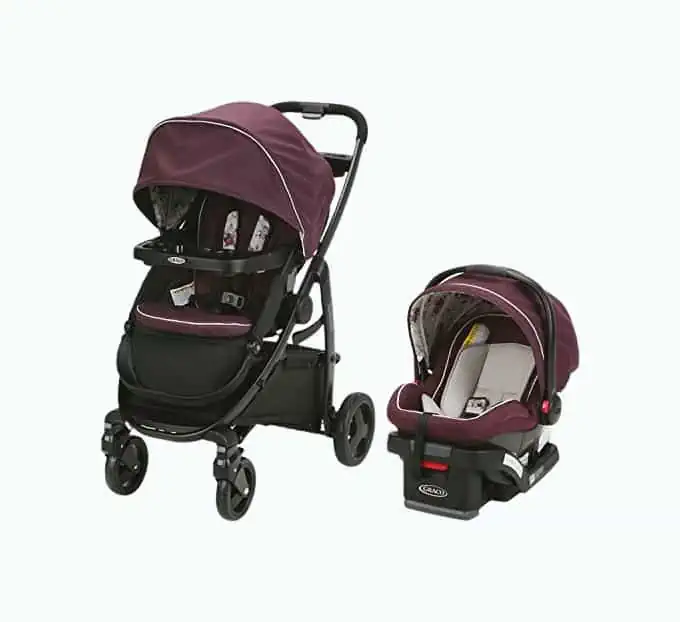 The brand is a globally renowned name in travel systems. The Modes models are wonderful to use, especially with the car seat's front-adjust harness.
The reclining, reversible stroller seat from Graco's Modes is a favorite. We love how easily it snaps together and comes apart and the many different seat options.
The stroller seat also converts into a comfortable bassinet for your baby. This system comes with the Graco Snug Ride Snug Lock 35 infant car seat.
The one downside to the stroller is that it's a bit bulkier when folded, making it awkward to fit in some trunks. But this is still one of Graco's more durable and top-quality travel systems.
Pros
A long-lasting product.
Easy to use.
The car seat and car seat base are easy to install.
The stroller turns into a bassinet; it's versatile enough to recline completely.
Graco's customer service is responsive.
Suitable for newborns to toddlers.
Cons
The stroller is bulky and might not fit into all car trunks.
The stroller wheels aren't the best for use outdoors on rough terrain.
Our Ratings
Community Feedback
In my experience, this travel system has been a fantastic addition to our family routine. Assembling it was a breeze and I appreciate the various ways the infant carrier and toddler seat can be adjusted. The stroller glides effortlessly and offers ample storage space for my diaper bag and other essentials. My only minor complaints are the bulkiness of the stroller and the small parent tray storage, but overall, I am very happy with this purchase and its versatility as my child grows.
---
Peg Perego Booklet Travel System
Best Luxury Travel System
The Peg Perego Booklet is a particularly stellar choice. It's highly adaptable, from traveling in the car to giving your little one some fresh air in the park. It folds up easily in a unique "book-like" folding mechanism.
With sturdy back wheel suspension on the stroller, this travel system is an excellent option for urban dwellers and has an attractive design. It's easy to assemble, and you won't have any trouble maneuvering it.
The storage basket under the stroller is a lot more spacious than most. Best of all, this is one you can trust — it's manufactured in line with the highest safety standards.
Pros
Wheels allow for 360-degree agility, which makes pushing easy.
One-hand fold.
Stylish and sophisticated design.
Multi-recline seat keeps your baby comfortable.
No need for adaptors to replace the car seat with the stroller seat.
UPF 50+ visor will keep your baby protected.
Cons
Sometimes shakes on smooth surfaces.
The spacious car seat might be challenging to fit in small cars.
Our Ratings
Community Feedback
I've been using this stroller and car seat system for a few weeks now and have had a positive experience so far. The stroller is easy to maneuver and has a roomy storage basket, while the car seat clicks into place seamlessly. However, the car seat is quite large, taking up significant space in my trunk and requiring a bit of effort to fit it properly in my SUV.
---
UPPAbaby Infant Baby Stroller & Car Seat Bundle
Best 3-in-1 Travel System
While you may spend more on the UPPAbaby infant bundle, it should last well into your child's toddler years. It can also be adapted to accommodate up to three kids. Chic, high-quality, and comfortable, this is a wonderful pick if you're willing to splurge.
The UPPAbaby infant bundle is a breeze for parents and children, particularly given its easy installation and comfort. Users praise both the car seat and stroller modes. We especially appreciate the back and neck support that ensures your little one stays asleep no matter what you're up to. And the padding is superior throughout the infant seat, so your little one can rest easy in the car.
The large wheels allow for a shake-free experience for your baby, regardless of the terrain they're riding on.
My husband jokingly calls this the "Ferrari" of baby strollers and car seats, as it has every luxury you could want for your baby.
Pros
UPF 50+ canopy.
Big storage space.
Comfy seat with soft padding.
Large wheels for a comfy ride.
Handles both rough and even terrain.
Durable product and reliable company.
Cons
Comes at a higher price point.
The sturdy seat is heavy to carry, and the whole travel unit takes up a lot of space.
Our Ratings
Community Feedback
Great baby carrier set with easy assembly and a sturdy construction. I've used it for both my children, and they fit comfortably in the infant seat, which clicks directly into the stroller frame. This set has so many options and comes with a bassinet, reversible toddler seat, and great safety ratings. Although it lacks a cup holder, the overall convenience and quality make it worth the investment.
---
Baby Trend Sit n' Stand Travel System
Best Travel System for Twins
If you have twins or two babies close in age, the Baby Trend Travel System won't disappoint. The twin stroller frame makes traveling with two young children stylish and practical.
Known to be sturdy, this model from Baby Trend is exceptionally comfortable and safe when you're out and about with your little ones. It's well-built, affordable, and an excellent value for money. Another plus is that the stroller seats will fit both your children until they're about 35 pounds.
Despite its large size, the stroller is easy to set up. On the downside, clicking the car seats in and out of the stroller can be a bit tricky.
Pros
Stylish look.
Easy to maneuver, despite the large size.
Made of quality, durable materials.
The large canopy is suitable for travel in the bright sun or rain.
Cons
Locking and unlocking the car seats from the stroller or car seat bases can be frustrating.
The large-framed stroller may not fit into the trunk of small cars.
Our Ratings
Community Feedback
I recently purchased this double stroller and car seat combo, and while it has its pros and cons, it has overall been helpful for my two young children. The stroller is quite large and can be difficult to maneuver or fit in smaller trunks, but it has been great for my daughter who requires oxygen, as I can fit her medical equipment in one seat. One downside is that the baby bag storage compartment is too small, making it nearly impossible to fit a decent-sized baby bag when both kids are in the stroller. On the positive side, I absolutely love the car seat that comes with the combo. However, the stroller's quality is not the best - I've experienced issues with the wheels and reclining ability. The customer service from BabyTrend has also been disappointing. Despite these drawbacks, the stroller has still been functional for my family, but I would recommend considering other options before making a purchase.
---
Safety 1st Riva 6-in-1 Flex Modular Travel System
Best Lightweight Travel System
For the nomadic family who is always on the go, the Safety 1st Riva travel system is ideal. This one has been on my wishlist for a while now.
It's a worthwhile investment if you're seeking something light to move around with. Not only does the easy-to-fold stroller weigh less than 18 pounds, but it also allows for various forward-facing and parent-facing positions.
Best of all, the stroller is the first of its kind in the USA to be made of recycled materials, so it's an absolute must for environmentally conscious parents. However, it's not all that clear exactly what percentage of the product is recycled.
The canopy is quite large, which will keep your baby protected from the sun. And the build is designed to endure high impacts, enough to keep your little one safe at all times.
The wheels are a bit on the weaker side and are not great on uneven surfaces.
This is definitely one of the more versatile travel systems out there, though, and it's great that it comes with so many seating modes. But the downsides mean that while it's a great buy, it's not the absolute best if you'll be on rough terrain.
Pros
Lightweight design.
Six different forward and parent-facing positions.
Fabrics are machine washable.
High safety and impact protection keep your baby safe.
Adjustable base ensures you get the right fit for your car.
Sleek enough to maneuver through tight spaces.
Stroller conveniently stands on its own when folded.
Cons
The car seat isn't as sturdy when fastened in the base as that of comparable travel systems.
Buckle straps are a little short, which can be uncomfortable.
Wheels don't absorb shock.
Our Ratings
Community Feedback
I recently purchased this travel system with a bassinet and have been extremely happy with my decision. The assembly was simple and took me about 45 minutes, and I found it easy to lock and unlock various parts. The stroller is lightweight, easy to maneuver, and fits perfectly in my house, while the cup holders are sturdy and hold my heavy-duty 24 oz metal cup with no issue. The bassinet recline could be a bit more secure, but overall, this travel system offers great value for the price, and I appreciate the washable fabric and color choices.
---
Doona Infant Car Seat & Stroller
Best Compact Travel System
For the modern mom, the Doona Infant Car Seat and Stroller is more perfect than you can imagine. Exploring your town and the world at large with your little one is a simple affair with this convenient choice.
The Doona infant car seat and stroller is a popular and innovative choice. Maybe you're jet-setting a few times a year or running errands regularly. Or perhaps you're simply managing a hectic lifestyle where you often need to head off to different venues in a short time frame.
Primarily used as a car seat, it converts into a stroller in a few easy steps. No matter how you get around or what the weather is like, alternating between modes takes mere seconds.
The Donna is easy to carry, lightweight, and comfortable for your baby, making it well worth the investment. It can accommodate babies weighing as little as 4 pounds and will continue to until they're 32 inches long.
Pros
Suitable for preemies.
Versatile and safe.
Ideal for urban dwellers, quickly transforming between stroller and car seat mode.
Certified for air travel.
Strong safety features, including a one-touch brake.
Stylish, simple look.
Cons
No storage space on the stroller.
Larger babies may quickly outgrow it.
Our Ratings
Community Feedback
After using the Doona car seat and stroller combo for several months, I found it to be an incredibly convenient and versatile product. This all-in-one solution made everyday tasks like going to restaurants, doctor's appointments, and even traveling on planes much easier with a baby. The compact design easily fits in tight spaces and navigating through crowded areas is a breeze. However, there are a few drawbacks, such as the lack of storage and the fact that it might not be as comfortable for larger babies due to its size. Additionally, it can be quite heavy to carry around, especially for those recovering from a C-section. Despite these minor issues, I still believe the Doona is an excellent investment for new parents looking for convenience and ease of use.
---
Baby Trend Expedition Jogger Travel System
Best Jogger Travel System
At face value, this might seem a tad unrealistic: Get into shape and do cardio while your baby also gets some fresh air. If that seems like an unattainable goal, I'm here to tell you that it's absolutely possible with the Baby Trend Expedition travel system!
Whether running errands or heading for a jog, this model makes the trip pleasant for bou and your baby.
I think it's wonderful that it's built for almost any activity, whether your little one is in the car or coming with you for a long hike.
The tires are similar to bicycle tires, so they're suitable for almost any terrain. The car seat is built to keep your baby safe, and there are stories of babies coming out of serious car accidents unharmed because of this product's great build.
It's easy to assemble this when you first get it — it shouldn't take longer than 30 minutes. Don't be put off by how large the stroller seems: jogging strollers are typically a bit larger than normal ones.
One of our favorite features about this system is that it comes in a wide range of colors, so you can choose the one that best suits your style.
The one thing we didn't love was that the padding could be a little more comfortable — the benefits here are primarily in the stroller mode.
Pros
All-terrain bicycle tires for easy jogging and strolling.
Car seat is suitable until your child is about 30 pounds.
Adjustable seat back and canopy offer optimal comfort and protection.
Abundant storage space, including two cup holders.
Folds compactly for easy storage and transport.
Cons
Stroller is a bit on the large side.
Some users complain that the tires and wheels aren't of the best quality.
Our Ratings
Community Feedback
My experience with this jogging stroller travel system has been mostly positive, although there are a few minor drawbacks. The Optic Teal color choice is appealing and gender-neutral, while the car seat is lightweight and basic with a built-in level for added safety. The stroller itself is rugged and somewhat heavy, but that gives it a durable feel. It also offers convenient features like a spacious basket, parent tray console, and BPA-free child tray. However, the folding mechanism could be better and the car seat may require additional head support for younger infants.
---
Chicco Bravo Trio Travel System
Best Chicco Travel System
The foam-filled wheels on this versatile and stylish stroller are ideal for getting around the city and ensure a safe and smooth ride for your child. The stroller has a very compact fold, making it an excellent choice for parents with a small car or home.
It has auto-swivel wheels and an easy-to-reach, one-hand collapse system, and it's compact and hassle-free — great for day-to-day use. It's also self-standing when folded.
The stroller has a roomy storage basket complete with a cup holder.
Despite being lightweight, the Chicco car seat also keeps your baby safe. Some users claim this travel system is of such high quality and durability that it helped their little one avoid injuries in serious car accidents, and it kept their children safe and comfortable during long trips.
On the downside, the canopy is small and doesn't allow for a lot of shade, especially on the side.

Pros
Smooth to maneuver, even in tight spaces.
Easy and fast to assemble.
Excellent safety features.
The stroller handle is height adjustable.
Cons
The 5-point stroller harness can be awkward to fasten.
The canopy doesn't provide a lot of shade.
Our Ratings
Community Feedback
I'm extremely satisfied with this travel set, as it provides both safety and convenience. The car seat fabric is cushioned and includes shoulder pads, while the harness and headrest adjustments are quick and easy. The stroller is simple to assemble and has rubber wheels for better grip. I appreciate the ample storage space in the basket, as well as the built-in car seat cover.
---
Graco NimbleLite Travel System
Best Affordable Travel System
The Graco NimbleLite is one of the most budget-friendly travel systems on the market. What's more, it's quick and easy to fold and compact to store. If you can't splash out but still want to opt for a good, sturdy pick, this one might be for you.
It's described by many users as a smooth experience, given how simple and lightweight the stroller is. Commuting, traveling, and going out and about with your baby seems much less daunting with this great choice.
The stroller has abundant storage, a parent tray, a cup holder, and an underseat basket. I have friends who use this system, and most of them love it. However, some complain that the car seat straps come loose quickly and are difficult to adjust.
Despite this, I still think this is one of the best value travel systems out there, particularly since it's offered by a trusted brand.
Pros
Affordable system.
Light and compact.
Stroller has plenty of storage space, including an under-seat basket.
Made of quality, durable materials.
Cons
Stroller assembly is not straightforward.
Not easy to connect the LATCH system.
Our Ratings
Community Feedback
This stroller has been a fantastic addition to our family, especially during our international trip. Its compact folding feature and lightweight design made it easy to transport and carry around as we explored various terrains. Despite initial concerns about the smaller wheels, the stroller proved to be durable and handled cobblestone streets and other challenging surfaces with ease. The adjustable backrest and click connect compatibility added to its functionality and convenience. Although it lacks a peekaboo window and a bar connecting the back wheels, the overall performance and value of this stroller outweigh these minor drawbacks.
What Is a Travel System?
Some of the most necessary purchases for new parents are a bassinet, a car seat, and a stroller. A travel system allows you to buy all three in one go, which saves you time and money compared to selecting separate products.
While travel systems might seem expensive, they can save you a lot more than if you had bought everything separately. Also, you'll know that all three are compatible products from the same brand.
So when your baby falls asleep in the car seat, there's no need to wake them when you arrive at your destination. You can click the car seat into the stroller, and you're ready to go!
Required adaptors come as part of the pre-packaged bundle, but you can also make your own travel system if you already have a car seat or stroller.
Some products from different brands are compatible with each other. Alternatively, you can buy adaptors to make them fit. So there's no need to worry about buying a new system from scratch if you don't need to.
We strongly feel that owning a travel system is essential for every new family. But before you settle on one, there are some important factors to consider.
Your child's age: Some car seats are best for newborns up to 6 months, while others are better for older babies and toddlers.
Terrain: Will you be using your system on concrete sidewalks, in shopping centers with narrow aisles, at the beach, or on rough country terrain?
Purpose: Some systems are compatible with flights for travel. Others are designed for comfortable road trips in your vehicle. Still others are best for outdoor use or jogging.
Wherever life is taking you, picking a suitable travel system ensures your baby can experience it all with more convenience to you.
Different Types of Travel Systems
There aren't exactly clear-cut categories of travel systems, but the best ones can usually fit into one of the following:
Jogging Strollers
For athletic parents who don't want to compromise staying in shape, jogging strollers are a great solution. They keep your baby safe and make scheduling that routine run easy, and your child gets to enjoy some fresh air while you're at it.
Compact Travel Systems
Great for travel and storage, these travel systems are not particularly heavy, and they make a great fit for parents who take trips often or own a small car.
Premium Travel Systems
Premium options have it all: a sleek, stylish look, optimum comfort for your baby, and all your needs in one pack. The only downside is the price tag!
How to Choose a Travel System
Here are a few key features we look for when comparing travel systems:
---
Benefits of Travel Systems
There are many advantages to purchasing a travel system:
You'll get a compatible car seat and stroller, so you know both are well-suited. Usually, there'll be a stay-in-car base that makes it easy to place the car seat in the car safely and in just a few seconds.
Many travel systems have extra features, such as cup holders, storage space, reclining seats, and even one-hand folding.
The travel system often grows with your child. If your model includes a bassinet, you can use that in place of a stroller seat when the baby is younger than 6 months. The car seat and stroller seat often last until children are much older, depending on the brand and model.
You may be able to alternate the car seat with one from a different brand than the rest of the stroller system if your baby outgrows it. Popular models are often compatible, but you'll need to check with the manufacturer before purchasing.
Although there are plenty of brands offering travel systems, most come with these basic benefits. Depending on your priorities, be it budget or user-friendliness, there's a great choice out there for you.
Stroller Wheels and Car Seat Safety
Travel system manufacturers usually mention how the stroller wheels and car seat help protect your baby.
Make sure to check, as different brands offer different safety levels. Plus, the build could affect whether your baby feels road bumps or uneven terrain. The best travel system is the one that provides optimum convenience and disrupts your baby's rest as little as possible.
Some travel systems have wheels with a 360-degree rotation feature, allowing optimum flexibility no matter where you're going. It makes a big difference when pushing!
FAQs
---
Thank You For Your Feedback!
Thank You For Your Feedback!