A jogging stroller is a fantastic and fun way to get you and your little one back in the game. But although most jogging strollers look alike, there can be a world of differences between models. And we've learned the hard way that a high price tag doesn't ensure a stroller is right for you.
We've tested various models and compared the features of many more, listening to input from hundreds of parents like you to find the very best jogging strollers to meet all your needs.
We'll share our tips for choosing the perfect fit. We'll also share reviews of our top picks for each situation. Let's get moving!
Image
Model
Product Comparison Table
Features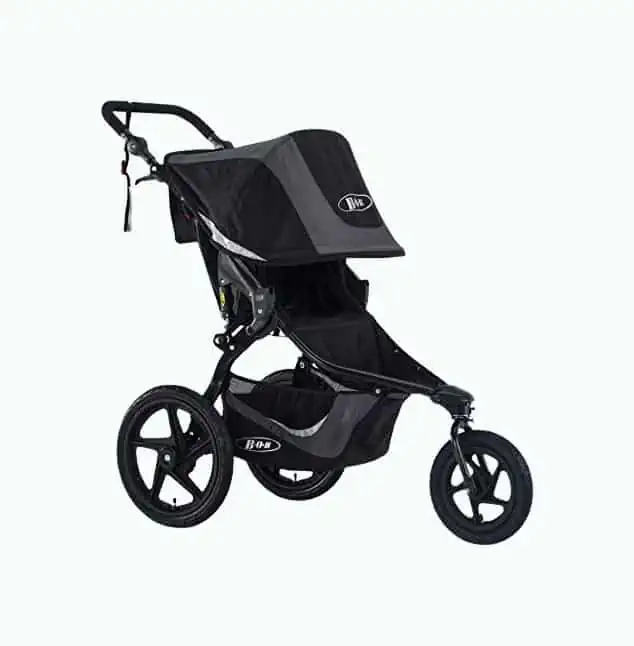 Best for Extended Use
BOB Revolution Flex 3.0
Compatible with various car seats
Great safety features
High weight limit
Best for Big Kids
Joovy Zoom Lightweight
Maximum maneuverability
Great undercarriage space
Plenty of legroom
Best Enclosed Option
Thule Chariot Cross Sport
Incredible versatility
Highly adjustable
Designed for comfort
Compact Fold
Thule Urban Glide 2
Compact fold
Suitable for city life
Adjustable handlebars
Jogging Double Option
Summit X3 Double
One-hand fold
Great storage
Separate seats
Double Budget
Baby Trend Expedition Double
Friendly for daily use
Plenty of ventilation
Affordable price point
Best Budget Buy
Baby Trend Range
Durable tires
Easy-to-use trigger fold
Convenient add-ons
Best Convertible
Jeep Hydro Sport Plus Jogger
Safety features
Oversized UPF50+ canopy
Included organizer
Jogging Travel System
Chicco TRE
Adjustable suspension system
Compatible as a travel system
Great braking system
Review Methodology: At Mom Loves Best, we understand the importance of finding the perfect jogging stroller for active parents. Our thorough analysis and hands-on experience allow us to evaluate jogging strollers from a user's perspective, comparing key decision-making factors like safety, comfort, maneuverability, and durability. Our team of professionals rank and review each stroller based on performance, design choices, and first-hand evidence. We measure and track quantitative data to provide you with reliable results that showcase what sets the top jogging strollers apart from their competitors. Trust our assessment to guide you in choosing the best jogging stroller for your family's needs.
---
---
The Best Jogging Stroller of 2023
Here are the best jogging strollers we found. We rated these strollers based on their suspension system, maneuverability, weight capacity, and storage options.
BOB Revolution Flex 3.0 Jogging Stroller
Best Jogging Stroller for Extended Use
Looking for a jogging stroller you can use with your newborn? This model is compatible with a wide variety of car seats when using an adapter. You won't be running with your little one right away, but this is a wonderful option to get you out and walking.
You can use this stroller long after you've retired the adapter. It's suitable for children who weigh up to 75 pounds and are a maximum of 44 inches tall.
The stroller features a suspension system similar to that on a mountain bike. It provides comfort for your little one, whatever their age.
It has three wheels, with larger tires in the back. The front tire is capable of locking for extra stability during use. The rubber, air-filled tires are durable and wide.
Designed for frequent use, this model offers undercarriage storage but doesn't come with a lap bar or a parent tray. However, several pockets provide additional storage, and you can purchase a compatible caddy separately.
What We Like
Compatible With a Variety of Car Seats
This jogger is used with approved infant car seats if you purchase a suitable adaptor. Your car seat's safety recommendations will dictate how old your child should be and how much they need to weigh. Compatible brands include Britax and Chicco, but a full list is provided by BOB (1).
Adjustable Handlebar
The handlebar offers nine preset positions to create the perfect fit. Change the height as needed when different users are pushing the stroller.
You'll also be able to change it depending on the needs of your activity. Avid runners will appreciate a higher handle, while those walking may prefer a lower option.
Great Safety Features
We love the no-rethread five-point harness that ensures your child stays securely fastened. Included is a wrist strap you can wear while pushing the stroller, preventing accidents and keeping your stroller close.
An oversized UPF50+ sunshade keeps your little one protected. However, you'll need to keep your child's legs covered or break out the sunscreen, as the shade doesn't cover their legs.
Reflective strips through the canopy provide appropriate visibility during evening or early-morning activities. If you plan on spending a lot of time outdoors in low light, you may want to consider the Lunar Black model. It's ultra-reflective for safer use.
High Weight Limit
You'll be using this stroller for a long time, which will leave you feeling better about your investment. It's suitable for children who weigh up to 75 pounds and are, at most, 44 inches tall.
What We Don't Like
Recline Carefully
This model features wonderful recline options for your little one. In fact, it can recline until it's nearly flat. However, a warning on the stroller suggests avoiding extreme recline positions as the unit may tip.
Handle it carefully, and never leave your child unattended in a stroller.
Product Specs
| | |
| --- | --- |
| Product Weight | 28.5 pounds |
| Minimum Child Weight | N/A |
| Maximum Child Weight | 75 pounds |
| Color | Glacier blue, graphite black, lunar black, Sedona orange |
| Additional Features | Compatible with infant car seat adapter, UPF 50+ canopy |
Our Ratings
Community Feedback
My experience with this double jogging stroller has been overwhelmingly positive, with its excellent maneuverability and smooth suspension providing a comfortable ride for both my children. I appreciate the independently reclining seats, adjustable handlebar, and ample storage space, although I do wish the handrail was not foam and there was a hand brake for added convenience. Despite some minor squeaking and the need to separately purchase additional accessories, this stroller has proven to be a practical and enjoyable option for my active family.
---
Joovy Zoom Lightweight Jogging Stroller
Best Jogging Stroller For Big Kids
A good option for runners, this version features a swiveling front wheel that locks in place when needed. The rear tires are larger than the front tire, and the stroller is equipped with performance shocks for use on all terrain.
This stroller is great for day-to-day errands too. Undercarriage storage provides space for a diaper bag, shopping bags, jackets, and other belongings. Weighing only 27.34 pounds, you can transport this jogging stroller anywhere without any hassle.
What We Like
Maximum Maneuverability
With its durable material composition, this stroller is definitely lightweight without compromising its purpose of securing your little one. The front wheel is capable of a 360-degree swivel and provides a smooth and stable base for walking or jogging. The wheels are durable and sturdy enough to use on any terrain.
Performance-quality shocks are in place to absorb impact and ensure a comfortable ride.
Great Undercarriage Space
An easy-access basket and in-seat mesh pockets provide a generous amount of storage to accommodate your needs as well as your child's needs during your walks. Whether you need it for drinks, car keys, or your cell phone, this tray holds your items within easy reach.
High Leg Room
This jogger offers plenty of legroom since it was designed to accommodate children weighing up to 75 pounds. Older kids will feel comfortable using this stroller as it sits almost upright.
What We Don't Like
Snack Tray
While it has quite a large room for storage underneath, it lacks a snack tray for your little tot, which is something to consider when choosing this product.

Product Specs
| | |
| --- | --- |
| Product Weight | 27.34 pounds |
| Minimum Child Weight | 15 pounds |
| Maximum Child Weight | 75 pounds |
| Color | Slate and jet |
| Additional Features | Undercarriage storage, tire pump, large cup holders |
Our Ratings
Community Feedback
From the moment I unboxed this lightweight stroller, I noticed its top-notch quality materials and excellent finish. The assembly was straightforward, and the performance is outstanding with smooth rides and little rolling resistance. The stroller's baby comfort features, such as the sun canopy and wind/bug screen, are a nice touch, and the storage options strike a good balance between weight and functionality. This jogging stroller truly rivals more expensive brands, offering great value for the price.
---
Thule Chariot Cross Sport Stroller
Best Enclosed Jogging Stroller
For the serious athlete, this enclosed trailer-style unit is a good option. It's suitable for use while jogging, biking, walking, or skiing. With purchase, you receive both the bicycle trailer kit and the strolling kit to set up your stroller.
The two rear wheels are oversized, while the two smaller front wheels are removed when using the stroller as a bicycle trailer. You can purchase an additional large wheel separately to use on the front for longer or faster runs.
All the wheels can be removed and replaced with the Chariot Ski Kit if you plan to use this on the slopes. The Thule Click 'n' Store system allows easy onboard storage for the jog, stroll, and bike kits when not in use. Unfortunately, the ski accessories won't fit.
Although this is a larger stroller, it offers a compact fold that makes transportation less cumbersome. A cargo area on the back provides plenty of room for your items while you're on the go. It can also be removed for activities where you need the extra stride space.
What We Like
Incredible Versatility
We love how useful this stroller can be. If you're an active family that gets out and does things, this stroller lets you include your little one on your adventures.
The two smaller front wheels are suitable for walks and light runs. More serious runners may want to invest in the larger front wheel for additional maneuverability and shock absorption.
A Thule Chariot Cross Sport Stroller option is available for two children. Our featured model is for a single passenger.
Easy to Use
Thule's VersaWing system makes it simple to switch between activities. Conversion from one setup to the next takes little time. Built-in storage keeps everything where it belongs and within reach.
Adjustability
A reclining seat creates the perfect ride for your little one and is adjusted with one hand. The handlebar can also be modified to suit the user and the activity. Suspension on the wheels is customized to suit the terrain you're working with as well.
Designed for Comfort
You can remove the padding in the seating area as needed for cleaning. There's also padding through the shoulder straps and the five-point harness.
The adjustable recline is just right for naps on the go.
What We Don't Like
Doesn't Have Sufficient Airflow
The side windows don't offer ventilation. This can make for hot and sticky rides during warm weather, which may lead to unhappy passengers.
Have a plan in place to combat the heat. We find it helpful to keep cool beverages on hand and use a stroller fan.
Product Specs
| | |
| --- | --- |
| Product Weight | 28 pounds |
| Minimum Child Weight | N/A |
| Maximum Child Weight | 75 pounds |
| Color | Alaska, majolica blue |
| Additional Features | Activity kits, adjustable suspension, cargo space, Thule infant sling-compatible |
Our Ratings
Community Feedback
After using this Thule stroller and bike trailer for a while, I have mixed feelings about it. On one hand, it has a cool design, sturdy frame, and great suspension, making it a versatile and comfortable option for my kids. However, the front wheels can get stuck easily and the folding process is slow and requires two hands, which can be inconvenient. Additionally, the thin plastic windows and rain cover could be of higher quality for the price.
---
Thule Urban Glide 2 Jogging Stroller
Best Compact Fold Jogging Stroller
Navigating an urban environment with a jogging stroller is tricky. You may also be faced with limited storage options. This model tackles those issues with a streamlined, narrow stroller that folds down to take up little space.
With a wrist strap and an integrated hand brake, this stroller is designed for easy and safe use, even on crowded streets. The seat reclines and is equipped with ventilation to cool down your little one during rides.
The handlebar is adjustable to accommodate users of different heights. A suspension system works to provide a more pleasant experience, both for the pusher and the passenger.
Undercarriage storage is ample and comes with a zipper to ensure items aren't lost and stay protected from the weather. A canopy is included to shield your child from the elements.
What We Like
Compact Fold
Due to their sturdy frames, many jogging strollers fold in half and still take up quite a bit of room in storage. This model folds down compactly into a square shape that measures just over 13 inches tall and 34 inches deep.
It's a safe choice for small trunks and when storage space is limited. The fold is easy to activate and requires the use of just one hand.
Suitable for City Life
Have a city walk-up? This stroller weighs approximately 25 pounds. Between its compact fold and lower weight, it's ideal for city living.
The locking mechanism makes moving and storing the stroller easy and safem.
Adjustable Handlebars
The handlebars are adjustable from 33.5 to 44 inches, which is fantastic for couples who differ in height.
Available Accessories
This Thule model comes with plenty of extras, but you can also purchase additional accessories designed for this stroller. A car seat adapter allows you to take your infant along, or you can invest in a footmuff, snack tray, bumper bar, or organizer.
What We Don't Like
It's Long
This model steers well and doesn't have a wide footprint. It's 47 inches long — longer than many other models. This can make navigating tight turns or spaces, like elevators, more challenging.
Product Specs
| | |
| --- | --- |
| Product Weight | 25.3 pounds |
| Minimum Child Weight | N/A |
| Maximum Child Weight | 75 pounds |
| Color | Black, dark shadow, Mars, Thule blue |
| Additional Features | Zippered undercarriage storage, hand brake, compact fold |
Our Ratings
Community Feedback
I'm really impressed with this double stroller so far. It's sleek and lightweight, making it easy to push and maneuver on various terrains. The three-piece buckle and adjustable handlebar are great features, giving me full control while using it. However, the shades don't provide as much coverage as I'd like, so I'll need to be extra careful with sunscreen in sunny weather. The seat doesn't allow the child to sit completely upright, but it's still comfortable and spacious.
---
Baby Jogger Summit X3 Double Jogging Stroller
Best Double Jogging Stroller
This double jogging stroller offers two separate canopies and can support up to 100 pounds. The canopies have UV 50+ protection andfeature side ventilation for better air exchange. Two peekaboo windows are integrated through the top of the adjustable canopies.
All-wheel suspension is a welcome feature, along with a foot pedal brake and a handbrake for easy braking.
A long tether gives you options for keeping the stroller close to you even if you trip or fall.
You'll love how easy it is to maneuver, and your little ones will enjoy the smooth ride and comfortable seating. Both seats recline individually to customize your children's ride.
What We Like
One-Hand Fold
It's easy to collapse this jogging stroller into a compact fold with just one hand. Once folded, it's quite small (34.25 inches by 32.5 inches by 15.35 inches) and suitable for a trunk, despite the size of the open stroller.
No Foam Through the Handlebar
This jogging stroller doesn't have foam through the handlebar, making it a good choice for serious runners. While foam coverings can increase comfort during light use, they can also become slippery during more vigorous activity.
Great Storage
There's no skimping on storage here. Undercarriage baskets have the room you need for essential belongings. With two kids on board, this can make your time out with the stroller easier and more enjoyable.
Separate Seats
The two seats in this model have individual frames to support each child. Twin strollers that don't have this feature may tip in toward each other.
With the separate seat frames, your children will remain fully supported and comfortable in their seats.
What We Don't Like
It's a Heavier Stroller
At nearly 40 pounds, this twin jogger is heavier than most. It's easy to fold and navigate, but you may want to consider another model if you feel lifting this one will be difficult.
Product Specs
| | |
| --- | --- |
| Product Weight | 37 pounds |
| Minimum Child Weight | 15 pounds |
| Maximum Child Weight | 100 pounds (combined) |
| Color | Black/grey, green/grey |
| Additional Features | UV 50+ canopies, accessory-compatible, hand and foot brakes |
Our Ratings
Community Feedback
Best jogging stroller I've purchased, the Summit x3 Double offers superior canopy coverage, a one-step folding mechanism, and a comfortable, deep seat for my kids. The rubber handlebar and hand brake provide added convenience, while the sizable storage basket easily holds my essentials. However, the foot brake could be smoother, and the weight of the stroller makes it challenging to lift into a trunk. Despite these drawbacks, the smooth ride and high-quality build make this stroller an excellent choice for active families.
---
Baby Trend Expedition Double Jogger Stroller
Budget-Friendly Double Jogger
A good jogging stroller doesn't have to come at a high price. This option from Baby Trend has features that make it suitable for exercise and everyday use.
The included parent tray has two molded cup holders and an enclosed storage spot that keeps keys and phones in place. In terms of storage, the space beneath the stroller leaves plenty of room for diaper bags and snacks.
An adjustable ratchet-style canopy is perfect to suit your needs. Within this, the peekaboo panel allows for air circulation or for you to check on your kids.
The seats recline individually, and a triangular-shaped footrest is shared between the riders. Five-point safety harnesses keep your little ones safe and can be fitted as needed.
This unit has a foot pedal brake, and the front wheel is locked for stability while jogging.
What We Like
Compact Storage
Folding is easy using the two trigger pulls on either side of the stroller. A latch manually secures it in place to prevent the unit from unfolding.
If needed, the large rear tires offer a quick release and take just moments to remove. This is a great feature for smaller cars and long-term storage. Easy-to-remove tires also mean they're easy to replace should they become bent or have a leak.
Friendly for Daily Use
Useful add-ons make this a stroller you can enjoy outside of running. The parent tray has two molded cup holders, and a latching storage spot lets you safely store other important items.
We love the oversized undercarriage storage. It's a single large basket that has plenty of room for all the items you'll need while on the go.
Plenty of Ventilation
We love the way the top of the stroller's seat is ventilated. When reclined, mesh through the top allows a breeze to pass over your little one. The peekaboo panel rolls up to reveal additional ventilation on the top of the sunshade.
Affordable Price Point
Specialty strollers can get expensive, especially when you're looking for double models. We love that this one makes jogging strollers accessible to everyone without sacrificing safety and comfort. With many of the same features as more expensive versions, this one gives you great value for your money.
What We Don't Like
Not for Use With Car Seats
You can't use this jogging stroller with infant car seats. It's recommended for children aged 6 months and up who are fastened directly into the stroller.
Product Specs
| | |
| --- | --- |
| Product Weight | 34 pounds |
| Minimum Child Weight | 22 pounds |
| Maximum Child Weight | 50 pounds (per child) |
| Color | Carbon, centennial, millennium |
| Additional Features | Parent tray, foot pedal brake, locking front wheel, suspension system |
Our Ratings
Community Feedback
Love this double stroller for its durability and functionality. I've used it for all five of my children, in various terrains and weather conditions, and it's still going strong. The individual reclining seats with straps make it comfortable for my kids, while the strong brakes give me peace of mind. The storage space is generous, and the parent cup holders and center console add a touch of luxury. My only minor issue is needing to pump up the tires occasionally, but overall, I'm thrilled with this purchase.
---
Baby Trend Range Jogging Stroller
Best Budget Jogging Stroller
Want to get out on the road without spending much money? This budget-friendly model is worth considering.
Ready to accommodate daily needs, this stroller has an array of bonus features. Undercarriage storage, a snack tray, and two built-in cup holders keep items where they need to be. The seat is adjustable to suit your little one's needs.
An adjustable canopy provides significant coverage with a peekaboo window for checking in on your babe.
This model takes an infant car seat as well. Compatible car seats from Baby Trend lock into place on the tray and allow for use as a travel system.
What We Like
Convenient Add-Ons
We love how user-friendly this model is. The undercarriage storage is the perfect place to stash a diaper bag or a sweater when you've warmed up. Two cup holders on the handlebar keep your drinks close to help you stay hydrated.
Durable Tires
Mountain-bike-style wheels are necessary for off-roading. The composite, all-terrain wheels on this model are lightweight and easy to maneuver. When needed, the front wheel locks in place to prevent swiveling and create extra stability during exercise.
Easy-to-Use Trigger Fold
The trigger fold is easy to operate and doesn't require excessive force. The stroller's locking mechanism is released by activating both triggers at once — one with each hand. From there, it collapses easily and is ready for a car trunk or storage.
Without using the triggers simultaneously, there's no way to fold this unit, which prevents folding during regular use.
Thoughtful Safety Features
We appreciate how much thought has gone into making this unit safe. A five-point safety harness is included, and there's little risk of the stroller tipping over. If you lose your grip on the handle, an included tether keeps your stroller safely with you.
The locking front wheel is a good feature for more active use. Foot-pedal brakes in the back stop your stroller from moving unexpectedly during stops.
This model also includes reflective tape through the footrest to increase visibility during low-light conditions.
What We Don't Like
Padding Is Sparse
The material is easy to care for and designed for exposure to the elements. It's fast-drying, but the trade-off is that there's little additional cushioning for your passenger.
Product Specs
| | |
| --- | --- |
| Product Weight | 27.5 pounds |
| Minimum Child Weight | 5 pounds |
| Maximum Child Weight | 50 pounds |
| Color | Bubble gum, millenium, phantom |
| Additional Features | Snack tray, parent cup holders, reflectors, storage, canopy |
Our Ratings
Community Feedback
I've been using this stroller for quite a while now, and it's perfect for handling rough surfaces on country roads. The tires ride smoothly, and the removable tray makes it easy to get the baby in and out. However, it doesn't lay as flat as I thought and takes up a lot of trunk space. On the bright side, the adjustable cover is great for keeping the sun out of the baby's eyes, and the ample storage is a fantastic feature.
---
Jeep Hydro Sport Plus Jogger
Best Convertible Jogging Stroller
A versatile jogging stroller, this unit is used in multiple ways. It's compatible with certain infant car seats in a travel system mode. It also offers a carriage style for parent-facing and a traditional ride for older children.
Quick-release back tires create a compact fold that makes it great for small cars with limited cargo space. An automatic latch keeps the unit folded securely and prevents it from unlocking during transportation.
Undercarriage storage offers enough room to store your items. Unfortunately, the stroller's frame makes this space challenging to access. It might not be a good option for items you need to access frequently or quickly.
This stroller is designed for children who weigh up to 50 pounds.
The oversized neoprene canopy is water resistant and has a UPF50+ sun visor that will help to protect your child's skin from harmful solar exposure.
What We Like
Safety Features
We love the addition of reflective piping throughout the stroller to increase your visibility during low-light conditions. This unit includes a touch cable lock brake system and meets all ASTM and stroller-related CPSC standards. It's also JPMA-certified.
UPF50+ Canopy
With a peekaboo window in the canopy, you maintain a view of your little one even while they're shaded. The pop-out sun visor fabric features UPF50+ protection to prevent sunburn while you're out and about.
Adjustability
An adjustable handlebar lets you get the right setting for individual pushers. The customized footrest and reclining seat increase your child's comfort during trips. The convertible seat options allow you to choose just the right configuration for you and your little one.
Included Organizer
This model includes a large basket and fabric parent organizer with two cup holders and phone storage, providing space for all your essentials.
What We Don't Like
Handle Is Made With Thin Foam
The leather handle gets scratched every time you put the stroller on the ground to open or close it.
The storage underneath is also minimal. Your baby's bag probably won't fit underneath.

Product Specs
| | |
| --- | --- |
| Product Weight | 18.5 pounds |
| Minimum Child Weight | 8 pounds |
| Maximum Child Weight | 50 pounds |
| Color | Black |
| Additional Features | Adjustable handlebar, compact fold, convertible seat |
Our Ratings
Community Feedback
Great stroller with a smooth ride and adjustable handle, perfect for tall people like myself. This stroller handles rough terrain like grass fields and gravel driveways with ease, thanks to its large, pneumatic tires. However, it doesn't fold up very flat, making it somewhat difficult to fit into smaller car trunks. The sunshade is nice and provides good coverage, but I wish it were larger.
---
Chicco TRE Jogging Stroller
Best Travel System Jogging Stroller
Looking for a jogging stroller that can function as a travel system for your newborn? This unit from Chicco is designed to work with the KeyFit30 car seat. It snaps securely and quickly into place without the use of an adapter. Older children can enjoy this model without the car seat.
The outer material is durable, water-resistant, and easy to care for. Wipe it clean with soap and water as needed. The adjustable canopy also features tinted mesh windows to provide plenty of ventilation during rides.
Pneumatic, air-filled tires offer a smooth, even trip on a variety of terrain. They feature a customized suspension system to suit the activity and the surface you're riding on.
After use, the one-handed folding operation makes putting your stroller away quick and simple.
What We Like
Convenient Folding Options
When putting the stroller away, you can choose between three different folds to better suit your needs and space.
A self-standing fold is great for short-term storage when you're on the go and between uses. The flat-fold option works well for trunk rides, and the compact fold is ideal for longer storage periods.
Adjustable Suspension System
A suspension system helps give you a smooth ride regardless of the surface and terrain. Customize the ride depending on where you're using your stroller and whether you're walking or running.
Compatible as a Travel System
This model can be used with the Chicco KeyFit 30 car seat by removing the child seat portion. This creates a frame the car seat can latch securely into.
When using the travel system, your child will face you in the stroller. It's safe to use this way until your child outgrows the car seat and can sit in the stroller without it.
Great Braking System
We love that this jogging stroller offers easy-to-operate locks and braking mechanisms. A switch near the handlebars allows you to lock the front wheel in place during runs when swiveling may be dangerous. A deceleration-assisting handbrake is also located up top to give you better control over your speed during runs.
There's an integrated locking mechanism located through the handbrake for stroller parking. This gives you safety and control during stops without having a foot pedal get in your way during activities.
What We Don't Like
Not for Daily Use
Although this unit does have a lap bar, it doesn't work with a snack tray attachment, which is inconvenient during errands.
The undercarriage storage is on the small side. It won't support most diaper bags, and it may be difficult to stash shopping bags while at the mall.
Product Specs
| | |
| --- | --- |
| Product Weight | 28.5 pounds |
| Minimum Child Weight | 5 pounds |
| Maximum Child Weight | 55 pounds |
| Color | Titan |
| Additional Features | Handbrake, snack tray, infant seat-compatible, adjustable suspension |
Our Ratings
Community Feedback
I recently purchased this stroller and have been extremely impressed with its performance and features. The smooth ride it provides on both sidewalks and rugged terrain is perfect for not disturbing my sleeping baby. Assembling the stroller was a breeze, and I appreciate the bike-like tires that make a significant difference in its handling. One drawback is the size when folded, as it takes up a considerable amount of space in my trunk. Additionally, the tires can be cumbersome when navigating through tight spaces like store aisles.
---
How to Choose a Jogging Stroller
Word Of Caution
You should never jog with infants. Before running with your child in tow, they should have full control of their head and neck to prevent injury. Always check with your pediatrician, but many manufacturers recommend waiting until your child is 6 months old
(2)
.
To ensure you bring home the best-suited jogging stroller, keep the following in mind:
What's Special About a Jogging Stroller?
Jogging strollers are designed for athletic ventures. They sport air-filled rubber tires for this reason.
The wheels are oversized — the back ones are larger than those in the front. They allow the unit to move easily over various terrains and do a good job of absorbing shock. The result is a more comfortable ride.
Many available models have three wheels, with two in the back and one in the front. This wheel setup makes the stroller easy to navigate and responsive, which is a big asset when you're running. Frames for jogging strollers are typically larger, heavier, and more cumbersome than their counterparts.
Running Speed
Don't be fooled into thinking you'll have to just jog slowly when using jogging strollers. Many dedicated runners, myself included, have been passed on race days by a super fit mom or dad pushing their baby in one of these things. So if you're doubtful about how fast you can go — the answer is that you can motor along quickly.
Although they aren't always heavily padded, many options include a recline feature. This means your little one gets the rest they need — even when you're on the go.
Many jogging models have substantial canopies to protect your child from the sun or inclement weather conditions.
Jogging strollers are tall, and special attention has been paid to making the handles usable and comfortable. The extra height and comfort mean your body maintains a better running form.
Accessories, like undercarriage storage, trays, and cup holders, are common with these models.
Types of Jogging Strollers
Curious about the different types of jogging strollers? We've laid out the main differences and similarities between the two primary categories:
Traditional Jogging Stroller
A traditional model has a seat facing the same direction as the person pushing the stroller. It has a five-point safety harness to hold your child safely and securely in place during your run. Most feature a lap bar or snack tray as extras, which are handy features.
Many of these models have three wheels, but some come with four. You may want a stroller with a foot brake for safety and a peekaboo style canopy, which allows you to see your child with ease.
These are available in single or tandem styles.
Pros
Easy to steer.
Suitable as an everyday stroller.
Compact models available.
Cons
Storage isn't guaranteed.
The majority aren't lightweight.
Enclosed Jogging Stroller
This type of jogging stroller is also referred to as a trailer. They're usually suitable for more than one child, and the enclosed space helps protect them from bugs and bad weather.
Hard or soft-sided cabins are the main feature of these strollers. Hard-sided units are more difficult to travel with and take up a significant amount of room. Both are excellent choices for storage.
Keep an eye out for versions that are compatible with other forms of travel, like bicycles.
They sit low to the ground and have a full pushing bar instead of individual handles.
Pros
An all-weather option.
Multi-functional.
Lots of storage.
Cons
Expensive.
Not for use as an everyday stroller.
---
Jogging Stroller FAQs
Tips for Using Your Jogging Stroller
Get the most out of your jogger with the following tips:
1.

Dedicated Paths Are Best

Avoid busy roads and sidewalks when exercising with a stroller. Otherwise, it can put you in a dangerous position, especially on winding roads. This is particularly true during hours when there's low lighting.
2.

Choose Your Time of Day Wisely

If it's a cooler season, schedule your activity during the warmest part of the day. During the hotter months, the opposite is true. Don't forget to factor in your child's naps and appropriate skin care needs.
3.

Stay Hydrated

You're working hard and should always have a water bottle handy when exercising with your baby. Although they are just along for the ride, ensure your child also has water to prevent any overheating.
4.

Start Slowly

You have plenty of time to get fit. Always ensure you have your medical team's permission to begin exercising. Check in with your pediatrician to ask if it's safe for your baby to accompany you.
5.

Check Your Equipment Often

Ensure your child's harness and the tires are in working order before every ride. It's better to know if there's a problem ahead of time instead of getting stuck during your outing.
6.

Let Someone Know Where You're Going

Hitting the trails with your little one is exciting. To stay safe, let someone know where you're headed. Consider a location app to keep your family posted as to your whereabouts.
---
Thank You For Your Feedback!
Thank You For Your Feedback!