Your baby is going to need a ton of stuff after he's born. Every time you leave the house it will feel like a major undertaking with all the things you'll need to take.
Before long, your diaper bag will be an invaluable lifeline to your sanity. You'll have all the essentials your baby will need in there.
But choosing a diaper bag isn't going to be easy. It's a bit like purse shopping, which as we all know, can take forever. You need to examine every little feature before you finally make a decision.
When you're searching for the best diaper bags, be prepared to spend some time going over your choices to ensure you get the one that best suits your needs.
Image
Model
Product Comparison Table
Features
Best Backpack
Bag Nation Backpack
14 multi-sized pockets
With stroller straps
Can be used as backpack
Best Large Bag
AllCamp Zebra Diaper Bag
Roomy bag
Waterproof
Will go with most outfits
Best Convertible
Ju-Ju-Be Convertible
Crumb drain keeps bag clean
Multiple insulated pockets
Convertible to messenger bag
Best for Breastfeeding
HaloVa Backpack
Holds three slim bottles
With special pocket for wet items
Water-resistant oxford material
Best Unisex
Iniuniu Diaper Bag
Used as regular backpack
Roomy with large pockets
Soft fabric
Most Stylish Bag
Petunia Pickle Bottom
Modern, stylish design
Easy to clean
Bottom insulated compartment
Best Luxury
Kate Spade NY Kaylie
Padded changing mat included
Will last for many years
Stylish
Best Stand Alone Bag
Skip Hop Forma
Stands alone
2 multi-purpose storage cubes
Easily attaches to any stroller
Perfect Size
Ju-Ju-Be The First Lady
Perfect for airplane travels
17 separate compartments
Protect against mold, mildew, and bacteria
Best for Twins
Skip Hop Diaper Bag
Easy-to-reach cell phone pocket
Bag is BPA- and phthalate free
Cushioned changing pad included
---
---
The Best Diaper Bags of 2023
Here are 13 great diaper bags to consider.
1. Bag Nation Diaper Bag
Best Diaper Backpack
This bag has all your bases covered. It comes with stroller straps, a changing pad, and a sundry bag. Made out of twill polyester, this bag offers durability and it's water-resistant, which will be nice in case of rain or spills.
It also has a whopping 14 multi-sized pockets, which will make it easy to organize. You'll be able to keep your baby's dirty cloth diapers well away from his clean bottles with this many compartments.
An insulated pocket in this bag will hold multiple bottles at once.
When you're carrying it, you'll be sheltered somewhat from the weight by the padded shoulder straps.
Pros
Manly-looking enough for your baby's father to use.
Enough pockets to keep everything clean and organized.
The stroller straps will save you a lot of heavy lifting — you can just attach it to the stroller.
You could use this as a real backpack after your small kid days are over.
Cons
It's a bit on the expensive side.
---
2. AllCamp Zebra Diaper Bag
Best Large Diaper Bag
This nylon diaper bag comes with a changing pad, and it has more than ten pockets both on the inside and outside of the bag. It has a zipper closure for the one main compartment. You can put bottles in the three insulated pockets.
A larger exterior pocket is great for putting wet items in, and it keeps them away from the clean, dry things in the interior part of the bag.
It also comes with straps that hook onto the stroller, and it has shoulder straps that are padded. The material is easy to spot clean if it gets dirty.
Pros
Roomy bag.
Waterproof.
The color of this bag will go with most of your outfits.
Cons
Pricier than some other bags.
---
3. JuJuBe BFF Multi-Functional Convertible Diaper Bag
Best Convertible
Are you at the point in life where your diaper bag is full of snacks? Whether you're supplying an entire playgroup or just making sure both you and your baby can get through a long day, this diaper backpack is a great choice for carrying food.
Two insulated pockets can keep bottles warm or cold, but you'll also be able to put in cut-up fruits and veggies or juice. You've got plenty of room pockets and padded compartments to help keep your essentials away from any food items, especially phones or tablets you don't want spills getting on.
Our favorite part, however, is the unique crumb drains. Even if crumbs get inside the back, you'll be able to shake them out easily from the bottom. No more trying to clean nooks and crannies with a cloth.
This backpack can also be converted into a messenger bag with the included strap.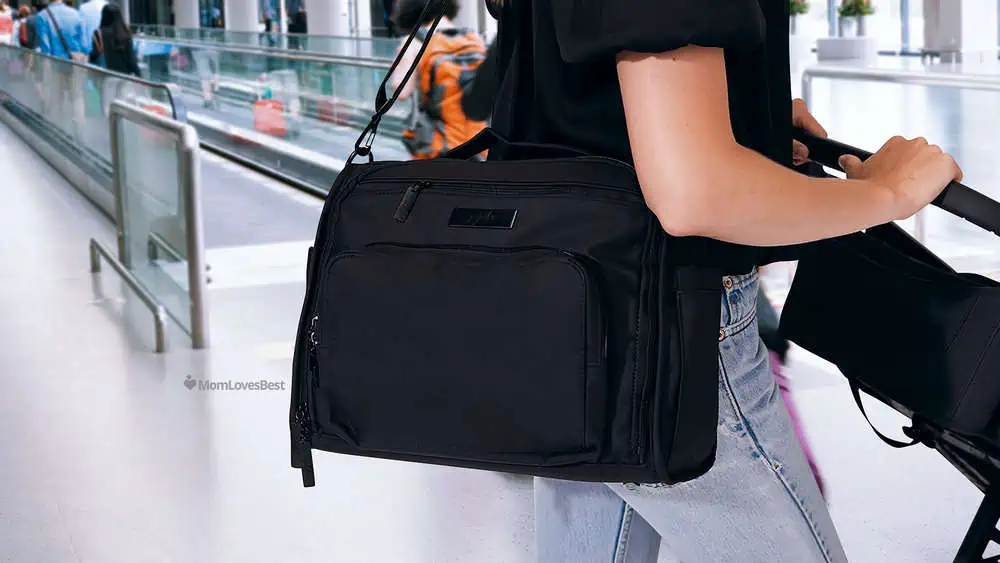 Pros
Crumb drain helps keep the bag clean and your items safe.
Includes multiple insulated pockets for food and bottles.
Converts easily into a messenger bag.
Cons
Others mentioned that the bag compartments were too small.
---
4. HaloVa Multi-Function Diaper Bag
Best for Breastfeeding Mamas
Breastfeeding is no easy task and moms need all the help they can get. This is especially true when you're trying to pump on-the-go or from work. Luckily, this diaper bag has everything you need to safely store bottles and breastmilk.
The front compartment features a multi-layer insulation material and three separate bottle pockets. Another compartment was designed specifically for holding wet items. Side pockets and multiple interior pockets also allow you to carry anything and everything you need.
Best of all, the entire bag is made of a waterproof Oxford fabric. If a little milk or water gets onto the bag, wipe it away easily.
Moms will also love the beautiful, sleek design and all of the 16 color options. We're especially fond of the soft pink and mint green styles. You can carry this bag as a purse with the included handles or as a backpack.
Pros
Front compartment holds three slim bottles.
Includes a special pocket for wet items.
Choose from 16 fashionable colors.
Made of water-resistant Oxford material.
Cons
Doesn't include any stroller attachments.
---
5. Iniuniu Diaper Bag Backpack
Best Unisex Diaper Bag
This diaper bag comes with a diaper changing pad and stroller straps. It also comes with a wet bag so you can toss any soiled cloth diapers or wet clothes in and it will protect the other contents of the bag.
Made of water-resistant polyester nylon, this bag gives you easy access to all your items with a number of handy outside pockets. It also has a cell phone pocket on the outside.
If you need to get some work done and you have extra space in the diaper bag, it also will hold tablets and laptops. There are two water bottle holders on the side.
Pros
You can use this as a regular backpack once your early parenting days are done.
It is roomy and has large easily accessible pockets.
The fabric is soft.
The dark color won't show stains that will develop over time.
Cons
The fabric is thinner and easier to tear than some other diaper bags.
The bag is shorter so it rides high on your back, which doesn't make it super comfortable for carrying all day.
---
6. Petunia Pickle Bottom Axis Backpack
Most Stylish Bag
Moms who love to feel stylish and fashionable will appreciate the sleek modern lines and shiny accents of this bag. You'll feel great carrying it wherever you go, including to the office or more formal events.
The top half of the bag features a spacious compartment with one interior pocket. The bottom section is actually an insulated compartment for storing bottles or food. You also get two exterior pockets, an insulated pocket, and a general front-zippered pocket.
For a modern, yet classy look, the colors are black and white with some pretty unique accents. We love the leather trims and zipper pulls with copper-colored hardware. It's a great combination of white and black.
Best of all, these stylish materials are easy to clean. The main bulk of the bag is made from special glazed cotton canvas. To clean it, all you have to do is wipe it down with a rag.
Pros
Moms will love the modern, stylish design.
All materials are easy to clean.
Bottom insulated compartment is great for bottles.
Cons
Not a lot of sections or pockets.
---
7. Kate Spade New York Ellie Quilted Diaper Tote Bag
Best Luxury Diaper Bag
This bag is made of nylon. Its black tone can be used to pair for any outfit.
Measuring about 18 inches high and 12 inches wide, this bag can accommodate all of your baby essentials. It also has full length slip pocket. Apart from that, it also comes with a good-sized changing pad.
Just as many other bags have, this one has two outside pockets which will work well for holding bottles, and another horizontal zip pocket at the back for easy access of essentials.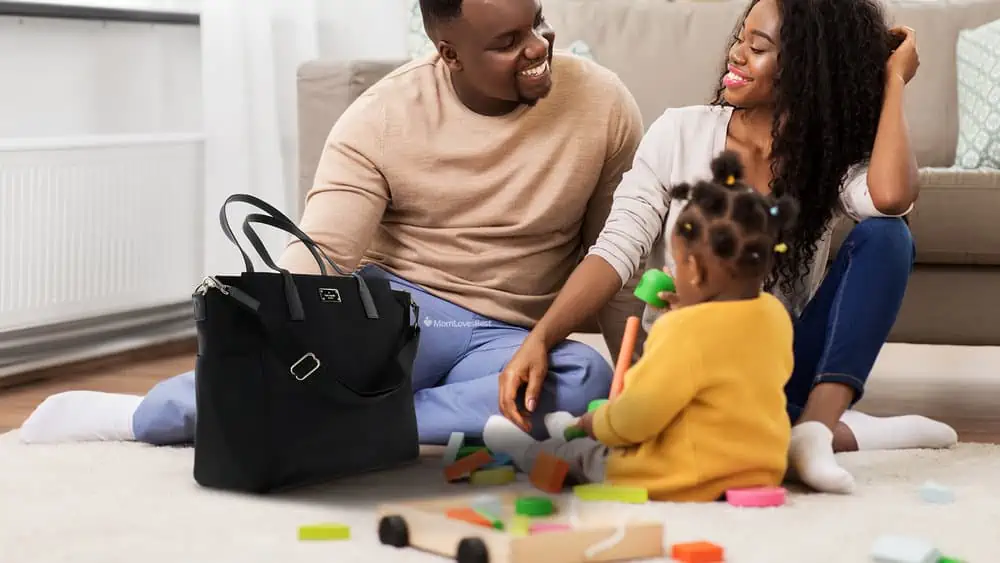 Pros
It comes with a changing pad.
This bag will hold up well over the years.
Stylish for moms who are concerned about fashion.
Cons
Super expensive.
The bottle pockets aren't insulated.
---
8. Skip Hop Forma Diaper Backpack
Best Stand Alone Bag
If you're constantly packing and unpacking your diaper bag, this is a great option for you. Not only is it spacious, but the special standing feature allows the bag to stand on its own. You'll be able to put things in and take things out without the entire thing collapsing on you.
This is a great feature for moms who want to stay organized without adding extra stress. The numerous pockets and compartments will also help.
The front compartment includes two multi-purpose cubes for storing items, such as bottles, baby wipes, food, or some of your mom essentials. One is insulated and one features a mesh panel. The interior of the bag is also spacious and features elasticized interior pockets.
If you like to take your stroller out a lot, it'll also attach easily. Just use the included stroller straps alongside the cushioned shoulder straps. You'll have everything you need within reach while keeping the bag secure.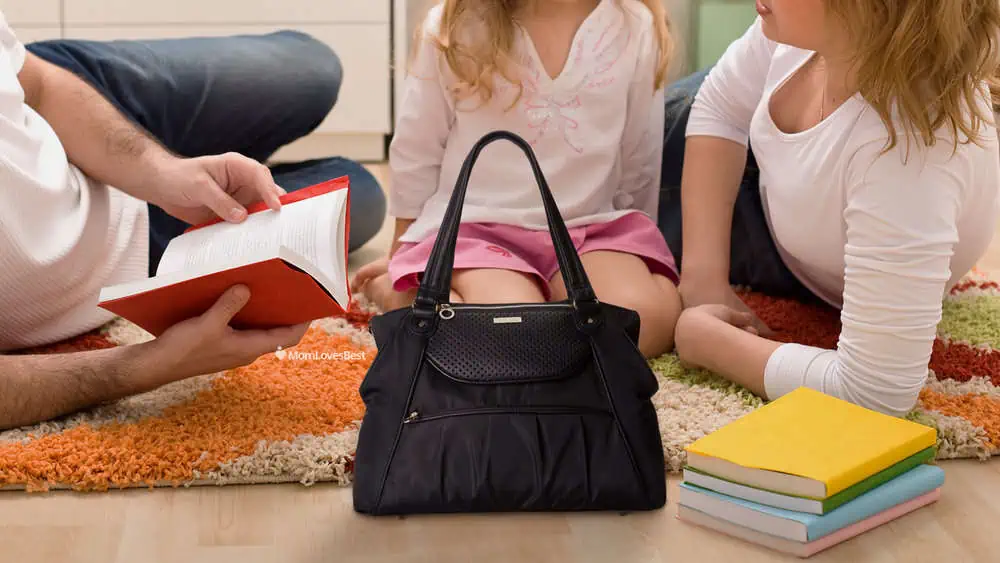 Pros
Stands alone for easy packing and unpacking.
Includes two multi-purpose storage cubes.
Easily attaches to any stroller.
Cons
The shoulder straps aren't as padded as they could be.
---
9. JuJuBe B.F.F The First Lady Diaper Bag
Perfect Size
Moms who travel will love this dual purpose carry on and diaper bag. It's even been designed specifically with air travel in mind, so you know it'll fit where it's supposed to. Because it's so large, it holds everything both you and your baby need.
Choose from 17 different storage compartments, including a mommy pocket, sunglasses holder, and a key fob stretch cord. All are convenient for moms; you won't have to worry about fumbling for your essentials ever again. Insulated pockets keep bottles at the right temperature and easy to grab.
The entire bag is treated with a special Teflon coating so stains won't stick. It's also resistant to mold, bacteria, and mildew. If you do need to wash the bag, simply throw it in the washing machine.
Whether you travel a lot or travel a little, this bag will get you where you need to go.
Pros
It's the perfect size for carrying on an airplane.
Includes 17 separate compartments and pockets.
Treated to protect against mold, mildew, and bacteria.
Cons
The bag may get heavy when full.
---
10. Skip Hop Messenger Diaper Bag
Best Diaper Bag for Twins
This classy looking bag has a convertible shoulder strap that can hook onto the back of a stroller, which will give your tired arms a much-needed break. The material used can take a beating and will last for years.
With ten pockets, you'll be able to stay on top of the essential needs for two babies with a little bit of planning and organization. It has two outside pockets to make baby bottles easy to access when you most need them without tearing apart the contents of the rest of the bag in a frantic search for them.
You can either carry it as a messenger bag or as a tote bag. The main compartment has a zipper closure.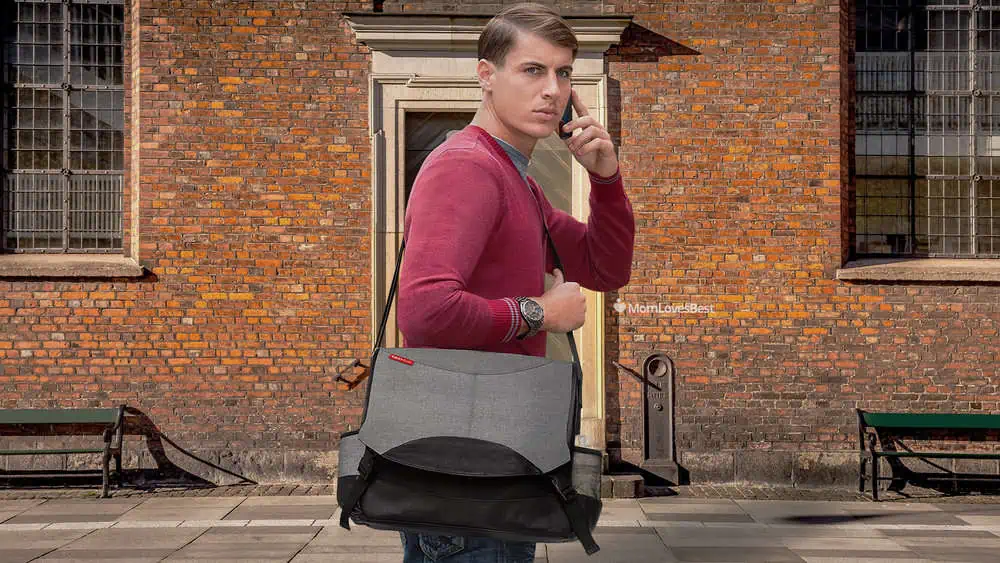 Pros
It has an easy-to-reach cell phone pocket.
It offers a good mix of exterior/interior pockets.
The bag is BPA- and phthalate free.
It includes a cushioned changing pad.
Cons
Its length may pose trouble in rummaging the bag.
It's so big that it can be a bit much for a shorter person to carry.
---
11. BabbleRoo Waterproof Diaper Multifunction Backpack
Best Travel Diaper Bag
This bag is a powerhouse for traveling because it also serves as a changing station. The changing station option is particularly nice because using the bathroom changing stations while you're traveling is gross. They never seem to be clean.
The bag has 18 sections and two insulated compartments. It has everything that you will be looking for in a diaper bag; a backside pocket, pocket with keyloop, baby wipes pocket, it even has a detachable pacifier holder. Every piece has a place in this bag.
When you're not using it, it folds up and fits nicely into any small space.
Pros
Great versatility with this diaper bag.
Easy to spot clean.
Easy to store when not in use.
18 practical pockets.
Attaches easily to stroller.
Cons
May not have the most durable handles out there.
The wipe compartment only fits a tissue pack and not the standard one.
---
12. Lekebaby Diaper Tote Bag
Best Tote Diaper Bag
This bag has an interesting pattern. It's not the type of diaper bag that will fade into the background — it's a show-stealer. The bag is made of waterproof nylon and uses a zipper to close.
There are seven interior pockets that are smaller in size and are insulated. Four pockets are on the outside of the bag, including two pockets for bottles on both sides of the bag. It also includes straps that can be used to hook it onto a stroller. You'll also get a changing pad with this.
Pros
This bag is lightweight.
It is very inexpensive.
It has a lot of pockets both on the inside and outside.
Cons
The shoulder strap isn't padded.
The drawstring isn't easy to cinch.
---
13. SoHo Diaper Luxury Diaper Bag Set
Best Diaper Bag Set
This bag is brightly colored and has an interesting pattern. It's not the type of diaper bag that will fade into the background — it's a show-stealer. The bag is made of waterproof nylon and uses a drawstring to close.
There are seven interior pockets that are smaller in size and are insulated. Four pockets are on the outside of the bag, including two pockets for bottles on both sides of the bag. It also includes straps that can be used to hook it onto a stroller. You'll also get a changing pad with this.
Pros
7-piece set includes everything a mom and baby could need.
Multiple stylish colors are available.
Extra-wide openings let you see everything inside.
Cons
The material isn't super easy to clean.
Types of Diaper Bags
There are lots of different types of diaper bags and it can be overwhelming when it comes to choosing one. You have to consider many things, including who will use it, how much you'll be carrying, and how many kids you have.
Diaper bags can come in many styles, including:
Backpack: Frees up your hands and provides equal weight distribution.
Tote: Has two long straps so that you can carry the bag over your shoulder.
Messenger Bag: Has one long strap. Can be worn over one shoulder, or crossbody.
Diaper Clutch: Is small and portable. Usually only able to fit the bare essentials.
How to Choose a Diaper Bag
If this is your first baby, there are likely some things you haven't considered when it comes to selecting a diaper bag. And there might be other factors that you are already well aware of and that you're unwilling to compromise on. Knowing what you want in a diaper bag will make your selection process much easier.
Here are some of the things I considered when buying my diaper bag.
Thank You For Your Feedback!
Thank You For Your Feedback!