Have you ever tried changing a diaper blowout with inferior baby wipes? It's not pretty. Good baby wipes make all the difference when the you-know-what hits the fan.
Our helpful guide will explain the difference between cloth and disposable wipes, advise you on what to look for when shopping, and answer any questions you may have about baby wipes.
We've also reviewed all the best baby wipes brands, highlighting their strengths and pointing out any weaknesses they may have, so you can keep your hands and your baby's bottom clean during messy diaper changes.
Image
Model
Product Comparison Table
Features
Best All Around
WaterWipes Baby Wipes
Award-winning baby wipes
All-natural ingredients
Eczema friendly design
Best Natural Wipes
Aleva Naturals
Plant based ingredients
Hypoallergenic
Works for every skin type
Best for Sensitive Skin
Pampers Sensitive
Very affordable
Thick wipes
Gentle on sensitive skin
Best Budget Pick
Amazon Mama Bear
Best bang for your buck
Free of harsh chemical irritants
Made with 99% purified water
Best for Diaper Rash
Babyganics Wipes
Tested by dermatologists
Hypoallergenic
Unscented
Best Bulk Natural Wipes
Huggies Natural Care
Chemical-free ingredients
Over 600 wipes
pH balanced formula
Best Organic Wipes
Natracare Organic
Biodegradable formula
Certified organic ingredients
Compostable
Best for Newborns
Pampers Baby Diaper Wipes
Dermatologist-tested
Highly affordable
Hypoallergenic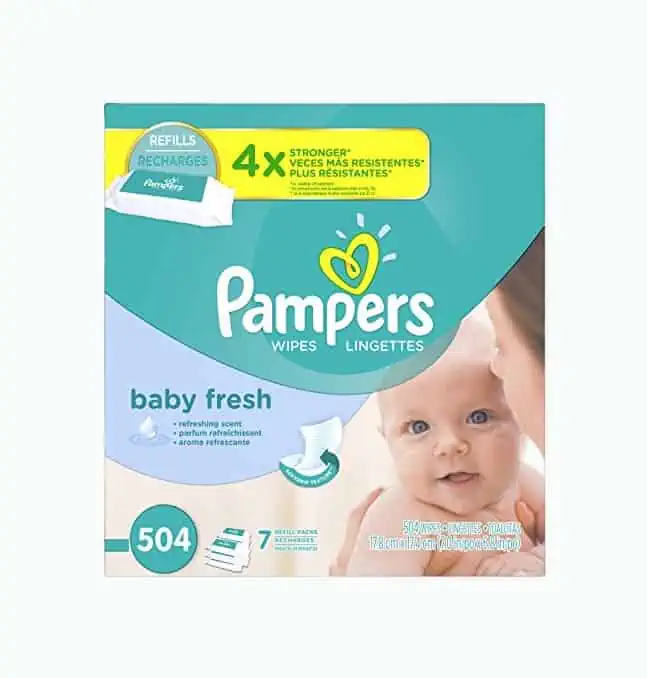 Best for Camping
Pampers Fresh Wipes
Best value for price
Thick and hypoallergenic
Soft, non-sudsy feel
Best Fragrance Free
Huggies Simply Clean
Don't tear on the job
No harsh ingredients or scents
Gentle enough for faces
Review Methodology: At Mom Loves Best, we pride ourselves on providing thorough and unbiased analysis to help you make informed decisions about the best baby wipes for your little one. Our experienced team conducts hands-on assessments, comparing products based on criteria such as performance, safety, and environmental impact. We evaluate wipes from a user's perspective, considering factors like thickness, moisture, and scent. Our research includes quantitative measurements of each wipe's durability and effectiveness in cleaning. Additionally, we examine design choices and their effects on users to recommend the top products that stand out from competitors. By identifying key decision-making factors and rating products in those areas, we provide you with valuable insights and first-hand evidence to ensure you choose the best baby wipes for your family's needs.
---
---
The Best Baby Wipes of 2023
These are the top baby wipes currently on the market.
WaterWipes Sensitive Baby Wipes
Best All Around Baby Wipes
WaterWipes have earned the National Eczema Association of America Seal of Acceptance, so these wipes are a great option if you have a baby with eczema. They've also won multiple awards, such as the 2018 Family Choice Award and the 2017 Top Choice of the Year Baby Maternity Magazine Award.
They're an excellent choice for babies with sensitive skin because they're hypoallergenic, without any of the harmful ingredients some parents want to avoid, like chlorine, formaldehyde, or phthalates.
The ingredients are 99.9 percent purified water with a hint of grapefruit seed extract, a natural skin conditioner. The wipes themselves are made from viscose and polyester and are also ideal for adults with sensitive skin or those who frequently break out in rashes.
Pros
Gentle on eczema-prone or allergy-prone skin.
Made with two ingredients: water and fruit extract.
Suitable for preemies and newborns.
Cons
They're quite expensive.
Not fully biodegradable.
Our Ratings
Community Feedback
From the moment I started using these WaterWipes, I noticed a significant improvement in my baby's sensitive skin. These wipes are gentle and hypoallergenic, making them perfect for eczema-prone or allergy-prone skin. The ingredients are simple, just purified water and a hint of grapefruit seed extract, which works as a natural skin conditioner. However, be aware that they can be a bit pricey and are not fully biodegradable.
---
Aleva Naturals Bamboo BabyWipes
Best Natural Baby Wipes
These baby wipes are more expensive than other options, but if your heart is set on natural ingredients, they're a great choice.
They're made entirely from bamboo, so they're strong enough to handle the worst diaper changes your baby can muster up, all while being soft enough to feel nice on their skin.
They don't use irritating chemicals like parabens, phenoxyethanol, chlorine, or dyes.
Instead, these wipes are made with organic aloe vera, chamomile, and green tea extract, along with lavender, lemon, and tea tree oil. These ingredients are great for both cleaning and soothing your baby's skin.
You can even use the hypoallergenic formula on babies' faces.
Pros
Plant-based ingredients are nice for those looking for natural alternatives.
Bamboo is a known hypoallergenic and environmentally friendly material.
They'll work for every skin type.
Cons
They're pricey.
Some people don't like the scent of the essential oils in the wipes.
Our Ratings
Community Feedback
For those seeking an eco-friendly and gentle alternative for baby wipes, these bamboo wipes have been a fantastic choice. I found that they significantly reduced redness in my baby's diaper area, and they didn't cause any pain during diaper rash incidents. It took a little time to get used to the thinner texture as they can slide over themselves, but once adjusted, it has not been a problem. The biodegradable nature of these wipes is a huge bonus, and they even work well for various other cleanups like makeup removal and personal cleansing.
---
Pampers Sensitive Baby Wipes
Best Baby Wipes for Sensitive Skin
These mild wipes have been tested by dermatologists and don't contain perfumes, which sometimes trigger allergic reactions or rashes in babies.
They use a soft grip texture so your baby will be gently but effectively cleaned after a dirty or wet diaper. The material won't feel harsh against your baby's skin — or yours.
Thicker than many other options, these wipes won't shred or cling when you need them most.
If you're looking for natural wet wipes, these don't fit the bill. But they are gentle on sensitive skin, and they're an affordable option.
Pros
Fairly affordable option.
Thick, textured design cleans with fewer wipes needed.
Lightly scented, moist formula.
Cons
Moisturizers give them an oily feel.
Wipes tend to shed, leaving tiny fibers on skin.
Our Ratings
Community Feedback
These wipes have been a fantastic addition to our baby care routine, especially since our son is solely breastfed and has frequent, more liquid poops. Since we started using them, diaper rash has become a thing of the past, and we only need to apply a moisture barrier at nighttime. These wipes are easy to pull out one at a time, not too wet like some other brands, and have minimal ingredients, making them ideal for our baby's sensitive skin. We've tried a few other brands, but these remain our go-to choice due to their softness, effective cleaning, and affordability. As a parent with a limited income, it's great to find a high-quality product like these wipes that doesn't break the bank.
---
Amazon Mama Bear Baby Wipes
Best Budget Baby Wipes
Made with pharmaceutical-grade purified water, cucumber, aloe, and licorice root extract, these baby wipes from Amazon provide a gentle clean at a price you'll love.
Soft yet sturdy, you can use these large wipes anywhere on your baby's body. They're perfect for mealtime to clean those sticky faces and hands, or keep them in your diaper bag to take care of the nastiest messes in a jiffy.
By choosing Amazon's auto-delivery option, you can save between 5 and 15 percent on each order, so you'll not only save money, but you'll save time and precious energy by having these wipes delivered right to your door.
Each flip-top pack comes with 72 wipes. Made in a zero-landfill plant, they are also free from dangerous chemical irritants, including alcohol, dyes, parabens, and phthalates. They're perfect for a baby's sensitive skin.
Pros
Auto-delivery option saves you money and time.
Free of harsh chemical irritants you don't want on your baby's skin.
Soft yet sturdy to tackle the toughest messes.
Cons
Some babies seem to react to the formula. To test for allergies, first use wipes on a small patch of skin and watch for a reaction.
Our Ratings
Community Feedback
Got these wipes as an alternative to pricier options, and they've exceeded my expectations. As someone with a keen sense of smell, I appreciate that they are unscented and cause no irritation. These wipes are both effective and gentle, making them perfect for my children's sensitive skin. The pop-top seals well, ensuring the wipes don't dry out, even in my car emergency pack.
---
Babyganics Face & Hand Baby Wipes
Best Baby Wipes for Diaper Rash
Infused with chamomile, these baby wipes should be soothing to any diaper rashes your baby develops. But before using these, you may want to consider if anyone in your family has an allergy or sensitivity to chamomile.
Babyganics wipes also use other plant-derived ingredients, including a seed oil blend made from tomato, sunflower, cranberry, black cumin, and red raspberry.
These are hypoallergenic and supremely comforting when used on already irritated skin. Plus, they've been tested by dermatologists and pediatricians.
A plus is that they don't have an odd or overpowering fragrance, and they don't leave much of a residue on skin.
Overall, these wipes are thick, soft to the touch, and a little larger than most other options.
Pros
The natural ingredients are calming on irritated skin.
Large enough to fully protect your hands from messes.
Light, barely noticeable scent.
Cons
They're moist enough to do the job but not as wet as some other brands.
They're relatively expensive.
Our Ratings
Community Feedback
Got these wipes on a quest to find the perfect baby wipe for my little one, prioritizing softness and odorlessness. I've tried Huggies, Bloom, Babyganics, and Seventh Generation, and Babyganics stands out as my favorite. These wipes are incredibly soft and have a mild lemony scent that doesn't bother me. The only drawbacks are the smaller size and the fact that they don't work well with a wipe warmer container. However, the softness and feel against my baby's skin make them worth the compromise, and I'll continue using them until I find an even better option.
---
Huggies Natural Care Unscented Baby Wipes
Best Bulk Natural Baby Wipes
Huggies has formulated wonderful baby wipes for newborns. They feature natural ingredients specifically chosen to clean your baby's skin gently but effectively. They're also free of chemicals that could cause rashes or allergic reactions, such as parabens, fragrances, and alcohol.
Enriched with aloe vera and vitamin E, you can use these baby wipes anywhere on your newborn's body, including the delicate skin of their face. Their pH-balanced formula will help maintain your child's healthy skin levels.
Life with a newborn is hectic, so we really like that these come with a refillable pouch. Save money by keeping the original pop-top container, which allows you to grab a wipe with a single hand. This three-pack includes 648 wipes in total, so you'll have enough to last for years — or at least more than a few days.
These wipes are great for newborns or as a baby shower gift.
Pros
Cleans your baby's skin gently but effectively with a combination of chemical-free ingredients.
Three pack comes with over 600 wipes.
Refillable packaging saves time and money.
Cons
Refill bags aren't resealable, so don't lose the original packaging with the lid.
Community Feedback
From my journey as a first-time parent, I've tried various brands of baby wipes including Huggies, Bloom, Babyganics, and Seventh Generation. My personal favorite has been Babyganics due to their softness and mild lemony scent, even though they are smaller in size and not the cheapest option. Seventh Generation wipes, on the other hand, were less moist and felt rough on the skin which was a deal-breaker for me.
---
Natracare Organic Cotton BabyWipes
Best Organic Baby Wipes
These organic wipes will make you feel good about every diaper change. They are made with 100 percent certified organic cotton.
They use nourishing apricot, linden, and chamomile essential oils, plus they're chlorine-free. A nice feature is that these baby wipes are biodegradable, which will go a long way to soothing your conscience about creating extra waste. Even better, you can throw these onto the compost heap if you have one.
Parents who use vegan products for their babies will like these since they aren't tested on animals and don't use any animal ingredients.
The resealable package prevents them from drying out. But they come in a smaller package of only 200 wipes.
Pros
All ingredients come from organic sources.
They don't have an overwhelming or chemical-like smell like some other options.
They're gentle and calming on sensitive skin.
Cons
These are pricey.
They're a bit thinner than some other brands.
Community Feedback
From personal experience, these baby wipes are a fantastic choice for sensitive skin, as they are made of actual cotton without chlorine or alcohol. The scent is subtle and pleasant, providing a fresh and clean feeling without being overpowering. While the wipes may be on the thinner side, they are strong, soft, and effective on even tough diaper messes. Not only do they work well for babies with allergies or rashes, but they are also biodegradable, making them an eco-friendly option.
---
Pampers Complete Clean Baby Wipes
Best Wipes for Newborns
Parents appreciate Pampers wipes because they tend to be stronger and sturdier than many other brands. Plus, since they aren't as clingy as some others, they'll cover your whole hand while you're changing a dirty diaper. That extra protection is a godsend for new parents who aren't used to handling outrageously messy diapers.
While this wipe is great for parents, it's also a decent pick for newborns and will feel super soft on their sensitive skin.
They're unscented, so there aren't any unnecessary perfumes that will irritate your baby's skin, and the hypoallergenic formula is excellent for allergy-prone babies.
It contains no trace of phenoxyethanol, parabens, or alcohol so these will ensure a clean and soothing feeling on their bottom.
Pros
Dermatologist-recommended baby wipes.
The price is affordable.
You can use these on faces and hands without extra suds or residue.
Cons
They aren't quite as wet as many other brands are.
Some parents get annoyed that they are too thin.
Community Feedback
These baby wipes, although a great value for the price, were unfortunately too dry for my personal liking. Despite sitting for a month before use, I was disappointed to find that they lacked sufficient moisture. Additionally, I initially overlooked that these were refill-only wipes and had to purchase a separate tub for storage. On the bright side, the wipes were gentle on my baby's sensitive skin and did not cause any rashes. However, I found them to be too thin for messier diaper changes, often requiring me to use multiple wipes at once.
---
Pampers Baby Fresh Baby Wipes
Best Wipes for Camping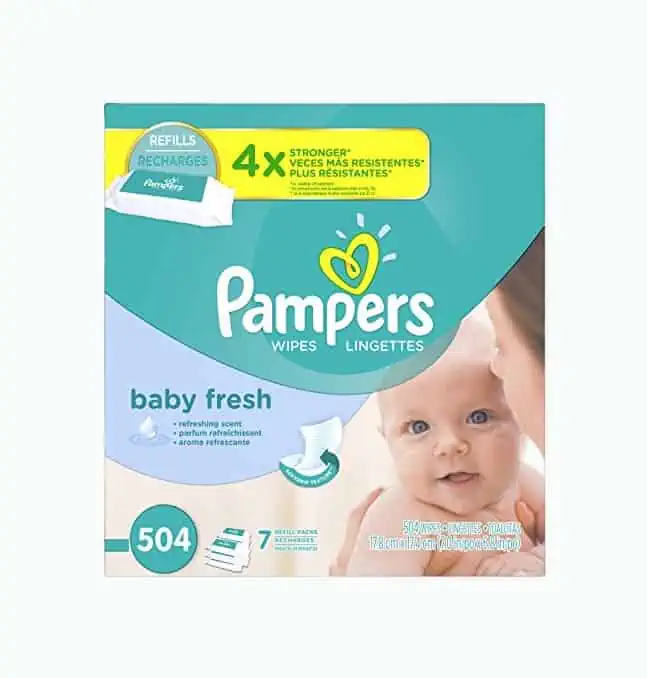 Pampers Baby Fresh wet wipes are super strong, and they have a soft grip texture, so they feel soft, but they're still great at scrubbing away whatever you don't want on your baby's skin — whether poop or dirt. They don't seem to rip even when you're fighting to clean a very messy baby.
These are hypoallergenic and have only a light scent. They include a little comforting lotion, which is good news for babies with sensitive skin.
You'll get 504 of them in a set of seven refill packs. It doesn't come with a refillable tub, so you'll have to order it separately if that's the type of container you want.
Finally, if you have a wipe warmer, these will work great because they are thick and wet.
Pros
Affordable option.
Thick enough to get the job done.
Don't feel greasy or sudsy.
Cons
They don't come with a tub, and the packaging isn't resealable.
Some parents find the smell to be overwhelming.
Community Feedback
As a parent of four, I've experienced my fair share of baby wipes, and I must say, these Pampers wipes truly stand out. Initially, I was hesitant to use the scented version due to my baby's sensitive skin, but they've proven to be both gentle and effective, leaving my little one rash-free and smelling fresh. The wipes themselves are thin, yet strong, and I rarely need more than two for a single diaper change. The only drawback is that they come in refill packs, so you'll need a separate container to keep them moist.
---
Huggies Simply Clean Unscented Baby Wipes
Best Fragrance-Free Baby Wipes
With this bundle, you'll get 704 wet wipes that you can use on your baby's bottom, face, or hands — basically any place a child gets dirty. Plus, they are refreshingly unscented.
Hypoallergenic and free from alcohol or parabens, they've been tested by dermatologists, so they're suitable for babies with sensitive skin. Another nice feature is that they won't leave any annoying residue behind.
They come in disposable soft packs that you can easily store in your diaper bag, where a hard package won't fit as well. Each package has a flip lid, so you'll always be able to grab one quickly. Unfortunately, they don't auto-feed, which means they require a little more effort to remove from the package.
Pros
These are strong and won't tear on the job.
Completely scentless.
Suitable for sensitive or delicate skin.
Cons
They do create a small amount of suds.
They're stiffer than some other brands.
Community Feedback
In my experience, these Huggies wipes have been a fantastic addition to my cleaning routine. As a mid-40s male, staying clean is crucial to me, and these wipes have definitely stepped up my game in terms of personal hygiene. The convenient pop-up dispenser and snap closure keep the wipes moist and ready for use, making them perfect for tasks such as cleaning up around the house or maintaining a fresh feeling throughout the day. Not only do they feel gentle and soft on the skin, but they're also great for sensitive skin. I've found that these wipes are also cost-effective, as I've only had to purchase a few boxes over the span of several months.
Disposable Wipes vs. Cloth Wipes
Baby wipes are some of the worst offenders when it comes to landfill waste. They represent a whopping 30% of non-biodegradable trash. Flushing them down the toilet, even the "flushable" kind, is even worse than throwing them away (1).
With my first baby, I didn't even realize cloth wet wipes were a thing. I didn't know anyone who used them. But since I've become more familiar with an eco-friendly lifestyle, I've realized that these are the cheaper and more socially responsible option.
We don't deny it; disposable wipes are handy in a lot of situations. But even if you only use cloth wipes at home, the difference will add up, both in money spent and environmental protection.
In addition to the economic and environmental benefits, cloth wipes don't contain the chemicals or potentially harmful ingredients that disposables do. They are generally easier on sensitive skin, and their thicker design does a better job of wiping up messes.
How to Choose Baby Wipes
You'll want to consider the following factors when deciding which baby wipes will be best for your little one.
---
How Many Baby Wipes Will I Need?
Your child will likely go through more than 2,500 or 3,000 diapers in their first year alone (2). That may seem excessive, but it's true.
It's a little trickier to calculate how many wipes your baby will need. Some say you can calculate this number at approximately 1,000 per month for the first six months, then as many as 2,000 per month once your baby starts solid food — especially if there's liquid poop involved. (3).
But to add to the variables, you may also find yourself reaching for wet wipes for a wide range of other situations.
If you're on a road trip and your baby's hands are filthy, or you don't have a sink to clean your own hands after a diaper change, you'll want those wet wipes. And if your baby gets her meal all over her face? Wet wipes.
They come in handy even when your kids are bigger. If you're camping with your family, you can use them to clean your face at the end of the night or wipe down your child's eating area.
You'll want to keep some baby wipes at home, of course, but they're also handy in a diaper bag, or give an extra container to your child's caregiver or keep a stash at grandma's house. You might even want to keep a container in the car for travel emergencies.
Should I Buy Baby Wipes in Bulk?
Remember
Since you'll be using so many wet wipes, you may be tempted to buy them in bulk. But if your baby hasn't been born yet, that would be a mistake. If your baby ends up with sensitive skin, you may have hundreds of wipes on your hands that will be worthless.
It's best to hold off on making a big purchase until after you've tried the brand you're considering on your baby's bottom (4). Buy smaller packages to use in the first couple of weeks and see which ones work best with no irritation to your baby's skin.
After you've found a winner, then it's worth it to buy them in bulk.
Can Baby Wipes Expire?
If your brand comes with added lotion or oils, it will last around three months after being opened, and two years unopened. Plain water wipes or those with fewer ingredients may last longer, particularly if you're careful not to let them dry out. If in doubt, almost all brands come with an expiry date on the package.
Store your wipes packages upside down if they're in a soft package, or make sure the lid is closed if they come in their own container. Be careful when buying in bulk or online to make sure you're not committing to wipes that will only expire in a month. If they do dry out, though, don't despair — you may be able to bring them back to life by spritzing them with a little water before use.
Baby Wipes FAQs
---
Thank You For Your Feedback!
Thank You For Your Feedback!