There are so many changing table styles available, from inexpensive, basic models to break-the-bank, multi-purpose furniture that takes up half the nursery. It can be hard to know what will be the best choice for your baby.
We've explored a wide range of options, sacrificing many hours so you don't have to do the dirty work (unless you're counting the diaper changes — that's on you!). We'll show you the best changing tables currently on the market, outlining the most necessary features and highlighting a few bonus additions. We've also outlined any considerations you should make before choosing the best changing table for your needs.
Image
Model
Product Comparison Table
Features
Best for Storage
Graco Classic
Two tall open shelves
Sturdy and well built
Comes with safety belt
Easiest to Assemble
Delta Children Eclipse
Neutral color options suit any nursery
Assembles in minutes
Includes changing pad & safety belt
Best Dark-Colored
Delta Children
Classic dark finish
Easy Assemble
Strong and sturdy wood
Best Minimalist Design
Babyletto Hudson
Minimalist design
Includes an anti-tip kit
Removable changing tray
Best Dresser Combo
DaVinci Autumn 4 Drawer Dresser
Great safety features
Very sturdy
Classic, attractive appearance
Best for Tall Parents
DaVinci Jenny Lind
No assembly required
Includes an anti-tip kit
Full 40 inches high
Best with Hamper
Badger Basket Changing Table
Less expensive than most other options
Has safety rails
Generously sized drawers
Best for Small Spaces
Dream On Me
Convenient access with added safety
Seven color options
Takes up minimal space
Best Value for Money
Graco Lauren
Added wheels make it portable
Versatile design
Very affordable price
Best Changing Kit
Delta Children Kit
Least expensive option
Can fit almost any dresser
Wide range of colors
---
---
The Best Changing Tables of 2023
Here are the 12 best changing tables for nurseries and babies of all sizes.
1. Graco Classic Changing Table
Best for Cloth Diapers
This Graco model is a great option for babies who wear cloth diapers. It has an open, two-shelf design which provides plenty of flexibility for storing all the necessary supplies for cloth diapering. You can use the baskets to hold diapers, liners, wipes, and creams, Also, there's space to fit a small pail for the used diapers.
It has a simple but high-quality appearance. The pebble-gray color is versatile enough to work in most nurseries. It even comes with a waterproof changing pad with a safety belt.
The high sides and the safety belt should provide parents with some peace of mind while they're focusing on getting rid of that dirty diaper as fast as possible.
Pros
Two tall open shelves for storing supplies.
Sturdy table is strong enough for heavier toddlers.
Comes in three neutral colors to match any nursery.
Cons
Open shelves require extra baskets to keep supplies organized.
Included changing pad is somewhat thin.
---
2. Delta Children Eclipse Changing Table
Easiest to Assemble Changing Table
Take out the stress of assembling baby furniture with this completely adorable changing table from Delta Children. It takes around 20 minutes to put together, and all the pieces and tools are included with your purchase. This means you get to spend more time focusing on the important moments.
But don't worry. Easy assembly doesn't mean there's a lack of safety or sturdiness. The four high sides and safety strap keep your little one from rolling out. The beautiful finish is even non-toxic.
Altogether, this changing table includes two open storage shelves, a waterproof changing pad with an attached safety belt, and everything you need to put it together. We are especially in love with the cute design, making it perfect for any nursery.
Once assembled, the changing table is just over three feet high. Taller parents may find themselves bending over during diaper changes.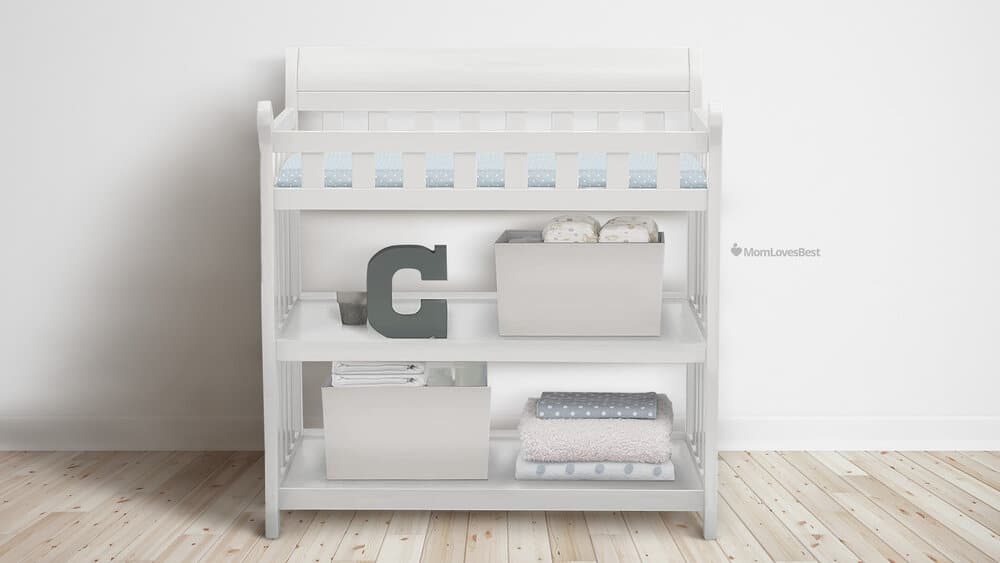 Pros
Super cute design will compliment any nursery.
All tools and parts are included for assembly in about 20 minutes.
Includes a changing pad with safety belt.
Cons
At 3 feet tall, it may be a little short for taller parents.
---
3. Delta Children Infant Changing Table
Best Dark-Colored Changing Table
If your style is warm and classic, you can create a sleek nursery with this beautiful dark-colored changing table from Delta Children. Not only do you get the style, but multiple features contribute to its functionality.
With safety railings which encloses all four sides of the top table, your baby will be safe and secure during changes. Two fixed open storage space provide ample storage for all your baby's changing needs.
The top piece can be removed to convert it into a regular dresser or storage unit. This functionality allows it to grow with your child, which saves money and a lot of hassle over time.
This table includes a water-resistant changing pad with safety strap. You'll need to get your own tools and another adult helper to assemble it.
Pros
Classic dark finish is perfect for a traditional changing table that looks great anywhere.
Easy to assemble.
Cons
Inexpensive with limitations.
Advanced assembly required, and no tools are included.
---
4. Babyletto Gelato 3-Drawer Changer Dresser
Best Minimalist Changing Table
With a simple and clean design, this changing table looks good with any nursery theme while making the messy task of changing a diaper just a little easier.
It features three storage drawers, a separate storage cabinet, and a removable changing tray. The cabinet has an adjustable inner shelf and the drawers roll out smoothly on the metal glide tracks. Plus, the mechanized stops will keep any child from pulling the drawer out too far.
One thing we really appreciate is the included anti-tip kit. Furniture can be scary if it isn't secured properly. The anti-tip kit will keep the entire changing table anchored so it won't fall on your child.
This is the best changing table for parents who hate messes and clutter. With its clean look and dual-purpose design, your nursery can appear organized even when your life isn't.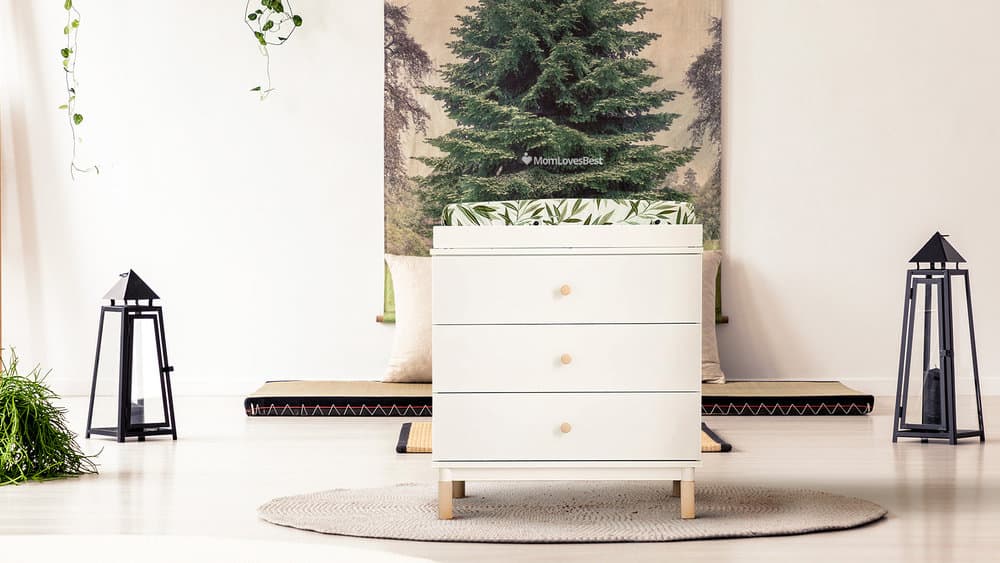 Pros
Minimalist design looks great in any nursery.
Includes an anti-tip kit as an added safety precaution.
Functions as a dresser and can be used for years to come.
Cons
Made of cheaper-quality particle board.
More expensive than other similar models.
---
5. DaVinci Autumn 4-Drawer Dresser
Best Changing Table Dresser Combo
The DaVinci Autumn 4-Drawer Dresser features a removable changing tray that fits over an ordinary chest of drawers so the unit can be refashioned as a dresser once your child gets older. Unlike several other multi-purpose designs, the changing tray attaches to the back of the dresser, so it won't leave any visible marks on the top area once it's removed.
You can purchase this in either slate, espresso, or white to match any nursery decor. And the drawers have sturdy metal glides so you know they'll last a while. There are two smaller drawers on the top, which can be used for diaper-changing supplies, and two large ones which may come in handy for clothes or toys.
Parents who like the look of this item can purchase a matching crib, full dresser, or bookcase, all of which can be restyled as your little one grows up.
Pros
Great safety features, including an anti-tip kit and a stop mechanism on the drawers.
Made of sturdy New Zealand pine.
Classic, attractive appearance.
Cons
Poorly written instructions make the assembly process difficult.
You have to purchase a changing pad separately.
---
6. DaVinci Jenny Lind Changing Table
Best for Tall Parents
The DaVinci Jenny Lind stands a full 40 inches in height, making it one of the tallest options available. Made of high-quality cherry wood, this sturdy changing table should last for years.
It comes in a clean, white color and has a classic design with spindles. A changing pad with a safety strap is included, and two large, open shelves enable you to store all your diaper-changing accessories.
These shelves are sturdy with reinforcement braces under each level. You can use a variety of bins and baskets to organize your diapering supplies.
While this unit is sturdy, it's still lightweight, so it can be easily moved around the nursery. For extra safety, the bars on the top enclose the changing area on all four sides.
Pros
No assembly required.
Includes an anti-tip kit for securing the changing table.
One of the taller models available.
Cons
The painted finish chips off fairly easily.
Extra storage baskets are required to keep your supplies organized.
---
7. Badger Basket Sleigh Style Baby Changing Table
Best Changing Table with Hamper
This sleigh-style changing table is not just super affordable; it also contains loads of storage space that can be used in many different ways. Unique to this unit is the tall hamper on one side, which comes in handy for dirty laundry, bulk bags of diapers, big toys, blankets, or even a diaper disposal unit.
The top of the table comes with ample safety rails surrounding the changing area, plus a belt to keep your baby secure. The non-toxic finish easily wipes clean, and the entire piece is simple enough in design that it will happily fit in any nursery.
The other three drawers are generously sized and will accommodate any diapering necessities you have, and more. The minimalistic white color will fit any nursery theme, so you will not have trouble pairing it with any furniture.
Pros
Affordable multi-purpose unit.
Hamper and drawers come in solid minimalistic color.
Comes with a changing pad and safety belt.
Cons
A bit difficult to assemble.
---
8. Dream On Me Ridgefield
Best for Small Spaces
The Ridgefield changing table is an innovative solution for small spaces. It's designed to fit neatly in the corner of your baby's nursery without taking up much space.
It comes in white and six other colors, so you can easily coordinate it with the other nursery furniture. It can be used as a nightstand in the long run, should your baby had outgrown this.
In addition, there are two more levels of open storage. This model provides more than enough space for storing everything you could possibly need for changing your baby.
It includes a changing pad and a safety belt.

Pros
Takes up minimal space in the nursery.
Seven color options.
Convenient access of other baby essentials with added safety.
Cons
Others complain about the inaccuracy of color.
---
9. Graco Lauren Changing Table
Best Budget Pick
The Graco Lauren provides a changing surface and two open shelves for storing supplies. It has a clean, basic design, with white painted wood.
There is a safety bar surrounding the entire changing surface which is at a decent height, meaning parents won't have to bend over too much to change their baby's diapers.
This Graco table comes with a one-inch changing pad and a safety strap to keep your squirmy baby in place during diaper changes. Unlike other tables, this one comes with wheels so that it can be easily moved throughout your home. Two of the wheels can be locked, so the table doesn't move once you've found the right spot for it.
It's especially affordable because it can be repurposed after your child outgrows it. Give it a new life as a bookshelf or a coffee cart.
Pros
Added wheels make it portable to save space when necessary.
Versatile design can be repurposed once your diaper days are over.
Very affordable price.
Cons
Lacks the sturdiness of a solid wood structure and may not be safe for a heavy toddler.
Included changing pad is very thin.
---
10. Delta Children Changing Kit
Best Table Changing Kit
Sometimes the most elegant solution is the simplest one. A changing table is essentially just a raised, flat surface. With this Delta kit, you can convert any flat surface to do the trick.
The frame attaches to the back of your dresser or chest of drawers, and will work with any surface that's a minimum of 35.5 x 17.25 inches. Assembly is quite easy, as there are just four pieces to connect.
You can get creative with this kit as it comes in a range of 15 colors. You can choose any changing mat to go with it, and select whatever piece of furniture you want to place it on. The best part is that you can easily remove it all when your little one is potty-trained.
Pros
Much cheaper than buying an entire unit.
Can fit almost any dresser top easily, giving you lots of versatility.
Comes in 15 colors.
Cons
You'll need to buy a changing pad and ensure that it'll fit.
Bottom tray isn't included, only side rails, so the change pad sits directly on the dresser top.
---
11. Delta Children Haven 6 Drawer Dresser
Best Mid-Century Modern Changing Table
This changing table is a beautiful item all on its own. It will make you feel like you've scored a really nice piece of general-purpose furniture that will last for years to come.
You may buy a removable changing topper to which you add your own changing mat. With three color finishes, you can find something to coordinate with the rest of the nursery or opt for the matching Delta Children crib, which is also very well made.
The drawers are deep and roomy, and the entire unit is heavier than others like it, making it solid enough to remain stable when the drawers are opened.
Pros
Subtle but unique design.
High quality, sturdy construction.
Durable finish won't chip after just a few months of use.
Cons
Color may appear to be a little off white.
The changing tray can be dislodged by a very squirmy baby.
---
12. Koala Kare Wall Mounted Baby Station
Best Wall-mounted Changing Station
Yon don't need to worry about this Koala Kare baby station being flimsy; it can safely hold up to 200 pounds, which is a lot more than many traditional changing tables. Made of a super-strong steel chassis inside the polypropylene exterior, this thing isn't going anywhere once installed and has met multiple safety compliance standards.
When closed, this sleek unit only sticks out about 4 inches from the wall, meaning you save a lot of space for other things. The material is easy to wipe down and gets the job done quickly and efficiently. If you're a diaper-changing pro and don't mind a no-frills solution, this might be your answer.
Though the functional appearance and Koala decal are not the most aesthetically pleasing, you can easily tuck this station behind a door or remove the decal. Plus, you get to mount it at precisely the height you like. This changing table comes with a strap, bag hooks and a liner dispenser for extra hygiene.
Pros
Sturdy and hard-wearing.
The bed surface is made of antimicrobial plastic, making it easy to keep clean.
Can be installed at any height.
Cons
Though you can try to DIY it, it's better for a professional to install the unit properly and safely.
You might not want something in your baby's room that reminds you of a public bathroom.
Not as soft as a table with a standard changing pad.
How Much Space Do I Need for a Changing Table?
When choosing a changing table, you need to be realistic about how much room you have in your home.
Does your baby have their own room, or will they be sharing a room with you? And if they do share with you, for how long? The initial setup is likely temporary, so you should expect some changes to occur after a few months.
If you're planning to give your baby their own room, either immediately or at a later date, it's a good idea to establish a clear map of that room before you start piling everything into your Amazon cart. A changing table generally takes up as much room as a bookcase, but if you get one with built-in drawers or cupboards, you could actually end up giving yourself more storage space.
For many parents, a combination dresser and changing table is great, even if they're not that short on space. These allow you to remove the changing portion as your child grows, so you can use the same piece of furniture for years to come.
How to Choose a Changing Table
Height: Changing tables are not a standard size. Choose a height that will match the proportions of the person who most often does diaper duty. A 38-inch table is a good height for an average-sized adult.
Versatility: Don't just look for the features that will serve you right now; consider what you can use your changing table for in the future. Some tables can convert into a toddler dresser, a simple table, a bookcase, or a shelf.
Price: Changing tables can range from $99 to over $500. While convenient, they are not entirely necessary as babies can be changed on any sturdy flat surface, so ask yourself what your budget will allow for.
Cleaning: As a changing table is liable to get dirty with time, painted finishes that are easy to wipe clean are preferable to natural wood or other finishes that stain easily.
Mobility: Today you can find baby furniture specially designed for caregivers who rely on a wheelchair or have other types of physical limitations.
Style: While not a huge issue, look for something you like that matches your nursery decor. Light-colored, minimalist designs are most versatile and can be used for both boys and girls.
Safety: The best way to keep your baby safe on a changing table is to always be within arms' reach. A change table that includes storage for diapers and other changing supplies keeps everything at hand so there's no reason to step away from your child. A safety rail and safety strap will prevent your little acrobat from rolling off during difficult changes. Avoid tables with any sharp edges, loose pieces, or items within your baby's reach that could be pulled down onto themselves.
---
What Should I Store in My Changing Station?
You don't want to be in the middle of changing a huge blown-out diaper when you run out of baby wipes. You'll want to find a changing table that can store all your diaper-changing supplies so they'll be ready when you need them.
Some of the most obvious items you need for your changing station are diapers, wet wipes, and cream.
But here are some extras you may also wish to include:
Hair ties to keep long hair from getting in the way.
Hand sanitizer for before and after.
Distractions for your baby like toys or a pacifier.
A diaper pail.
A replacement changing mat cover.
Medicine, nail clippers, or a thermometer.
Changing tables need to do much more than just provide an elevated surface for changing your baby's diapers. Make sure you figure out how much usable storage they provide when making your selection.
Tips for Organizing a Changing Table
How you choose to organize your changing table will depend on the table size, design, and your particular changing routine.
Consider having a compact caddy containing just small amounts of the essentials and a few diapers to have readily accessible on the counter, while refills and extras are stored underneath. This avoids clutter, as you can just top up as you go.
You can use any number of plastic, fabric, or wooden organizer boxes to keep your items tidy, or repurpose cardboard boxes or other plastic containers for a budget DIY option.
You can use diaper caddies, drawer organizers intended for socks or underwear, woven baskets, or even bathroom or kitchen organizer units for smaller creams and wipes.
Roll up towels, small clothes, and changing mat covers, and store them upright so you can see everything at a glance when you need to grab one quickly.
Important Safety Features for Changing Tables
Safety is always a top priority when it comes to your baby. You'll regularly need to check your baby's room is safe, but where changing tables are concerned, here are a few things to keep in mind:
Are there sharp corners that kids can run into?
Is there a safety belt on either the changing pad or the table?
Is there anything that would be in reach of the baby that could cause them harm?
Does the changing table come with a kit to secure it to the wall?
Furniture can tip over and fall on children. In the United States, forty children visit emergency rooms every day after being injured by heavy furniture falling on them (1). You never think it will happen to you until it does — so it's better to be safe than sorry.
Changing Table FAQs
What Should My Changing Table Be Made Of?
As with anything else, you get what you pay for. In shopping for children's furniture, you have to decide whether to spend more on higher quality items or  settle for a cheaper option.
One of the most important factors to consider when deciding how much to spend on a changing table is whether you plan on having additional children.
A cheaper table should last through one child, especially if it's just a changing station and not also being used as a dresser. However, if you want to reuse a changing table for multiple children, you're better off going with a higher-quality option that will be more durable.
If you're looking for longevity, the best changing tables are made of solid wood. However, these will cost more than tables made of particle board. While particle board may look nice at first, it won't stand the test of time. The laminate or veneer may peel away and the bottoms of drawers can fall out.
If you're looking for a changing table to use for an extended period (either with siblings or one to grow with the child), then you're better off investing in a higher-quality table.
How Many Changing Tables Do You Need?
You can only change one diaper at a time, so multiple changing tables are not necessary if you have multiple children in diapers. But they might provide some convenience if you live in a large house and you don't want to run upstairs to the nursery every time your baby needs a new diaper.
If you're changing diapers for more than one child, it's best to look for a changing table with a good amount of storage. This is especially true if you need to keep it stocked with diapers in more than one size.
Can My Baby Sleep on a Changing Table?
No. This should really never be an option, as a changing table is simply not safe for a baby to sleep on, supervised or not. There is too much risk for them to roll off and hurt themselves.
How Tall Should a Changing Table Be?
You want a changing table that allows you to do your thing without it putting strain on your back. If you're tall, you can opt for a taller table, some of which can be up to 43 inches (or 3.5 feet) high. If you're shorter, look for a table in the 35 to 38 inch range.
A good idea is to test a table out in the store and get a feel for its proportions. If it's too tall, you'll be pulling your elbows up awkwardly to change your baby, which will get irritating after your fifth diaper of the day. Don't forget to factor in the height of the changing pad as well.
Ideally, the highest part of the table should hit around hip height.
---
Thank You For Your Feedback!
Thank You For Your Feedback!