Changing pad covers are one of the most overlooked baby items. With a variety of styles to choose from, each suiting a different purpose or type of changing pad, it can be hard to know what to look for.
We've listened to the experience of other parents and caregivers and have tried a wide range of products ourselves. We've evaluated items based on their cost, appearance, materials, and absorbency to come up with this comprehensive list.
If you want the best changing pad cover or liner for your changing pad, you'll be sure to find some great options here.
Image
Model
Product Comparison Table
Features
Best Waterproof Covers
Circo Wipeable Covers
Can be wiped off
Fits contoured changing pads well
Soft, stretchy fabric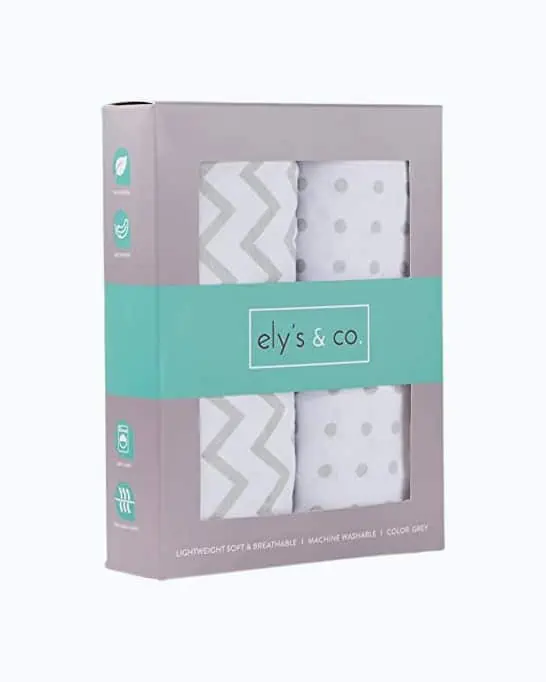 Best Set
Ely's & Co. Covers
Super affordable
Easy to clean
Universal fit
Best Organic Covers
Burt's Bees Covers
Wide range of prints
Keeps baby warm and snuggly
100% organic cotton
Best Cotton Covers
Copper Pearl Cotton
Money-back guarantee
Trendy prints
Machine washable
Best Non-Skid Covers
Summer Infant Ultra Plush
Great value for money
Fits a range of pads
Won't irritate sensitive skin
Best Non-Slip Liners
Swaddlez Non-Slip
Lifetime warranty
Compact when folded
Three liners included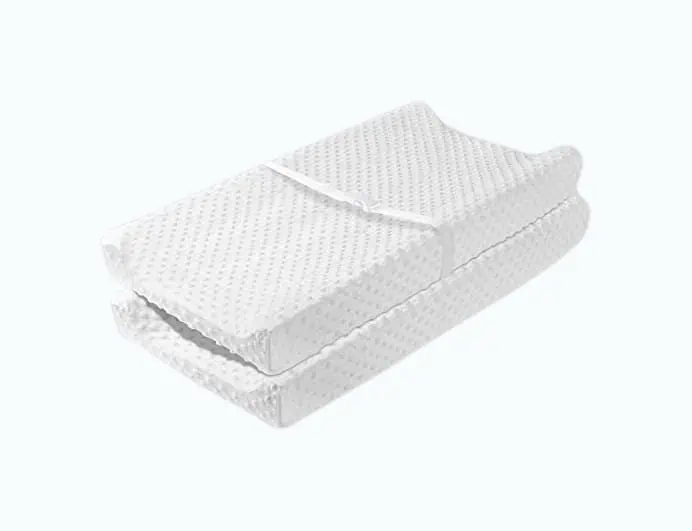 Best Ultra-Soft Covers
Vextronic Minky Dot
Safe for sensitive skin
Warm, plush material
Elastic stays in place
Review Methodology: At Mom Loves Best, we understand the importance of finding the perfect changing pad cover for you and your baby. Our team conducts thorough research, comparing various products based on criteria such as material quality, comfort, durability, and design. We evaluate each changing pad cover from a user's perspective, using hands-on experience and data analysis to measure their performance. We rank the top choices based on factors such as ease of cleaning, safety, and fit, helping you make an informed decision. Our assessment of design choices and their effect on users, along with our first-hand evidence, ensures that our recommendations are trustworthy and reliable. Trust Mom Loves Best to provide you with the facts and professional guidance needed to choose the best changing pad cover for your family.
---
---
The Best Changing Pad Covers of 2023
These are the best changing pad covers that won't break the bank.
Circo Wipeable Cover
Best Waterproof Changing Pad Cover
This changing pad cover can be wiped off, even after the biggest messes, and continue to look as good as new. You don't need to machine wash to take care of accidents, which is great news for busy moms who don't have the time to do extra laundry.
While the sides of this cover are soft, the middle is the tough, wipeable part. If you decide to give this cover a more thorough cleaning, you can toss it in your washer on a gentle cycle.
Pros
You won't have to machine wash it every time your baby has an accident.
Fits contoured changing pads really well.
Stretchy fabric fits most standard changing pads.
Cons
Because it's wipeable in the center, the middle part may be cold on your baby's back.
Our Ratings
Community Feedback
Excellent wipeable changing pad cover that has made diaper changes a breeze for me. With the waterproof material, I've experienced numerous accidents that were easily cleaned with just a paper towel and disinfectant. The minky fabric on the sides adds a touch of comfort, but I must admit, it can be a bit slippery and uncomfortable when wet, similar to a wet rain jacket on bare skin.
---
Ely's & Co. Changing Pad Cover Set
Best Set
This unisex set gives you two machine washable, lightweight cotton covers to work with. These will hold up well in the washing machine, and even hard-to-treat poop stains come out if you put it in the wash right away.
These will keep your baby's back warm and cozy when you change them because the material is so soft. They have a universal fit that works for standard changing pad sizes, and the thick elastic means they'll wrap around the changing pad without slipping much.
Pros
These covers are super affordable.
They're easy to clean.
Muted colors fit with a variety of nursery designs.
Cons
Initially have a strong chemical smell.
Fabric shrinks some when washed.
Our Ratings
Community Feedback
In my experience, these bassinet covers have been a great addition to our nursery. The jersey cotton material is not only soft but also provides a snug, secure fit, making it easy to put on and take off without feeling like a wrestling match with the mattress. Although I found that they fit our bedside bassinet mattress quite well, they might be slightly too tight for some other brands, such as Graco Pack n' Play. The patterns are adorable, and the fact that it's made of 100% cotton adds to the overall appeal. Cleaning them is a breeze - just throw them in the washer when needed, and they come out looking good as new.
---
Burt's Bees Baby Organic Knit Terry
Best Organic Changing Pad Cover
These Burt's Bees changing pad covers are made of 100% organic cotton jersey knit, which makes them super soft and breathable. They're naturally hypoallergenic, which is nice for moms who have allergies and worry their child might also be affected. This fabric is made of cotton that wasn't treated with harmful synthetic pesticides, so it's a lot safer.
You can put these in the washer and dryer, and they seem to get softer each time they come out. The durable elastic will keep the cover from shifting and sliding off, while the cotton jersey knit will give you a bit of stretch for a better fit.
Pros
Many color and pattern options.
Keeps your baby warm and snuggly during diaper changes.
Made with organic, breathable, GOTS certified cotton.
Cons
No slits for changing pad belts on some designs.
Doesn't fit contoured changing pads very well.
Our Ratings
Community Feedback
I've recently used this changing pad cover as a gift and for my own baby, and I must say it's quite impressive. The softness of the fabric is perfect for my baby's sensitive skin, and it fits most changing pads with ease, though the safety strap holes may need slight adjustments. The pattern and colors are lovely, although the blueberry classic stripe can appear darker than expected.
---
Copper Pearl Bloom Premium Cotton Pad Cover
Best Cotton Cover
This floral design should please moms who are looking for a more feminine touch for their daughter's nursery. The flowers are large and bold, which you may like better than a lot of the gender-neutral designs and colors on the market.
This cover can be cleaned in a washing machine and the fabric will look as good as new. The company even offers a full money-back guarantee if you aren't happy, making this a risk-free purchase.
Pros
With the money-back guarantee, there's no risk in trying this cover.
Unique, trendy fabric choices.
Absorbent material prevents additional messes.
Cons
It doesn't have much give or stretch, which might be a problem for tight-fitting situations.
It doesn't have slits for safety belts.
Fabric is machine washable but will stain if not cleaned quickly.
Our Ratings
Community Feedback
This Copper Pearl changing pad cover is incredibly soft and sports a lovely print, making it the perfect choice for my daughter's sensitive skin. The brand offers a variety of matching products like crib sheets, hats, and blankets, which I've also purchased and adore. One minor issue I encountered was the lack of sewn cutouts for the safety belt on my diaper changing pad, but with a small alteration, it works just fine.
---
Summer Infant Ultra Plush Changing Pad Cover
Best Non-Skid Cover
This cover will fit standard changing pads measuring up to 16 x 34 inches, and it's compatible with security straps.
The changing pad cover is machine washable and it will also resist stains, which is nice if you've been burned by poopy blowouts before. The Velboa material is soft and will keep your baby's back warm during diaper changes. The lightweight fabric is comfortable enough to use even in hot summer weather and is great for babies with sensitive skin.
Pros
Great value for the money.
Warm fabric won't startle a sleepy baby when you change them.
Cons
The material is thinner than some other options.
It can build up static pretty easily.
Our Ratings
Community Feedback
As a parent, I've found these changing pad covers to be incredibly soft, comfy, and easy to clean. I've used them for both of my children and they have held up well through multiple washes. The cute designs and patterns, like the chevron and monkey themes, perfectly match our nursery decor.
---
Swaddlez Non-Slip Changing Pad Liners
Best Non-Slip Liners
This great set by Swaddlez includes three changing pad liners, which means you'll always have a clean one on hand when you need it. They're made out of bamboo viscose fabric and are lead, BPA, and phthalate-free.
The bottom layer is waterproof, which protects whatever surface you're using it on, whether it's a friend's couch or your own changing pad. The top bamboo layer absorbs fluids with no problems to keep your baby dry during diaper changes.
To help your little one avoid irritated skin, this brand doesn't bleach or dye their fabrics. When they're soiled, simply toss them in the washer and dryer.
Pros
Set comes with a lifetime warranty.
Waterproof backing helps contain messes.
Compact, folding design is great for travel.
Cons
Stitching doesn't hold up well in the washer and dryer.
Narrow liners may not be a good choice for chunky babies or wiggly toddlers.
Our Ratings
Community Feedback
In my experience, these changing pad liners have been a fantastic addition to our baby care routine. They are large, soft, and the TPU layer prevents any leaks, keeping the changing pad and other surfaces clean and dry. I've washed and dried them multiple times, and they still maintain their quality and effectiveness. These liners are not only great for diaper changes, but also for use during potty training and as a protective layer on play mats.
---
Vextronic Minky Dot Changing Pad Covers
Best Ultra-Soft Covers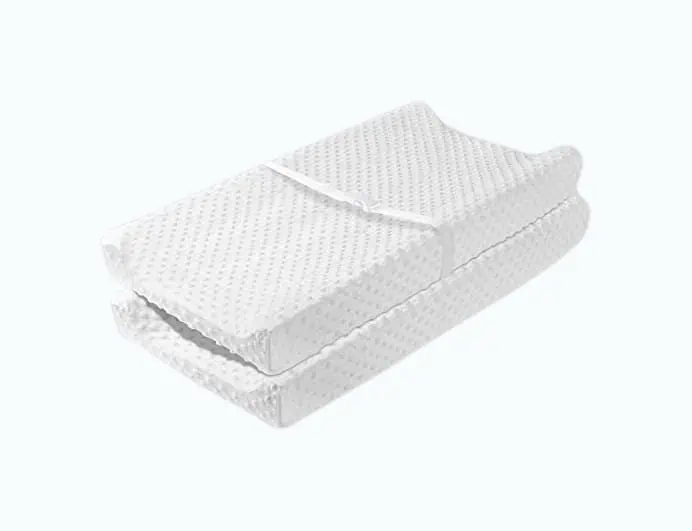 If your baby hates diaper changing time, check out the Vextronic Minky Dot covers. In this set, you get two ultra-soft and breathable covers. They're made with a lush blend of jersey knit, polyester, and velvet, making them gentle on sensitive skin.
The covers remain soft after being washed many times. The colors don't fade, and the fabric doesn't stretch out. You can rely on these quality and durable covers for a long time.
We love how easily they fit onto most changing pads. They're simple to put on and take off, which is important for those midnight accidents.
Pros
Non-staining fabric is machine washable.
Super soft, plush fabric feels like a baby blanket.
Safe for use on sensitive skin.
Keeps babies warm.
Cons
No openings for the safety belt.
Our Ratings
Community Feedback
In my experience, these changing pad covers are soft, lightweight, and come in beautiful colors. They fit well on the pad, but I would suggest using a waterproof mat on top to prevent any messes from reaching the cover. Although not perfect, they are an affordable and comfortable option for your baby's changing area.
Are Changing Pad Covers Necessary?
You already have a changing pad. So why would you want a cover and a liner? Do all moms use them?
Covers and liners aren't essential, but they are a good idea to have.
Why They Are Useful
The cover and the liner serve a different purpose than a changing pad. The pad is meant to keep your baby cushioned during
diaper changes
and protect your belongings from messes. The cover protects the pad from stains and keeps your baby's skin soft and warm.
Depending upon what kind of material it's made of and if there are any perforated designs on it, your changing pad can end up with poop stains. Changing pad covers and liners can prevent this nastiness.
They also help soak up any leaks your baby may spring after you remove their diaper, leaving you with less cleaning to do. If your child's diaper messes end up on the cover and soak through to the liner, you simply take them off and pop them into the washing machine.
Another upside to having a cover is that it feels nice for your baby. Most changing pads are enclosed with a plastic waterproof layer that can be cold against your baby's back and stick to their skin. A changing pad cover will prevent discomfort and even allow you to change a sleeping baby without them waking.
How to Choose the Best Changing Pad Cover
There are really just four simple things to consider when you're shopping for a changing pad cover or liner.
---
How Many Changing Pad Covers Do I Need?
Most people find that they only need two changing pad covers for their diapering needs. Some people may think one is enough, and if you're really diligent about doing your laundry, it might be. But some babies have frequent blowouts, and some families wash laundry less often than others, so your best bet is to have an extra changing cover on hand.
Changing Pad Cover FAQs
---
Thank You For Your Feedback!
Thank You For Your Feedback!