When your baby is suffering, you want that pain to go away — and fast! A good diaper cream can begin to comfort the agony caused by a diaper rash immediately.
As moms ourselves, we've dealt with enough diaper rashes to know that not all creams work for every type of rash. So, we've consulted with doctors, parents, and caregivers and have spent many hours researching the causes of diaper rashes and all possible treatments.
As a result, we've written this guide to answer all your questions and to share our recommendations for the best diaper rash creams to prevent and treat any diaper rash.
Image
Model
Product Comparison Table
Features
Best Maximum Strength
Desitin Maximum Strength
Maximum strength
12-hour relief
Treats and prevents
Best for Cloth Diapering
Earth Mama Angel Baby
Free of allergens
All-natural formulation
Antibacterial & antifungal properties
Best for Diarrhea
Aquaphor Baby
Multiple uses
Provides excellent moisture barrier
Promotes skin healing
Best for Toddlers
Boudreaux's Butt Paste
Protects and treats
Economical
Developed by a pharmacist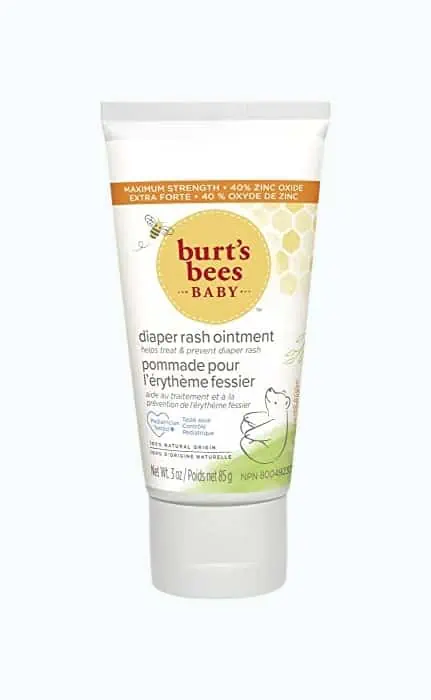 Best for Infants
Burt's Bees Ointment
100% natural
Paraben-free
Offers barrier protection & skin conditioners
Best All Natural
Babo Botanicals
Fair trade product
Organic
All natural ingredients
Best Orgnaic
The Honest Company
Organic ingredients
Plant based
Hypoallergenic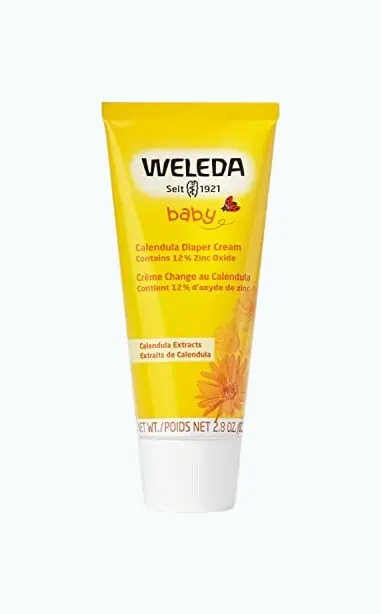 Best for Open Sores
Weleda Diaper Cream
Contains zinc oxide
Has anti-inflammatory calendula
No synthetic preservatives
Best Antifungal
Baza Moisture Barrier
Blocks moisture
Antifungal
Multifunctional product
Best for Eczema
A&D Diaper Ointment
Very effective
Provides strong moisture barrier
Oil-based
Review Methodology: At Mom Loves Best, we provide a thorough analysis and assessment of the best diaper rash creams to help you make the right decision for your baby. Our experienced team has conducted hands-on research, comparing various products based on their performance, ingredients, and user experience. We evaluate each cream using specific criteria such as effectiveness, safety, and ease of application. Our findings are supported by data, professional reviews, and real-life testimonials to help you identify key decision-making factors. We also examine the design choices, rank the creams based on their scores, and explain what sets each product apart from its competitors. Trust us to help you choose the best diaper rash cream for your little one's needs.
---
---
The Best Diaper Rash Creams of 2023
Here are the top diaper rash creams on the market.
Desitin Maximum Strength Baby Diaper Rash Cream
Best Maximum-Strength Diaper Rash Cream
This hypoallergenic formula is paraben, phthalate, dye, and soap-free. Dermatologically and pediatrician tested, it's a gentle option for daily use.
However, it still uses maximum strength to effectively treat diaper rash. It's made with 40% zinc oxide to treat and even prevent diaper rash discomfort.
This is a fantastic option for overnight use as it can provide relief for up to 12 hours. So if your little one is waking up in pain during the night, we recommend trying this.
Pros
Hypoallergenic.
Maximum strength.
12-hour relief.
Treats and prevents.
Cons
The thick formula is hard to spread.
Overwhelming "medical" smell.
Our Ratings
Community Feedback
I've been using this diaper cream for my little one who has had frequent episodes of diarrhea, leading to painful rashes. This cream's texture creates a barrier between the skin and moisture, helping to heal the rash faster than other products I've tried. It's important to note that the smell is quite strong and fishy, but the effectiveness of the cream is worth it. While it's primarily designed for diaper rash, I've found it can also be helpful for other skin irritations, making it a versatile addition to our household.
---
Earth Mama Organic Diaper Balm
Best Diaper Rash Cream for Cloth Diapers
Finding a diaper cream with neither zinc oxide nor petrolatum is near impossible, but this one fits the bill. Made of completely natural ingredients that should rinse out of your cloth diapers, it offers your baby's skin wetness protection while still allowing it to breathe.
It also contains antibacterial and antifungal herbs, which means it may help prevent and treat yeast rashes. It's been clinically tested and dermatologist approved and is free of some of the most common allergens, including lanolin, mineral oil, beeswax, and petroleum.
Pros
Free of many allergens.
All-natural formulation is also great for sensitive skin.
You can use it without compromising your cloth diapers.
It has antibacterial and antifungal properties.
Cons
A little on the expensive side.
Some reviewers found the smell to be too strong.
Our Ratings
Community Feedback
My experience with this diaper balm has been nothing short of impressive, as it effectively clears up diaper rash and can even be used on raw noses during cold season. I have found that it works wonders on my daughter's sensitive skin, and its natural, minty scent is an added bonus. Not only does it prevent and soothe mild diaper rash, but it can also be used as a moisturizer for mild cuts and scrapes to expedite the healing process. In cases of severe diaper rash, I recommend using a zinc oxide cream alongside this balm for optimal results.
---
Aquaphor Baby Healing Ointment for Diaper Rash
Best Diaper Rash Cream for Diarrhea
This thick, greasy ointment is easy (and painless) to apply and wipe off and will provide a solid moisture barrier between your baby's skin and the contents of their diaper.
Aquaphor ointment also contains panthenol and glycerin, which help to moisturize and nourish the skin, promoting the healing of irritated little bottoms.
Dermatologists widely recommend Aquaphor for help with a wide variety of skin issues, but this line was specifically formulated with babies' unique skin needs in mind.
Parents find it very effective in treating and preventing diaper rash, but you can also use it for other skin issues such as eczema and chapped skin and to protect cuts and scrapes.
Pros
It has multiple uses.
Provides an excellent moisture barrier.
Helps promote skin healing.
Cons
It contains petrolatum.
It contains potential allergens.
Takes some effort to rub in.
Our Ratings
Community Feedback
Best all-purpose skin product I've come across! This ointment not only moisturizes and brightens tattoos all day with just a few dabs, but it's also great for diaper rashes, bug bites, dry skin, and more. I've noticed its long-lasting effects compared to other products like Aloe Vera gel. Plus, the fact that there's no scent makes it perfect for daily use on both adults and babies alike without any irritation.
---
Boudreaux's Butt Paste Diaper Rash Ointment
Best Diaper Cream for Toddlers
Developed by a father who also happened to be a pharmacist, this simple paste treats your baby's diaper rash with only six ingredients, so you know they're not being exposed to strange chemicals.
It's comprised primarily of zinc oxide, leaving a thick barrier between your baby's bottom and potential irritants. The additional ingredients will help to soothe your baby's skin without any strong or medicinal scents. Finally, not only will it prevent further irritation, but it helps heal existing rashes.
Pros
Protects and treats.
A little goes a long way toward maximum coverage with this thick formula.
It was developed by a pharmacist.
Cons
Contains petrolatum.
It isn't suitable for cloth diapers.
Our Ratings
Community Feedback
If you're struggling with skin issues like rashes or yeast infections, this ointment works wonders. I've personally experienced its effectiveness after using just a nickel-sized amount on affected areas; the rash disappeared within a day. This butt paste has also been a great solution for my son's diaper rash, showing significant improvement overnight. Its zinc content contributes to its impressive healing properties, making it superior to other rash medications on the market. In my experience, this ointment is an excellent choice for treating inflamed, itchy, and sore skin.
---
Burt's Bees Baby Diaper Rash Ointment
Best Diaper Cream for Infants
Burt's Bees has an excellent reputation for high-quality and gentle products, and their diaper rash ointment is no exception. It's safe to use on your baby's bum, with 100 percent natural ingredients and no parabens, phthalates, or petrolatum.
Made of 40 percent zinc oxide, it locks out any moisture that could irritate your baby's skin but also has natural nourishing conditioners. Pediatricians have thoroughly tested this product, so you know it will be gentle on your baby, and it has a pleasant scent that won't make you think of medicine.
Pros
100 percent natural.
It's paraben-free.
It offers barrier protection and skin conditioners.
Cons
Contains beeswax and lanolin, which are allergens for some babies.
It's easy to burn through this thin formula quickly.
Our Ratings
Community Feedback
I'm impressed with this natural, petroleum-free cream as it provides excellent coverage and sticks well to the skin, even when applied thinly. However, the tube's design makes it difficult to get the last bit of product out, and I wish it came in a larger size. While it is a bit more expensive than other brands, the effectiveness justifies the price. One downside I've experienced is that it can stain cloth diapers, but with proper cleaning, most of the stains can be removed.
---
Babo Botanicals Natural Diaper Rash Cream
Best Natural Diaper Rash Cream
This cream is made entirely of natural products with no synthetic ingredients, and it was developed on a certified organic farm, so you can be sure that what goes onto your baby's skin is as safe as possible.
It has zinc oxide as a moisture barrier and contains anti-inflammatory extracts to help soothe your baby's bottom. Since it's manufactured in small batches, the quality is kept high, as opposed to mass manufacturing, where quality can be diminished.
Pros
They support fair trade.
Organic.
Quality, all-natural ingredients.
Cons
It's expensive.
Some of the ingredients are potential allergens.
Our Ratings
Community Feedback
I'm a long-time user of this diaper cream, and while I appreciate its natural ingredients and pleasant scent, I've noticed a recent change in the formula. The newer version is runnier, making it messier to apply and less effective at staying on my child's skin. Despite this issue, I still find it to be a useful product that soothes minor diaper rashes and works well for sensitive skin.
---
The Honest Company Diaper Rash Cream
Best Organic Diaper Rash Cream
This plant-based diaper cream is made with organic ingredients, so you know it's as natural as possible. The zinc oxide forms a barrier to protect your baby's bottom and reduces inflammation on the irritated skin.
It's certified by the NSF — which means it meets strict health and safety standards — and has been tested by physicians. It's kind to your baby's skin, fragrance-free, and doesn't contain any parabens, mineral oil, lanolin, or dyes.
Pros
Made with organic ingredients.
Plant based.
It doesn't contain any common allergens.
Hypoallergenic.
Cons
The coconut oil may irritate some babies.
The oil and other ingredients can sometimes separate in the jar, requiring additional mixing.
Our Ratings
Community Feedback
After trying numerous diaper creams, this product stood out for its effectiveness and natural, non-toxic ingredients. Not only did it clear up my baby's diaper rash within a couple of days, but my husband also found it helpful for his leg rash. This cream is light on the skin and easy to spread, making it a staple in our diaper bag, car, and changing area. Additionally, we have been pleased with other products from this brand, such as their lotion and shampoo/body wash, due to their affordability and trustworthiness.
---
Weleda Diaper Cream with Calendula
Best Diaper Rash Cream for Open Sores
Weleda developed this cream with the help of midwives, so you know that they care about making products that actually work. As a bonus, this is certified "natural" by the European organization NaTrue.
The cream is 12% zinc oxide to offer protection, with calendula extract and other natural ingredients to soothe your baby's extra-irritated bottom.
It contains no synthetic preservatives or fragrances and replaces traditional mineral oil with beeswax. There are also several other ingredients to further nourish your baby's soft skin as it heals.
Pros
Natural product.
It contains zinc oxide.
Has anti-inflammatory calendula.
No synthetic preservatives.
Cons
It contains beeswax and lanolin (potential allergens).
High number of ingredients.
Our Ratings
Community Feedback
I've been using this diaper cream for my baby and it's been amazing for their sensitive skin. The all-natural ingredients and pleasant smell make it stand out from other brands I've tried. However, be cautious with the packaging as it can crack and leak if mishandled or chewed on.
---
Baza Moisture Barrier Antifungal Cream
Best Antifungal Diaper Rash Cream
Though this cream wasn't developed specifically for babies, many parents have used it instead of diaper cream when their children are battling yeast.
It contains petrolatum, which will form a barrier between your baby's skin and diaper wetness, and also an antifungal ingredient to help to eliminate yeast growth.
Because diaper creams don't come with an antifungal, you will need to check with your doctor before using this product on your baby — just to make sure they give you the go-ahead. But once they do, this is nice to have in your medicine cabinet because you can use the diaper cream to heal fungal infections in the whole family.
Pros
It provides a moisture barrier.
It has an antifungal to help with yeast.
Multifunctional product.
Cons
Not specifically approved for babies.
It contains synthetic products.
Our Ratings
Community Feedback
Bought this cream to deal with a persistent rash, and I'm thrilled with the results! It's not greasy and doesn't stain my clothes, making it easy to apply daily. This product has been effective in clearing up rashes from weight loss, preventing chafing in skin folds, and even helped my child's diaper rash caused by a resistant yeast strain. The only downside is that it could be a bit thicker, but it still works wonders.
---
A&D Diaper Rash Ointment
Best Diaper Cream for Eczema
Nothing offers barrier protection quite like oil-based ointments. And at 53 percent petrolatum, this ointment will keep all irritants off your baby's already-irritated skin. It also contains lanolin, which is designed to help treat and heal your baby's diaper rash.
Because it's oil based, it's easy to apply to your baby's skin and won't cause them discomfort as you try to spread it across their sore diaper area. The same is true when you clean it later. Because it's not a thick paste, it wipes off easily, so you don't have to scrub your baby's poor tushie.
Pros
Very effective.
It provides a strong moisture barrier.
Cons
b
Contains potential allergens.
Petrolatum is a synthetic product.
Our Ratings
Community Feedback
I'm impressed with the versatility and effectiveness of this product, as it has proven useful for a variety of skin issues, such as diaper rashes, dry skin, and irritation. Personally, I've experienced relief from chafing and rashes, and noticed that it soothes and heals affected areas within a day. This product outperforms other similar products I've tried, solidifying its position as the best in its category. Additionally, the tube's size is convenient for multiple uses, making it a household staple for both children and adults.
Why You Need Diaper Rash Cream
A diaper rash is a skin irritation in your child's diaper area.
Sometimes it's simply a red, irritated patch on your baby's bottom that causes them no apparent discomfort. Other times it can be severe, spreading to their thighs or torso and causing pain. In extreme cases, the skin can bleed or become infected.
Diaper rash cream can help heal your child's bottom from an existing rash and prevent one from starting.
The best diaper rash creams act as a protective barrier between your baby's bottom and potential irritants and include soothing ingredients to calm inflammation and heal irritation.
The Causes of Diaper Rash
There are many causes of diaper rash:
Moisture: Your child's diaper is a warm, moist place, and even though diapers do their best to wick that moisture away from their skin, their bum is never 100 percent dry. There's always moisture against your baby's skin, causing potential irritation (1).
Stool: When your baby's urine mixes with their stool, it causes a chemical reaction that creates ammonia. Ammonia is harsh on the skin and can irritate it. If you are a cloth diaper user, it is important to keep cloth diapers free of ammonia.
Diarrhea: Additional acid in your child's diarrhea combined with the extra moisture and ammonia present in their diaper creates the perfect recipe for diaper rash.
Foods: Introducing new foods into your baby's diet can change the chemical composition of their stool and irritate their tender skin. Depending on the food, it may also introduce more acid into the diet, which is also an irritant when it comes out in your baby's diaper. It's important to note that if your child gets a diaper rash from a type of food, it doesn't necessarily mean they're allergic to that food. Watch for other signs of allergy in your child, and talk to your doctor if you have concerns.
Chemicals: Disposable diapers have chemicals, dyes, and perfumes to help trap moisture and keep it from smelling. Even "natural" diapers have some chemicals in them. If your child is repeatedly getting diaper rashes, you may need to switch to a dye-free or natural diaper for sensitive skin or consider switching to cloth diapers.
Detergents: If you use cloth diapers, your baby may be reacting to the detergent you use to wash them. You may want to consider switching brands, changing to a detergent without dyes or perfumes, or adding an extra rinse or two to your wash routine.
Antibiotics: Antibiotics kill the bacteria that make your child ill — but they also kill the healthy bacteria in their digestive system. This can cause them to get diarrhea or a yeast infection, both of which cause diaper rash.
Yeast: Most diaper rashes are caused by topical or chemical skin irritation and are treated with over-the-counter diaper rash creams. Yeast rashes are the result of yeast (technically a fungus but often mistakenly referred to as a bacteria) growing in your child's diaper area, and they are particularly stubborn. Yeast loves warm, moist environments — like your baby's diaper. Yeast infections need to be treated with an antifungal product, often by prescription (2).
Pro Tip
If you use cloth diapers and your child gets a yeast rash, you'll need to go through some extra steps to kill the yeast living in the fibers of your diapers. Your regular wash routine won't kill them. Switch to disposable diapers temporarily while you battle your baby's yeast rash, and treat your cloth diapers to prevent a recurrence of yeast.
Types of Diaper Rash Products
There are several on the market, depending on your needs.
How to Choose a Diaper Rash Cream
When choosing a diaper rash cream, consider the following:
---
FAQs
The Bottom Line
Our top pick for the best diaper cream is the Desitin Maximum Strength Baby Diaper Rash Cream. Not only is it hypoallergenic, maximum strength, and free from nearly all major potential allergens, but it can be used with any type of diaper and has antifungal properties that may help you battle or prevent yeast.
It can be tricky to find the best diaper cream for your baby, but when you find one that works, you'll be loyal to it for your whole parenting career.
Thank You For Your Feedback!
Thank You For Your Feedback!