If you're concerned about the effect of diapers and their ingredients on your baby and the environment, you might be looking for an organic or environmentally friendly diaper. The trouble is there are too many products to choose from and plenty of confusing, unregulated labels.
With five kids, we've changed a diaper or two. We've also done indepth research and learned from experts about the environmental impact of diapers. Using these insights and the detailed customer reviews we combed through, we've gathered the best organic diapers on the market.
Image
Model
Product Comparison Table
Features
Best Overnight
DYPER Bamboo Baby Diapers
Excellent fit
Independent certification
Dye- & fragrance-free
Best Cloth
Smart Bottoms No-Prep Dream Diaper
Only one wash before use
Soft and comfortable outer layer
Suitable for babies 10 lbs to 35 lbs
Best Training
ECO BOOM Bamboo Biodegradable Diapers
FSC certified bamboo material
Helpful wetness indicator
Great for babies starting at 6lbs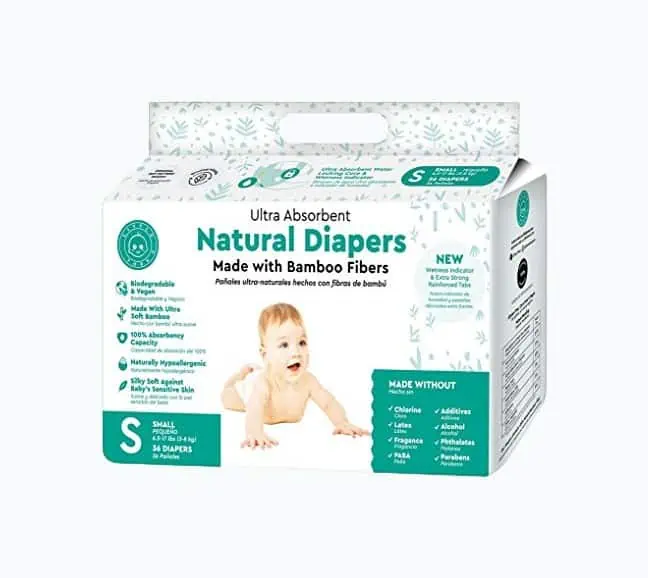 Best Absorbent
Little Toes Naturally Biodegradable Bamboo Diapers
Color-coded sizing
Soft bamboo-based material
Made of 67% biodegradable materials
Best Eco-Friendly
Bio-Bag Nurture Diapers
Compostable packaging
No inks or dyes
Better for the environment
Best Budget
Mum & You: Nappychat Eco-Diapers
High belly panel
Caregiver-baby bonding design
Good enough absorbency
Best for Sensitive Skin
Babyganics: Ultra-Absorbent Skin Love Diapers
Ultra-absorbent
Snug fit
Petroleum-free materials
Review Methodology: At Mom Loves Best, we're committed to providing thorough and reliable evaluations of the best organic diapers on the market. Our hands-on tests and assessments are based on a stringent set of criteria, drawing from our extensive experience and research. We compare and rank diapers based on performance, absorbency, comfort, and environmental impact, among other important factors. Our reviews are backed by data, providing you with evidence to make informed decisions. Whether we're discussing design elements or specific features that set a product apart, our goal is to empower you with facts and findings from our professional analysis. Trust in our commitment to helping you choose the best for your baby.
---
---
The Best Organic Diapers of 2023
Taking all of those points into consideration, these are the seven diapers we choose as being the best for reducing your negative environmental impacts.
DYPER Bamboo Baby Diapers
Best Overnight
DYPER diapers have a liner and outer covering made of 100% viscose from sustainably sourced bamboo. Meanwhile, the core is made with a chlorine-free wood pulp process, so no dioxins are created in their manufacture.
Their diapers are certified by the independent Swiss testing authority, OEKO-TEX, as containing no substances harmful to human health. This certification applies to all elements of the diaper, which are fragrance-, dye-, and lotion-free.
The absence of lotion, dye, and fragrance means that DYPER is especially suitable for children who are susceptible to allergic reactions or for parents sensitive to perfumes or colorings.
Available in five sizes, one of our favorite things about DYPER is that their sizes have plenty of overlap. Consequently, the fit is excellent, and the chance of leaking or blow-outs is minimal. However, some people find the generous sizing a disadvantage.
Available by subscription, REDYPER is the company's disposal service. DYPER will send you the packaging and labels required. When you have a full box, you ship the entire package to their partners, Terracycle, who then compost the contents.
Pros
Excellent fit.
Trustworthy brand with independent certification.
Dye- and fragrance-free for sensitive skin.
Product Specs
| | |
| --- | --- |
| Liner | 100% Viscose From Bamboo Fibers |
| Pulp | Sodium Polyacrylate, Elemental Chlorine-Free Wood Pulp |
| Lotion | None |
| Fragrance & dyes | None |
| Packaging | Biodegradable plastic and cardboard |
Our Ratings
Community Feedback
Bought these Dyper diapers after trying other brands that caused rashes on my newborn, and I couldn't be happier with the results. Within just three days, the rash disappeared, and while we've had one or two leaks, it's a small price to pay for my baby's comfort. These diapers are not only super soft and chemical-free, but they're also biodegradable, making them an eco-friendly choice. They might be a tad pricey, but the quality, absorbency, and environmental benefits make them well worth the investment.
---
Smart Bottoms No-Prep Dream Diaper
Best Cloth
Made in the USA, Smart Bottoms Dream Diapers only require one wash before use. There is no need for any of the multiple prepping washes required with Smart Bottoms's other cloth diapers.
These diapers have a 100% organic cotton inner surface that is gentle on your baby's skin, as well as on the environment. The snap-in insert can be removed and replaced with an overnight version for additional absorbency.
The outer layer is PUL, a fabric that has a layer of polyurethane film heat laminated to the outside. This results in a soft, flexible, breathable waterproof fabric that lasts through, literally, hundreds of washes.
There are 39 bright, whimsical, and fun patterns available, including a rainbow-colored unicorn print and, my personal favorite, a retro camping pattern.
The Dream Diaper is a one-size-fits-all diaper with multiple rows of snaps so you can make it fit, theoretically, any average size baby. However, we found that babies under around ten pounds experienced a looser fit around the leg. So you may want to supplement these with newborn-size disposables, to begin with.
Pros
No need to prep before use — one wash needed.
Soft outer layer makes for a comfortable diaper.
Suitable for babies 10 lbs to 35 lbs.
Cons
Fits better for chunkier babies.
Product Specs
| | |
| --- | --- |
| Liner | Hemp & organic cotton. |
| Pulp | None |
| Lotion | None |
| Fragrance & dyes | None |
| Packaging | None |
Our Ratings
Community Feedback
My experience with these cloth diapers has been fantastic! I enjoy the creative prints, though I do add a booster to ensure no leaks. Personally, I prefer the 3.1 style as the interior fabric feels nicer to me. These diapers fit well under clothing and I haven't encountered any leaking issues.
---
ECO BOOM Bamboo Biodegradable Diapers
Best Training
These ECO BOOM bamboo diapers are perfect for potty training your baby. The inner liner and back sheet are made of 100% bamboo, biodegradable non-woven material, but it's unclear whether the rest of the diaper is.
The diapers are lotion-free, but they do have aloe oil added to keep them soft, so they may not work for anyone with an allergy to aloe.
The absorbent core is made from Forestry Stewardship Commission, FSC, certified wood, combined with a super absorbent polymer called Aqua Keep. Because Aqua Keep is almost insoluble in water, it will hold a great deal of moisture.
The wetness indicator is more beneficial for new parents as it can be difficult to tell how much pee your baby's pants are packing. However, once you've done the old poke test a few times, a wetness indicator isn't really needed.
Pros
Mostly organic components, including FSC certified bamboo.
Wetness indicator helpful for new parents.
Great for smaller babies as sizes start at 6lbs.
Cons
Not entirely biodegradable.
Product Specs
| | |
| --- | --- |
| Liner | 100% Bamboo |
| Pulp | "Fluff pulp" mixed with SAP |
| Lotion | None |
| Fragrance & dyes | None |
| Packaging | Biodegradable plastic and card. |
Our Ratings
Community Feedback
I'm impressed with the quality and effectiveness of these eco-friendly diapers. They are super soft, unscented, and provide excellent absorbency, even overnight. I first tried them when my baby was around 10 pounds, and they still fit great as she grew. The design, with side pockets to contain messes, has significantly reduced diaper leaks and kept her skin healthier compared to other brands I've tried. Although these diapers are a bit pricier, they are a fantastic clean option for those looking for a more environmentally conscious choice.
---
Little Toes Naturally Biodegradable Bamboo Diapers
Best Absorbent
The Little Toes naturally biodegradable bamboo diapers have an inner and outer surface made of bamboo. Consequently, both the inside and outside of these diapers are exceptionally soft.
Each size is color-coded with a bright, colored band, and the outer surface is printed in a multicolored pattern. The diapers we tested had a deep red waistband/belly panel and a pattern of red, yellow, and teal circles and dots.
Little Toes, like most other natural diaper makers, market their bamboo diapers as biodegradable. However, to be accurate, 67% of the materials in the diaper are biodegradable, meaning they will degrade in a landfill within 180 days. The other 33% of materials do not meet this criteria.
Although they are partially biodegradable, they, like other diapers, are not compostable. They should only be composted by a specialist facility capable of safely doing so.
The plastic diaper packaging is not recyclable, but it is D2W plastic which may or may not be biodegradable, depending on who you speak with (1).
Pros
Color-coded sizing for easy recognition.
Exceptionally soft and comfortable bamboo-based diapers.
Made of 67% biodegradable materials.
Cons
Patterned diapers contain multiple water-based dyes.
The largest size is 20-29 lbs.
Product Specs
| | |
| --- | --- |
| Liner | 100% bamboo |
| Pulp | >18% bamboo pulp with SAP |
| Lotion | None |
| Fragrance & dyes | None |
| Packaging | Biodegradable (?) plastic |
Our Ratings
Community Feedback
My experience with these bamboo diapers has been great, especially for my child who has sensitive skin. They're soft, absorbent, and have a good fit, even for my 2-year-old. While there were a couple of instances where the tabs ripped, it didn't cause any major issues and was a minor trade-off for the eco-friendliness of these diapers.
---
Bio-Bag Nurture Diapers
Best Eco-Friendly
Bio Bag is an international bio-plastics company, and the Nurture diapers are made in a Danish manufacturing plant that is 100% wind-powered.
The Nurture diapers have multiple independent certifications, including two that say they are compostable. However, as with others on the list, these diapers are best composted in a specialist facility that separates the compostable from non-compostable elements.
The fit is OK, but they run large, so be aware you might have to wait for your little one to grow into them. These diapers also have a wetness indicator that turns from yellow to blue when your baby is wet. Gratefully, they haven't used any ink or dye prints for these — which makes them hypoallergenic.
We also found that the outer layer is beautifully soft and silky. Unfortunately, it isn't as good as other diapers at keeping the moisture in. A small amount of liquid is safe, but when your child does a mega pee, you're likely to find their clothes end up wet.
Pros
Compostable packaging.
Perfect for babies with dye allergies since no inks or dyes.
Better for the environment than standard diapers.
Cons
Diapers can only be composted through specialist service.
Not as absorbent as we'd like.
Product Specs
| | |
| --- | --- |
| Liner | Viscose |
| Pulp | Cellulose pulp & SAP |
| Lotion | None |
| Fragrance & dyes | None |
| Packaging | Compostable |
Our Ratings
Community Feedback
I've tried various eco-friendly diaper brands, and these diapers have some advantages and disadvantages. On the plus side, they are cost-effective and gentle on my baby's skin, without causing any irritation. However, they don't seem to hold up well overnight, requiring frequent changes, and their absorbency is not as high as some other brands. The pH indicators also appear to be flawed, with the yellow lines already slightly color-changed before use.
---
Mum & You: Nappychat Eco-Diapers
Best Budget
Mum and You is a UK company. Their nappychat eco-diapers are printed with patterns designed to stimulate stories, talking, or chats between a caregiver and the baby whose bottom they are changing.
Both the Mum and You website and the packaging say the diapers are dye-free. The dye-free refers to the wood pulp and not the inks used for printing.
The fit, like others, is partially dependent on your child's size and shape. We found the diaper front was higher than average, giving good coverage for longer babies, but felt a little bulky on the smaller kiddos.
Some users found them excellent overnight while others were disappointed. We give them an average rating because they didn't leak often, but there were the occasional nights where soak-through occurred.
Pros
A high belly panel, suitable for longer babies.
Clever design encourages caregiver-baby bonding.
Good enough absorbency.
Cons
Reviewers wished the product information was more transparent.
Product Specs
| | |
| --- | --- |
| Liner | Unknown |
| Pulp | 100% biodegradable core |
| Lotion | None |
| Fragrance & dyes | Fragrance-free, unspecified dyes |
| Packaging | Renewable, biodegradable sugarcane |
Our Ratings
Community Feedback
My experience with these eco-friendly diapers has been mostly positive, as they are both cute and affordable. The absorbency is impressive, even for overnight use, and the softness adds to their comfort. However, I found the lack of a pee line to be an inconvenience, making it difficult to determine when a diaper change is necessary. While they are lightweight and effective at preventing leaks from the legs, there were occasional blowouts from the top.
---
Babyganics: Ultra-Absorbent Skin Love Diapers
Best for Sensitive Skin
Babyganics ultra-absorbent Skin Love diapers live up to their labeling, as far as absorbency goes. Not only do their diapers soak up plenty of fluid, but they were also highly rated when it came to wicking and holding that moisture away from a baby's bottom.
Unfortunately, none of the materials are certified as compostable, biodegradable, or recycled. The packaging lists petroleum-free lotions, but the diapers do have a proprietary product called NeoNourish®, a blend of sunflower, tomato, black cumin, cranberry, and raspberry seed oils. So they're not lotion-free.
Babyganics fit well, although they do tend to run a little small, so if your little one is near the upper end of the weight range, it's definitely worth bumping up a size sooner rather than later.
Pros
Ultra-absorbent diapers keep baby dry.
Snug fit for babies of most sizes.
Petroleum-free materials.
Cons
Materials are neither recyclable nor compostable.
Product Specs
| | |
| --- | --- |
| Liner | Bamboo |
| Pulp | Unspecified plant-based material |
| Lotion | Neo Nourish Seed Oil |
| Fragrance & dyes | Labeled fragrance-free, unspecified dyes. |
| Packaging | Plastic |
Our Ratings
Community Feedback
In my experience, these Babyganics diapers are quite absorbent and soft, making them perfect for overnight use. However, they do run a bit narrow and slim, which may cause difficulty in fastening as your baby grows. The wetness indicator could be improved, as it's not as easy to read compared to other brands. Despite the sizing issues and indicator, I appreciate the competitive pricing and how well these diapers have prevented significant diaper rash.
---
---
Are Organic Diapers Worth It?
You might think you're doing a good thing by using "greener" diapers, but the reality can be very different. Diapers brands may have eco-friendly, green, natural, or organic on their labels, but only the use of organic is regulated.
So, are these diapers worth the extra cost?
Some of the benefits of organic diapers are:
Fewer Chemicals Next to Baby's Skin
It's almost impossible to pin down exactly which substances are in a disposable diaper, but a French study found multiple potentially harmful toxins including phthalates, dioxins, and tributyltin (2).
While substances with the potential to cause harm are all around us, choosing organic diapers reduces or removes one source of chemical exposure, and that can only be a good thing.
Less Likely to Cause Allergic Reactions
A study in the American Academy of Pediatrics journal looked at contact dermatitis as a result of dyes in diapers (3). The use of dye-free diapers resolved the rashes and irritation in all cases, and in those children who had allergen testing, the results showed allergies to dyes.
Fragrances are another similar cause of allergic reactions. Diaper manufacturers do not have to list all of the ingredients of their fragrances. As a result, they can contain dozens of undefined chemicals. Fragrance-free diapers reduce the number of chemicals your child may react to.
Lower Non-Renewable Resource Use
It takes 1 cup of crude oil to make the plastic for a single standard disposable diaper, which adds up to 1,625 quarts of oil for 30 months of diaper use (4). That's not including the oil used in the manufacturing process itself.
Brands that use bamboo liners use less oil in their manufacture, reducing the consumption of this non-renewable resource.
How to Choose the Best Organic Diapers
When choosing the best organic diapers, we ignored "green-wash" labels and instead considered the following criteria:
---
Organic Diapers or Not?
We found that there are no fully organic diapers, just plenty of options that are less environmentally damaging than their mainstream counterparts. However, these are certainly a much better deal than many disposables.
The best thing to do when trying out new diapers is to read the labeling and check the company's website. Then you can check through and make a decision based on the known environmental impact of each material, if that matters most to you.
It's also wise to see if the diapers contain any allergenic materials that may bother your baby's skin. Of course, your selection should be soft, absorbent, and fit your budget.
Thank You For Your Feedback!
Thank You For Your Feedback!