Potty training is an important milestone for your child, but it can be a long and frustrating process.
Pull up diapers are one of the best potty training tools, but which kind should you get?
We've gathered everything you need to know about the best pull up diapers, potty training, and a whole lot more.
Let's take a closer look at how you can use pull up diapers to help your child gain more control over their bodies while providing you peace of mind.
Image
Model
Product Comparison Table
Features
Best for Overnight
GoodNites Bedtime
Offers 40% more protection
Male and female designs
Absorbs odor
Best Bulk Buy
Pampers Easy Ups
Saves you time and money
Easy absorb channels and leak guards
Super fun designs
Best for Boys
Pull Ups Boys Training Underwear
Extra absorbent
Fading graphics feature
Super stretchy fit
Best for Girls
Pull Ups Girls Potty Training Pants
Cute and fun designs
Fading graphics feature
Easy to pull on and off
Best Natural Pick
Bambo Nature
Eco-friendly materials
Special disposable tape
Meets high-quality standards
Best for Little Walkers
Huggies Little Movers
Trim, slim fit
Feels like underwear
Stretchy waistband, easy remove tabs
Best Small Size
Seventh Generation
Smallest size available in pull ups
Natural materials and chemical-free
Super absorbent core
Best Cloth Pull Option
Babyfriend Reusable
Durable and washable
Thin and soft
Comfortable waterproof lining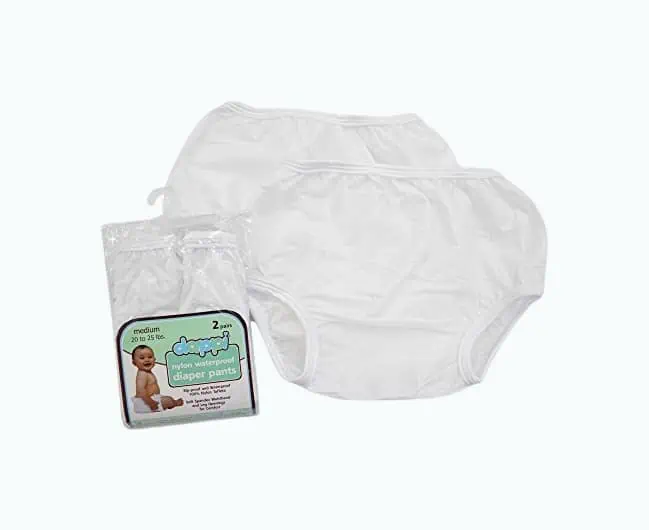 Best Value for Money
Dappi Waterproof
Super affordable and reusable
Comfortable spandex lining
Protects against leaks and accidents
---
---
The Best Pull Up Diaper of 2023
Here are 9 great pull up diapers to consider.
GoodNites Bedtime Bedwetting Underwear
Best Overnight Pull Up Diapers
This is the number one nighttime protection brand for pull ups, offering up 40 percent more protection than other leading brands. No matter your child's size or frame, super stretchy sides, and double leg barriers ensure a superior fit.
They're made of super absorbent materials and come with five layers of protection. It's also odor absorbing, so your child can remain discreet if a bedwetting accident happens at sleepover or campout.
One reason we like this line is the specialized design for boys and girls, so each gets leak protection where they need it the most. You can then find everything sorted by the appropriate size, which comes in a large range.
If you're a mom to a child who struggles with bedwetting for any reason, these are especially good at rebuilding their confidence and avoiding embarrassing situations.
Pros
Offers 40 percent more protection than other leading brands.
Comes in specific male and female designs so your child gets focused protection.
Absorbs odor for discretion.
Cons
These do not have tear-away sides, so it'l be harder for parents to get off of younger children if they have an accident.
Our Ratings
---
Pampers Easy Ups Training Pants
Best Bulk Pull Ups
Potty training takes a lot of patience…and a lot of pull-ups. Whether you've got a lot of accidents or your child is having a hard time transitioning from diapers, many moms need more pull ups than they realize. Save yourself time and money by purchasing in bulk.
This set from Pampers includes an entire month's supply of pull ups. That's 140 in each box. You'll be able to go through as many as you need without stressing or making another trip to the store.
Plus, they've got some great potty training features to help your child. The easy absorb channels whisk away moisture and provide outstanding protection against leaks. Dual leak guards around your baby's legs also prevent accidents.
Overall, we like these pull-ups for moms looking to remove stress from their lives while also providing their child with all the help they need to make the transition to big kid underwear.
Pros
Month supply saves you time and money.
Easy absorb channels and leak guards prevent accidents from turning into huge messes.
Super fun designs are available for boys and girls.
Cons
They fit small on more robust toddlers.
Our Ratings
---
Pull Ups Boys' Potty Training Pants
Best Pull Ups for Boys
With numerous "me-do" features, these will not only foster independence, but encourage your little one to continue on their potty training adventure.
Each pull up is absorbent and can be worn day and night. Most importantly, it has an extra absorbent panel that extends up the front specifically for your boy's needs. The super comfy fit also allows for lots of movement so your child can climb, roll, and explore without fear.
One of the nicest features is the fading graphics effect. When the pull up gets wet, your child will see Mickey's image slowly fading, this lets them know they've urinated before the liquid is absorbed. This can help your child understand when they need to go to the bathroom.
Other features include tear-away sides and exclusive Disney designs your child will be excited to wear.
Just as important as being able to tear these away, certain brands tear away too easily. My kiddos have removed some of these WAY TOO easily. Overall a huge fan of the Pull Ups Training Pants.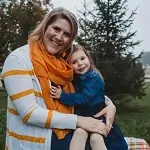 Editor's Note:
Emily Watts
Pros
Extra absorbent in the front, where boys need it.
The fading graphics feature helps your child understand when they've urinated.
Super stretchy fit allows for movement for active boys.
Cons
While they can be worn at night, they're not absorbent enough to handle major leaking or blowouts.
Our Ratings
---
Pull Ups Girls' Potty Training Pants
Best Pull Ups for Girls
These ones from Huggies help girls feel in control during potty training. A fading Minnie mouse graphics signals they've gone to the bathroom, teaching them about how their body works.
Parents will love the easy-open sides in case of accidents and the super absorbent materials that provide protection both day and night. However, they still look and feel like underwear so your child can be excited about potty training.
Best of all, your little girl will love seeing some of her favorite inspiring characters on each pull up. When a girl gets excited and sets her mind to something, she'll succeed! These pull ups will definitely help girls succeed in potty training.
Pros
Cute and fun designs girls will love and be inspired by.
The fading graphics feature gives feedback and helps your little girl understand her body better.
Easy to pull on and off.
Cons
While they can be worn at night, they're not up to the task of containing major blowouts.
Our Ratings
---
Bambo Nature Training Pants
Best Natural Pull Ups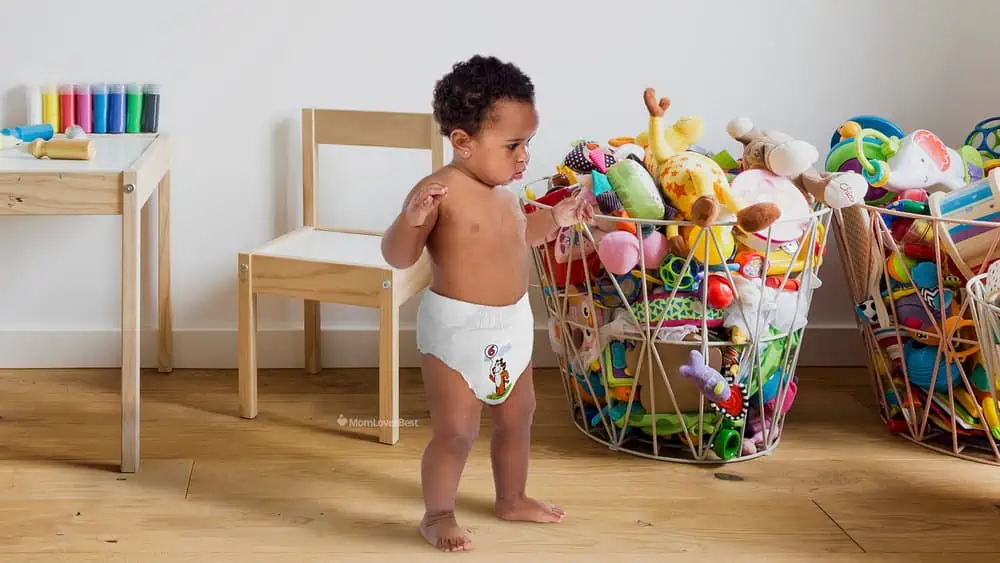 These are perfect for preventing irritation and rashes. Each one has been manufactured from fabric pulp taken from sustainable forests, which means more trees are planted than cut down. Plus, we love that they've been dermatologically tested for sensitive skin.
The soft material is super breathable and flexible, so it'll fit around the curve of your child's legs with ease. We also like that it comes with a special strip of tape down the back. When you're ready to dispose of the pull-up, just tear away the sides, roll it up, and use the tape to secure it in a bundle.
Overall, the standards these pull ups meet is impressive. They're even approved by the Nordic Ecolabel, which has rigorous demands for products in terms of the environment and your health.
Pros
Made from eco-friendly materials that won't irritate your child's sensitive skin.
Special disposable tape makes clean up a breeze.
Meets high-quality standards for the environment and your health.
Cons
More expensive, so it may not be great for moms on a budget.
Our Ratings
---
Huggies Little Movers Slip On Diaper Pants
Best for Little Walkers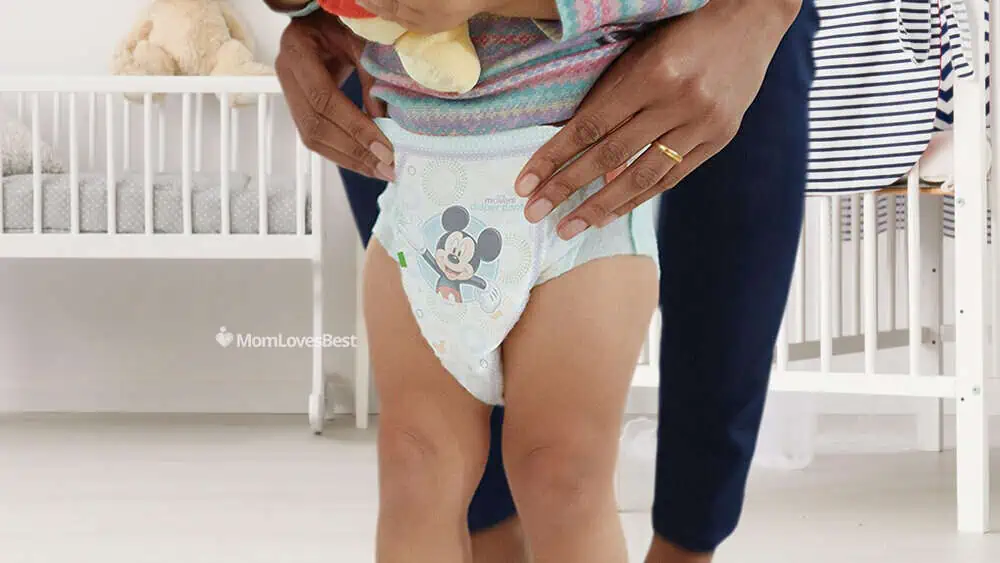 Is your baby just learning to walk? Let these pull ups help them gain confidence in movement without discomfort. They've been designed just with your little move in mind.
Each features a stretchy waistband and easy remove tabs. Your baby will be able to pull it on and off without any trouble, but you'll also be able to react quickly if a major accident occurs.
The material feels like underwear on the outside, but like a diaper on the inside. This helps your baby transition because it'll feel more familiar and soft against their skin.
Plus, the absorbent material whisks away moisture quickly and moves with your child. They'll be able to move around freely as they learn to walk and you'll love the 12-hour leakproof protection. We also really like the trim, slimmer fit for extra mobility and flexibility.
If you've got a baby who loves to walk, this pull up is for you.
Pros
Trim, slim fit offers a greater range of motion for little movers.
Feels like underwear on the outside, but a diaper on the inside.
Features a stretchy waistband and easy remove tabs.
Cons
May not be a good fit for babies with diaper rashes.
Our Ratings
---
Seventh Generation Toddler Potty Training Pants
Best Small Size Pull Ups
Even though these pull ups are labeled as mediums, don't let that fool you. They're the smallest size available in pull ups, with the next step down being actual diapers. These were specifically designed to fit children up to 35 pounds, making it the perfect choice for children just turning two but who are eager to potty train.
These diapers are also natural, which is great for younger children who may still be experiencing skin sensitivity. Each is made from totally chlorine-free processed wood pulp and is also free of lotions and fragrances.
The designs were made to fit and delight both girls and boys. Your child can take them on and off like regular underwear, but there are also tear-away sides if major accidents occur and you need to step in.
Pros
Come in the smallest size available in pull ups.
Natural materials and lack of chemicals are great for smaller, younger children with sensitive skin.
Super absorbent core makes the beginning stages of potty training easier.
Cons
The small sizing is designed to fit a wide range, so if your child is on the super small end, these may still be too big.
Our Ratings
---
Babyfriend Reusable Toilet Training Pants
Best Cloth Pull Ups
These special training pants are made of 100 percent cotton and have four absorbent layers. They also have a waterproof lining to make small accidents less of a problem. Each pack comes with five different designs and a variety of sizing options are available.
We really like that these cloth pull ups are so comfortable. They're durable and washable but feel soft and gentle on your child's bottom. Pull ups with waterproof linings are normally very crinkly and uncomfortable, but these won't scratch or itch your child at all.
Because they're thinner than most pull ups, we suggest using these for children who are almost done potty training but may need a little bit of support. They're the pull ups most similar to regular underwear and great for that final transition.
It's important to note that while the waterproof lining helps protect against accidental drips, any heavy flow will cause these to leak and can soak through to clothes. If your child is still having pretty major accidents, you may want to wait before trying these.
Pros
Durable and washable, so you can use them over and over again.
Thin and soft like regular underwear.
Waterproof lining is comfortable.
Cons
Won't protect against major leaks or accidents.
Our Ratings
---
Dappi Waterproof Diaper Pants
Best Budget Pull Ups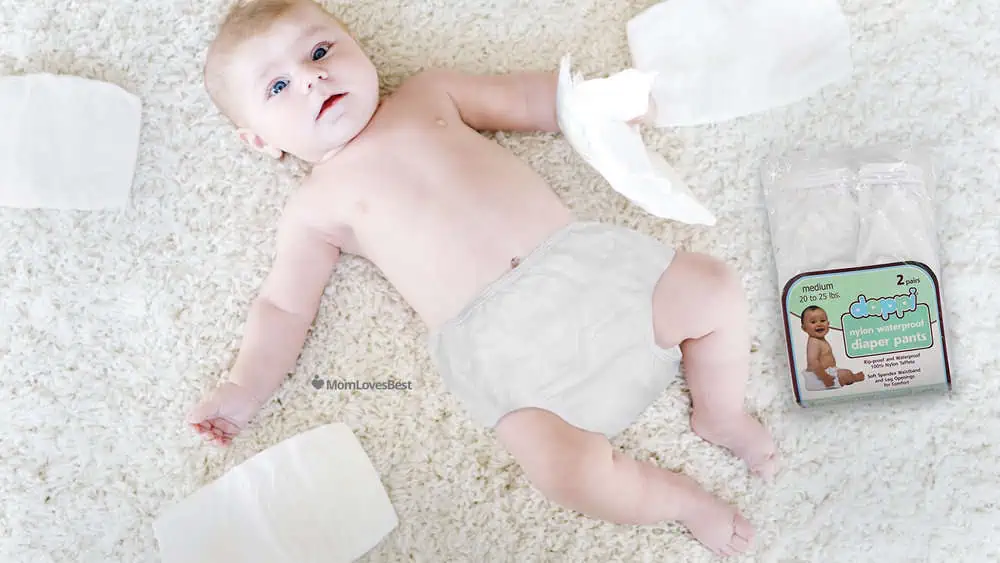 These super affordable underwear covers combine quality and affordability. Made of durable, waterproof nylon, they slip right over a diaper, a pull up, or regular underwear.
Instead of going through tons of pull ups, place these over underwear during potty training when you're fairly confident your child won't be having a major accident. Small leaks and minor accidents will be caught by the waterproof plastic.
Not only will this expedite the potty training process, but it'll save you a lot of money since you can reuse these after a simple washing.
We really like that the waistband and leg openings are made of a soft spandex. Many plastic covers can be really uncomfortable, but the spandex ensures your child can move around with ease without getting scratched or irritated.
If you don't have a lot of money for pull ups and are willing to experiment with going straight to regular underwear, these are a great choice.
Pros
Super affordable and can be reused over and over again.
Comfortable spandex lining ensures your child's comfort and prevents irritation.
Protects against minor leaks and accidents.
Cons
Not a good choice for protecting against major accidents and blowouts or for use at night.
Our Ratings
Pull Ups vs. Training Pants
If you think it's time to start your child's potty training journey, you may be surprised to discover the vast number of options you have when it comes to training pants. Let's take a close look at each one and how they differ from each other.
Take Note
The terminology around potty training underwear can be confusing as some terms are used interchangeably. We've used each term to describe a very specific type of underwear.
What are Pull Ups?
Pull ups are the most common and recognizable form of potty training underwear. Multiple brands carry them in a variety of styles and types. But what exactly are they?
There are always some differences across brands, but pull ups are generally the most diaper-like of the bunch. The material is thinner than a diaper but designed to be super absorbent, holding in both urine and feces.
The big difference is how the pull up is worn. Instead of using adhesive panels to open a diaper, a pull up slips up and down like regular underwear.
If you're just beginning with potty training or are still having a lot of accidents, pull ups are a great option to avoid big messes.
What are Training Pants?
As a term, "training pants" can be a bit confusing. Most brands will use the term at some point, whether they're referring to a pull up, an underwear cover, or even more absorbent underwear.
However, training pants are a specific kind of potty training underwear. Think of it like this: pull ups are closer to diapers than underwear, while training pants are closer to underwear than diapers.
Most are designed to be worn alone and are not made of the plastic, absorbent fabrics you find in diapers. They're still absorbent, sometimes being made of thicker cloth or with heavier layers in the crotch.
Training pants are most useful for children who are further along in their potty training. They can help with smaller accidents but are not meant for bigger blowouts.
What are Underwear Covers?
They've gone out of fashion, but a third option is an underwear cover. Often made of thin, waterproof plastic, these covers can be worn over any other type of potty training underwear to prevent leaks and messes.
If you use cloth diapers or training pants, they can be especially good at protecting your child and anything they come in contact with while potty training.
How to Choose Pull Up Diapers
If you've ever been in the baby or toddler section of any supermarket, you've seen pull ups. In fact, you've probably seen so many you may not know how to choose. From finding a brand you can trust, to getting the diaper sizing just right, you've got a lot of options.
Here are five helpful tips to help you make the choice.
Absorbency: Nothing is more distressing than having a major blow-out. Pull ups are meant to instill confidence, so super absorbent material is important, helping you and your child feel more secure.
Stretchy Waistband: One of the goals of potty training is to help your child learn how to take underwear on and off. A secure, but stretchy waistband is essential. They'll be able to hook their little fingers into the waistband and pull it down or up.

Tear-away Sides: As important as it is for your child to be able to put on pull ups themselves, pretty big accidents can happen. In emergencies, you'll want a pull up diaper with tear-away sides so a parent can remove it quickly if needed.
Easy Sizing Information: Sizing varies by brand, but any good pull up will have easy-to-understand sizing information right on the packaging. We suggest trying out smaller packs of pull ups to ensure the size fits correctly before buying in bulk.
Fun Designs: Children will be more excited about potty training if they're excited about their pull ups. Look for a brand with recognizable characters or designs your child will enjoy. We even think you should take them to the store and let them pick out their favorite set themselves.
Do You Really Need Pull Ups?
Technically, pull up diapers aren't required for potty training. You don't need anything for potty training if you're willing to work with your child through any potential accidents with regular underwear.
However, we definitely suggest using some sort of training pants, especially if you and your child often go out.
---
Pull Ups Diaper FAQs
Before we take a look at why pull up diapers are beneficial for potty training, let's consider some potty training basics.
---
Thank You For Your Feedback!
Thank You For Your Feedback!