You don't need to let having a little one in diapers hold you from enjoying the water on a hot summer's day.
Swim diapers are specifically designed for babies and can help prevent poop from leaking out into the water.
Whether you're looking for single-use or reusable, extra small or extra large, we'll help you find the best swim diapers for your situation.
Image
Model
Product Comparison Table
Features
Best for Toddlers
Nageuret Reusable Swim Diapers
1 year money-back guarantee
Trim-fitting and not bulky
Family-owned business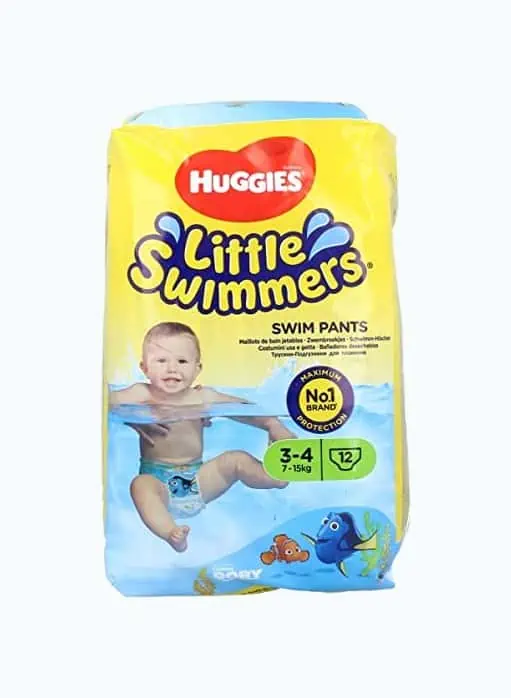 Best Budget Pick
Huggies Little Swimmers
Discounted packs
Won't absorb when wet
Easy open side panels
Best One-Size
AlvaBaby Swim Diaper
Great value buy
Additional protection and comfort
Multiple waist settings
Best Disposables
Pampers Splashers
Adjustable elastic waist
Light and comfortable
Easy removal
Best for Older Kids
Ecoable Convertible
Accommodates larger child
Holds moisture from one bladder accident
Breathable exterior "PUL" layer
Best Snap-On
Babygoal Swim Diapers
Soft outer material
Highly adjustable for a custom fit
Durable and long-lasting
Best Velcro
Kushies Swim Diapers
Highly adjustable
Quick drying
Wrap style
Cutest Swim Diapers
iPlay Reusable Swim Diapers
Cute designs
Very straightforward to use
Comprises of 3 protective layers
Best Unisex
Azue Swim Diapers
Unisex
Snug fit
Available in multiple sizes
Best for Newborns
Thirsties Swim Diapers
Great in the water
Double-gusset feature
Fully customized fit
Review Methodology: At Mom Loves Best, we provide thorough analysis and hands-on evaluation of the top swim diapers on the market to help you make an informed decision. Our experienced team conducts extensive research, comparing various products using key criteria such as comfort, fit, leak protection, and ease of use. We assess each product's design choices and their impact on users, offering first-hand evidence to support our recommendations. By sharing quantitative measurements, ranking performance, and identifying the most important factors for choosing the best swim diapers, we ensure our reviews offer valuable insight from a user's perspective, demonstrating our expertise in the field. Trust Mom Loves Best to guide you through the process of selecting the best swim diapers for your little one's aquatic adventures.
---
---
The Best Swim Diapers of 2023
Here are 11 great swim diapers to consider.
Nageuret Reusable Swim Diaper
Best Swim Diapers for Toddlers
This Nageuret swim diaper is adjustable and washable. It works for children between 30 and 50 pounds, with a waist that adjusts to 24 inches. The thigh adjustment can suit a child with up to an 18-inch thigh circumference.
If you have a taller child, there are three different settings for the rise of the diaper. Whether you have an older child who has special needs, or just a larger toddler, this has the adjustability you need for a snug fit.
An inner layer of mesh and the high-quality breathable PUL exterior make this comfortable for your child to wear — no matter how long you plan to be out in the water.
The fun prints and eco-friendly aspect are universally appealing and have been well-received by consumers.
Pros
These are produced by a family-owned business.
Included is a one year, money-back guarantee.
Trim-fitting and not bulky.
Cons
Parents report the snap system is difficult to use with enthusiastic toddlers.
Our Ratings
Community Feedback
Bought these swim diapers for my 3-year-old, and they fit great with a little room to grow. I've also noticed they're more eco-friendly than disposable swim diapers. The snaps can be a bit tricky to put on a squirmy child, but they're worth it for the easy clean-up after any accidents. These diapers have held up well through multiple uses and washes, and I appreciate the adjustable sizing. My only wish is that they had more design options to choose from.
---
Huggies Little Swimmers Disposable Swim Diapers
Best Budget Swim Diaper
If you plan to spend a lot of time at the beach or pool this summer with your little one, you'll want a lot of swim diapers. Save both time and money with this discounted pack from Huggies.
A small pack of 12 diapers is 50 percent off and larger packs offer great prices for larger amounts.
They're disposable, so you won't have to worry about carrying a soaked, soiled diaper home with you. The material is absorbent, but designed not to swell. When it gets wet, it'll stay comfortably where it should, allowing for extended playtime.
Other leak guards have also been built in for superior protection. If a major accident does happen, quickly clean it up thanks to the easy-open sides. The sides also help ensure a perfect fit for your little one.
Best of all, your children will adore the classic Disney and Pixar designs featuring some of their favorite sea creatures.
Pros
Save money with these discounted packs.
Won't absorb when wet.
Features easy-open side panels.
Kids will love the Disney designs.
Cons
The diapers are not unisex, which is difficult to tell from the packaging alone.
Our Ratings
Community Feedback
I recently bought these swim diapers for my baby and found them to be a perfect fit and comfortable for my little one. However, I did have some issues with the pattern and color, as they weren't gender-neutral and didn't match what I had initially expected. Despite that, these diapers serve their purpose by not swelling up in water and effectively containing any fecal matter, making them a convenient choice for swimming trips.
---
AlvaBaby Swim Diapers
Best One-Size Swim Diapers
AlvaBaby is well-known for quality cloth diapers. The quality of their swim diapers is just as good.
The aquatic-themed designs are adorable and the diapers are made with a waterproof outer layer. Elastic through the back of the diaper and along the thighs provides a great fit and helps prevent leaks.
For use with children 0–2 years of age, both the rise and the waist of this swim diaper can be easily adjusted. With three rise options and multiple waist settings, you can customize the diaper to suit your baby for each outing.
I love that the pack comes with two diapers and that they're so functional in the water. I was also pleased with how well they wash and resist staining.
Pros
Great value buy.
An inner mesh lining provides additional protection and comfort.
Cons
Some users feel these swim diapers aren't well-suited for larger children in the stated age bracket.
Our Ratings
Community Feedback
Got these swim diapers for my little one and I've been really impressed with their performance and quality. The adjustable snaps made it easy to find the perfect fit for my growing child, who started at 17 lbs and now weighs 20 lbs. Not only do they look adorable with their bright colors and cute patterns, they're also quite effective at containing any potential messes while swimming. I've found them to be easy to clean and quick to dry, making them an eco-friendly and hassle-free alternative to disposable swim diapers.
---
Pampers Splashers Swim Diapers
Best Disposable Swim Diaper
Pampers is a well-known and trusted brand. It's not surprising that Pampers' swim diapers would be of exceptional quality.
This one comes in three sizes that will suit babies from 13 to 40 pounds. They're great for all kinds of water activity, whether it's running through the sprinkler in the yard or playing in the sand beachside.
Moms love that these swim diapers are equally comfortable whether they're dry or wet. They won't swell in the water like a regular disposable diaper. The dual leak-guard barriers prevent any leaks, and provide a great, snug fit.
It fastens along the hip and is designed for quick and easy removal. The waistband provides stretch through the front, back, and sides, and is intended to provide exceptional comfort.
Pros
The elastic waist gives a comfortable and adjustable fit.
Moms report their children find these diapers to be light and comfortable.
The side tabs are great for easy removal.
Cons
The weight range for these swim diapers begins at 13 pounds, so they're not suitable for very young babies.
Not as environmentally friendly as a reusable swim diaper.
Our Ratings
Community Feedback
I recently purchased these swim diapers for my little one and have found them to be a reliable choice for pool time. The fit is snug and comfortable, and they can withstand hours of splashing and play without falling apart. While they don't absorb urine very well when dry, they work effectively in the water, ensuring no unwanted accidents. One downside is that they can collect a significant amount of water, so it's best to take them off shortly after leaving the pool.
---
Charlie Banana Reusable Swim Diapers
Best Swim Diapers for Older Children
Fitting older children for swim diapers can be challenging. Fortunately, Charlie Banana reusable swim diapers have you covered, all the way up to 55 pounds.
Available in multiple colors to suit your child, these are neutral and subtle. They easily blend into the landscape of other swimsuits to mitigate any insecurities your child may have about needing the additional protection.
A waterproof exterior outer layer, great absorbency levels, and several diaper sizes to choose from make this an excellent choice for an older child. The Charlie Banana can be a good choice if you need a swim diaper that can also be used as a normal diaper — or potty-training pants — outside of the water.
Available in a selection of colors and prints, these diapers have great multi-purpose functionality. Parents love the adjustability and even report these make great overnight underwear during potty training.
Pros
Can accommodate a larger child and is adjustable for the best fit.
Will hold the moisture from one bladder accident.
Cons
No available size for 9 pounds and below.
Our Ratings
Community Feedback
My experience with these swim diapers has been a mixed bag. On one hand, they were perfect for my 4-year-old's swim lessons, providing enough coverage to be worn under swim trunks or on their own. They also stayed on quite well despite my child's energetic movements. However, I can't help but feel a bit concerned about their ability to contain any accidents, as they appear quite small and inexpensive. In the end, I'm left with a sense of uncertainty regarding their effectiveness in real-life situations.
---
Babygoal Baby Swim Underwear
Best Snap-On Swim Diaper
This swim diaper will easily suit your 0-2 year old. The fun design is perfect for aquatic play. Best of all, it's highly functional and made from safe materials.
The material is phthalate-, latex-, lead-, and BPA-free. It's made without harmful chemicals, like dioxins and sodium polyacrylate. Rest assured your baby won't be in direct contact with anything that can hurt them — and that nothing will leach into the water during use.
The outer material is breathable, safe to go into the washing machine, and the manufacturer also claims it's able to go in the dryer without being damaged.
Adjustable snaps for the waist and rise help you provide the perfect fit for your child, even as they continue to grow. The smaller the baby, the shorter you'll make the rise. On the largest waist snaps and smallest rise? Simply let out the rise and tighten the waist.
Pros
Parents love how soft the outer material is.
Highly adjustable for a custom fit every time.
These are made to be durable and long-lasting.
Cons
Users report these diapers are on the small side and may not fit an older or larger child in the prescribed age range.
Our Ratings
Community Feedback
In my experience, these swim diapers have proven to be adjustable, comfortable, and stylish for my little one. They're designed to hold solids, not urine, and they've held up well during our family vacations. The reusable aspect is a major plus, and they're easy to clean and maintain. However, I've noticed that the material may cause chaffing if tightened too much, and sizing might be an issue for larger or growing babies.
---
Kushies Swim Diaper
Best Velcro Swim Diaper
This Kushies diaper uses velcro for easy on and off. The extra-wide tabs and swath of velcro on the front panel help prevent slipping while in the water.
The biggest upside to using a velcro fastener is how quickly you can get the diaper on. If your child is especially difficult to keep still, you may prefer the velcro over the snaps.
Be aware that velcro can be more high maintenance than snaps. It tends not to last as long, will collect hair and lint in the wash, and can easily damage other clothing. For long-lasting results, pay attention to how you use, wash, and store this.
Velcro does provide an exceptional custom fit, however, and many users prefer it for just that reason. It's also straightforward — just like using a disposable diaper — and not intimidating for those who don't regularly use snap-based cloth diapers.
Pros
Very easy to use — even for a beginner.
Parents report these are leakproof — even when faced with a true mess.
This is a great "grow-with-me" option, as it's highly adjustable.
Cons
You'll need to pay more attention to laundering your velcro swim diaper.
Our Ratings
Community Feedback
These swim diapers have been a great addition to our family's pool experiences, providing a secure and comfortable fit for our young children. The double attachment mechanism with velcro and ties ensures a snug fit, and the terrycloth lining is a nice touch. The fun patterns and eco-friendly design make these diapers a more attractive option than disposables. However, the sizing may be off for older children, and the double attachment can be challenging when dressing a standing child, so a simpler mechanism may be preferable for older kids.
---
iPlay Reusable Swim Diaper
Cutest Swim Diapers
If you're looking for cuteness, it doesn't get any sweeter than a swim diaper.
The iPlay swim diaper was one of the original swim diapers to hit the market. This model comes in a variety of colors and prints, including aqua dolphins, light pink beach day, and florals.
They're composed of three layers: the innermost layer provides comfort for your baby, the middle absorbent layer helps to catch any messes that might occur, and the outermost layer keeps water out and accidents in.
Snaps along one side make removal easy, but the majority of the fit comes from elastic through the waist and thighs. This comes in multiple sizes, so you'll definitely find one that best suits your child.
Pros
Parents love how cute these diapers are.
Very straightforward to use, without any complicated snaps or fastenings.
Cons
Parents report these tend to be on the small side — consider ordering up a size if you think your child is between sizes.
Our Ratings
Community Feedback
After purchasing this iPlay swim diaper, I can't get over how adorable it looks on my baby. The variety of colors and prints, like aqua dolphins and light pink beach day, make it even more appealing. The three-layer design ensures comfort and keeps messes contained, while the elastic waist and thigh bands provide a snug fit. Just be mindful of the sizing; you might want to order a size up as they tend to run small.
---
Azue Reusable Swim Diaper
Best Unisex Swim Diaper
If you're in the market for a neutral swim diaper, it doesn't come any more neutral than plain white.
These ones from Azue are made of 100 percent polyester and have three adjustable snaps around the waist and thighs.
Azue has gone out of its way to make a product that meets rigorous public pool regulations. The outer fabric is soft while the inside is breathable.
Close attention has been paid to the construction and it is available in various colors.

Pros
It's great for boys or girls.
Snug fit.
Available in multiple sizes for a great fit.
Cons
It may not be that elastic as compared to others because of its material composition.
Our Ratings
Community Feedback
I recently purchased these swim diapers for my little one and found them to be a great investment for our weekly swim classes. The side buttons make them easy to remove and they wash and dry well, with the material being soft and comfortable. While they do not absorb pee, as expected with swim diapers, they effectively keep poop contained and out of the pool. One thing to note is that the sizing runs small, so I recommend going a size up if your child is bigger for their age.
---
Thirsties Swim Diaper
Best Newborn Swim Diaper
If you're looking for a diaper that's truly going to fit your newborn, this Thirsties swim diaper is a great option. It's suitable for babies weighing as little as 8 pounds and will continue to work for your child through 55 pounds.
Thirsties isn't new to the diaper game — it's well established as a cloth diaper company. Their swim diaper is a modified version of the very popular Duo Wrap cloth diaper cover.
Lined with mesh for additional comfort and protection, it has a double gusset through the thighs to prevent leaking. This is trim and not intrusive, encouraging your baby to move in the water.
Both the rise and the wing tabs are adjustable. Even when your baby grows, you'll be able to adjust this to provide a perfect fit for your little swimmer.
Pros
Moms report this diaper is great in the water, even for exclusively breastfed babies.
The double-gusset feature reduces the potential for thigh gapping and even helps keep in bladder accidents.
Rise and hip snaps allow for a fully customized fit.
Cons
Some parents felt this diaper didn't fit as well toward the upper weight limit.
Our Ratings
Community Feedback
This Thirsties swim diaper has been a fantastic option for my newborn, fitting comfortably from 8 pounds and adjustable up to 55 pounds. I appreciate the double gusset feature which prevents leaks and the adjustable rise and wing tabs that ensure a perfect fit as my baby grows. While some parents mentioned it might not fit as well towards the upper weight limit, I found this swim diaper to be reliable, comfortable, and great for my little swimmer.
---
Fun Well Reusable Adjustable Swim Diaper
Best Swim Diapers for Chunky Babies
Keeping your baby stylish and the pool protected doesn't have to be an expensive venture. If you're looking for a quality reusable diaper that won't set you back, this one by Fun Well is a great option.
For the cost of a latte at your favorite coffee joint, you can have your child set with a swim diaper for the season. With the ability to adjust the rise as well as the waist, you may even find this single purchase gets you through several years.
It's nicely constructed with breathable polyester material. The inside is lined with comfortable mesh that helps keep solid messes fully contained. The sweet ocean theme of the print is perfect for water wear, but other prints are available as well.
Pros
This gives a great fit, even on babies with chunky thighs.
They're machine washable and the color doesn't fade — even after multiple washes.
Snaps are easily adjusted to create the perfect fit.
Cons
Some parents report that these don't fit their babies at the upper end of the weight range.
Our Ratings
Community Feedback
Best swim diaper I've tried for my little one! This swim diaper has a super cute palm tree pattern and is made of great quality material. I love that it's eco-friendly and adjustable to fit my 16-month-old daughter comfortably. Just remember to put it on right before swimming, as it's designed to contain poop but not absorb urine.
Does My Baby Need Swim Diapers?
Have a baby who hasn't finished potty training? Then your baby needs a diaper for swimming for the same reasons they need a regular diaper — your child is still too young to have control over their bowels and bladder.
Swimming pools bring with them distraction, which can reduce your child's ability to perceive the signals the body gives when it's time to go. Immersion in water can also increase the need to void and dull the physiological indicators.
A swim diaper prevents accidents from becoming a hassle. Swim diapers won't be effective for completely avoiding a bladder accident. However — they can't be, as an absorbent diaper would just become full of water during a swim.
Rather, they're there to prevent a bowel accident from compromising the cleanliness and safety of the water for other swimmers.
If you've ever had to sanitize a pool (or had to leave a pool early due to a closure for such sanitization) you know it's a big deal — it can also be costly, financially as well as emotionally for your child (1).
Don't set your child's potty training progress by skipping the swim diaper before they're fully ready. You may regret it.
Can Regular Diapers Be Used for Swimming?
It's tempting to think a regular diaper will do in a pinch. It's just not true, though. Regular diapers are designed to be extremely absorbent. When submerging a child in the water, that diaper will absorb and retain every drop of water it can.
Your child will be uncomfortable in such a laden diaper. This can even lead to chafing where the diaper sits at the hips and belly. The second, even bigger issue, is that the full diaper will cause gapping at the thighs.
A regular diaper will be all but useless should your child have an accident.
Types of Swim Diapers
You can choose from a variety of different styles and types. The two basic categories, however, are disposables and reusables.
Disposable Swim Diapers
These are made to be used once and then thrown away. Instead of a traditional adhesive on back tabs wrapping to the front, these attach at the sides of the hip. This makes for easier removal, with less cleanup should there be an accident.
Reusable Swim Diapers
As the name suggests, they can be used many times. In between uses, you simply need to wash them, then they're ready to go. You'll find multiple closure styles, including snaps, velcro, and pull-up designs.
How to Choose Swim Diapers
When shopping for your swim diaper, here are some things you'll want to consider:
Comfort: Expect that there will be some trial and error to finding something that best suits your little one. The swim diaper that's the right fit your child's body and activity level may not be the first one you reach for.
Functionality: Don't waste your time with poorly-reviewed diapers, or ones made of inferior quality material. No matter how inexpensive or cute they may be, pass them up or throw them out if they aren't up to the task.
Price: The cost is bound to be a consideration when it comes time to purchase your swim diapers. Rest assured there are great options at every price point.
---
Swim Diapers and Public Pools
Swim diapers are generally required if you're using a public pool. With reusable swim diapers, repeated exposure to chlorine may damage or change the material's color. It shouldn't impact its functionality, though.
Bring at least one spare diaper with you, in case there's an accident. Don't forget, you'll want to plan on rinsing the chlorine off immediately after changing and will need to pack out your diaper. Bring a waterproof bag for this purpose.
If you use disposable diapers, there may be specific rules for disposing of the diaper on the pool premises. Look for signs or ask a staff member if there's a certain receptacle where they should be placed and be prepared to bag them individually before disposal.
Not all pools allow both types of swim diapers. Check with your public pool before your outing to make sure you have everything you need.
Caring for Swim Diapers
If you use disposable swim diapers, you only need to worry about keeping them dry before use. If you plan on packing them with towels and other pool or beach supplies, consider keeping them in a separate waterproof bag that's sealable.
For reusable swim diapers, make sure you follow the washing instructions given. These are usually machine washable and can be washed in cool water with your regular detergent.
Many reusables have a coating we call "waterproof." It's frequently only water-resistant, however — this allows for breathability and is better for your baby's skin. The coating can be damaged by heat and most swim diapers should be line dried.
How Many Swim Diapers Do I Need?
The number of diapers you'll need will vary, depending on how frequently you plan to be in the water. I suggest having at least two per water experience.
If you are there for more than a few hours, you should anticipate packing as many diapers as you would expect your child to need for the same amount of time.
If you're going with disposable swim diapers, you'll only need to consider your diapers for that specific outing, as you'll start with a fresh set the next time you head out.
If, on the other hand, you're using reusable swim diapers, don't forget to factor in washing and drying time as well.
Your reusables will need to air dry. If you're hitting the beach for a week-long vacation and you plan on using two a day, you'll want to own at least four swim diapers.
This way you can use two each day, wash them in the evening, and while they're drying on the line, have the other two diapers in use.
Tips For Using Swim Diapers
Juggling all the items your child needs for a fun day out can be challenging. Here are some tips for making swim diapers easy to use — and avoiding the headaches that come with lugging mountains of kiddie stuff with you.
Plan for worst-case scenarios — think you can't possibly go through two outfits and three diapers? Throw an extra of each in your bag for good measure. Murphy's Law has never been more accurate than when dealing with children.
Bring extra bags — I like to use the plastic bags designed for pet cleanup. They take up hardly any room in your diaper bag and are indispensable. They're great for bagging dirty disposable swim diapers, messy outfits, and packing out your wet gear.
Swim Diaper FAQs
---
Thank You For Your Feedback!
Thank You For Your Feedback!