The potty seat purchase is one of those much-anticipated buys, as it gets your little one on the road to finally being diaper free. But your potty chair choice can make or break the experience for your little one.
Using a potty seat can be frightening after many months of using a diaper, so you want to find the best fit for your child.
We've been there — many times — so we've done the dirty work of testing and comparing the wide range of potty styles available.
We've created this list of the 10 best potty chairs and seats for every situation. We've reviewed each of our top picks, rating them based on how they look to your child, their comfort level, how easy they are to clean, and how functional they are.
Check out these great potty chairs and seats and our top potty seat tips, so you can choose the seat that will ultimately get your little one on the path to being diaper free.
Image
Model
Product Comparison Table
Features
Best for Big Toddlers
Baby Bjorn Chair
Sturdy and durable material
High backrest and splash guard
Easy waste removal
Best Travel Chair
Baby Bjorn Potty
Compact and lightweight
Two-in-one design
Non-skid bottom
Best Seat for Boys
SkyRoku Potty Seat
Large splash guard
Cushioned removable seat
Secure on the toilet
Best Seat for Girls
GrowthPic Toilet Seat
Cute design
Adjustable step height
Easy to clean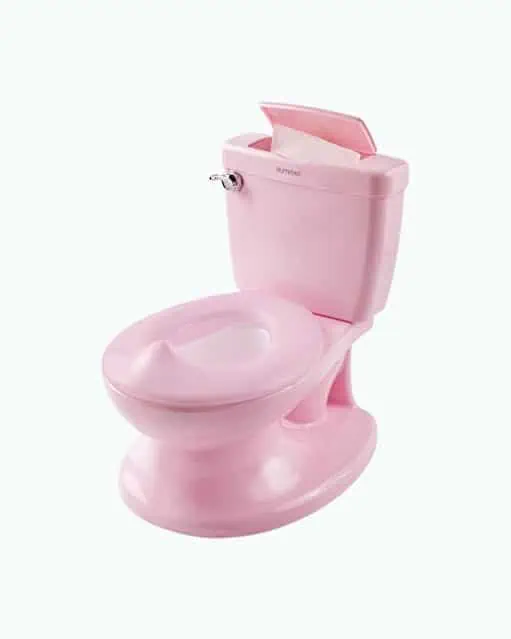 Best Toilet Lookalike
Summer Infant
Realistic looking
With a storage area
Pretend flush with a flushing sound
Best Travel Seat
Gimars Portable
Foldable
Fits most toilets
Supports up to 60 pounds
Best Chair for Boys
The First Years Training
For car-loving toddlers
Two-in-one function
Handles and non-skid bottom
Best Step Stool
iLove Dual Height Stool
Dual height
Non-skid base
Useful throughout the home
Best for Learning
Regalo My Little Potty
Interactive flushing noise
Impressive function
Handles for stability
Best Chair for Girls
The First Years Minnie Mouse
Perfect theme for girls
Pretend flush handle
Durable material
Review Methodology: At Mom Loves Best, we conduct thorough research, analysis, and hands-on testing to evaluate and compare the best potty chairs and seats available. Our experienced team focuses on the most important factors and criteria, such as comfort, design, stability, ease of cleaning, and portability. We provide in-depth assessments and first-hand experiences to ensure our recommendations meet high standards and rank the top options based on their performance. By sharing our findings and offering valuable insight into key decision-making factors, we help you make informed choices for your child's potty training journey. Rest assured, our data-driven approach and commitment to providing professional, unbiased reviews demonstrate our expertise and dedication to supporting you in finding the perfect potty chair or seat for your little one.
---
---
The Best Potty Chairs and Seats of 2023
Here are 10 great potty chairs and seats to consider.
Baby Bjorn Potty Chair
Best Potty Chair for Big Toddlers
If your toddler is tall or heavy, you'll love this potty chair from Baby Bjorn. It's built from durable materials, making it sturdy on the floor. The chair is also a little taller, so long legs won't have to bend uncomfortably.
One thing your toddler will undoubtedly love is the high backrest. It allows them to sit on their throne and take their time while doing their business in comfort.
This potty chair includes ergonomic lines so that the seat is as comfortable as can be.
Baby Björn recognizes that toddler size and the age of potty training varies. This is why they made this chair to suit large and smaller toddlers. The high backrest makes it comfortable even for smaller users, and as your toddler grows, they can continue using it thanks to the tall design.
Additionally, the plastic used is 100% BPA-free, meaning you won't have to worry about toxic materials.
Pros
Sturdy and made from durable material.
High backrest and splash guard.
BPA-free plastic.
Two-in-one design with easy waste removal.
Comfortable seat.
Cons
Some moms noted that their toddler's bottom stuck to the seat after use.
Our Ratings
Community Feedback
My experience with the BabyBjorn potty chair has been positive, as it provides a comfortable and secure seating experience for my toddler during potty training. The taller design with back and armrests prevents him from squirming too much, while the splash guard effectively prevents spills. This potty is lightweight and easy to clean, making it highly convenient for parents. Although it might be slightly larger than other potties, the design allows my child to back into it with ease.
---
Baby Bjorn Smart Potty Chair
Best Travel Potty Chair
Baby Björn takes another spot on our list, this time with their Smart Potty. The Smart Potty is smaller and lighter than the standard potty chair, making it perfect for trips.
This smart potty is compact, takes up very little space in the car, and will even fit into a bag when you're out and about. Fortunately, Baby Björn didn't compromise size for comfort as this seat still includes the ergonomic design.
Another fantastic plus is the material. It's 100% BPA-free but also durable and will carry your toddler's weight.
Its rubber edges keep it from sliding on the floor.
Pros
Compact and lightweight.
Two-in-one design.
Durable material.
Non-skid bottom.
Cons
The splash guard may be too short for some children.
Our Ratings
Community Feedback
I absolutely adore this Smart Potty for my little one, as it has been an essential tool in practicing Elimination Communication from a young age. The compact and sturdy design, complete with a removable bowl and non-slip bottom, makes it easy to clean and safe for my growing baby. I also appreciate the gender-neutral silver color and the option to add "potty cozies" for extra comfort, ensuring my baby's bum stays warm and cozy during potty time!
---
SkyRoku Potty Seat for Toddlers
Best Potty Seat for Boys
This potty seat from SkyRoku is perfect for potty-training boys. We chose this product because of the large splash guard. Having a boy myself, I know how messy toilet training can be — it gets everywhere.
As well as the large splash guard, the seat also features a backrest and handles. Not only will this provide a comfortable seat, but it will also give some support if your child is new to using the toilet. The soft seating area is lightly cushioned.
One feature I love is how stable this seat is. Adjustable arms keep the seat firmly attached to the toilet. For extra security, SkyRoku also included non-slip strips.
However, it doesn't fit all toilets, so check before purchasing.
Pros
Large splash guard.
Cushioned seat.
Removable seat for easy cleaning.
Handles and backrest.
Secure on the toilet.
Cons
Won't fit all toilet seats. Only fits round or elongated seats.
Our Ratings
Community Feedback
My experience with this potty seat has been great for potty-training my son. The large splash guard, backrest, and handles provide comfort and support for him during this new phase. I appreciate the stability of the seat, thanks to its adjustable arms and non-slip strips. However, be aware that it may not fit all toilets, so make sure to verify compatibility with your toilet before purchasing.
---
GrowthPic Toddler Toilet Seat with Ladder
Best Potty Seat for Girls
If your little one is feeling ready for independence, this potty seat from GrowthPic is for her. The first feature I'll mention is the appealing design. This potty seat is everything cute. It's all pink shades with an adorable bear theme. You can also choose a blue or green design.
Besides the cuteness factor, it's also comfortable. GrowthPic cushioned the seat, so your little princess can sit for as long as she needs to.
But I'm sure your girl will especially appreciate the ladder. This provides some independence so she can go potty whenever she needs — all by herself.
The wide step has grab handles at the top, and there's non-skid material at the base so it won't slip. It also folds for storage.
Pros
Cute design.
Adjustable step height.
Easy to clean.
Cushioned seat.
Cons
No clear assembly instructions.
Doesn't fit square-shaped toilets.
Our Ratings
Community Feedback
I recently purchased this potty training seat, and I'm quite impressed with its sturdiness and adjustable design. The one-piece construction includes an anti-slip base, a step for height, handles for safety, and a cushioned seat for comfort. However, after a few months of use, I noticed the plastic screws loosening, but it was a minor issue that could be easily fixed. Although the seat opening may seem a bit too large for some toddlers, it's still a great investment that promotes independence and makes potty training easier for both parents and children.
---
Summer Infant My Size Potty Chair
Best Toilet Look-Alike Potty Chair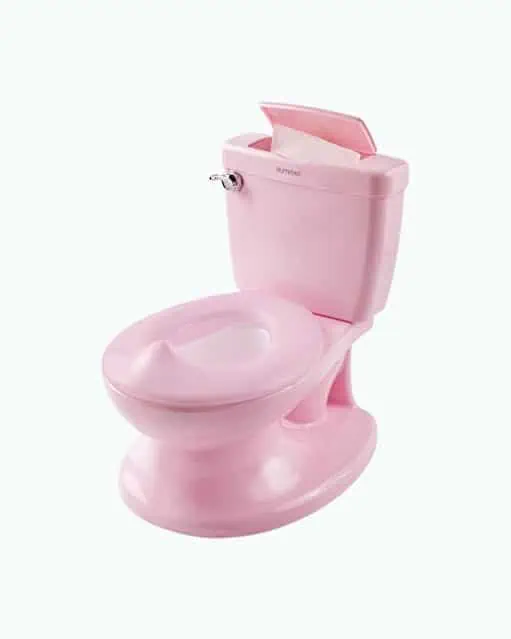 This adult toilet look-alike from Summer Infant is an excellent choice for a realistic learning experience. It has all the right features, except a working flush.
What's so much fun about this training toilet is the realistic detail. It has a pretend-flush handle that makes a flushing sound. At the top, you have a small cabinet for toilet paper or wipes for your toddler.
Your little one can open and close the lid themselves and go whenever necessary. All you have to do is clean out the bowl.
One valuable feature is the clip-on splash guard. It's large and easy to put on and remove, making it more hygienic.
Pros
Realistic-looking potty chair.
Storage area for wipes or underwear.
Pretend flush with a flushing sound.
Cons
The splash guard often doesn't stay in place.
Our Ratings
Community Feedback
In my experience, this toddler toilet has been a great addition to our potty training journey. The design resembles adult toilets, which immediately captured my son's interest and made him feel more grown-up. It is sturdy and easy for him to use, even as a smaller child. The basin can be removed and emptied by my son, promoting independence and responsibility.
---
Gimars Portable Potty Training Seat
Best Travel Potty Seat Cover
If you're often on the road, you'll surely find this potty seat from Gimars useful. You can fold it down to fit in your bag or use the included carry bag.
The material is polypropylene, but it's hinged to fold easily. When you reach the restroom, unfold it, and it will stick to the seat using the silicone pads supplied.
One advantage is that the potty seat will fit most toilets — even the horseshoe-shaped seats you often find in public restrooms. It will support a child weighing up to 60 pounds.
Your little one will love that the seat doesn't leave a gap where fingers or thighs can be pinched. However, although there are silicone pads to hold it in place, it can sometimes slip around on the toilet seat.
Pros
Foldable to an easy-to-carry size.
Fits most toilets.
Cute design.
Cons
May not grip well on some toilet seats.
Our Ratings
Community Feedback
When I first got this portable potty top, I was impressed by how lightweight, compact, and sturdy it was. The slip-free grips on the underside and the cute owl design made it an instant hit with my toddler, who previously had difficulty using public restrooms. The included travel bag allows for easy storage and transport, making this potty top an essential tool for potty training on the go.
---
The First Years Training Wheels Potty Chair
Best Potty Chair for Boys
This potty from The First Years is perfect if your little one loves speed and cars. The potty chair is a small race car that features a seat, four wheels, and headlight stickers. The colors are black and red, giving it some Ferrari appeal.
But what we love is that this potty is a two-in-one. You can remove the inner bowl for easy cleaning or place the seat on the adult toilet.
An additional feature you'll surely appreciate is the large splash guard. This will ensure all the pee goes into the bowl. The potty also features handles and has non-skid material on the wheels.
However, although it's claimed to be for toddlers aged 18 months and up, it's pretty small for taller children.
Pros
Fun for car-loving toddlers.
Two-in-one function.
Large splash guard.
Handles and a non-skid bottom.
Cons
Not big enough for taller toddlers.
Our Ratings
Community Feedback
My toddler absolutely loves this Training Wheels Racer Potty as it makes potty training fun and exciting with its racecar design and realistic sounds. The comfortable seat keeps them supported during their pit stops and the non-skid bottom ensures they stay put without slipping. Cleaning is made simple with the removable bowl, which saves me time and effort. Although it's a bit small, it fits perfectly in our tiny bathroom and my child enjoys using it. Just be cautious if your little one thinks it's a toy to drag around, but overall, it's a great potty training tool.
---
iLove Dual Height Step Stool
Best Step Stool for Potty Training
This step stool from iLove Store is ideal for your toilet-training toddler.
I chose this stool because of its dual height, meaning it will stay with you for a long time. It has two steps, with the highest reaching 10.5 inches. This is also a good height for reaching the sink to wash hands afterward.
We're sure you'll love the sturdy design. With two soft-grip steps and a non-slip grip surface, it's secure on any floor surface. And although it's lightweight, this step stool can hold a weight of up to 190 pounds. That's pretty amazing!
What's more, it has a simple, clean look. The white and grey colors will suit almost any bathroom without looking out of place.
This seat can be used anywhere around the house, not only in the bathroom. It might even be useful for those of us who are vertically challenged to reach higher cupboards and shelves.
Pros
Dual height.
Non-skid base.
Matching toilet training seats are available.
Useful throughout the home, not just for toilet training.
Cons
The width is relatively narrow.
Younger children may need support, as there are no sides or handles to hold.
Our Ratings
Community Feedback
Definitely a fantastic addition to our home, these stools have given our toddlers more autonomy and independence. With their lightweight design, even our 1.5-year-old can easily move them around to access the couch or the sink. The non-skid material on the steps ensures they stay put, providing a safe and sturdy surface for our little ones to climb. Their versatility has proven useful in various rooms, from the bathroom to the kitchen - we're delighted we chose the 2-pack option.
---
Regalo 2-in-1 My Little Potty Chair
Best Learn and Laugh Potty Chair
This potty chair from Regalo is all about flushing. The musical "water" sounds set this potty chair apart from the rest. Once your little one finishes and pushes the flush button, it creates a realistic flushing noise.
There's a bit more tech involved with this potty, so you'll need three LR44 batteries. But it's so much fun for a toddler.
The flush show aside, this potty is pretty cool. It has a storage compartment to hold wipes or books. It also has a splash guard for little ones.
Pros
Interactive flushing noise.
Impressive function.
Handles for stability.
Cons
The splash guard may be too low for some boys.
Our Ratings
Community Feedback
I recently purchased this toddler toilet for my child, and it has been a hit. The design is adorable, featuring a small storage compartment and a flushing sound button, which my child enjoys pressing repeatedly. However, the toilet does feel a bit cheap, and the lack of rubber or non-slip material on the bottom causes it to slide around easily. When it comes to practicality, the toilet is on the taller side for my two-year-old, and the hole is rather small, causing some accidents when going number two. Despite these minor issues, the potty has been a fun and successful introduction to toilet training for my little one.
---
The First Years Minnie Mouse Potty Chair
Best Potty Chair for Girls
This Disney Baby Minnie Mouse potty chair from The First Years is perfect for little girls.
You'll love this three-in-one design that includes a stand-alone potty with a removable inner bowl, a splash guard, and a toilet trainer.
Toddlers will love this because it looks like an adult toilet — it even has a pretend-flush handle. It's all pink with Minnie Mouse stickers bringing that Disney vibe.
It's made with durable plastic that's strong enough to hold a toddler's weight.
Pros
Perfect theme for girls.
Customizable design.
Pretend-flush handle.
Durable material.
Cons
Some of the components are too easy for toddlers to take apart.
Our Ratings
Community Feedback
My experience with this Minnie-themed potty has been a mixed bag. On one hand, my toddler adores the design and the unique features like the flushing sound and applause button, which makes her feel like a big girl. However, the removable seat has some design flaws - the plastic feels cheap and can easily warp, while the narrow back makes it less comfortable for long-term use. Despite these issues, it has served its purpose in potty training, and my granddaughter enjoys using it. If you're considering this potty, it's worth weighing the pros and cons, and perhaps exploring other options like the Elmo potty with a wider seat.
What is a Potty Chair?
A potty chair is basically a mix of a toilet and a chair. The small seat will sit on the ground where your little one can keep their feet on the floor. Then there's the bowl area, which catches all the poop and pee.
A great plus is its portability. A potty chair is generally compact and lightweight, meaning you can place it anywhere. As soon as your toddler feels the urge to go, the potty is within sight (1).
However, the biggest drawback is that you'll still have to get your hands and nose near the poop. Don't get me wrong; I've got nothing against pooping — it's a natural process. But at some point, you just want to flush it and not see it.
Nevertheless, there are different types of potty chairs. So let's take a look.
What is a Potty Seat?
A potty seat is a small seat that sits on top of the adult toilet. It reduces the opening size in the regular seat so your little one won't fall through. You may also know the potty seat as a "toilet trainer," "potty ring," or "seat reducer."
While pretty much any child can use them, potty seats are best for bigger toddlers or those who don't feel intimidated by the adult toilet.
Potty seats have many benefits. One of them is that there's less cleaning involved — the waste goes straight into the toilet, and you simply flush. Plus, once your toddler feels ready, you just stop using it; no need for another transition.
Remember to measure your toilet to ensure the potty seat fits the opening.
---
Thank You For Your Feedback!
Thank You For Your Feedback!