Step stools help your toddler get a leg up wherever they are around the home, not just in the bathroom. A good step stool will allow your toddler to safely reach what they need, letting them feel more independent when toilet training or helping in the kitchen.
But if, like me, you've ever bought a step stool, thinking you were helping your child out, only to have it tip over at the worst possible moment, you might find yourself discouraged.
That's why we put a lot of time into searching for the best step stools on the market. We rated these products based on how durable, affordable, and functional they are — and of course, safety was at the top of our criteria list.
Help your child reach new heights — without risking their safety — with the best step stools for toddlers and kids.
Image
Model
Product Comparison Table
Features
Best Overall Stool
iLove Step Stool
Safe and sturdy
Generous weight capacity
Pack of two
Best for Toilet Training
Bumbo Step Stool
Durable material
Safe for toddlers
Lightweight
Best Foldable
Folding Step Stool
Anti-skid footpad
Space-efficient design
Folds flat
Best Dual-Height
Wood City
Dual height
100% natural wood
Minimalist
Best for Kitchen
Guidecraft Kitchen Helper
Attractive design
Wide and adjustable height platform
Can hold up to 200 pounds
Best for Boys
Nickelodeon Paw Patrol
Fun Nickelodeon theme
Extra-thick material
Non-slip rubber on surface and feet
Best for Girls
Disney Minnie Mouse
Cute Disney theme
Lightweight and portable
Generous width and depth
---
---
The Best Step Stools for Toddlers of 2023
Here are 7 great step stools to consider.
iLove 2-Pack Step Stool for Kids
Best Overall Toddler Step Stool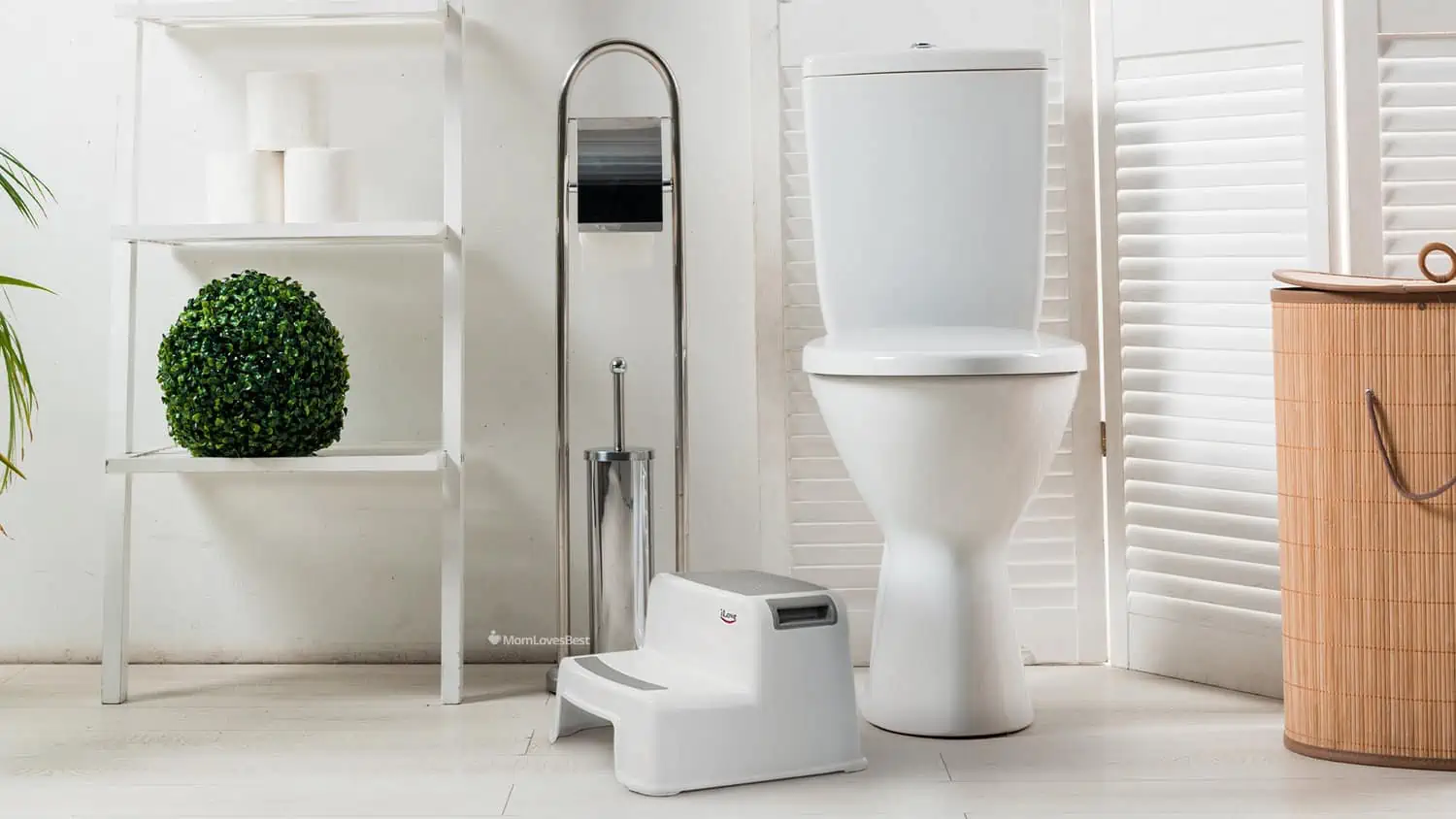 Believe it or not, finding the perfect step stool for your toddler can be a tricky task. However, this one seems to have everything.
We love this stool because it's safe and sturdy. There are extra-thick slip-resistant rubber feet to help prevent any unfortunate accidents.
The step stool is dual height. On the top step, your toddler will gain a whole 10.5 inches. The lowest step is a humble 5.5 inches.
On the surface, you'll find another layer of protection with non-slip rubber. This rubber is also super comfy to stand on and will surely be a favorite. Additionally, the steps are extra wide, so they can easily accommodate larger feet.
This step stool can carry up to 175 pounds. With two per pack, you could even designate one for you and one for your child. Let the organizing begin.
Pros
Safe and sturdy.
Wide steps.
Adult-friendly, with a generous weight capacity.
Pack of two.
Cons
The top step may be too tall for the toilet.
Our Ratings
---
Bumbo Step Stool
Best Toddler Step Stool for Toilet Training
When it comes to toilet training, we recommend investing in something that will make your toddler comfortable. During this time, they'll learn how to go to the toilet and wash their hands. This step stool from Bumbo is just what a toilet-training toddler needs.
It doesn't look like your everyday stool. It's made to resemble an elephant's foot.
We love that this stool ticks all the safety boxes. There's anti-skid rubber all over the surface and underneath the feet. It's approximately 6.5 inches tall and 11 inches wide — just right for toilet training.
It's also lightweight and easy to move around. After your little one has finished their business, they can pick it up and move it to the sink to wash their hands.
However, with a maximum weight limit of 110 pounds, it won't hold as much as some of our other choices. However, it's durable and steady enough for a wiggly toddler.
Pros
Durable material.
Safe for toddlers.
Lightweight and easy to move around.
Each purchase helps children in need.
Cons
May not be tall enough for shorter toddlers.
Our Ratings
---
Handy Laundry Folding Step Stool
Best Foldable Step Stool
Splurging a lot of money on a step stool isn't ideal. But it isn't easy to find one that's safe, space-efficient, and affordable.
This product is constructed with multiple layers of plastic. The wonderful part is that it only weighs 2.3 pounds, making it very portable. The stool is easy to carry around using the handle.
We love the simplicity of the step stool itself. You can choose between two colors — white and black. And the surface is covered in anti-slip grips to prevent little feet from slipping.
It has a generous width of 11 inches.
Pros
Anti-skid footpad.
Space-efficient.
Easy to carry
Foldable.
Our Ratings
---
Wood City Dual Height Step Stool
Best Dual-Height Step Stool
Sometimes a single-height step stool is not enough, especially for younger toddlers. This dual-height model from Wood City is just what you need to help your toddler go the distance.
The step stool features two steps — the highest is 13 inches, and the lowest is 6.7 inches. With this combination, even the shortest toddler can reach the sink. Each step is approximately 6.8 inches, with a total depth of 13 inches.
We also love the easy-clean finish, and the natural birch finish means there won't be any toxic plastic near your little one. The step stool also has standard non-slip safety features.
Pros
Dual height.
Non-slip rubber features.
Rounded corners to prevent any injury.
Cons
Stool must be assembled, and assembly can be difficult.
Our Ratings
---
Guidecraft Kitchen Helper Tower Step-Up
Best Step Stool for the Kitchen
Toddlers are often eager to get involved, especially in the kitchen. But it's not always easy finding a place for them to stay safe while still being able to help. Luckily this step stool from Guidecraft is an excellent platform during cooking time.
Because it's rather large and bulky, it's best to keep it in the kitchen. One invaluable feature is the adjustable platform where your toddler will stand. The highest point is 17 inches, but as your little helper grows taller, you can easily bring the platform down to 14 inches.
Several colors are available to coordinate with your kitchen decor. On the top step, there's plenty of room to move around, with a width of 17 inches and 20.5 inches deep. The stool also has a handle on each side that your toddler can hold on to while climbing up or down.
Pros
Attractive design.
Wide and adjustable height platform.
Strong enough to hold up to 200 pounds.
Cons
Difficult to store due to shape and size.
Our Ratings
---
Nickelodeon Paw Patrol Step Stool
Best Step Stool for Boys
This lightweight step stool from Nickelodeon is excellent for toilet training boys. Your toddler will love the "Paw Patrol" theme. Everything is blue and red with stickers from their favorite show.
The stool isn't just cute, it's durable. It's made with extra thick materials and can hold up to 200 pounds. You can remove the non-slip rubber surface for efficient cleaning, and the feet have non-slip rubber pads for additional safety.
However, at less than 5 inches tall, the stool is a little too short for smaller users.
Pros
Fun Nickelodeon theme.
Durable material.
Non-slip rubber on surface and feet.
Cons
The stool might be too short for some toddlers.
Our Ratings
---
Disney Minnie Mouse Step Stool
Best Step Stool for Girls
Toilet training or helping out in the kitchen has never looked so cute. This easily portable step stool from Disney is inspired by Minnie Mouse. If your child is a Disney fan, this is sure to be a hit. And your toddler will love the bright pink and purple colors.
The step stool is just over 5 inches high — it's not the tallest, but it's enough for toilet training. The shape is even curved to fit as close to the toilet as possible.
The strong and sturdy material can support up to 200 pounds, making this a safe step stool for toddlers and kids. Both the surface and feet have rubber to keep the stool secure, even in slippery situations.
Although durable, it's still lightweight enough for your toddler to lift and move from the toilet to the sink; it weighs only one pound.
Pros
Cute Disney theme for girls.
Lightweight and portable.
Generous width and depth.
Our Ratings
How to Choose a Step Stool
A step stool becomes essential once your toddler wants to do things by themselves. This could be anything, such as going to the toilet alone and washing their hands afterward. Perhaps they want to help in the kitchen, making some cookies or decorating a pizza.
Either way, a step stool will give your toddler those extra few inches they need. Let's review a few features before you rush out to buy one.
Height and Stability
The question you need to ask is, what does your toddler want to reach? There are all kinds of step stools. Some are a simple one-step design, while others resemble a tiny staircase.
For example, if your toddler has to use it to get on and off the toilet, a simple one-step stool is enough. You don't want something that's too tall. This could ultimately leave your little one hunched over with their knees up to their ears.
But a taller step stool is essential if you want them to use it in the kitchen. For your child's safety, it's crucial that the step stool never leaves them standing on their tiptoes. If it's too short, your toddler will likely try to pull up on their toes and risk falling over.
Your child may be steady on their feet by now, but their balance is thrown off as soon as they step up on their toes. This could be incredibly dangerous, especially if they go to the bathroom alone.
Safety Features
Safety is always our top priority, especially when it comes to our babies. Fortunately, most step stools for wiggly toddlers come with the following safety features:
Non-slip surface: This is important as it keeps your toddler from sliding off. You can find this on the top surface where they place their feet. It's generally some type of rubber, which may make it difficult to keep clean, but it's worth it.
Non-skid feet: Yes, toddlers wiggle, a lot, and the stool may glide under their feet or tip over, sending them crashing to the floor. Non-skid feet grip the floor to keep the stool from slipping.
Safety Tip
It's crucial to avoid placing the step stool near the stove, any hot surfaces, or propane gas. Sharp or fragile utensils and devices should also be well out of reach. Little hands are quick like lightning!
Other Points to Consider
If you live in a bigger house or apartment, it's probably better to invest in two-step stools. That way, a tall one can be in the kitchen and a shorter one in the bathroom. You won't have to drag it around, and it's always there when you need it — problem solved.
You should also ensure it isn't too narrow for your child to stand on safely or too wide to fit in confined spaces.
---
Thank You For Your Feedback!
Thank You For Your Feedback!