Shopping cart covers can be a lifesaver — literally.
We all know the importance of handwashing and sanitizing. But spend a few minutes in a public bathroom, and you'll see that not everyone cares. Your baby's immune system isn't as developed as yours, and germs and bacteria lingering on shopping carts can be a real threat to their safety.
Shopping cart covers create a barrier between those germs and your precious baby. And most come with a built-in safety belt that's far more effective than the dirty strap with the broken clip you see on too many carts.
We've scoured the internet to find the best shopping cart covers to keep your baby safe, comfortable, and germ-free while you shop.
The only thing they don't do is prevent your baby's grocery store tantrums. We wish you the best of luck with that.
Image
Model
Product Comparison Table
Features
With strap for sippy cup
Has see-through phone pocket
Very affordable
Best for Infants
Summer Infant
Keeps small babies safe
Provides comfort
Germ-free protection
Best Large Cover
Boppy Cart & Chair
Comes in 3 different designs
Fits any large-sized cart
Gives baby total protection from germs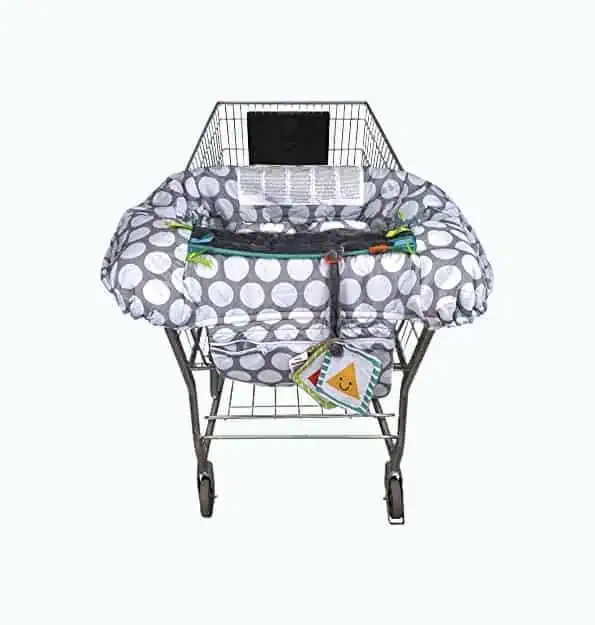 Best for Playtime
Boppy Luxe
Large storage pocket
Soft, minky fabric
Includes interactive ribbons & toys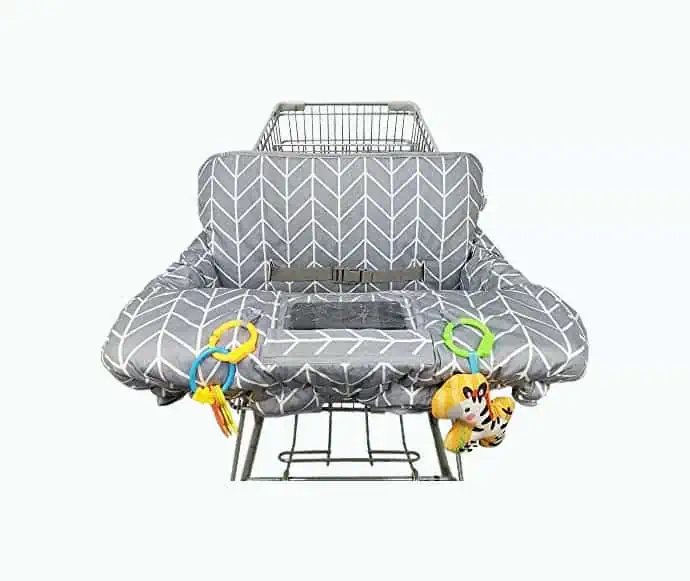 Best Compact Cover
Skip Hop Cover
Front loops to hold toys
Really soft fabric
Padded seat and leg holes
Best Budget-Friendly Pick
Kids N' Such 4-in-1
Has a lot of uses
Affordable
Eye-catching, pretty cover
Best for Twins
Lakeson 4-in-1
Extremely versatile
Affordable
Stays snugly on shopping carts
---
---
The Best Shopping Cart Covers of 2023
Here are some great shopping cart covers to consider.
Suessie 2-in-1 Shopping Cart Cover
Best 2-in-1 Shopping Cart and High Chair Cover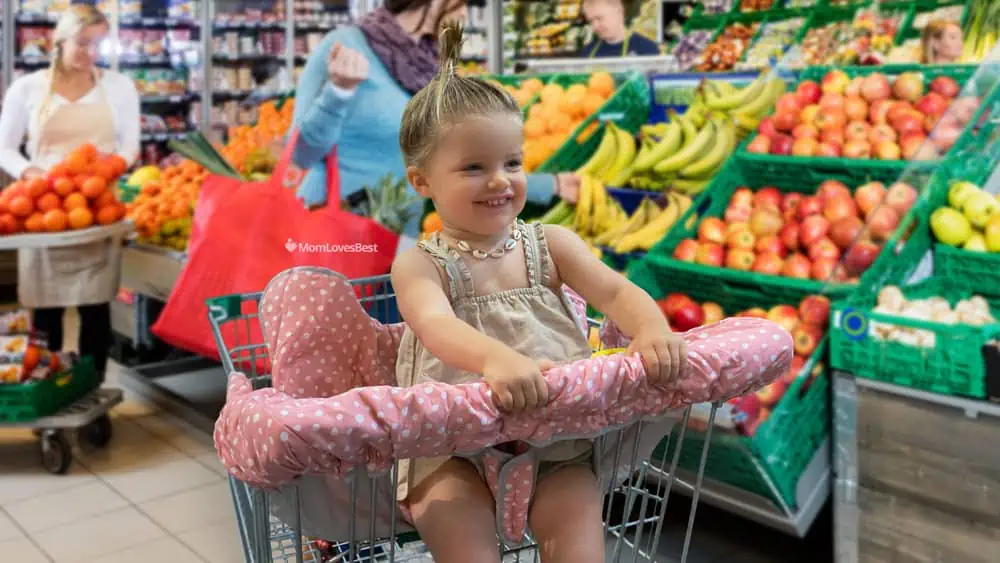 This cover works on shopping carts and high chairs, which is useful when you plan a shopping day and need to grab lunch at a food court. It protects your baby from those high chairs that are hastily wiped down in restaurants and could potentially be carrying a lot of germs.
Because babies have roving hands, it's best to find covers that protect your baby from all the cart's surfaces within their reach. This one gives complete coverage, so fewer germs will find their way into your baby's mouth.
It also has two loops for toys and a built-in teether to keep your baby entertained and happy during your shopping trip.
When you're done using it, it rolls up into a bag with a carrying strap, so it's ready to go next time you need it.
Pros
Has a strap for your child's sippy cup.
Comes with a see-through phone window.
It's pretty affordable.
Machine washable.
Cons
It doesn't contain much padding.
Our Ratings
---
Summer Infant 2-in-1 Cushy Shopping Cart Cover
Best for Infants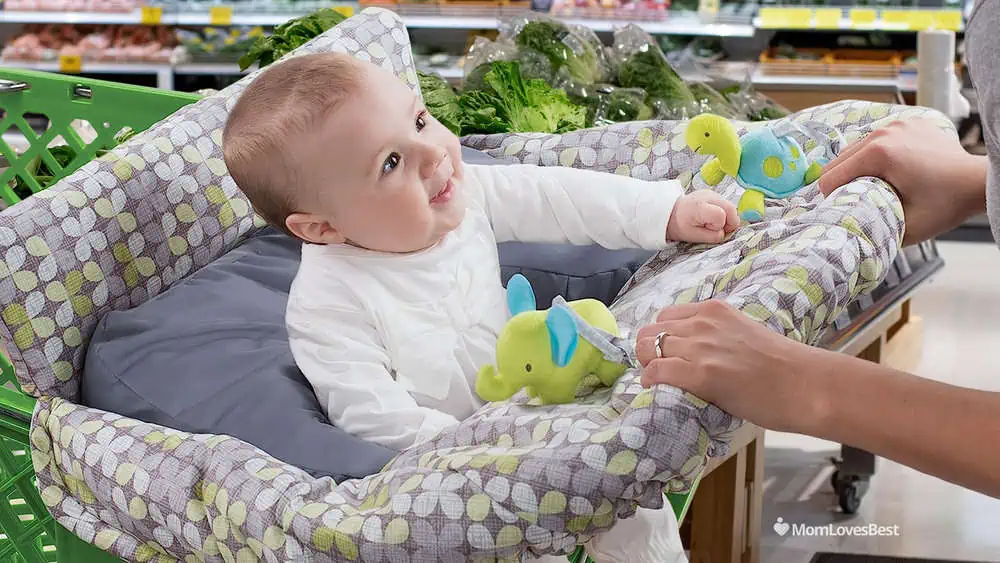 The child's seat in a shopping cart is gigantic for infants but too small to hold a car seat or baby carrier comfortably. Use this cushy cart cover to guarantee your little one's safety, and shop in peace.
Each cover includes an infant positioner to prop up younger babies so you can keep them safe and secure. It's fully cushioned and offers support around your infant's back and both sides of their body. The material also helps protect against germs.
As your baby gets older, the positioner can be removed easily. The remaining portion of the cover is padded to guarantee your baby's comfort.
You can also keep your child entertained with their favorite apps or videos on your smartphone. A vinyl pocket will keep it in place while protecting the screen. There are also two loops to attach toys.
It fits most retailer and grocery store carts and restaurant high chairs. No matter your child's age, they'll love settling into this cover.
Pros
Infant positioner keeps small babies safe, comfortable, and germ-free.

You can easily remove the infant positioner as your child grows.
Cons
Moms would love more pockets and storage space.
Our Ratings
---
Boppy Cart and Chair Cover
Best Large Shopping Cart Cover
This cover is big enough to handle oversized shopping carts, giving your baby 360-degree protection.
The slide line system stops your baby's toys from hitting the ground, and it even comes with a crinkly toy that should keep them busy for a few minutes during your trip.
The safety straps will keep your child in place, which means you can spend more time shopping and less time worrying your baby will fall out.
If your baby gets the cover filthy after repeated uses, you'll be glad to know you can toss it in the washing machine, and it'll be just fine.
Pros
It comes in three different patterns and colors.
It should fit any oversized cart.
It gives your baby total protection from germy surfaces.
Cons
Although it works for some, it doesn't fit well over all styles of high chairs.
No elastic on edges to keep it secure, so it slides around a bit.
Our Ratings
---
Boppy Luxe Shopping Cart Cover
Best for Playtime
Grocery shopping with an active child can lead to a lot of stress. If your baby is full of energy, this shopping cart cover will help distract and entertain them while you shop.
The extra-large design allows for a number of add-ons, including a patented slide system so you can attach your baby's favorite toy directly to the cart. You won't have to worry about losing it or having it thrown into a stack of cans. It also comes with crinkle toys and bright finger ribbons.
The entire cover is made of a machine-washable, super-soft minky fabric. Because of its extra-large design, you get 360-degree coverage on all shopping carts and high chairs. When you're done shopping, the entire thing folds down into an integrated travel pouch you can easily leave in your car or place in your diaper bag.
Pros
Allows you to attach and secure your baby's favorite toy to the cart.
Soft, minky fabric ensures comfort.
Includes interactive ribbons and crinkle toys.
Cons
Folding and unfolding this bulky cover is a bit of a hassle.
Our Ratings
---
Skip Hop Compact 2-in-1 Shopping Cart Cover
Best Compact Shopping Cart Cover
This compact cart cover also doubles as a high chair cover, and it will fit most sizes of shopping carts and high chairs. It only takes a minute to attach it to the cart. One strap anchors the cover to the cart, and another strap keeps your baby attached to the cover.
When you're done shopping, it will fold up into the stretchy pouch that's built into the cover. The pouch includes a wrist strap, making it easy to hang onto when your hands are full of groceries and your baby.
It has light padding to keep your baby comfortable and a machine-washable liner.
Pros
It has two front loops to hold toys.
The fabric is really soft.
Padded seat and leg holes for extra comfort.
Cons
The straps aren't attached, making it easier to misplace them.
Our Ratings
---
Kids N' Such 4-in-1 Shopping Cart Cover
Best Multipurpose Shopping Cart Cover
This is another highly versatile shopping cart cover. It can also be used as a high chair cover, scarf, nursing cover, car seat cover, changing pad, or blanket.
While it doesn't have any padding, the soft fabric feels comfortable against their skin.
You won't even have to pack this cover in the diaper bag to take it in to the store with you. You can wear it around your neck as a scarf, making for one less thing you have to carry in your arms.
Because the fabric stretches so well, it fits most cart sizes.
Pros
It has a lot of uses.
This cover is affordable.
Choose from several prints.
Cons
It won't offer your child any padding.
Our Ratings
---
Lakeson & Co. 4-in-1 Shopping Cart Cover
Best Shopping Cart Cover for Twins
This stretchy grocery cart cover can also function as a car seat cover, nursing cover, and stroller blanket or cover. You can also wear it as an infinity scarf until it's time to put it into action.
It works for twins while covering shopping carts because it doesn't have any designated leg holes. It leaves the leg area free while protecting all the bars your kids would be grabbing. As long as your children can fit side-by-side in the child seat, this cover will work for both of them.
With every purchase, this company also either plants a tree to help keep the air clean or plants a packet of wildflower seeds to promote the health of bees.
Pros
Extremely versatile.
Really affordable, especially considering how many uses it has.
Fits snugly on shopping carts.
Cons
This only comes in a girly floral pattern.
There are no safety belts on this cover.
Our Ratings
Do I Really Need a Shopping Cart Cover?
Kids have a truly astonishing talent for getting sick. While it might seem a little paranoid to worry about the germs on a shopping cart, you only need to consider that your alternative might be days of dealing with a snotty, unhappy child.
When you're a mom, prevention becomes your middle name, and using shopping cart covers is just one way to stay on top of things.
How to Choose a Shopping Cart Cover
Here are some factors you'll want to consider when buying a shopping cart cover.
---
The Bottom Line
While the Suessie 2-in-1 cover is a little light on padding, it's still one of the best shopping cart covers we've tried.
It gives your baby a lot of protection from all the germs that surround them, and it doubles as a high chair cover. That means you'll get double the protection for the price of one cover.
It'll keep your baby's toys within reach if you use the loops that come with it. Plus, the safety harness keeps your child in place so they won't get hurt.
Thank You For Your Feedback!
Thank You For Your Feedback!