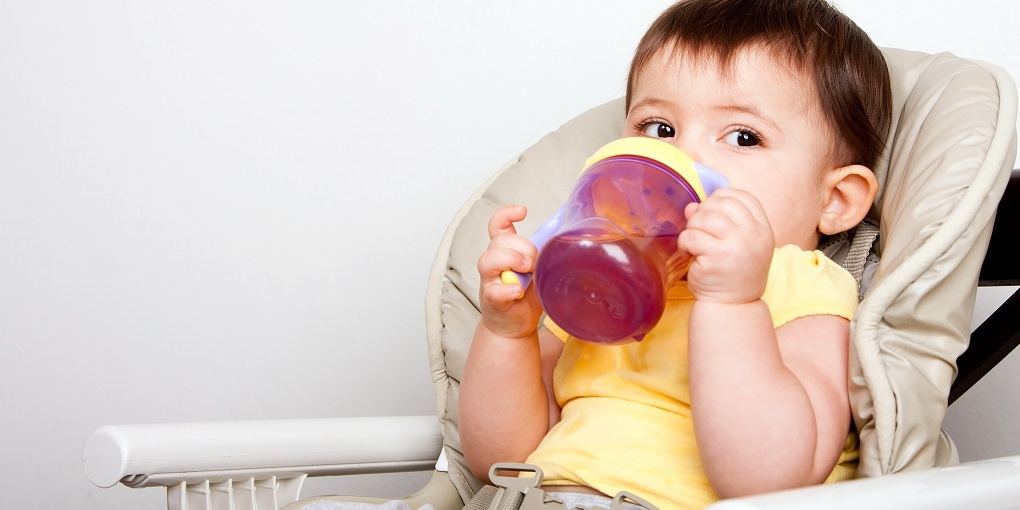 The 12 Best Sippy Cups For Breastfed Babies, Toddlers & More (2017 Reviews & Buyer's Guide)
Last Updated November 10, 2017
More...
The Best Transition Sippy Cup
When your baby is new to the world of sippy cups, you need a good transition cup that will make the switch easier. You need to find a cup that won't be too frustrating for them or they'll fight you every time you try to get them to use it.
The Best Sippy Cup for Toddlers
Toddlers shouldn't have leak-proof cups that are too hard to sip from. You'll want to find cups that have the liquid coming out faster, much like it will once they make the leap to a real cup. You may have a few messes on your hands, but they need to learn at some point.
The Best Sippy Cup with a Straw
If you're worried about a spout causing speech problems for your baby, you can opt for a sippy cup that has a built-in straw. Plus, unlike some other sippy cups, your child can continue to use these for a long time because they'll love sipping through a straw for years to come.
The Best Sippy Cup for Milk
When it comes to finding a milk sippy cup for your child, you have to keep in mind how quickly he'll be able to drink his milk. You don't want him to work on that milk cup for a couple hours because prolonged repeated exposure to milk can cause tooth decay. Look for something that has a fairly fast flow rate so he won't be sucking on it forever just to finish the cup of milk.
The Best Sippy Cup for a Breastfed Baby
When you have a breastfed baby you'll need a sippy cup that isn't a shock to their system. They're used to your soft nipples, so a hard, plastic spout will be a bit much for them to take. They probably won't like the sudden change from soft to hard. So your best bet is finding a soft spout.
The Best Glass Sippy Cup
With glass sippy cups, you won't have to worry about the next BPA-like threat scientists discover are leaking from plastic cups. Glass has been used for a long time so you can feel safer about using glass cups than you might about plastic or silicone.
The Best Organic Sippy Cup
If you are concerned with everything your baby puts in their mouth because you want to give them the healthiest start you can, you may want an organic sippy cup. These are often pricier than regular sippy cups, but if they give you peace of mind, they're worth every penny.
The Best Stainless Steel Sippy Cup
Stainless steel sippy cups are a great alternative to plastic or silicone cups. They are known as a safe option without some of the chemicals other cups use. Plus, they'll be longer lasting than other cups which can stand up to the heavy usage and chewing that babies like to subject their sippy cups to.
The Best Silicone Sippy Cup
Silicone is a soft material that is easy to clean and bendable. If your child is used to your breast or the bottle, this material is a great choice for a sippy cup. Your child will like how flexible and squishy it is. You can put it in the dishwasher without worrying that it will melt or get warped.
The Best Insulated Sippy Cup
If you're going to be out of the house on a day trip, you'll want an insulated cup to keep your baby's drink cold. Insulated cups can come in a bottle-type design that resembles a thermos or they can look like a regular cup. Whichever design you go with, you should make sure they are easy to clean.
The Best Orthodontic Sippy Cup
If you don't want your baby to mess with his dental development and speech patterns while he's trying to learn how to drink from a cup, you'll want an orthodontic sippy cup. Look for one that has a straw instead of a hard spout that has to go inside of their mouth.
The Best Hard Spout Sippy Cup
When looking for a hard spout sippy cup, you'll want to find a spout that won't crack when your baby starts to chew on it. Most kids, especially when they are teething, like to chew on their sippy cup spouts to take the edge off some of their teething pain.
My Favorite Sippy Cup Is...