No two moms are the same, and neither are their babies. We all have different needs when it comes to feeding our little ones, but wherever you are, there's a bottle to make your life easier.
Whether you plan to breastfeed, stick to formula, or use a combination of both, baby bottles are sure to become an essential part of your everyday life — and there's a whole world of choice out there!
Will you go with glass, plastic, silicone, or even stainless steel? What nipple size will work best for your baby's stage of development? How can you clean and store baby bottles properly?
If these questions feel overwhelming, I get it. We'll answer all these and more, plus show you the 11 best baby bottles we could find to keep your little one happy, healthy, and strong.
Image
Model
Product Comparison Table
Features
Best All Round
Comotomo Natural Feel
Mimic breast shape and feel
Super easy to clean
Dual vents prevent colic & gas
Best for Breastfed Babies
Nanobebe Breastmilk
Warms up to two times faster
Stackable thus saves space
Easy to clean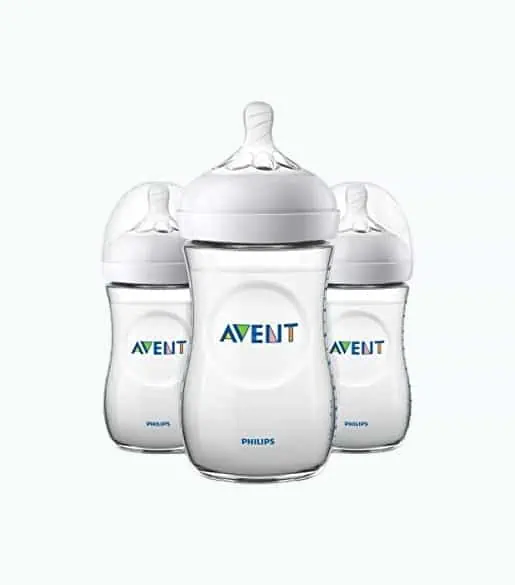 Best for Preemies
Philips Avent Newborn
Perfect size for preemies
Anti-colic feature
Slow nipple speed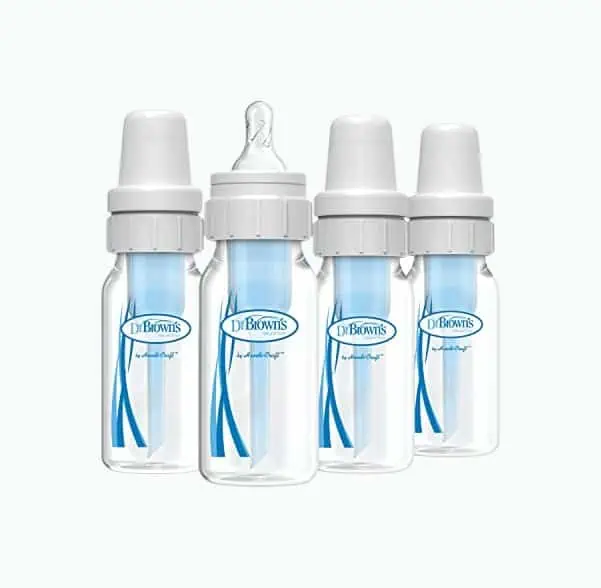 Best for Gas
Dr. Brown's Original
Clinically proven to reduce colic
Preserve essential vitamins
Fits most breast pumps
Best Baby Bottle for Formula
PopYum Anti-Colic
Anti-colic nipples and vents
Variety of options
Comprises of only 5 parts
Best for Travel
Playtex Nurser
Simple liner system
Mimics breastfeeding experience
Anti-colic and anti-gas
Best for Exclusively Pumping
Medela Collection
Comes with six bottles
Affordable price
Bigger bottles available (8oz)
Best Stainless Steel
Pura Kiki Stainless Steel
Safe, eco-friendly, easy to wash
Lasts for years
Compatible with other leading brand
Best Glass Bottle
NUK Simply Natural
Doesn't leak
Very affordable
Anti-colic air system
Best for Toddlers
NUK Disney
BPA-free plastic
Holds up to 10 ounces
Fun Disney design
---
---
The Best Baby Bottles of 2023
Here are 11 great baby bottles to consider.
Comotomo Baby Natural Feel Baby Bottle
Best All Round Baby Bottle
Comotomo's Natural Feel bottles are specifically designed to mimic the natural nursing process. The nipples are shaped like a woman's breast with a wide mound your baby can easily latch onto. You can choose from multiple flow options, but the standard "slow flow" nipple has a single hole to help your baby learn how to suck and swallow.
One of the features we love for breastfed babies is the silicone material. It's designed to be soft and squeezy so your baby can hold it comfortably and feel like they're still close to mom. If they have a hard time getting the milk out, a little squeeze from you will help it flow again.
The silicone is 100 percent free from risky plastics including BPA, PVC, and phthalate.
If you have exclusively breastfed your baby or have had a difficult time transitioning to a bottle, the soft, natural feel of this bottle may be just the thing you need.
This bottle also comes with dual anti-colic vents, an extra-wide neck for easy cleaning, and an anti-leak locking system. All of the materials are dishwasher safe and can even be put in boiling water for extra sterilization.
The standard bottle holds 5 ounces of liquid and comes with a cap. You can also get an 8-ounce bottle, but it will come with a "medium flow" nipple with two holes instead of one.
Pros
The nipple has a wide base to mimic the shape and feel of your breast.
Silicone bottle can be squeezed and feels soft like your skin.
The wide neck makes the bottle super easy to wash.
Dual vents prevent colic and gas.
Cons
No measurement markings to keep track of milk flow and consumption.
Anti-leak lids need to be on extra tight or leaking may occur.
Our Ratings
---
nanobebe Breastmilk Baby Bottles
Best Bottle for Breastfed Babies
One of the latest rages in the bottle industry is to produce bottles for babies, like Nanobebe does, that look like a real breast. That solves a dilemma for moms who need to switch between breastfeeding and bottle feeding.
If a bottle looks more like a breast, your finicky baby won't be likely to refuse it. And if they decide they prefer the bottle, they might not object if you try to switch back to the breast because the bottle will look and feel similar to your breast.
You'll notice when you look at Nanobebe bottles that the shape is remarkably similar to a breast. The bottom of the bottle curves inward, making it comfortable for you to hold.
The design also helps with faster warming and cooling to preserve nutrients and prevent the growth of bacteria.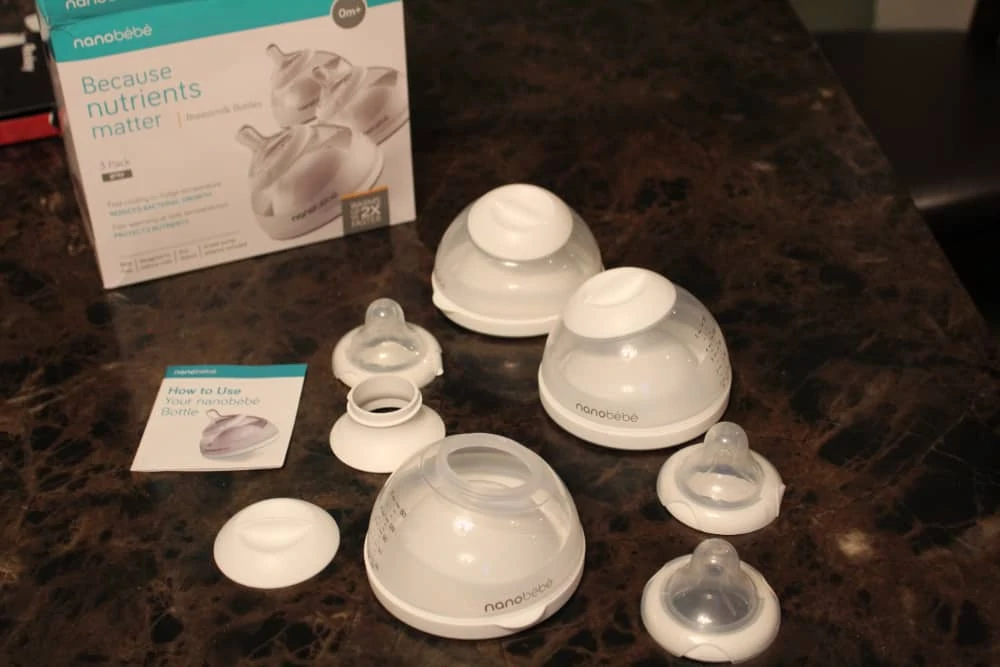 Pros
This bottle warms up to two times faster than some other brands.
It also cools up to two times faster when you put it in the refrigerator.
Looks like a breast if you're trying to trick your baby by visuals alone.
The curved bottom design allows you to stack them, which saves you cabinet space.
Easy to clean.
Helps prevent nipple confusion.
Cons
The design of the bottle makes it difficult to get all the milk out of the bottle with some creative positioning while holding your baby.
There can be some leakage issues if you aren't careful.
Our Ratings
---
Philips Avent Newborn Bottle
Best Bottle for Preemies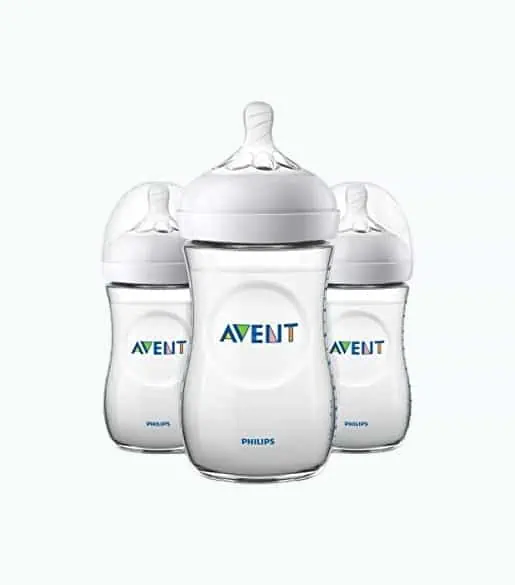 The Philips Avent line is one of the leaders in the baby bottle industry, and one reason we love them is because of their specific bottle for newborns and preemies.
Each only holds four ounces, which is perfect for your preemie. You won't end up throwing any milk away as you would if you had larger bottles that your preemie baby couldn't finish in one feeding.
The bottle uses an anti-colic system built into the nipple and doesn't contain extra parts that are hard to take apart or difficult to clean. This will be appreciated by moms worried their babies are taking in air when drinking, but who also don't want any extra washing up to do.
However, the reason we love this preemie bottle is the unique nipple design. Not only does it resemble the breast, but it also has a shorter nipple and a very slow flow for controlled feedings, plus the "comfort petals" inside stop it from collapsing. Combined, these features ensure your small baby gets the milk they need without being overpowered.
These bottles are BPA-free and have a wide-neck opening that makes it easy to fill without spilling. They can go in the dishwasher and be sterilized.
Pros
Perfect size for preemies.
The anti-colic features reduce the amount of milk that gets spit up.
The slow nipple speed won't overwhelm your new baby.
Cons
You can't get the last little bit out of the bottle without holding it straight up.
Our Ratings
---
Dr. Brown's Original Bottle
Best Bottle for Gassy Babies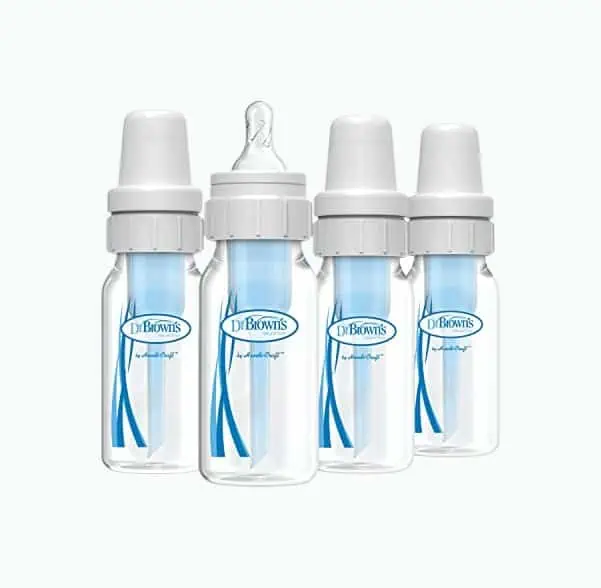 Ask any mom who's had a baby with colic and chances are she knows all about Dr. Brown's bottles. A staple in many households, their patented venting system has been clinically proven to reduce colic, spit-up, burping, and gas (1). They also preserve the essential vitamins in your breast milk, which can deteriorate upon exposure to air in conventional bottles.
How does it work? The internal vent system eliminates vacuum pressure and reduces oxidation caused by air bubbles. Air routes through the internal vent system to bypass the milk and give your baby a comfortable feeding experience.
The vent system is also designed to work with the silicone nipple, which has a slow flow for more controlled feedings.
Dr. Brown's Original Bottles are made of BPA-free plastic and silicone. We love that the bottles attach directly to most of the best breast pumps without needing any extra bottles.
If your baby has colic or gas, we definitely suggest trying out Dr. Brown's. They may also be a good choice for babies who still breastfeed regularly since this brand consistently earns good reviews when it comes to avoiding bottle confusion. Dr. Brown's boasts that it is similar to breastfeeding because both don't have any extra air in the milk.
The original bottle holds 4 ounces, but other size options are available; each bottle features convenient measurement markings.
Pros
Clinically proven to reduce gas, colic, spit-ups, and burping.
Helps preserve essential vitamins for the baby's health.
Slow-flow nipple allows for paced feeding.
Fits most breast pumps for easy pumping and storing.
Helps prevent nipple confusion.
Cons
It requires extra work when cleaning the vent system.
Measurement markings can be hard to see.
Our Ratings
---
PopYum Anti-Colic Baby Bottles
Best Baby Bottle for Formula
If you've ever used formula, you know it's not easy, like many people assume. While it may be easier than breastfeeding in some ways, it can be harder in many other ways.
Think of all the measuring and mixing you constantly have to do! You have to make sure you always have sanitized bottles at the ready, that you've packed enough formula in your diaper bag, and that the milk is always at the right temperature.
If your baby doesn't get fed right away, this can lead to an unhappy baby, which equals an unhappy mom.
That's why we like this bottle from PopYum. They have a funnel which makes it super easy to load the formula into the bottle. Then it also stops the formula from falling into the water chamber.
With only one hand, you can prepare a bottle. The bottle stores the formula and water separately so you can set up the formula in the bottle for later. Then, when you need the bottle, simply press the bottle's buttons, shake it up, and then it's ready for your baby.
If you're a breastfeeding mom, you might also want to have a look at this cool bottle. It's great for breast milk since you can isolate it at the bottom of the bottle. In addition, it won't touch the nipple or vents until you've pressed the buttons.
Pros
Anti-colic nipples and vents can relieve colic symptoms.
Easy to prepare bottles one-handed so that you can hold your baby in the other arm.
Available in five and nine-ounce bottles.
Only five parts included, which is much less than some other options.
Cons
Some babies struggled to get milk out, while others got milk too fast.
Many parents found the bottles leaked.
Not very durable, which is disappointing considering the high price.
The nipples are short and wide, which many babies didn't like.
Our Ratings
---
Playtex Nurser with Disposable Liners
Best Baby Bottle for Travel
If there's one way to keep things neat and clean while you travel, it's disposable liners. Once your baby is done feeding, simply throw the liner away. The bottle stays clean and you don't have to worry about anything lingering in your diaper bag and smelling bad.
Playtex has made a super simple liner system: all you have to do is drop the liner into the bottle and you're good to go. The bottles have a special lip at the top to catch onto the bottle, so you don't have to worry about it slipping down or moving.
Then, just fill up the liner, screw on the nipple lid, and the bottle is ready.
When you're done, all you have to do is remove the liner and dispose of it. We understand there are a lot of eco-friendly moms out there, but don't worry — the liners are recyclable. (In the plastic bag recycling bin at grocery stores, not the regular recycle bin).
One of the reasons we really like these is because they weren't just designed to make life easier; they actually improve your baby's feeding experience. This is because the soft liner collapses down as your baby feeds, so the flow mimics a natural breastfeeding experience. And prevent air bubbles from mixing with the milk.
Both the bottle and the liners are made from BPA-free, PVC-free and phthalate-free plastic. The liners have even been pre-sterilized so you can open them up and add them to the bottle without extra steps.
Pros
Simple liner system is easy and quick to use everyday or while traveling.
Liner is designed to mimic the breastfeeding experience.
Anti-colic and anti-gas.
Cons
Saving the bags to recycle at a grocery store can get irritating.
Our Ratings
---
Medela Breast Milk Collection Bottles
Best Baby Bottle for Exclusively Pumping
How much milk do you produce? How much milk does your baby actually drink each time they feed?
Chances are, there will always be a difference between the two. That's why a mom who breastfeeds needs to make sure they have a collection of bottles on hand to store that difference.
One of our favorite picks is from Medela. These collection bottles are affordable and come in a six-pack and are great to use when you're exclusively pumping. They're the number one physician-recommended breastmilk storage product in the United States.
Each BPA-free bottle holds five ounces and comes with a screw-on lid to keep the milk safe in the refrigerator or freezer. These plastic baby bottles have been designed to retain the breastmilk's beneficial properties, even after storage.
The feature we like most for pumping moms is the versatility. All Medela bottles are designed to work with a variety of breast pumps so you won't have to worry about purchasing a different pump if you already have one.
This kit doesn't come with nipples, but the bottles are compatible with Medela nipples and collars and some other brands of nipples may work, too.
They can go in the dishwasher and the millimeter markers let you know exactly how much you've pumped. They're easy to clean and hold up better in the refrigerator than disposable bags because they aren't as prone to ripping or leaking.
Pros
Since it comes with six bottles, you'll have a lot of total storage space.
The millimeter markers remain even after repeated washing.
Affordable when compared to other bottle sets.
Bigger bottles available (8oz).
Cons
Some moms have complained about how thin these bottles are.
No way to write on or label the bottle.
Our Ratings
---
Pura Kiki Stainless Steel Infant Bottle
Best Stainless Steel Baby Bottle
Bottles are essential for a certain period and then, once your baby grows, you suddenly find yourself with a bunch of bottles to store away in the back of the cabinet.
This bottle from Pura helps solve that problem. It has a unique bottle evolution system: simply trade out the silicone lids to adapt the main base to your child's needs. It starts off as a bottle, but can then be used as a sippy bottle, straw bottle, a regular sports bottle, or even a snack container.
You might think this means its performance as a baby bottle is just so-so, but rest assured you'll get everything you need with this model.
Because it's stainless steel, you eliminate the risk of chemicals seeping in as you might experience with plastics. Plus it won't break when dropped. Even though the stainless steel is lightweight, the bottle also has a tapered design and included silicone sleeve to add grip and make it easier for your baby to hold.
The wide neck more closely resembles breastfeeding and, better yet, makes it compatible with most other nipples from leading brands. The included nipple has a medium flow anti-colic valve design.
We love that this bottle is good for your baby, good for the environment, and good for your pocketbook. If you're looking to cut down on the number of bottles in your home and get more use out of the baby products you buy, this is a great choice.
Pros
Stainless steel is safe, eco-friendly, and easy to wash.
The bottle evolution system lets you use the product for years instead of months.
Compatible with many other leading brand bottle products.
Silicone grip and a tapered design make it easier for the baby to hold.
Cons
You need to buy other accessories to change the bottle's function.
A little on the larger size, so small babies may struggle to hold it themselves.
Can't see the amount in the bottle, measurements are on the inside.
Our Ratings
---
NUK Simply Natural Glass Bottles
Best Glass Baby Bottle
NUK bottles are a classic choice, beloved by moms for years, and it's easy to see why. These bottles are easy for your baby to hold, but very hard to break.
Glass baby bottles are popular because they can be cleaned and sanitized easily and are completely free of the dangerous chemicals found in many plastics. NUK meets those requirements but takes it one step further.
With only three pieces – the body, the ring and the nipple, each bottle is easy to assemble and disassemble during feedings. Plus, the entire thing can be put in the top rack of your dishwasher for stress-free sterilization.
They can hold 4 ounces of liquid and have a one-piece integrated advance anti-colic system.
Pros
Easy to clean, but hard to break.
BPA-free and dishwasher-safe.
Affordable price for parents on a budget.
Designed to mimic the breast thus great for transitioning from breastfeeding to bottle-feeding.
Integrated valve system in the nipple.
Cons
The glass doesn't freeze well and may crack if put in the freezer.
Our Ratings
---
NUK Disney Bottle
Best Bottle for Toddlers
Keep your toddler happy and entertained with these fun Disney-themed bottles.
The pack includes three Mickey Mouse bottles with orthodontic nipples and an angled top. This will help your baby use the correct tongue and mouth position while drinking. The hourglass nipple shape lets your toddler's lips close in a way that cuts back on how much air they swallow.
The asymmetrical design will encourage the right jaw positioning to avoid developmental problems which are a risk for children who use bottles past the age of one.
Toddlers will love the fun design and parents will like that this bottle holds 10 ounces of liquid so they won't have to be refilling it constantly.
The bottles are BPA-free and can be cleaned in the dishwasher. These have an anti-colic air system built into the nipple so your toddler won't have as many digestive issues.
We like these baby bottles for moms with multiple kids because they work for both babies and toddlers, so you'll save money by not buying a separate set of bottles for everyone.
Pros
The nipple design is great for supporting your growing child's development.
Holds up to 10 ounces, perfect for a toddler's appetite.
Fun Disney design will keep your toddler smiling.
Cons
For best results, you have to line up the anti-colic symbol under your baby's nose while drinking — that's hard to control with toddlers.
Your toddler may quickly transition to a sippy cup, making the nipple less useful.
Our Ratings
---
Sassy Baby Food Nurser
Best Bottle for Cereal
Help your baby transition from bottles to solid foods with this unique set. You get two bottles in each pack; one with a traditional nipple and the other with a small spoon attached.
Using them in conjunction can help your baby become accustomed to spoon-feeding while also having a nipple with a large enough opening to allow baby cereal to flow through.
This is a great bottle for babies transitioning to solid foods for a few reasons. First, the vacuum disk keeps air out while encouraging the cereal to flow out of the nipple without clogging. Second, you simply press the bottom of the bottle to load some cereal onto the attached spoon.
No matter which lid your growing baby uses, they will have easy access to their food. If they struggle with the spoon, let them use the nipple bottle for a bit. You can slowly add the spoon into their routine as they get used to the food.
You can use it for other thicker foods too, for example, yogurt or applesauce if your baby is a fan. We like this because it means you get a lot of use out of the bottle as your baby grows.
These bottles were designed for babies six months and up. Each one holds approximately four ounces of food and is made of BPA-free plastic, but both the spoon and the nipple are made of silicone.
Pros
The spoon-bottle can handle the thickness of cereal, unlike other nipple bottles.
You can teach your baby the basics of spoon-feeding with this bottle.
The spoon is soft like a nipple so it won't hurt a baby's teeth or gums.
Comes with a hygienic lid.
A portable way to carry homemade baby food.
Cons
For the first few attempts, the plunger on the spoon bottle is hard to push up.
These aren't fun to hand wash.
Our Ratings
Do I Need Baby Bottles?
At first glance, it may seem like you only need to be concerned about baby bottles if you don't plan on breastfeeding.
However, we think all moms should be prepared to use bottles for a number of reasons:
According to the Centers for Disease Control and Prevention, 60 percent of mothers aren't able to breastfeed for as long as they intend to (2). There are unexpected reasons you might need to supplement your baby's diet with formula, or due to unforeseen issues, pumped bottles maybe the best way to give your baby breast milk.
One survey found a third of women feel embarrassed to breastfeed in public (3). No matter how you feel about breastfeeding while you're out and about, being able to store your milk in a bottle to use during feedings can be a quick fix in rushed situations.
While insufficient milk production is the most well-known breastfeeding problem, women can also suffer from engorgement, or the overproduction of milk that causes the breast to swell  Baby bottles can be lifesavers for storing excess milk and helping relieve engorged breasts.
Proper early nutrition is a top priority for every mom. Get the most from your baby bottles by doing a little research to find which type is best for you and your baby.
Types of Baby Bottles
There are 10 main types of baby bottles on the market, each designed with some specific benefit in mind.
Plastic Baby Bottles: Plastic is one of the most common baby bottle materials and it is a great option for moms looking for something durable. Overall, plastic baby bottles are inexpensive, widely available, and they are typically BPA-free.
Glass Baby Bottles: Glass is one of the safest materials to use and also some of the easiest to clean.
Stainless Steel Baby Bottles: Easy to clean and can't shatter or break.
Breastfeeding Bottles: Breastmilk bottles are specifically created to mimic the natural nursing process as closely as possible.
Anti-Colic Bottles: Designed to prevent air bubbles from passing through the milk to your baby.
Preemie Bottles: Premature babies have some special needs due to their size and development.
Exclusive Pumping Bottles: Have millimeter markers to let you know exactly how much you've pumped and also act as storage containers.
Cereal Baby Bottles: Help your baby become accustomed to spoon-feeding while also having a nipple with a large enough opening to allow baby cereal to flow through.
Toddler Bottles: These bottles are designed for older children as their diet gradually evolves.
Travel Bottles: Designed specifically for families who are on-the-go.
Can't decide which one is for you? One of the great things about baby bottles is that you can get a whole selection for a variety of situations.
How to Choose Baby Bottles
Regardless of what bottles you're thinking of purchasing, you want to make sure they meet a few basic requirements first. If the one you're looking at meets some or all of these five criteria, you can be pretty confident it's a quality pick.
---
Finding the Perfect Nipple Size
Just as important as the bottle you choose is the nipple size. The nipple size controls the flow of milk out of the bottle. Younger babies generally need slower-flowing nipples while older babies and toddlers need faster-flowing nipples.
There are as many different nipple sizes and types as there are bottles. However, most will fit into three categories: slow, medium, and fast (7). They may also be labeled with numbers, such as stage 0 (newborn), stage 1 (1+ months), stage 2 (3+months), and stage 3 (6+ months).
Each nipple you purchase, whether it comes with a bottle or not, should have an age range and flow speed listed. Your baby doesn't need to match this exactly, but these are usually helpful guidelines to consider. Slower is typically better for breastfed babies.
Related Reading: Tommee Tippee Closer to Nature Review: Are the Closer to Nature Bottles the Best? 
When Will My Baby Need a Bottle?
The truth is, there is no right or wrong answer. Every mom and baby is different.
You can breastfeed exclusively for the first six months before introducing solid foods. You can also use formula in a bottle from the day they are born. What you choose is up to your health, what your baby needs, and your personal preferences.
Bottles provide freedom to a new mom, especially after breastfeeding has been established. Being able to leave your milk for your baby with a different caregiver allows you to go back to work, go shopping, or simply have a break.
According to the American Academy of Pediatrics, it's best to try and have your child weaned from the bottle by the time they turn one. The older your child gets, the harder it will be for them to give up the bottle.
How to Transition to a Bottle
It is common practice for a mom to start off breastfeeding and then slowly transition to a bottle as their child grows. This process can be tricky!
Here are five tips to help you make the transition:
Use breast milk inside the bottle. If you're transitioning to formula starting off with your milk in the bottle helps the baby use the bottle because it's milk they are used to.
Find a bottle with a slow-flow nipple. These are designed to imitate the suckling effect during breastfeeding and prevent nipple confusion.
Find a bottle with a wider base. It will feel more like your breast and be easier to latch on to.
Choose a bottle made of soft silicone or one that has a silicone cover. Your baby is used to your soft skin and silicone can help replicate that experience.
Choose relaxed feedings to try a bottle. If your baby is super fussy and upset, they may be more likely to reject a bottle. Choose a time when they're more relaxed and happy.
If your baby constantly rejects bottles, try looking at both the bottle itself and what's inside it. You may have to try a few different bottles to find one your baby likes.
Something to consider for your registry is a baby bottle sample pack.
Do I Need a Baby Bottle Warmer?
Some babies like a warm bottle! To warm the milk, simply place the filled bottle into a container with hot water, which will heat it through evenly.
You can also purchase baby bottle warmers that will keep track of the temperature and take some of the guesswork out of the process. After all, you do not want to give your baby a bottle that's too hot and scald them.
Warning
Never heat a baby bottle up in the microwave. Microwaves heat unevenly, which could leave hot spots that could burn your baby.
How Do I Store Baby Bottles?
Empty baby bottles should be cleaned, dried, assembled, and stored in a protected environment such as a kitchen cabinet (8).
If your bottle is filled with breast milk or formula and hasn't been used for a feeding, it can be stored in the fridge or freezer. The length of storage time will depend on the type of liquid in the bottle and what the bottle is made of.
If your baby has already had a portion of the bottle, it needs to be used within two hours or disposed of (9).
How Do I Clean Baby Bottles?
So, how can you clean your baby's bottles properly?
Baby bottles are made from a variety of different materials with different care instructions. Some can be placed in the dishwasher, while others can't. Most are safe to be put in the top rack of the dishwasher, but always confirm this by reading your bottle's care instructions first.
Pro Tip
However you clean your baby's bottle, make sure to completely disassemble it. Some bottles have smaller parts that need to be
cleaned with a bottle brush
too.
Every once in a while, it's also a good idea to fully sanitize your baby bottles. You don't need to do it after every use, but we suggest sterilizing bottles before you use them for the first time and after your baby has been sick.
The easiest way to sanitize them is to boil them in hot water for approximately five minutes. If your bottle can't be boiled, look into buying one of the best bottle sterilizers.
We suggest only purchasing bottles that can be washed in the dishwasher and easily sanitized.
Baby Bottle FAQs
---
Thank You For Your Feedback!
Thank You For Your Feedback!