Selecting the ideal bottle for a premature baby is more than just a purchase—it's a commitment to ensuring they receive the nourishment they need with utmost comfort.
If your little one arrived earlier than expected (before the 37th week of gestation), you already know extra care and attention are required. And when it comes to feeding, every sip is crucial, demanding only the best bottles.
We've meticulously researched and reviewed the five best bottles for preemies to ensure your baby's feeding journey is smooth and safe.
Image
Model
Product Comparison Table
Features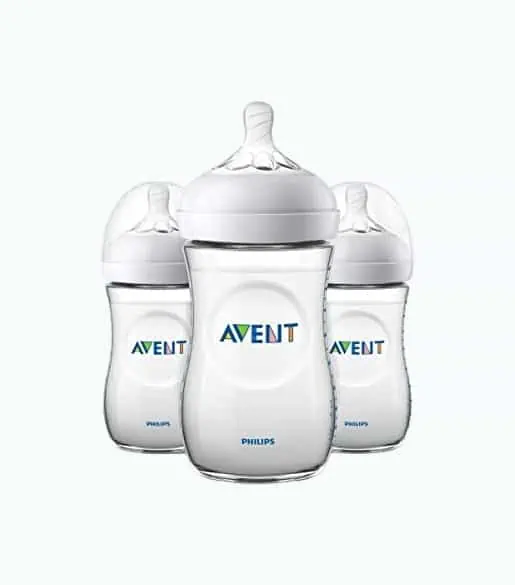 Best Nipple
Philips Avent Natural Baby Bottle
Naturally shaped nipple
Minimal nipple collapse mid-feed
Anti-colic technology
Best for Reducing Air Intake
Boon Nursh Silicone Pouch Bottle
Less air intake
Better latching
Dishwasher safe
Best for Transitioning Babies
Comotomo Natural Feel Baby Bottle
Easy latch-on nipple
Two anti-colic vents
Easy to clean
Best Starter Bundle
Tommee Tippee Closer to Nature
Excellent starter set
Optimal nipple shape
Comfortable to hold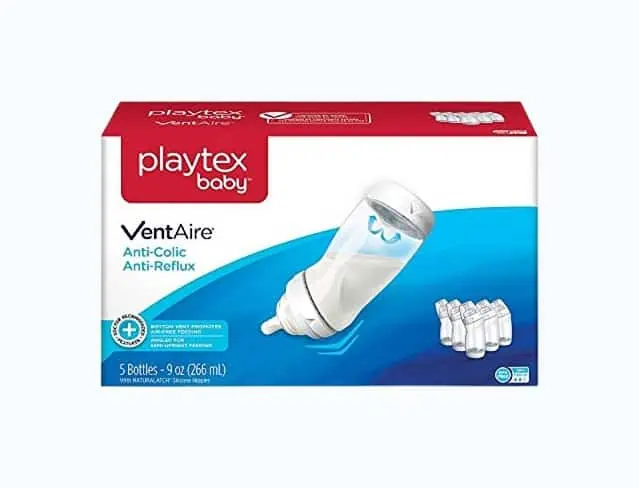 Best Anti-Colic Bottle
Playtex Baby Ventaire Anti-Colic
Ventaire technology
Angled bottle
Two nipples included
Review Methodology: At Mom Loves Best, we understand the unique needs of preemies and the importance of choosing the right bottle. Our comprehensive analysis of different bottles involves hands-on testing, professional evaluation, and comparison based on critical criteria like design, performance, and user experience. We assess the key decision-making factors like nipple design, venting system, ease of cleaning, and material safety. We measure and rank each bottle's performance, considering the facts and data gathered from our research and firsthand experience. We review and score each product, providing you with evidence-backed findings that highlight what sets the top performing bottles apart from their competitors. Trust that we are committed to helping you make the best choice for your preemie's feeding needs.
---
---
The Best Bottles for Preemies of 2023
Here are five great bottles for preemies. Let's have a look.
Philips Avent Natural Baby Bottle
Best Nipple Size
If you aim to both bottle and breastfeed your little one, a naturally-shaped nipple is ideal. Philip's Avent bottle boasts a nipple design that's both unique and reminiscent of a mother's breast, earning it rave reviews.
Designed meticulously for premature babies, the Avent ensures your infant latches naturally while minimizing air ingestion. Many mothers praise how it enabled them to combine breast and bottle feeds so their preemie could gain weight.
The bottle is comfortable to hold in the hand, and it has a slow flow, suitable for newborns.
What We Like
Naturally Shaped Nipple
The Avent bottle's nipple, closely resembling a real breast, encourages a natural latch. While made of BPA-free plastic, its ultra-soft texture adds comfort for your infant, easing the combination of breast and bottle feeds.
Minimal Nipple Collapse Mid-Feed
To prevent the nipple from collapsing mid-feed, Philips constructed it using a spiral design. It's fully flexible, capable of bending accordingly as your baby feeds without closing off the supply. This also makes it suckle more naturally.
Anti-Colic Technology
On the nipple is an anti-colic vent. Philips' Airflex technology works by venting out air, keeping it away from your little one's stomach. This reduces the chance of tummy discomfort and colic.
Ergonomic Shape and Newborn-Friendly Size
The bottle is designed with a distinctive, ergonomic shape to ensure comfort for the parent. It's easy to get a good grip from any direction. Optimally sized for preemies, it holds up to 4 ounces.
What We Don't Like
Potential for Leaks if Misaligned
A few parents pointed out occasional leaks, usually due to misalignment of the nipple and the bottle. Philips provides clear assembly instructions to help avoid this.
Product Specs
| | |
| --- | --- |
| Material | BPA-free polypropylene |
| Size | 4 ounces |
| Nipple flow | Newborn flow |
| How many bottles included | Two |
| Color | Clear |
Our Ratings
Community Feedback
These Avent bottles quickly became my favorite after trying several other brands. The variable flow nipple design is fantastic, allowing me to feed my baby with different milk consistencies. The three-part construction makes it super easy to clean and the dark markings on the side make it simple to track how much my baby has had during low light feedings. The curved design is comfortable to hold, and the nipple shape is perfect for babies transitioning between breast and bottle feeding. The only minor issue I've encountered is the cap loosening when refrigerated, but overall, these bottles have exceeded my expectations.
---
Boon Nursh Silicone Pouch Bottle
Best for Reducing Air Intake
Minimizing air intake during feeding can significantly reduce colic and painful gas for your preemie. Boon's Nursh bottle, distinctively designed with a collapsible silicone pouch, addresses this issue effectively.
This 100 percent baby-safe silicone bottle is easy to clean and facilitates a seamless switch between breast and bottle-feeding.
With a 4-ounce capacity, it's perfect for small feedings. And Boon's thoughtful addition of a pack of three bottles in adorable, bright colors makes the deal even sweeter.
What We Like
Less Air Intake
The Nursh bottle's unique delivery system is a standout feature. Its silicone pouch contracts as your baby feeds, ensuring minimal air surrounds the milk.
This minimizes the risk of stomach ache, colic, and reflux. With no vents or valves, it's air-tight until you remove the cap.
Better Latching
Boon designed the nipple to resemble the natural shape of a mother's breast. It gives your baby a comforting feeling and helps you transition between bottle and breastfeeding.
With an optimized length and wide base, getting your baby to latch on properly becomes a breeze, even for the smallest feeder. The shape assists your little one with proper tongue positioning. Many parents said it helped their tongue-tied babies.
Textured Bottle
You'll love having this bottle in your hand. It's textured and shaped to fit comfortably. We adore the color options, too — they're vibrant and available for both girls and boys.
Dishwasher Safe and Durable
Our favorite feature is that everything is reusable and dishwasher-safe. The silicone pouches reduce waste — after a feeding, you throw it into the dishwasher for next time. Boon sells bundles of additional bags in various sizes if needed.
The bottles are durable, too. Besides being dishwasher safe, you can boil, freeze, microwave, and sterilize them. They're made of silicone that's BPA and PVC-free.
What We Don't Like
The Nipple Is a Bit Hard
A few parents noted the nipple is harder than on other brands. It may take your little one some time to get used to it. Some reviewers said it got softer with use.
Product Specs
| | |
| --- | --- |
| Material | BPA- and PVC-free silicone |
| Size | 4 ounces |
| Nipple flow | Slow flow |
| How many bottles included | Three |
| Color | Pink, blue, clear, or multi-color |
Our Ratings
Community Feedback
These bottles offer a variety of advantages, including easy cleaning, a good flow rate, and a flexible yet sturdy design. The price is also great for a set of three bottles, and they can be adapted to sippy cups later on. Additionally, they come in attractive color variations and can be used with various accessories. However, there are a couple of drawbacks: the numbers on the side can be hard to see, and the bottles may leak if the silicone ring is not properly aligned with the plastic. Personally, I found that my baby was able to grasp the bottle more easily than with other options, and switching from Dr. Brown's bottles to these resulted in less spitting up.
---
Comotomo Natural Feel Baby Bottle
Best for Transitioning Babies
Comotomo's innovative bottle offers an enticing proposition for parents eyeing a seamless transition to breastfeeding later on. This bottle bridges the divide between bottle and breast with ease, crafted to emulate the authentic feel of a mother's breast.
Made of soft silicone, it presents a gentle, skin-like feel when your baby touches it.
The bottle has a no-drip design, so you can accidentally knock it over without spilling all your milk, as long as you've tightened the lid properly.
What We Like
Easy Latch-On Nipple
Comotomo's focus is evident: a nipple that mirrors nature. It's made of baby-safe silicone and has a wide mound to help your little one transition between bottle and breast. The nipple is an ideal size for preemies with a slow flow, suitable for their feeding pace.
Dual Anti-Colic Vents
The nipple features two vents to reduce your little one's air intake during feeding. Air will channel out through the vents, allowing your baby to feed without getting a stomach ache.
Another benefit of the dual vents is how they help your little one drink. When air circulates out through the holes, it provides a consistent flow as the baby sucks. This is excellent for preemies who are still getting used to a bottle.
Easy to Clean
With its wide design, it's a cinch to clean. Once you unscrew the cap, you can fit your whole hand inside to clean every crevice. If you prefer, the materials are also dishwasher safe — or you can boil it for sanitizing.
What We Don't Like
May Leak
A few parents complained the bottle kept leaking. However, others were quick to defend the product, saying it's essential to tighten the lid properly.
Product Specs
| | |
| --- | --- |
| Material | BPA-, PVC-, and Phthalate-free silicone |
| Size | 5 ounces |
| Nipple flow | Slow flow |
| How many bottles included | One |
| Color | Pink or green |
Our Ratings
Community Feedback
Great bottle for breastfeeding moms seeking a smooth transition for their baby, the Comotomo bottle's wide, soft mound design ensures easy latching. I appreciate the bottle's simple cleaning process due to its wide neck and dishwasher-safe, BPA-free material. However, the measurement markings can be difficult to read, and the nipple may turn cloudy over time.
---
Tommee Tippee Closer to Nature Bottle
Best Starter Bundle
We love an all-inclusive set, making life with a newborn a little easier, and Tommee Tippee did not disappoint us. You'll receive everything you need for bottle feeding your preemie, even extra nipples you can use once they can take a faster flow.
The Closer to Nature collection is fantastic in many ways. From the award-winning nipples to the baby-safe materials, we're in love, and parents agree.
Frequent feedings become a breeze due to the shape of the bottles, and they're easy to clean, too. The nipples included will help keep colic and gas at bay, and Tommee Tippee even has a helpful guide for when to upgrade to a faster flow.
What We Like
Excellent Starter Set
Whether you're a first-time parent or a seasoned expert, this starter set from Tommee Tippee will surely suffice. The bundle has everything you need for your little one. This consists of four bottles, extra slow-flow and slow-flow nipples, an extra nipple, removable handles, a cleaning brush, and a newborn pacifier.
Optimal Nipple Shape
The Tommee Tippee nipple is award-winning. It resembles a breast — it even feels like one. Your little one will feel soothed when feeding.
The nipple has an anti-colic valve, too. It works to vent air out during feedings, reducing the amount ingested by your baby, so there's minimal risk of a gassy tummy.
Comfortable to Hold
The bottle is compact in shape, allowing you to get a comfortable grip while being closer to your baby. It enables you to hold it in three ways — cradled in the hand, similar to a wide-neck bottle, or from the base. It's an excellent solution if more than one caregiver feeds the baby.
Safe Materials, Easy to Clean
They're made of BPA-free materials, making them safe for use around your baby. Cleaning them is a breeze as well — they're dishwasher and microwave safe.
What We Don't Like
The Nipples Can Drip
A few parents have had issues with the slow-flow nipples, saying they're too fast for their newborns. Keep in mind the extra slow-flow nipple is only included with the smallest bottle. The others are suited to just the slow-flow nipple.
Product Specs
| | |
| --- | --- |
| Material | BPA- and phthalate-free material |
| Size | Multiple |
| Nipple flow | Extra slow-flow and slow-flow |
| How many bottles included | Four |
| Color | Clear |
Our Ratings
Community Feedback
Great product for slowing down my baby's eating and reducing spit up and gas issues. This bottle's design and nipple flow options were perfect for my growing child, though the shape made it a bit difficult for them to get the last ounce out. It was easy to clean, held up well over time, and helped prevent stomach troubles, even though I had to make extra holes in the nipple to prevent it from collapsing when my baby drank from it.
---
Playtex Baby Ventaire Anti Colic Bottle
Best Anti-Colic Bottle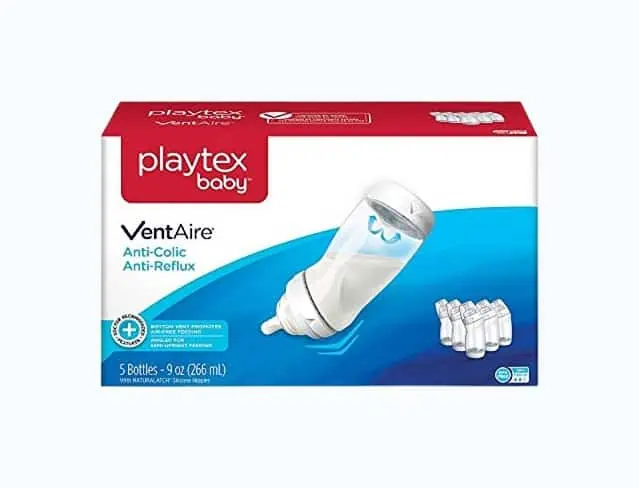 If your preemie is prone to colic and painful reflux, we recommend having a look at these bottles from Playtex. It's a gift set containing five bottles, three 6-ounce bottles and two 9-ounce.
There are two different types of nipples, slow and fast flow. All the bottles include Playtex's Ventaire discs and extra discs, nipples, and caps, should you need them.
All materials used are BPA-, PVC-, and phthalate-free — they're entirely baby-safe. The bottles are comfortable to hold and promote the best position for feeding.
What We Like
Ventaire Technology
Ventaire technology is a fantastic tool to use with preemies and babies who tend to gulp as they eat. At the bottom of the bottle sits a cap fitted with small air holes. This channels the air present inside the bottle away from the milk and out through the holes.
Angled Bottle
Upright feeding has proven to reduce the chances of reflux (1). This isn't always easy when bottle feeding, but Playtex's bottle design resolves this. The bottle is angled toward the head, allowing you to keep your baby in an optimal position.
The milk flows naturally toward the nipple without you having to lay your baby down flat. Thanks to the ergonomic design, it's easy to hold on to as well.
Two Nipples Included
In the bundle, you'll receive two kinds of nipples — medium flow and slow flow. The latter is suitable for newborns and has an optimized shape for tiny mouths.
After 3 months of age, you can upgrade to the medium flow. You'll get a total of five bottles, capable of growing with your baby.
What We Don't Like
Nipples Tear Easily
Some parents have had bad luck with the nipples, saying they began tearing after a month of use. Should this happen, replacements can be purchased separately.
Product Specs
| | |
| --- | --- |
| Material | BPA-free plastic |
| Size | Multiple |
| Nipple flow | Slow flow and medium flow |
| How many bottles included | Five |
| Color | Clear |
Our Ratings
Community Feedback
Excellent bottles for both breastfeeding and bottle feeding parents! These bottles are super easy to take apart and clean, with a venting design that effectively reduces bubbles and ensures a consistent flow. The overall size of the nipples feels more natural compared to other brands, and my baby can easily hold the bottle with just one hand. Keep in mind that if you don't tighten the bottle properly, it may leak; however, this minor issue doesn't outweigh the overall quality and effectiveness of these bottles.
---
Why Use a Preemie Bottle?
Babies born before the 34th week of gestation might have a hard time breastfeeding. Most are admitted into the neonatal intensive care unit (NICU), where they're likely to receive nutrition through an IV (2). For this reason, exclusively breastfeeding isn't always an option.
Premature babies may have a hard time latching onto the breast. They can get their nutrition, though, from breast milk that has been placed in a bottle with a slow-flow nipple.
How to Choose a Preemie Bottle
Nipple Flow: This is arguably the most critical consideration. Your little one needs some help feeding, and if the milk comes out too fast, they can choke. A slow-flow nipple ensures the baby gets just the right amount with each suckle, allowing them to pause and breathe when needed.
Anti-colic Features: Colic can be distressing, and while the exact cause is unknown, swallowing air during feeding is a contributor. Bottles designed with air vents or special valves ensure minimal air is ingested, reducing the risk of gas and discomfort. Brands like Playtex have incorporated ventilated discs at the bottle's base, ensuring consistent milk flow and reducing air intake.
Bottle Size: Given their smaller stomach capacity, preemies require lesser quantities of milk during feeding but need to eat more frequently. A bottle size between 2 to 5 ounces is ideal for preemies and is easier to handle and warm up. Always ensure the bottle's gradation is clear and easy to read, so you can accurately measure the milk quantity.
---
Thank You For Your Feedback!
Thank You For Your Feedback!