With so many anti-colic bottles in stores promising to solve all your baby's tummy troubles, and new ones popping up each day, it can be hard to know what to choose. Not every anti-colic bottle will help every baby, and some are better than others.
After countless hours of research, listening to the experiences of many moms, and comparing all the top anti-colic bottles on the market, we've compiled this list of the seven best bottles for colic and gas. With one of these anti-colic bottles, we can hope your baby's tummy troubles will soon be a distant memory.
Image
Model
Product Comparison Table
Features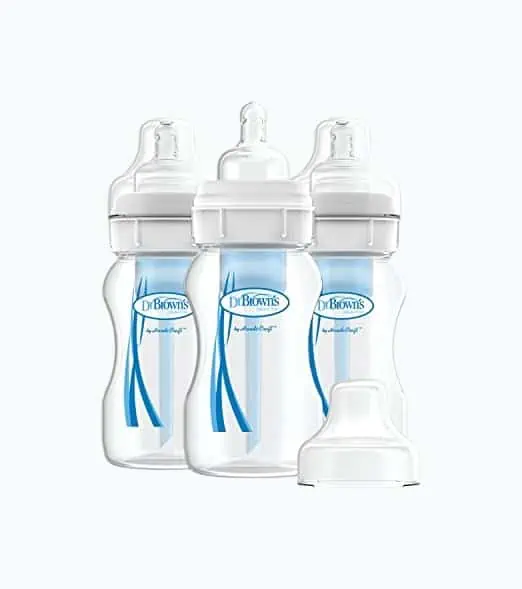 Best Internal Vent
Dr. Brown's Natural
Unique internal venting system
BPA-free
Preserves nutrients in milk
Best Nipple Vent
Philips Avent Anti-Colic
Simple, classic design
Clinically tested
Firm nipple prevents collapsing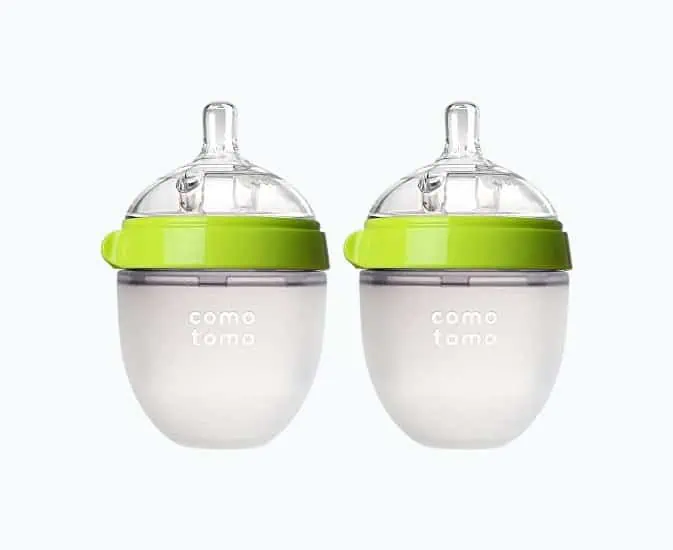 Best for Breastfed Babies
Comotomo
Flexible, natural feeling
Handles are available for self-feeding
True slow-flow nipple
Best Vented Base
MAM Anti-Colic
Self-sterilizing design
Dishwasher safe
Very affordable
Best Low Flow
Tommee Tippee Closer to Nature
Nipple mimics breastfeeding
Simple design
Includes low flow nipples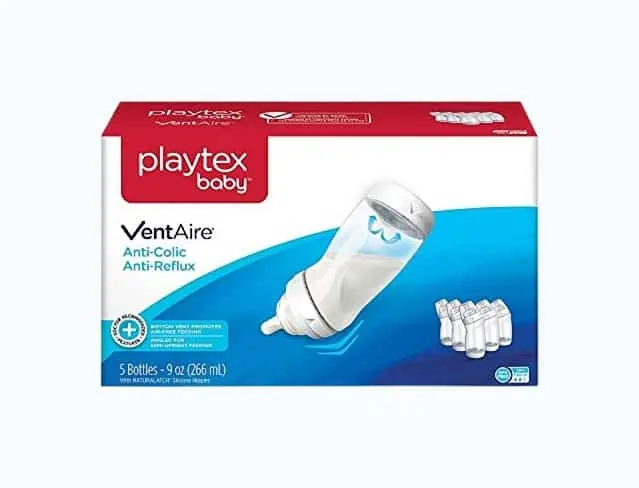 Best for Upright Feeding
Playtex Ventaire
Soft and skin-like nipple
Comfortable to hold
Regulated flow
Best for Weaning
Munchkin Latch
Flexible and forgiving nipple
Ergonomic handle
Portable sturdy lid
Review Methodology: At Mom Loves Best, we understand the importance of finding the best bottles for colic and gas to ensure your baby's comfort. Our hands-on experience and thorough research allow us to provide an unbiased assessment of various bottles, comparing their performance, design, and key decision-making factors. We evaluate products from a user's perspective, using criteria such as anti-colic features, ease of cleaning, and material quality. Our professional reviews analyze data, measure results, and rank products based on facts and evidence. By sharing our findings, we aim to help you make an informed choice and select a bottle that truly stands out from its competitors. Trust Mom Loves Best to guide you in choosing the perfect bottle for your little one's needs.
---
---
The Best Anti-Colic Bottles of 2023
Here are the top bottles that can help prevent colic.
Dr. Brown's Natural Anti-Colic Bottle
Best Internal Vent Bottle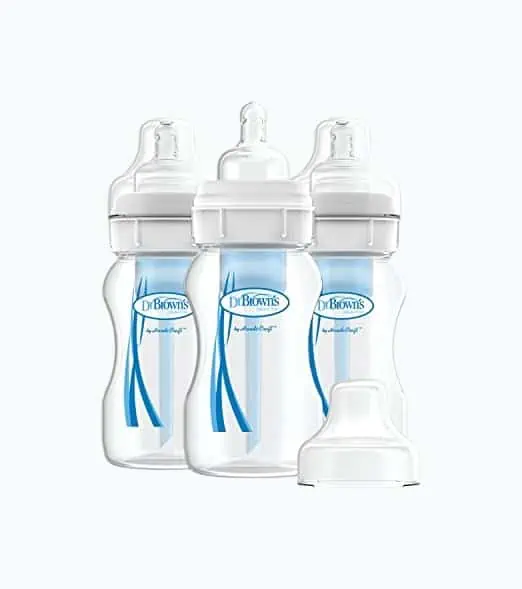 The most notable feature of this Dr. Brown's bottle is the internal venting system. Unlike other anti-colic bottles, the vent is not in the nipple, but in the nipple collar, which funnels the air through the vent and back out above the milk.
Not only does this reduce air bubbles within the milk, but it also prevents the oxidation of nutrients as well, which has been clinically shown to result in more vitamins C, A, and E being retained (1).
The other way the internal vent helps babies with colic is by eliminating the vacuum that's created in other bottles. In this way, it more closely mimics natural breastfeeding — after all, there's never a vacuum in the breast or any pressure that needs to be relieved.
This allows babies to feed at their own pace rather than at the pace dictated by the nipple they're using.
Pros
Unique internal venting system means no vacuum in the bottle.
BPA free.
Dishwasher safe.
Preserves nutrients in milk.
Cons
Others dislike the wide neck version.
Some find it difficult to read the markings on the bottle.
Our Ratings
Community Feedback
In my experience, this Dr. Brown's bottle truly stands out due to its unique internal venting system, which effectively reduces air bubbles and preserves essential nutrients in the milk. I appreciate that it's BPA-free and dishwasher safe, making it both safe and convenient for daily use. However, I did find the wide neck version a bit cumbersome and the markings on the bottle slightly difficult to read while preparing feedings.
---
Philips Avent Anti-Colic Baby Bottles
Best Nipple Vent Bottle
When you're a new mom, sometimes simple is best. These anti-colic Avent bottles consist of only four pieces (the bottle, the nipple, the ring, and the cap) that are all dishwasher-safe.
They're also fully compatible with the rest of the Avent line, so if you have other classic bottles, nipples, or toddler cups, the parts will be interchangeable, and you may be able to use them for the full duration of your baby's early feeding years. All bottles and nipples are BPA-free.
The main anti-gas feature is a unique vent in the nipple, which helps release air back into the top of the bottle and away from your baby. It's one thing to hear about what a bottle is supposed to do, but another when it's backed up by scientific evidence. These bottles were actually tested and shown to reduce infant nighttime fussiness by 60% over conventional bottles (2).
Pros
Simple, classic design.
Easy to clean and dishwasher safe.
Firm nipple to prevent collapsing.
Clinically tested.
Cons
The lowest flow nipple has 2 holes, making it too fast for some babies.
Some parents have complained of leakiness.
Our Ratings
Community Feedback
I'm loving the simplicity and effectiveness of these anti-colic Avent bottles for my little one. The unique vent in the nipple significantly reduces gas and fussiness, and I appreciate that they're easy to clean and compatible with other Avent products. However, be aware that the lowest flow nipple may be too fast for some babies, and there have been reports of occasional leakiness.
---
Comotomo Baby Bottles
Best Anti-Colic Bottle for Breastfed Babies
These bottles are unique in that both the nipple and bottle are made of flexible silicone. Unlike traditional, rigid bottles, this allows a baby to continue to eat uninterrupted if the pressure of the vacuum is not released. Just as with a natural breast, the bottle can collapse if necessary.
An extra-wide neck makes it easy to clean, and the flexible shape lets you reach all parts of it without a bottle brush. But that's not even necessary because you can just pop all parts in the dishwasher to get them clean.
The nipple contains dual anti-colic vents, allowing the air and pressure to be relieved gently back into the bottle instead of being swallowed by the baby and causing gas. These bottles are also available in green and pink, letting you choose your favorite color for your baby!
Pros
All four pieces are dishwasher safe.
Flexible, natural feeling.
Compatible handles are available for self-feeding.
True slow-flow nipple only has one hole.
Cons
The flexible body may make it difficult for the baby to grasp.
Difficult to see volume markers on the bottle.
Our Ratings
Community Feedback
These Comotomo bottles have been a fantastic addition to our baby feeding routine, especially for our little one with reflux. I noticed an immediate difference in reduced gas and improved feeding experience. On top of that, these bottles are incredibly easy to clean and durable, making them perfect for busy parents. The design encourages a natural latch, similar to breastfeeding, which has been great for our baby. The only minor drawback is that the measurements can be a bit difficult to see, but overall, these bottles have been a wonderful find for our family.
---
MAM Anti-Colic Bottles
Best Vented Base Bottle
This bottle has air vents at the bottom of the bottle, relieving pressure and keeping air bubbles out of your baby's milk, reducing incidents of gas and colic. It contains a silicone nipple that is tasteless, colorless, and odorless. The nipple is soft and a little flattened, like a natural nipple.
For this reason, it could be a good choice for women who choose to both breast-feed and bottle-feed. It may help make it easier for a small baby to switch between the two and reduce nipple confusion.
The vents on the bottom do mean that this bottle has more parts to wash, but the manufacturers responded to this by designing it to self-sterilize in the microwave in three minutes, which means you don't have to buy a separate microwave steamer.
Studies showed that 94% of babies accept the MAM bottle, and 80% of parents reported reduced colic using one.
Pros
Self-sterilizing design, so you can sterilize in the microwave directly.
Switch easily between bottle and breast.
Dishwasher safe.
Very affordable.
Cons
The additional pieces mean more to clean.
Comes with medium-flow nipples, so you need to purchase slow-flow nipples separately.
Our Ratings
Community Feedback
After trying different bottles for my baby, I found that these MAM bottles stood out due to their anti-colic feature and convenient self-sterilizing function. The nipple shape has been perfect for my son who has a tongue tie, allowing him to latch on easily and truly enjoy his feedings. I've noticed a significant reduction in trapped gas and reflux, and the bottles are easy to clean compared to other brands. The cute designs and compatibility with MAM soothers make them a top choice for our family.
---
Tommee Tippee Closer to Nature Bottles
Best Low Flow Bottle
This Tommee Tippee set comes standard with a low flow nipple, helping to keep your little one from feeding too fast and causing an upset tummy. In addition to the low flow speed, the Stage 1 nipples have a valve that allows the pressure to release.
It's also designed with a wide base, allowing your baby to latch in the same way they would to the breast, reducing the chance of a shallow latch or swallowing air. The silicone tip flexes like the tip of a natural nipple to further mimic the natural breastfeeding experience.
Accurate volume markings on the side make it easy to see how much your baby is eating and prevent over-feeding, which may cause spit-up, belly pain, and gas. The wide-body shape makes cleaning easier and allows parents to be closer to their baby while feeding.
Pros
The nipple valve allows for the release of air and pressure.
Nipple flexes to mimic breastfeeding.
Simple design with few pieces.
Includes low flow nipples.
Cons
Not dishwasher safe.
The nipple may be too slow, causing more gas in the end.
Our Ratings
Community Feedback
Great product for managing feeding pace and reducing gas in newborns, as these bottles have different flow options and effectively minimize spillage. I personally experienced less spit-up and reduced gagging when my baby used this bottle, although it was initially challenging for them to get the last ounce of milk out due to the shape. While the bottle's design made it difficult to prop up and required some nipple adjustments, it was easy to clean and ultimately provided a better feeding experience for my little one.
---
Playtex Ventaire Baby Bottle
Best Bottle for Upright Feeding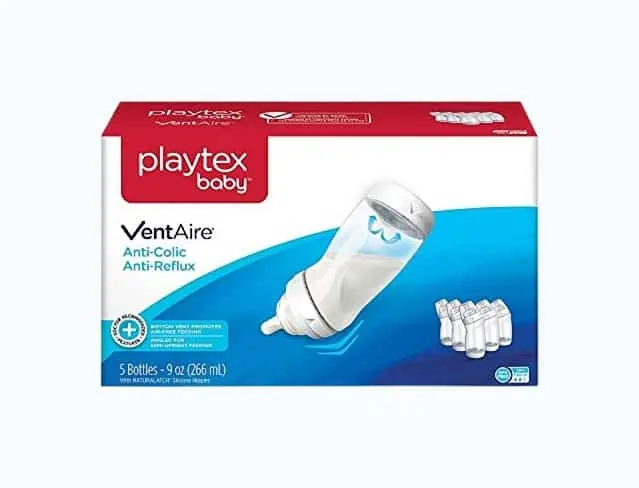 This Playtex bottle is angled in such a way that you can hold it comfortably while your baby sits upright.
Micro-channel vents funnel air up and away from the baby, where they escape from the base. You'll keep symptoms of colic, gas, and indigestion at bay while not having to cramp up your hand trying to find a good position to feed in.
These bottles are BPA, phthalate, and PVC free, and they fit a range of nipple shapes. While milk flow is one thing, your baby might do better with a particular nipple shape to fit the contours of their mouth. A good latch forms a tight seal, so your baby won't be gulping air.
These bottles come in 6 or 9-ounce sizes, with sturdy caps to keep the nipples clean and hygienic. The design also means that this bottle is ideal for babies who are transitioning from breastfeeding or switching between breast and bottle.
Pros
The nipple is soft and skin-like to avoid nipple confusion.
Comfortable to hold.
Regulated flow, great for babies who choke or gag occasionally.
Range of compatible nipples.
Cons
It can't be used easily in a baby bottle warmer.
The screw-top is a bit fiddly and could lead to leaks if not correctly attached.
Our Ratings
Community Feedback
I've been using these bottles for a while now and they've become my go-to choice for feeding my baby. The angled design and soft, flexible nipples make them feel more natural for my little one, especially when compared to other brands we've tried. The venting system works well to reduce colic and gas, but be careful when assembling it, as it might leak if not tightened properly. Cleaning is a bit more involved due to the removable bottom, but it's worth it for the overall convenience and functionality.
---
Munchkin Latch Bottles and Transition Cup
Best for Weaning
Munchkin makes high-quality baby bottles with an anti-colic valve at the base to prevent gas. Parents love how much the nipple stretches and moves, giving your child a more natural feeding experience so they can latch well and feed properly.
If you decide to go with Latch bottles and your baby gets used to them, you can later upgrade to the transition cup without too much disruption. This cup has a detachable handle that's easy to grab in little hands and comes with the same anti-colic mechanism at the base.
As your little one learns to drink from a cup and masters their own feeding technique, you can still be sure they're not gulping or taking in any air that will come back to haunt them later. Some moms have found that the cup handles can also be used on other cups and bottles.
Pros
The nipple is very flexible and forgiving.
The ergonomic handle on the trainer cup is removable.
The sturdy lid makes them very portable.
Range of compatible nipples.
Cons
The flow on the transition cup may be frustratingly slow for some babies and toddlers.
The transition cup nipple may be too large for some children.
Our Ratings
Community Feedback
In my quest to find the perfect sippy cup for my breastfed baby, I've tried numerous cups with varying success. The Philips Avent trainer cup disappointed me with its large opening that led to spills, while my baby didn't quite grasp the concept of the Munchkin trainer cup. Surprisingly, the Nuby cup emerged as a favorite despite its lack of measurement markings and propensity to spill. As my little one grew older, the Munchkin cup without handles became a great fit, offering a dentist-approved option that could be used as both an open and closed cup.
Do Anti-Colic Bottles Work?
The primary culprit of infant gas is the baby swallowing air, causing it to become trapped in the digestive system (3). If the baby is not able to relieve the pressure through burping or passing gas, severe discomfort results, along with crying. Lots and lots of crying.
Since the main cause of gassiness is swallowed air, it makes sense to focus on the bottle you're offering your baby. If a bottle is designed to reduce air consumption, it will minimize gas bubbles in baby's belly, helping to reduce tummy troubles.
Colic is similar to gas, but it's a more serious condition. While the exact cause remains unknown, the hallmark of colic is extreme crying and fussiness with no discernible medical reason (4).
What's worse, screaming and crying will lead to colicky babies swallowing more air, so you could find yourself in a vicious cycle.
Finding the right bottle for your gassy or colicky baby may help improve symptoms by:
Reducing air swallowed during feeding.
Reducing gas bubbles in the belly.
Slowing down food intake to prevent tummy upsets.
How to Choose an Anti-Colic Baby Bottle
These days, most baby bottles come with features specifically designed to help relieve gas and colic symptoms, and it's good to have options because every baby is different!
Here are some of the key features that bottle manufacturers use to try to eliminate the air entering your baby's digestive system:
---
Tips for Reducing Colic While Bottlefeeding
Choosing a bottle is only part of the battle against gas and colic. Using it properly is the next step!
Here are some things you should be doing:
Keep your baby's head above their belly: Choose a feeding position in which your child is not completely reclined. Make sure that their head is elevated above their tummy so gas bubbles can escape.
Choose the proper bottle angle for your bottle and nipple: Make sure that air is not getting trapped in your bottle or the nipple while you're feeding. Tilt the bottle to let the air escape, if necessary.
Make sure your baby's mouth is latched properly: A baby's mouth should be open wide and attached firmly toward the base of the nipple, not just the tip. If they're just sucking on the tip, it's harder to get a good strong latch, and this allows air into the mouth.
Make sure you're using the proper flow nipple: If your baby is sucking loudly and is very noisy when eating, it could be that they're not getting milk fast enough to satisfy them. In this case, they need a higher flow nipple. However, if they're coughing and spitting up milk, they may be getting too much too quickly, which can cause gas and tummy upsets. A slower flow nipple may help.
Burp your baby regularly throughout feeding: Take a break to burp every few minutes (use a burp cloth to protect your clothes) instead of waiting until the feeding is finished. This helps alleviate gas buildup in your baby's belly (6).
FAQs
---
Thank You For Your Feedback!
Thank You For Your Feedback!