Burp cloths are a mom's best friend when it comes to protecting your clothes (and your baby's clothes) from smelly, messy spit-up. But we've tried all kinds of burp cloths, and we can confidently say that not all are created equal. It can be frustrating when regurgitated milk soaks through or runs right off the cloth that's supposed to be keeping you clean.
So, we've made it our mission to find the best burp cloths for preventing those nasty stains. We've studied countless options, listening to what other parents have to say about each and trying out many ourselves. We're confident that with one of these seven burp cloths, you won't have to startle every time your baby lets out a belch.
Image
Model
Product Comparison Table
Features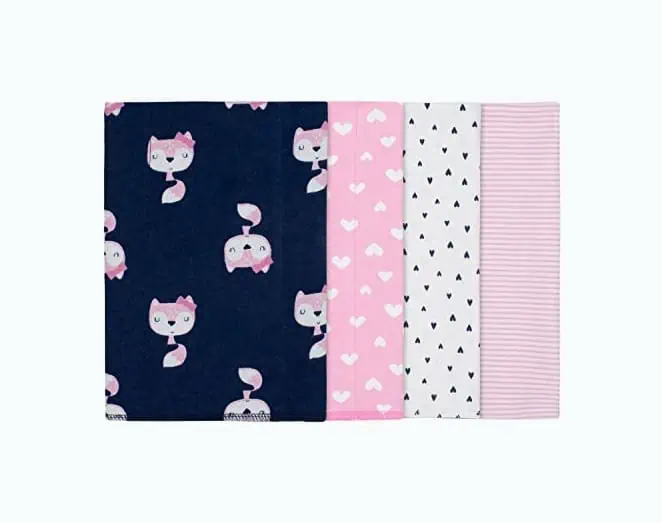 Best Patterned Burp Cloths
Gerber Baby Flannel
Durable fabric
Cute patterns
Very absorbent
Best Cloth Diaper Burp Cloths
Gerber Prefold Diaper
Provides full coverage
Quick to absorb
Multi-purpose use
Best Organic Burp Cloths
Green Sprouts Muslin
Variety of colors to choose from
Made from organic cotton
Hypoallergenic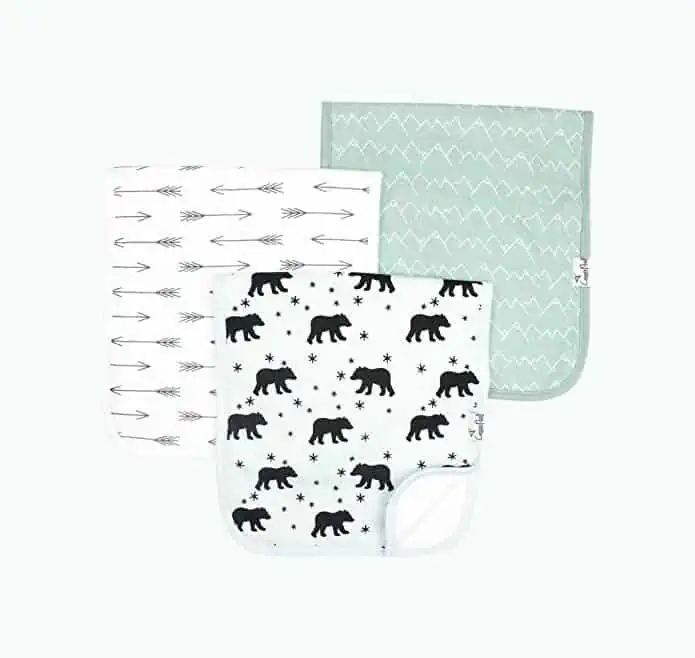 Best Large Burp Cloths
Copper Pearl
Cute, trendy prints
Reversible fabric
Big and absorbent
Best Plain Burp Cloths
Muslin Burp Cloths
Absorbs liquid quickly
Easy to clean
Versatile
Best Budget Burp Cloths
Luvable Friends Flannel
Impressive range of designs
Great value for money
Soft and gentle on skin
Best Bamboo Burp Cloths
Milkbarn Bamboo Cotton
Environmentally friendly
Cute, unconventional designs
Very large size
Review Methodology: At Mom Loves Best, we believe in providing you with a thorough analysis and assessment of the best burp cloths on the market. Our experienced team conducts hands-on research, comparing various products based on criteria such as material, size, absorbency, and design. We evaluate each product from a user's perspective, sharing quantitative measurements of performance, and identifying key decision-making factors. Our findings are supported by evidence and we rank products based on their ability to meet the needs of both parents and babies. We also review design choices, highlighting what sets each product apart from its competitors, and providing first-hand recommendations for the best burp cloths available. Trust us to guide you in making an informed choice for your baby's needs.
---
---
The Best Burp Cloths of 2023
Here are 7 great burp cloths to consider.
Gerber Baby Flannel Burp Cloths
Best Patterned Burp Cloths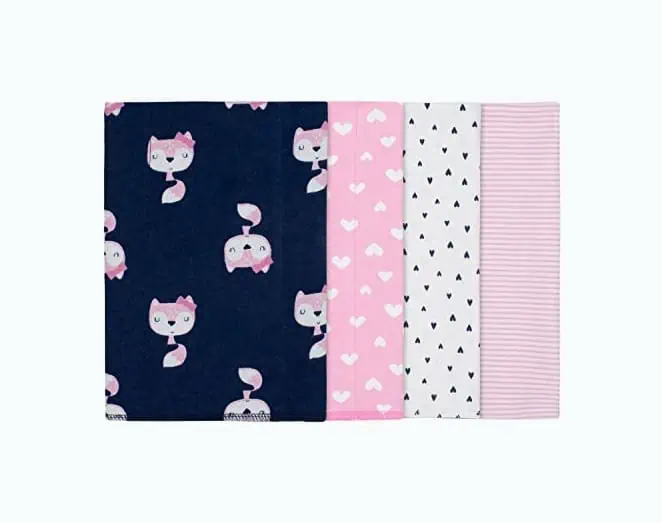 These adorable Gerber cloths are big enough to cover your whole shoulder so none of your clothing falls victim to a spit-up incident. They come in a package of four and are a great bargain for those watching their budgets.
The best thing about these is the cute variety of patterns to choose from, including flowers, polka dots, stripes, hearts, or charming little elephants.
They're made of pure 100 percent cotton flannel, which is soft on babies' skin and can hold a lot of liquid. The edges are neatly serged, so they shouldn't fray, even after repeated washings.
Pros
Durable, soft flannel fabric.
Cute patterns.
Highly absorbent.
Cons
Colors and prints fade with repeated washings.
Flannel doesn't "grab" liquid as quickly as other fabrics.
Our Ratings
Community Feedback
My experience with these burp cloths has been a mixed bag. On one hand, they're soft, cute, and perfect for handling small amounts of spit-up. However, the blue one tends to bleed color, staining my baby's clothes and even her mouth. Also, they're not as absorbent as I'd like - sometimes, spit-up just rolls off instead of being caught by the cloth. While these are generally good burp cloths, they're not the best on the market and could use some improvements.
---
Gerber Prefold Gauze Diaper
Best Cloth Diaper Burp Cloths
These gauze diapers might be one of the most versatile products you could buy for your baby.
In addition to being great diapers and burp cloths, these can also be used to protect your lap against leaks or as cleaning cloths once your baby outgrows diapers. Some moms use them as makeshift changing pads as well.
As these were made to hold diaper messes, they are one of the most absorbent options. The open weave of the gauze sucks up moisture fast and holds it. The tri-fold design with extra layers in the center allows you to spread them out across a wider range or fold them for basic shoulder coverage.
At 11.5 inches by 16 inches, they're generously sized but still fold or stack pretty flat to fit in your diaper bag.
Pros
Larger than many other styles.
Made to last and don't get pilly.
Can be used for many other purposes.
Very inexpensive.
Cons
Not as soft as some other brands.
Fabric shrinks with repeated washings.
Our Ratings
Community Feedback
In my experience, these 6-ply diapers have been versatile and useful in a variety of situations. The material is durable and absorbent, making them perfect for use as burp cloths, but they have also come in handy during diaper changes and nursing sessions. However, I did notice that some of the diapers had an odd shape, making them a bit bulky and difficult to use as inserts. Additionally, I encountered a few quality control issues, such as fraying ends and rust stains. Despite these minor setbacks, I still find these diapers to be a worthwhile purchase for their numerous practical uses.
---
Green Sprouts Muslin Burp Cloths
Best Organic Burp Cloths
These hourglass-shaped burp cloths by Green Sprouts are made from organic cotton and come in a set of three. At 11 inches wide and 22 inches long, they are a full-coverage cloth.
Made with four absorbent layers of organic cotton, these cloths are a great choice for parents who are worried about their children being exposed to fertilizers, pesticides, or herbicides. Plus, they are hypoallergenic and feel really soft against your baby's skin.
Pros
They come in a variety of colors and prints.
Fabric gets softer with every wash.
Hourglass shape fits well around necks and shoulders.
Cons
Fabric shrinks in the wash.
Cotton muslin can fray over time.
Our Ratings
Community Feedback
I've tried multiple burp cloths for my little one, and these are by far the best. They are thick, absorbent, and have a great shape that easily goes over the shoulder. The generous size and softness make them comfortable to use, and they hold up well after washing. The absorbency is fast and effective, preventing any messes on my shoulder or floor. While they may be plain in design, their usefulness and quality make them a top choice for any parent.
---
Copper Pearl Baby Burp Cloths
Best Large Burp Cloths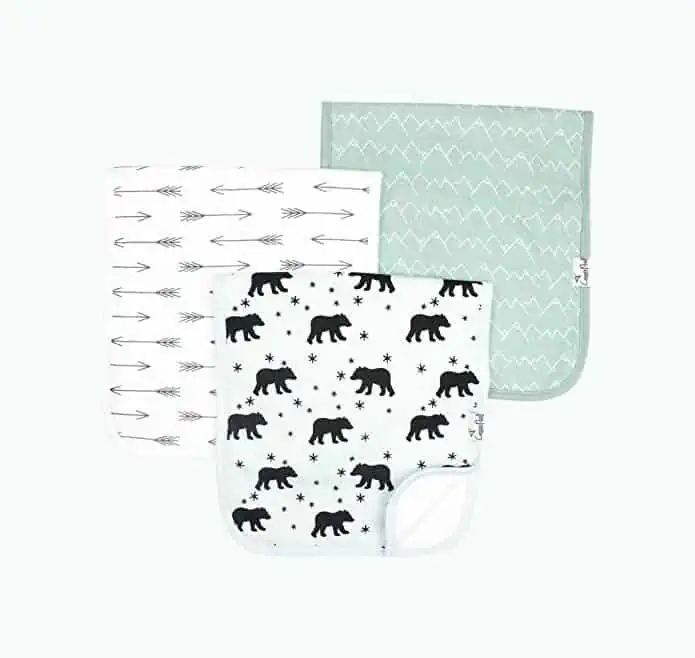 The outer layers of these burp cloths are made from ultra-soft cotton with a highly absorbent center layer of fleece. They suck up a ton of spit-up, keeping you and your baby clean.
Generously sized at 21 by 10 inches, they come in a range of cute prints that will both look adorable and delight your baby. For added protection, Copper Pearl also sells baby bibs in coordinating prints.
Pros
Trendy prints.
Fabric holds up to repeated washing.
Absorbent enough for frequent spitters.
Cons
Not the cheapest option.
You have to air dry them.
Our Ratings
Community Feedback
I've been using these burp cloths for a while now, and I've found them to be incredibly soft, absorbent, and effective in cleaning up messes. Their large size provides great coverage, which has saved my shirts on numerous occasions. While they do tend to wrinkle and shrink a bit after washing, this doesn't affect their overall performance. I appreciate the cute, gender-neutral designs and the fact that they remain soft even after handling multiple feedings.
---
Muslin Burp Cloths
Best Plain Burp Cloths
These white burp cloths are made from six layers of 100 percent cotton muslin, one of the best fabrics for quickly absorbing liquid. They are multifunctional and can be used as diapers, cleaning cloths, breastfeeding covers, changing pads, and more.
The super-soft fabric is comfortable against your baby's skin when you're trying to burp them or put them to sleep.
This package includes six cloths, and at a generous 10 by 20 inches, they provide great coverage against messes.
Pros
Muslin fabric absorbs quickly and holds a lot.
Big enough for full coverage.
Versatile cloths can be used as diapers, changing pads, and more.
Cons
Fabric may not hold up to lots of washing.
Our Ratings
Community Feedback
Excellent burp cloths for both babies and adults alike! As a parent of a 4-month-old, I find these burp cloths to be perfect for travel, as they're compact and budget-friendly. They're quite absorbent, although they may soak through with larger messes. I also discovered that these baby washcloths are gentle enough for face washing, thanks to their soft fabric and convenient size. With a variety of colors and their durability, I've been using these burp cloths consistently for the past 7 months without needing to repurchase. They wash well and have become an essential item in our household, even for our toddler.
---
Luvable Friends Flannel Burp Cloths
Best Budget Burp Cloths
If you've balked at the price of some other brands and wondered how a piece of fabric could be so expensive, these burp cloths from Luvable friends will have you breathing a sigh of relief.
As one of the more affordable cloths, they come in so many lovely colors and designs. You can buy quite a few and never be without a fresh, clean cloth on hand.
The center panel includes three absorbent layers of  100 percent cotton, with two layers on the outer panels. Each package includes three ribbon-tied cloths.
Pros
Impressive range of designs to choose from.
Great value for the price.
Soft and gentle on the skin.
Cons
Cloths have a chemical smell before their first wash.
Fabric tends to fade and pill after multiple washes.
Our Ratings
Community Feedback
Got these burp cloths as a gift and they've been a lifesaver for my baby who has acid reflux and pukes a lot. These are super absorbent, soft, and thick, ensuring no mess soaks through. They're easy to clean and perfect for traveling as they fold up small. The only downside is they shrink a bit after drying, but that's a small sacrifice for the great quality and functionality of these burp cloths.
---
Milkbarn Bamboo Cotton Burp Cloths
Best Bamboo Burp Cloths
If you love vintage designs, rustic baby accessories, and charming old-school baby clothes, you'll be drooling over these Milkbarn burp cloths. They're made of 70 percent bamboo rayon and 30 percent cotton for a blend that's soft, eco-friendly, and long-lasting.
With vintage prints in a range of earthy colors, each package comes with two burp cloths, each an ample 23 inches square.
These burp cloths look as though they could have been handed down from great-grandma, and they're robust enough to stay strong after many washes. They even come in a cute burlap wrapper that seals with a wooden button.
Pros
Environmentally friendly fabrics.
Cute, unconventional designs.
Extra-large size.
Cons
Not absorbent enough for a big spitter.
Material is thin and somewhat rough.
Our Ratings
Community Feedback
Love how these small, breathable, and lightweight blankets have become my children's lovies, accompanying them throughout the house and car. The variety of adorable animal designs make it easy for each child to identify their own blanket, preventing any disputes. I've experienced both the cotton and bamboo versions, and while both are incredibly soft, the bamboo ones are noticeably softer. Although I appreciate the softness, I must point out that at 22"x22" and with its thin fabric, these blankets are not particularly effective as burp cloths.
Are Burp Cloths Necessary?
Approximately 50 percent of babies spit up on a regular basis (1). The other 50 percent spit up occasionally,  but you still never quite know when it's going to happen.
When babies drink a lot of milk, they need to release the pressure that builds up in their digestive tracts. The best way to do that is by burping after feeding, but occasionally more than just air will come up in the process!
Spit-up can leave greasy stains on clothing from the fat content in your baby's milk. It can also be embarrassing to walk around with stinky, milky stains on your clothes. And no one wants their sweet baby to smell like vomit all the time. This is where burp cloths come in.
Although they're not a requirement, burp cloths can be a lifesaver and prevent messy situations — especially if your baby is a heavy spitter. Throw one over your shoulder if you burp your baby at your shoulder or in front of your baby if you burp them on your lap. The highly absorbent materials should catch any spit-up and keep it from soiling your clothes or your baby's.
How Many Burp Cloths Do I Need?
You don't want to skimp on burp cloths. They usually don't cost much, but they can save you a fortune in stained clothing. One big spit-up can soak a burp cloth, so you should always keep several on hand.
We recommend keeping at least two or three in your diaper bag at all times. If your baby is a heavy spitter or you are away from home for more than two or three hours at a time, consider adding a couple more to that. You will also want to have at least eight burp cloths available at home.
10–18 Is Ideal
If you don't want to be doing laundry all the time, it's a good idea to purchase a total of 10–18 burp cloths.
When Should I Start Using Burp Cloths?
You should have burp cloths on hand before you bring your baby home from the hospital. Some babies might not need them immediately — most babies don't spit up much in the first few days — but yours might.
If you stock up before your baby is born, you can be prepared. You don't know exactly when your baby will spit up — it's not something you plan for, right? So it's best to be vigilant and always have one on hand, especially when you're wearing nice clothes you don't want to be destroyed.
Even if your baby isn't a spitter, burp cloths are handy for wiping milk from the corners of their mouth or keeping drool off your shoulder when your baby is napping.
How to Choose Burp Cloths
Burp cloths come in a wide range of fabrics, shapes, and sizes. The best burp cloths will take these factors into account.
---
How to Make Your Own Burp Cloths
Even those of us who aren't handy with a sewing machine can see how easy it would be to create DIY burp cloths. In fact, you can recycle all kinds of things to make these useful fabric squares, saving you money in the process.
If  that seems like too much effort, there's nothing to stop you from simply repurposing any favorite cloth as a burp cloth. Turn over the raw edges and hem either by hand or machine, or use old receiving blankets, cloth diapers, or even a thick hand or kitchen towel.
FAQs
---
Thank You For Your Feedback!
Thank You For Your Feedback!