I remember the first "baby photo shoot" I did with my son. I dressed him up in the most adorable angel outfit and booked a professional photographer to capture those precious memories of the first few weeks of his life.
I made a giant rookie mistake, though: I left the house with a clean baby in a pristine white shirt and no bib. As you can imagine, that pretty little costume didn't make it past the first flash of the camera. It was sopping wet before I could say "precious memories."
So, what I remember more than anything from that day is that bibs are non-negotiable. Babies are little mess-machines, but the best baby bibs can help you keep things drier. Don't make my mistake – let this guide help you choose a bib that works best for you and your baby, no matter what they spit up!
Image
Model
Product Comparison Table
Features
Best Bandana Bib
Parker Baby Bandana
Nickel-free snaps
Soft and comforting fabric
Super absorbent
Best for Spit Up
Green Sprouts Stay Dry
Machine washable
Safe, azo-free dyes
Reversible
Best Neutral Bandana Bibs
Egmao Bandana
Neutral designs
Highly absorbent organic cotton
Durable stitching
Best for Full Coverage
Bumkins Sleeved
No food and spills on clothing
Covers down to elasticated cuff
Lap pouch catches fallen food
Best Velcro Strap
Luvable Friends Value Pack
Easy to put on
Soft as a washcloth
Generously sized
Best for Toddlers
BabyBjorn Soft Bib
Save pants from being stained
Adjustable neck width
BPA-free
Best Floral Bandana Bibs
Upsimples Baby Bandana
Cute floral designs
Organic cotton
Adjustable
Best 2-in-1
Aden + Anais Burpy
Classic, hand-printed prints
Contoured to fit neatly
Large, adjustable neck hole
Easiest Bibs to Clean
Happy Healthy Parent Silicone Bibs
Wipe clean with soapy water
Catcher tray for dropped food
Dishwasher safe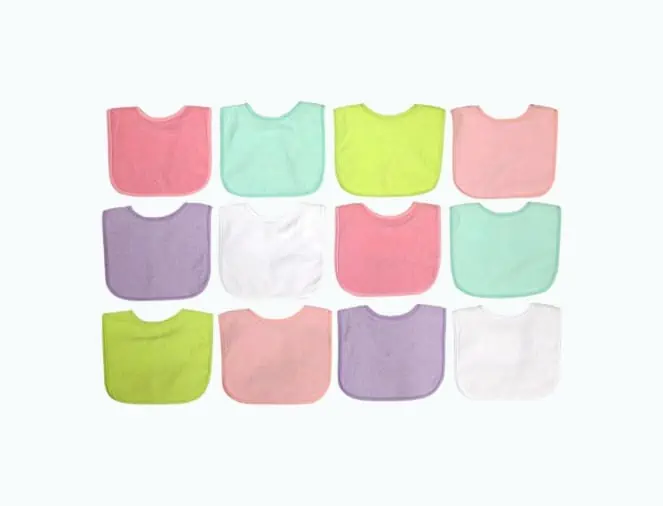 Best On a Budget
Neat Solutions Set
Drool-proof
Adorable designs
Isn't bulky when worn
Review Methodology: At Mom Loves Best, we understand the importance of finding the best baby bibs for your little one, and we are dedicated to providing you with a thorough, hands-on analysis and assessment of various bibs available in the market. Our team of professionals has compared and ranked bibs based on criteria such as material, design, comfort, and durability. We evaluate products from a user's perspective, sharing our experience and quantitative measurements of each bib's performance. Our in-depth research allows us to identify key decision-making factors and rate the best baby bibs in those areas. We also discuss design choices and their effects on users and provide first-hand evidence to support our recommendations. Trust Mom Loves Best to help you make informed decisions when it comes to choosing the perfect bib for your baby.
---
---
The Best Baby Bibs of 2023
Here are the best baby bibs currently on the market:
Parker Baby Bandana Bibs
Best Bandana Bibs
Fans of the bandana bib trend will likely think these Good Baby bibs are super adorable. They're made out of a soft, thick material that absorbs well. The front part of the bib is made from organic cotton, and the back is made of durable polyester.
They can fit many different sizes of children because they have two nickel-free snaps at the back that fit a range of ages from 3 months up to around 2 years. Always remember to never let your child chew on the snaps, these could be a choking hazard.
Pros
The nickel-free snaps may be less irritating and more secure than Velcro.
The fabric feels soft and comforting.
Super absorbent and no problem handling heavy droolers.
Cons
The washing instructions require you to lay the bib flat and avoid the dryer.
Doesn't hold up well when washed repeatedly, and may bunch up or warp.
Our Ratings
Community Feedback
These bibs have proven to be an excellent solution for my teething son's excessive drooling, as they keep his shirts dry and comfortable throughout the day. The soft, absorbent material and adjustable buttons make them versatile and easy to use, even as he grows. The simple yet cute patterns and durability after multiple washes make these bibs a must-have for any parent dealing with teething and drooling babies.
---
Green Sprouts Stay-Dry Infant Bibs
Best Bibs for Spit Up
The best thing about these Green Sprouts bibs is that they're made of ultra-absorbent cotton terry, which will protect your baby's tender skin from drool rash by soaking up the endless rivers of drool they seem to produce.
They have adjustable Velcro closures that make it a breeze to put on and whip off again. A bonus is that these come in a colorful ten pack with each bib priced at just more than $1.
These stay-dry infant bibs are made for babies from 3 months to 12 months old. They have a waterproof inner layer and two super absorbent outer layers. They come in a range of fun, solid colors so your adorable little monster can spit-up on the whole rainbow!
Pros
These are machine washable.
They use safe, azo-free dyes.
Reversible.
Cons
Some parents may find the material a bit rough and scratchy.
The stitching doesn't hold up well to heavy washing.
Our Ratings
Community Feedback
I recently purchased these bibs for my baby and I am extremely satisfied with their performance. The absorbency is fantastic, keeping my baby's clothes dry even when faced with spills or spit-up. I've found that these bibs are soft, dry quickly, and are gentle on my baby's sensitive skin. However, I do have a concern about the neck size being too small and potentially causing discomfort for my baby. Despite this, I believe the bibs are a great value and are easy to clean and maintain.
---
Egmao Baby Bandana Bib Set
Best Neutral Bandana Bibs
These bandana bibs hold a lot of drool and feature adorable neutral designs that look good on both boys and girls.
Each set comes with 10 different bibs in a variety of white, blue, and grey colors with matching animal and linear designs. The front of the bibs are made of 100 percent soft organic cotton muslin. The back lining is polyester fleece for absorbency.
Instead of Velcro, which can come undone and scratch your baby's skin, these bibs have two nickel-free metal snaps. They stay in place and your baby won't be able to pull the bib off.
Most importantly, they're super absorbent. You don't have to worry about your child's clothes getting wet and you can even wipe their face with the front of the bib because it's so soft.
These make an especially great gift for expecting moms because you know they'll look great no matter what.
Pros
Neutral designs look great on both boys and girls.
Snap closures can't be pulled off by baby.
Organic cotton muslin front is super comfy while the polyester back is absorbent.
Cons
Needs to be ironed after washing since the edges tend to curl.
Our Ratings
Community Feedback
In my experience, these bibs have been a pleasant surprise in terms of quality and functionality. The soft, double-layered fabric is highly absorbent and gentle on my baby's sensitive skin, while the colors remain vibrant even after multiple washes. I appreciate the adjustable double snap feature for a comfortable fit around my little one's chubby neck. Although the bib tends to roll up slightly at the tip, it still effectively catches drool and spit-ups, reducing the need for constant outfit changes.
---
Bumkins Sleeved Toddler Bibs
Best Full Coverage Bibs
Bumkins bibs are huge! Made of stain- and odor-resistant plastic that you can just wipe down, this means you can whip them off after meal times to reveal a perfectly clean, happy kid underneath.
Designed to cover the whole torso, lap, arms and right up to the neckline, this bib couldn't be fuller coverage. The material is free from PVC, vinyl, BPA, phthalate and lead, and comes in a wide range of unisex patterns that are pretty cute. Wipe with a damp cloth or throw in the washing machine when you're done.
Bring one of these if you're heading to a restaurant or friend's house, or use them for other messy moments like arts and crafts projects. Your child might also like that these look a lot more like big-kid clothing than a baby bib.
Pros
Least chance of getting food and spills on clothing.
Covers right down to the elasticated cuff.
Has a lap pouch to catch fallen food.
Cons
The tie neck closure can take a while to fasten, and the entire bib is a bit tricky to get on and off.
Some parents have found the quality lacking.
Our Ratings
Community Feedback
Got these Bumkins bibs recently and I must say, they're fantastic! They're huge and cover my child's entire torso, lap, and arms, providing full protection from spills and stains. The stain- and odor-resistant material is free from harmful chemicals and comes in adorable unisex patterns. I love how easy it is to clean them - just wipe with a damp cloth or toss it in the washing machine. The only downside is that the tie neck closure can be a bit time-consuming, but the lap pouch for catching fallen food makes up for it. Though some parents may find the quality lacking, I've found these bibs to be perfect for meal times and messy activities like arts and crafts.
---
Luvable Friends Baby Bibs
Best Velcro Strap Bibs
These come in assorted solid colors and are an excellent choice for parents trying to watch their budgets. Luvable Friends bibs are made with a Velcro fastener, easy to put on and made of soft fabric that won't have your baby screaming at the top of their lungs and trying to rip it off.
They hold up well with repeated trips through the washing machine and dryer. Your baby's entire torso will be protected, making it great for those parents trying to protect whole outfits.
Pros
Not backed with any irritating plastic.
As soft as a washcloth.
Generously sized.
Cons
Made to handle a light drooler – not a baby who is teething.
Neck too big for newborns.
Our Ratings
Community Feedback
These Luvable Friends bibs come in assorted solid colors and are perfect for budget-conscious parents. The soft fabric and Velcro fasteners make them easy to put on, ensuring your baby stays comfortable without trying to rip it off. They hold up well in the washing machine and dryer, and the generous size provides great coverage for your baby's entire torso. However, these bibs are best suited for light droolers and may not fit newborns due to the larger neck size.
---
BabyBjorn Soft Bibs
Best Bibs for Toddlers
These BabyBjorn bibs are nothing like the ones your mother used on you when you were a toddler. You know, the ones that look like giant plastic nosebags you see on horses. Instead, they're made of nifty polypropylene and thermoplastic elastic rubber.
They're more comfortable than the cheap plastic bibs that babies usually find so irritating, but are not made of a soft fabric. This means they can go in the dishwasher for easy cleanup.
What sets these apart from the competition is the deep front spill pocket, which catches dropped food. And since toddlers seem to miss their mouths more than they find them, those pockets should get a workout.
Pros
The deep front pockets will save pants from being stained during meals.
Easy to clean.
Adjustable neck width.
BPA free.
Cons
Pricier than other brands.
Wearing it may feel heavy to some children.
Our Ratings
Community Feedback
I'm impressed with the quality and design of this duck bill baby bib, especially when compared to the older versions from 20 years ago. The material is much softer and I believe it's made in Sweden, ensuring there are no toxic substances in the base material. The rigid structure prevents the bib from twisting and makes it easy to clean, while the large pocket effectively catches dropped food. However, some may find the stiffness to be restrictive for younger or smaller babies when it comes to their arm movements. Also, be aware that the color may appear darker than what's shown in pictures.
---
Upsimples Baby Bandana Drool Bibs
Best Floral Bandana Bibs
If your little princess has trouble with drool, these floral bandana bibs will help keep it at bay. This pack includes ten precious bib designs, including bright floral colors perfect for outings or family photos.
Each bib is made of 100 percent organic cotton materials. They have a dual layer function so your baby stays warm while preventing drool and moisture from reaching clothes or skin. No matter which part of the bib touches your baby's skin, you don't have to worry about it causing rashes or irritation.
We also really like how they grow with your baby. The metal snaps closures can be adjusted to three sizes, so they'll fit both newborns and toddlers. Parents can fasten and unfasten the bib easily, but little hands won't be able to take it off.
There's a lot of joy in dressing up your little girl and these adorable bibs make a cute and useful accessory.
Pros
Moms will love the cute floral designs.
Each layer is absorbent, crease-resistant, and comfortable.
Adjusts to fit your baby's neck size.
Cons
The fabric can stain fairly easily, especially during mealtime.
Our Ratings
Community Feedback
I've recently started using these floral bandana bibs for my little one, and they have been great at keeping drool off her clothes and skin. The pack comes with ten adorable designs, all made of 100% organic cotton, making them both fashionable and safe for my baby. I appreciate the dual-layer function and the adjustable metal snaps, which allow the bibs to grow with my child. However, I did notice that the fabric can stain easily, especially during mealtime.
---
Aden + Anais Cotton Muslin Burpy Bibs
Best 2-in-1 Bib
This aden + anais bib is essentially a thick, durable burping cloth and bib in one, and its shape and size make it multipurpose. When draped over the shoulders and snapped closed at the back, it becomes a full-coverage bib for a smaller baby. When draped over your shoulder, it's an absorbent burping cloth.
They are made of a lightweight, 100 percent cotton muslin material that can be thrown in the wash afterward. The pure cotton makes it suitable for even the most sensitive skins, and will get softer with each wash.
Because the kidney-shaped cloth fits right around your baby's neck and shoulders, you get fuller coverage than you would with a more traditional style. The arms and sides of your baby's neck are well covered.
Pros
Thick, 4 layer, quality cotton muslin feels soft.
Classic, hand-painted prints.
Contoured to fit neatly over your shoulder when burping.
Large, adjustable neck hole.
Cons
They are a little more expensive than the others on the list.
The cape design may hinder your baby's arm movements.
Some parents have complained that the material shrinks after washing.
Our Ratings
Community Feedback
When I first used this aden + anais bib, I was impressed by its multipurpose design as both a full-coverage bib for my baby and an absorbent burping cloth for me. The soft, 100 percent cotton muslin material feels thick and durable, and it gets even softer with each wash. I also like the unisex prints and the fact that it's contoured to fit neatly over my shoulder when burping. However, the cape design sometimes hinders my baby's arm movements, and I've noticed slight shrinkage after washing. Despite these minor drawbacks, I still find these bibs to be a great addition to my baby care routine.
---
Happy Healthy Parent Silicone Baby Bibs
Easiest Baby Bibs to Clean
The Happy Healthy Silicone Baby Bibs are the best if you're looking for something that's easy to clean. The bibs are made of 100% food grade silicone. It doesn't absorb any water. When you need to clean the bibs, wipe a cloth soaked in soapy water across the bib. Viola! Job done.
These bibs don't need to be deep cleaned or go in the washing machine. So it saves you time, money and energy. It also means the bibs are always ready to use. When meal time comes around again, simply wipe the bibs clean and put them on your baby.
The bibs always have a handy catcher tray at the bottom. When your little one drops food, it doesn't land on their lap or the floor. It falls into the catcher. Simply empty it after meal time, and wipe clean.
Pros
Wipe clean with soapy water.
Catcher tray for dropped food.
Fit kids from six months to six years old.
Dishwasher safe.
Cons
Easy for toddlers to take off, which can end in breakage.
Some babies find the bib uncomfortable.
Our Ratings
Community Feedback
If you're looking for a high-quality, easy-to-clean bib, this one is a fantastic choice. I've used it on my baby and it's soft, adjustable, and catches food and liquids really well. The pouch opening is large enough to catch most of the mess, and I love how I can roll it up with utensils inside for on-the-go use. This bib is comfortable for my little one to wear, even when seated in a high chair, and the material is soft and smooth, never causing irritation.
---
Neat Solutions Bib Set
Best Budget Bibs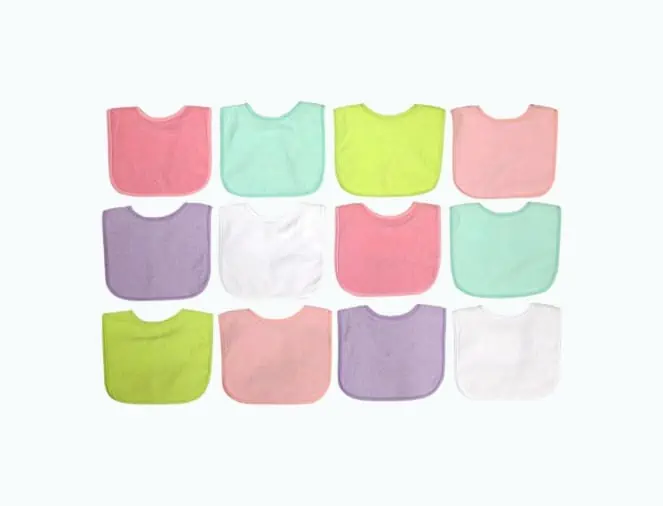 Neat Solutions bibs are just that – a neat solution. The most affordable option on the list, they come in a pack of 12 for a very reasonable price, meaning it won't exactly break your heart should one get so badly stained it needs to be tossed.
The back fastens with Velcro and each one has a super-sweet embroidery pattern on it. They're thin and lie flat against the torso, so they don't get in the way during dinner time.
The front is soft 75 percent cotton cloth and the back is BPA- and PVC-free plastic to stop any wetness soaking through. Even if you've splashed out on more expensive bibs, it won't hurt to keep a few of these on hand for travel or emergencies.
Pros
Ideal for sending to daycare, or keeping as a cheap backup.
The plastic backing is drool-proof and keeps the mess off your baby.
Adorable designs.
Thin, low profile construction that isn't bulky when wearing.
Cons
They are on the small side.
Might not be able to protect bigger babies or heavier droolers.
The plastic backing might irritate some children.
Our Ratings
Community Feedback
I recently purchased these Neat Solutions bibs and found them to be an affordable and practical option for my baby. The pack of 12 bibs offers a variety of cute embroidery patterns, and their thin design lies flat against the torso, making them unobtrusive during meal times. The front is made of 75% cotton cloth, while the back features BPA- and PVC-free plastic that prevents any wetness from soaking through. However, these bibs are on the smaller side and may not adequately protect larger babies or those who drool heavily. Additionally, the plastic backing might irritate some children's skin, so keep that in mind when considering this product.
---
Skip Hop Owl Baby Bib
Cutest Bib
Skip Hop Owl make bibs that will make you (and hopefully your toddler) smile. While they're perfectly charming, if your kid is like mine, you're also glad for the chance to make mealtime feel more like playtime and less like a chore.
There's the owl design, which is my favorite because of the sweet little eyes. Just because they are dead cute, doesn't mean they don't also do the job, though. There's a handy food pocket at the bottom that's incorporated into the design.
Since these are made of silicone, they are water-resistant which is always great for fussy toddlers. Another great feature is that they can be neatly folded up, so you can store soiled bibs easily with the wet parts tucked inside.
Pros
Coordinates with this brand's other themed products to up the cuteness factor.
Folds down for easy storage and travel.
Wipe clean or machine wash.
Cons
Not very affordable.
Some moms find the design washes off or fades with time.
Our Ratings
Community Feedback
These silicone bibs are amazing for keeping my baby clean and catching dropped food. I've been using it for six months and it still looks brand new, even with daily use. The pocket stays open, unlike other bibs I've tried, and it's super easy to clean and dry between meals. I also appreciate that it rolls up neatly for travel and my little one can't rip it off like Velcro bibs. The only minor downside is the width due to the wings, but overall, this bib has been incredibly practical and effective.
Do Babies Need Bibs?
Babies make a mess whether they're newborns or 6 months old. They spit up, they dribble, they drool. Some babies seem to make an Olympic sport out of drooling.
I'd like to tell you children get less messy as they get older, but my son disproves that theory every day. So do yourself a favor – put a bib on your children for as long as they'll let you. It will save you a lot of aggravation and work in the long run.
In their early years, my children ruined a lot of perfectly good outfits because I used the wrong bibs. And their timing couldn't be worse. They always seemed to ruin precisely those outfits that were given to them by their grandparents.
Almost without fail, if one of them was in an outfit from grandma, it was only a matter of time before they'd regurgitate an entire bottle of milk on themselves right after their bib with the chintzy Velcro fastener fell off.
I quickly learned what to look for in a good bib, and I hope this knowledge will save you some irritation… and money.
Helps Prevent Drool Rash
Bibs aren't only about protecting the clothes – they also protect your baby's skin. If your baby regularly gets his shirt soaking wet with drool or spit up and you don't change him into a dry shirt, he can
get an irritated rash
on his chest where the wet clothes were
(1)
.
Not every baby will get rashes, but sensitive skin is common in babies, and staying in wet clothes can trigger a monster of a rash.
My son got regular rashes in his first few weeks of producing swimming pool levels of drool. That was before I wised up and learned that wet shirts rubbing against sensitive baby skin could cause rashes. Like any new mother, when I saw a rash of any kind, I would worry myself sick until it went away.
The best way to prevent the dreaded drool rash on a baby's chest is to keep their shirt dry. And it's much easier and more practical to replace bibs than it is to change an entire outfit.
Types of Baby Bibs
Regular Bibs
The most common style is the classic bib shaped… well, like a bib. These are great for dealing with low to medium amounts of drool and are best for everyday use for kids 6 months to 2 years old. They're useful for feeding and may come with a little pocket at the bottom.
Bandana and Drool Bibs
This style is a triangle shape that clips or fastens at the back, forming a draped cowl in the front, a bit like a cowboy. These have less coverage but attach firmly and are super cute. They're better for drooling and teething than full-on feeds.
Silicone Baby Bibs
Some bibs are made from a stiff, food-grade silicone shaped into a cup at the end to catch spills. These are ideal for sloppy eaters and can be put in the dishwasher to clean immediately after a meal. You won't need such heavy-duty protection for drooling or teething.
Smock and Full Coverage Bibs
Choose a longer, wider bib with sleeves if you have a particularly messy child on your hands. Typically made of wipe-down plastic materials, these are great for older kids who don't want to wear a baby bib but make a huge mess.
How to Choose Baby Bibs
These are some of the factors you'll want to think about before you buy your first bib for baby.
---
Baby Bib FAQs
---
The Bottom Line
Considering both function and finances, Parker Baby Bandana Bibs are our top pick as the best baby bibs. They are durable, cute, cuddly, and organic. What more could you want?
New parents can underestimate just how much mess can come out of such a small person. I love that these cover the entire torso because as adorable as children are when they're hungry, they just don't care how much milk or food they spill in an attempt to get some into their mouths.
They offer excellent protection, and they keep clothes dry and stain-free. They are also comfortable enough that your baby won't try to rip them off, which they're going to try eventually.
Thank You For Your Feedback!
Thank You For Your Feedback!