Splash mats help contain floor messes during meals and craft times with your little ones.
But you want one that's the right size for your space and won't become a tripping hazard. You also want to ensure it does a good job of protecting surfaces and is durable enough to last throughout your child's messiest days.
To save you time and effort, we've tested and compared all the top brands to find the best splash mats for every purpose, price point, and decor style. So, stash that mop, lay down one of these mats, and enjoy the sight of your sparkling clean floors — finally.
Image
Model
Product Comparison Table
Features
Best Design
Bumkins Waterproof
Thin and portable
Machine washable
BPA-, PVC-, vinyl-, and lead-free
Best Multipurpose Mat
Wo Baby Waterproof
Use on almost any surface
Non-slip spill mat
Waterproof
Chic Chevrons
Prince Lionheart
Fits smaller spaces
Machine washable
Non-skid backing
Best for Big Messes
Children's Factory
Can be trimmed for custom fit
Large and durable
Can be wiped clean
Kitchen Chameleon
Loodial Floor Protector
Will match any decor
Waterproof
Great for small spaces
Best Disposable Mats
Theo's Splat Mat
Disposable
Sustainable sourced material
Includes 60 mats
Fold It To Fit
Bumkins Splat Mat
Versatile
Lab-tested, safe materials
Can be wiped clean
---
---
The Best Baby Splash Mats of 2023
Splash mats are perfect for keeping your baby's messes contained while protecting your carpet or floor. At the end of the day, your little one might still need a bath, but at least you won't have to mop the floor!
Here are seven great splash mats to consider.
1. Bumkins Waterproof Splat Mat
Best Splash Mat Design
This 42-inch square mat is thin and portable, making it easy to use at home or on the go. We love taking this mat with us to protect embarrassing floor messes at the homes of our friends and family.
The design is cute, modern, and completely waterproof.
While the size will not protect your floors if your child tends to throw food, it is more than big enough to catch the typical spills that are the hallmark of toddler mealtimes. It is machine washable for easy cleanup, or you can wipe it off with a rag.
We appreciate that the material is free of BPA, PVC, vinyl, phthalates, and lead, which gives us peace of mind when our little one uses it as a play surface.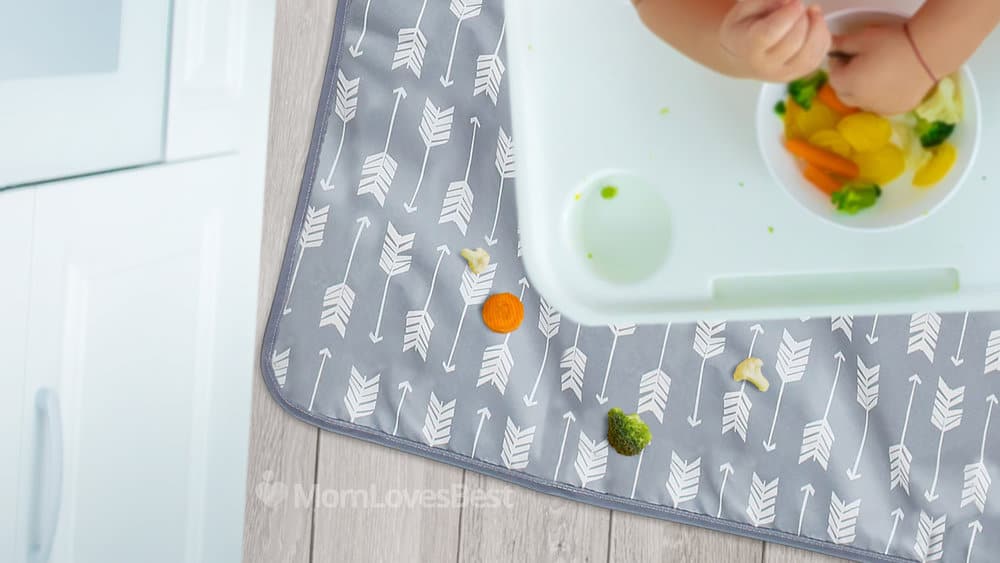 Pros
Square design fits more spaces.
It's thin and portable.
It is machine washable.
It's free of BPA, PVC, vinyl, phthalates, and lead.
Cons
It cannot be machine dried.
It's not very large.
---
2. Wo Baby Splat Mat
Best Multipurpose Splash Mat
This mat has multiple uses, so you can protect floors, tabletops, and more.
The mat is made of 100 percent polyester and measures 51 × 51 inches. It's free of lead, phthalates, and BPA. The back fabric has anti-slip silicone dots to prevent slipping on any surface. The water-resistant material is easy to clean.
We love this mat's multipurpose design, which allows you to use it anywhere and for any activity. Put it on the floor underneath a highchair during meals, or spread it over a table for crafts. You can even use it outdoors at parks or playgrounds.
Your children will also love the bright and colorful sea creature designs.
Pros
You can use it on almost any surface, including floors and tables.
Anti-slip backing keeps the mat firmly in place.
Fun design will delight kids.
Cons
It's water-resistant but not waterproof, so big spills may go through.
---
3. Prince Lionheart Multi-purpose Catchall
Chic Chevrons
This cute mat is petite and fits small spaces. It can be wiped off with a sponge or tossed in the washing machine for easy cleanup, which is something every busy mom should appreciate.
While it can't be machine dried, it air-dries quickly, so you won't be waiting on the mat when your toddler wants to eat.
It has a non-stick backing to prevent the mat from sliding all over the floor, and it's made of laminated cotton, meaning it is not as thick and bulky as plastic mats. We found it great to bring along grandparents' houses and restaurants.
Pros
It will fit in smaller spaces.
It's machine washable.
It is portable.
It has a non-skid backing.
Cons
It will not cover the whole floor.
It cannot be machine dried.
It doesn't dry as quickly as plastic mats.
---
4. Children's Factory Rectangular Splash Mat
Best Splash Mat for Big Messes
At 50 inches by 72 inches, this large splash mat will cover much of your floor. The large size may not fit all spaces, but you can fold the edges under or trim them to fit.
It's thick and durable and doesn't slip on hardwood floors. It's versatile as you can use it as a tablecloth, under a high chair, or on a craft area floor.
To clean it, simply wipe it with a rag. That's a big time saver for moms who don't have the will or desire to deal with extra cleaning.
Pros
It is large.
You can trim it for a custom fit.
It's durable.
It can be wiped clean.
Cons
It's not very portable.
The material is not specified.
---
5. Loodial High Chair Floor Protector
Kitchen Chameleon
This circular splash mat will match any decor because it's transparent. It's made of 100 percent vinyl plastic, so it wipes off easily, and its smaller 47-inch profile will fit more spaces than some of the larger mats.
The circular shape makes sense to use under high chairs as kids tend to throw food in a radius, but at the same time, this design limits its use to feeding. It may not be the best for messy play or arts and crafts.
It is made of thick plastic to avoid tears and is completely waterproof to protect flooring or carpets from spills. That's a benefit for moms who have babies who think dropping their cups from their high chairs is the best game ever.
Pros
It will match any decor.
It's waterproof.
It fits in smaller spaces.
Cons
The plastic may crease if folded frequently.
It may be too small to catch all the messes.
It may not be the best option for arts and crafts.
---
6. Theo's Disposable Floor Topper
Best Disposable Splash Mats
If you and your family love to travel, these adorable disposable mats will keep messes to a minimum. Whether you're trekking across the country or spending a weekend with relatives, bring these mats along to make cleanup easy. When you're done, simply throw them away.
Each one is generously sized at 47 × 29 inches and is light and thin for transport. All of the mats are made from sustainable-sourced materials.
You get 60 mats in each set. Outside of travel, they're also great for group functions and parties. Simply place them under high chairs or an activity station. You can also use them as table covers.
If you're a busy mom with busy kids, these mats can help simplify your life and keep you focused on what matters most.
Pros
Disposable mats drastically cut down on cleaning time.
Sustainable sourced materials.
Each pack includes 60 mats.
---
7. Bumkins Waterproof Splat Mat
Fold it to Fit
This mat is a 42-inch square, which means it's small enough to fit into a variety of spaces, and you can fold the edges under to fit an even tighter space if needed. The ability to convert its size makes it a good fit for apartments or smaller homes.
It's thin and portable, and you can take it on the go. And the cute Super Mario design is entertaining for kids!
It's made of polyester, which means it's not easily wrinkled and it dries fast. It's easier to fold than other 100 percent plastic mats, which is another reason it's good to take with you when you're traveling.
It's also free of lead, PVC, BPA, and phthalates.
Pros
Versatile square shape.
Fun Super Mario design.
It can be wiped clean.
It has no PVC, BPA, phthalates, or lead.
Cons
Smaller size isn't great for big messes.
The design probably doesn't match your home decor.
It doesn't have a non-slip bottom.
Do I Need a Splash Mat?
A splash mat (also known as a feeding mat or drop cloth) is a piece of waterproof fabric or other waterproof material that goes under a baby's high chair or play area. It protects the floor from food, stains, and other messes.
A splash mat can help you save time, energy, and sanity by reducing the need to clean after mealtime spills or play sessions (1). It allows your child to experience the joy of eating messy foods like spaghetti without you worrying. You can sit back and enjoy the cuteness overload.
It can also help protect your floors and carpets from permanent damage, including stains and water.
Splash mats are helpful:
Under high chairs at mealtimes.
Under art easels.
As tablecloths or underneath the table during play dough sessions.
Beneath sensory bins.
Under indoor water tables.
As a clean surface for a baby to play on a dirty floor.
Under your child's seat at a restaurant to avoid leaving a large mess.
When traveling, it can help your child identify their designated play space.
How to Choose a Splash Mat
When purchasing a splash mat for your baby, you should consider these points:
---
How Do I Clean My Splash Mat?
Splash mats are made to resist water and spills and can usually be wiped clean. However, for an occasional deep clean — or for serious messes you don't want to deal with — many mats are machine washable. If you do this, it's best to wash it on cold to prevent damage to the waterproof plastic.
---
Thank You For Your Feedback!
Thank You For Your Feedback!