Does your dining room feel cramped already and you're wondering how on earth you'll fit a high chair in there too?
It's time to get creative with the space you have.
With the best folding high chair, you don't have to worry about setting up a permanent, space-sucking high chair.
Image
Model
Product Comparison Table
Features
Best Portable
Hiccapop High Chair
Lifetime guarantee
Non-skid duck feet for stability
One-hand safety release buckle
Best for Babies
Graco Slim Snacker
Has a footrest
Comfy seat for baby
3 reclining positions
Best Minimalist
Joovy Nook
Compacts like a beach chair
Lightweight and perfect for traveling
Swing-open tray
Best Compact Pick
Cosco Simple Fold
Very affordable
So lightweight
Comes in 2 different colors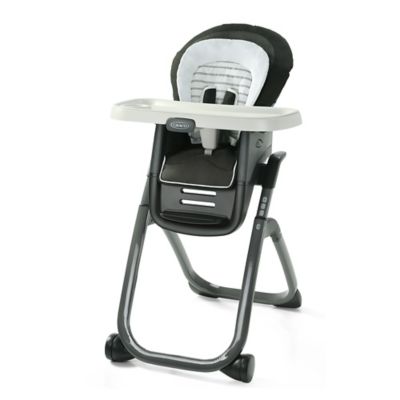 Best 3-in-1
Graco DuoDiner
Transitions into 3 types of seats
Extra-large food tray
Easily adjusts with one hand
Best for Camping
Ciao! Baby Portable
Comes in 10 different colors
Inexpensive compared to competitors
Deep cup hole in tray area
Booster Seat
Summer Infant Deluxe
Comes with straps
Highly affordable
Perfect for traveling
---
How to Choose the Best Folding High Chair
When you pick out your child's folding high chair, there are a few things you'll want to be on the lookout for.
Seat belts: Make sure your folding high chair has a seatbelt with a portion that comes up between your baby's legs. That crotch segment can prevent your child from sliding down in their seat. Shoulder harness are also a good idea to keep your baby safe and secure.
Collapsible: You're probably going to be folding up that high chair two or three times a day. You don't want it to be a struggle each time. To make sure you don't waste your precious minutes fighting a high chair, look for one you can fold up quickly.
Footrests: A footrest can make eating in a high chair more comfortable for your child as they get older.
Comfy seat: Some seats aren't exactly the most comfortable chairs in the world. Try to find one that's padded so your baby doesn't mind sitting in it.
Wheels: Wheels can make it handy to roll your chair to the nearest closet for storage between uses.
If you want it to recline: Some parents like to start their baby in the high chair earlier than four months. The only way to safely pull this off is if the high chair is capable of reclining so your younger baby can take their bottle in it.
Ease of cleaning: If it has a plastic seat, you'll want to find one that you'll be able to get any spilled food out of easily. Sometimes with plastic seats, food gets into all the crevices and is almost impossible to get out. That can be a problem, especially if your baby can reach their little fingers into those crevices and pull out old food — and try to eat it.
Material: You can get wooden high chairs, as well as metal or plastic ones.
Dishwasher safe trays: Some moms love that they can pop off the tray and put it in the dishwasher to be cleaned. Other moms don't mind hand cleaning it — it only takes a couple of minutes, and it's easy to do. Either way is fine. It all boils down to your personal preference.
---
The Best Folding High Chairs of 2021
Here are our favorite folding high chairs on the market.
1. Hiccapop Omniboost High Chair
This model is a good pick for on-the-go moms who would love to bring high chairs with them during family trips and vacations. Weighing only 4.19 pounds, it is a no-brainer why this is a good fit during travels.
Aside from that, when your baby is a toddler, it's a good time to get them used to eating at the table with the rest of their family, good thing you can convert your ordinary dining chair into a high chair using this product. Not to worry about safety because it has attached duck feet which allow an even distribution of weight thereby increasing the stability and overall safety of your little ones.
What I like best about this high chair is that it can be used not only during meals but also during playtime. Perfect for those who want to keep an eye on their baby while still doing something productive.
Great for babies ages six months up to three years.

Pros
The tray is dishwasher safe and stain resistant.
Can hold up to 45 pounds.
An added duck feet ensures stability.
Cons
May not be suitable for bigger babies.
---
2. Graco Slim Snacker Folding High Chair
This is a great pick for babies because it has three different reclining positions, so you'll be able to get some use out of this at all your child's feeding stages.
It just takes a second to fold up, and you can easily do it with one hand while you have your baby in the other. This chair can be stored in a really slim space so it should fit in a closet without taking up much valuable real estate.
The chair also includes a mesh storage area where you can keep any feeding essential you want handy, like wet wipes, sippy cups or a container of your baby's favorite snacks.
It has a convertible seat belt that can be a three-point harness or a five-point harness depending on your preference. It also comes with a full-size food tray with a cup holder.
Pros
This chair has a footrest.
The seat is comfy for your baby.
It has three reclining positions.
Cons
The seat belt straps are white so they'll show any food stains.
It's kind of hard to clean because you can't take the cover off to wash it.
---
3. Joovy Nook Folding High Chair
With a simple, minimalistic design, Joovy has created a high chair that stores easily and looks great with any layout.
A lot of high chairs today are bulky, but if you're all about a clean aesthetic, you'll love the simple lines and single-colored leatherette seat. But don't think this high chair lacks awesome features because it looks bare.
The entire thing folds compactly like a beach chair and can be slipped away when not in use. It's also light enough to travel with. The swing-open tray has four depth adjustments and can be open and closed with one hand, which is great for moms looking to get through hectic mealtimes.
If you're in a tight space or just don't want a bulky high chair filling up your kitchen, definitely consider this high chair for small spaces to keep yourself organized and stress-free. It'll look good anywhere and give you all the functionality you need.
Pros
Compacts like a beach chair and is easy to store.
Lightweight and perfect for traveling.
Swing-open tray simplifies feeding time.
Cons
No height or recline adjustments.
---
4. Cosco Simple Folding High Chair
This lightweight, high chair folds down compactly, which makes it a great solution for those who don't have much storage space.
It folds down in a jiffy, and you don't even have to remove the tray before you fold it. The tray adjusts into three different positions, which will give your baby additional room as they grow and need the extra space.
The tray has a cup holder and an insert tray that can go in the dishwasher, and the whole thing is done in a kid-friendly monster design that children will love.
The three-point harness is sturdy and will hold children up to 50 pounds. If you're into matching all your baby gear, this company also offers other items with the same monster design, including a stroller, a play yard, and a walker.
Pros
This is a very affordable chair.
It's so lightweight anyone will be able to carry it.
It comes in two different colors — one for boys and one for girls.
Cons
The back of the seat doesn't adjust so this chair can't be used for infants.
The cover can't be removed for cleaning.
---
5. Graco Duo Diner Folding Highchair
Enjoy mealtime for years to come with this easily convertible high chair that grows with your baby. With three different stages built in, you can use it as an infant high chair, a traditional high chair, or as a booster seat. Plus, it has five height adjustments and a one-hand reclining seat.
We appreciate this functionality because it saves both space in your kitchen and money in your wallet. Your child will also be more comfortable during mealtime, allowing your family to create precious memories together without so much of a hassle.
Other features include an extra large plastic food tray to prevent spills, a comfy machine washable seat pad, and a convertible 3 and 5-point harness system.
This is a great high chair for busy moms with a full house. Use it in multiple ways for all of your little ones while keeping your kitchen neat and tidy.
Pros
Transitions into three types of seats, so it grows with your baby.
The extra-large food tray prevents spills.
Easily adjusts with one hand.
Cons
Moms have found it difficult to assemble with confusing instructions.
---
6. Ciao! Baby Portable Folding High Chair
This portable high chair folds up easily, much like a lawn chair, and can be hauled around in a matching carry bag. It'll only take up a little trunk space for your camping trip but can hold children up to 3 years old.
One of the best parts about this chair is that you don't have to do any assembly — it comes ready to use in the bag. It only weighs eight pounds, so you'll easily be able to carry it to your campsite, even if it is a bit of a walk away from the car.
While it won't come apart so you can clean it, it is easy to wipe down. It does have a seat belt strap, but there aren't any shoulder or harness straps.
Finally, the base is wider than the top of the seat, which helps a little with stability.
Pros
It comes in 10 different colors.
This chair is pretty inexpensive compared to its competitors.
It has a deep cup hole in the tray area.
Cons
Because this chair isn't as stable as a heavier chair would be, you'll want to set it up on flat ground, so your child has less risk of falling.
The cloth tray part causes round food to roll toward your child's lap since the tray tilts toward them.
---
7. Summer Infant Deluxe Folding Booster Seat
When your baby isn't sitting at the table in this booster seat, it's easy to fold away and store — it barely takes up any room.
It can adjust to two different heights, which helps when your child has a growth spurt, and the tray can be moved into three different positions. The three-point seatbelt is there to secure your child's safety on a high chair.
To make sure you thoroughly clean the high chair between uses, remove the seat pad and clean it in the washing machine. When your baby is done eating, can also pop the tray into the dishwasher for a thorough cleaning.
This is so lightweight you can take it anywhere with no effort. It has straps on the back allowing you to anchor it to any chair easily, so it doesn't slip off and cause injury to your baby.
Pros
It comes with straps to safely anchor it to any chair.
This is highly affordable for any budget.
It's great to take along for traveling.
Cons
It can only hold up to 33 pounds.
This chair doesn't have shoulder straps.
---
The Bottom Line
One of the best folding high chairs on the market is the Joovy Nook. With four different positions, you'll be able to use this high chair for months longer.
This thing is so easy to fold up, and we love that you can do it with one hand — that makes it super easy for multitasking moms. The chair doesn't take up much closet space, so it's a good option for those of us who don't have a lot of storage to spare.
From a safety standpoint, it's great that this has the option to use a five-point harness.
No matter which chair you end up choosing, remember always to use those safety belts — your child depends on you.