[intro]
Booster seat high chairs are great space savers and are easy to travel with. But some models are not as safe or stable as they could be, and others are highly overpriced.
As moms ourselves, we know how much time it takes to research products, sifting through manufacturer's advertising ploys to try to find reliable baby gear that's worth our hard-earned dollars. And we're often doing this while holding a cranky baby or toddler! But we also want what's best for our babies — quality items that will protect our little ones, preferably without costing as much as their future schooling.
This is why our team has spent the past few weeks testing out all the best booster seat high chairs and reviewing feedback from hundreds of moms and caregivers about dozens of brands.
As a result, we've created a list of the best booster seats for eating at the table. This article contains our top eight picks (plus one bonus product) and the answers to all your questions. With one of these great options, you can trust that your little one will be safe and secure at every meal.
[/intro-section]
Image
Model
Product Comparison Table
Features
Best for Toddlers
Ingenuity Toddler Booster
Variable height options
BPA-free
Small and portable
Easiest to Clean
Oxo Tot Nest
Super easy to clean
3-point harness for extra security
High back and sides
Best with a Tray
Ingenuity 2-in-1 Seat
Self-storing tray
Used with or without foam insert
Appropriate for younger babies
Most Comfortable
Oxo Tot Booster
Comfortable 3-inch cushion
Easy-to-adjust safety straps
Stain resistant fabric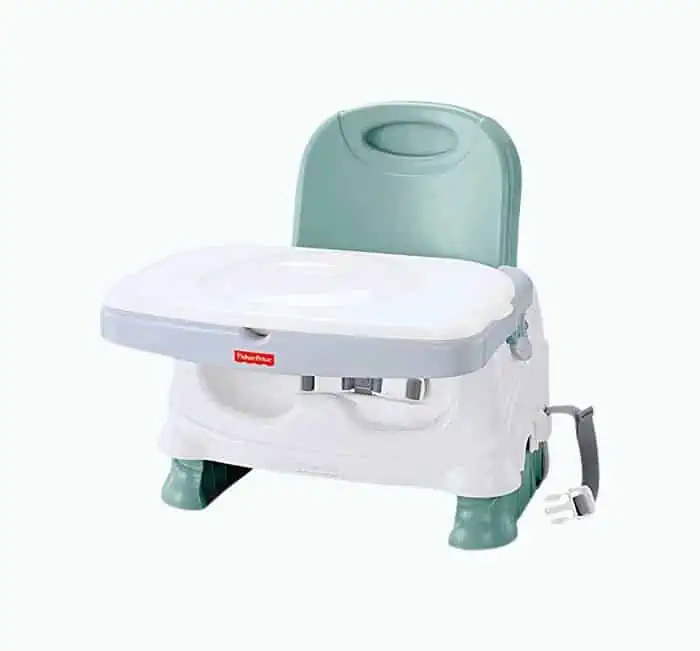 Grows with Your Baby
Fisher-Price Healthy Care
Removable tray and back
No crevices to trap food
Lightweight
Best for Restaurants
Prince Lionheart
Easy to transport
Scratch-resistant
Rigid base
Best Seat Protector
Munchkin Protect Booster
Fits on most dining chairs
Grime guard fabric on booster seat
Machine washable
Best for Small Babies
Hiccapop Omniboost
Lifetime guarantee
250-pound weight limit
Machine washable cover
Most Portable
Summer Infant Pop N
Lightweight and compact
3-point harness
Designed for travel
Review Methodology: At Mom Loves Best, our thorough research and hands-on experience with various booster seats for eating ensure we provide you with reliable information to make an informed decision. Our assessment includes a comprehensive analysis of different booster seat designs, materials, safety features, and user-friendliness, comparing each product's performance based on these criteria. We evaluate products from a parent's perspective, sharing key decision-making factors such as comfort, durability, and adjustability. Our rankings are based on real-life testing, measuring ease of use and cleanliness, and backed by professional reviews and first-hand evidence. Trust us to help you find the best booster seat for your child's mealtime needs.
---
---
The Best Booster Seats for Eating of 2023
Here are the top booster seat high chairs currently on the market.
Ingenuity SmartClean Toddler Booster Seat
Best Toddler Booster Seat for Table
Your little toddler has become independent, but they're certainly not done growing. This seat takes that into account and adds either two inches (without the foam insert) or four inches (with the foam insert) to your child's height, allowing them to comfortably reach the table at any size.
Since your big kid wants to eat at the table anyway, they don't need a tray, which means there aren't extra crevices for food to get stuck in. That makes clean-up a breeze since you can either wipe down the padding or toss it in the dishwasher.
Pros
It has variable height options (2 or 4 inches).
It's BPA-free.
Small and portable, making it great for smaller homes.
The foam insert is dishwasher safe.
Cons
The foam insert is not affixed to the chair and may move around.
Some reviewers remarked that food consistently got stuck under the padding.
Not useful for younger babies.
Our Ratings
Community Feedback
My experience with this booster seat has been mostly positive, as it is sturdy, well-made, and easy to install. The simple design positions my 3-year-old at a good height for a standard table. However, there are a few drawbacks, such as the snaps being difficult to use and the removable gray cushion not staying in place. Additionally, the adjustable straps for fastening it to the chair are too long, making it difficult to secure tightly.
---
Oxo Tot Nest Booster Seat with Straps
Easiest to Clean
A booster seat that's easy to clean won't have trays, crevices, or corners. This fits the bill with its smooth, easy-to-wipe surface that leaves few spots available for your little one to stash their leftovers.
It has an adjustable three-point harness and a strap to secure it to your dining room chair. The non-slip feet keep it safely atop the chair and prevent it from damaging your furniture.
Its high back and sides give your child added security as they sit in their big-kid seat.
Pros
It's super easy to clean.
It has a three-point harness for extra security.
Choose from three different colors.
High back and sides are great for little escape artists or kids who wriggle.
Cons
It doesn't have a tray.
It doesn't recline.
One of the more expensive options.
Our Ratings
Community Feedback
I'm really happy with this booster seat for my 15-month-old. The design is stylish, which is important to me as an interior designer, and it's the perfect height for my child to reach the table. The lower straps keep my little one secure without any frustration, and I love that it's easy to clean. The small base fits well on our chairs, even with their curved sides.
---
Ingenuity™ Baby 2-in-1 Booster Seat
Best Booster Seat with a Tray
Having a feeding tray is helpful — and this seat gives you the option to use it or stash it. Not only does the tray come with a cup holder, but it also gives you a perfect storage compartment for the tray should your little one decide they don't want to use it anymore.
There will be no further need to find a place to store the tray when you're not using it, and you'll have no problem remembering where you put it when you want it back.
The seat itself is made of soft and easy-to-clean foam that you can remove as your baby grows and their chubby little thighs need more room.
And even though it doesn't have a recline function, it's designed in a way that helps position babies upright even if they're not quite able to sit unsupported. While not appropriate for newborns, you can still use it with small babies.
Pros
It has a self-storing tray.
Can be used with or without the foam insert, depending on baby's size.
Appropriate for younger babies.
Can carry up to 50-pound.
Cons
The tray is on the smaller side.
It doesn't have a five-point harness.
The tray is on a smaller side.
Our Ratings
Community Feedback
This portable high chair has been a fantastic addition to our baby gear collection, making it easy to use in various settings like restaurants or friends' houses. The ability to use it with or without the tray and quickly fasten it to a sturdy wood chair is a bonus. I appreciate the soft plastic insert for extra support when the baby is just starting to sit up, which can be easily removed as they grow. The design and construction are smart and durable, making it a better option than a full-size high chair for some babies. Not only is it easy to clean and maintain, but it also serves as a space-saving solution for those with limited room.
---
Oxo Tot Perch Booster Seat with Straps
Most Comfortable
Mealtime is special, no matter your age. Help your child feel comfortable and confident with this cushioned booster seat.
Designed for children 15 months and up, this booster seat is simple, compact, and easy to clean. Instead of having a thin pad for your child to sit on, it has a thick, three-inch cushion built in. It's soft enough to keep your child comfy but sturdy enough to give them the boost they need so they don't sink down.
Our favorite part is the stain-resistant fabric. You may think the comfier the material, the more it absorbs, but you can easily wipe down the fabric of this cushion with a damp sponge. The entire cushion is also removable.
Another important feature is the three-point harness system with easy-to-adjust safety straps. They'll keep your child secure with plenty of freedom of movement in their upper body to keep them smiling and happy.
Pros
Comfortable three-inch cushion will help your child stay seated for long periods.
The entire booster seat is easy to wipe down.
Cons
If your child is especially squirmy, this may give them a bit too much room to wiggle around in.
Our Ratings
Community Feedback
I recently purchased this Booster Portable Seat for my toddler and have found it to be convenient and versatile. The lightweight and compact design makes it easy to transport and set up, securely attaching to most chairs with adjustable straps. My child sits comfortably in the well-padded seat, and the removable, washable cover keeps it clean and hygienic. While there are a few crevices that can be slightly difficult to clean, overall, it's manageable. The adjustable height options allow the booster seat to adapt to my growing toddler, making it a cost-effective choice for our family.
---
Fisher-Price Healthy Care Booster Seat
Grows with Your Baby
Children grow quickly, and sometimes it's hard for moms to keep up! We love when baby gear grows with your child to help them through life's transitions. It makes things so much easier for everyone.
This booster seat is such a product. With an easy-to-remove tray, you can use it for years. Keep the tray attached while your child is young and use it as a more traditional high chair, then remove it when your little one is ready to eat at the table.
Along with the removable backrest and adjustable tray, you can ensure your child fits comfortably through all stages of life.
All surfaces are smooth, and you won't find any crevices, so the entire thing is easy to wipe down after meals. If you're in a smaller living space, this booster seat is a great space-saving option!
Pros
Features a removable tray and back so you can transform it from a high chair to a booster seat.
There aren't any crevices for food to get trapped in.
Lightweight plastic is super easy to wipe down.
Cons
Because the entire thing is plastic, it may not be as comfortable for long meals.
Our Ratings
Community Feedback
My experience with this high chair has been fantastic, as it's incredibly portable and easy to use. Attaching and detaching it from an adult chair is a breeze, and I love that it doesn't take up too much space in our home. The tray is easy to clean and even comes with a lid to keep it sanitary during travel. Additionally, the seatbelt ensures a secure and comfortable fit for my child every time.
---
Prince Lionheart Squish Booster Seat
Best Booster Chair for Restaurants
Going to a restaurant can be a special treat, but once you have children, it can feel like a circus every time you go out. While many places have booster seats or high chairs for children, they aren't perfect. If you're able to find an available booster seat, they are often filthy or have less-than-ideal safety straps (or none at all).
Make eating out simple with this ultra-portable and versatile booster seat. Weighing around 1.6 pounds, you can carry this booster seat with one hand. Keep it in the trunk of your car so you're always prepared.
One reason this booster seat works well at restaurants is because of the rigid base. It's designed to fit the contours of most chairs, and the non-slip feet on the base means you can place it securely on any surface.
Other features include a waterproof and scratch-resistant finish and a three-point adjustable harness system.
Pros
Waterproof and scratch-resistant.
No-slip feet keep the booster seat secure.
Very lightweight.
Cons
Safety straps are easy to unfasten — even for industrious toddlers.
Our Ratings
Community Feedback
In my experience with this booster seat, it has been a great addition to our mealtime routine. It's very sturdy, supportive, and comfortable for my child who previously refused to use a high chair. This booster seat easily fits on various chairs, making it convenient to take with us on visits to grandparents or on vacation. The seat's height is perfect for my child to be at table level, allowing them to feel like a part of the family during meals. One downside I've noticed is that the back of the seat could be taller for better support, as it can cause my child to slouch.
---
Munchkin Protect Booster Chair Cover
Best Seat Protector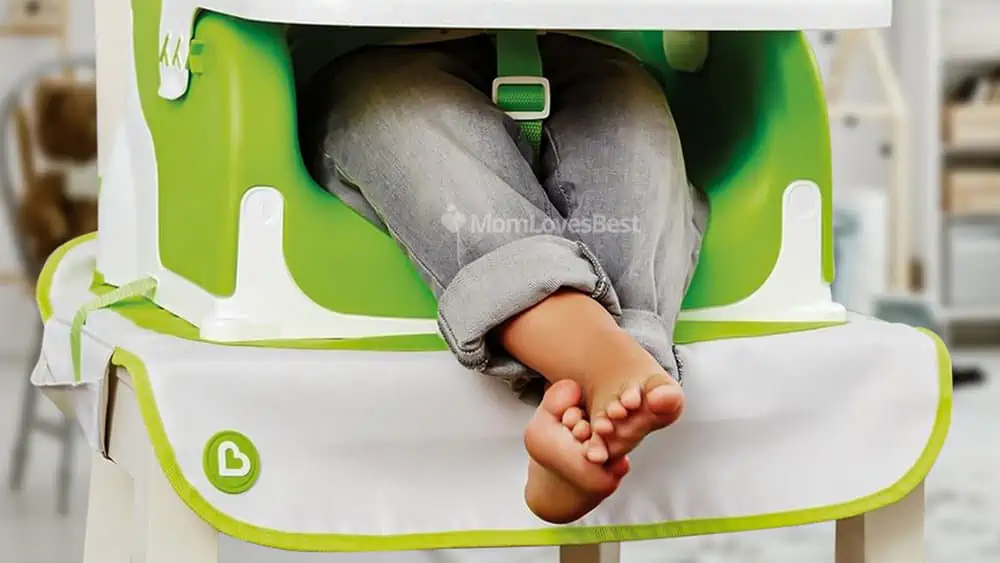 Many booster seats are easy to clean, but what about the chair you put them on? They're often forgotten, and you're left cleaning up your nice chairs once the booster seat comes off. Save yourself time and frustration with this special chair cover.
It's made of an extremely durable "grime guard" fabric and is placed directly over the seat of your chair. Not only does it protect against food, but it also protects against scratching, which is important if you've got a nice set of wood dining room chairs. Traction pads on the bottom keep it firmly in place and help prevent the booster chair from slipping.
We really appreciate that this cover is machine washable. If it weren't, you'd wind up with something else to clean, but you can throw the entire thing in the washing machine when it's time.
If you've got a booster seat already but are struggling to keep your chairs clean, this is a good option.
Pros
Fits most dining chairs, so you can use it everywhere.
Keeps the booster seat secure while preventing messes.
Machine washable for quick cleanup.
Cons
It doesn't come with its own set of straps, so you'll need an actual booster seat to secure it.
Our Ratings
Community Feedback
I'm quite impressed with these chair covers, as they've been a fantastic solution to protect our chairs from messy toddler meals and spills. They fit nicely under booster seats, and even though they're slightly large for my smaller chairs, I believe the size would be perfect for most. The non-slip grips and side loops for booster seat straps are helpful features that keep everything secure. Cleaning is a breeze, as I can easily toss them in the washing machine and air dry them overnight. While they may occasionally slide a bit, overall these covers have saved our chairs from potential stains and damage.
---
Hiccapop Omniboost Booster Seat
Best Booster Seat for Small Babies
This seat has all the features of a full-sized high chair with the footprint of a booster seat.
It's designed to let your baby sit at the table with you from the very beginning of their feeding journey. It grows with them, converting to a simple booster seat when your little one is ready.
Non-skid duck feet are available for added stability on uneven surfaces, thereby ensuring your infant's safety. Moreover, the tray is dishwasher-safe for easy clean-up.
It has a three-point harness with a one-hand release, making it easy to quickly remove your child if necessary.
Pros
Eliminates the need for an additional high chair.
Secure three-point harness.
Dishwasher-safe feeding tray.
Lifetime guarantee.
Our Ratings
Community Feedback
I recently purchased this travel high chair for my youngest child, and it has been an excellent addition to our family trips. It easily fits onto various dining chairs and is perfect for camping, visiting grandparents, and even as a lawn chair for outdoor activities. The soft fabric and three-point harness make it suitable for older infants with some trunk control, but not ideal for very young ones. The tray is easy to clean, but could benefit from a more pronounced edge to prevent food from sliding off.
---
Summer Pop 'n Sit Portable Booster Chair
Best Portable Booster Seat
This ingenious seat is so small that you can leave it in your trunk for spontaneous restaurant trips, dinners with friends, or impromptu playdates.
Designed specifically for travel, it comes with a carrying handle and storage pockets on the back so you can store extra wipes for emergency cleaning.
And since the Summer brand knows how good kids are at making mealtime messes, they made the seat with a BPA-free detachable tray that is dishwasher safe.
Pros
Fully collapsible.
It has a three-point harness.
Designed for travel and can be used both indoors and outdoors.
Cons
Lower weight limit.
With four feet instead of a solid base, it can be unstable on surfaces that aren't flat.
Our Ratings
Community Feedback
This portable high chair has been a convenient addition to our on-the-go lifestyle, allowing our baby to sit comfortably at the table with us. Although it initially had some minor issues, such as difficulty unfolding and limited side support, it has proven to be a great alternative to restaurant high chairs, which can be unclean and cumbersome.
What is a Booster Seat High Chair?
Once your baby or toddler is ready to eat solid foods, you may question if you need a full-sized high chair or if a smaller booster seat will do the job just a well. A booster seat high chair is a child seat that sits on top of your regular dining room chair. It functions much like a high chair in that it provides a safe and secure seat for your child to sit in and raises their height to table level.
However, while a high chair is a separate apparatus and cannot be pulled all the way up to the table, a booster seat allows your child to sit directly at the table with the rest of the family.
This type of booster seat should not be confused with car seats for older children, which are also commonly referred to as "booster seats."
Why Choose a Booster Seat High Chair?
Booster seat high chairs offer many benefits over traditional high chairs. Some are even designed for use with small babies, making the additional purchase of a full-sized high chair completely unnecessary.
Some reasons to consider a booster seat are:
They allow your child to sit at the table instead of apart from the rest of the family.
They allow your child to continue to be secured to the seat during snack and meal times, preventing falls and injury.
They're generally cheaper than high chairs.
They take up less space than high chairs.
They're portable.
Some can double as an activity seat and be placed on the floor while putting toys on the tray.
How to Choose a Booster Chair
When choosing a booster chair, it's important to evaluate several factors and choose the one that best fits your needs. Here are some things to consider:
---
Can My Infant Use a Booster Seat?
Originally, booster seats were designed for toddlers and older children who weren't quite big enough to reach the table while sitting in a regular chair. However, many current booster seats are designed with babies in mind.
Booster seats that are appropriate for babies have an adjustable back. Unlike toddlers, babies don't have very good head and neck control, or enough core strength to sit upright for long periods of time. A rigid, upright back on a booster will cause them to either slump forward (hitting their head on the tray or table) or sideways (causing a potential falling hazard).
Remember
If you intend to use a booster seat as a
space-saving alternative to a high chair
, make sure you choose one that has an adjustable back that you can recline slightly so your infant can sit safely and comfortably.
Booster Seat Safety
When considering a high chair or booster seat for your child, safety should be your top concern. In fact, in the U.S., one child is rushed to the hospital every hour due to a high chair-related injury, the vast majority of which are falls (1). Thankfully, most booster seat models offer several methods of securing your child.
First, they attach to your chair with one or two adjustable straps. Usually, one will wrap around the back of the chair, and another will reach underneath. This two-strap method of securing the seat virtually eliminates the possibility of the seat slipping off your dining room chair.
Second, they also secure your child. Some (primarily designed for younger babies) have a five-point harness system similar to what you would find in a car seat. Others (for toddlers and older children) have a lap belt to keep them from toppling out of the seat.
Choose a harness-style seat if you have a small baby, a mini Houdini, or a child who likes to stand up in their high chair.
A lap belt is appropriate for older babies with good head and neck control and for toddlers who are old enough to follow simple commands such as "sit down."
Keep In Mind
When using a booster seat, you also need to consider the construction of the chair on which it's affixed to make sure it's safe. Inspect the chair for weaknesses, and choose one that has a wide base. The wider the base, the less likely the chair will topple.
FAQs
---
Thank You For Your Feedback!
Thank You For Your Feedback!