Who knew babies needed so much stuff? Baby equipment takes up a ridiculous amount of room!
We've been there, and we understand what it's like to be running into baby equipment at every turn and tripping over high chair legs at mealtimes. If you have limited dining space, you need a space-saving solution. A clip-on high chair might be just the answer you need.
We've done our research, testing many brands and reading hundreds of reviews from parents and caregivers like you. As a result, we've rounded up the best hook-on high chairs to help you save space without compromising on quality.
Image
Model
Product Comparison Table
Features
Travel Must Have
Inglesina Fast Table
Elevated backrest
Nine color choices
Simple installation process
Best for Thick Tables
Guzzie and Guss 201
Includes a travel bag
Easy to clean
Rubberized grips
Neat and Petite
Mountain Buggy Pod Clip-On
Has shoulder harness
Folds flat for storage
Fabric is machine washable
Super Secure
Phil & Teds Lobster
Sleek, modern design
Easy to set up and pack
Guards from spills and scratches
Breezy Set Up
Chicco QuickSeat
Comfortably padded
Snap-on washable seat cover
Matches most color schemes
360 Degree Range
Chicco 360
Rotates 360 degrees
Locks in 6 different positions
Includes snap-on dishwasher-safe tray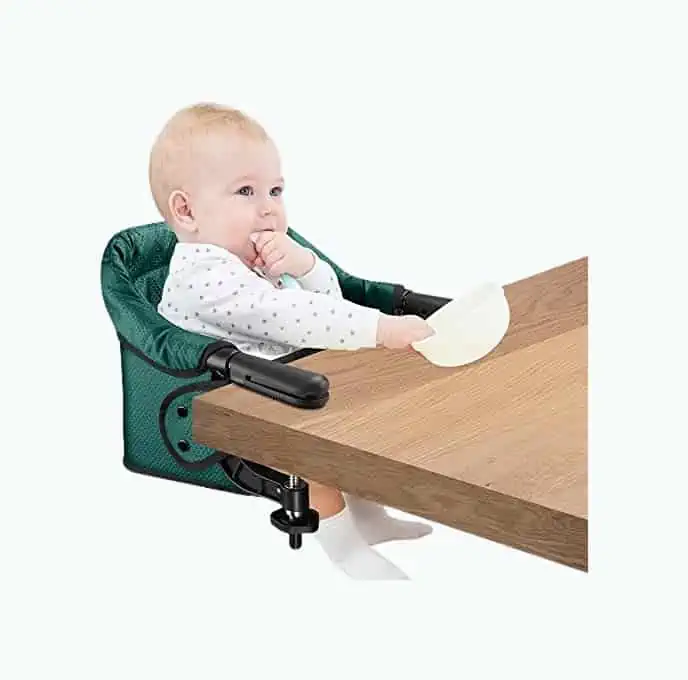 Fits kids up to 37 pounds
Highly affordable
Durable
---
---
The Best Hook-on High Chairs of 2023
Here are the best hook-on high chairs on the market.
Inglesina Fast Table Hook-On Chair
Travel Must Have
This chair can be attached to tables that are up to 3.5 inches thick. When you're done with it, you can fold it flat to store or transport it, which is ideal for travel and eating out.
The rear pocket holds all your baby's mealtime accessories, and it comes with a removable cover and carrying bag. Since it weighs just over four pounds, it's easy to take anywhere.
The Inglesina High Chair can support up to 37 pounds, and it won't scratch your table.
Pros
Higher backrest gives your baby more support.
Comes in nine color options.
Easy to install.
Cons
Waist belt only, no shoulder straps.
Doesn't fit lipped table skirts.
Our Ratings
---
Guzzie and Guss Perch Hook-On High Chair
Good for Thicker Tables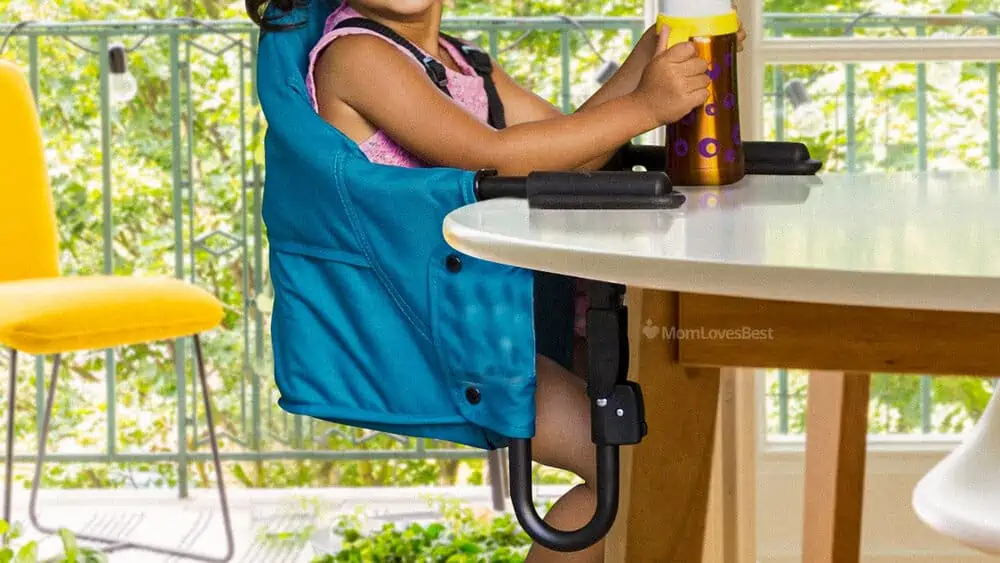 This six-pound high chair fits table skirts of up to 3.75 inches. With extra padding in the back, it is more comfortable for babies than many other options.
When not in use, this seat folds up flat and can be stored in the included nylon bag. This is excellent news for parents like me who feel like their baby uses more closet space than anyone else in the family.
A great plus is that the seat can hold babies and toddlers up to 37 pounds, so you should be able to get a lot of use out of it.
Pros
Convenient travel bag stores under the seat.
The poly-cotton blend is easy to wipe clean.
Rubberized grips are easy on fingers and your table.
Cons
Gap between the chair and table can make for messy mealtimes with younger babies.
Our Ratings
---
Mountain Buggy Pod Clip-On High Chair
Neat and Petite
This small but comfy high chair fits tables that are up to two inches thick, whether they're outdoors or indoors.
It's lighter than many of its competitors at just 2.2 pounds. Once folded, it can even fit into bigger purses or diaper bags, which is great for moms who hate lugging tons of baby gear.
The Mountain Buggy Clip-On can hold kids up to 33 pounds, and it also offers padded back support and a solid harness for your baby's comfort and safety.
Pros
Comes in three cute colors.
Shoulder harness keeps baby secure.
Includes a handy carrying bag.
Machine washable fabric.
Cons
Doesn't fit tables over 2 inches thick.
Won't work on tables with lips or rounded edges.
Lightweight chair doesn't work well for bigger babies.
Our Ratings
---
Phil & Teds Lobster Hook-On High Chair
Nice and Secure
Your little one has to be Houdini to escape from this high chair. It has shoulder straps to keep your baby firmly in place so you won't turn around to find them halfway through a daring leap off the table edge.
It has non-slip grip pads to ensure it won't slide off the table, which can be up to 3.75 inches thick. The sturdy aluminum frame can accommodate a weight of up to 37 pounds.
This high chair comes with a dishwasher-safe tray and a carrying bag that can easily fit in diaper bags or the storage compartment of a stroller.
Pros
Sleek, modern design.
Quick and easy to set up and tear down.
The included tray protects table from spills and scratches from utensils.
Cons
It doesn't work well with round tables.
Small leg holes make it difficult to get your baby in and out.
Our Ratings
---
Chicco QuickSeat Hook-On Chair
Breezy Set Up
The Chicco QuickSeat is great for travel because of its ratchet and lock technology, which is secure on most tables, including picnic tables. If you love the idea of family camping or outdoor trips but don't want to awkwardly feed your baby on your lap while bugs swarm you, this is a nice choice.
This seven-pound chair folds up neatly and stays clean in the included carrying bag.
The rubber-coated grips won't leave marks on tables and protect your baby's little fingers from being pinched while they explore their surroundings.
Pros
Comfortable, supportive padding.
Washable seat pad.
Muted colors match most dining room color schemes.
Cons
Metal pieces prone to rusting if not dried quickly after use.
Only fits table thickness up to 1.5 inches.
Our Ratings
---
Chicco 360 Hook-On High Chair
360 Degree Range
This seat is unique because it can lock in six different positions, ensuring your baby will always have a comfortable seat facing you, no matter what kind of table you're using.
It also comes with a snap-on dishwasher-safe tray, which we love as high chair trays can get filthy and the dishwasher makes things easier and can sanitize as it cleans.
This high chair folds up compactly and comes with a carrying bag. While some clip-on chairs only work with tables that don't have a lip, this chair can expand to clip onto tables that have a skirting of up to 5.5-inches thick.
Pros
Baby can face any direction.
Fabric seat pad is washable.
Highlighted buttons make chair adjustment easier.
Cons
Food gets stuck in seat crevices.
Very difficult to remove and reattach seat cover.
Our Ratings
---
Toogel Hook-On High Chair
Most Sturdy
This dual-purpose hook-on high chair is both affordable and useful. If you can't decide between a clip-on seat or a booster seat, or you could use both in different situations, this is a great option.
The Toogel chair can be easily hooked onto the table when there isn't another chair available or strapped to a chair if the table isn't compatible. Made with durable wipe-clean polyester fabric, this seat supports children weighing up to 37 pounds.
A storage pocket at the back of the seat can hold all your feeding supplies, and the sturdy grips are made of rubber to protect tables from any damage.
Pros
It fits kids that weigh up to 37 pounds.
Inexpensive dual-purpose option clips onto tables or chairs.
Durable hardware and seat cover last years.
Cons
Leg holes are tight for bigger babies or toddlers.
Doesn't work with lipped tables.
Our Ratings
The Benefits of Hook-On High Chairs
Saves space: With a hook-on high chair, you simply clip or hook the seat onto a table, saving you a lot of space.
Easy to clean: When mealtime is over, all you have to do is wipe the high chair down and put it in a closet for next time. Or if you prefer, you can leave it hooked onto your table.
Encourages family time: Your baby will feel included in family mealtimes, and you'll have more opportunities to interact with each other as you enjoy your meals. Eating together contributes to the overall health of all family members (1). Why not start that habit early?
Portable: Hook-on high-chairs are usually collapsible and can easily be taken on vacation or to your favorite restaurant. They are far more sanitary than standard restaurant high chairs, which are rarely cleaned thoroughly.
How to Choose a Hook-On High Chair
These are the top features to look for when purchasing a hook-on high chair.
---
Thank You For Your Feedback!
Thank You For Your Feedback!