Have you ever stood in the baby supplies aisle of a store and felt totally overwhelmed by the tremendous variety of pacifiers? With so many styles, shapes, sizes, and colors, it can be tough to figure out which pacifier will work for your baby.
After asking other parents for recommendations and trying out all the top pacifier options, we've rounded up our favorites. Along with these reviews, we offer plenty of information in this helpful guide so you can find the best pacifier to calm your baby, without having to purchase one of every style.
Image
Model
Product Comparison Table
Features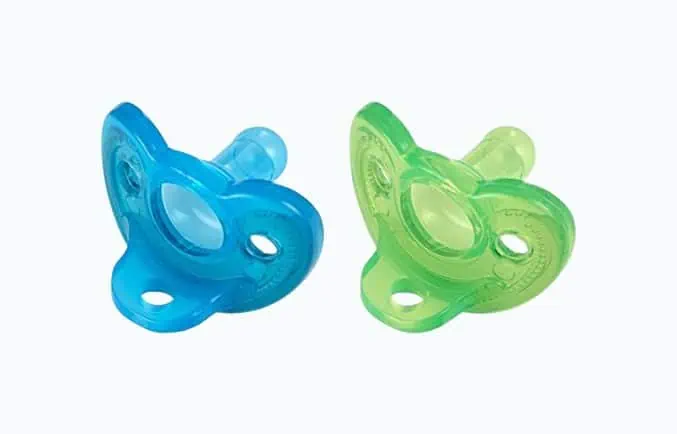 Best for Breastfed Babies
First Years GumDrop
Compatible with many attachments
Made of silicone
Affordable
Best for Colic
NUK Newborn
Orthodontic pacifier
Dishwasher safe
BPA-free
Best for Infants
MAM Newborn
Small and lightweight
Includes sterilizing case
Soft nipple with anti-slip surface
Best for Down Syndrome
Philips Avent Soothie
One-piece design
Hospital-grade silicone
Wide base prevents choking
Best for Cleft Palate
WubbaNub Brown Puppy
Easy for baby to grab
No latex, BPA, PVC, or phthalates
Soft medical-grade silicone
Best One-Piece Pacifier
Natursutten BPA-Free
Unique, one-piece design
All-natural rubber
Simulates the feel of breast
Best Orthodontic
MAM Clear Orthodontic
Can be used with pacifier clip
Comes with a sterilizing case
Won't make any marks
Best for Lip Tie
Smilo Orthodontic Pacifier
Affordable
Medical-grade material
Glow in the dark
Best for Fussy Babies
NatureBond Feeding Pacifier
Easy to clean and dishwasher safe
Safe and secure snap-lock closure
Ergonomic design
Best for Preemies
Philips Respironics
Fits tiny preemie mouths
BPA free
Helps babies learn sucking motion
Review Methodology: At Mom Loves Best, we pride ourselves on providing you with thorough analysis and assessment of the best pacifiers on the market. Our experienced team conducts hands-on research, comparing various pacifiers based on criteria such as safety, material, design, and performance. We evaluate products from a user's perspective, sharing data-driven results and first-hand experience to guide you in making informed decisions. In this article, we'll discuss key factors like nipple shape, size, and material, as well as durability, ease of cleaning, and baby's comfort. Our goal is to help you find the perfect pacifier that meets the highest standards of quality and safety for your little one.
---
---
The Best Pacifiers of 2023
Here are the top pacifier brands currently on the market.
The First Years GumDrop Newborn Pacifier
Best Pacifier for Breastfed Babies
The First Years GumDrop Pacifier comes in a package of two and is designed to fit well under your baby's nose. This allows them to breathe easier when using their pacifier.
The one-piece design is made of silicone, making it easy to clean. It also lasts longer than other pacifiers as you don't have to worry about any parts breaking off.
These pacifiers are free of BPA, phthalates, and latex. The basic design is made for babies up to three months, but larger sizes are now available for older babies.
Pros
Compatible with many attachments.
Gives your baby room to breathe.
Made with latex-free silicone.
Affordable.
Cons
Hair tends to stick to these pacifiers.
Tiny fingers can get stuck in the holes.
Our Ratings
Community Feedback
I recently tried these pacifiers for my newborn and found them to be an excellent choice due to their one-piece design and various sizes that accommodate a growing baby. The cut-out nose area prevents any smothering concerns and the pacifiers are easy to clean by boiling them in water. Although they can be a bit heavy and may require a pacifier clip, I found these pacifiers to be a reliable and safe option for my baby.
---
NUK Newborn Orthodontic Pacifiers
Best Pacifier for Babies with Colic
If your baby has colic, a pacifier can be very helpful for soothing them. For that reason, you might want to hedge your bets by getting an orthodontic pacifier. The shape of the pacifier was designed to fit naturally into a baby's palate. This helps with proper dental development.
The NUK orthodontic pacifier uses silicone materials and comes in a package of two. The shield is heart-shaped, dipping under your baby's nose, allowing for more breathing room.
You'll be pleased to know they're made in the U.S. and are BPA free.
Pros
Nipple shape helps exercise baby's tongue and jaw.
Extra-soothing nipple design.
Cons
They make a slight squeaking noise for some babies when they suck on them.
Not all babies appreciate the heavier feel.
Our Ratings
Community Feedback
When I first introduced these pacifiers to my baby, I noticed that the handle was a bit difficult to grab and place in her mouth. However, my daughter absolutely loves them and their smaller size makes them perfect for her age. It's worth mentioning that I received two white and pink pacifiers instead of one of each as shown in the photo, but that didn't really bother me.
---
MAM Newborn Start Pacifier
Best for Newborn Babies
These MAM newborn pacifiers are designed for babies up to two months old and come in a set of two. They have a curved shield to allow for better airflow. This pacifier also has big air holes in the shield to help ensure your baby can easily suck and breathe at the same time.
With a convenient button on its end, both you and your baby can easily grab onto the pacifier. The button also allows you to attach a strap that clips to your baby's clothing to keep it from getting lost.
The silicone nipple is soft with an anti-slip surface that helps the pacifier stay in your baby's mouth instead of falling out.
Pros
Small and lightweight for newborn babies.
Comes with a sterilizing case.
Soft silicone has a breast-like feel.
Cons
Moisture can get trapped inside the nipple.
Some moms had problems with the sterilizing container melting in the microwave.
Our Ratings
Community Feedback
This pacifier has quickly become a favorite for both my child and me. The size is perfect for newborns, and it's easy for them to keep in their mouths. However, a minor downside is that the bulb can trap water when washed or sanitized, making it a bit tricky to dry quickly. The sanitizer case is a nice bonus, although the pictures on it may vary.
---
Philips Avent Soothie Pacifier
Best Pacifier for Down Syndrome
You'll get a four-pack of baby pacifiers when you buy the Philips Avent Soothie pack. This may seem like a lot, but you'll learn quickly that it isn't. At the rate that pacifiers seem to go missing — always when you need them most — you can never have too many.
These pacifiers are the same type used by many hospital nurseries, so they're great for babies who have may have had a NICU stay and have already adjusted to this style.
The one-piece construction makes these last longer than pacifiers with multiple pieces. However, the hospital-grade silicone makes these firmer than some other pacifiers — they're even firmer than the newborn-sized Soothies — and some babies find them a little tougher to keep in their mouths.
Pros
One-piece design.
Made with hospital-grade silicone.
Can be used with pacifier clips.
Round design has no "right" or "wrong" side and can be popped in at any angle.
Cons
Babies' fingers can get stuck in the holes.
Some babies prefer a softer nipple.
Our Ratings
Community Feedback
My experience with these Philips Avent pacifiers has been overwhelmingly positive, as they quickly became my baby's favorite. Unlike other brands we tried, these green Avent pacifiers stayed more easily in the mouth, allowing me to have a few moments to do other tasks or catch some rest. The design makes it easy for the baby to hold onto and suck or chew in a circular motion, which also makes for adorable videos. Having a few on hand in various locations like the changing station, bassinet, diaper bag, and stroller has proven to be incredibly convenient and helpful.
---
WubbaNub Brown Puppy Pacifier
Best Pacifier for Cleft Palate
This fun pacifier idea comes with an attached stuffed animal so babies can hold it in place more easily. The weight of the stuffed animal also helps babies who struggle to keep their suction going.
With a huge collection of stuffed animals to choose from, this adorable pacifier is sure to be a hit with your baby and anyone else who sees it. At the very least, the stuffed animal will be more comfortable for you to hold in place, and it prevents the pacifier from dropping into small spaces and getting lost.
Made with medical-grade silicone, this pacifier is similar to the style used in the hospital — minus the stuffed animal — and is free of latex, BPA, PVC, and phthalates.
Pros
Easy for your baby to grip.
Free of latex, BPA, PVC, and phthalates.
Because of the attached animal, it's much more difficult to lose.
Cons
More expensive than traditional pacifiers.
Harder to use with squirmy babies.
Our Ratings
Community Feedback
I'm impressed with how this pacifier not only soothes my fussy baby but also stays in place, making it easier for my baby to find and use independently. The attached stuffed animal adds a cute factor and helps keep the pacifier from getting lost, which is a major plus for sleep-deprived parents. I did have initial concerns about it being a suffocation threat, but after observing my baby, I found that they can easily spit it out when they no longer want it. Holding the stuffed animal across my baby's chest also prevents the pacifier from falling out when I'm carrying them. Cleaning it can be a bit of a process, but it's well worth the effort.
---
Natursutten Natural Rubber Pacifier
Best One-Piece Pacifier
Prevent your baby from breaking their pacifier while simultaneously giving them more control over it with this special one-piece design. Unique and hygienic, it'll change the way you see pacifiers.
Unlike most baby pacifiers, which often have an attached handle or shield, this single-piece design is made of all-natural rubber. A single rod connects directly to the shield which blends perfectly into the rounded nipple. With no joints or crevices, there's nowhere for dirt and bacteria to get trapped and accumulate.
Your child will also have an easier time grasping this pacifier to hold it in their mouth or remove it when they don't want it. While moms may not always appreciate this independence, your baby sure will.
The soft and supple shield is designed to touch your baby's nose to mimic the feel of your breast. This not only helps to prevent nipple confusion for breastfeeding babies but also comforts and self-soothes.
Pros
Unique, one-piece design offers multiple benefits.
Made of all-natural rubber that's soft and supple.
Simulates the feel of your breast.
Cons
The all-rubber design emits a strong, rubbery scent when it's warm.
Our Ratings
Community Feedback
In my experience, this pacifier has been well-received by my baby, and I appreciate that it's made from natural rubber. The small nipple size is particularly helpful for newborns, though the silicone can be a bit "sticky" and require some extra effort to clean. While some reviews mention a faint rubber smell and concerns about the pacifier tearing, I found that following the manufacturer's guidelines for care and replacement helped alleviate those issues.
---
MAM Clear Orthodontic Pacifier
Best Orthodontic Pacifier
The orthodontic nipple on this pacifier will protect your baby's developing teeth and jaw. And the soft silicone feels more like the real thing.
The shield has a textured surface and several holes to help the air circulate and reach your baby's nose. It can also stop your baby from getting a sweaty face or rash when using the pacifier in the summer.
MAM pacifiers have a knob on the back which makes them easier to grab. Babies from newborn to six months can use these pacifiers, which come in a set of two.
Pros
Can be used with a pacifier clip.
Comes with a sterilizing case.
Won't leave marks on your baby's face.
Cons
Hard to clean as moisture gets trapped in the nipple.
The shield is a little big for smaller newborns.
Our Ratings
Community Feedback
My experience with these MAM pacifiers has been nothing short of amazing, as they are the only ones my breastfed baby would accept. The quality and durability of these pacifiers are impressive, making them a reliable option for my little one. I have tried numerous other brands like Wubba Nub, Riley Rose, and Itzy Ritzy, but these MAM pacifiers stand out due to their non-slip design which prevents them from falling out while my baby sleeps, helping extend nap times. Additionally, the included case can be used to sanitize the pacifiers, adding a touch of convenience to the overall experience. I am thoroughly satisfied with this product and have even recommended it to friends who have also found success with their newborns.
---
Smilo Orthodontic Pacifier
Best Pacifier for Lip Tie
These Smilo pacifiers are designed for newborn babies but still come with a variety of cute colors, prints, and sizes. The bigger-sized nipple expands during soothing thus supports the palete to prevent your babies from crossbites. The medical-grade nipple is BPA free.
When it comes time to cleaning the pacifier, you can pop it in the dishwasher, which is a nice time saver for busy moms who worry about germs and bacteria.
With no noticeable smell or taste, they work especially well for babies who are breastfeeding.
Pros
More affordable than many other brands.
Ring-style handle is easy for babies to grab.
Shield includes air vents to prevent a too-tight seal.
Cons
It may be heavy for newborns.
Our Ratings
Community Feedback
My experience with these glow-in-the-dark pacifiers has been mostly positive, as they have made nighttime soothing much easier for both my baby and me. The pacifiers are recommended for babies aged 9 months to 1 year, and my little one has adapted well to the shape, even though it's different from what he's used to. Although the pacifier's light color can make it difficult to find during the day, we have yet to lose any of them. The quality of the materials seems to be better than what we've found in stores, but be careful not to step on them, as the plastic can crack or break. One downside I encountered was that water can enter the bulb when cleaning, which may lead to mold growth; overall, I'd rate these pacifiers 8 out of 10.
---
NatureBond Baby Fruit Feeder and Teether
Best Pacifier for a Fussy Baby
Unlike a traditional baby pacifier, the NatureBond Baby Fruit Feeder and Teether is meant for more than sucking. Teething babies and toddlers love the wide nipple design, which is made for chewing, rather than suckling. It both soothes and delights fussy babies and toddlers.
The pieces open so the nipple can be filled with bits of baby food or frozen breast milk to soothe sore gums and stimulate baby's appetite for solid food in a safe manner.
Designed for easy washing, this pacifier is easy to dismantle and is dishwasher safe, ensuring every piece gets fully cleaned.
Pros
Fully dismantles for easy cleaning.
Free of BPA, phthalate, latex, and lead.
Won't gag infants and smaller babies.
Cons
Better for feeding and teething than soothing babies to sleep.
Our Ratings
Community Feedback
My experience with this baby feeder has been wonderful, as it not only helped introduce my firstborn to fruits but also proved to be a useful teething aid for my second child. I've found it convenient to take along when dining out, allowing my little one to safely munch on various fruits and veggies while we eat. This versatile product is an excellent way for parents to introduce their babies to solids and provide relief for teething babies - I've even tried freezing breast milk in it for added comfort.
---
Philips Respironics Wee Thumbie Pacifier
Best Pacifier for Preemies
These pacifiers were created to comfort and soothe the smallest of babies — those under 30 weeks of gestational age. The pacifier was designed to be the size and shape of a preemie's thumb for a natural sucking experience.
For your baby's safety and to ensure good hygiene, the company recommends that you replace this pacifier every four weeks. If your baby is an older preemie, you won't require many replacements. But if you have a younger preemie, you could be replacing this three times before they outgrow it.
Pros
It fits tiny preemie mouths.
Free of harmful chemicals.
Helps preemies learn important sucking motions that are usually learned before birth.
Cons
Requires sterilization before first use.
Needs to be replaced often.
More costly than standard pacifiers.
Our Ratings
Community Feedback
Excellent pacifier specially designed for the tiniest of babies, under 30 weeks of gestational age. This pacifier is the perfect size and shape, mimicking a preemie's thumb, providing a natural sucking experience. I appreciate that it's free of harmful chemicals and helps preemies learn essential sucking motions. However, it does require sterilization before first use and needs to be replaced more frequently than standard pacifiers, making it a bit more costly.
Does My Baby Need a Pacifier?
In a nutshell, pacifiers are nipples that babies can suck on, but they differ from baby bottles because they aren't used for feeding — they are solely used for comfort.
If you have a baby who won't stop crying, a pacifier can be one of the best tricks for providing comfort. If your baby continues to suck on a bottle even after it's empty or seems to suckle your breast without any intention of drawing milk, they might find a pacifier soothing. The same is true if you see them sucking their fingers or toys.
If your baby is generally content between feeds and doesn't seem to have any extra need to suckle, there's no need for a pacifier.
How to Choose the Best Pacifier
Pacifiers vary in size, nipple shape, and style. These are the factors we considered for evaluating the best pacifiers.
Size: Pacifiers are generally sized by age, with recommendations posted on the package. Usually, the breakdown is for 0–6 months, 6–18 months, and 18+ months. This is important because a smaller pacifier can be a choking hazard for a bigger baby because they can fit the whole pacifier in their mouth.
Nipple material: Pacifier nipples are usually made of silicone or latex. Latex is generally softer, but some babies may have latex allergies, so you should watch for reactions upon early usages. Silicone is the more popular choice for pacifiers, and it can also be cleaned in the dishwasher.
The shield: The shield is what stops your baby from sucking the pacifier fully into their mouth, which is a choking hazard. It needs to be big enough to prevent that from happening. A good benchmark is that the guard should be 1.5 inches or bigger.
---
When Should I Introduce a Pacifier?
It's a good idea to wait until your baby has mastered breastfeeding before introducing a pacifier. Because breastfeeding and pacifiers use different sucking motions, implementing one too soon may cause nipple confusion and prevent a proper breastfeeding latch (1).
Try introducing a pacifier around the one-month mark, provided your baby is gaining weight and appears to be doing well with breastfeeding. If your baby is still having issues with breastfeeding at this age, hold off on introducing the pacifier to prevent confusion. If you're finding it too difficult to hold off, search for a pacifier that's designed to have a similar feel to breastfeeding.
Advantages of Using Pacifiers
The American Academy of Pediatrics (AAP) states that when used correctly, it's perfectly fine to give your baby a pacifier (2).
One of the biggest advantages of using pacifiers is that they could potentially save your child's life. Studies have shown that babies who use pacifiers while they are sleeping are at a lower risk of SIDS (Sudden Infant Death Syndrome), with some studies saying the risk may be decreased by up to 90 percent (3).
These are some other advantages of pacifiers:
They can soothe and distract babies during vaccinations: Vaccinations are hard babies. They're painful and the effects can be felt sometimes for a few days. Pacifiers can help with that.
They may help your baby fall asleep: If you have a baby who fights sleep, pacifiers can help them drift off while cutting back on their crying. They help babies learn to self-soothe, especially breastfed babies who get a lot of comfort from their mother's breast.
They're good for flights: Pacifiers are perfect for helping babies feel more comfortable on airplanes. The sucking motion may help their ears pop, which can reduce crying.
Disadvantages of Using Pacifiers
If your little one continues to use the pacifier past her second birthday, there may be dental implications. They may develop what is known as pacifier teeth, which are tooth and oral development complications caused by using a pacifier for too long.
To cut back on the risk of future dental problems, make sure your baby has broken their pacifier habit by the time they are two years old.
There are other disadvantages too:
They accumulate germs and bacteria: Babies are constantly dropping pacifiers, and often they do it when they are away from home and there is no good way to clean them. I've seen parents put the pacifier in their own mouths as a way to clean them. But this is a bad idea as you risk introducing additional bacteria from your mouth (4).
Weaning your baby from pacifiers can be hard: It can take months to break the habit. The process is often rough on babies and on parents who have come to rely on the pacifier to soothe their baby.
Heavy pacifier use might lead to a bigger risk of ear infections: Some studies have linked pacifiers to ear infections, a common problem in babies. To reduce your baby's chance of ear infections, you can limit their pacifier use to times when they are trying to get sleep and remove it once they are fully asleep (5).
When Should a Pacifier Be Replaced?
Pacifiers can wear out with use and potentially become a safety risk, especially if your baby begins chewing on them instead of just sucking on them.
Here are some common signs that you need to replace your baby's pacifier:
The nipple is beginning to tear.
Any part of the pacifier is cracked, broken off, or seems to be loose.
The nipple is sticky.
The pacifier is discolored.
How Many Pacifiers Do I Need?
Pacifiers are easy to lose, so it's best to have more than one on hand.
3 Or 4
We recommend having
a minimum of three or four pacifiers of the style your baby most prefers
.
It's a good idea to keep one or two pacifiers in your diaper bag and have at least two more at home. They are cheap enough that it won't hurt your budget if you buy extras. It's better to have too many pacifiers than not enough.
I like to keep a few pacifiers in the crib because it makes it easier for my baby to find one at night and go back to sleep without fully waking and getting upset.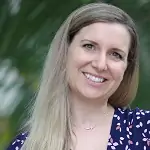 Editor's Note:
Katelyn Holt RN, BSN, BC
Pacifiers FAQs
---
Thank You For Your Feedback!
Thank You For Your Feedback!