Spoons don't get a lot of love. After all, a spoon is just a spoon, right?
It turns out, it's a little more complicated than that (isn't it always moms?). Spoons are made of varying materials, and you should pay attention to that when selecting something that your baby will put in their mouths and chew on repeatedly.
Here's all the information you'll need to help you select the best baby spoons for your child.
Image
Model
Product Comparison Table
Features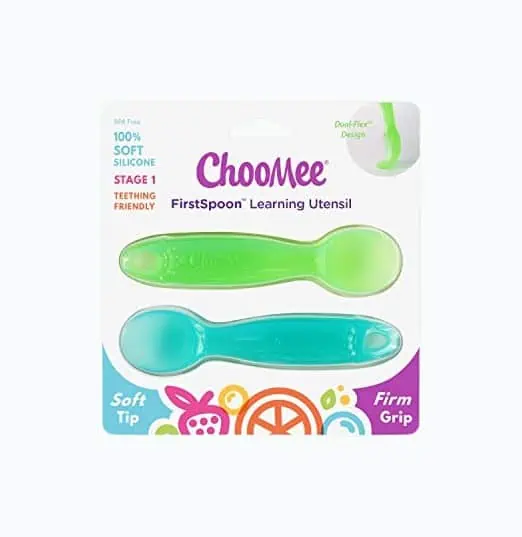 Best for Self Feeding
ChooMee First Spoon Learning
Flexible spoon helps grip food
Teething and weaning friendly
Helps master self-feeding
Best Organic Spoons
Avanchy Bamboo Spoons
Top-notch handcrafted box
Made of safe materials
Easy to clean
Best for Teething
Olababy Silicone
Much smaller than most brands
No staining, easy to clean
Portable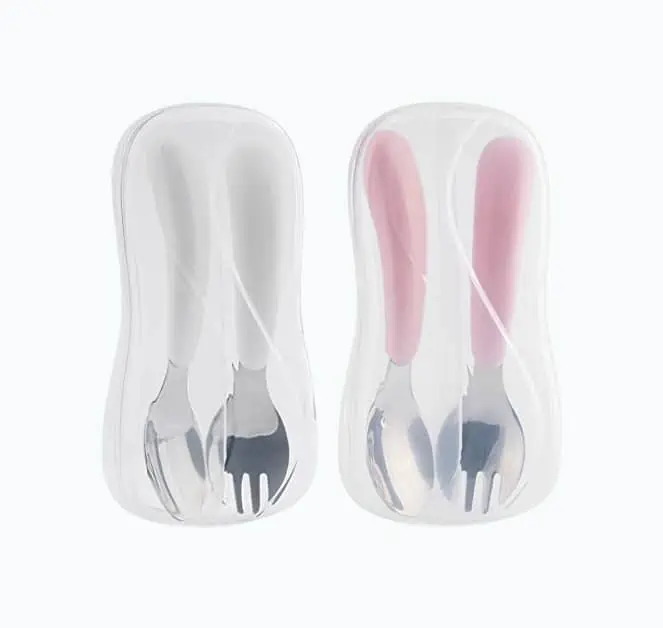 Best Fork and Spoon Set
Kirecoo Set
Cute, minimalistic appearance
Perfect for traveling
Latex, lead, BPA & phthalate-free
Best for Infants
BabieB BPA Free
Soft silicone and shallow spoon
Dishwasher safe design
For long term use
Best for Ergonomics
Kizingo Curved
Very broad, easy-to-hold handle
Designed by healthcare professionals
BPA, lead and latex-free
Best Plastic Spoons
First Years Take & Toss
12 spoons at an affordable price
Assorted bright colors
Dishwasher safe and BPA-free
Best Stainless Steel
ChillOut Life Kids Silverware
Engraved patterns
BPA and lead-free
Easy grip handles
Best Silicone Spoons
Beaba First Stage
Comfortable to hold
Easy on teeth and gums
Dishwasher safe
Best for Small Mouths
Boon Swap Utensils
Dishwasher safe and non-toxic
Flat and slightly angled tip
Silicone and stainless steel
---
---
The Best Baby Spoons of 2023
Here are 10 great baby spoons to consider.
ChooMee First Spoon Learning
Best Spoon for Self Feeding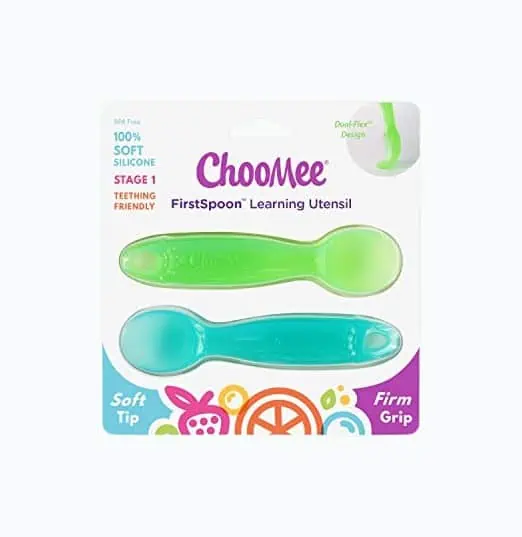 These spoons aren't rigid, which makes them easier for your baby to use until she brushes up on her fine motor skills. While the necks are bendable, the handle remains firm, which will give your baby a good grip.
Two spoons are included in a pack, and they're made out of BPA-free silicone. They feel soft in your baby's hand. Because they are so soft, you won't go crazy from hearing your baby make a repeated clanging noise by striking her spoon against a high chair when she'd rather play an impromptu instrument than eat.
These are different in that they have a cutout in the scoop part, i.e., the spoon isn't solid there. That helps your baby because if they aren't able to scoop up baby food, at least some food will get trapped in the hole in the process. That way, they won't get frustrated in the beginning when they're unable in the beginning to get the scooping motion right.
Pros
Flexible spoon helps grip food.
Teething and weaning friendly.
Helps your baby master self-feeding with less frustration.
Silicone.
Cons
These are a bit pricey.
Won't work well for really runny foods — it's better for purees.
Our Ratings
---
Avanchy Bamboo Baby Spoons
Best Organic Baby Spoon
This set is practical but feels quite luxurious, these are made of food-grade organic silicone and bamboo, so you can feel good about every bite your baby takes. The bright colors of the spoons will attract your baby's eye, but it's the safety of the materials that will attract yours. Each handle has a smiley face on the end, which your baby will notice when she uses them.
For cleaning, you'll need to remove the silicone heads which you can just pop into the dishwasher. The wooden handles should only be washed by hand.
Although your baby would have to be super strong to pull the heads off the handles, you'll need to supervise feeding time to make sure that doesn't happen — you don't want your baby to choke on the spoon tips. But that won't require any extra work on your part because you should always be in the room when your baby is eating anyway.
Pros
Top-notch handcrafted box that comes with the spoons.
Safe materials for those who avoid plastic.
Easy to clean.
Silicone.
Bamboo, which is a renewable resource.
Cons
Can be more of a choking hazard without supervision.
More expensive than plastic spoons.
Our Ratings
---
Olababy Silicone Training Spoon Teether
Best Teether Spoon Combo
These spoons from Olababy not only look adorable with their chunky leaf design, but they're also super practical. The spoon handle is flexible and ergonomically designed for small hands, plus the base makes it so you can stand the spoon upright, for added hygiene.
Made of food-grade silicone, these look like toys and are a nice gentle way to introduce your toddler to self-feeding while they're still teething. The soft, flexible tip won't damage tender gums, and you can throw them into the dishwasher when you're done.
Pros
Much smaller than most brands, so easier for toddlers to use themselves.
No staining and easy to clean.
Portable.
Silicone.
Cons
May have a slight chemical odor.
Some parents find the scoop is too large and flimsy.
Our Ratings
---
Kirecoo Baby Fork and Spoon Set
Best Spoon and Baby Fork Set
This set includes a pair of fork and spoon and a handy travel carrying case so you can safely take your baby's favorite utensils with you on vacations.
They hold plenty of food and the forks are shaped just like a spork, so your baby will get some of the food-stabbing ability that a fork offers, along with the safety of a spoon. The round edges of the fork are soft, which will protect your baby's cheeks and hands, as well as any other body part they might accidentally stab in their haste to get food into hungry mouths.
The brightly-colored utensils will keep your baby's interest and the non-slip material of the handles will allow your baby to keep a firm grip. The handles are thick, which will stop them from slipping from your child's hands as they come to grips with this whole eating business. The handle is plastic but are latex-free, lead-free, BPA-free, and phthalate-free.
Pros
Cute, minimalistic appearance.
Perfect for traveling or at home use.
A safe option for exploring the world of forks.
Latex-free, lead-free, BPA-free, and phthalate-free.
Cons
Only comes with one pair.
The fork won't pick up food as easily as a traditional fork because of the rounded, spork-like design.
Our Ratings
---
BabieB Soft-Tip First Stage Silicone Infant Spoons
Best for Infants
The littlest babies require the most care. With a smaller, sensitive mouth, your infant needs the right kind of spoon to help them build good eating habits and enjoy mealtimes. This set of silicone spoons was designed with infants in mind.
These spoons can be used as early as four months and feature gum-friendly soft silicone tips. The edges are nice and smooth to ensure there isn't any cutting or scraping against the gums or teeth. Because the spoon is shallower than regular spoons, it holds the perfect amount of food for your baby's tiny mouth.
Unlike harder plastic spoons, these have a slight bend so you can scoop up food at any angle. As your infant gets a little older, the non-slip handle can be easily held in their chubby hands. We love that these spoons help your child feel more confident and comfortable as they learn to feed themselves.
Each set comes with five brightly colored spoons.
Pros
Soft silicone and shallow spoon shape is perfect for tiny infants.
Dishwasher safe design.
Can be used as your baby grows bigger.
Cons
Certain foods, such as carrots, can discolor the clear silicone tips.
Our Ratings
---
Kizingo Curved Baby Spoon
Best Ergonomic Baby Spoon
Though this spoon from Kizingo doesn't look much like a spoon, it's likely to be far easier to manage than a longer, thinner one. The handle is large and chunky, and angles the scoop towards your toddler, so it's easier for them to get the food where they want it.
They come in a range of colors and their curvy shape means they stay in the bowl instead of flipping over and flinging food everywhere. They're dishwasher safe, plus there are different models for both left- and right-handed children. This specific model is for right-handed tots.
Pros
Very broad, easy-to-hold handle.
Less intimidating to toddlers.
Designed by a healthcare professional.
BPA-free, lead-free, latex-free.
Cons
Expensive for a spoon.
Some kids will find the design strange and refuse to use it.
Our Ratings
---
The First Years Take and Toss Spoons
Best Plastic Baby Spoon
Don't let the name fool you. These hold up well, wash after wash. But for a dirt cheap price, you get 12 spoons. So you can just shrug your shoulders if you lose one and go about your business.
A big pack for such a low price would have been nice when I was a new mom. Trying to keep track of all my baby spoons was a nuisance. They would get shoved down to the bottom of my diaper bag and I would spend way too much time unpacking it just to find the spoon so I would have enough for a day's worth of feeding without having to do dishes constantly.
While these brightly-colored spoons are nothing fancy, they are durable, dishwasher safe, BPA free and the perfect size for a baby's little mouth.
Pros
A lot of spoons at a very affordable price.
Assorted bright colors.
Dishwasher safe.
BPA-free.
Cons
Since they are a little deep, your baby may have trouble getting all the food out of it.
The handle is short.
Our Ratings
---
ChillOut Life Kids Utensils Silverware Set
Best Stainless Steel Utensils
Some toddler utensils are designed purely to look cute, but can be uncomfortable or downright dangerous to use. This set, however, has been designed to be gentle for toddlers. You get 5 knives, 5 spoons and 5 forks all made of durable stainless steel that's non-toxic and easy to clean.
Lots of care has been taken to make sure every edge is smooth and won't cause any damage. If your toddler already has an impressive set of chompers, it's OK to introduce harder cutlery and see how they fare. They might appreciate graduating to a more grown-up looking set.
Pros
Engraved patterns won't fade away.
BPA and lead-free.
Easy grip handles.
Cons
Because they're not sharp, the tines on the fork don't "stab" food very well.
Similar fruit design per set.
Our Ratings
---
Beaba First Stage Baby Feeding Spoon
Best Silicone Spoons
This four-pack of silicone spoons can ease the concerns of parents who are worried about exposing their baby to harmful substances. These spoons don't contain BPA, lead, and phthalate, so parents can start introducing baby food with one less worry on their minds.
The silicon provides a gentle substance for your baby's teeth and gums when they bite down on the spoon. All kids do it when they're learning to feed — it's how they learn, through trial and error.
The spoons utilize an ergonomic design, which makes them comfortable for reaching your baby's mouth — no matter how awkward the angle. The handle is long enough that you won't get baby food all over your hands as you try to get that last scoop out of the bottom of the jar.
The spoons only hold a small amount of food because of their shallow design. That's great for new parents who aren't quite sure how much of a bite a baby can handle at one time. It will cut down on the risk of your child choking or coughing as they're trying to eat.
Pros
Comfortable for parents to hold.
Easy on your child's teeth and gums.
You have a choice of colors.
Dishwasher safe on the top rack.
Cons
The lighter-colored spoons sometimes stain from baby foods.
The spoon is heavy on the top, so it might tip over shorter lightweight bowls.
Our Ratings
---
Boon Swap Baby Utensils
Best Small Baby Spoon
These simple spoons are not like others in that they're a lot more streamlined and narrow. Their longer length is ideal for feeding your child and making sure they're making as little mess as possible. They are actually a 2-in-1: flip it over to select between the plastic or the metal end, depending on your needs.
Experiment to find out which side your baby prefers, or change it up according to what you're feeding that day. These are also on the smaller side where the scoop is concerned, which may be some babies' preference.
Pros
Flat tip makes it easy to clean food away from the side of your baby's mouth.
Dishwasher safe and non-toxic.
Slightly angled tip allows you to scrape food out of storage containers or bowls easily.
Silicone and stainless steel.
Cons
Plastic tips can stain.
Some parents find the angle too steep, causing the spoon to be tilted vertically when in baby's mouth.
Our Ratings
Are Baby Spoons Really Necessary?
You might be wondering if you can just get away with using a regular old steel spoon to feed your baby. After all, if it's good enough for you to eat with, shouldn't it be fine for a baby?
Some old-school parents will shrug and say that you can feed a toddler just fine without buying yet another special tool. And it might be tempting to use that fancy engraved silver spoon you got as a baby shower gift for mealtimes.
But most feeding authorities recommend using a shallow, plastic children's spoon for feeding, since it's easier for them to eat from and won't hurt their delicate mouths. If you have an older toddler with more teeth, or you're in a pinch because all your plastic spoons are in the dishwasher, a metal one now and then likely won't cause any harm.
That said, plastic spoons are pretty cheap, so it makes sense to have a few on hand that are just for feeding your little one.
Different Kinds of Baby Spoons
For parent feeding:
Silicone Spoons: Most spoons are made of soft, smooth silicone that can easily be thrown into the dishwasher and are safe for kids to chew on as they learn to eat. Which are BPA free, unlike materials like plastic which can contain harmful chemicals.
Bamboo Handled Spoons: These are biodegradable and super cute to look at, with a detachable plastic spoon part that can be washed separately.
For self-feeding:
Combined Spoon and Teether: Some spoons are made a little larger with a more chewy texture, for those teething kids who to bite down on as they eat. The teething element may encourage some kids to use the spoon.
Shaped/Ergonomic Spoons: Little hands can be clumsy and a spoon is hard to hold. This style of spoon is usually chunkier and shaped to help toddlers get to grips with their fine motor skills.
How to Choose Baby Spoons
To make sure mealtimes go smoothly, you'll want to pay attention to several factors when selecting the best baby spoons.
---
How Do I Spoon Feed My Baby?
Make sure to wash the new spoons you buy your baby before the first feeding. Before you start, you'll want to make sure your baby is actually ready for spoon-feeding. Generally, if your baby is watching every move you make when you have a piece of food in your hand and is reaching for it, they're ready.
When you first introduce a spoon to feeding sessions. Make sure they're sitting upright, strapped into the high chair, then place the spoon with food on it at the top of their mouths. You don't want to jam the spoon in too far because you'll make your baby gag.
Don't feel like you need to overload the spoon either — you don't need a heaping pile of food. Offer just enough to keep your baby interested. Feeding isn't a race, even though sometimes you're strapped for time.
Gently guide the spoon into and out of their mouths again, and don't worry if a lot of it ends up on the bib! Babies will eat an amount that seems minuscule to you, but it's OK to set the bowl aside once they've truly lost interest. Introducing solids is a learning experience (breastmilk and formula should be the primary source of nutrition until they are 1) and also to help prevent the development of allergies (1). Just remember in a few short months, they'll be yanking that spoon out of your hand and you won't have the luxury of getting to feed them anymore… so enjoy it while it lasts!
When Can I Introduce a Baby Spoon?
Typically it is best started between 4 and 6 months of age, right around the time your baby is sitting up independently and able to put toys, etc into their own mouths. Your baby has grown used to eating by pushing their tongues out to latch onto your breasts, but when they wean and eat solid foods, they'll have to learn to maneuver their tongues inward.
Though breastfeeding is recommended until at least 6 months of age (2) you can begin introducing occasional solid food with a spoon before this. Look for the following signs that your baby is ready to try experimenting with soft cereals or purees:
They have enough muscle strength to hold their heads upright.
They're four months or older.
They've begun putting toys or teethers into their mouths.
They're drooling more.
They seem interested in what adults are eating.
When Should Babies Spoon Feed Themselves?
Adults take it for granted, but controlling a spoon successfully is no mean feat!
Self-feeding with a spoon is one of those milestones that varies a lot between children. It's important to remember that mastering spoon a skill that is not done overnight; rather, you'll see your baby make gradual improvements over time.
Some toddlers will start trying to do it themselves around the one-year mark, although they often won't be very successful! Let your child tell you what they're ready for and when, as we all develop at our own pace. They may need your help for a while and then master self-feeding all at once, or they may start early on but need more of your assistance as they fine-tune their motor skills (3).
Whatever the case, don't worry too much. Children invariably learn to use utensils by around 18 months and by the time they're 3 or 4 years old, they'll have good control and can learn other table manners.
Toddler Spoon FAQs
---
Thank You For Your Feedback!
Thank You For Your Feedback!