When choosing your baby's first foods for , there are so many options. If you're looking for high-quality organic baby food, you'll want to read this article.
We'll go over what makes a product organic and why you might want to choose organic products.
I'll also share the best organic baby foods I've found in my hunt for healthier options for my little one. These picks are based on taste, organic quality, cost, and convenience. These products have great reviews by thousands of other parents and babies who use them regularly.
Keep chemicals and pesticides out of your little one's diet, and be a part of promoting good environmental practices by feeding your baby these tasty organic baby foods.
Image
Model
Product Comparison Table
Features
Best First Cereal
Earth's Best Organic
Gentle on immature stomachs
Works well with other foods
No added salt or sweeteners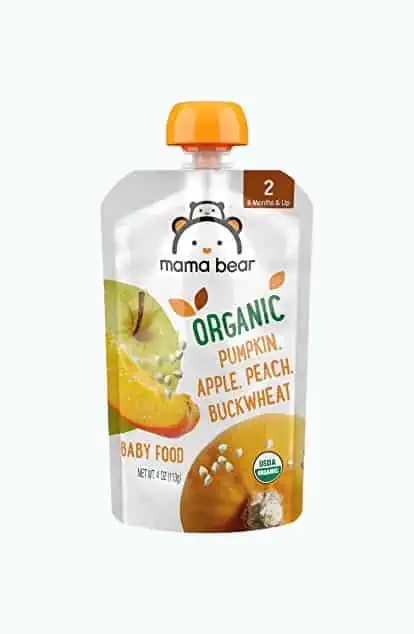 Best Kosher Food
Mama Bear Organic Baby Food
Lots of flavor options
Gluten-free and kosher
Convenient pouches
Best Food Pouch
Peter Rabbit Organics
Various temperature serving options
Easy to consume
BPA-free packaging
Best Organic Snack
Happy Baby Teething Wafers
Dissolves quickly
Helps with teething pain
Encourages self-feeding
Best Fortified Cereal
Gerber Single-Grain
Pediatrician recommended
Ideal first solid starter
Easily digestible
Best Stage Two Puree
Happy Baby Organic
Four flavor options
Organic
Clear packaging description
Best Variety Pack
Plum Organic
Exciting flavor combinations
Easy to squeeze onto a spoon
Unsweetened, unsalted, kosher, non-GMO
Best Dairy Formula
Earth's Best
Similar formula to breast milk
Sourced from organic-compliant farmers
Includes both lutein & prebiotics
Best Probiotic Cereal
Gerber Baby Cereal Probiotic
Promotes digestive health & learning ability
No artificial flavors or sweeteners
Non-GMO
Best Resealable Pouch
Happy Baby Pouch
Certified USDA organic
Made with U.S.-grown pumpkins
Fully resealable
Review Methodology: At Mom Loves Best, we understand the importance of choosing the best organic baby foods for your little one. Our thorough research, hands-on experience, and data analysis allow us to evaluate products from a user's perspective and demonstrate our expertise in the reviewed products. We compare and rank organic baby food options based on key decision-making factors such as ingredients, taste, nutritional value, and safety standards. Our assessment includes quantitative measurements of a product's performance, design choices, and their effect on users. By identifying what sets a product apart from its competitors, we provide first-hand supporting evidence when recommending the best organic baby foods. Trust Mom Loves Best to guide you in making an informed decision for your child's health and well-being.
---
---
The Best Organic Baby Foods of 2023
Here are 10 great organic baby foods to consider.
Baby Cereals
Baby cereals can be a great way to
ease into solid food
. You can start by using cereal to thicken up formula or breast milk. You can also add it to
pureed foods
for a more filling meal.
Earth's Best Organic Rice Cereal
Best First Cereal
Earth's Best has been in the baby food industry for over 30 years. The company is a trusted name in baby food and has an established organic line. I love that the ingredients in this cereal are all natural and created to support the growth of a developing baby.
This rice cereal is made with whole grains and fortified with iron. Iron is great for developing babies, and it can be hard to get from other sources. Rice cereal is often recommended as a first cereal option, as it's easy for a baby to digest.
There are no artificial dyes, preservatives, or flavors. This cereal is certified organic and GMO-free and has a smooth consistency and texture, mixing well with both purees and liquids.
Pros
This rice cereal is gentle on immature stomachs.
It's easy to introduce and works well when added to other foods.
No added salt or sweetener.
Cons
The lack of preservatives means a short shelf life — plan to consume within 30 days of opening.
Our Ratings
Community Feedback
From the moment I introduced this rice cereal to my baby, they've been enjoying it without any issues. The texture is thinner than other brands, making it easy to mix and digest. It's been a lifesaver in reducing spit-ups and gagging, and I appreciate that it's organic and doesn't contain soy. However, the packaging could use some improvement, as it doesn't seal well once opened, and the opening is too large, causing spills during the pouring process.
---
Gerber Organic Single-Grain Oatmeal Cereal
Best Fortified Cereal
Gerber is possibly one of the best-known brands in the baby business. Gerber produces organic and non-organic foods, but this single-grain oatmeal comes from the company's organic line.
This cereal is fortified with additional vitamins that are great for your growing baby's needs. The included iron helps learning development, while vitamin A supports vision and a healthy immune system. It's also fortified with six different B vitamins, plus vitamin E, calcium, and zinc.
It's great that there are no GMO ingredients in this, either. It's oatmeal-based, so it's an excellent second cereal to introduce to an established eater.
This is also a good option for adding to pureed food. It provides a nice texture while thickening the food, and children love its taste.
Pros
Heavy enough to satiate your baby for longer periods.
Digests well for an oatmeal cereal.
Cons
The pour spout is large, which can make accurate dispensing difficult during food preparation.
Our Ratings
Community Feedback
Excellent cereal for my infant as it's gentle on their stomach and has a nice consistency and flavor. This cereal has been great when mixed with yogurt, puréed fruits, or bone broth for added texture. However, be cautious if your baby has a wheat allergy or intolerance, as this product contains wheat which may cause a reaction.
---
Gerber Baby Cereal Probiotic
Best Probiotic Cereal
This oatmeal and banana probiotic cereal is a non-GMO recipe made with real fruit, 11 grams of whole grain per serving, and iron to help support learning.
It's the #1 pediatrician-recommended brand of baby cereals. As your little one grows and changes every day, adding probiotic cereal to their diet is a great choice. It aids their developing brains and bellies.
As your little one grows, real fruit, veggies, and grains can provide invaluable nourishment. Plus, parents love how tasty this cereal is for their babies.
Lastly, this cereal is a great way to introduce spoons and self-feeding to your child. This cereal can expand their taste palate and teach them how to control their hands with less mess than regular cereal.
Pros
Supports growing babies.
Promotes digestive health and learning ability.
No artificial flavors or sweeteners.
Non-GMO.
Cons
May discolor cups and plastic serving dishes.
Our Ratings
Community Feedback
I'm quite impressed with this baby food and its value for money. My child enjoyed it as an addition to her formula, and it has remained a favorite even as she grew older. The flavored rice cereal is not only tasty but also nutritious, making it an excellent choice for infants and even adults. I found that the size of the bottle is just right, allowing for easy switching between flavors.
---
Purees
When your baby is ready to take the next step in solid foods, you'll probably want to introduce a puree. These are frequently labeled according to how fine the puree is. The lower the number, the more suitable the puree is for a new eater.
Mama Bear Organic Baby Food
Best Kosher Food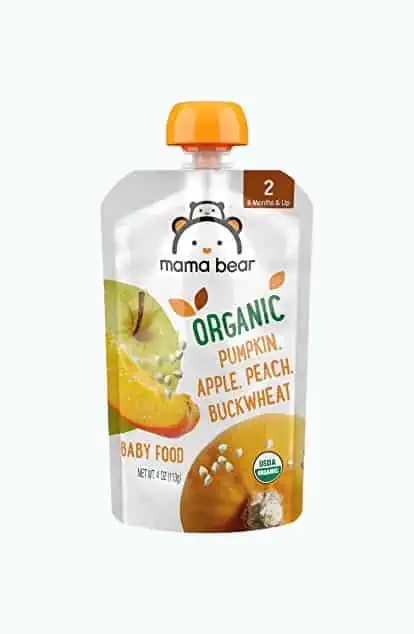 This food is USDA organic, made with non-GMO ingredients, gluten free, kosher, and made without artificial flavors or coloring. Most importantly, it's a tasty stage two puree! Perfect for babies over 6 months old, this pumpkin, apple, peach, and buckwheat food is guaranteed to satisfy your little one. There are also plenty of other flavors to choose from.
Mama Bear baby food is packed with goodness. The company is committed to ensuring your little one gets all the good stuff and none of the bad. This helps your baby grow and stay healthy during this critical stage of their life.
Many parents who made their own baby food switched to this when they returned to work. They still felt good about giving it to their little one, but it also saved them time, as they didn't have to make the food from scratch anymore.
Pros
Lots of flavor options.
Kosher and gluten-free formula.
Convenient pouches.
No added salt.
Cons
Very watery consistency.
Pouches leak easily.
Our Ratings
Community Feedback
From my personal experience, these fruit puree pouches have been a fantastic healthy snack option for both adults and children. I've found the taste to be great, with no added sugars and a variety of flavors that appeal to my toddler and even my husband. While I wish the packaging was clear to see the contents and possibly offered larger sizes for older kids, these pouches remain a convenient and nutritious choice for our family.
---
Happy Baby Organic Variety Pack
Best Stage Two Baby Puree
This variety pack is great for stage two eaters. There are four flavors of organic fruit and veggie purees, so your little one can get to know different foods. This pack includes the following:
Pear, squash, and blackberry.
Apple, kale, and avocado.
Apple, guava, and beet.
Pear, kale, and spinach.
These healthy packs are perfect for seeing babies through a shopping trip, your friend date at a coffee shop, or that afternoon lull.
Happy Baby crafts and packages their purees mindfully, ensuring that these are suitable for stage two eaters. The food is healthy, organic, and easy to consume. On the back of the pack, you can see exactly how much of each ingredient is inside. Plus, they have a transparent part of the bottle, so you can see the vibrant colors for yourself.
Customers rave about how happy their babies are when eating these. They're delicious blends that will introduce your child to fruits and veggies so they will love them later in life too.
Pros
Four flavor options.
Easy to self-feed.
Clear packaging description.
Cons
Nutritional value is not listed on the product.
Plastic packaging is not eco-friendly.
Our Ratings
Community Feedback
Excellent organic pouches that have become a favorite for my 1-year-old. These convenient and travel-friendly snacks provide a simple solution for incorporating fruits and vegetables into my child's daily routine. I appreciate that they cater to my busy schedule, and I can trust the quality of this organic product. Plus, my toddler enjoys choosing the color and flavor each time, making snack time a fun and enjoyable experience for both of us.
---
Food Pouches
Food pouches
can be a great option when you're on the go. Do you have an eater who's beginning to gain some independence? You'll love how these provide them an opportunity to self-feed while avoiding the accompanying mess.
Peter Rabbit Organics
Best Pouch for Sneaking in Extra Greens
This apple, pea, and spinach medley can be an excellent option for getting in those extra nutrient-rich greens. The apple provides the medley with appealing sweetness your baby will love.
What I like about the Peter Rabbit Organics line is that it's certified 100% organic, and the packaging is BPA-free. Nothing is hidden in the ingredients — it's all natural and made from whole foods.
The sealing process for these pouches enables them to be kept at room temperature before opening. Once opened, they may be refrigerated but won't keep for long.
Peter Rabbit Organics doesn't add any water to its products. Every pouch counts as a single, complete serving of fruits and vegetables. At 4.4 ounces, it's the perfect size for an on-the-go snack.
Pros
Can be served at room temperature, chilled, or warmed.
Easy to consume directly from the pouch.
Cons
No added water means the puree is thicker, which may not appeal to some children.
Our Ratings
Community Feedback
My experience with these Peter Rabbit Organics pouches has been fantastic for both my kids and myself. The flavors are tasty and the convenience of the pouches makes them perfect for on-the-go snacking. I appreciate the organic ingredients and the fact that they're low in sugar, which makes me feel good about giving them to my children. However, the price can be a bit steep, but the quality and convenience make it worth it for our family.
---
Plum Organic Baby Food
Best Fruit and Vegetable Medley Variety Pack
These fun fruit and veggie medleys will appeal to a wide variety of taste preferences. This company uses fruits and vegetables frequently passed over, offering a refreshing change of pace.
All the ingredients in Plum Organic products are organic. They're also unsweetened, unsalted, kosher, and produced without GMOs.
The cap is recyclable, and the pouches are resealable when you don't make it through the entire serving. Just make sure to toss it after it's been open for 24 hours.
This product's packaging is entirely BPA-free. While some of the tropical ingredients are sourced outside the United States, the puree is made stateside. Ingredients are sourced locally from United States farms when possible.
These are the perfect addition to your diaper bag snack stash. They also roll well from the bottom up, preventing unnecessary food waste.
Pros
Exciting flavor combinations.
Easy to squeeze onto a spoon.
Cons
Contents may separate in the packaging, so dispensing the food can be challenging.
Our Ratings
Community Feedback
I recently purchased these baby food pouches for my little one and they've been a hit, especially when chilled in the fridge. My toddler grandchild also loves them and knows exactly where I keep them for snack time. However, one of the flavors with blueberries seems to have small pieces that can cause some choking hazard, so be cautious with that particular flavor.
---
Happy Baby Organic Baby Food
Best Resealable Pouch
Pumpkin is frequently overlooked when it comes to baby foods. In this Happy Baby pouch, it's the star of the show. The carrot and apple complement the pumpkin and bring the flavors into perfect balance.
This product is certified USDA organic and is made without added sugars or artificial flavors and preservatives. It's also made without GMOs and is kosher and gluten free.
I love that the pouch is fully resealable. For those times when my toddler suddenly loses interest in their snack, I can easily store it in the refrigerator.
Pumpkin is an excellent source of antioxidants, vitamin A, and vitamin C. These pouches make getting in those extra nutrients less of a battle.
However, when serving, don't microwave or boil the pouch, and all opened pouches should be consumed or tossed within 24 hours.
Pros
The packaging is clear, so you can see exactly what your baby is eating.
Made with U.S.-grown pumpkins sourced from family-owned farms.
Cons
Happy Baby Organic pouches only come in single-flavor packages.
Our Ratings
Community Feedback
In my experience, these organic snacks have been a fantastic option for my busy family, ensuring our little one has a nutritious and delicious treat on hand. With a blend of fruits and vegetables, it's easy to see why this product is a favorite among kids and even pets, like my friend's picky parrot. However, the consistency could be thicker, and it's been a challenge to find a reliable stock source for this particular flavor. Despite the occasional inconvenience, the high-calorie content and taste keep my baby satisfied longer, earning a thumbs up from our entire household. It's truly reassuring to have a go-to snack that not only tastes great but also supports our family's health-conscious lifestyle.
---
Happy Baby Teething Wafers
Best Organic Snack
This is a great first snack for your baby. These Happy Baby Blueberry and Purple Carrot teething wafers are made with jasmine rice flour, organic fruit, and vegetables. No artificial flavors mean that both you and your baby are happy.
The wafers are great for developing gums as they're soft and mess free, and they dissolve easily. It also helps babies learn to feed themselves.
Specifically designed for stage one eaters, this is ideal for a sensitive baby. The blueberry and purple carrot flavors introduce them to new tastes at their own pace. Parents love them too, as they aren't a choking hazard because they dissolve very quickly. Plus, they help ease teething pain.
Pros
Dissolve quickly.
Basically mess free.
Helps with teething pain.
Encourages self-feeding.
Cons
They break easily, so some babies struggle to eat them properly.
Salt is listed in the ingredients.
Our Ratings
Community Feedback
These teething snacks have been a hit with my kiddos, especially the blueberry and purple carrot flavor. The texture is great for teething babies, and they're easy to hold and dissolve quickly, easing any choking concerns. They're also super convenient for on-the-go snacking, making them a staple in our car's snack stash.
---
Earth's Best Organic Dairy Formula
Best Organic Dairy Formula
If you're looking for a dairy-based formula that closely mimics breast milk, you may want to consider this option. The formula has no added corn syrup solids. But it does have DHA and ARA — fatty acids that naturally occur in breast milk — to support brain and eye development.
There are no artificial flavors or preservatives, and it's USDA organic certified and kosher. Earth's Best includes both lutein (for eye development) and prebiotics (to boost immunity). You won't find any growth hormones, genetically engineered ingredients, antibiotics, or steroids either.
This formula is iron-fortified, which is appropriate for babies younger than one year. Children can continue to have formula beyond a year, but you may want to consider switching to one designed specifically for toddlers.
Pros
This formula's similarity to breast milk makes it a great option for nursing women looking to supplement with formula.
Earth's Best has sourced its dairy from organic-compliant farmers.
Cons
The formula may cause some tummy upset, especially if dairy exposure has been previously limited.
Our Ratings
Community Feedback
This organic baby formula has been a great choice for my little one, as it seems to be gentler on their stomach compared to other popular brands. The taste is more palatable, and it doesn't have a strong odor like some formulas. My baby has gained weight consistently and experienced less constipation since switching to this formula. However, I do wish they would remove the palm oil from the ingredients. One tip I found useful is to stir the formula instead of shaking it to avoid excessive foam.
What Makes a Product Organic?
Farms that have organic certification go through a rigorous licensing process (1). Organic produce that's used in any product must be grown without synthetic fertilizers. While some natural bug deterrents may be used, chemically-based pesticides are also not allowed (2).
There are three categories used for organic products. Each category reflects the amount of organic material in the final product.
100% organic: If your item is labeled "100% organic," every ingredient in the product was cultivated organically.
Organic: If your product is labeled "organic," at least 95% of the ingredients have been organically grown.
Made with organic ingredients: If your item sports this designation, 70% of the ingredients must be classified as organic. The remaining 30% are highly regulated, including a stipulation that there be no GMOs used.
While we'll look at vegetarian and vegan-friendly options in this article, meat can also be organic. When raising organic meat, all provided feed must be organic, living conditions are highly monitored, and antibiotics cannot be used preventatively (3).
Why Choose Organic Baby Foods?
These are the most common reasons people choose organic baby foods.
---
What to Consider When Buying Organic Baby Foods
If you're like most parents, you're paying attention to your budget. It's true that buying organic products for your child is usually more expensive. Many organic farms are smaller and produce less per harvest, and production costs are higher.
If you can only make some of your purchases organic, consider the following information. These fruits and vegetables are notorious for the number of pesticides and chemicals they harbor. They're even referred to as "the dirty dozen" (8).
Apples.
Kale.
Lettuce.
Imported grapes.
Carrots.
Pears.
Bell peppers.
Celery.
Nectarines.
Peaches.
Strawberries.
Cherries.
If you're looking for places to save money with your organic purchases, consider skipping pre-packaged and processed organic foods. These usually contain other additives, like salt, sugar, and fat. The organic label won't make these foods any healthier for you.
You may also choose to use conventionally grown fruits and vegetables with peels that aren't eaten since they're consistently lower in pesticides. Avocados, oranges, and watermelons are all examples of produce with inedible outer skins.
If you're looking for the produce with the lowest amounts of pesticides, look to these — "the clean 15" (9).
Avocados.
Corn.
Pineapple.
Mangoes.
Onions.
Sweet potatoes.
Asparagus.
Sweet peas.
Kiwis.
Cantaloupes.
Tomatoes.
Cabbage.
Eggplants.
Grapefruit.
Watermelon.
Whether you go with organic or conventionally grown produce, make sure you prepare your food properly before eating or cooking with it. Always wash your produce thoroughly, and consider a fruit or vegetable soak to remove any dirt and contaminants.
---
Thank You For Your Feedback!
Thank You For Your Feedback!