Weaning your baby is an important milestone. It's a time for you to introduce them to a whole new world of food. One of the biggest decisions I had to make was, should I buy pre-made meals or make my own?
As a mom, you want to give your baby the best start in life. Homemade meals for babies are not only healthier, but also potentially easier on your pocket. Plus, if you have a baby food maker on your team it might just make things a whole lot easier, too.
While they take the pain out of purees or the boredom out of blending, when deciding to do it yourself, you might need some guidance to find the best baby food makers for you.
---
Types of Baby Food Makers
There are many different types on the market. Identifying how you plan to use yours, and what type of food you want to make, should help you select the best one for you and your family.
Blender: Functions like a food processor, using blades to reduce solid foods to a smooth puree. It can be used on raw fruits and vegetables, as well as precooked foods. Partially blend the food to allow some textured chunks to remain for an older eater.
Masher: This is typically a handheld device that mashes food into smaller bits for easy consumption. Just like a potato masher, you'll use manual force to reduce a large item into something that can be fed by the spoonful.
Steamer: Steaming is an excellent option for cooking food while locking in nutrients. Steaming can soften hard-to-eat vegetables, like broccoli, so they can easily be pureed or mashed for your baby to eat.
4-in-1: This is a single unit capable of performing multiple functions. These usually include: defrosting, blending, steaming, and reheating. It's an ideal option for reducing kitchen clutter and making meal prep faster.
One-step: One-step models are capable of more than one job in the baby food making process. Unlike 4-in-1 models, a one-step unit is programmed ahead of time and left to do its thing. Simply insert your raw veggies, hit the desired food process, and when the bell chimes your baby's meal is ready.
Food Mill: A food mill is great for working with softer foods. Many of them are manual, but there are some automatic options. A handheld food mill may be best suited to a more advanced eater.
Choosing the Best Baby Food Maker
While there are many products on the market, try not to become overwhelmed with the options. To help you find something that's right for your needs, here are some noteworthy points to keep in mind.
The strength of the motor could dictate what food you're able to make. Small motors may be better suited to pureeing cooked fruits or occasional use. However, if you intend to introduce foods like beef brisket, you might need something with more oomph.
Are you the kind of mom that finds doing the dishes an awful chore? Choose baby food makers which are both dishwasher safe and have removable parts for easy cleaning.
While saving time is important for moms, it shouldn't be to the detriment of safety. Check if the appliance has been made with FDA-approved materials and whether it's been put through any safety tests. Some food makers also include safety features, like automatic cut offs or child locks.
Metal blades — opt for stainless steel and check for anti or non-rusting labels. Products which are labeled BPA- and phthalate-free are ideal.
Planning on whipping up baby's food each meal time? You may not need that heavy-duty option capable of preparing monster batches in one hit. Intend to use your baby food maker only occasionally? You might not mind if some convenience factors are missing.
If you're only planning to use your baby maker at home, size and bulk might not be such an issue. However, if you're counting on taking it with you to your in-laws or dinner with friends, something more compact and portable could be more suitable.
Knowing the kind of food you'll be preparing may influence which product is right for you. If you anticipate your child will eat mostly fruits and vegetables, you won't necessarily need a baby food maker that can handle processing meats and nuts.
If your baby is just starting on solids you'll most likely need something capable of pureeing. Older babies switching to self-feed might already be able to deal with textured foods. In this case, something that mashes or chops might be sufficient.
Do you intend to batch cook your baby food? Perhaps you want to take it with you on the go? You might want to think about storage. Some makers are accompanied by freezer storage pots or mini takeout tubs.
Are you a gadget geek or do you like to keep things simple? Baby food makers range from no frills across the board to all singing and dancing. While it's nice to have lots of features, if you never use them it defeats the object and could be a waste of money. Ask yourself if you'll really use it.
---
The Best Baby Food Makers of 2020
Shopping for new appliances is hard enough. I've had the opportunity to test drive some of the best baby food makers out there. These are some of my favorites, and there's something here for every mom.
1. Ninja Smart Screen Blender
Best All-in-One Baby Food Maker
The Ninja blender is equipped with nine pre-set programs and a smart-touch screen. Moms who don't have time for trial and error could find this appealing — you just select your program and it does the rest.
The sleek design and high functionality might have you feeling like you're in a James Bond movie, not making baby food.
This one is also a serious producer: it has a 1400-watt motor, which is capable of powering a 72-ounce blender and a 40-ounce processor.
The large capacity vessels mean you can whizz up a whole baby banquet in one hit. If you're like me and prefer to plan for the entire week, this could be a suitable choice.
Equipped with Fresh Vac technology, it's designed to keep the food fresher for longer and retain as many nutrients as possible. This means you shouldn't have to worry over food losing its goodness, taste, or shelf life too soon.
With so many additional features, this food maker could have you reaching for it even when you aren't preparing baby food.
PROS:
With many functions, it's a great option for people who need a baby food maker capable of doing more than just making baby food.
Can easily produce 25 generous baby-sized servings in a single batch.
It's fast at creating an even texture.
CONS:
Some people report the mouth of this processor is smaller than on other units.
---
2. Baby Brezza Baby Food Maker Machine
Best One Step Baby Food Maker
Looking for a single piece of equipment that will do everything? A one-step product is a great choice if you want to throw it all in and hit the start button. This simple process is also a great option for moms new to making baby food.
If the thought of making fresh baby food for your bundle of joy appeals to you, the Baby Brezza may be a useful tool for you. The two-cup capacity is just the right size to make small batches of baby food — you don't want to overdo it and throw that food away because it goes bad before your baby eats it.
It's a one-dish wonder that can help you quickly do all the steps you need — it steams and blends. And when you're done, clean-up is a snap. The bowl and blade can go in the dishwasher, and they are BPA-free, so you don't have to worry about potentially harmful chemicals contaminating your baby's food.
When your baby is older and you no longer need to blend their food, this machine can still be a staple in your kitchen. You can use it to steam rice, pasta, vegetables, or to make fresh soup.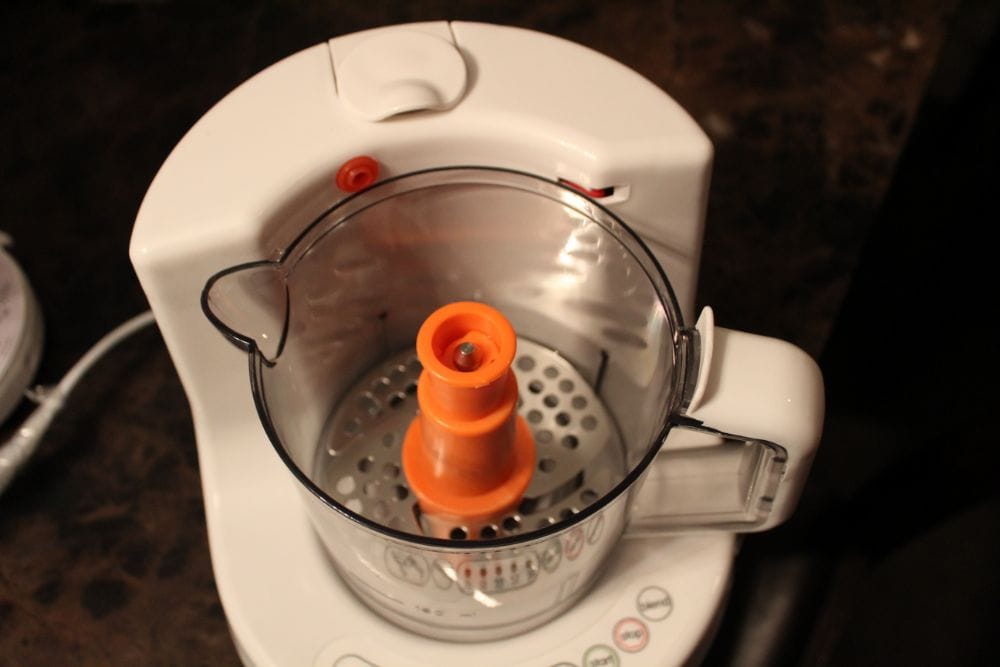 The unit comes with a recipe book, so if you're new to baby food making, you'll have some basic information to get started.
PROS:
Steam and blend, which means fewer dirty dishes for you.
Easy to clean.
Many other uses once your child is past the baby food stage.
CONS:
The small capacity of the machine makes it less likely that you'll use it for other purposes, like rice or soup, unless you're only cooking for one.
---
3. QOOC Baby Food Maker Pro
Best 4-in-1 Baby Food Maker
Who has room for multiple appliances? If you're looking for a kitchen aid that can help you do it all — saving yourself time, money, and space — a 4-in-1 baby food maker might be a good choice.
This baby food maker is a multi-tasker. Set it up on your counter, and you can defrost, steam, blend, and reheat in this single unit. In less than half an hour, you could have dinner on the table — or meals prepped, stored, and ready to go.
I love the timing function this unit sports. If you're new to making baby food, the preset cooking times are a godsend. It should take the guesswork out for you — I simply select the preset and let the QOOC do the rest.
The blade is designed to chop or mush the food into a smooth puree easily. Your baby shouldn't have to contend with any large chunks. This even works for nuts — just hit the pulse button at 5-second intervals until it reaches your desired texture.
Single-button controls, designed to be used with only one hand (in case you're holding baby in the other!), are straightforward and user-friendly.
When you're finished making meals, this unit might feel like child's play to clean, and all the detachable tools are dishwasher safe.
PROS:
The water reservoir is easy to refill and clean.
The water level can be seen while in use.
Safety conscious, includes lock function to operate the blender.
BPA- and phthalate-free.
CONS:
Some users found the size of this food maker limited future use, other than making baby food.
Parents felt the single batch quantities were small.
---
4. Green Sprouts Fresh Baby Food Mill
Best Baby Food Mill
If you don't mind steaming and cooking your baby's food by other means, a mill can be a great option. However, it might not give you the same kind of smooth finish you get from a blender. You may also want to hold fire on one until you have a more advanced and confident eater.
If you've been looking for a simple tool to make mealtimes a little easier, this could be a great solution. This food mill is a perfect option for turning table food into baby food. With your baby's health and safety in mind, Green Sprouts has used plastic that's both BPA- and phthalate-free. No electricity or batteries needed.
Equal attention has been paid to the other components, too. The blades are made of stainless steel — they should wear well and won't rust. Best of all, this food mill easily disassembles and can be placed in the dishwasher, for fast and easy cleanup.
Whether you have a new eater and need an extremely fine puree, or an established eater learning to chew, this mill should provide the food consistency they need.
This is something you could have in your diaper bag for when you go out to dinner and want to share your meal with your new eater.
PROS:
Simple and straightforward to use.
Durable.
Great for older babies and toddlers, transitioning to table food.
Portable.
---
5. GoWISE USA Baby Food Maker
Best Glass Baby Food Maker
If you prefer not to use plastic, you might be in the market for a glass baby food maker. Glass can be a nice, safe option. While they're harder to come across, a good-quality product will last you a long time. They're easy to care for and safe to go in the dishwasher, too. The only downside is glass may be more fragile than other materials.
No matter how safe plastic is, some parents feel better avoiding it altogether and using glass. Plastic is the readily available option, so finding a quality glass product can be difficult.
The GoWISE baby food maker comes with a 59-ounce glass pitcher and six different blending presets. With a powerful 1,400 watt motor, this unit can process all kinds of food easily. The eight stainless steel blades work together to create a fine puree that's suitable even for food newbies.
It's also equipped with a heating element, so you can warm up or cook your baby's food as you go — you may find it cuts your time in the kitchen, as well as the amount of work involved in the cleanup.
For moms who need a little inspiration, this blender comes with a recipe book to get you started. Its large capacity also offers scope for use in other types of food preparation.
PROS:
Great for making more than one meal at a time.
An additional juice setting means you can also prepare your child fresh drinks without preservatives.
Simple to clean.
CONS:
Some parents were unhappy with the low-profile blades — they would have preferred the option of varying sizes.
---
6. Babymoov Duo Meal Station Baby Food Maker
Best Complete Food Station
This meal station has everything you need to make, heat, and defrost your baby's food. It has two steamer baskets to cook those fruits and veggies to soften them up. The benefits to using a steamer basket is that this cooking method preserves many of the vitamins and essential nutrients found in food.
With this unit, you can steam two foods at once, which is nice for giving your baby a little more variety for their meals.
The three-speed blender can puree the food so it's ready for baby gums. Thanks to the amount of space in the blender and steamer, you can make a week's worth of baby food all at one time, saving you time as a busy parent. You'll be able to make as much as nine cups of food at once.
Although the station takes up a fair amount of counter space, it eliminates your need for a bottle warmer and sterilizer because it can handle those duties too. The unit has 10 programmable settings, and it will alert you that the operations are complete with an audio indicator.
PROS:
It serves multiple functions.
It's dishwasher safe.
The unit is easy to use.
It's not a super tall unit, so you can store it in cabinets when not in use if you prefer.
CONS:
The blender isn't as powerful as you might like.
You can't buy replacement parts.
---
7. Sage Spoonfuls Immersion Blender
Best Budget Baby Food Maker
Any mom will tell you, babies are expensive. However, you shouldn't have to let the financial aspect get in the way of being the parent you want to be. There are great baby food makers available at all price points.
If you've been searching for a reasonably priced option, this is a good one to consider. Although it's a fraction of the cost compared to some, you can easily make baby food on par in quality. When you're budgeting, the little extras can really add up, so it's nice to know you can use a single product and be ready to go.
This two-piece set is simple to use and easy to clean. Place the food you're using into a bowl and insert the stainless steel immersion blender. You control the size of the bowl, the amount of food, and the quantity of the batch you're creating.
This food maker switches conveniently between a handheld blender and food processor. Whether you need a fine puree or a textured meal, it shouldn't take long to turn your table food into baby food.
This unit is also made with BPA- and phthalate-free plastic, plus it doesn't contain lead or PVC. The detachable parts are dishwasher safe too, which makes cleanup a cinch.
Another feature which I rate is that it's very light and compact. This could appeal to mobile moms who are always on the go.
The immersion blender is perfect for making soups into biques or smooth mashed potatoes. You will use this for many future meals, not just baby food.
PROS:
A great value buy that comes with everything you need.
Parents love that they can make frozen desserts with this set as well as regular meals.
Suitable for both the beginner and an advanced eater.
This unit comes with a quiet motor and can handle all types of foods — even tougher meats and stalky vegetables.
Compact design for portability.
CONS:
Some users found the food processor attachment wasn't suitable for small amounts of food.
Getting used to handling the blender takes a little practice, according to some moms — be prepared for some accidental food splatter in the beginning.
---
8. BEABA Babycook Baby Food Maker
Best Baby Food Blender
Having a blender that's going to do just what you need is crucial for making baby food. If your Kitchenaid doesn't cut it, you're going to hate every moment. Blades that are sharp and configured correctly in the blender will make a chore into a pleasure, and give you the easy, smooth results you're looking for.
This BEABA baby food maker is just so quick to use. Whichever function you choose, it will have your baby food ready within 15 minutes.
One-hand operation and a streamlined design strike the right balance between looks and function. The small design allows for easy storage and works well, even when you have limited counter space.
This model offers multiple functions, including defrosting, blending, steaming, and reheating. I think it's great how smooth the final product is when using the blender feature.
BEABA has been in the baby business for the past 25 years. This model was one of the first to hit the market and, over time, it's been fine-tuned to suit all kinds of users. A multi-purpose mixing blade creates just the right texture, and the steam cooking feature locks in nutrients.
This food maker has a steam basket which helps separate the food from excess liquid. Once the steam cycle is complete, you just remove it and prepare for blending.
The automatic cut-off feature, and the audio alert that signals when food is finished, are also great to have in a baby food maker. It means busy moms can be tackling the next job without having to watch over it.
With a capacity of almost five cups, producing multiple meals in a single batch should be simple enough.
PROS:
Great automatic features that make baby food making a breeze.
Simple to use platform means anyone can successfully use this machine — from a college-aged babysitter to a grandparent.
The stainless steel water reservoir is easy to clean and maintain.
Food ready within 15 minutes.
CONS:
Some parents find the capacity is too limited for making anything other than baby food.
Lack of timer makes it difficult to gauge how long is left.
---
9. Magic Bullet Baby Bullet Baby Food Maker
Best Baby Food Maker for Travel
If you're on the open road, it doesn't mean you need to compromise your baby's diet. A baby food maker that's travel-friendly could help you provide the same meals you do at home — even when you're not.
Magic Bullet has built up a solid reputation for its convenient and easy to use products. The Baby Bullet also falls into that league. If you're looking for something that travels with ease and gets the job done, this might be a handy assistant for you.
It doesn't get any easier when it comes to packing for a trip. The single-serving containers are a suitable size for your baby meals on the go. Plus, I love that this set has a storage tray for the cups, so they don't tip over, and a batch tray with lid.
In just a few minutes you could have your baby's meals squared away for the week. You can use the large reservoir for full batches, and the small for a single meal. It has two blade options — one for pureeing and another for milling.
Clean up is fuss-free, with detachable blades, and the storage cups feature a dial that allows you to keep track of when you made the meal.
This unit is made with sturdy, BPA-free, non-toxic plastic, and zero phthalates — so you don't have to stress over synthetic nasties.
I think this is a great system to pack for vacation as well as occasional time away from home. It probably won't hold up long term as your daily-use food maker, but you'll love it for traveling.
PROS:
Easy to use.
Includes storage trays.
Recipe book and nutrition guide included.
CONS:
Some moms feel it doesn't wear well with regular use.
---
10. Nuk Mash and Serve Baby Food Maker
Best Baby Food Masher
If you're looking to help your child gain confidence and skill as an eater, but they aren't quite ready to leap into table foods, a masher could be beneficial. Mashers help break food down into manageable chunks. Lightly mash and you can let your toddler feed himself with his hands. Mash for longer for a consistency you can feed with a spoon.
I love this Nuk product. It's easy to use and great to bring along with me when we're on the go.
I can mash the food directly in the serving bowl. I already have enough dishes to take care of, so I really appreciate this feature. Once the meal is complete, the entire set is dishwasher safe. Simply load it into the top rack and, after a clean, it's ready for our next meal.
The masher is great for potatoes, squash, grains, cooked vegetables, fruits, and even some meats. It's manually operated, so you may find your personal mashing ability may vary.
It's microwave safe, which is handy if you like to soften up foods before hitting the masher or for taking the chill off anything straight out of the refrigerator. If your child has just started feeding themselves, the non-skid base should hold it in place so they can concentrate on eating.
The plastic is sturdy and durable. You won't need to worry about cracks or breakages if it's thrown on the floor. Unlike when I've tried to mash in a regular container, the textured surface of this bowl helps food mash evenly and easily.
PROS:
Very affordable.
Easy to care for and use.
Great for use on the go.
CONS:
Moms note this masher isn't great for food with strong or crunchy stalks and won't work for many types of meat.
Some parents found food can get stuck in the masher and the base of the bowl, creating food waste and cleaning difficulties.
---
How Do I Make Homemade Baby Food?
Making your own baby food doesn't have to be complicated. By following just a few simple steps, you'll be able to make healthy meals for your little one in your own home. You'll know exactly what ingredients have gone into the meal and can be confident in its quality (1).
First, prepare the area and your ingredients. Do this by thoroughly washing your prep space, all of your produce, and your equipment. Wash your hands and you'll be ready to go.
If you have a beginner eater, peel your fruits and vegetables. Even easy to eat skins can be difficult to digest for a new eater. Depending on the chosen food and the individual, you may want to follow this step for older children too.
Cook your food. You can bake, roast, or steam, depending on what meal you'll be serving. Steaming is considered the best method for retaining the most nutrients possible.
Puree or mash the cooked food, depending on your baby's age, needs, and the desired final texture.
Divide the food into individual serving sizes and store. Food may be kept in the refrigerator or the freezer, depending on when you plan to use it. Refrigerated food will last you up to 48 hours, while frozen servings can be good for several months. A silicone freezer tray or a Baby Food Silicone Freezer Tray for the freezer can work great to freeze individual portions
Reheat at least to room temperature before serving.
Frequently Asked Questions
Why Make My Own Baby Food?
If you've been wondering why there is such a buzz over homemade baby food, here are a few reasons to get excited about it.
You know exactly what's going into your baby's food.
It's more cost-effective than buying premade.
You can experiment with combinations of flavors that might not be available in manufactured foods.
Your baby gets to eat the same food you do.
Making your own baby food is great if you have any allergy concerns.
You're doing your bit for the environment — no empty cartons, cans, or jars to dispose of.
You might find whipping out the baby food maker is more convenient than making endless trips to the grocery store (2).
Will Homemade Baby Food Keep as Long as Store Bought?
If you're making your own baby food, it's usually because you want to cut back on the number of artificial ingredients and preservatives your child eats. For this very reason, your homemade baby food won't keep as long as manufactured varieties.
Some preservatives are there to keep food fresh, even if it sits on your shelf for months. Without them, and providing it's kept in the refrigerator, your baby food should last up to 48 hours, depending on the contents.
However, if you make batches of baby food, you could always freeze any excess. Savvy moms store them up and defrost as needed.
Is Homemade Baby Food Healthier Than Store-Bought?
Yes! Homemade is much better for your baby. A recent study shows that babies aged up to three years old who ate only homemade food had less body fat than those that were fed commercial food or a combination of both (3).
Food preferences and healthy eating habits begin early in life. Store-bought foods have hidden sugars and salt, which can negatively influence both, and may also limit their acceptance of new foods (4).
If, for any reason, you are not able to provide homemade food for your baby, don't worry too much — they can still be well-nourished. Commercially available baby foods are put through rigorous testing and meet all FDA requirements.
Making your own family meals at home is generally healthier than eating out. The same is true when it comes to food for your baby.
Does It Matter If I Use Fresh, Frozen, or Canned Produce?
Whenever possible, you should try to use fresh produce for your baby's meals, as they contain more nutrients. Doing this will ensure your child is receiving all the benefits that fruits and vegetables have to offer. If this isn't possible, frozen is your next best option.
Canned fruits usually contain excess sugar, while frozen vegetables sometimes have added salt. You should never assume canned or frozen produce is identical to its fresh counterpart. Double check the ingredients before purchasing.
Can I Add Milk or Formula to My Baby's Food?
Adding either formula or milk could be a great way to thin out meals and add extra nutrition or calories. The familiar flavor may also encourage a young baby to try new foods.
If you're looking to add thickness to meals as your baby grows, you could add some oat or rice cereal. If you feel like milling your own, that's something you'll be able to do with your baby food maker.
My son had a really hard time taking the bottle, just wanted to nurse, so when he was old enough (6+ months) we started making oatmeal with breastmilk and that's how he got his ounces in while I was away.
Editor's Note:
Katelyn Holt RN, BSN, BC
---
Fast, Nutritious, and Delicious
If you've been thinking you aren't that caregiver who can spend the time and effort to make your own baby food, think again.
It's not something just for an elite echelon of parents — it's for every mom and dad. The right tools can make all the difference.
I've enjoyed using all of these baby food makers for different reasons, but my top choice as the best baby food maker has to be the Ninja Smart Screen Blender.
I love the many options it comes with, and it's powerful too —.plenty of punch to blend up baby food fast. But it's the extra-large capacity that stole it. When you're juggling a big family, commitments, and a busy schedule, I like to know I'm getting the most I can out of my time.
Being a parent is a hard job, maybe you end up making homemade baby food 80% of the time and have organic pouches ready to go for the other 20%, that is OK your baby will grow strong and healthy. Another school of thought is Baby Led Weaning introducing the right kinds of solids at the right time. Everything is balance-you choose what is best for you and your baby.